I'm guessing that if you have come here to find out about things to do in Tenerife, you have already booked your family holiday, but just incase you need some ideas I also have a great article on the top all inclusive hotels on this beautiful island that you might like to check out too.  If you are still deciding whether you should visit Tenerife, I hope reading this post will convince you that you will have a varied and interesting sunshine holiday here.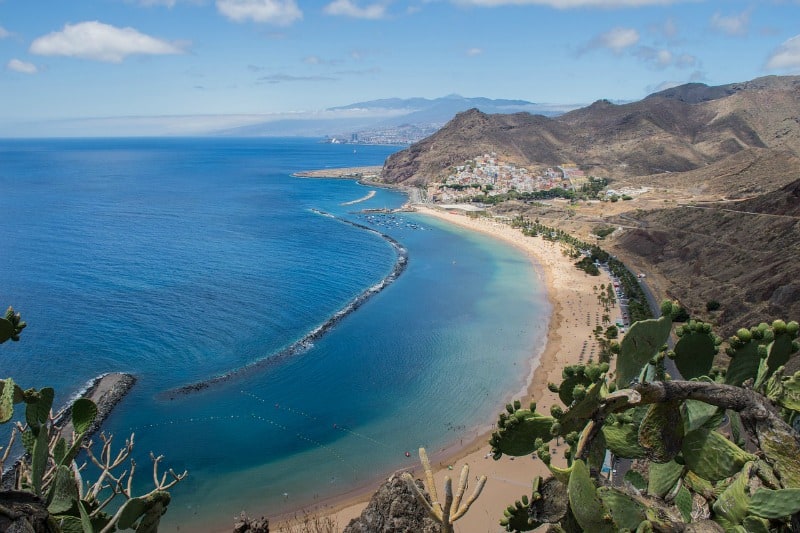 Tenerife is such great destination for cheap holidays from the UK.  The flight time is only 4 hours, which is really manageable when you are travelling with kids, and flights are pretty inexpensive as well.  The all inclusive resorts and hotels are affordable and if you look around there is lots of cheap car hire available to help you visit the local parks and attractions on the island.
If you are a family who looks for a variety of things to do on holiday, this ultimate list of things to do in Tenerife is going to help you out no end.
Things to do in Tenerife, Spain
Siam Park Tenerife
Siam Park in Tenerife has been voted the number 1 water park in the world on Tripadvisor four years in a row, so I can guarantee that you are going to have lots of active family fun here.  To make the most of this water park, allow a whole day, as there are 14 different attractions to explore.  There is something for everyone from babies and toddlers, to thrill seeking adults who want to take on the more daring flumes and water slides.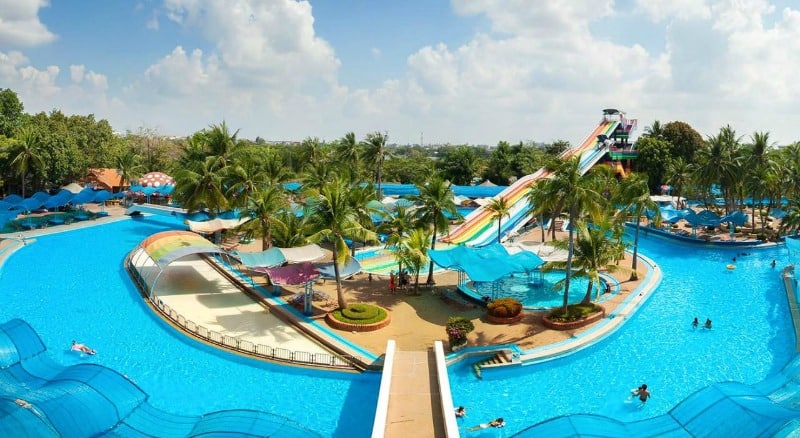 Siam Park can be found on the south coast of Tenerife near to Playa de las Americas and Los Cristianos which are popular holiday locations on the island.  If you are planning a visit here, I really recommend reading Mummy Travel's tips for visiting Siam Park for making the most of your day.
Take a Boat Trip
Tenerife is probably one of the most ideal locations to take a boat trip.  It's such a great way to see the island and there are plenty of whale and dolphin tours available too.  If you want to go a little further a field, you can also take a boat trip to explore more of the Canary Islands. This is a really popular activity with families visiting Tenerife so make sure you book your boat trip in advance.
Teide National Park
If it's looking like a cloudy day for visiting the beach in Tenerife, then I strongly recommend getting in the car and going to explore Teide National Park as it will give you a chance to get above the clouds.  The unique landscape is shaped by volcanoes, craters and  lava flows and is must see destination in Tenerife. You can enjoy the exciting and colourful landscape by taking the Mount Teide Cable Car for a particularly memorable experience.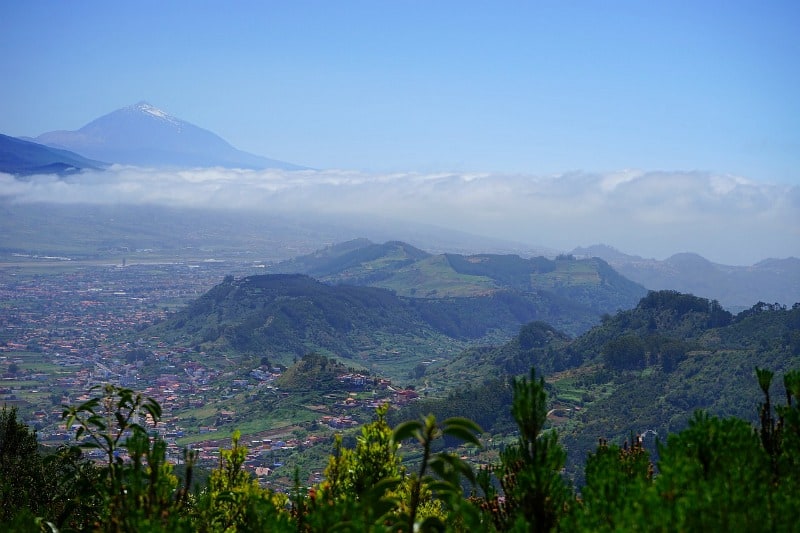 Visit Santa Cruz
Santa Cruz is the capital of Tenerife and is well worth a visit if you are interested in adding a little culture to your family holiday.  Santa Cruz will not only give you the opportunity to visit Tenerife's best museums, theatres and restaurants but it will also give you a chance to see a part of the island that many tourists fail to explore.
Enjoy The Water Activities
If you and your family enjoy spending time in the water on holiday, then Tenerife is brimming with surf schools, scuba diving and lots of other water sports and activities.  It's an ideal destination to learn new skills or brush up on old ones during your holiday.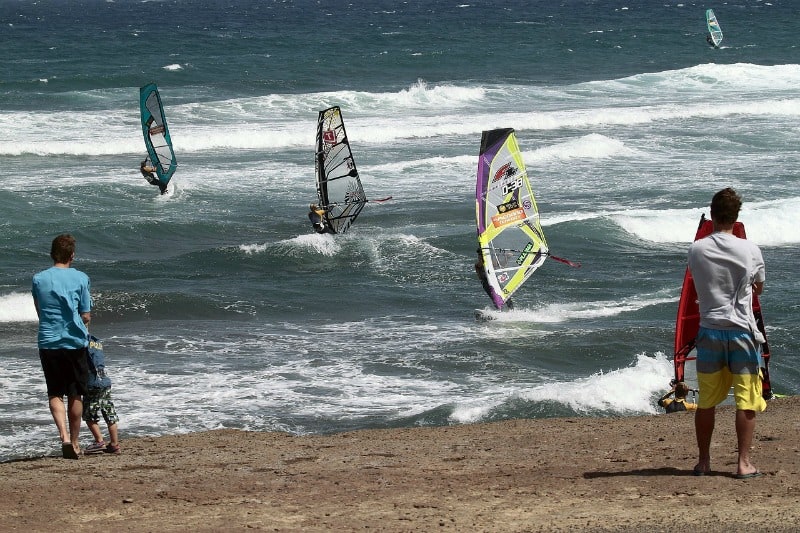 Anaga Mountains
If you think you will enjoy a visit to Teide National Park, then I can also guarantee you will love exploring the Anaga Mountains found in the North East of Tenerife.  The lush green landscape boast winding roads, stunning valleys and even rainforests.  It's a popular location for visitors who enjoy walking and hiking, and there are trails for all abilities to be able to explore the mountains and surrounding area.
Explore The Villages of Masca and Garachico
If you are keen to go deeper into the culture and beauty of Tenerife, then taking the family to explore the villages and mountains of Masca and Garachio definitely need to make your holiday itinerary.  The route is winding but worth it with some of the oldest villages in Tenerife en route, plenty of picturesque locations and the lots of cheap local restaurants to chose from for a stop along the way.  You can end your route at Garachico on the coast to explore the lava created rock pools and beautiful coastal views.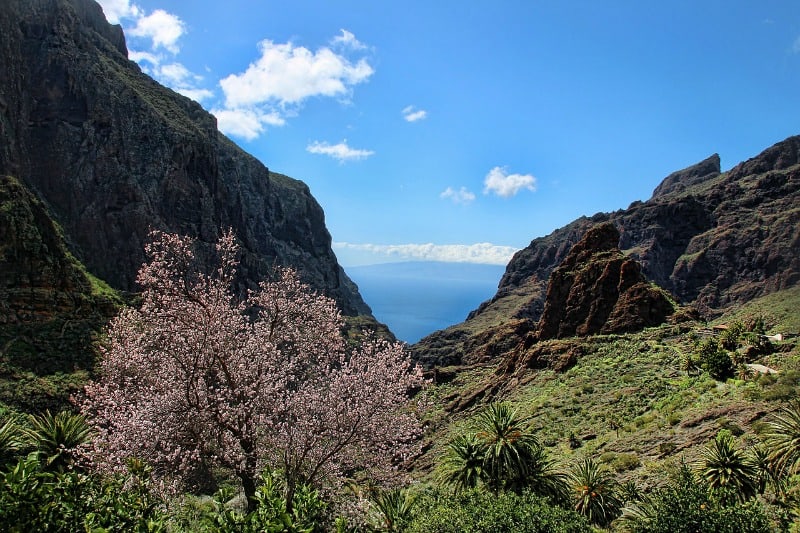 Enjoy The Beach
If you thought that Tenerife was just about the beach and all inclusive resorts I hope I've inspired you to think again.  There are plenty of opportunities to step outside of your hotel and learn more about this beautiful and captivating island.
Tenerife is a great destination for active families all year round.  In the summer temperatures reach around 28°C, which is perfect for families who enjoy water parks and being on the beach.  If you prefer the temperature a little cooler Tenerife a good destination for a little winter sun too.  Obviously the weather isn't always predictable, but it can still make for a lovely family holiday all year round.