You know,  I've been talking a lot recently about what we do with all those photos and videos we save on a phones and computers so it seems like a great time to introduce you to CanvasChamp, the online photo print service I've been testing out recently.
When they reached out to me to see if I would like to receive a canvas print from their website, I knew exactly which photo I wanted to use.  I have a lovely picture of the girls together from our holiday in Devon and it really captures the happy memories we made on that trip.
Using CanvasChamp To Print Photos
Adding it to the CanvasChamp website was so easy and the whole process takes just a few minutes.
I just started my order on the website, and then was taken to the screen where I could upload my photo.
There's a few different choices of products, and you could create a canvas wall display or photo mosaic if you wanted.  For this review I selected a 12*8 canvas print.
I was really impressed with how fast my photo uploaded from my computer, but you can also use Facebook or Instagram images if there are photos in your social media you are keen to share on canvas.
There's a good range of wrap styles and borders available, but personally the wrap canvas is my favourite.
Hooks for hanging are included in the price, but if you want an easel or dust back cover for example they can be purchased at an additional price.
There are some photo enhancements like red eye reduction or colour enhancing available in the editor, but there is an additional cost. If you are confident with a photo editor I would recommend using this first.
Lamination is available at extra cost per print.
I was was really impressed with the speed of the website and how easy it was to process my order.  Prints start at just £3.89 so you can print out lots of photos with a relatively small budget.  They also have  personalised photo cushions available which begin at just £8.75.
I was also really impressed with the canvas photo print when it arrived.  It arrived well wrapped and in perfect condition.  Delivery costs £4.99.  The canvas itself is great quality and the photo is crisp and clear.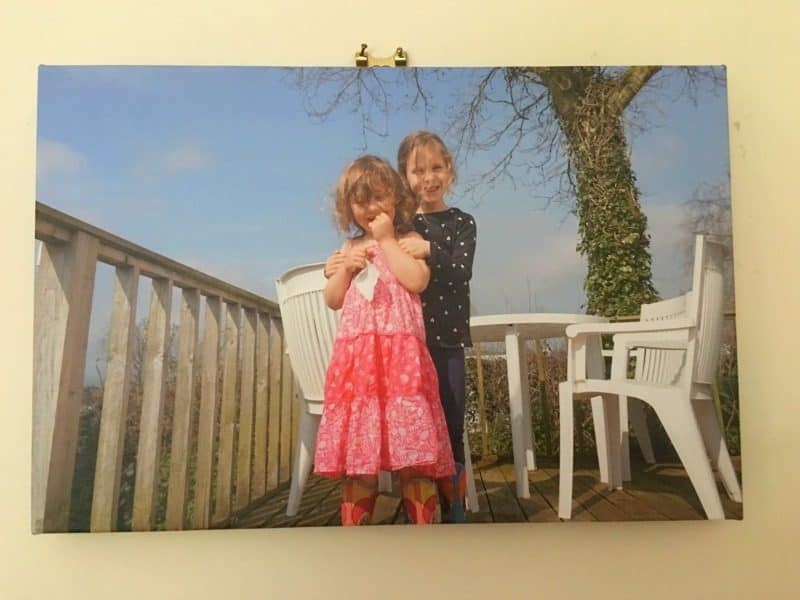 My husband has decided that he's going to give it to his parents which I'm a little sad about, but it actually spurred me to go back to the CanvasPrint website and order some more photos.  If you register on the website, you will receive a code for a free 8*8 print to use when you purchase 2 products.  I've used this offer and I now have 3 prints on the way and it's cost less than £16 including postage and packaging.
CanvasChamp 10*8 Canvas Photo Giveaway
I'm so keen for you to try out CanvasChamp's website that I am giving away a 10*8 canvas print to one lucky Zena's Suitcase reader.  All you need to do is enter via the rafflecopter below to be in with a chance of winning.  Thanks so much for stopping by and best of luck! Competition closes 5/6/18. Other T&Cs apply.
Check out my other giveaways here.
Know someone who would enjoy this post?  Please do share it with your friends and followers, as it would literally make my day.  
For the latest blog posts, offers and giveaways don't forget to subscribe to Zena's Suitcase.  You can also follow the latest updates on Twitter, Facebook, Instagram and Pinterest.