For our last full day in Devon we decided to visit Wildwood Escot for some outdoor adventure with the girls. After speaking to Claire at Andrewshayes Holiday Park this Devon attraction sounded perfect for us. It was close by and it sounded like another unique place to visit. We discovered that Devon has lots of interesting things to do during our visit, and it's worth taking a look at Devon's Top Attractions website as it's packed with ideas and inspiration for your Devon holiday.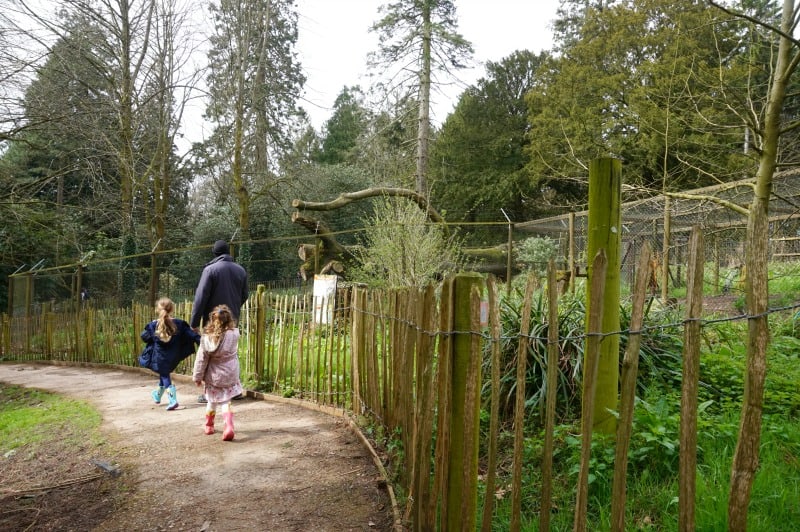 Wildwood Escot is mainly an outdoors attraction so perfect for visiting when the sun is shining. We were looking at another blue sky day, so it was great to be able to do something both fun and active with the kids to make the most of it. 
The main focus of Wildwood Escot is being able to explore and enjoy the natural environment. With so much technology in the world and screen time now a feature in most kids lives, this is an attraction that encourages families to get back to enjoying nature and the outdoors again. 
When we arrived we were told that the wolf feeding time was about to start, so we headed in that direction to learn a little bit more about these curious animals.  The talk was fascinating and it soon became apparent that wolves are very interesting and misunderstood creatures.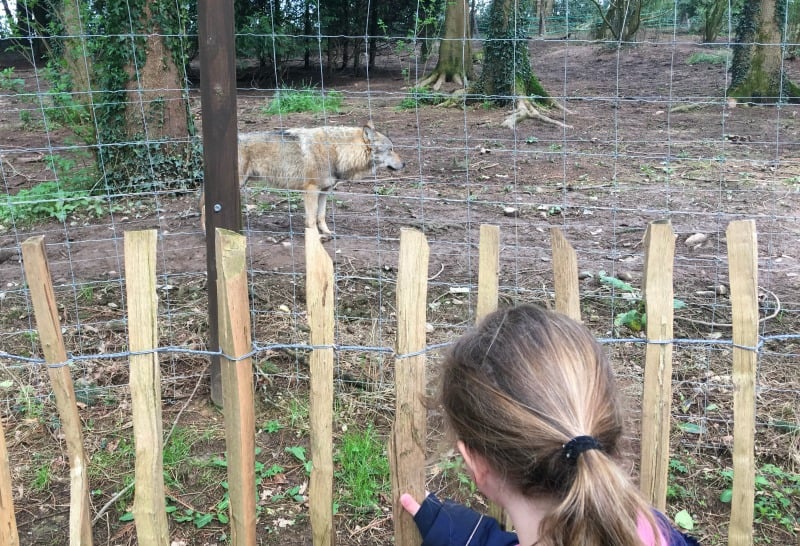 A pack of six wolves lives at Wildwood Escot, and this is intended to be there forever home. If you are at all interested in learning some more about them a visit here is a must.  The keepers are dedicated to providing as natural experience for the wolves as possible observing feeding patterns as if in the wild and keeping human contact to a minimum. 
We also learnt that wolves are incredibly loyal pack animals and that their fairy tale bad guy image has lead to many misconceptions about the breed. Whilst, of course, they are still dangerous animals partly because they do not fear humans, Wildwood Escot are keen to raise awareness about the breed and dispel the myths of their bad boy image. 
After our experience with the wolves, both the girls were desperate to explore the maze.  If they had their way they would be off exploring between the paths and bushes, and they hated being reminded to stay close to us.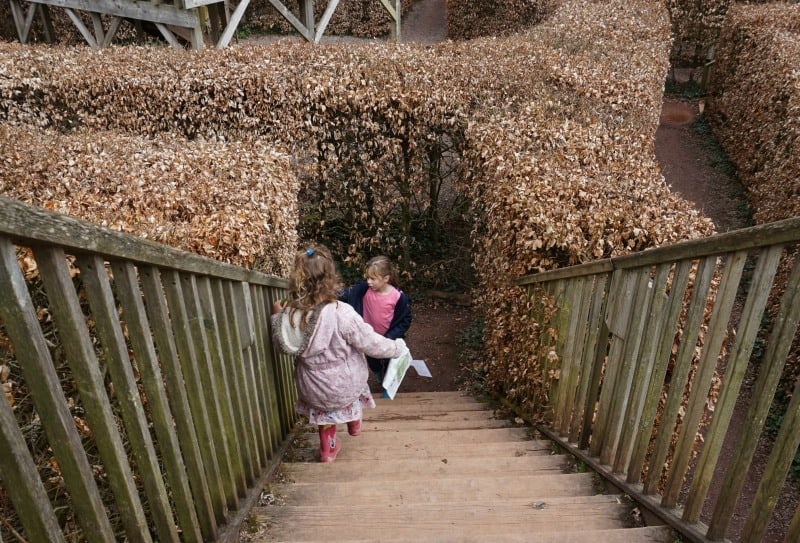 It's great that they are so fearless, but being so young I worry panic would set in if they tried to explore it alone.  It's a pretty big maze by all accounts, with a viewing station and picnic benches in the middle which make for the perfect snack stop. 
We were all intrigued by what the Saxon villlage was going to be like, so we made this our next stop during our visit to Wildwood Escot.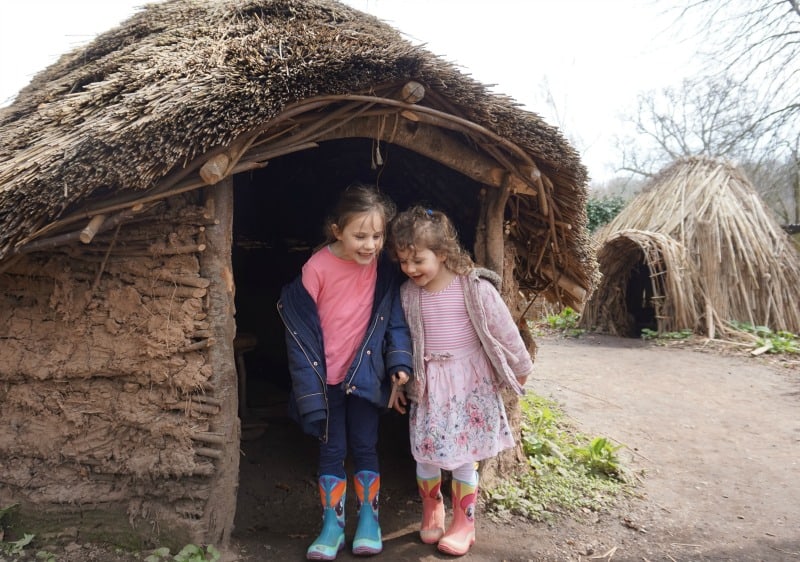 I'm not going to profess that I'm an expert on Saxon Villages but it looked to me like the one at Wildwood Escot was pretty authentic. There were Saxon houses the girls could explore with with thatched roofs and mud walls as well as some lovely hands on activities for the kids including traditional Saxon children's games . 
The girls loved having a go at grinding wheat into flour and also liked the idea of taking a seat on the chairs saved for the villages most important people. Unfortunately, when they realised the chairs were decorated with animal skins they weren't so keen. Modern life has a lot to answer for doesn't it? 
As we left the Saxon village the Birds of Prey display was just about to begin, so we couldn't have asked for better timing. We had seen some of the birds in their avaries when we arrived so were really excited about watching the display.  The Falconer introduced us to all the birds, and watching them swoop over head was particularly thrilling for us as a family.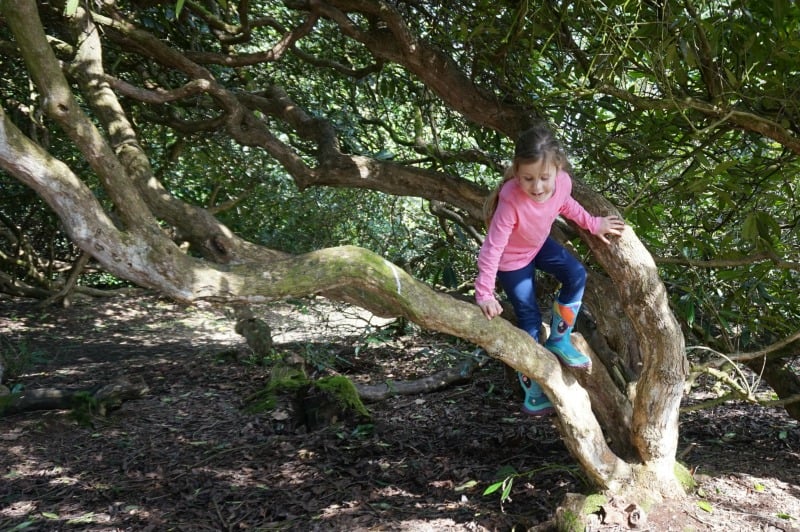 Before we left we decided to make the most of the outdoor play areas and enjoy some good old fashioned tree climbing.  Both the girls love physical activities and climbing so they left this part of their experience at Wildwood Escot.  Indie was keen to get started on the big climbing frame but Brook was a a little nervous at first.  She was desperate to keep up with her and mustered up all her determination to master the climbing frame and after that there was no stopping her.  It was lovely to watch her confidence grow and see her making the most of the opportunity.
We really enjoyed our experience at Wildwood Escot with the girls, and I can strongly recommend a visit here if you are looking for things to do in Devon.  For me it was a little nostalgic as I spent a lot of my childhood outside exploring the local countryside and climbing the odd tree every now and again.  Children naturally enjoy these activities and our experience here reminded me that it's important to make nature a part of our daily lives.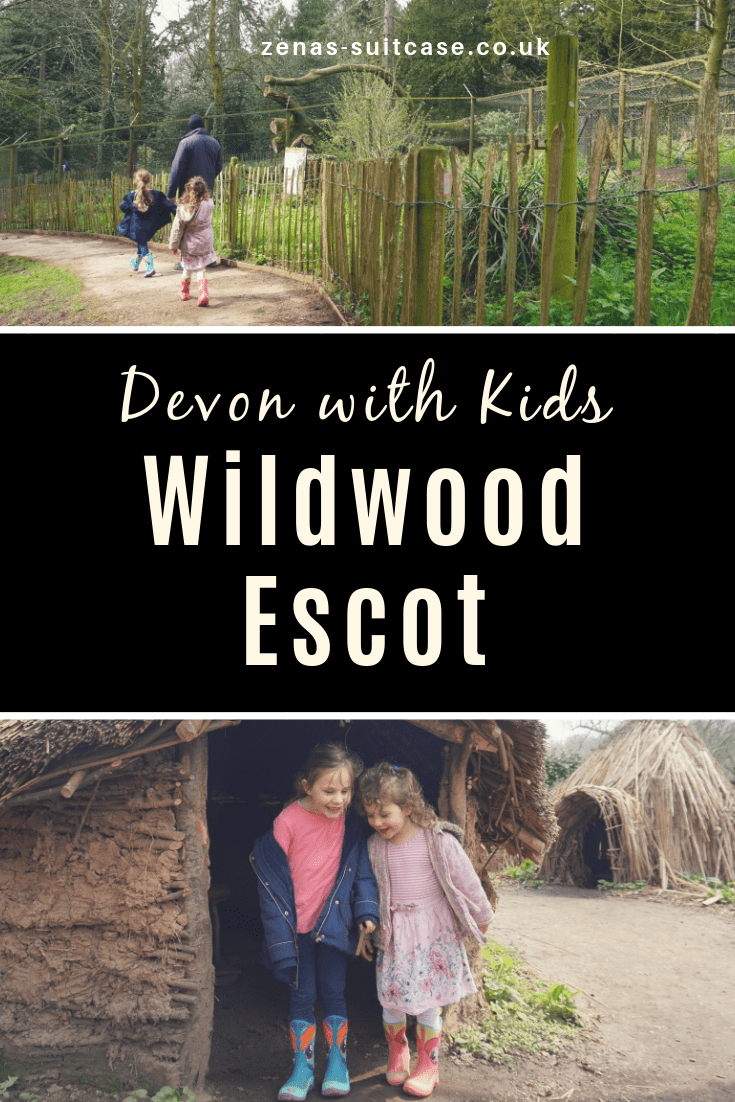 We were provided with complimentary tickets to Wildwood Escot by Devon's Top Attractions for the purposes of this review. Also, for more information about activities and things to do in the area,  the Visit South Devon website gives families lots of hints and tips making the most of your holiday in Devon.