Over the last couple of years we have had the absolute pleasure of being able to enjoy some wonderful Devon holidays with kids in this beautifully picturesque part of the UK. I think going on holiday to Devon is sometimes overlooked in favour of places like Cornwall or Wales, which is such a shame, as it has so much to offer, especially if you are travelling the UK with kids.
If you consider that Dartmoor, the Jurassic Coast and a wonderful selection of beautiful blue flag beaches are literally on your doorstep, it can make for a very happy holiday destination for all the family. I'm going to share with you some of the best hotels, holidays parks and things to do in Devon so that you can start planning the perfect staycation for your next trip so lets get started.
Hotels in Devon
The Bedford Hotel, Tavistock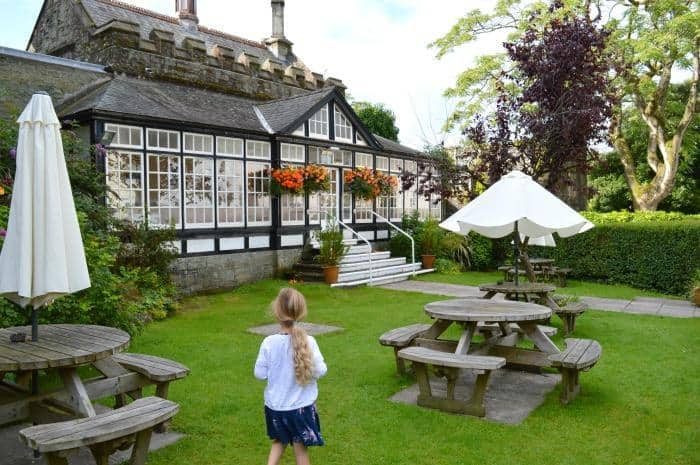 The Bedford Hotel can be found in the heart of Tavistock on the edge of the Dartmoor National Park. They have excellent sized family rooms large enough to sleep five if needed and the customer service is exceptional. If you love the idea of staying in a very English hotel, this could be the place for you. The restaurant is also outstanding, showcasing the very best locally sourced ingredients in their seasonal menus. If you would like to read more about staying here, why not visit our review of The Bedford Hotel in Tavistock.
Two Bridges Hotel, Dartmoor
If you want a more rural location, Two Bridges Hotel could well be the perfect option. This hotel is steeped in history and lives in the heart of Dartmoor National Park. As the sister hotel of The Bedford, you will also find exceptionally good food and a wonderfully warm welcome. You can read more about our experience in our Two Bridges Hotel review post.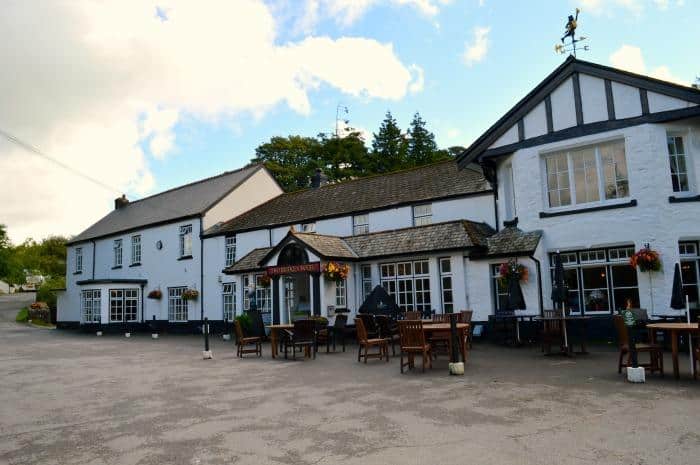 Moorland Garden Hotel
If you prefer your hotel a little more modern, then take a peek at our review of the Moorland Garden Hotel near Yelverton in Devon. This hotel is surrounded by beautiful gardens and scenic walks. The restaurant overlooks the garden which makes it the perfect place for an evening meal as well as breakfast. You can also enjoy a relaxed meal or a drink in the bar alongside one of the many board games they have in their extensive collection.
Holiday Parks in Devon
Hotels aren't necessarily everybody's cup of tea, and if you are keen on a self catering holiday in Devon there is a huge array of places to stay in the area. Here's where we stayed on our last Devon holiday.
Crealy Resort, Devon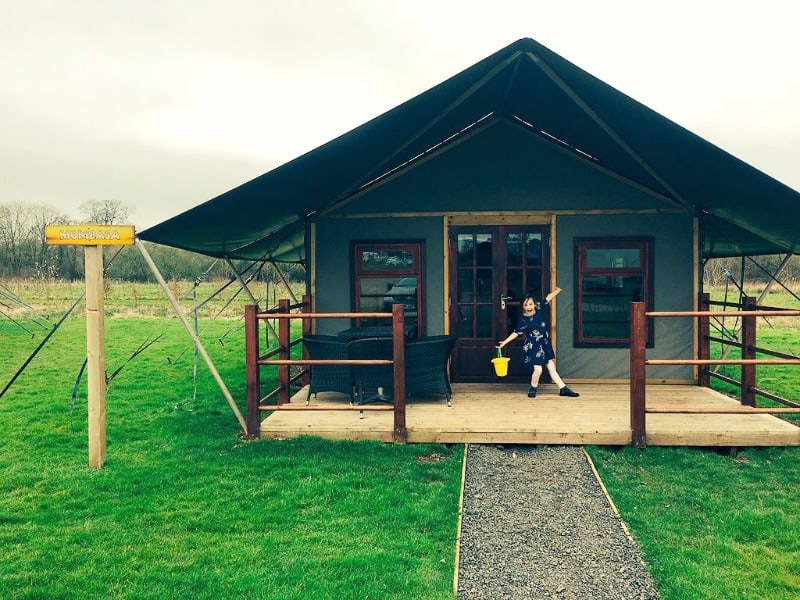 Crealy Resort and Adventure Park is probably the biggest family attraction in Devon and is an excellent day out for families with small children. If you would like to stay at the park, then Crealy Meadows is a great option for families too. You can stay in one of the lodges or camp if you wish. We stayed in the Crealy Meadows safari tents, and you can read all about our glamping experience here.
Andrewshayes Holiday Park, Axminster
If you are looking for a more traditional holiday park, then Andrewshayes Holiday Park near Axminster is worth taking a look at if you are planning a holiday in Devon. This family run holiday park offers an indoor swimming pool, indoor and outdoor play areas, an onsite shop and a bar that serves both delicious and reasonably priced meals.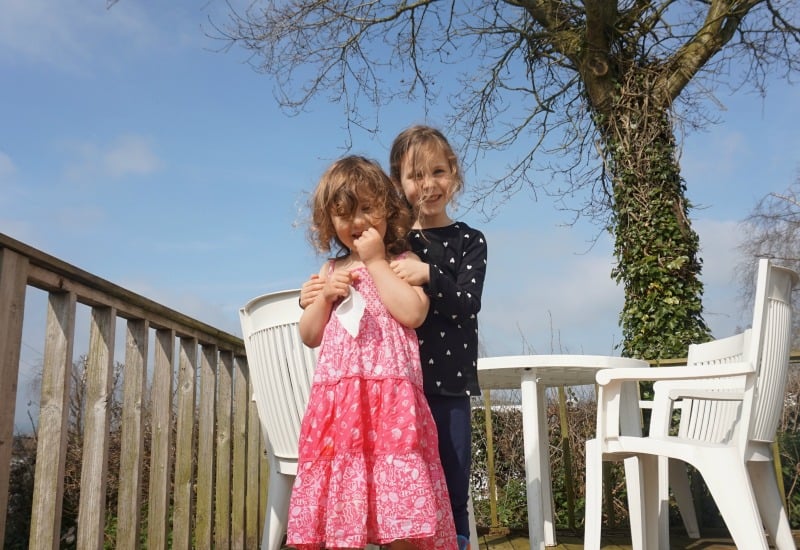 This is a pocket friendly family holiday option for staying in Devon with a choice of static caravans, cottages with hot tubs, camping and glamping pods. Here's our experience of staying in a static caravan at Andrewshayes holiday park in Devon.
Places to Eat in Devon
Regardless of whether you are staying in a hotel or holiday park in Devon, I'm sure that eating out is going to feature somewhere in your holiday plans. We've tried out a few places in Devon to help point you in the right direction.
The Hideaway Cafe, Seaton
If you follow the promenade away from the town, you will discover the hidden gem that is The Hideaway Cafe in Seaton. The building itself put a smile on my face with it's lovely art deco facade and we were very much looking forward to stepping inside after a blustery walk along the beach that day.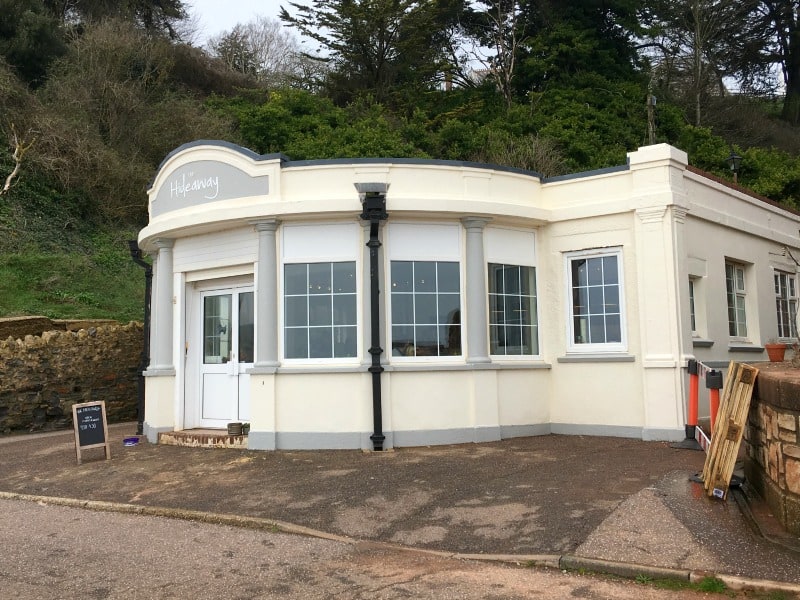 The menu is packed with sandwiches, light lunches, cakes and an array of daily specials. The produce used in the cafe is all locally sourced, and the prices reflect it with a ham sandwich with crisps and salad costing around £7. However, you are guaranteed a delicious lunch and on a warm day, perhaps an outside seat with a beautiful view of the sea.
Riverford Field Kitchen, Buckfastleigh
If you are planning on celebrating a special occasion or just want a treat during your Devon holiday, I can strongly recommend booking yourself a table at Riverford Field Kitchen for what will be an incredible feast of locally farmed and organic produce. We popped in for Sunday lunch, and I can honestly say it's one of the best I've ever had. Want to know more? You'll find our Riverford Field Kitchen restaurant review here.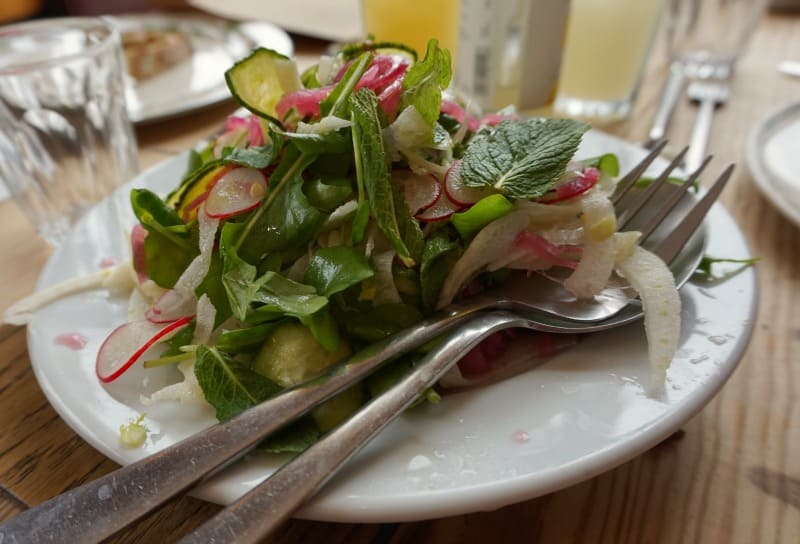 Board, Exeter
If you are heading to Exeter for the day, the kids will love a visit to Board cafe for a family-friendly meal with a difference. You can have them pack their favourite roleplaying tabletop games (like some available on https://dnd.wizards.com/products/catalog/tabletop-games or similar sites), or any board game of their choice, and have them bring it over to the venue. Here you get to add your favourite board games to your dining experience which has only got to add to your quality family time on holiday. Take a look at our experience of Board cafe in Exeter here.
Things to do in Devon
Devon is packed with things to do to keep the family busy. The best websites to help you make the most of your time in the area are Devon's Top Attractions and Visit South Devon but before you go rushing off to take a look at them here's some of the things we've loved to do with the kids in the area.
Explore Dartmoor National Park
When we visited Devon last year, we spent a lot of time getting to know Dartmoor National Park. We very much enjoyed the Moor Otters trail that was held last year, and really hope that something similar comes back to Dartmoor for 2018 or 2019. It was a fun way to explore the countryside and added a fantastic element for the children to enjoy. Even without the Moors Otter trail, you can still explore the local area with a scavenger hunt maybe or go looking for Dartmoor ponies for example.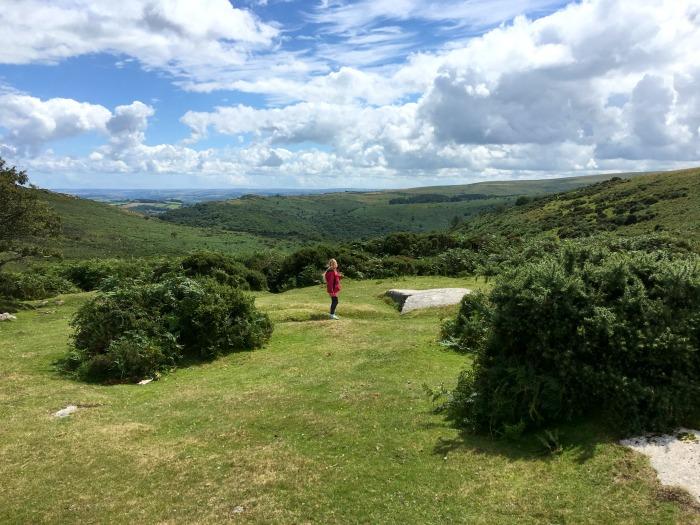 Buckland Abbey
Buckland Abbey was my first experience of visiting a National Trust property with kids, and it certainly didn't disappoint. The gardens of Buckland Abbey are stunning and there are also lots of walks around the grounds you can enjoy. We also enjoyed learning more about Buckland Abbey's history and it's relationship with the famous Sir Francis Drake. You can find out if visiting Buckland Abbey is something you might enjoy by reading our review of this day out in Devon here.
The Donkey Sanctuary, Sidmouth
You can't visit Devon without paying a visit to The Donkey Sanctuary at Sidmouth, as it's a fantastic family day out and best of all it's free to enter. The weather wasn't the best during our visit but we still had a lovely visit to meet the donkeys and learn more about how this charity helps support these animals all over the world.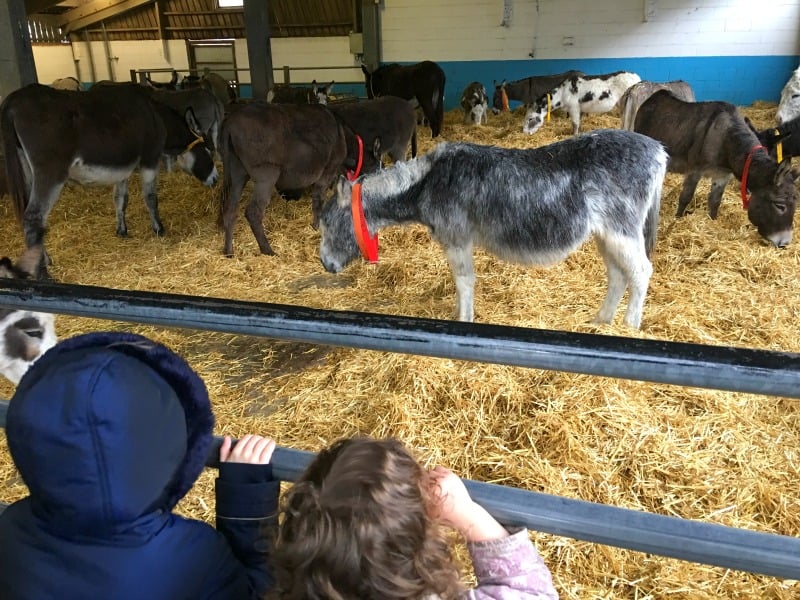 We met lots of donkeys which was a huge hit with Indie and Brook, and we also got to learn how they care for donkeys and make sure that those who have suffered neglect or ill treatment are bought back to health. There is also a maze and nature walks to enjoy during your visit, and a gorgeous cafe and gift shop that you will feel obliged to pop into, especially if you are a donkey fan.
Stuart Line Cruises
Devon is the perfect place in the UK to take a boat trip, and Stuart Line Cruises in Exmouth provide a great itinerary of trips for a range of different experiences. If you want to get a closer look at some of the oldest parts of the Devon coast line, then the Jurassic Coast boat tour is going to be the one for you.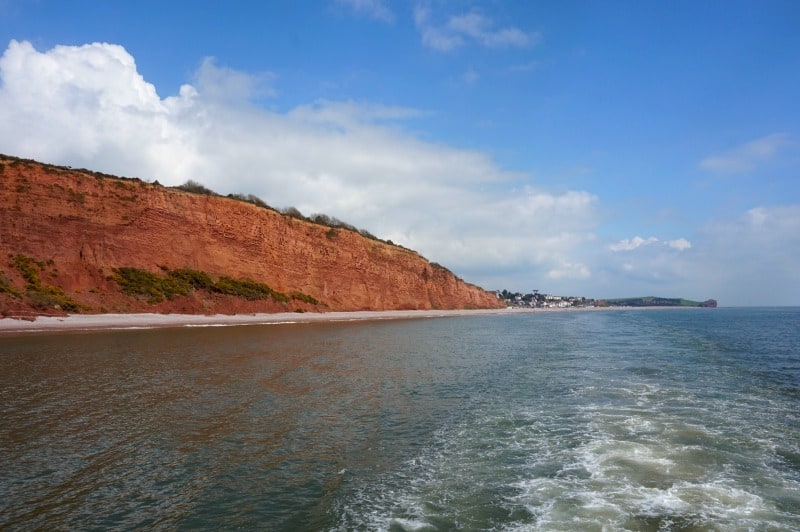 Seaton Tramway
If you are planning on visiting Seaton while you are in Devon, I strongly recommend using the Seaton Tramway to get your there. This fun and nostalgic trip will add a really fun element to your day out, and the kids will love spotting the local widlife and dinosaurs along the route.
Seaton Jurassic
If the kids enjoy dinosaurs and all things prehistoric, then while you are in Seaton, pop into it's latest attraction, Seaton Jurassic. This hands on exhibition will help to bring the prehistoric era well and truly to life for your family. The fun Time Traveller's project and interactive nature of this attraction is perfect for making learning lots of fun for the little ones.
Wildwood Escot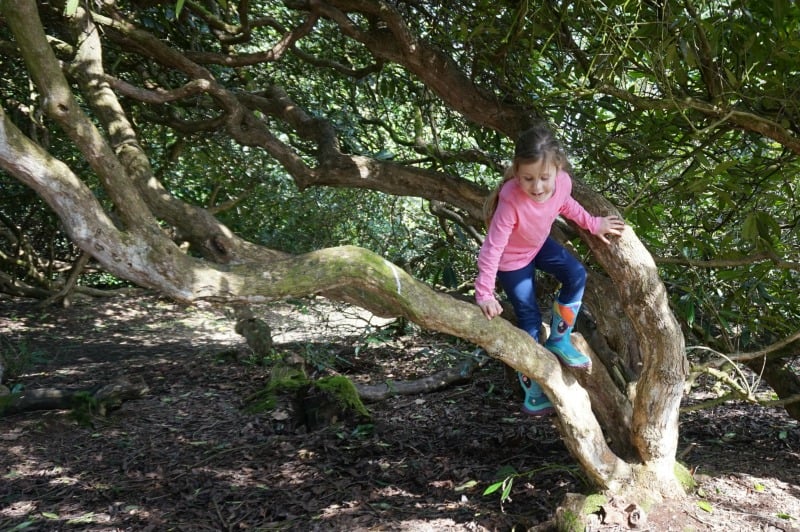 Last but by no means least, I would strongly recommend packing up your picnic and heading to Wildwood Escot for some good old fashioned outdoor fun. They have a bit of everything at Wildwood Escot, with amazing birds and animals to see, a huge maze to explore and a Saxon village to help you take a step back in time and see what the world was like before machinery and technology took over. We loved our experience here, especially getting to meet the wolves that live at Escot.
If you want to camp somewhere other than Devon, such as Durham, there are similar luxurious North East glamping lodges. Understandingly, the idea of sleeping under the stars and roasting marshmallows around a campfire appeals to many of us, but the reality of pitching a tent and sleeping on uneven ground does not. That being so, glamping or glamorous camping could be your ideal green vacation.
In case, you were not convinced about going on holiday to Devon before now, I hope I've managed to persuade you that this is a fabulous part of the UK to explore with your family. It's an area where you can do as much or as little as you like depending on how active you want to be. There are plenty of free attractions in Devon, as well as paid activities so it really does suit all family holiday budgets.
If you are a fan of visiting Devon, I'd love to hear your suggestions of places to stay and things to do in the comments below. I'm sure the other readers will find it useful.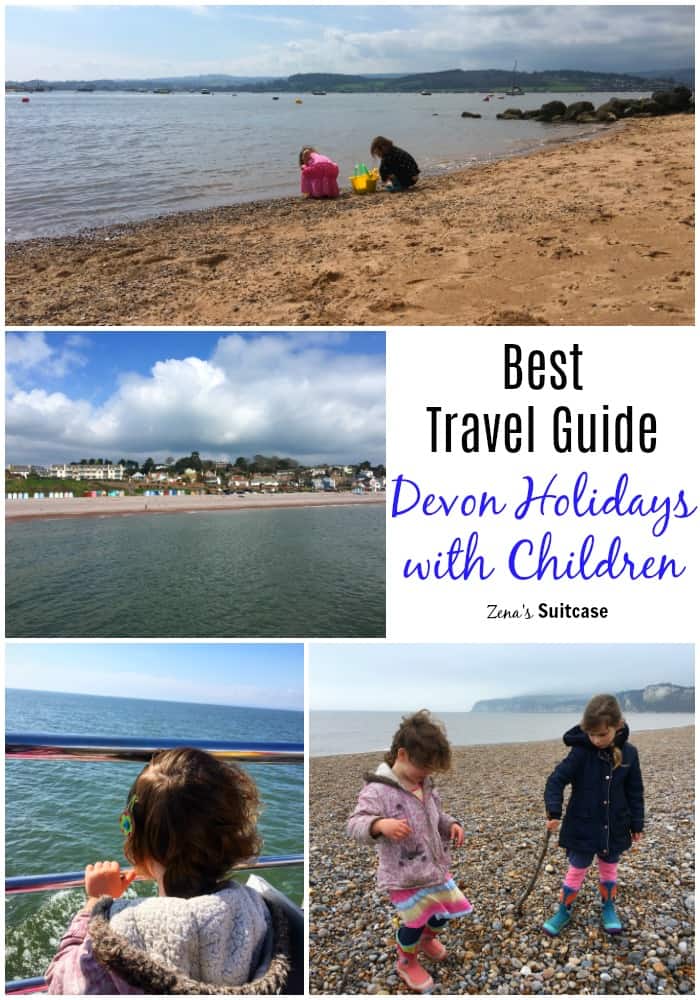 Know someone who would enjoy this post? Please do share it with your friends and followers, as it would literally make my day.
For the latest blog posts, offers and giveaways don't forget to subscribe to Zena's Suitcase. You can also follow the latest updates on Twitter, Facebook, Instagram and Pinterest.
This post refers to a number or complimentary holidays and activities that we have enjoyed during our visits to Devon, but I'd have no hesitation in recommending any of the above to friends, family or readers of my blog.