Hello readers! Thanks so much for stopping by once again.  If you are new here, a huge welcome to you as well and I really hope you enjoy what you find here on Zena's Suitcase blog.
I guess you might have stumbled across this post if you are looking for places to eat in Exeter with kids?  That's great news as I have a super family friendly cafe I think that you will love! We visited the Board Cafe in Exeter recently and here's what we thought of our visit.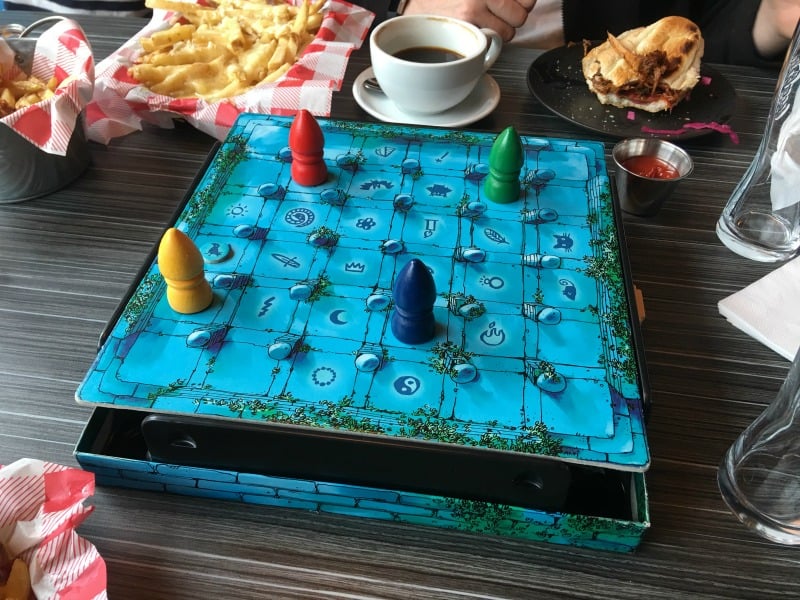 Eating out with kids can be a real hit and miss experience I've found.  Sometimes cafes and restaurants take you by surprise with their family facilities and child friendly menus, and others seem to miss the mark by a long stretch.  I'm sure you have had some varied experiences along the way as well.
When we arrived in Exeter, I wasn't quite sure how we would get on at the Board Cafe.  I was hoping that the girls would embrace playing board games and having lunch, but if they aren't in the right mood, it could all go down hill pretty quickly.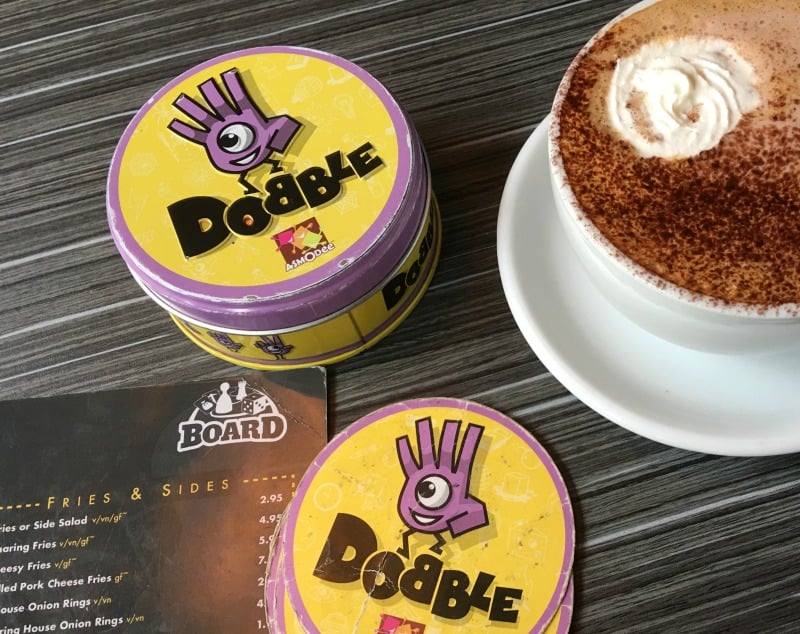 I'm pleased to say that all the stars were aligned this particular day, and as a family we had a lovely time at the Board Cafe in Exeter, and this was down to a combination of things. The staff were so friendly and helpful, the food was fab and we got to enjoy some quality time together which is always a win.
So how does it all work?
Well we sat down at our table and our waitress bought over the menu and a selection of age appropriate board games for us to try.  The first one was Dobble, and it was a game Brook was already familiar with from nursery so we were off to a great start.
We were given a brief run down of the rules so we could get started while we waited for our food to arrive.  Brook wanted to use the rules she was familiar with from nursery, so we went with that in the end to keep things on track.  We really enjoyed that Brook was able to share this game with us and being the youngest in the family, it gave her a a boost of confidence in this new setting we were in.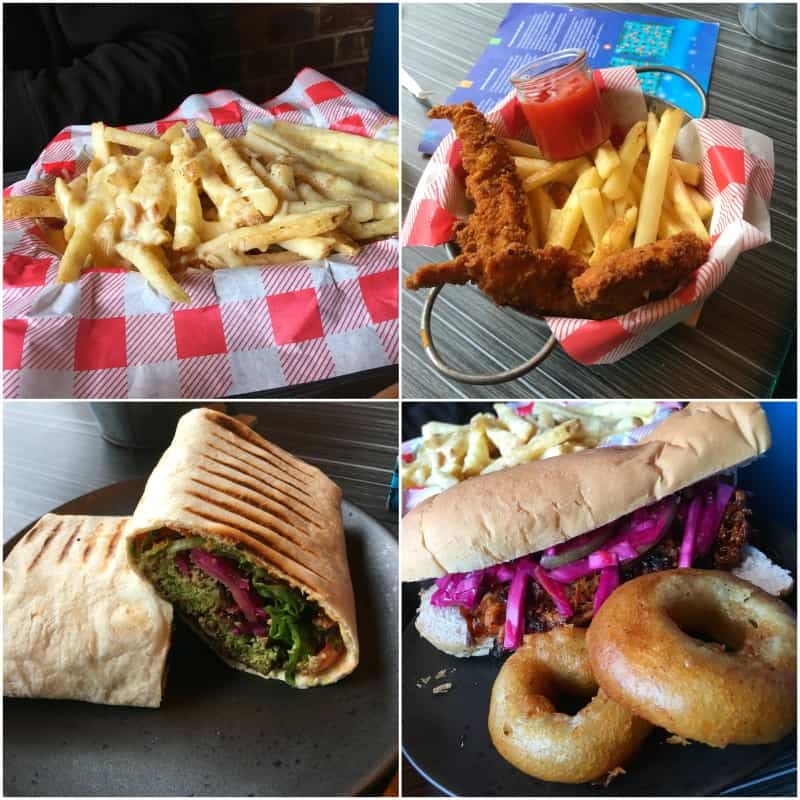 The food at Board Cafe is incredibly family friendly, and there is plenty of choice when it comes to the food as well as the games.  It's also worth noting that the food portions are generous so a plate of cheesy fries can easily be shared between two, or even four people.
The food is super tasty and fresh too, which really adds to the experience at the Board Cafe.  No one wants boring sandwiches and tasteless burgers now do they, instead you can enjoy delicious falafel wraps or pulled pork burgers if you visit Board.  The drinks selection is also great with delicious freshly ground coffee, milkshakes or even locally sourced beers and soft drinks.
The board game selection at the cafe is literally huge and there is something for everyone, no matter how old you are or what genre you enjoy.  You can keep in simple with a game of Top Trumps or delve into a strategy game like Lord of the Rings.  If you aren't familiar with the rules, you really don't need to worry as the super friendly staff will help you to get  started.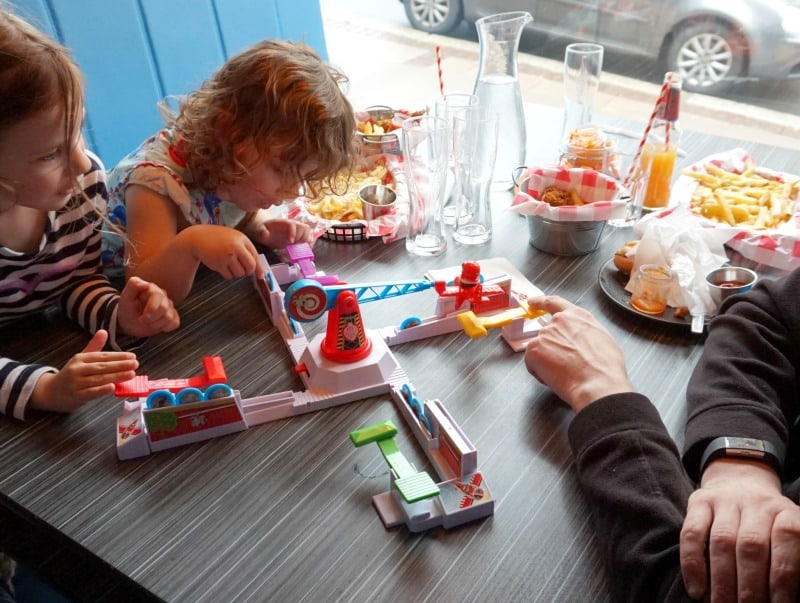 We played 3 more games while we were at Board Cafe, and some didn't quite work for us as a family, but it didn't matter as we just got to pick a new one and see if we enjoyed that better.
We spent about 2 hours at the Board Cafe, and the time literally flew by as we were having so much fun. As well as the food, the interaction and family conversation really added to our experience all because we were able to try out and play fun new board games together.
If you are looking for places to eat in Exeter, I would strongly recommend booking a table at Board Cafe as I think you will have a lot of fun.  The Board Cafe is a popular choice with locals and visitors to Exeter, so I would book a table in advance, especially at the weekends, so that you aren't disappointed.  You will also be pleased to know that there are late night opening times throughout the week, so that you can make the most of your social gathering with friends and family.
If you are planning to spend the day in Exeter, you can get lots of ideas for things to do and places to visit at https://www.inexeter.com/
Useful Information about Board Cafe Exeter
Board, 79 South StreetExeter, Devon EX1 1EQ

E-mail: [email protected] Phone: 01392 791396
Opening times
Monday to Thursday 11am – 11pm
Friday & Saturday 11am – Midnight
Sunday 11am – 10pm
We were invited to Board Cafe in Exeter for complimentary games and food but all thoughts and opinions are our own.