Glamping with kids is one of the easiest and best ways to get your children enjoying the outdoors at this time of year.  We were lucky enough to be invited to Wigwam® Holidays Millside near Grantham recently and I was super excited to be able to take the girls glamping in Lincolnshire and spending some quality time with them in the fresh air.
We decided to leave Daddy at home and make it a real girlie weekend away for myself, Brook and Indie.  Wigwam® Holidays Millside provides luxury glamping near Nottingham so it was literally in the perfect location for this trip.  I packed the girls and everything we needed for glamping with kids into the car and we arrived at Wigwam® Holidays Millside within 45 minutes of leaving our house.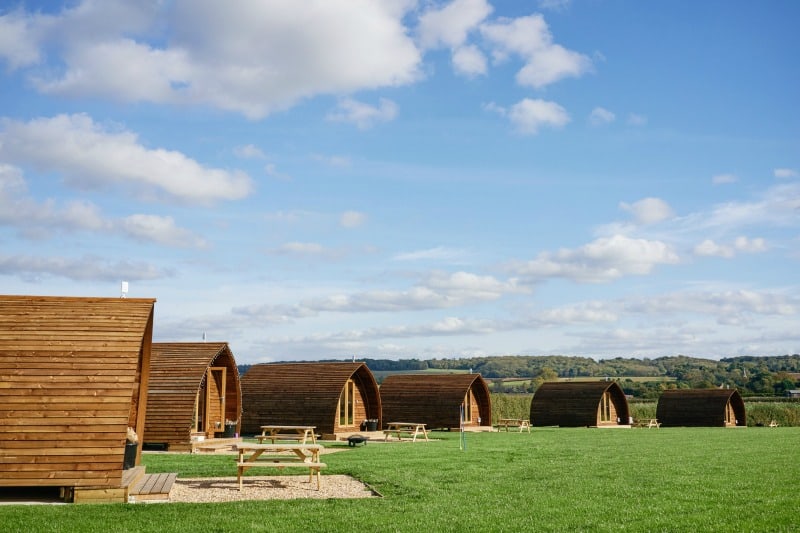 Family Glamping in Lincolnshire
When we arrived at our Running Water Deluxe Wigwam® Cabin I literally couldn't believe that holidays in Lincolnshire could be this good.  It felt like we were a million miles away from the city we had left behind and yet Wigwam® Holidays Millside was so easy for us to get to. To make sure we had a lovely weekend break, the sun had also arranged to shine and the skies were blue for miles around.  All we needed to do was sit back and relax!
In my opinion Wigwam® Holidays Millside is probably one of the best glamping sites in the UK for a short family break.  It was perfect in every way and ticked a lot of boxes for us from the moment we arrived. There are only 6 Running Water Deluxe Wigwam® Cabins on this Wigwam® Site at the moment so it's really small, which is great for people looking for a quieter glamping experience.  There are plans to put 3 more glamping pods on the site, and it wouldn't surprise me if the owners add one or two hot tubs as well, as I think these would go down very well with future guests.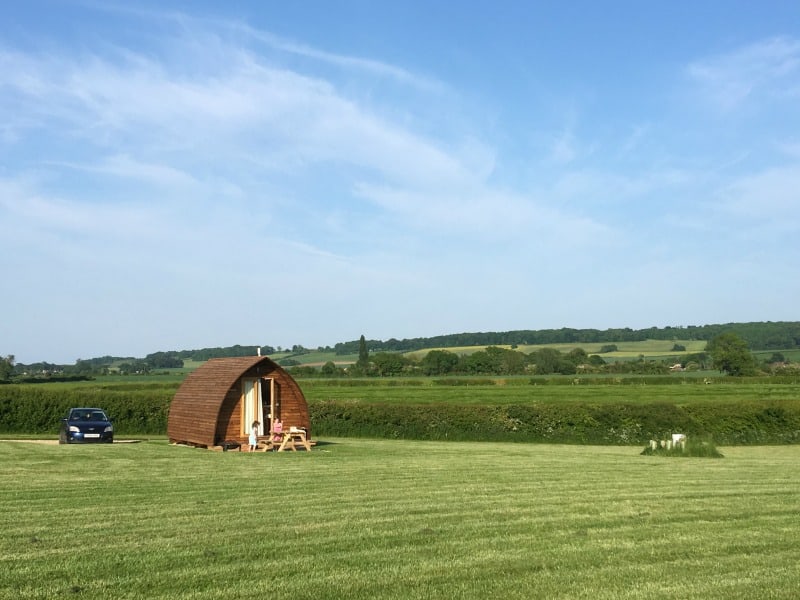 Each Wigwam® Cabin has it's own car parking space, and as there are only 6 glamping pods there are very few cars on the Wigwam® Site, even when it is full.  This makes it a really safe glamping site for children to play freely and make the most of their time outdoors.
Glamping with a Toilet!
There's a couple of other features to this site I'm really excited to share with you, and I'm not sure which to pick first.  I'm sure you would all love to know what it's like inside the Running Water Deluxe Wigwam® Cabins, so I'll begin there.  The luxury glamping pods at Wigwam® Holidays Millside have a shower room with toilet which we loved!
I don't mind having to walk across a field first thing in the morning to use the toilet block, but if I don't have to it's a bonus, especially when I'm in sole charge of 2 small children.  As well as the excitement I felt over having a toilet, sink and shower there was also a heated towel rail which is perfect for both before and after using the shower and if the weather is a little on the cooler side.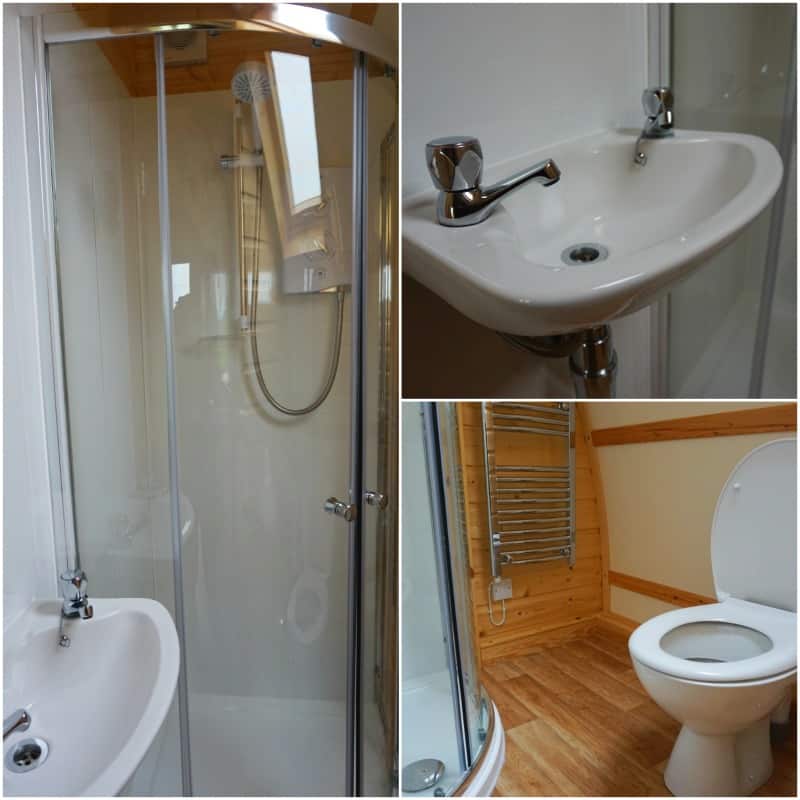 The Running Water Deluxe Wigwam® Cabins sleeps 4, with a double bed in the rear and a sofa bed that converts into a double bed as well.  For cooking and eating facilities the glamping pod really excels with everything you need packed neatly into an incredibly functional kitchen space.  There was a kettle, toaster, microwave, 2 ring hob and a small fridge.
There was also everything we needed in terms of pots, pans, crockery and utensils.  We very comfortably enjoyed breakfast and dinner at our glamping pod and can safely say they are a great option for a self catering weekend away with a family.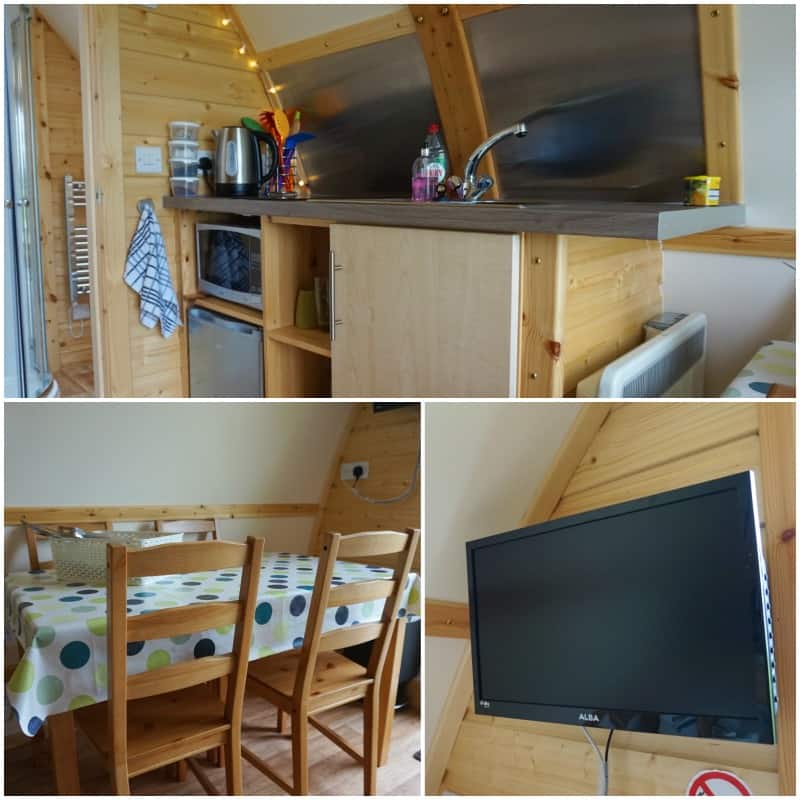 As well as all this, there was also a dining table with 4 chairs and a small flat screen TV with DVD player.  We didn't use the TV a lot, as the weather for the whole weekend was glorious, but if it had been wet it was nice to know it was there.  It did come in handy though when I was trying to get the girls to eat their dinner or calm them down ready for bed.
If the TV hadn't of been there I would have struggled to get them to come inside and finish a meal or even consider getting ready for bed, that's how much fun they were having playing outside with their new friends at Wigwam® Holidays Millside.
A Great Games Room Too
As well as the glamping pods, there is also a games room at Wigwam® Holidays Millside which was very well used by all the kids at the site.  Everything inside the games room is free for families to use and includes a football and snooker table, air hockey and a selection of outdoor toys.  There are also some very comfy sofas for anyone not wanting to play games and a corner of toys, books, DVDs and games perfect for younger children to use.  It was a great facility to have on the doorstep and made the site feel very welcoming, especially for families with children.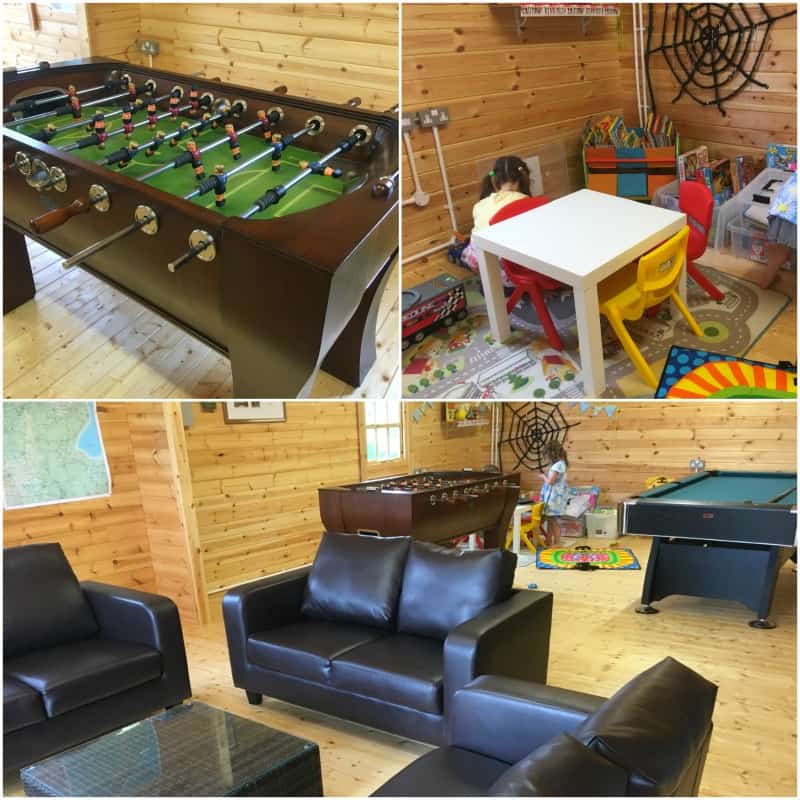 As well as great facilities, Wigwam® Holidays Millside is set in the most beautiful countryside.  The Wigwam® Cabins look out over uninterrupted views of the Lincolnshire countryside and your only neighbours for miles around are cows and sheep.
There are circular walks nearby and you will find maps to point you in the right direction inside your welcome pack when you arrive.  This is also dog friendly glamping, so if you want to enjoy the fresh air with your pooch Steve and Fiona are versed at making your 4 legged friend feel welcome too with a basket of dog treats for them to enjoy during their stay as well.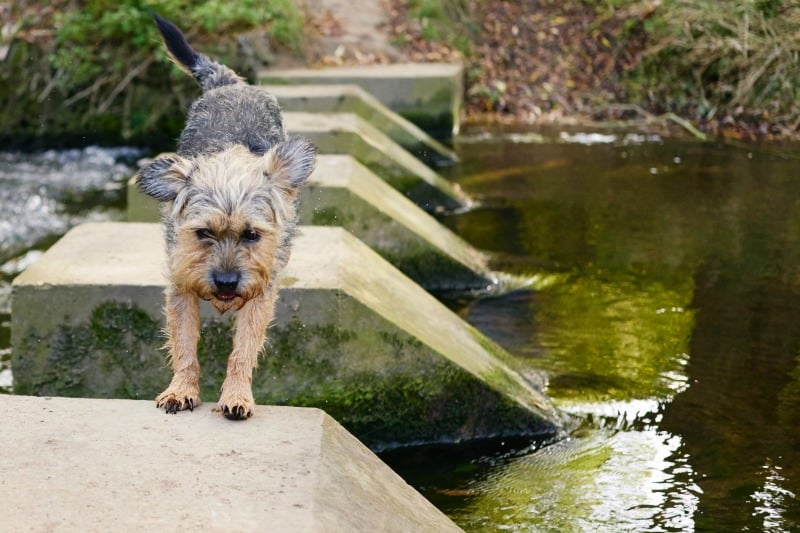 Things to do: Belton House
The other great thing about the location of Wigwam® Holidays Millside is it is just 2 miles from one of the Top 20 National Trust properties in the UK, Belton House.  The girls and I can vouch for this as we spent a day at Belton House while we were staying at Wigwam® Holidays Millside and we were very impressed.
When we arrived at Belton House, we headed straight for the adventure playground.  It's huge and perfect for kids of all ages who like climbing and exploring. There is also a miniature railway, which of course we jumped on, which takes you around the play area.
We also spent time in the arts and crafts centre and in the indoor play area.  The indoor play area has a cafe so it made for a great stop for lunch for the 3 of us.  The girls played quite happily while I enjoyed a coffee (and cake) while they weren't looking.  We also spent time exploring inside Belton House, the beautiful gardens and the maze, all of which the girls and I loved.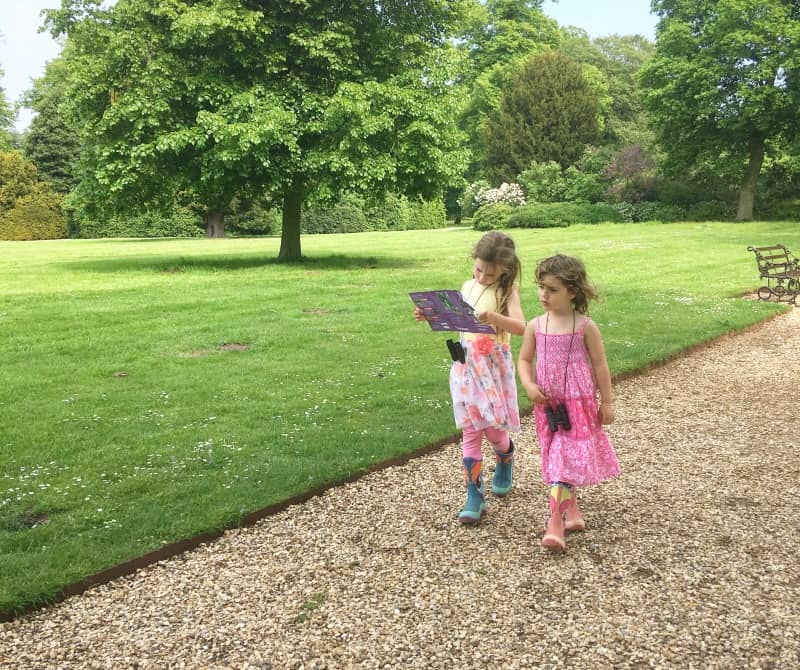 It was a very busy and active day by all accounts and it was nice to be able to head back to Wigwam® Holidays Millside, which is literally just around the corner and spend the rest of the day relaxing in the sunshine while the girls played with their new friends.
I cannot speak highly enough of our experience at Wigwam® Holidays Millside as it made for the perfect short break for the 3 of us.  I love the idea of camping holidays and letting the kids enjoy the outdoors but in practice we just aren't organised enough for these kind of trips all of the time.
When I was a kid we were always outside playing in the nearby fields or heading off for picnics on our bikes in search of adventure.  Even though times have changed, I'm passionate about letting my daughters get as close to these experiences as possible and glamping is a way of making this happen for them on a more regular basis.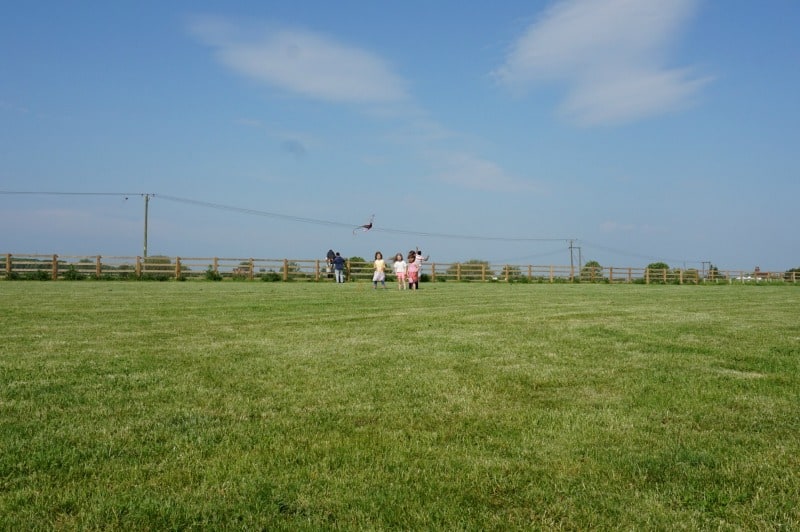 Feeling lucky? Check out my giveaways here.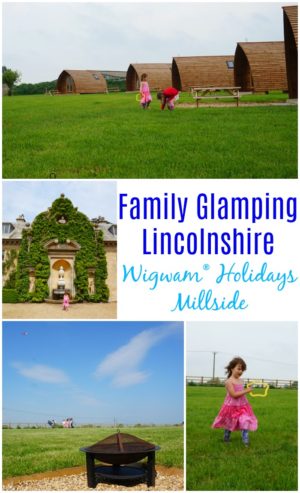 Know someone who would enjoy this post?  Please do share it with your friends and followers, as it would literally make my day.  
For the latest blog posts, offers and giveaways don't forget to subscribe to Zena's Suitcase.  You can also follow the latest updates on Twitter, Facebook, Instagram and Pinterest.
We were provided with a complimentary 2 night stay at Wigwam® Holidays Millside in exchange for this post but all thoughts and opinions are our own.