I have to confess I'd never heard of Cofton Holidays in Devon until very recently. Since our visit to stay in their luxury apartments at the Eastdon Estate I've literally been telling everyone about them, so it seems only right for me to share our holiday here with you too.
Brook and I drove from Nottingham to Devon for a long weekend at the holiday park, and I knew we would be too early for getting the keys to our apartment when we arrived.  I didn't mind though, as I'd read lots online about the great facilities at Cofton Holidays, and they also sent me a brochure through the post which I thought was a lovely touch.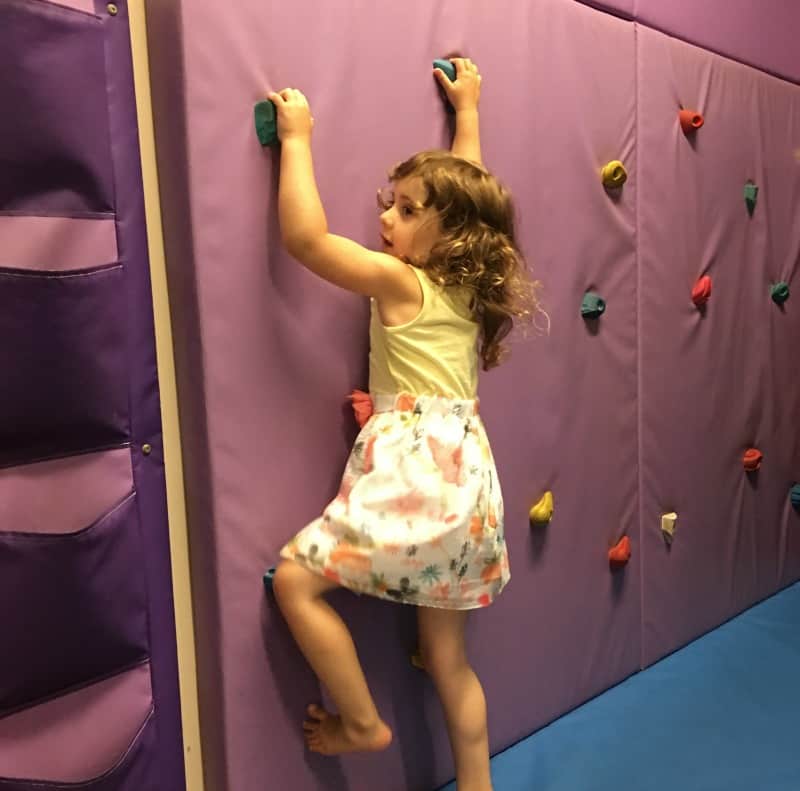 Facilities for Young Children
Brook needed to let off a bit of steam and I needed a coffee so we headed straight to Amelia's Cafe to explore the soft play.  We were immediately impressed with the the cafe and knew this was going to feature a few times in our holiday. There was an outdoor balcony overlooking the outdoor heated pools, plenty of space and seating for families and a soft play room for children.  There's also a fully equipped games room and access to the indoor pool and splash park is thorough Amelia's Cafe.
I sat near the soft play while Brook mastered the slide and the climbing wall.  She was very happy exploring and making new friends and I very much welcomed the opportunity to unwind from the 4 hour drive we had just done.  The coffee and carrot cake certainly helped me to settle in too!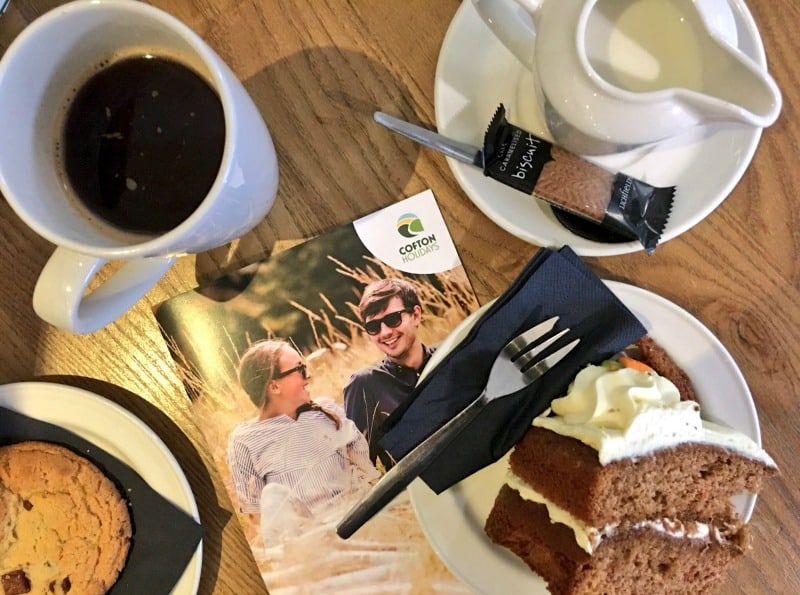 As the time got closer to 4pm, I prised Brook away from the play area to visit the onsite shop to pick up a few supplies before heading to our holiday apartment.  I was very impressed with the shop in terms of how well stocked it was and the prices.  We came out with some supplies for breakfast and Brook managed to talk me into buying her a toy and a magazine.
Staying at Eastdon Estate
We collected our keys and took the 5 minute drive to Eastdon Estate.  The luxury apartments and holiday cottages are not on the main holiday park.  Do not let this put you off as the location is literally stunning and you can walk between the holiday park and Easton Estate if you want to.
As we entered Eastdon Estate we were blown away with the grounds and the manor house that awaited us at the end of the sweeping drive.  Keen to get inside and see some more, we located the Meadowside apartment at the front of the house on the ground floor and went to look inside. The communal areas very much set the scene for what was ahead with beautifully appointed decor and restored original features.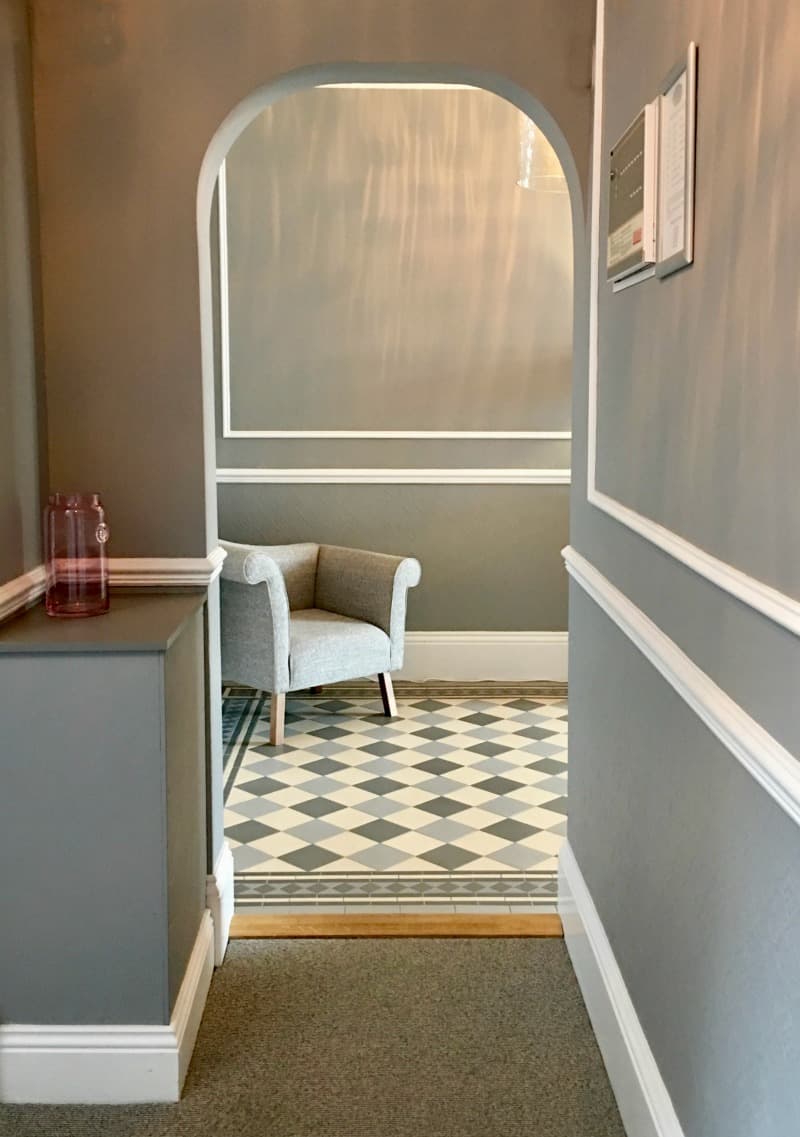 Inside Meadowside Apartment
Inside our apartment did not disappoint either in terms of both size and luxury features.  Meadowside apartment is a 2 bedroomed apartment with it's own patio door access which we found very handy.  We would happily have used the communal entrance if needed, but the patio door meant we could park close to the apartment and walk straight into the living room.  I found with Brook this was really helpful for getting her and all our stuff in and out of the car when needed.
There were so many lovely luxury features in Meadowside apartment making for a very comfortable family holiday or weekend break.  The carpets alone deserve a special mention as they were thick and fluffy and perfect for kids who like to go bear feet everywhere.  In the hallway, we really liked that the light was sensor activated, especially for when little ones get up in the night in need of the bathroom.
There was a double bedroom and a twin bedroom in Meadowside apartment.  The twin room was an excellent size and also well equipped with chests of drawers, bedside tables and well coordinated lamps and soft furnishings.  There was also a travel cot and high chair in the apartment if we needed it.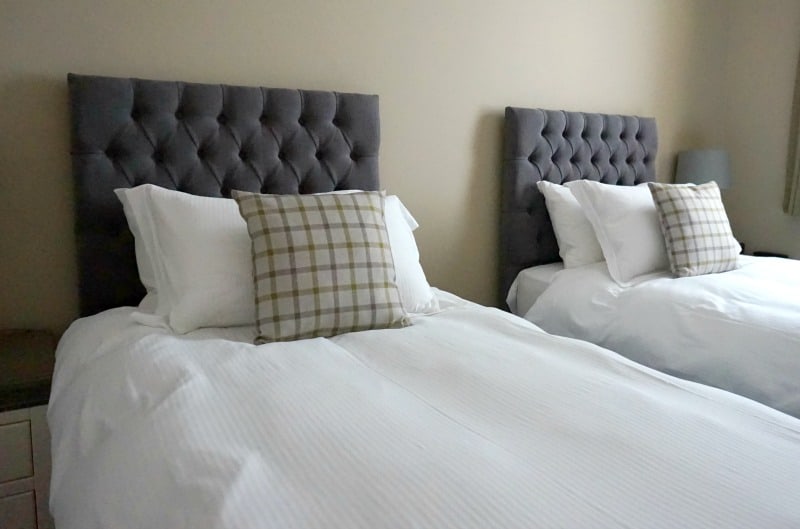 The main bedroom was just delightful with a dressing table placed at the full length window overlooking the main gardens and an original fireplace with guilt edge mirror for that extra touch of luxury. Each room also had a small TV but we used the one in the living area mainly.
That brings me nicely onto the living/dining room which was beautifully decorated and dressed with two large Chesterfield sofas and coffee table, a cinema style flat screen TV and a gorgeous dark wood dining table with chairs.
The icing on the cake though was the view from Meadowside apartment.  We were in the prime position inside this 18th century Georgian house to enjoy views over the beautiful gardens, and the harbour in Dawlish just a short distance away.  Brook particularly enjoyed being able to spot the local wildlife and was constantly on the look out for bunnies hopping across the field or one of the many birds that regularly visit Eastdon Estate.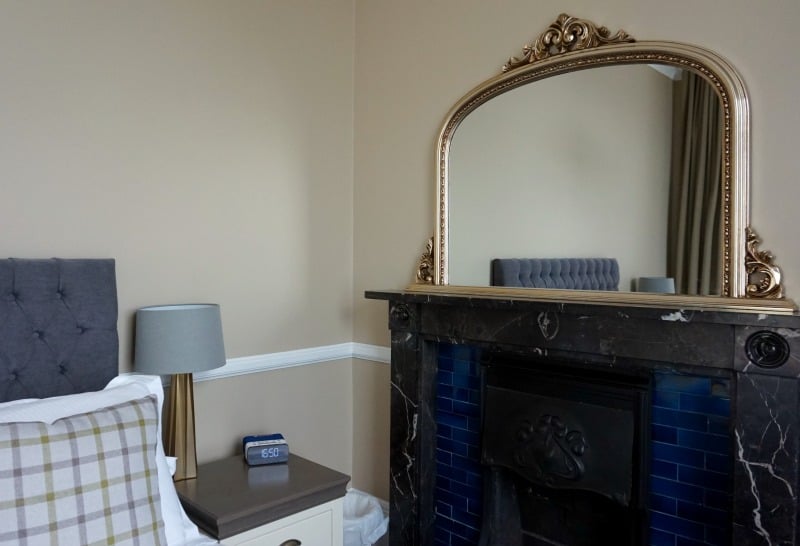 The living space ticked so many boxes for us as I knew we would be spending most of our evenings in the apartment.  Brook and I were very comfortable relaxing here at the end of a busy day exploring Dartmoor Zoo, Penywell Farm or visiting Cofton Holidays excellent pools and play areas.
The kitchen and bathroom were equally as impressive as the rest of the apartment with all that you could possibly require for a self catering holiday in Devon.  All the kitchen appliances were built-in iand included the dishwasher, cooker and fridge freezer. Not only was there more than adequate numbers of plates, crockery, pots and pans but there was also lots of additional equipment for baking and roasting.  With Sainsbury's literally just down the road, if you wanted to make a special celebratory dinner here it was well within the realms of possibility.
Have you seen our video tour of the Easton Estate luxury apartment we stayed in?
Eating Out at Cofton Holidays
That being said, I have found that I'm more likely to eat out on holiday on the first night we are away.  After a long and tiring day travelling it's nice to be able to have the evening off cooking, so Brook and I headed back to the holiday park for a family meal at Amelia's Cafe.  We had been so impressed with the facilities here earlier in the day, it seemed like the obvious choice for dinner.
What inspired me from the outset was Cofton Holidays enthusiasm for showcasing local produce in their menus at incredibly reasonable prices.  For this reason, I couldn't resist the Taste of Cofton when I saw it on the menu and when it arrived at the table I was not disappointed.
This particular dish was presented in a tapas style with a variety of local specialities.  If you can't decide what to have, this is a great option to pick from their menu.  As well as being beautifully presented, it smelt amazing as it was placed in front of me and I began to deliberate where to start.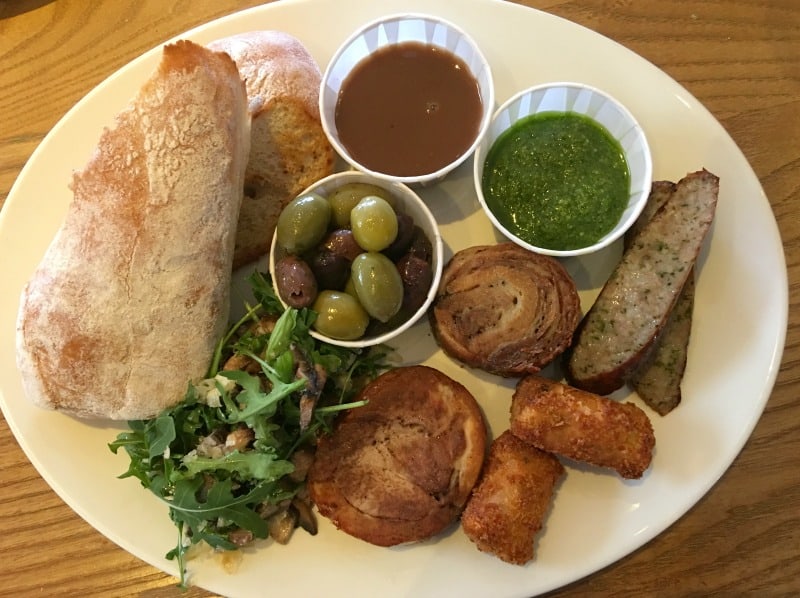 The crispy croquettes were a mouthwatering delight with the flavours of the cod and chorizo working in perfect harmony together.  The locally sourced pork belly was cooked to absolute perfection and literally melted in the mouth as it combined with the flavours from the balsamic dressing.
The dish also included sausage which was of exceptional high quality and flavour and a lightly toasted fresh ciabatta. If that wasn't enough there was also handmade pesto, olives and a wonderful side of rocket and mushroom salad topped with parmesan cheese.  I can only describe the whole combination as a delicious local feast that celebrated perfectly what Cofton Holidays and Devon have to offer in terms of good honest cuisine.
The children's menu was also very impressive at Cofton Holidays, with lots of choice for little ones.  Brook wanted chicken nuggets on the first night served with chips and salad.  The nuggets were real chicken breast and I think the chips were also a big hit too!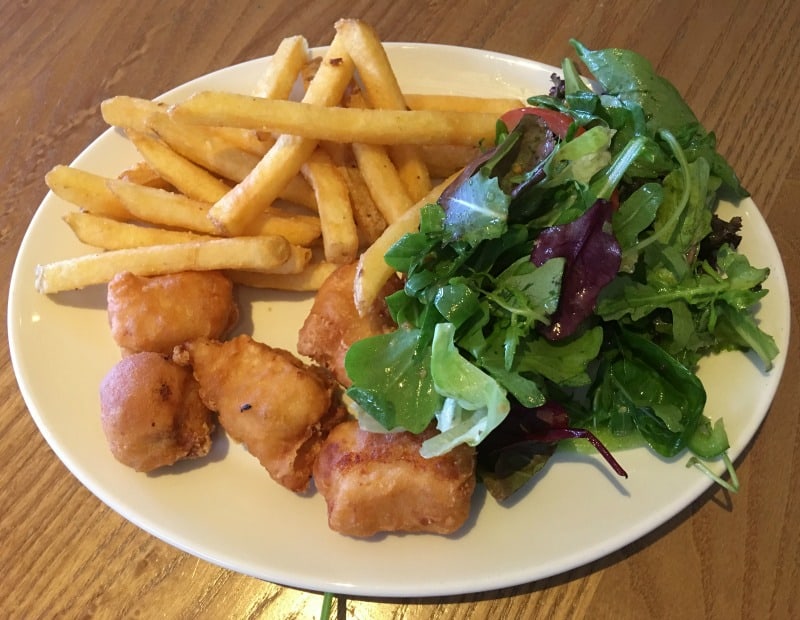 On another evening Brook had decided she wanted plain omelette on toast.  This isn't technically on the menu, but the staff at Amelia's cafe were more than happy to accommodate her request.  I was so impressed with this as sometimes children can be very specific about what they want, and if you try and give them anything else it just goes to waste.
I'm sure you've guessed that we also sampled a few of the desserts at the restaurant also, and we can give a huge thumbs up to the white chocolate cheesecake and the Belgian waffle with maple syrup and ice cream from the children's menu if you need any recommendations.
We Loved The Indoor Swimming Pool
During our break we were keen to use the indoor swimming pool at Cofton Holidays.  It's a popular facility at the park, but guests are given slots of 1 hour and 15 minutes for access, so everyone gets to enjoy going in.
There are well equipped changing rooms, showers and lockers as you enter so as long as you have your swimming bag with you, you can take a dip.  Brook loves being in the pool and she's told us recently that she wants to start swimming lessons again.  We are on a waiting list at the moment, but we are keen to keep her enthusiasm going and use any opportunity we can to take her swimming.
The indoor pool at Cofton Holidays is fantastic, and that's coming from a non-swimmer!  There is a splash park inside the pool that has fountains and jets that come on intermittently.  As soon as they start up most of the kids jump out of the pool for a play and it's completely safe for them to do so.  I stayed in the pool while Brook played in the fountains and made the most of the massage jets that came on at the same time.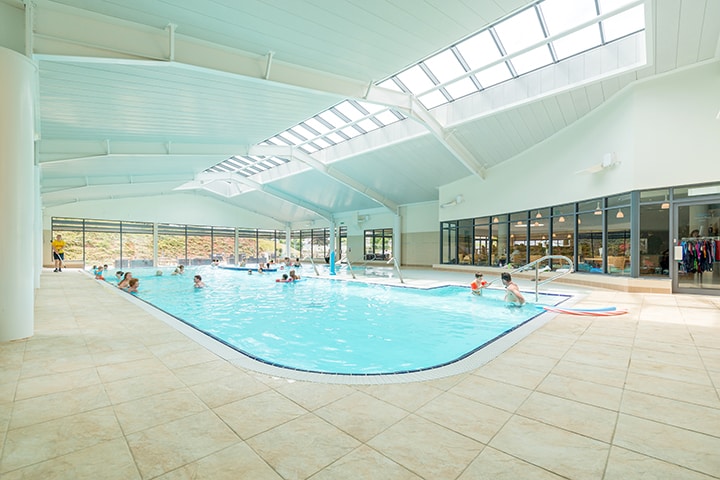 If the rest of the family had of been with us I know they would have loved this pool too.  It would also have given me the opportunity to sneak off and use the sauna and steam room in the health suite, but with only me to look after Brook this time it wasn't possible.
The other features that we loved about the pool were that there was always a lifeguard on duty and it was incredibly clean and well maintained.  We also noticed that the pool floor was made of an anti slip material, which for me as a non-swimmer gave me a huge amount of confidence being able to play in the pool with Brook.
Day & Evening Entertainment Programme
Cofton Holidays also offer an excellent entertainment programme at the park if you want to use it.  We managed to catch the disco with Digby the Dinosaur one evening and Brook loved it.  There were lots of fun games arranged by the entertainment team and a chance to meet Digby in person.  Brook also loved the opportunity to bust out her dance moves!
We noticed there were daytime activities as well, but sadly we didn't get chance to see what these were like.  There is also the Woodland Adventure Area, outdoor playgrounds, a donkey paddock, fishing and ten pin bowling.  In some ways it feels like we only scratched the surface of what Cofton Holidays has to offer, but that being said it strikes me that this holiday park caters for children of all ages and is one that we would be happy to go back to with both our children as they get older.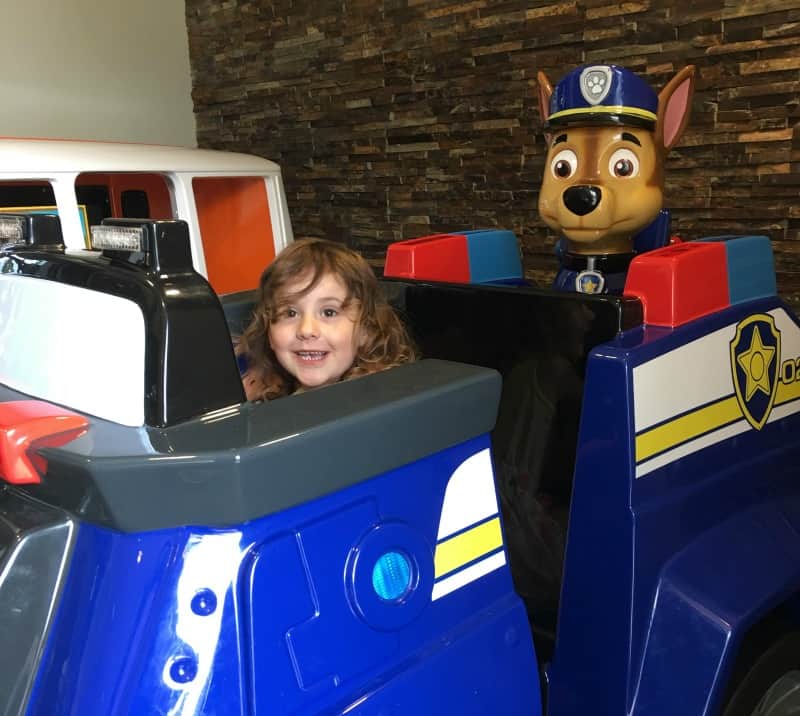 Cofton Holidays also provides a range of accommodation options for families and guests.  If you would rather stay at the main holiday park there is camping and touring pitches available as well as caravans.  We also loved the location of Cofton Holidays as we were very close to Dawlish Warren and Dawlish which both have excellent beaches. Exeter is only 10 miles away and if you are looking at days out near Cofton Holidays I can strongly recommend Pennywell Farm and Dartmoor Zoo, but more on those in another post.
Final Thoughts
If you hadn't guessed already we had an amazing holiday at the luxury apartments at Cofton Holidays.  We really felt that staying here gave us the best of both worlds in terms of a beautiful and quiet holiday location whilst still having access to all the facilities the main park had to offer.  Our only regret was not having the rest of the family with us for this visit to Devon as we know they would have enjoyed it as much as we did.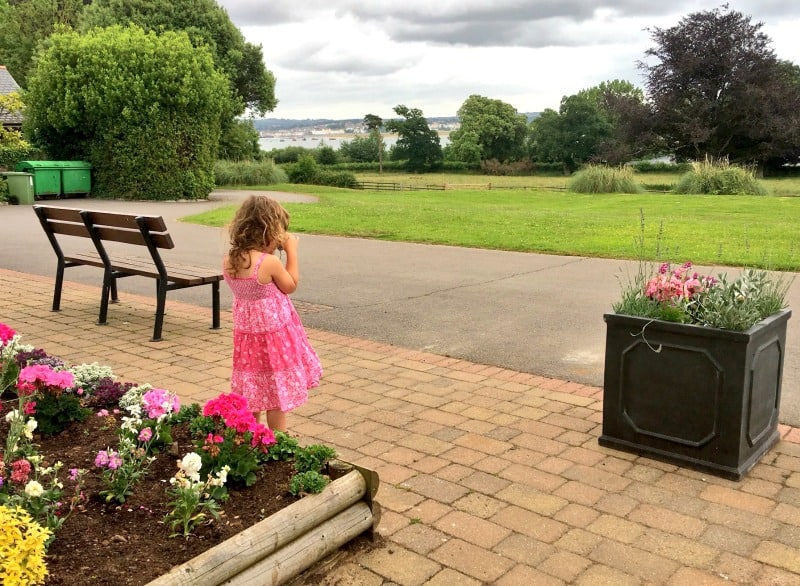 Some Useful Information If You'd Like To Book
Visit the website here https://www.coftonholidays.co.uk/
Address & Postcode:
Cofton Holidays
Starcross
Nr. Dawlish
South Devon
EX6 8RP
Telephone: 01626 890111
For tips and advice on places to stay, things to do, events, festivals and attractions in South Devon, go to www.visitsouthdevon.co.uk
We were provided with a complimentary stay at the Meadowside luxury apartment at Cofton Holiday park in Devon in exchange for this post, but all thoughts and opinions are our own.  We would happily recommend this holiday to friends, family and readers of Zena's Suitcase and may even plan our own return visit some day.