Brook and I headed to Pennywell Farm in South Devon looking forward to our day out with reasonable exceptions about what may lay ahead that day.  We've visited many farms over the years, and I thought we knew what to expect as we arrived at Pennywell that morning.  I should have known better, as Devon's tourist attractions always surpass my exceptions and Pennywell Farm certainly was no exception to this.  I would probably be as bold as to say its one of the most fun farms in Devon to visit with kids, and let me tell you why!
Pennywell Farm on a Rainy Day?
The weather was letting us down again, and I was worried the rain would spoil our expereince, as obviously there is a bit of an outdoor theme to a farm based attraction.  We headed towards the entrance and met the lovely Amy, who helped to put a smile on our face from the very start.  She gave Brook a name label so that she could be identified through out the day and we headed through the shop to the petting area.
To our delight this was completely undercover so there was no need to venture out into the rain just yet. It was buzzing with activity as the kids got to hold rabbits, guinea pigs, chicks and many more animals.  Brook held a little gosling and this really made her day.  She had been feeling a little bit homesick that morning after we Face Timed Daddy for Father's Day so it was just what she needed to cheer her up.
Activities at the Farm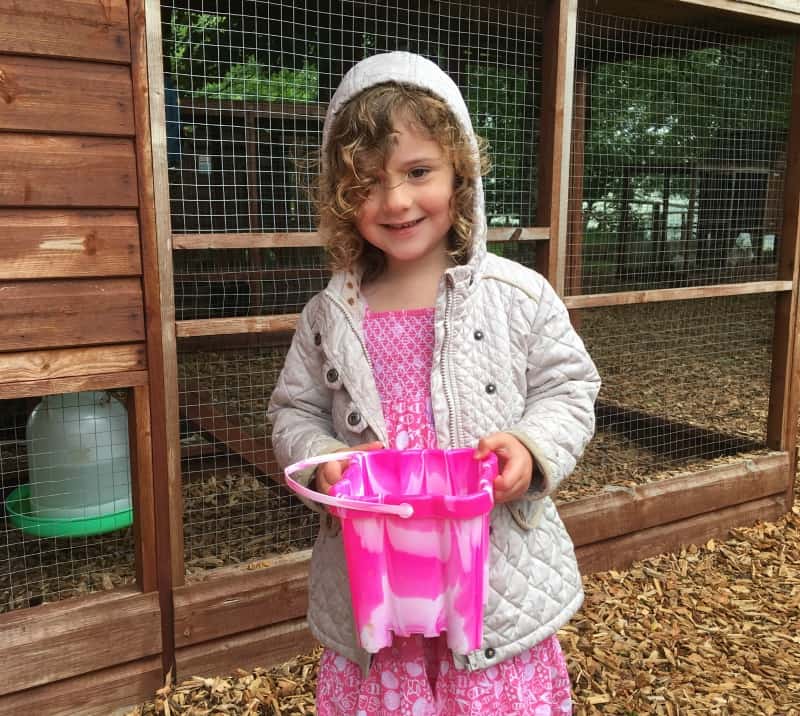 I heard the announcement for the egg collecting session in the farm yard, and Brook loves eggs so she was keen to take part.  At this point we hadn't really got to grips with the timetable of things to do at Pennywell Farm, but this felt like a great activity to get us started.
We headed down to the chicken coops and met lots of different varieties of chickens, who laid various sized eggs.  All the children who took part were so excited to put their eggs into the bucket and Amy made sure that everyone got a turn and gave us lots of interesting facts about the chickens living at Pennywell Farm.
The egg collecting was one of many farm related events taking place throughout the day and literally every half an hour there a new activity to take part in.  This made our day out at Pennywell Farm really fun and interactive and we learnt lots about farm life which we loved.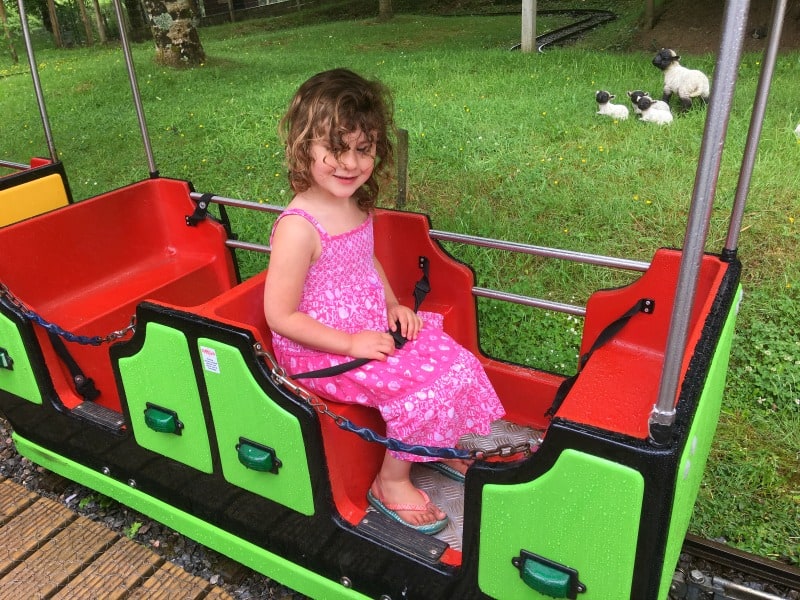 With lots of days out, you get the opportunity to walk around and look at animals and maybe you will get to go on a few rides as well, but Pennywell Farm literally takes it to the next level.  Brook got to milk a goat, she brushed a shetland pony in a pampering session and she also got to cuddle one of Pennywell Farm's famous miniature pigs.  Brook and I both loved the piggy cuddles, and if this is the only reason you visit Pennywell Farm, I promise you it will be worth it!
A Really Fun Packed Day Out
Our day out at Pennywell Farm literally flew by because of all the various activities and things there are to do there.  We arrived at 10am when the attraction opened (which I strongly recommend doing), and we could have easily have stayed until it closed but I had promised Brook that we would visit the beach as well that day so we had to squeeze that in too.
The timetable is on the huge noticeboard in the farm yard, and it's worth taking a photo of it and making a note of what you want to do during the day.  If there are activities that you aren't interested, don't worry as this is the perfect time to go on one of the free rides at the farm, go to the play area or try your hand at mini golf.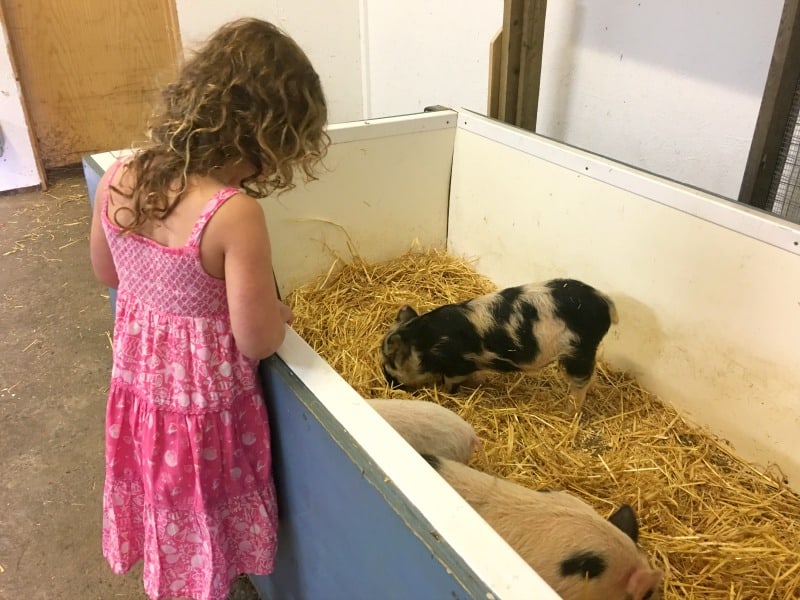 Pennywell Farm are also well prepared for the weather, and even though the attraction does have an outdoor element to it, the piggy cuddles and pony pampering for example are all undercover.  Through out the day a lot of the activities take place in the barn, and this is inside with plenty of seating.
Amy, who literally runs the show at Pennywell, would introduce us to the animal she was sharing with us in the barn.  There were lots of opportunities to get involved and answer questions but the highlight was definitely being able to interact with the farm animals.  The fact that Brook got to successfully milk a goat is a particularly treasured memory.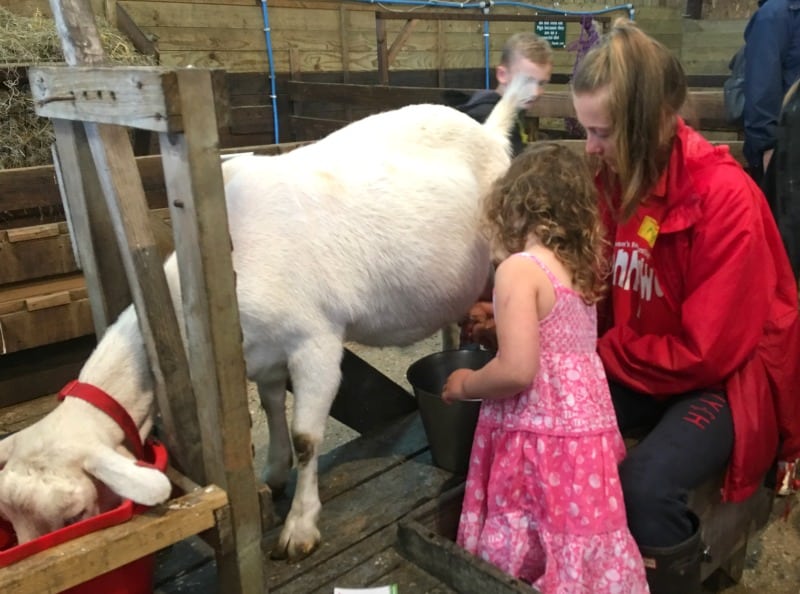 We really thought that Pennywell Farm was an excellent day out for kids in Devon, and it completely surpassed all our exceptions as we had no idea how involved we would be in farm activities and how much contact we would have with the farm animals.  It's a great family day out that we couldn't recommend highly enough to anyone visiting Devon for a holiday.
If we head back to Devon in the near future, we will certainly be heading back to Pennywell Farm to take the rest of the family as I'm pretty sure Daddy and Indie would be pretty impressed with it too.
If you haven't already seen it, take a quick look at our short YouTube video about our day out here:
Useful Information About Pennywell Farm
You'll find Pennywell Farm about half way between Exeter and Plymouth in South Devon.  We were staying at Cofton Holidays and it took us about 30 minutes to drive there, so it was really accessible for us staying in Dawlish.
If you are looking for indoor attraction in Devon, Pennywell is certainly worth considering as you will still have a great time here even if it rains.
For more information about Pennywell Farm, their special events i.e. Christmas and discounts visit the website here www.pennywellfarm.co.uk
Tickets & Prices: Adults £14.95, Children £11.95, Under 3's Free
Opening Times:  10am – 5pm until 28th October
Car parking is free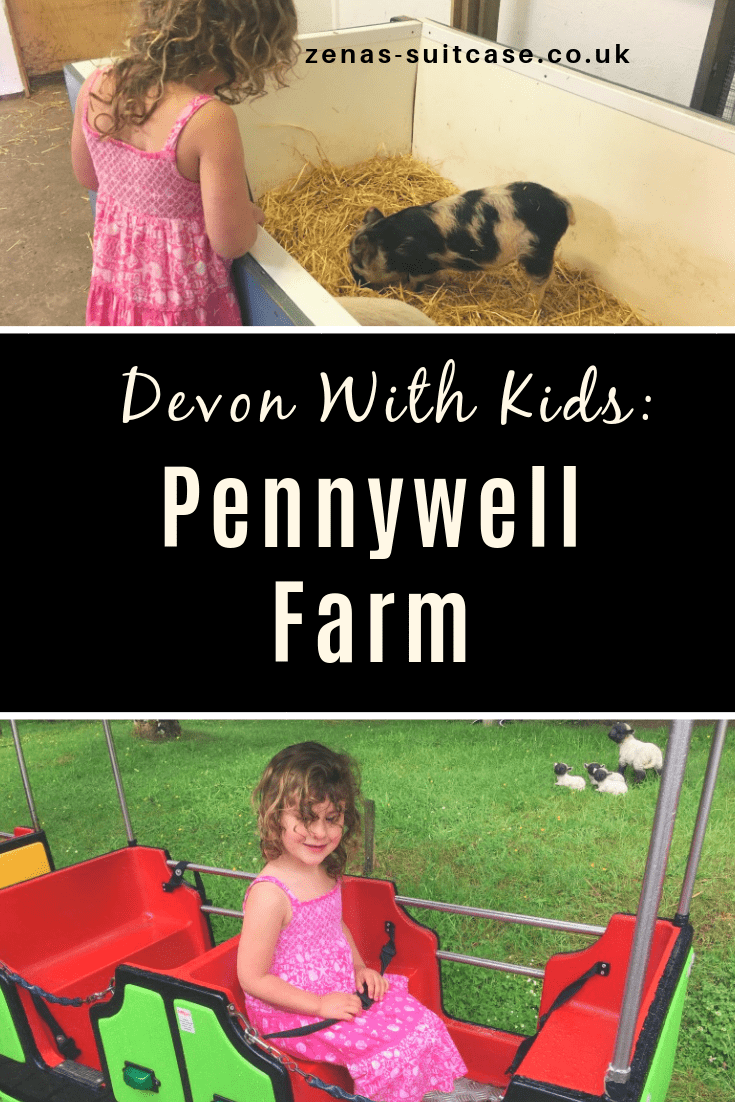 For tips and advice on places to stay, things to do, events, festivals and attractions in South Devon, go to www.visitsouthdevon.co.uk
We were provided with complimentary tickets to visit Pennywell Farm in exchange for this post but all thoughts and opinions are our own.