I really think it's tough for first time drivers these days who are looking to pass their driving test and get their first taste of road independence.  I passed my driving test over 20 years ago and things were quite different back then.  There was no theory test then and getting on the road and finding the right car insurance for first time drivers was a lot simpler.
Before I Learnt to Drive
I learnt to drive when I was 17, and I really think this is the best time to do it if you can.  I was literally counting down the days to my birthday and had my provisional licence ready to go and the first driving lesson booked for the big day.
I spoke to friends who were already learning to drive and got their recommendations in order to pick the right instructor for me.  I was really keen to learn with a female driving instructor and the one I picked was lovely.  She was really patient and helped me to build my confidence on the road to the point where I was ready to take my driving test.
It's really important to get the right person, so talk to friends or look at online reviews to get some feedback.  Unfortunately, there was no internet when I was learning to drive, but because I was learning to drive at the same time as my friends I spoke to them a lot about the instructors they were using at the time.
During My Driving Lessons
Unfortunately I wasn't able to practice learning to drive outside of my driving lessons.  I think this did mean it took longer for me to learn and build my confidence.  When it came to taking my test, I really did struggle to pass.  It actually took my 5 attempts to pass my test because I was so incredibly nervous.
The problem I seemed to have was being in the car with a stranger who was assessing my driving.  I just couldn't get passed it, which was so annoying.  On some tests, I would make a mistake in the first few minutes, then drive perfectly for the rest of the test.  Sadly, the mistake was usually a major which meant that I had failed.  It was so frustrating.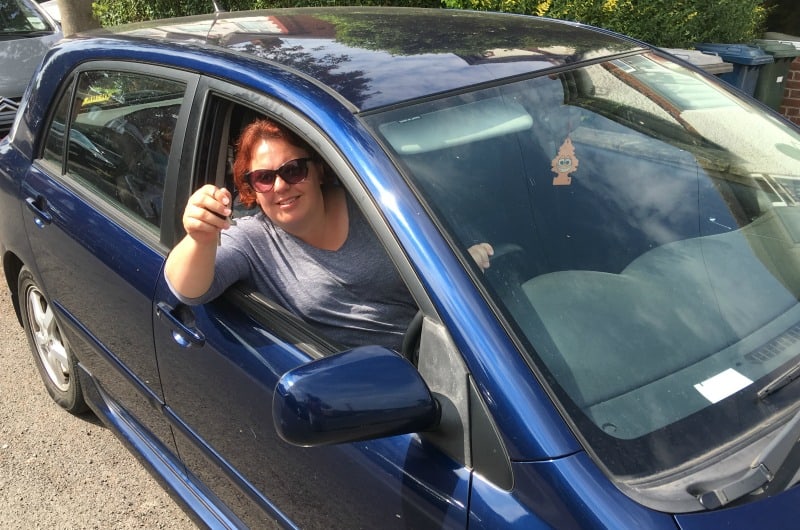 How I Passed My Test
In the end, my driving instructor suggested I go and speak to the Doctor and see what he suggested.  I was able to take some medication that didn't effect my driving but calmed my nerves enough to stop me worrying about the examiner.  It worked a treat and I finally passed and was able to apply for my full driving licence.
Then the whole new world of driving independently was opened up to me, but I really wasn't prepared for any of it.  Passing your driving test is just the start of it, then the real learning begins.  I remember taking the car out for the first time on my own, and there were so many mixed feelings.  There was a sense of achievement along side a huge sense nervousness for this new responsibility I had.
Car Insurance and Other Worries For First Time Drivers
Even though I had passed my driving test, I really wasn't prepared for everything else that goes with driving a car.  I didn't realise that tyres needed to be checked regularly, that brakes would need replacing and getting an MOT was a whole new concept.
The first expense I came across that hit me the hardest was first time driver car insurance.  Even back in those days it was expensive and there were no online comparison sites to look up the best insurance for first time drivers! I really was flying solo.
When my son passed his test, it was clear that things had changed a lot.  When we were buying his car insurance for the first time there were lots of things we were able to do to bring the cost down.  We checked out the best cars for young drivers and looked at a variety of car insurance quotes online too.
Aviva came up trumps to be honest, and the extras they offer with their car insurance are great for helping young drivers learn about the reality of driving and being responsible for a car.  The Aviva drive app is great for monitoring driving skills so that you can keep working on your skills.
If there is room for improvement it lets you know, but it also lets you know when you are doing well.  I would have loved to have had something like this when I was on the road for the first time by myself, I think it would have helped no end.  The Aviva drive app also comes with a dash cam, which has got to help first time drivers feel less nervous about being on the road by themselves.
One of the things my driving instructor said to me was that my downfall was going to be driving too fast.  She was absolutely right, and in those first few years I was over confident about my driving skills.  If I had of had the Aviva drive app and dash cam it would have kept my bad habits in check. I'm much more speed aware these days and drive far more responsibly than when I first passed my test.  Maybe with some help from Aviva I would have got there a bit quicker!
This post was written in partnership with Aviva