If you have found my post I'm guessing you have booked your holiday in the Costa Del Sol and are at the very exciting stage of looking for things to do in Nerja when you get there.  Nerja is a beautiful town on the Costa Del Sol and I really don't think you will be disappointed with your visit at all.  I have been on lots of holidays to Nerja, Spain over the years and it's definitely one of my favourite places to visit for a relaxing break in the sun.  In fact I just love Spain in general as a family friendly holiday destination.
One of the reasons I love visiting the Costa Del Sol is because getting from Malaga to Nerja is really easy.  I've often hired a car and picked it up from Malaga airport.  The drive is really straight forward and takes about an hour straight down the A-7.
If there's a group of you travelling, and you don't feel like you will use a car while you are in Nerja, an airport taxi is a good option too.  I've booked a taxi in advance from companies in Nerja to keep the cost down.  The cheapest travel option is to get a bus from Malaga Bus Station to Nerja, and the journey time is around 2 hours but you need to get to the bus station from the airport as well which isn't always practical with a lot of luggage.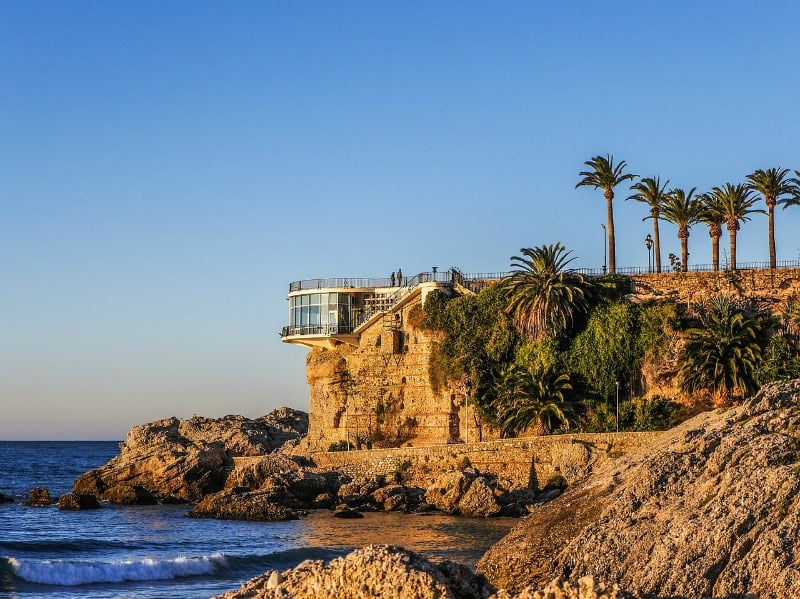 The other reason we love Nerja so much is the weather.  We tend to visit out of season as it's a great winter holiday destination.  If you visit Nerja in October for example the average temperature is 18°C with little chance of rain.  It's the perfect holiday when the weather in the UK is starting to turn wet and grey in the autumn and winter months.
Things to do in Nerja, Costa del Sol
Here's a list of all the things to do in Nerja to make the most of your Spanish holiday.
Balcon de Europa
The Balcon De Europa is one of the main meeting points in Nerja and is a lovely place to take a stroll and watch the world go by.  It's one of the best spots in Nerja to enjoy views over the Mediterranean and the near by beaches and coves without actually going on the sand.  It is surrounded by cafe's and restaurants, but due to their location they will be a little more expensive than others you will find in Nerja.
Eat Ice Cream
Eating an ice cream is probably a tradition on any kind of sunshine holiday, but it's still worth mentioning for things to do in Nerja.  In my opinion you will find the best ice cream kiosks on the Balcon de Europa so if you are planning to take a look around here it's the perfect place to grab an ice cream too.

Nerja Caves
I cannot stress enough how amazing Nerja Caves (Cuevas de Nerja) are and they are worth going to whether you are a first time visitor to Nerja or you are a regular to this part of Spain. They stretch over 5 kilometres and are home to some incredibly breathtaking stalagmites including the largest in the world!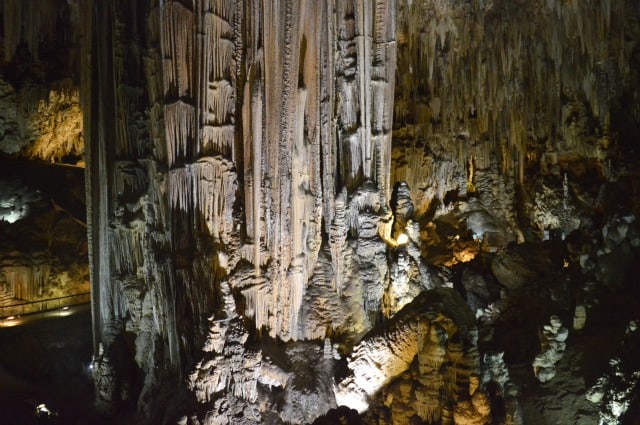 Tapas Run
Nerja is the perfect Spanish town to enjoy a tapas run, in fact it's a must for things to do in Nerja if you ask me.  There are so many good restaurants and bars that restricting yourself to just one place to eat would be utter madness.  Begin on Calle Almte. Ferrándiz and visit places like El Nino's to kick off you tapas run, and make sure you visit Bar El Pulguilla for freshly cooked tapas including prawns and mini burgers.
Burriana Beach
If you want to know the best beach in Nerja, Burriana wins hands down every time.  It's lined with cafes and restaurants and we love Ayo's for paella and Barboca for fresh sardines.  If you enjoy fresh fish and traditional Spanish food, these are the places to go for lunch.
My only note of caution is it's quite a steep walk up and down to this beach, and a hire car can come in handy for families wanting to visit here during their holiday.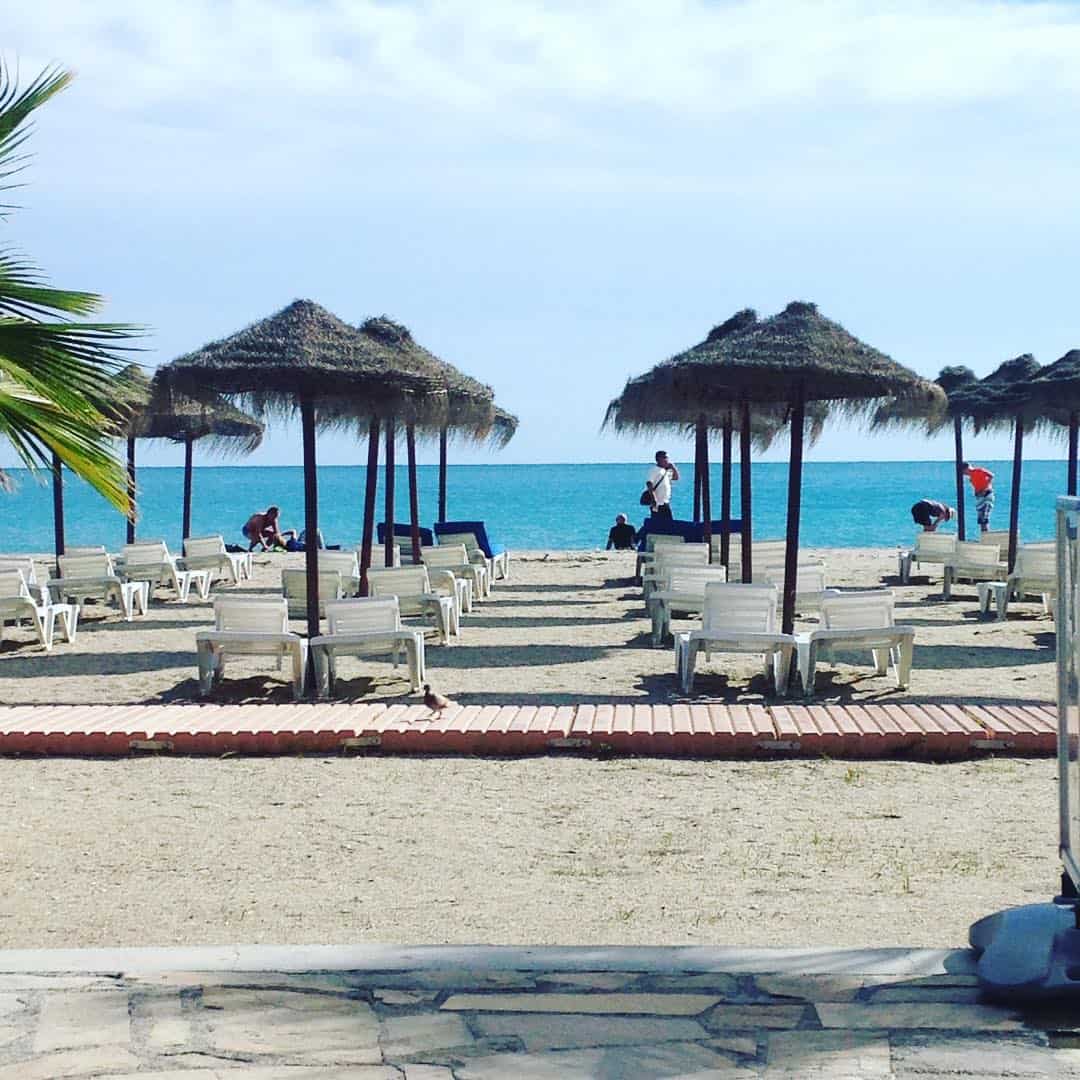 Take the Land Train
If it's your first visit to Nerja, the tourist train is a great way to explore the old and new town and get your bearings for the rest of the holiday.
Nerja Market
Nerja has two markets per week, both in the north of the town at Calle Cisne.  The Tuesday market is perfect for local fruit, vegetables, spices and clothes and accessories.  The Sunday market is more like car boot sale with lots of interesting bargains to be hand. Both are worth taking a look at if you enjoy exploring local Spanish markets.
Visit Frigliana
Frigliana is a village that is about 6 kilometres north of Nerja,  It's a traditional white town with cobbled streets and stunning views as well as a delicious local wine that has to be tried when you visit.  Market day is on Thursdays and is a great time to visit and grab a bargain too.
Granada
Going to Granada is a great day out from Nerja and it will take about an hour and fifteen minutes to get there by car.  Pre book some tickets to visit the Alhambra Palace and park your car here for the day.  This Moorish palace is a beautiful place to visit, but you can also catch a bus from here into Granada to explore more of the city and make the most of your day trip.
Which of these 9 things to do in Nerja will you be adding to your Spanish holiday?
Pin for Later