If you follow Zena's Suitcase regularly you will probably already know that I'm in charge of  the holiday checklist and the suitcase packing list for our trip.  I'd like to think I was an expert at packing, so I thought I would share my suitcase packing tips for anyone who is getting ready to go on holiday soon.  This post will teach you how to pack a suitcase so you are organised for going on vacation.
The idea of packing for holiday seems pretty simple doesn't it? But, believe me if you use these packing tips your holiday, travel will become a whole lot easier.
These holiday packing tips will show you:
best way to pack a suitcase
what to take on holiday
best way to pack clothes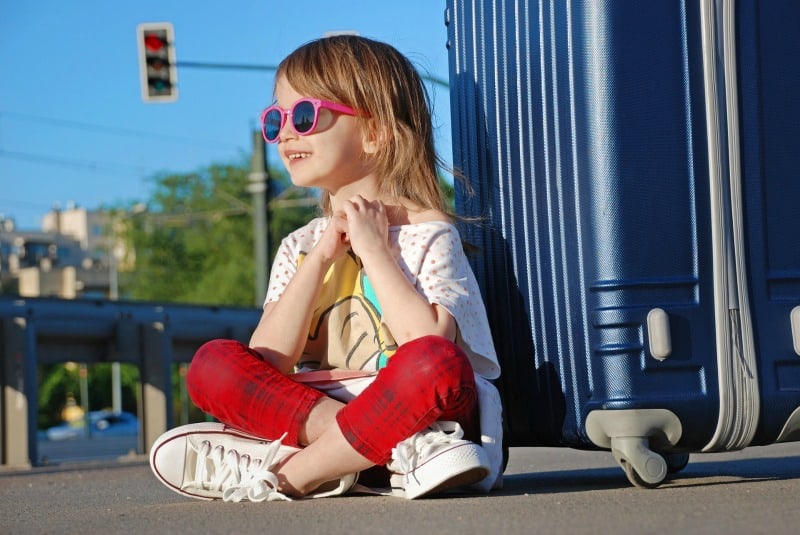 Best Suitcase Packing Tips 
Chose the Right Holiday Luggage & Bags
Before you start packing, chose the suitcases, back packs and hand bags you are taking on your vacation. When you are deciding which luggage and bags to take think about what is going to be manageable for you to carry especially if you are travelling with children.  Rucksacks are a great option as they can carry a lot but also keep your hands free for dealing with children and suitcases.
My other pro tip is that hard shell suitcases are best for airplane travel, but soft suitcases are great for road trips as they can give you that a bit more room in the boot when you need it.
Write a Packing List
One of the best suitcase packing tips I can give you is always use a holiday packing list when you travel. It saves a lot of time and it will prevent you forgetting an important item that you need to take with you.  Write a travel checklist for each person who is going on holiday and for each travel bag they are taking to keep your holiday packing checklist organised.
When you are writing your things to take on holiday, keep in mind that you are either working on what to take on holiday for a week or two.  Also make a note of any activities, day trips and evening events you plan to do so you pack the right clothing and gear for the trip.
Review Your Travel List
Once you have written your travel packing list, go over it and cross out any non-essential holiday items. There will be some things on your vacation packing list you can remove, I promise.  When we are getting ready for a big holiday, it's a given that we will want to pack for every possible eventuality.
Stick to the Holiday Tick List
One of my top travel packing tips is make sure you stick to the things to pack list, otherwise your travel packing will soon spiral out of control.  Think baggage allowance and unexpected charges at the departure gate if you need help keeping your holiday packing under control.
Packing Clothes  
Rolling your clothes is the best way to pack a suitcase when you need to save space in your luggage.  You will get a lot more in your suitcase or rucksack if you roll your clothes when packing luggage instead of folding them.
What Clothes to Take on Holiday 
When it comes to packing clothes, especially for a family, going with thin layers is a better approach than taking bulky jumpers and cardigans.  Always check the weather for the destination you are planning to go to.
Even sunny destinations can have rain, so being prepared is a must.  Check the weather when you pack so that the right clothes go in your suitcase for your holiday.  Thinking about the weather at night, when the temperature can drop, as well as during the day will also help you with what to pack for a holiday.
Stuff Things in Shoes
Shoes can take up quite a lot of room when you are trying to travel pack, so they are best placed around the edge of your suitcase.  Fill them with underwear or other small essential travel items. Shoes can also cause dirty marks on clothes, so you can either bag them, make sure the soles are facing the side or top of the case.  With flip flops tie them together with the soles facing inwards.
How To Pack When You Only Have Hand Luggage
There is no better way to keep your packing to a minimum than travelling with hand luggage only.  This will really force you to think about only packing your suitcase with what you need.  If you need help with how to cut back, then keep shoes to a bare minimum.  If you can manage to only travel with one pair then you are already halfway there.
Trousers and skirts can also be reduced if you plan to wear some items for a couple of days.  If you know you can get a hair dryer and towels at the location, leave yours at home and scale back on the holiday toiletries.  Also go travel size on anything you can like hairbrush and gadgets will help with packing a suitcase.
Lightweight Suitcase
Investing in a lightweight suitcase will help your baggage allowance go further and will make transporting your luggage through airports and holiday resorts so much easier.  We've pushed suitcases from off site car parks to bag drop and lugged them up several flights of stairs in hotels that haven't had lifts, and I promise you that be the end of a long day travelling every kilo counts.
Get a Suitcase with Wheels
If you want to get through an airport quickly and easily buy suitcases with wheels that swivel 360 degrees.  These are by far the easiest suitcases to manoeuvre, especially when you are travelling with kids.
Make Your Holiday Suitcase Easy to Identify
Either buy a colourful suitcase, use bright coloured labels or you can tie a bath puff to the handle to make it stand out.  This will really help when you want to identify your suitcase quickly at arrivals and get on your way whether it's to your accommodation or on the way home.  If you are going on a cruise holiday, there may be a point where you are looking for your suitcase is a sea of luggage at the port, so making sure you have made your suitcase stand out will prevent any moments of potential panic or getting the wrong case.
Buy a Suitcase that Locks
A suitcase that locks will improve your security no end and keep your personal items safe throughout the trip.  If you think about the value of the items you are going to be taking on holiday, making sure your suitcase is secure soon becomes a higher priority.  Do you travel with cameras, tablets, laptops and phones for example?
Take a Day Bag
When you are deciding which bags to take with you, allow for having a day bag with you during your holiday for trips out and visits to the beach.  This will be for your personal items, your camera and phone, and any drinks and snacks you need.
Pack Clothes That Don't Crease
When you are deciding what to pack for a holiday, pick clothes that don't crease.  Life is just too short to iron while you are on holiday or travelling.  Avoid clothes that wrinkle easily and when you arrive at your destination unpack and get your holiday clothes on the hanger as quickly as possible.
Don't Forget The Poncho
If you are expecting rain, take a poncho with you as they are lightweight and won't take up a lot of room.  They might not be a great fashion statement, but they are practical and are perfect if you only have a small suitcase.
Check the Airline Baggage Policy
If you want to know how to pack a suitcase for airline travel specifically then the first thing to do is check the airline baggage policy.  Make a note of any weight limits for checked luggage and how many suitcases you are allowed.
You may need to book checked luggage depending who you are flying with, but make sure you book enough for your travel party.  You don't want to be caught out with luggage excess charges at the airport as these can be expensive.  Make sure you don't get caught out by weighing your luggage after you have packed.
Also, make a note of how many bags you can carry on the airplane.  Some will allow a small suitcase and a handbag, but others only allow one carry on bag so don't get caught out.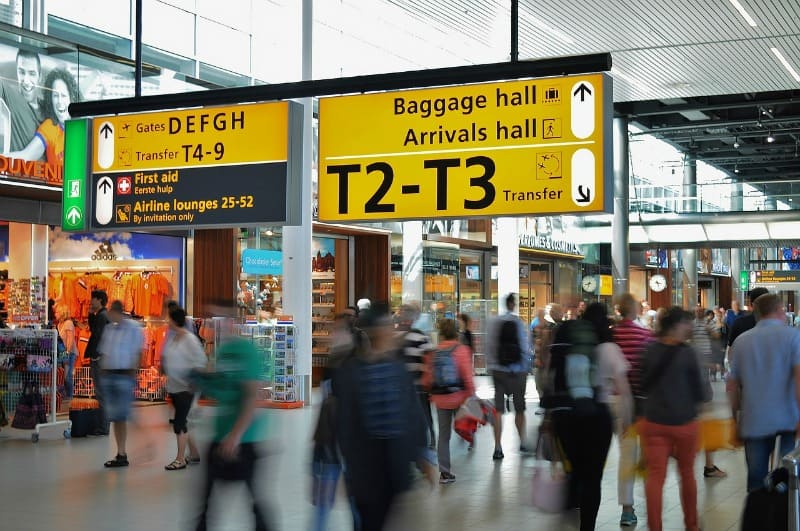 Use Packing Cubes
Packing cubes are a great way to organise your suitcase and so helpful when it comes to unpacking too. They are one of those travel things that you didn't know you needed until you actually have them!  If you haven't invested in any yet, here's some excellent packing cubes on Amazon perfect for family travel.
What to Pack in Your Carry On Luggage
There are lots of tips about what to pack in your carry on luggage out there, but I would always start with making sure this is where you pack your laptop, any other electronic devices and other valuables like jewellery.  If you need medication while you are travelling, keep that in your carry on luggage too.  It's also a great idea to keep one spare set of clothes in your carry on at least, just incase your checked luggage goes missing!
Laundry Bag
Pack a laundry bag in your suitcase and fill it up with your dirty clothes as you go.  This will make packing your suitcase to come home so much easier and it will keep your clothes organised while you are away on vacation too.
Make Sure You Separate Your Holiday Toiletries & Liquids
Always pack your holiday toiletries and liquids separately in ziplock bags or similar so that if they do leak while you are travelling they don't cover your clothes and shoes.  You can also reduce the amount of liquids you take buy packing things like shampoo bars.  If you are only travelling with hand luggage, make sure you stick within the liquid limits, usually 100ml, otherwise your toiletries will end up in the bin.
All your holiday toiletries will need to be sealed in a small plastic bag if you are travelling with hand luggage only.  One person usually gets one small bag to take on the plane.  If you are worried that you might need more toiletries during your trip than you are allowed to take on the plane, either buy them at the airport once you are through security or buy them when you arrive at your destination.
Wear Heavy Items
If you are worried about exceeding your baggage limit you could wear your heaviest items while you travel.  The items that tenant to weight the most and take up the most space in your suitcase are boots, jumpers and coats.
Pack Miniature Toiletries 
Another tip for keeping the weight of your suitcase down while you are travelling is to use miniature holiday toiletries and liquids where possible.  You can also use refillable travel bottles instead of buying extra mini travel products if you wish.
Some Things You Can Buy 
I've often fallen fowl of trying to pack the suitcase with everything we need, especially when travelling with kids.  When you have to take nappies and wipes, these can take up a lot of room when packing a suitcase.  If there is anything you can buy when you arrive, just pack enough in your suitcase for the first couple of days and budget to pick up these items on holiday.
Dryer Sheets
I always slip a couple of tumble dryer sheets in when I'm packing a suitcase or rucksack to keep clothes smelling fresh while travelling.  It's nice to open a suitcase and still experience that fresh laundry smell when you arrive on holiday.
Leave Some Space
 in Your Suitcase
If you know that you are going to be shopping for clothes or souvenirs while you are travelling make sure you allow for packing them in your suitcase on the way home.  Some people will take an empty suitcase on a trip especially for this purpose.  Factoring in your holiday shopping during your trip can save those stressful moments of trying to shut a suitcase to make sure it makes it home in one piece.
The other issue of course is your baggage allowance if you are going on an airplane.  You may want to increase your baggage allowance for the return trip if you are going on holiday specifically with a shopping trip in mind.
Do a Holiday Wash
A really good way of keeping your packing under control, and saving on the laundry piles when you get home is to do a wash while you are away.  One of the things that sends my holiday blues into overdrive is coming home and having to wade through piles of laundry.
If you have access to laundry facilities while you are away why not make the most of them and get your clothes washed. Packing luggage with clean clothes is also much more pleasant than stuffing it full of dirties, don't you think?
Don't Forget the Adapter
If you are travelling to a different country or you are going on a cruise, pack the right adaptor for your trip.  Then make sure you have added it to your packing essentials list and you pack it into your suitcase.
It's one of those things, that if you do forget to pack it, you will probably have to buy  on holiday.  I've got quite a collection of travel adaptors now because I've forgot to pack one in the suitcase.
Charge All Your Electronics  
Before I go on a trip I make sure my laptop, camera and phone are all fully charged.  I also charge any battery packs I'm taking with me and the kids tablets also have to be at 100%battery before we leave the house. If you need to charge your phone quickly, the best tip I learnt was to put it on airplane mode while it's plugged into the battery pack.  It charges a whole lot faster in airplane mode which can be really helpful when you are low on battery.
The Solution for Packing Heavy Books
Taking a Kindle is one of the best packing light tips I know for book lovers.  Instead of packing bulky books and it will fit easily into your carry on luggage and takes up way less room and weight.  the beauty of taking a Kindle on holiday is that you don't have to worry about how many books you pack in your suitcase either.
Remember the Size of Your Hire Car
Don't forget to take account of the size of your hire car when you are packing your suitcases and bags.  There is nothing worse than struggling to get all your cases in the boot before you can continue your journey.  If you are going on a road trip, soft luggage is the best option as it's easier to pack in a car.
Food and Drink for Travel
You will probably want to take some food and drink with you for the trip, especially if you are travelling with kids.  Refillable water bottles are great to have for the entire holiday and snacks that won't melt or squash are best for long journeys.  We always take into account food and drinks bottles when we are writing our travel packing checklist.  Kids seem to eat all the time and if you haven't packed any food and drink supplies, costs can soon escalate out of control whether you are a family or travelling solo even.
Would you add any suitcase packing tips to this list?  Leave me a comment with your favourite travel packing tips below.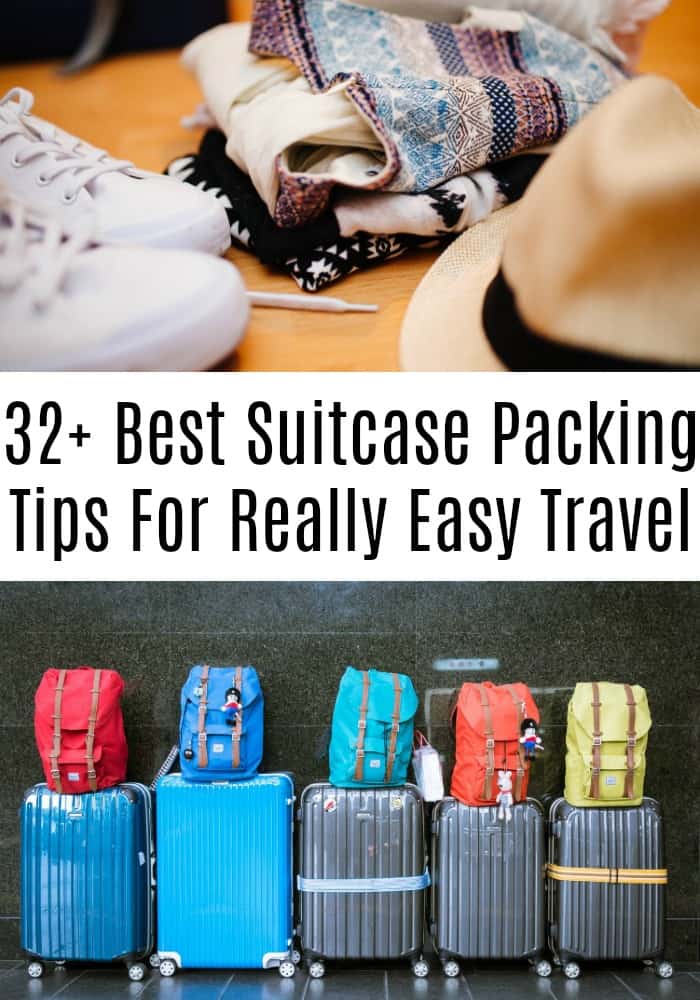 This post contains affiliate links and PR collaborations.