If you follow Zena's Suitcase regularly you will probably already know that I'm in charge of packing all the suitcases that we travel with.  I'd like to think I was an expert at it these days, so I thought I would share my suitcase packing tips for anyone who is getting ready to go on holiday soon.
The idea of packing a suitcase seems pretty simple doesn't it, but believe me if you use these suitcase packing hacks your holiday travel will become a whole lot easier.  These tips will show you how to pack a suitcase efficiently, show you how to only pack what you need to take and put an end to all that pre holiday stress that can creep into our busy lives just before our holiday.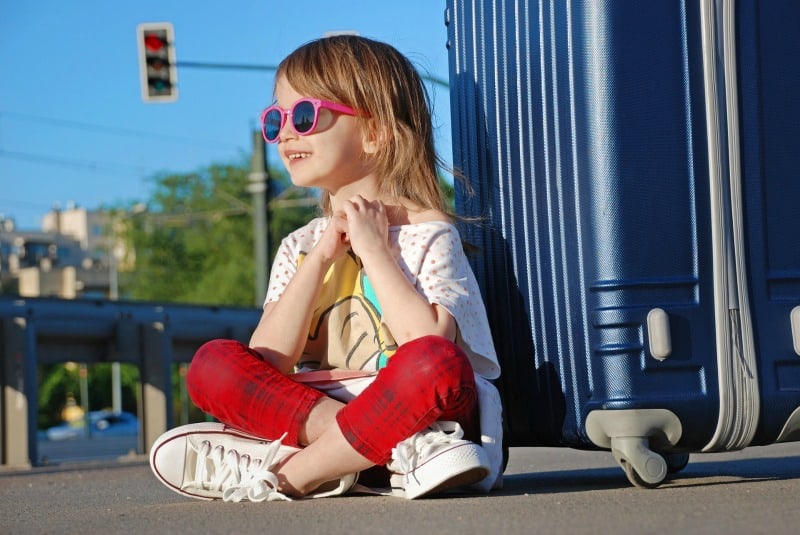 Best Suitcase Packing Tips 
Chose the Right Luggage & Bags
Before you start packing, chose the suitcases, back packs and hand bags you are taking on your trip. When you are deciding which luggage and bags to take think about what is going to be manageable for you to carry especially if you are travelling with children.  Rucksacks are a great option as they can carry a lot but also keep your hands free for dealing with children and suitcases.
Write Packing Lists
One of the best suitcase packing tips I can give you is always use holiday packing lists when you travel. It saves a lot of time and you probably won't forget an important item that you need to take with you.  Write a packing list for each person who is travelling and for each bag they are taking to keep everything organised.
When you are writing your packing list, make sure you are thinking about whether you are packing for one week or two.  Also make a note of any activities you plan to do so you pack the right clothing and gear for the trip.
Review Your List
Once you have written your list, go over it and cross out any non-essential items. There will be some you can remove, I promise.
Stick to the List
What ever you do, make sure you stick to the list otherwise your suitcase packing will soon spiral out of control.
Roll Your Clothes  
Rolling your clothes is the best way to pack a suitcase to save space.  You will get a lot more in your suitcase or rucksack if you roll your clothes instead of fold them.
Layers  
When it comes to packing clothes, especially for a family, going with thin layers is a better approach than taking bulky jumpers and cardigans.
Stuff Things in Shoes
Shoes can take up quite a lot of room, and are best packed around the edge of your suitcase.  Fill them with underwear or other small items. Shoes can also cause dirty marks on clothes, so you can either bag them, make sure the soles are facing the side or top of the case or with flip flops tie them together with the soles facing inwards.
Hand Luggage Only
There is no better way to keep your packing to a minimum than travelling with hand luggage only.  This will really force you to think about only packing your suitcase with what you need.
Lightweight Suitcase
Investing in a lightweight suitcase will help your baggage allowance go further and will make transporting your luggage through airports and holiday resorts so much easier.
Get a Suitcase with Wheels
If you want to get through an airport quickly and easily buy suitcases with wheels that swivel 360 degrees.
Make Your Suitcase Easy to Identify
Either buy a colourful suitcase, use bright coloured labels or you can tie a bath puff to the handle to make it stand out.
Buy a Suitcase that Locks
A suitcase that locks will improve your security no end and keep your personal items safe throughout the trip.
Day Bag
When you are deciding which bags to take with you, allow for having a day bag with you during your holiday for trips out and visits to the beach.
Pack Clothes That Don't Crease
When you are deciding what to pack, pick clothes that don't crease.  Life is just too short to iron while you are on holiday or travelling.
Check the Weather
Before you write your packing lists, check what the weather is going to be like while you are away.  It will also help you to pack the right clothes for your trip if you check the weather for both day and night.
Poncho
If you are expecting rain, take a poncho with you as they are lightweight and won't take up a lot of room.
Check the Airline Baggage Policy
If you want to know how to pack a suitcase for airline travel specifically then the first thing to do is check the airline baggage policy.  Make a note of any weight limits for checked luggage and how many suitcases you are allowed.
You may need to book checked luggage depending who you are flying with, but make sure you book enough for your travel party.  You don't want to be caught out with luggage excess charges at the airport as these can be expensive.  Make sure you don't get caught out by weighing your luggage after you have packed.
Also, make a note of how many bags you can carry on the airplane.  Some will allow a small suitcase and a handbag, but others only allow one carry on bag so don't get caught out.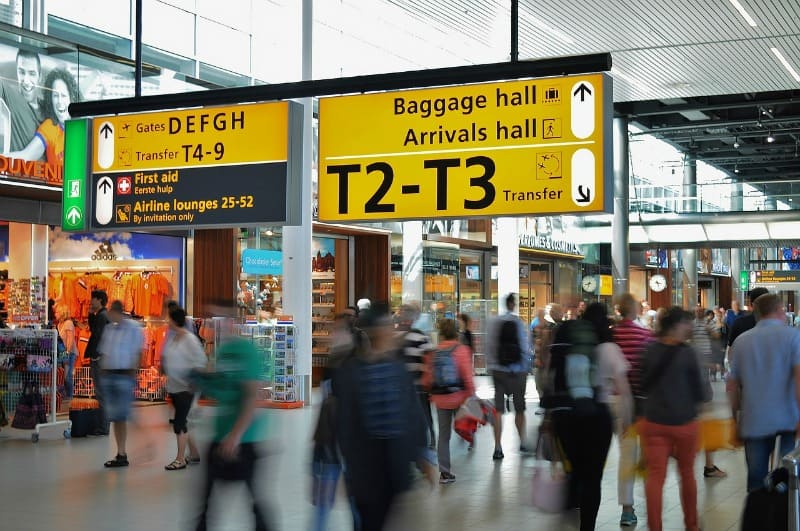 Use Packing Cubes
Packing cubes are a great way to organise your suitcase and so helpful when it comes to unpacking too. If you haven't invested in any yet, here's some excellent packing cubes on Amazon perfect for family travel.
What to Pack in Your Carry On Luggage
There are lots of tips about what to pack in your carry on luggage out there, but I would always start with making sure this is where you pack your laptop, any other electronic devices and other valuables like jewellery.  If you need medication while you are travelling, keep that in your carry on luggage too.  It's also a great idea to keep one spare set of clothes in your carry on at least, just incase your checked luggage goes missing!
Laundry Bag
Take a laundry bag in your suitcase and fill it us as you go.  This will make packing to come home so much easier.
Separate Liquids
Always pack your toiletries and liquids separately in ziplock bags or similar so that if they do leak while you are travelling they don't cover your clothes and shoes.  You can also reduce the amount of liquids you take buy packing things like shampoo bars.  If you are only travelling with hand luggage, make sure you stick within the liquid limits otherwise your toiletries will end up in the bin.
Wear Heavy Items
If you are worried about exceeding your baggage limit you could wear your heaviest items while you travel like boots, jumpers and coats.
Pack Miniature Toiletries 
Another tip for keeping the weight down while you are travelling is to use miniature products where possible.  You can also use refillable travel bottles instead of buying extra mini travel products if you wish.
Some Things You Can Buy 
I've often fallen fowl of trying to pack everything we need, especially when travelling with kids.  When you have to take nappies and wipes, these can take up a lot of room in a suitcase.  If there is anything you can buy when you arrive, just pack enough in your suitcase for the first couple of days.
Dryer Sheets
I always slip a couple of tumble dryer sheets in my suitcase or rucksack to keep clothes smelling fresh while travelling.
Leave Some Space
If you know that you are going to be shopping for clothes or souvenirs while you are travelling make sure you allow for packing them on the way home.
Do a Wash
A really good way of keeping your packing under control, and saving on the laundry piles when you get home is to do a wash while you are away.   
Don't Forget the Adapter
If you are travelling to a different country or you are going on a cruise, pack the right adaptor for your trip.
Charge All Your Electronics  
Before I go on a trip I make sure my laptop, camera and phone are all fully charged.  I also charge any battery packs I'm taking with me. If you need to charge your phone quickly, the best tip I learnt was to put it on airplane mode while it's plugged into the battery pack.  It charges a whole lot faster.
Like to Read?
Taking a Kindle is a great suitcase packing tip instead of bulky books and it will fit easily into your carry on luggage.
Size of Hire Car
Don't forget to take account of the size of your hire car when you are packing your suitcases and bags.  There is nothing worse than struggling to get all your cases in the boot before you can continue your journey.  If you are going on a road trip, soft luggage is the best option as it's easier to pack in a car.
Food and Drink for Travel
You will probably want to take some food and drink with you for the trip, especially if you are travelling with kids.  Refillable water bottles are great to have for the entire holiday and snacks that won't melt or squash are best for long journeys.
Would you add any suitcase packing tips to this list?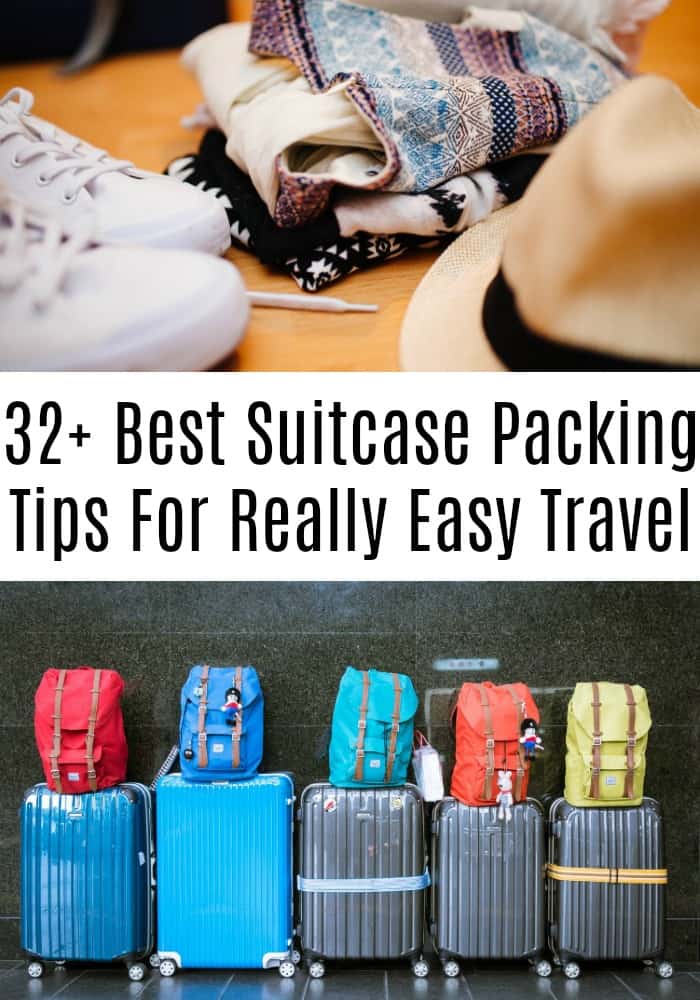 This post contains affiliate links and PR collaborations.