When the email arrived asking me to take a look at the new BABY Born Interactive Girl Doll I knew I had to say yes.  Indie, aged 6 years old and Brook, aged 4 years old wouldn't have forgiven me if they found out I'd denied them a new BABY Born doll.  They are huge fans of these interactive baby dolls which you might remember from our BABY Born sister doll and BABY Born bath time doll reviews.
When I revealed the BABY Born Interactive Girl Doll to them they were so excited to play with her.  I couldn't get the doll out of the packet fast enough for them! Given their enthusiastic reaction I would say this would make a great toy idea for a birthday present or Christmas present.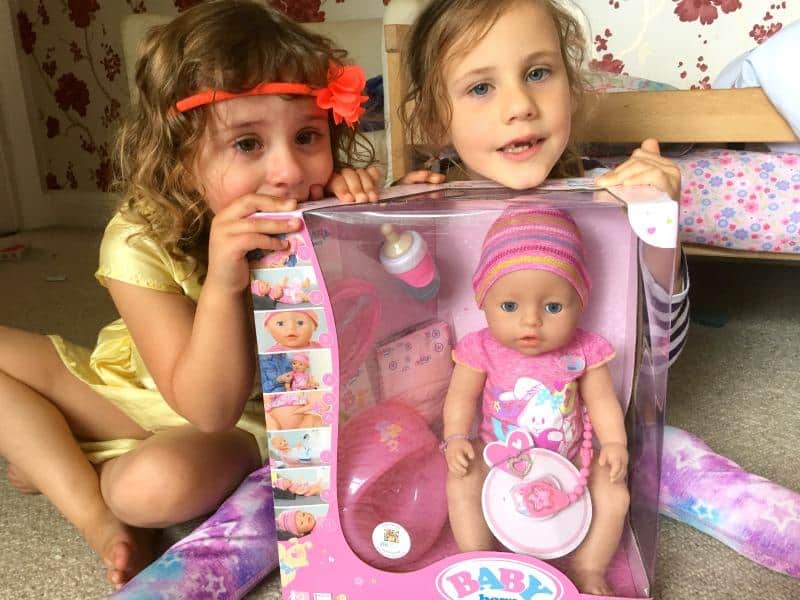 They loved how the BABY Born doll was dressed.  Her cute pink baby grow and stripy baby hat ticked a lot of boxes for the girls.  It was lovely to watch them being able to get her undressed themselves for changing time.
This interactive toy comes with loads of baby accessories too.  Brook and Indie love role play and having doll accessories that brings their play to life means they get so much more from the toy.  There was a realistic nappy provided and Indie asked me to show her how to put it on.  The nappy really comes into it's own when you feed the baby.  This is one of those interactive baby dolls that not only has a wee, but does a poop too.
There's a packet of baby food, which just needs mixing with some water.  With the bowl and spoon, Indie and Brook were able to take turns feeding the BABY Born doll until she needed the toilet.  One of the great things about this doll is you can choose if she goes in her nappy or on the potty.  With just a push of her belly button the girls were in control of what happened next.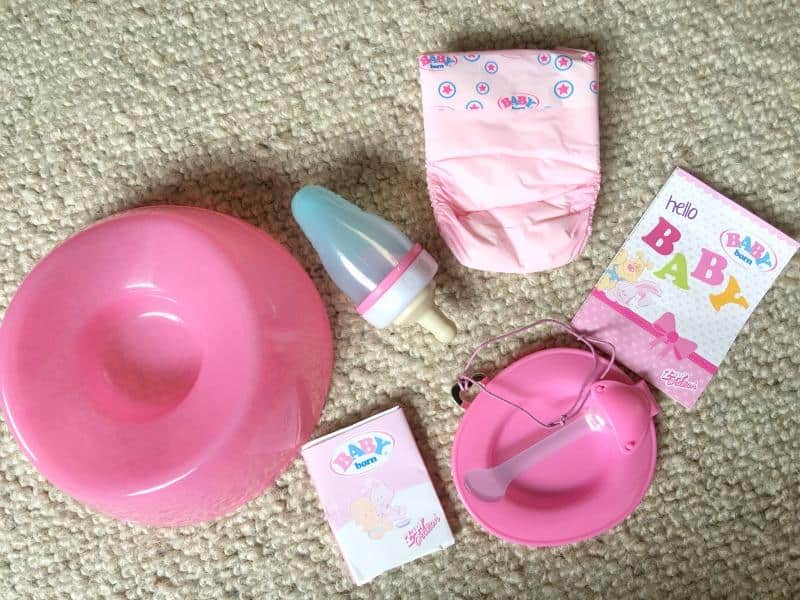 The baby bottle also had to filled so Brook and Indie could give her a drink.  This is probably their favourite part of playing with an interactive doll.  It really captures their nurturing instincts so well and helps them feel connected to their new toy.
As well as all the lovely doll accessories the BABY Born doll also comes with a matching bracelet set.  One for the doll and one for the new 'Mummy' with silver hearts.  We did have to have some conversations about sharing these and taking it in turns to wear them!
Last but by no means least, there is also a dummy and a clip to play with.  Being able to chose when the baby has her dummy brings another element to the play.  They loved to watch her go to sleep after a feed and it definitely helped them enjoy some realistic play with their doll.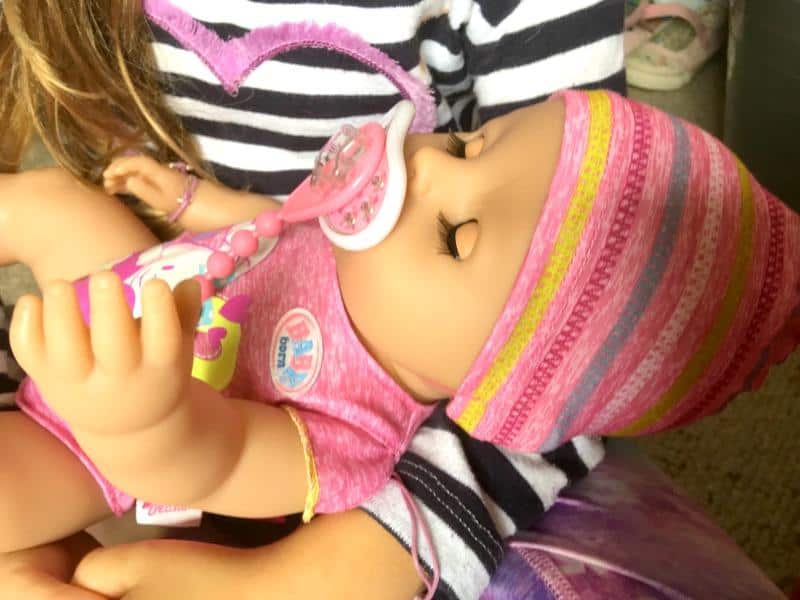 My 4 year old and 6 year old are huge fans of the new BABY Born interactive doll and they would happily recommend this toy to parents of children who like playing with dolls.  You can buy the BABY Born Interactive Toy Doll from Smyths and other reputable toy shops.  The BABY Born doll is currently priced £49.99 and a girl and boy version is available.
We were provided with the BABY Born Interactive Doll for the purposes of the review but all thoughts and opinions are our own.