This post contains affiliate links
Lots of road trips will be being planned at this time of year.  The most common will be a long car journey to see friends or family for the holiday season.  It got me thinking about the last long car journey with a baby that I took and all the things I learnt about baby travel.
I was travelling with a 6 month old baby, a toddler and a teenager from Nottingham to Scotland.  At the best of times it's a 5 hour trip, but car travel with a baby takes even longer.  Add to that a motorway accident and a last minute diversion and all of a sudden a family road trip can become quite a challenge.
With a little planning though a long car journey with a baby can be easily managed and you can soon be enjoying your first family holiday together.  These tips for car travel with a baby are going to get you ready for your trip, keep stress in the car to a minimum and help you enjoy the time you are away together, which is the most important thing.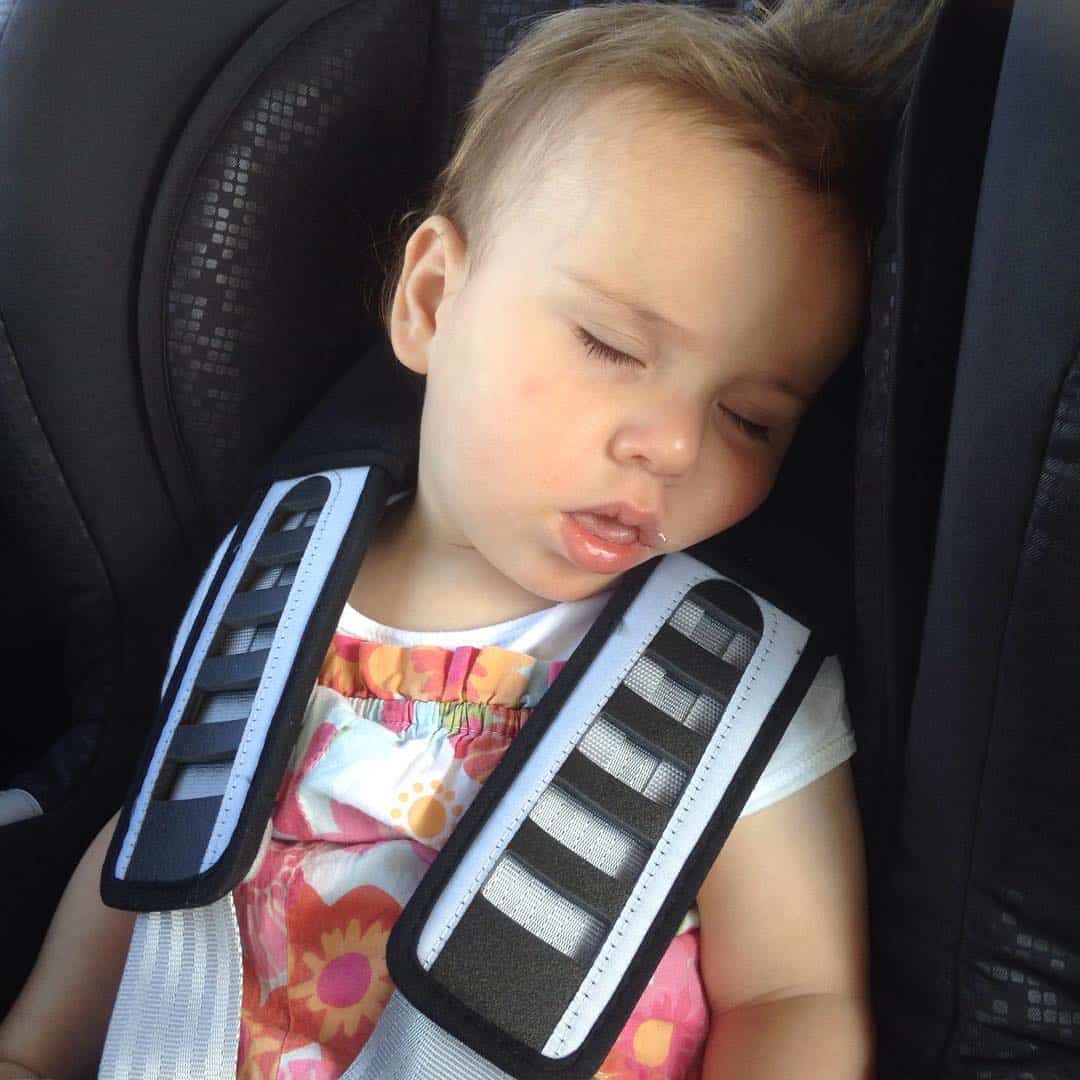 Tips For Planning a Long Car Journey With a Baby
Before the Car Journey
Where Are You Planning on Staying?
For your first experience of baby travel are you planning on staying with friends or family or are you planning on staying at a hotel or holiday park?
If you are planning on visiting friends or family, the first thing to decide is whether you want to stay with them.  It's a good idea to consider the space they have and if you and all the baby equipment will fit comfortably in the house.  If they already have some baby equipment in the house this might not be such an issue.
Then it's worth considering whether your hosts will want to help with the baby and how you feel about sharing their space.  This will be down to routines and the dynamics of your relationship with the people you are potentially staying with.
If you genuinely feel that you will have a better holiday with your baby staying elsewhere and visiting your friends and family more on your own terms, don't be afraid to discuss this with them.  You never know, they might feel as relieved as you about these arrangements if they haven't been around a baby for a while.
Carry Out All You Car Safety Checks
Before your road trip with baby, make sure someone is responsible for carrying out all the car safety checks.  Here's a quick checklist to consider before your trip:
Check tyre pressure
Make sure your windscreen wash system is working and topped up
Check engine oil levels
Check all the lights and indicators work correctly
Check water levels and add antifreeze if necessary
Check windscreen wipers work effectively
Plan Your Route
It's worth spending 5 or 10 minutes planning which route you plan to take for your car journey.  You will want to take into account weather conditions and any road works that might disrupt your journey.
On the day you are travelling with a baby, check the online maps again incase there are any know disruptions along the route before you leave the house and allow for a last minute change of course.
Packing the Car for a Road Trip
There are 2 things you need to consider for a long car journey with a baby.  There is what you need to pack in the car to take on holiday and there is what you will need while you are travelling with baby.  Lets tackle the first one:
What To Pack For Baby On Holiday
To be honest a baby doesn't need anything different when they are on holiday to when they are at home.  The knack is to work out what baby travel equipment you can borrow while you are on holiday and what baby essentials you can buy when you get there.
If you can borrow a travel cot and a high chair and buy nappies when you arrive it will save you packing the car to the rafters before you travel. Here's a baby travel checklist to help plan with what you need:
High chair
Stair gate
Car seat
Pushchair/travel system
Sling/baby carrier
Baby toys
Clothes
Nappies
Wipes
Nappy bags
Drinks/snacks/food/milk for at least one day
What to Pack for a Long Car Journey with a Baby
It's also a really good idea to make sure that your baby changing bag is well stocked for your car journey too.  Make sure that you can get to this easily while you are travelling with baby incase there is an emergency.
If you are planning on being in the car with baby for longer than 2 hours you will definitely need to make a stop along the way. The night before you travel with baby check that your changing bag is stocked up with the following:
Nappies
Wipes
Nappy bags
Changing mat
Change of clothes
Drinks/snacks/food/milk for the car journey
You are also going to need some baby travel toys so lets talk about that next.
Baby Car Entertainment
One of my biggest tips for keeping a long car journey with a baby stress free is to invest in some baby car entertainment for the trip.  There are lots of car travel toys that will work well for the road trip and for while you are on holiday.
Here's my favourite choices from Amazon at the moment:
Toy links are perfect for car travel with baby and stop toys dropping on the floor.
This baby travel activity centre fits to the seat of the car in front of baby.  It has a baby safe mirror and a sensory foot pad with roller beads for extra play opportunities in the car.
This baby activity toy will fit to your baby car seat easily and help keep baby stimulated while travelling.
It's pretty commonly known that babies love to put toys in their mouths.  It's even more common if they are teething so this set of non-toxic baby teething toys are just perfect for long car journeys.
Baby books are also perfect for car travel as they are easy to hold and you can link them to the car seat. I love this 'Where Do I Live' book as it has lots of soft pages and and textures for baby to explore.
While You Are Travelling
One of the biggest things to consider when planning any kind of car travel is how long can baby stay in a car seat?  From a safety point of view it is recommended that baby doesn't stay in a car seat for longer than 2 hours at a time.  You should plan to take a break every 2 hours and get baby out of the car seat.
When it comes to the day of travel, be realistic about what time you are all going to be ready to leave the house.  It can be easier to say that we want to leave no later than 10am, then if you manage to leave before then you can feel super proud of yourself.
When you are working out your car travel timings, think about when baby takes a nap and is hungry as well as the all important 2 hour window.  Try and work out your stops around meal times and don't let baby get to hungry if you can help it.  Sometimes the traffic on the road has other ideas but if you can stop before baby gets upset this will help everyone with their stress levels.
Once baby is fed and changed everyone will be ready to get back in the car again for the next two hour leg.  When you are considering how long your journey is going to take you allow an extra 45 minutes for every 2 hours spent in the car.  Your travel time will look something like this:
2 hour road trip – no change
3 hour road trip – 3 hours and 45 minutes
4 hour road trip – 4 hours and 45 minutes
5 hour road trip – 6 hours and 30 minutes
6 hour road trip – 7 hours and 30 minutes
7 hour road trip – 9 hours and 15 minutes
10 hour road trip – 10 hours and 15 minutes
Realistically I don't think it's practical to attempt a road trip that is going to take you more than 7 hours and 30 minutes.  That is a long time for anyone to spend in a car and tiredness and safety also need to be taken into account.  If you are able to share the driving with someone, all the better, as this will make the whole road trip a lot more manageable.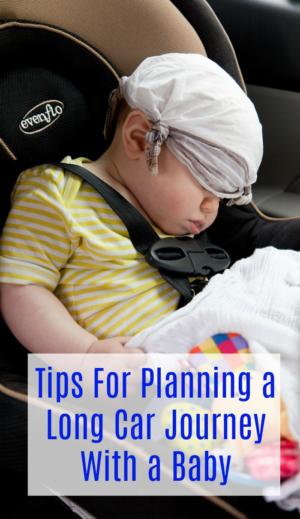 I hope you found these tips for planning a long car journey with a baby helpful for your next road trip. If you think your friends and followers would find it helpful, it would make my day if you would share it on your favourite social media network.