You guys already know that we love live shows.  It will come as no surprise then that when I was asked if I'd like to see OVO Cirque du Soleil in Nottingham that I was quick to take them up on the offer.  I've seen Cirque du Soleil  at the Nottingham arena before but the rest of the family hadn't yet had the pleasure.  Our invite to OVO seemed like the perfect opportunity to change that and I was really interested to see what a 4 year old and 6 year old would make of the show.
Cirque du Soleil OVO Review 2018
Before I get on with the Cirque du Soleil review, I want you to imagine for a second what life is like for the insects that surround us.  We know that they are super tiny but what would happen if they ventured into the dating game?  What about if they liked to party? I think things could get pretty colourful pretty quickly, don't you?
Well the team at Cirque du Soleil asked themselves these questions and many more and the result was their latest touring show, OVO.  It takes a vivid imagination to take the life of ladybirds, fleas, ants and grasshoppers and transform it into a show that fills an arena and wows an audience in a way that only Cirque du Soleil knows how to.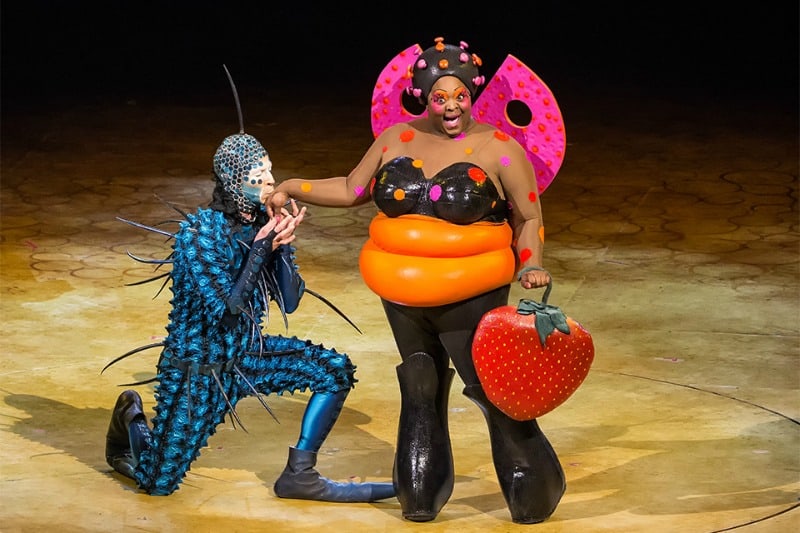 OVO is a show that slowly awakens before your eyes.  The insects begin to appear among the audience, checking out this new species they've discovered.  Once they are comfortable in their new surroundings the show moves to the stage and the arena is transformed into a colourful and vibrant rainforest.
Both the girls were sold on the show from the moment a butterfly landed on Brook's head.  They asked questions all the way through and loved talking about the different types of insects and losing themselves in their stories.  The delightful tale of the ladybird and her admirer running throughout the show was a great way to engage the younger audience with the theme and help them to enjoy this immersive circus experience.
Every layer that was added to OVO Cirque du Soleil after that was just magical.  There was some incredibly talented ants juggling kiwis with their feet at the start.  The stunning moths took to the skies for a more delicate interpretation of life as a mini beast in another breathtaking spectacle.
The first half of the show was colourful, exciting and fast paced.  It ended with a fantastic display of acrobatics in mid air as creatures flew through the sky with complete precision and grace.  Cirque du Soleil OVO just delivers one jaw dropping moment after another with a variety of incredible circus skills executed perfectly every single time.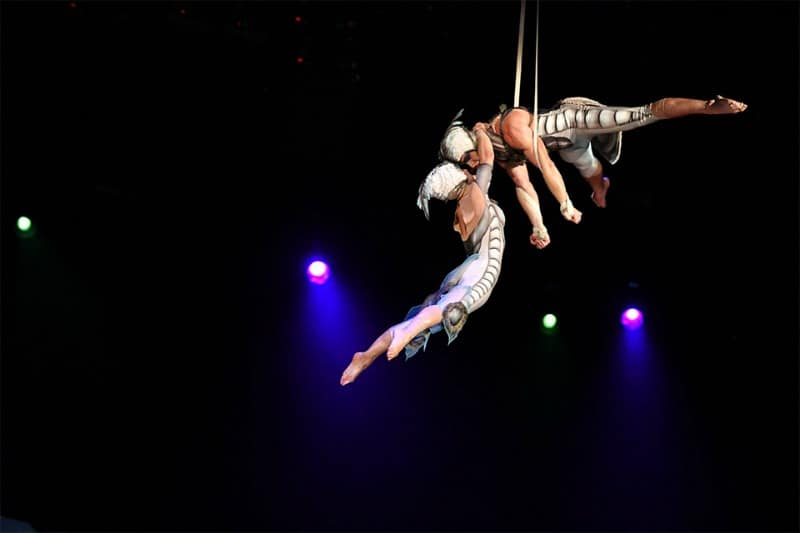 There were a few highlights for me particularly, and one was the incredibly flexible spider.  Her graceful skills of contortion were simply mesmerising regardless of whether you were 4, 40 or 84! The tight rope performance was completely off the scale and just has to be seen to be believed if you ask me!
The finale was also creatively beautiful and just stunning to watch.  You could feel that every pair of eyes in the arena was fixed on the stage as the grasshoppers danced the length breadth and height of the forest floor.
Did We Enjoy Cirque du Soleil OVO?
I was so pleased to see my entire family enjoy this Cirque du Soleil UK tour, and there were lots of families with children of all ages throughout the arena as well.  The costumes were just sensational and worked beautifully with the stage and lighting in the arena.
The imaginative interpretation of the life of insects was literally brilliant and meant the show really did appeal to all ages.  Also, as there is no spoken word driving the story of OVO it really can be enjoyed by anyone from any culture.
What I felt Cirque du Soleil OVO did very well was take over the arena space and transport you to this other world where you were just like an insect observing the show.  This psychological journey took the entire audience from the arena to the world of OVO in a really captivating way.  To really understand what I mean I would strongly recommend you go and see the show while it's on its world tour.
View this post on Instagram
Useful Information about OVO
The running time of the show is 2 hours including a 20 minute interval.  Ticket prices for OVO vary between arenas and dending on your seats.  For more details of the Cirque du Soleil OVO schedule and to purchase tickets visit https://www.cirquedusoleil.com/
We were provided with a family ticket to see OVO Cirque Du Soleil in exchange for this review, but all thoughts and opinions are our own.