Both Indie and Brook are slightly crazy for LOL Dolls.  They watch a lot of LOL Surprise unboxing videos on YouTube of course and they already have a few toys from the LOL Surprise collection.  Did you see their L.O.L Surprise Biggie Pet Dog Review recently? That was a real hit!
They were also asked to take a look at the new series called LOL Surprise Eye Spy Under Wraps.  I agreed they could both review the new LOL Surprise Toy if they did well on their reward charts.  Brook has been a superstar at settling in at school so the LOL Doll incentive did the trick.  Indie was also keen to get stuck into her daily reading, which we have struggled with until now.  The promise of a LOL Surprise Eye Spy Under Wraps Doll really did the trick.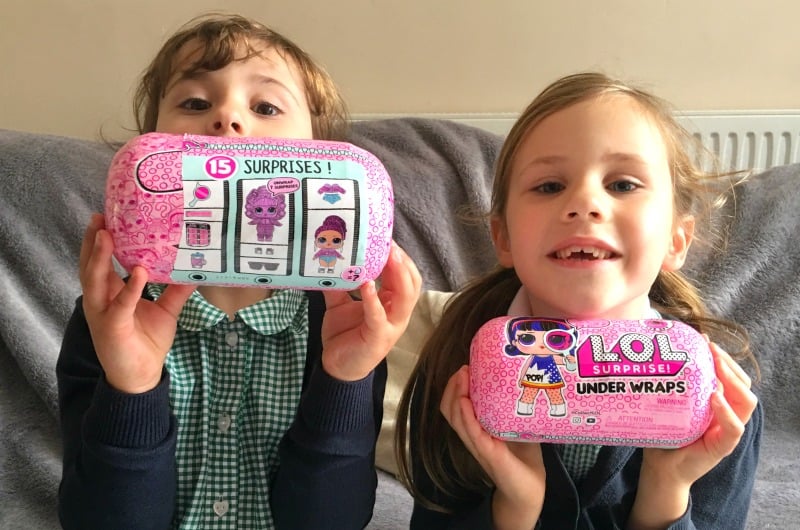 The new LOL Under Wraps Doll is a different shape from the other LOL Dolls we've seen before.  This made it really exciting for the girls to unwrap.  Indie felt this was the most exciting LOL Doll yet, which you can see if you watch their YouTube review.
The girls like to make YouTube videos and it would make their day if you would spare a few minutes to watch their channel.  If you would like to subscribe that would also make their day! 
Don't forget to follow Our Favourite Toys on Instagram too
There are stickers and clues in the new LOL Surprise Doll but the fun really starts when you get to the case.  With the magnifying glass and the clues Indie and Brook had to unlock the different sections to release the LOL blind bags.  Each bag contained different things including a bottle, an outfit and some cute shoes.
Brook was a little disappointed with the LOL Surprise Doll but I suspect this was more to do with the fact that Indie's was dressed as a mermaid, and Brook loves mermaid.  If you watch our video you will see she comes round eventually.
When the surprise doll is released from the case she really is under wraps! To reveal the doll in the case you have to take off her rubber outer shell.  Then you can add all her cute accessories and start to play with her.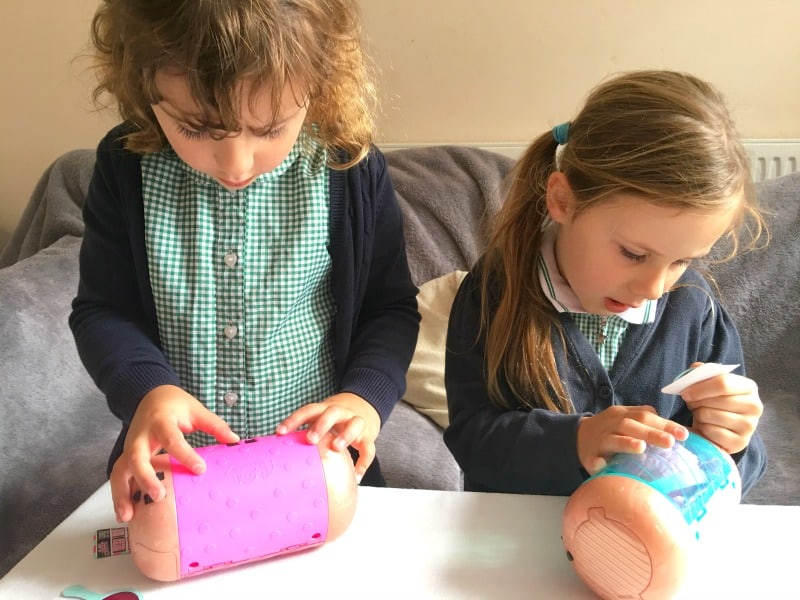 The case is probably one of the best cases from LOL Surprise yet.  We find the balls done't last very long and soon get lost or discarded.  The LOL Surprise Under Wraps case is far more robust and secure and due to the fun locks is more likely to be played with again and again.  The handle fits securely to the case and makes a great little bag so that the girls can take the new LOL Surprise Doll pretty much anywhere they want to.  For us these are great kids travel toys as they keep the girls entertained for hours when we are on holiday.
We were sent the new LOL Surprise Eye Spy Under Wraps Dolls for the purposes of this review but all thoughts are our own.  The LOL Surprise Eye Spy Under Wraps Dolls are priced at £14.99 and you can buy them from Smyths, The Entertainer and other reputable toy shops.