Relaxation isn't always easy, especially when life gets busy with work and family.  This is exactly why a visit to Eden Hall Day Spa is going to be perfect for you as you can leave all the daily distractions behind you, just for a day, and focus on recharging your batteries just in time for the festive season.
I was so keen to arrive at Eden Hall, that I was actually 30 minutes early for check in. It definitely wasn't time wasted though, as I was able to tick a few more things off my 'to do list' before entering the spa.  It was actually beneficial to clear the mind of as many things as possible before heading towards the serenity of the Conservatory for breakfast I'd planned to have on arrival.
The Conservatory is an incredible space, flooded with natural light and the perfect spot to enjoy the wonderful views of the natural surroundings of Eden Hall.  I defy you not to snuggle under a fleecy throw with a hot water bottle and surround yourself with the sense of calm that exists throughout the spa.  Just a few minutes sat here and you soon realise that comfort is very high on the agenda for the day ahead.
One of the many benefits of visiting Eden Hall Day Spa is it provides the perfect setting to catch up with that book that has been on your reading list for far too long or enjoy flicking through your favourite magazine.  If you have any trouble getting comfortable, don't forget your throw and hot water bottle.  The meditative sounds that fill the space at Eden Hall are perfectly placed to help bring you into the present when your mind wonders to thoughts of the daily grind that you are here to leave behind.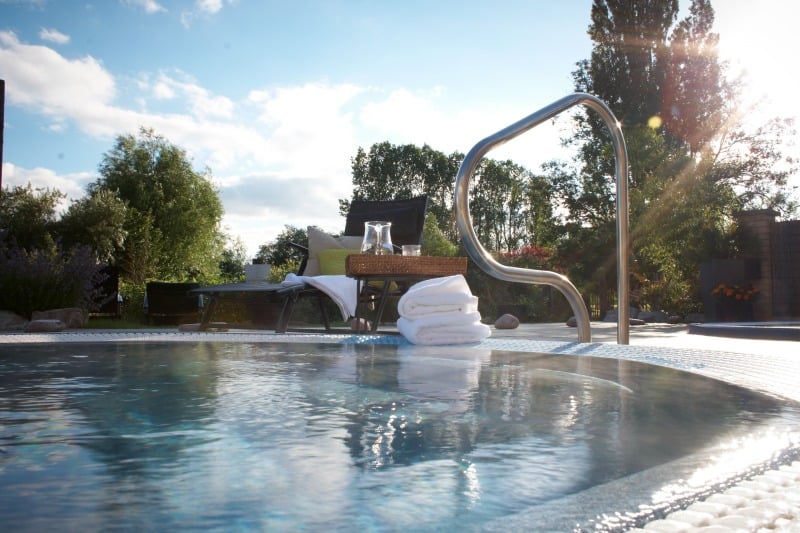 The next stop, in my opinion, has to be to sample one of the many water treatments on offer at Eden Hall Day Spa.  The spa is one of the very best you'll experience in Nottinghamshire given the variety of saunas, steam rooms and hot tubs you have at your fingertips.
As a regular visitor to Eden Hall I strongly recommend visiting the treatment rooms in this order.  My favourite of the rooms is the Herbal Cauldarium where you can enjoy the relaxing and purifying benefits of lavender grown right on the doorstep in the spa gardens.  The aroma and warmth will set you well on your way to your relaxation journey.
I would suggest taking a visit to the Rose Quartz Steam Room next to continue to remove the toxins from the body and further enjoy the floral inspired relaxation at Eden Hall Spa.  The steam is infused with the gentle aroma of rose essences and the rose quartz displayed in the centre of the room will get to work on strengthening the heart and circulatory system.
If you are blessed with a blue sky day, or even if not to be honest, I like to take a moment to step outside and enjoy the gentle bubbles of the sunken hot tubs at Eden Hall.  I can assure you that sinking slowly into the warm water on a crisp autumnal day is a moment of pure bliss not to be missed.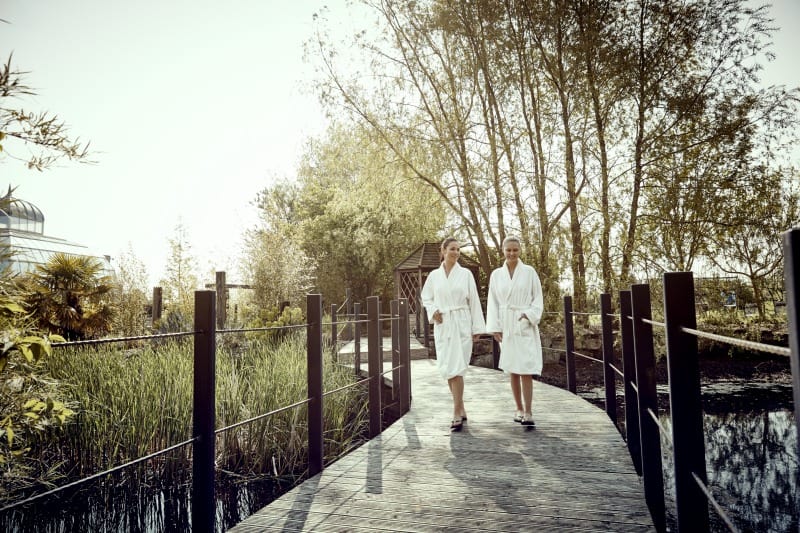 As I sat back in the hot tub I realised that I had not ventured into the gardens at Eden Hall Day Spa before, and this was definitely the day to change that.  I picked up my robe and followed the call of the warm sunshine.  I followed the path round the pond to a variety of secluded loungers and seating areas perfect for enjoying the calming natural surroundings.  I couldn't help but take a seat, enjoy the sound of the birds singing in the distance and open up the pages of my book.  This was the perfect cure for daily stress and I could truly let my racing thoughts drift off into the distance to allow me to fully relax.
You will already know from my previous Eden Hall Day Spa reviews that the food is done exquisitely well here.  This is great news as there's something about relaxing at the spa that brings on your hunger with a vengeance, so knowing you are in for a 3 course delight will spur you on until lunch time without a doubt.  I have never been disappointed with the food at Eden Hall and the Time to Sparkle Spa Day was no exception.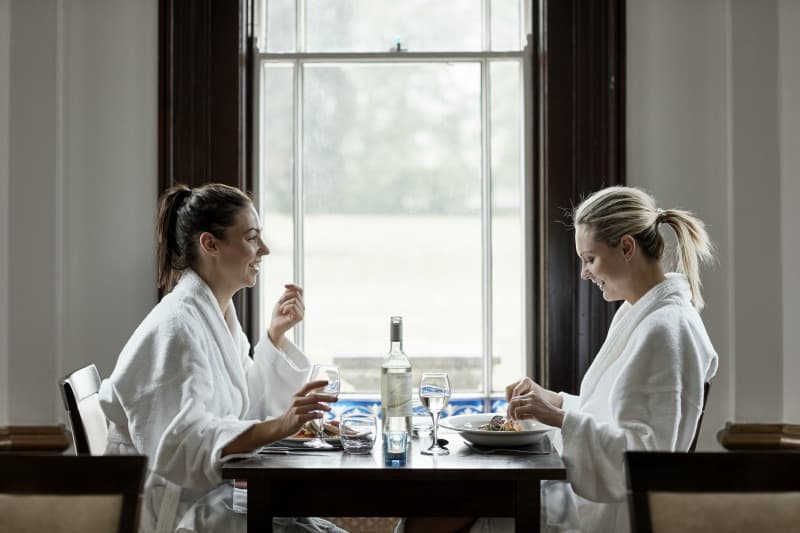 My selection from the menu was smoked and fresh mackerel pate served with pickled cucumber and carrots tossed in wholegrain mustard.  The main course was particularly delicious with a pork fillet marinated in lemon, honey and paprika served with roasted vegetables and spinach and red pepper puree.  For dessert I literally couldn't say no to the white chocolate and ginger cheesecake.
As well as the set menu, spa guests also have unlimited access to a buffet of freshly baked breads, cured and cooked meats and a range of salads.  There is also a selection of roasted potatoes and vegetables to accompany your main dish, if you have any room that is.
The service in the restaurant and throughout Eden Hall Day Spa is also worth mentioning.  Nothing is too much trouble and they want to make sure that you experience the best day possible.  If a problem does crop up, the staff will do everything in their power to fix it for you as great customer service is very important to Eden.
Time To Sparkle Treatment
The highlight of my visit to Eden Hall Day Spa was the Time to Sparkle treatment booked for me to enjoy that afternoon.  I followed my beauty therapist, Ria, to the treatment room and she explained what the treatment involved and what to expect.  Time to Sparkle uses the Natural Spa products, which are luxurious by the way, throughout the treatment.
This tailored beauty package is designed to hydrate and refresh the body and face to give them both the sparkle and lift they need for the winter months and party season.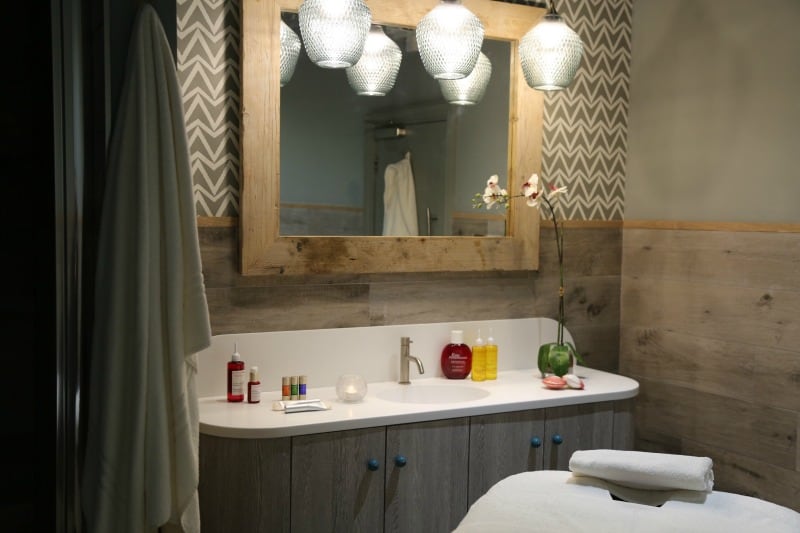 The treatment began with a full back, shoulder and arm massage.  I was so pleased I'd decided to squeeze in that shower before my treatment so that the wonderful oils had maximum time to penetrate and nourish my skin completely.  I will not lie, with this part of the treatment and the cosy heated bed I was lay on, I think I might have nodded off for a moment or two.  It was simply heavenly to be honest and I would happily have laid there all day.
The second part of the treatment focused on my face and head.  My skin was incredibly dry before the treatment so I was looking forward to seeing the benefits afterwards.  Ria fully cleansed and exfoliated my skin before applying the Liquid Gold Peel Off Mask.  As she smoothed the mask over my skin it felt so rich and luxurious.  As it set to work removing all the impurities from my skin and hydrating my problem areas, Ria gave me a wonderful head massage and I was very much in danger of falling asleep again.
Once the mask was set, she removed it from my face and my skin felt completely rejuvenated.  We had a look at the mask together afterwards and we could see where it had been hard at work moisturising and purify my skin.  I suffer with large pores on my face, and this treatment was just perfect for those problem areas.
Ria was a fantastic therapist also and put me completely at ease throughout the spa treatment.  The treatments rooms are also the perfect setting for a package like Time to Sparkle with relaxing mediative music playing throughout, subtle lighting and excellent treatment facilities, did I mention the bed was heated 😉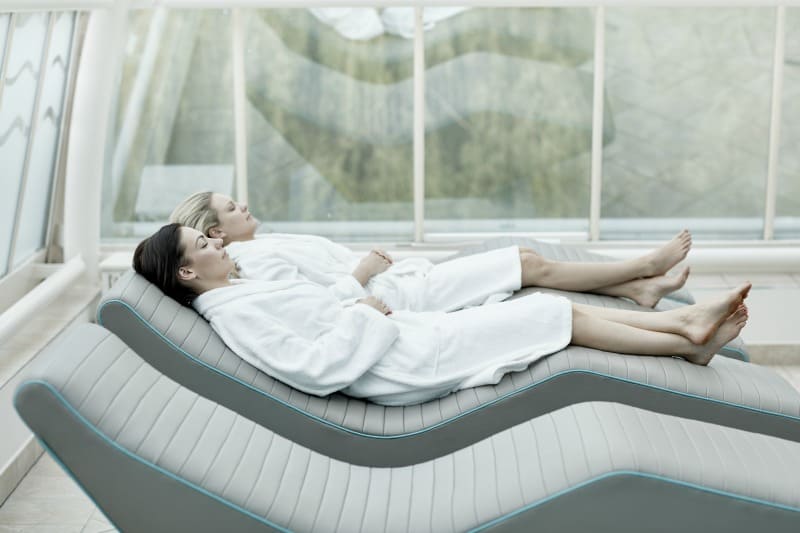 One of the other things I love about the packages at Eden Hall Day Spa is that you are able to visit the post treatment room afterwards and take as much time as you need to basque in the relaxation and quiet space before either going home or going back to the main spa.  Similar to the Conservatory, the space is filled with windows and bathed in natural light, which is perfect for these beautiful blue sky days we have been enjoying.  The ergonomic beds are a wonderful spot to end your day on or to just continue to enjoy the benefits of your beauty treatment.
If all this sounds perfect to you, the Time to Sparkle Spa Day is available at Eden Hall throughout November and December.  Whether you want to buy it as a Christmas gift and an indulgent treat, I promise you will not be disappointed with the outcome.
Visit https://www.edenspa.co.uk/  or telephone 01636 525 555 for more information.
If you know someone who would love a visit to Eden Hall Day Spa, why not share this post with them for some inspiration.  I suspect they might enjoy it 🙂
I was provided with a complimentary Time to Sparkle spa day at Eden Hall Day Spa for the purposes of this review but all thoughts and opinions are my own.