Do you remember a while back that we were getting ready to send teen back to university for his second year?  Well, I'm not going to lie, there are two aspects to this change in our family that I really struggle with.  Firstly, I miss him so much when he's gone.  I thought I would have been used to this by now, but it turns out I'm not.  Secondly, I can't help but worry about him either.  I do wonder if we ever stop worrying about are kids, and at this stage I can honestly say I don't think we do. 
I went through exactly the same process when teen started his first year as well.  Those first few weeks when he was gone were really tough on me.  I'm super excited about the journey is on but I still ask myself lots of questions like 'is he eating properly' or 'getting enough sleep'.  I could go on, but I think you get my drift. 
I think partly my worries are exasperated because he's a young man. 
What do I mean by this?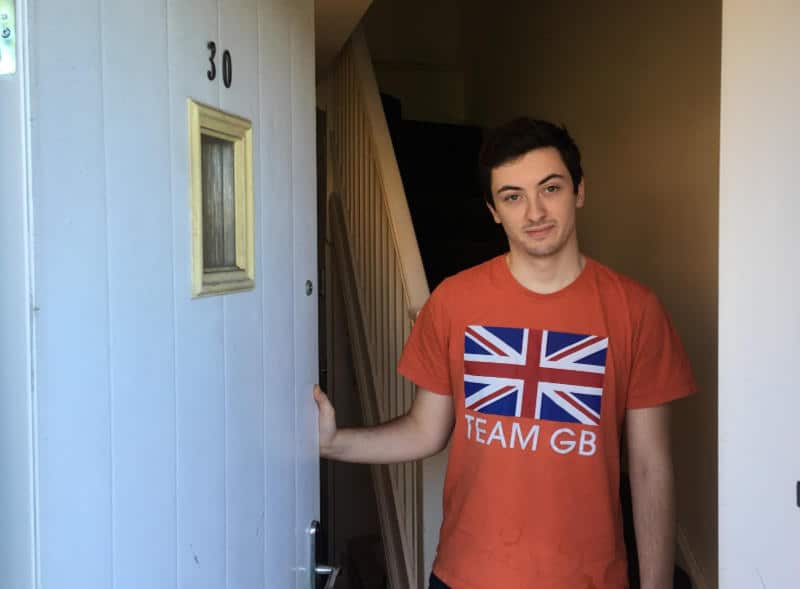 Well, I've found that sons don't tend to communicate as well with there Mothers as daughters do.  I don't get regular updates on his life as he just doesn't appreciate that I get a lot from the small details about his world.  I know very little about his lecturers or the latest drama that's happened in his student house.  It could be that there is nothing to worry about, but it's those stories that people share that give you the real insight into how people are getting along.
My son is pretty self contained, and as a result really doesn't give a lot away. 
If I text him some questions, the response I get will literally be 'Yes, Yes, No', and I'm honestly not kidding! I know from last year that the thing that put me most at ease about him being away from home was actually going to see him, so that's exactly what I did recently.  So that I could really get a feel for how things were going in his life I decided I would surprise him with a meal we could cook together when I arrived.  This gave me a chance to see what was in his cupboards and get a feel for if he'd been cooking or not for himself.  Sneaky Mummy, right?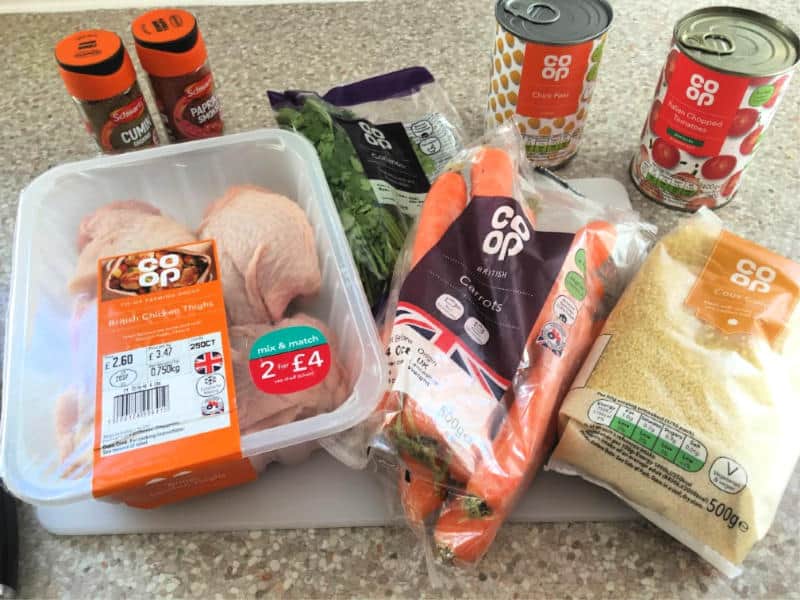 I found a recipe by Ben from MOB Kitchen which looked really easy and super tasty.  It had chicken in it, so I knew my son would love it.  It's pretty much his favourite thing to eat.  So I popped to the local co-op and picked up all the ingredients we would need for the Moroccan Style Chicken & Chickpea Tray Bake.  I made a few adaptions so if you would like to try this version this is what you need: 
Moroccan Style Chicken & Chickpea Tray Bake
4 Chicken Thighs 
1 Tin of chopped tomatoes 
1 Tin of chickpeas 
2 Tablespoons of smoked paprika 
2 Tablespoons of cumin
1 bunch of coriander 
2/3 Carrots 
Cous cous 
It was so lovely to see my son in person after all this time.  I'm pleased to say he was looking really well, his room was pretty tidy and the kitchen was really clean.  For a student house, this told me things were going pretty well.  So far, so good! 
I wouldn't say my son is the biggest talker in the world, but being with him face to face does kind of mean we have to have a conversation.  This does usually mean me asking a lot of questions to get to the information I want, but we muddle through.  
Actually taking the ingredients to cook together was a really helpful tactic.  It gave us more to talk about and it felt like we were getting more out of spending time together.  I really hope it's a recipe that he cooks himself after the visit.  We cooked more than we needed so I was able to leave a few portions for him to have for meals after I was gone.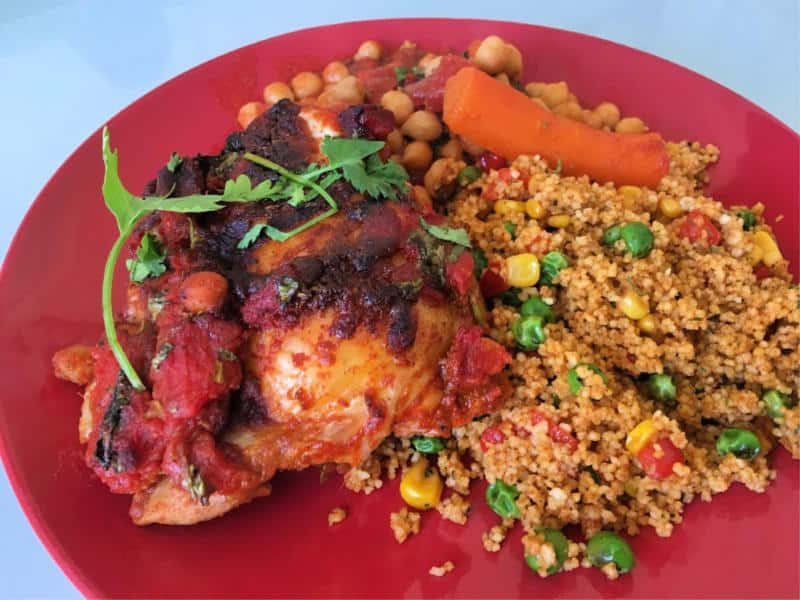 It didn't take long to put the recipe together at all with us working together. The chicken thighs went in the tray and we added the tin of chopped tomatoes, chickpeas and some of the water, the chopped carrots, spices and stalks from the coriander to the tray. 
We mixed them all together and placed them in a preheated oven (180c) for 40 minutes.  We took the tray out and gave it all a good stir then placed it in the oven for another 10 minutes.   When it came out we added the chopped coriander and served with cous cous. 
It was delicious to be honest, and we really enjoyed being able to sit down together in his house and share a home cooked meal. It reminded me so much of when we are all at home together which was good for the both of us.  Unfortunately there were a few people missing on this occasion but I'm not sure my sons student friends are quite ready for the whirlwind that are his younger sisters. 
Despite us not all being together, it did give us the chance to properly catch up over dinner.  We chatted about the course, and it seemed that things weren't to dissimilar from the first year, which is good.  He does have a lot of work on, but he seems to be on top of things.  He's also still involved with the university basketball team and this year is he's actually on the committee which we are both really pleased about. 
After dinner he cracked straight on with the washing up which was reassuring to see.  That sort of behaviour will keep him in good favour with his house mates for sure.  Shortly afterwards we nipped out for a quick shop to stock up his food cupboards again and the time for me to say goodbye came around far too quickly if I'm honest.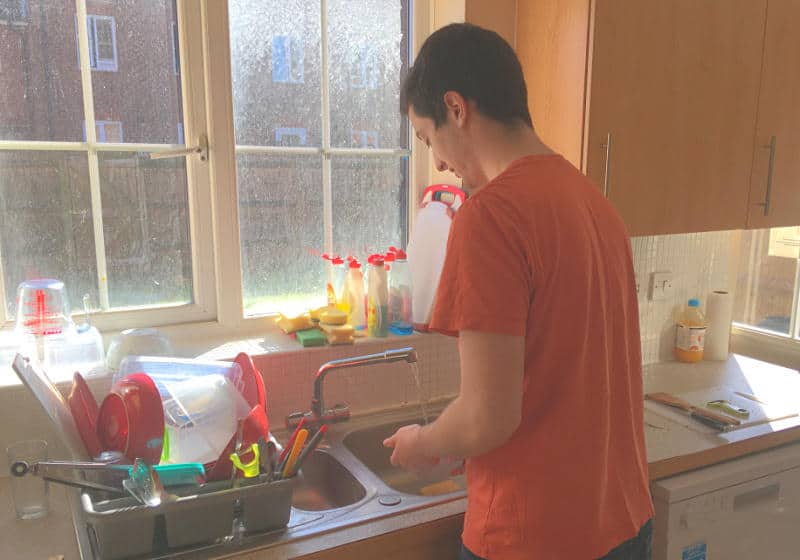 Even though it was sad to start the journey back to Nottingham without him, I felt a whole lot better about seeing him.  My mind was put at rest about all those things I had been worried about.  He seemed to have adjusted well to life in a house after halls last year.  In fact, he was preferring it as he found halls noisy and a bit disruptive as he's not really into drinking or parties.  His student house is a lot more settled and he's chosen to live with people who make similar lifestyle choices which is a big help.  He also seemed to be pulling his weight, which was good to see. 
Now we just have to wait until Christmas when we are all back together again.  The girls are counting down the days until their brother is home and so am I. 
For more meal ideas and inspiration follow @coopfooduk on Twitter now.
This blog post is part of a paid project with The Co-op and BritMums to get students cooking and eating healthy meals sponsored by The Co-op. Visit https://food.coop.co.uk/ to plan a meal that brings your family together!