With Brook starting school this year we are super keen to find as many fun toys that aid her learning journey as possible.  That's why we were all very excited when the LeapFrog LeapStart Electronic Book arrived with a copy of the Trolls activity book – Solve it all with Poppy & Branch.
LeapFrog LeapStart Electronic Book Helps Early Years Learning
The LeapFrog LeapStart interactive book is an electronic book that helps kids with reading, but lots of other skills too.  There is a stylus that they use with the book that encourages writing skills.  The LeapFrog books are also packed with activities that help with maths, problem solving and having fun too.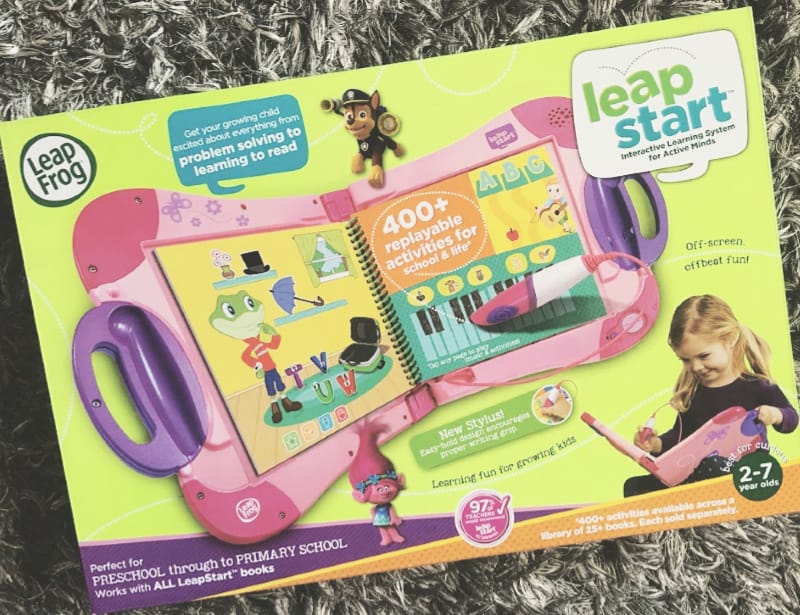 The LeapFrog LeapStart looks like a book, but it also has a speaker, a writing pen and a carry handle.  Before we used it we needed to register the LeapStart online with LeapFrog.   We also needed to download the audio and activity information to go with our LeapFrog LeapStart books before we could use it.  It's also worth mentioning that the book does require batteries to be used.  I made the mistake of thinking it charged through the USB cable, but in fact that's so you can access the downloads you need to go with the books!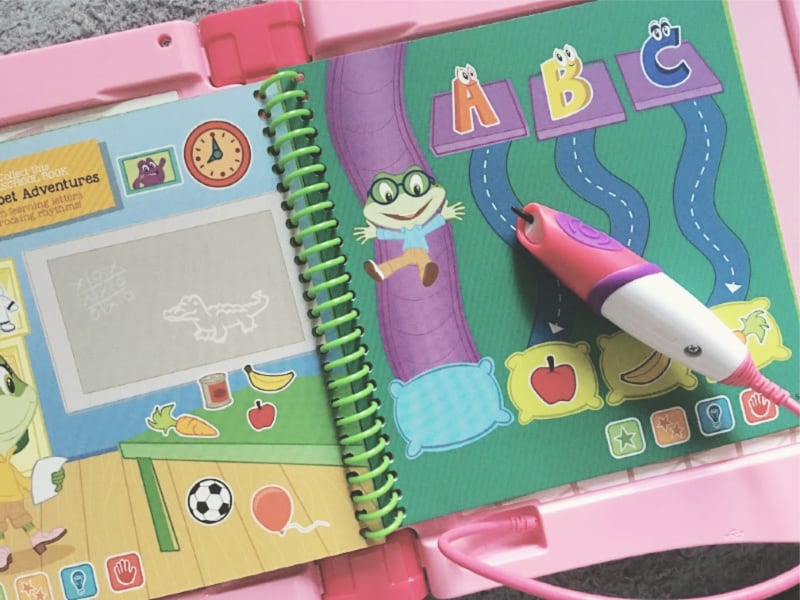 Once we were all set, Brook was keen to get started.  The LeapFrog LeapStart was really easy for her to use and she got to grips with the concept really quickly.  I also think that the LeapFrog LeapStart was pink and decorated with purple butterflies and flowers really helped.  She's a huge fan of pink, purple and butterflies!
Before we added the activity books, it was lovely to see some activities already ready to play on the LeapStart.  Brook loved the number, shapes, alphabet and the music games and these really helped to get her started.  As well as a range of activities, it was also good to see different levels and hints available for when she got a bit stuck.
The LeapFrog LeapStart also comes with the Let's Play Preschool Sampler Book which helps children get to know the different features of this educational toy even more.  What I really loved to see was that the audio gave Brook very clear instructions of what she needed to do to play the games.  When she got it right the responses were also really fun and positive.  If she needed a bit of encouragement the LeapFrog LeapStart was also really good at that as well.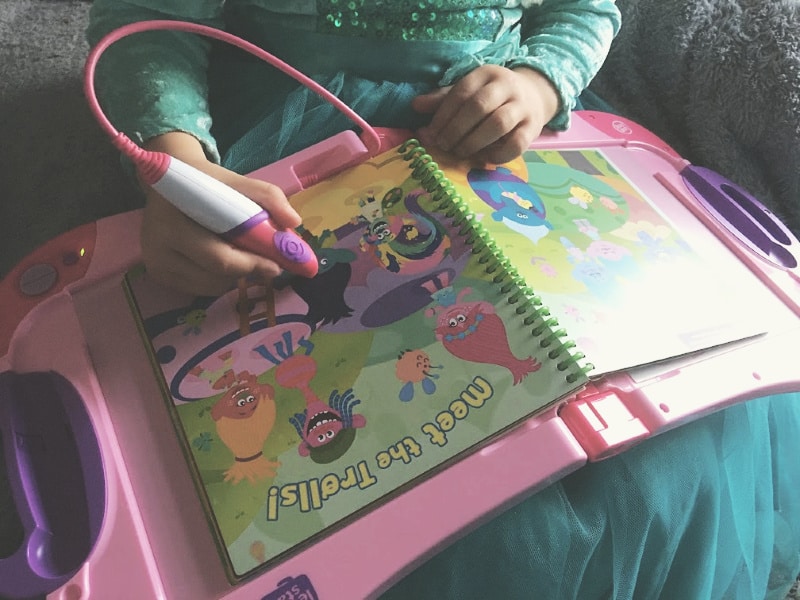 The LeapStart is also an educational toy that grows with your child's needs.  There are 3 levels of books available and 2 volumes of books specifically devoted to learning to read, with 6 books in each volume.  This is a toy that will support your child's eduction from 2 years old all the way through to 7 years old as you add new activity books to your collection.
What I also loved about the LeapFrog LeapStart was that it was a good option for children who were interested in technology but maybe parents wanted a device that was still focused on books and learning.  Some parents may feel happier letting their children play independently with the LeapStart interactive book as no internet is required while it's in use and it's screen free.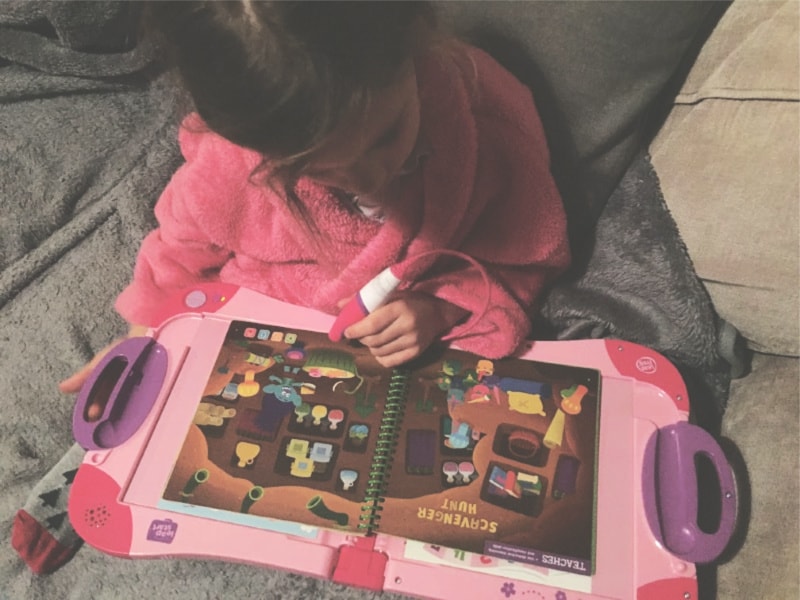 The Leap Frog Trolls book was a huge hit with Brook .  She's a big fan of Trolls anyway and Solve It All with Poppy & Branch bought her favourite characters to life.  This LeapFrog book is aimed at 4-7 year olds which I think was perfect.  Indie enjoyed playing the games too, when Brook let her have a turn that is.  There are over 30 interactive games and activities in the book aimed at developing problem solving and creative expression.  Despite having the LeapFrog LeapStart a good few weeks now, I don't think Brook has managed to play every game and she's certainly not bored of the Trolls book yet.
The variety in the interactive books is really impressive, as there are games related to basic coding and sequencing, classification and emotional recognition.  There is also a reward sticker chart at the end of the book to help celebrate when the different activities have been completed.  We all thought that was a lovely touch but it did take a little work to get Brook to understand that it wasn't just a sticker activity so she could decorate those pages in the book.
Overall we have found the LeapFrog LeapStart a really fun and inspiring educational toy which is helping to support both Brook and Indie's learning at the beginning of their primary school journey.  Not only is it great for fun learning, but it's also easy to transport as well so it's great for taking on road trips or holidays. You can even plug headphones into it so that other people are not disturbed while your little one is playing on their LeapStart LeapFrog.
You can find out more information about the LeapFrog LeapStart interactive book here. If you want to add the LeapStart or any of the books to your Christmas present list for Santa you can point him in the direction of Smyths Toys, Argos or Amazon.
We were provided with the LeapFrog LeapStart Electronic Book for the purposes of this review, but all thoughts and opinions are our own.