Childs Farm is a brand that has been catching my attention more and more recently.  All my kids have had sensitive skin at some point and I want to make sure that we use the best products we can for them.
Childs Farm heard that we were going to be heading to Morocco very soon.  I may have mentioned that once or twice already.  They offered to send some travel toiletries over for the trip and I was super excited to be able to try out the new sun care range especially.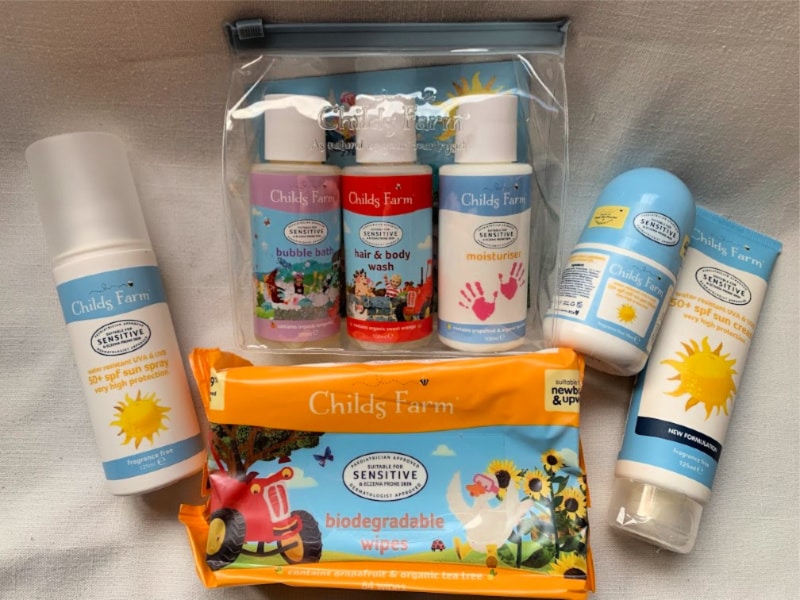 When it comes to travelling with kids I try and pack our own toiletries if our baggage allowance will stretch to it.  There are also things I will just not travel without these days, baggage restrictions or not.  We don't leave the house without wipes but I've wanted to make the change to a product that is more environmentally friendly.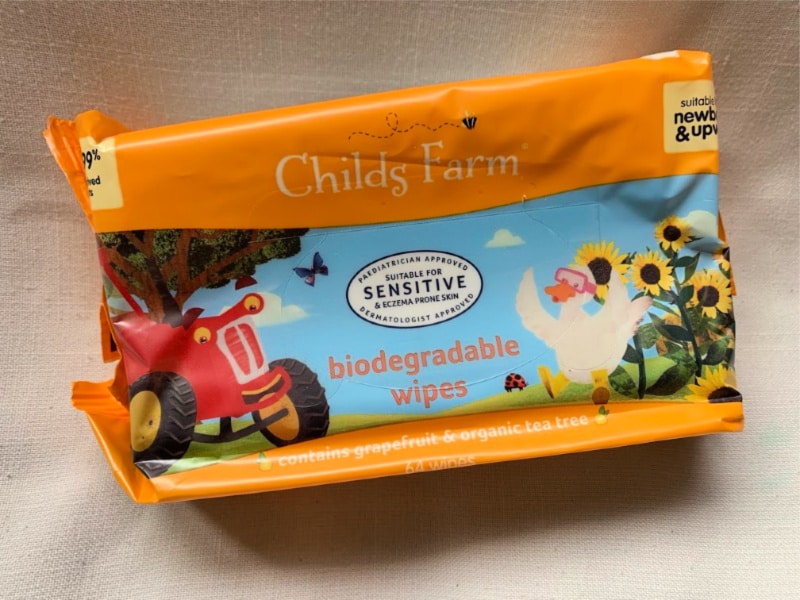 The Childs Farm wet wipes not only contain grapefruit and organic tea tree oil but they are also biodegradable which make them a better choice for both holidays and day to day use.
Childs Farm also have an excellent new sun care range which I think would suit pretty much every child's skincare needs.  All the Childs Farm sun care products are SPF 50+, water resistant and protect against UVA and UVB rays.  They are also registered with the Vegan society which is great news for families choosing that lifestyle.
I also love how the Childs Farm sun care products come in a variety of forms now.  My kids are not fans of having sun cream on and will find anything to complain about.  This week it could be that they don't like the spray or the cream is too think.  They love to throw in pretty much any curve ball they can.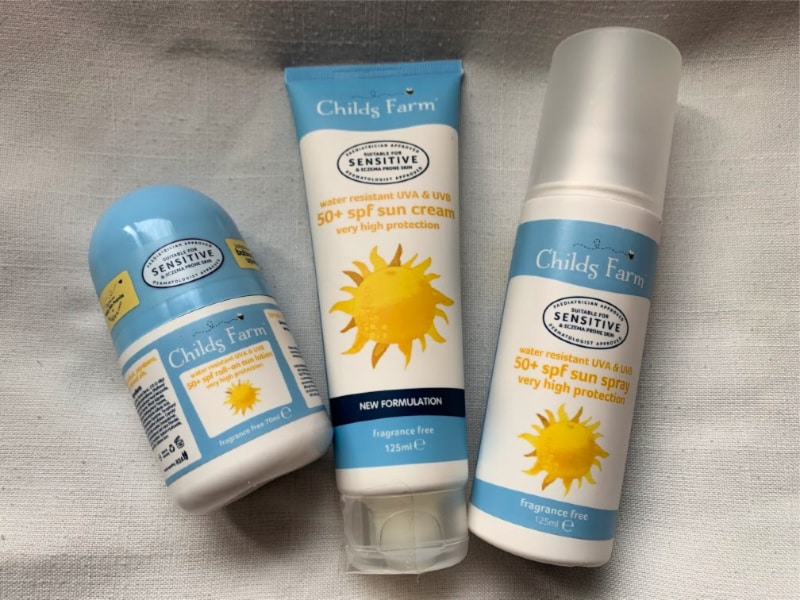 The great news is that the Childs Farm sun care products come in a 125ml spray, a roll on and a cream.  We are armed with each one so if they decide they don't want a spray sun lotion that day, then we can go with the roll on version to field those kind of complaints.
Last but by no means least we also have the lovely top to toesie kit which is a great travel or gift set for children.  In contains the Childs Farm bubble bath with organic tangerine, the Childs Farm hair and body wash with organic sweet orange and the Childs Farm moisturiser with grapefruit and organic tea tree oil.   It's contained in a zip pouch making it just perfect for travelling and taking to the beach or the pool.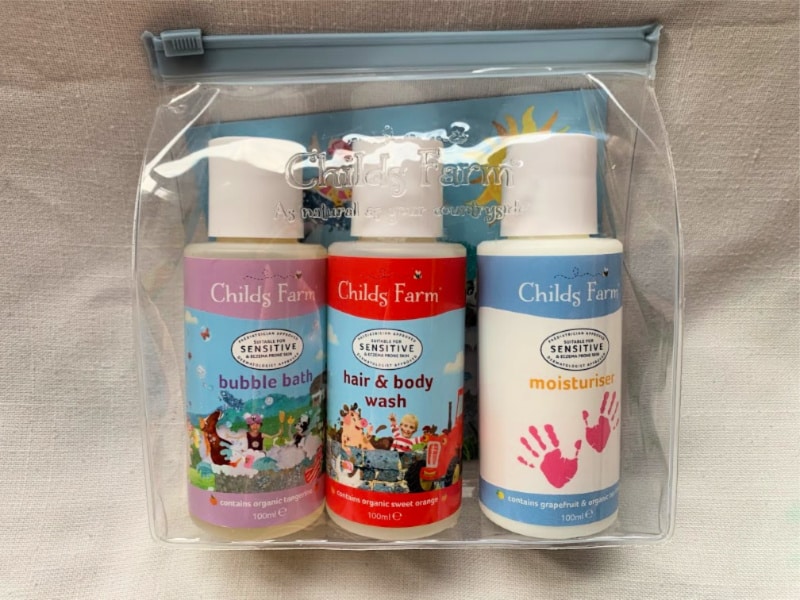 There are lots of other reasons why Childs Farm products are different to lots of other baby and child toiletries on the market at the moment.  This brand really cares about a child's sensitive skin and over 98% of the ingredients used are from a natural source making most products suitable from birth upwards.  Their products have also been Paediatrician & Dermatologist approved as being suitable for sensitive and eczema prone skin.
Childs Farm Bundle Giveaway
Childs Farm are definitely ticking a lot of boxes when it comes to baby and child skincare I think.  That's why I'm delighted to be able to offer you the chance to win all the skin and sun care products I've shared in this post.
Myself and Childs Farm what you to be ready for your holidays with the best skincare and sun protection available and all you need to do to be in with a chance of winning this prize is enter via the raffletcopter below! Good luck to everyone who enters.
You will win
1 * Childs Farm top to toesie kit 3 x 100ml
1 * Childs Farm 50+ spf sun lotion spray, unfragranced 125ml
1 * Childs Farm 50+ spf sun cream, unfragranced 125ml
1 * Childs Farm 50+ spf roll-on sun lotion, unfragranced 70ml
1 * Childs Farm biodegradable wipes, grapefruit & organic tea tree oil 64 pack
Competition ends 7th April 2019.  Other T&C's apply
We have been provided with the Childs Farm products shown in this post for our own us and as a giveaway prize in exchange for this post.