Did you see our post on travel tips for visiting Agadir?  I didn't talk about navigating Agadir airport in that post, as given the experience we had there, I felt it deserved an article of its own.  There are definitely some tips and tricks we had wished we had of known before landing at Agadir Airport, which would have made our experience of travelling with two kids a lot easier. These travel tips will help you with arriving into any airport in Morocco, but especially Agadir airport.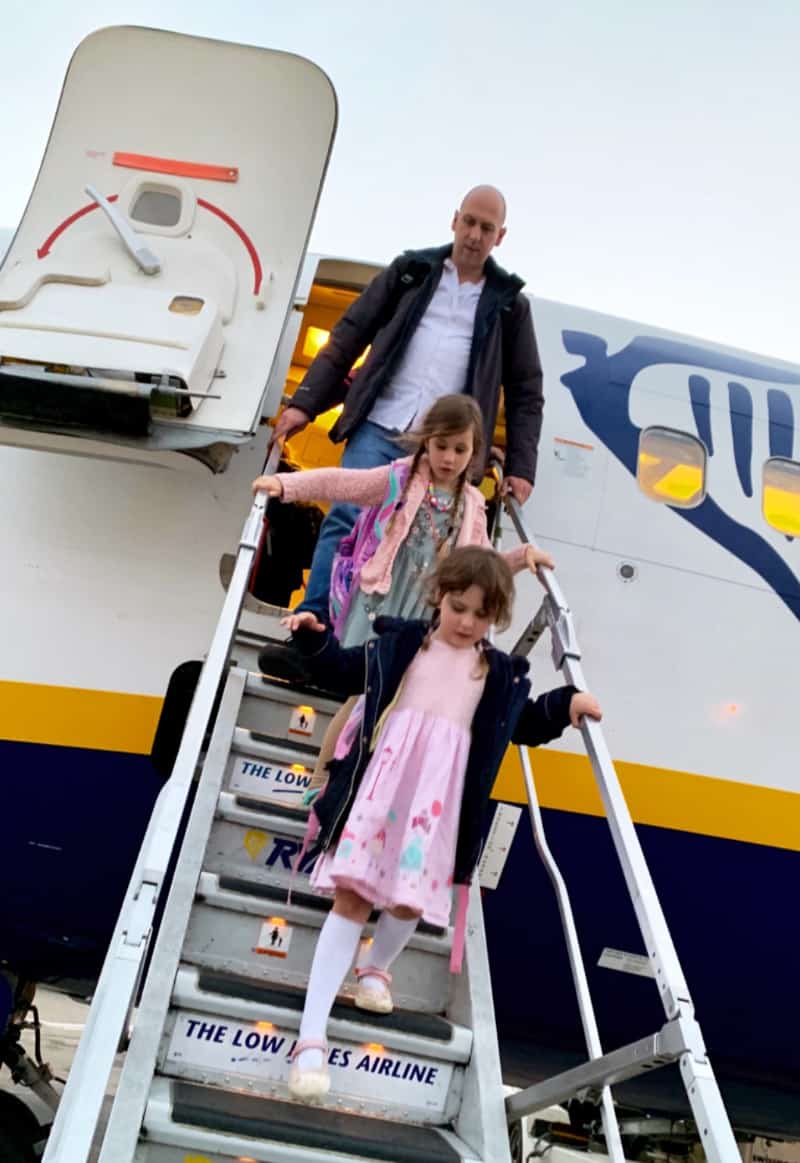 If you are flying to Agadir airport for the first time then this post is a must read.  Agadir airport is small, especially for the number of tourists going through it.  We travelled from Manchester airport to Agadir for February half term and it was busy.
I think the summer holidays would be quite chaotic there, so I want to make sure you are ahead of the game.  As well as being small, the airport also processes passengers quite slowly due to the lack of automation.  If you know this in advance then you and your kids will be prepared and you will avoid frayed tempers and bored children while you are travelling.
Tips for Getting Through Agadir Airport
1. I would suggest having a few things ready in your hand luggage before you land at Agadir airport to help you get through passport control as quickly as possible.  Make sure you have a pen, some water to drink and, if you are travelling with young kids, something that will keep them busy while they are waiting to get through passport control.
2. When you enter the building, collect enough landing cards for your entire travel party for entering and leaving Morocco.
3. Do not waste time completing the cards in the hall.  Get yourself and your kids in the queue as quickly as possible as the queue for passport control moves very slowly.  It's also warm!  We didn't have a drink left and the kids went a bit crazy so we all felt a bit frazzled by the time we were processed. We also wasted valuable time completing the paperwork before joining the queue.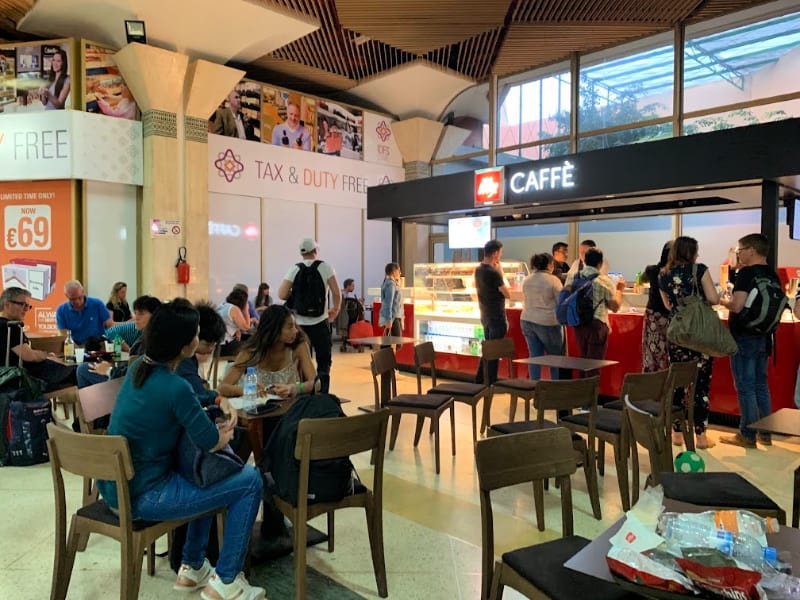 4. There are lots of exchange bureaus inside the airport competing for your business.  They seemed popular with people who knew what they were doing.  If you take Euros or pound sterling this could be a good place to change your money to dirhams.
5. Don't worry about waiting for your luggage, it will probably have done 5 laps of the conveyor belt before you get through passport control.
6. If you have an airport transfer booked, and you can't see your pick up at the arrivals gate, they are probably waiting for you outside.  If you exit the building you will see lots more transfers waiting to pick people up.  We got a bit confused and a porter helped us with our luggage, which was kind of unnecessary thinking about it, but we were frazzled after waiting to get through passport control so long.  The tip cost me 5 euros.
7. We had learnt a few lessons from arriving at Agadir airport for our return, but not all!  When our transfer dropped us off we were ready to politely say 'no thank you' to the porters and made our own way to the airport, which was literally across the road.
8. The luggage goes through a security scanner before you enter the building.  This is another queue worth getting in as quickly as possible.  You need plenty of time to get through Agadir airport, if you are late trust me when I say it will make things very stressful.
9. If you picked up extra landing cards when you arrived at Agadir airport, have them completed ready to give to passport control when you leave.  This will save you a job when you arrive at Agadir airport.
10. Once you have got through the security scanner, look for your check in desk and luggage drop off straight away.  It's not particularly well organised and the queues can be a bit messy, so keep an eye on what is going on.  Be prepared for a wait to drop off your bags as luggage labels are hand written and not printed and luggage backs up on the conveyor belt.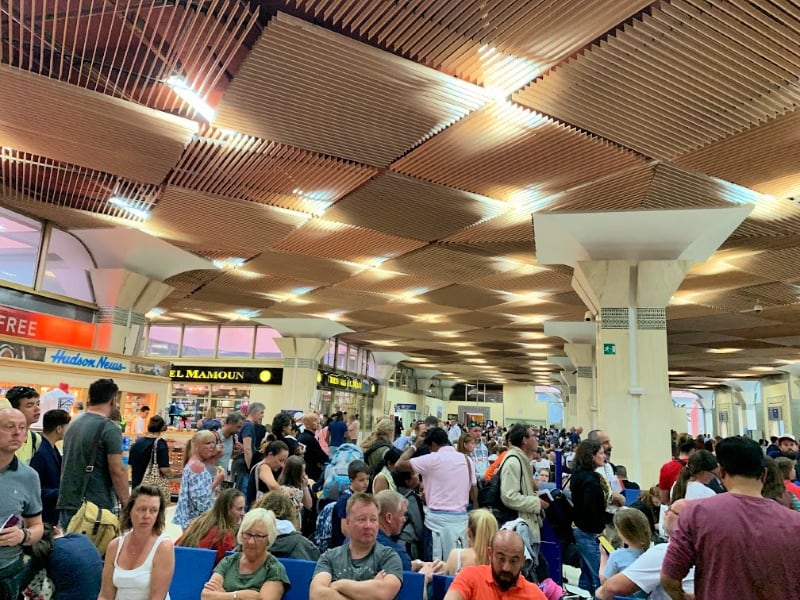 11. You will then join another queue to get through passport control.  Be prepared as the kids might get a little restless by this point and everyone will be feeling hot and bothered.
12.  If you are planning to stock up on drinks and snacks at the airport, you need to move quickly.  You can only buy soft drinks at the two cafes inside the airport and the queues are long.  Our flight was slightly delayed and to be honest, it actually came in handy.
13. You can buy snacks in the shops as well as the cafes, or you might just accept paying a fortune for some mediocre airplane food at this point to save waiting in another queue.
14. There is a small play area in the departure lounge that will keep small children entertained for a while before you take off.
15. Make sure you have access to some activities for the kids to keep them entertained while they are waiting.  The departure lounge is busy and stressful and cranky kids is the last thing you need before you head home.
We all know that air travel with kids can have its challenges, and some airports make it easier than others.  Agadir airport is one that could benefit from being a bit bigger and better organised to make family travel here a more positive experience.  We hope that by reading our tips about using Agadir airport for visiting  Morocco we will help prepare you and your kids for your trip here.
Have you used Agadir airport before?   Are these helpful tips?  Let me know in the comments below.
Not travelling to Agadir yet? Pin this post for later