We love the opportunity to pop into town, so when we were invited to review Red Dog Saloon restaurant in Nottingham I knew we couldn't say no.  Finding good places for family dining is important to us, so we went along one Sunday with the girls to check out the restaurant.
Red Dog Saloon is in a great location on Victoria Street where the Lace Market meets Hockley in Nottingham's city centre.  It's a stones throw from the Lace Market tram stop and there's also a bus stop just down the street.  We actually drove into town as we had been at my daughter's birthday party previously and parked in the Lace Market Car Park, which is just a few minutes walk away.
Inside Red Dog Saloon
I have to admit excitement was already running high with the girls as they had had a fun packed morning at the bowling party and their tummies were definitely rumbling.
As we walked inside Red Dog Saloon I was immediately impressed with the dark wood paneling and authentic features.  If you are going to a saloon, a saloon is what you expect and that's exactly what we got!  We could have been sat in a bar in Southern USA with it's large booths, leather seating and cowboy paraphernalia.  I would describe at as cowboy chic as it is very tastefully done.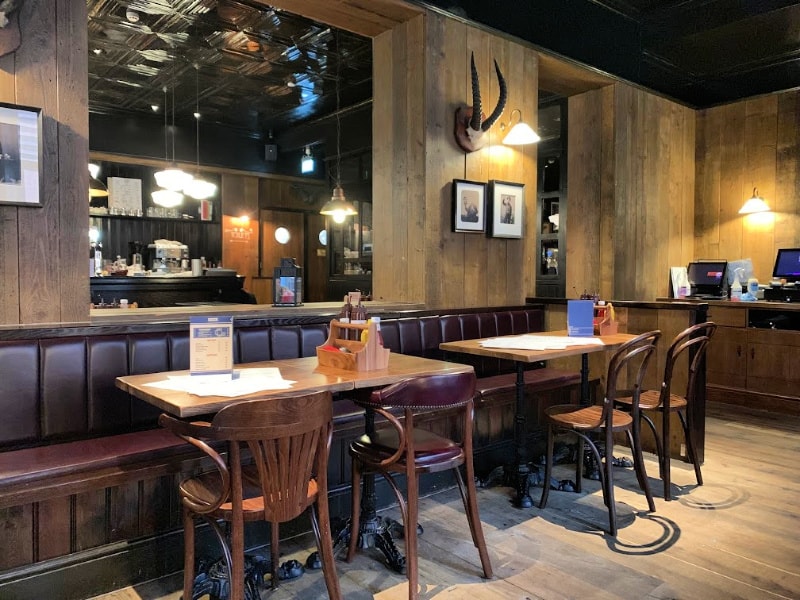 We were shown to our booth by the lovely waitress, and I really appreciated that we had plenty of space on the table to spread out.  When you are eating out as a family, and kids start drawing, drinks begin to arrive and the lets not forget the food, things can start to get crowded.  Not at the Red Dog Saloon though, we had plenty of room at our table for everything.
Children's Menu at Red Dog Saloon
The waitress bought over all the menus including some for the kids.  The kids menu is printed onto their placemat, which also acts as their colouring page.  The kids couldn't wait to start colouring and the waitress bought them a pot of crayons to keep them busy.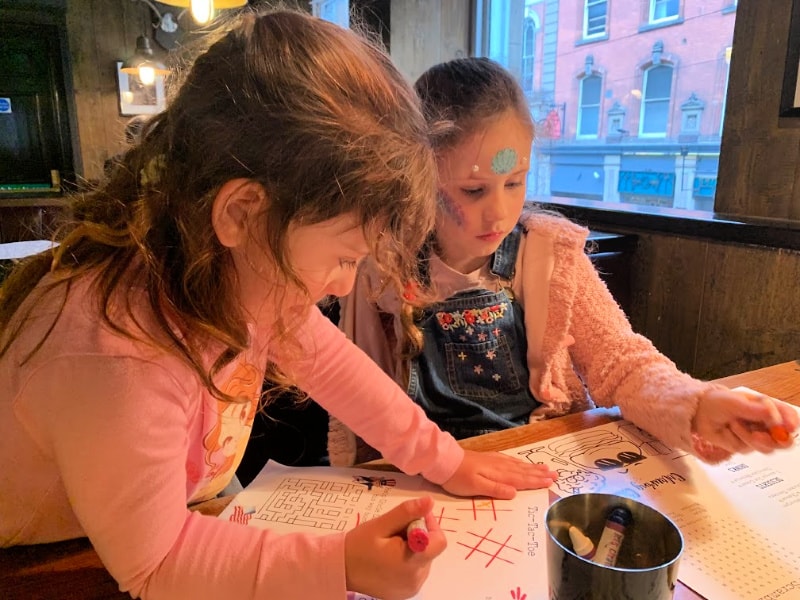 For £6.50, the kids can have a main, dessert and a drink.  For a children's menu this is competitively priced and means that if you want to eat out as a family the cost isn't going to escalate out of control.  The kids can choose from mini cheese burger, mac and cheese or chicken tenders, which are all served with fries.  For dessert they can have 2 scoops of ice cream or a chocolate brownie.  The drinks are your standard offering of soft drinks.
The kids chose the chicken tenders, and they came to the table with our starters.  The chicken tenders were great for the kids.  The chicken was good quality and the coating was tasty without any overpowering flavours or spices that can sometimes put kids off.  The chips got a big thumbs up from the girls too!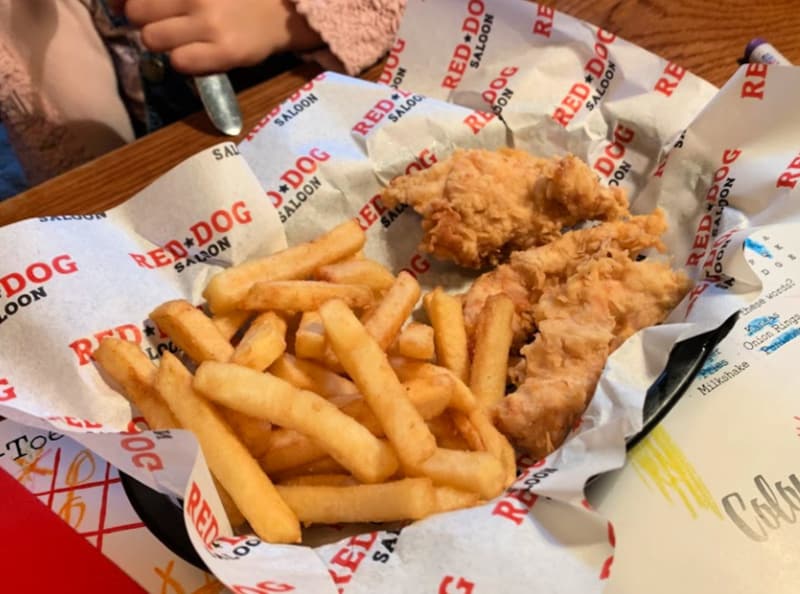 Red Dog Saloon Food Review
The first thing to say about the main menu at Red Dog Saloon is everything comes big! I liked this as that's what you would expect from an American style diner, so make sure you are hungry before your visit.
We kicked off with the Mozzarella Sticks served with a marinara sauce and the Brisket Croquettes with garlic aioli.
The Mozzarella Sticks are big with a crispy coating and packed with oozing mozzarella.  You have to eat these bad boys quickly while they are hot to enjoy them at their best.  The marinara sauce is the perfect accompaniment to the dish as well, with a lovely flavour to set of the Italian cheese perfectly.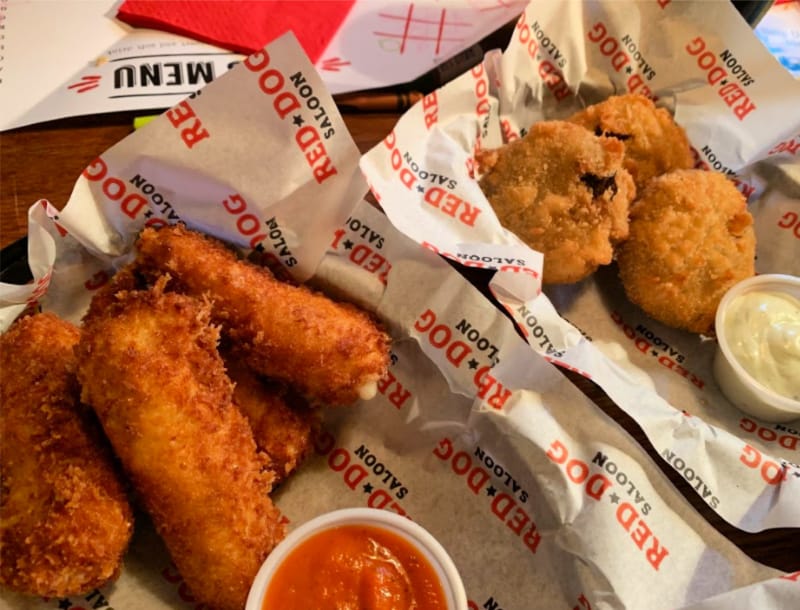 The Brisket Croquettes were our first experience of the slow cooked BBQ meat that Red Dog Saloon is famous for, and boy did it hit the spot.  They too had a lovely crispy coating, were packed with BBQ brisket and were a match made in heaven for the garlic aioli that was served on the side.  This dish really set the scene for what was coming next.
The mains arrived at the table in abundance and we got stuck right in.  My dish came from the Pit Cooked Bar-B-Q menu.  All the meats here are cooked over hickory wood in the onsite smokers.  Red Dog Saloon BBQ the meats fresh every day and it comes straight out of the smoker to your table! It's sounding tasty already isn't it?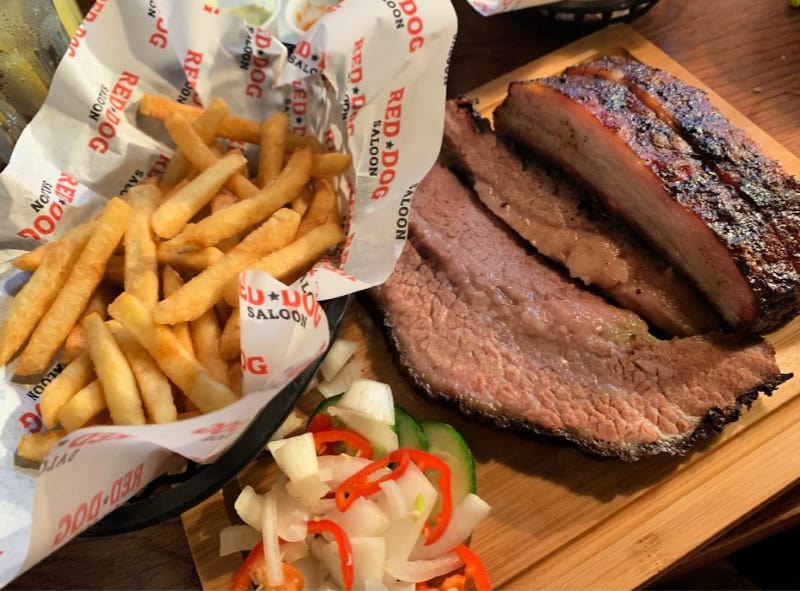 On my Combo Plate I had brisket and St. Louis Cut Pork Ribs.  Did I mention the servings are big at Red Dog Saloon?  Well, four large cuts of meat arrived on my plate with a side of salad, fries and crispy onion rings.  I wasn't sure where to start!
Both cuts of meat were on point, perfectly cooked with subtle smokey flavours.  They were tender and juicy and an utter delight to eat.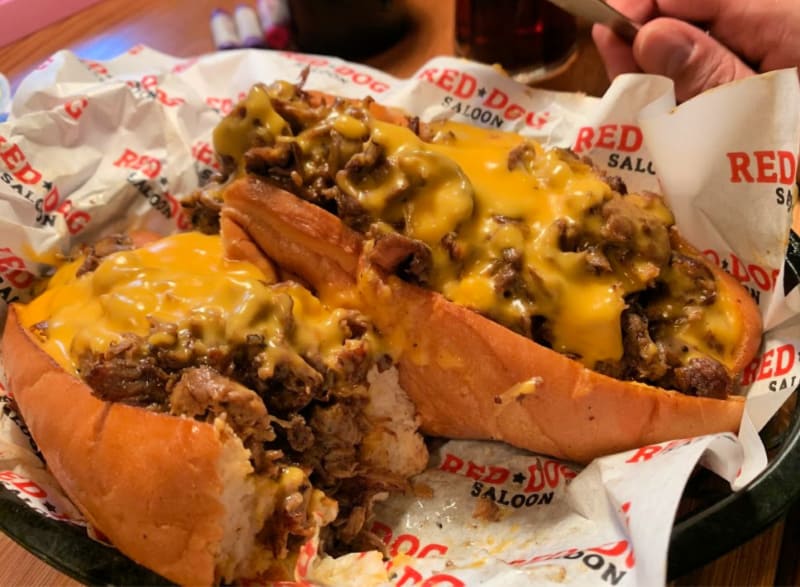 My husband chose the cheesesteak after a strong recommendation from our waitress.  This is like a tasty steak sandwich with shredded beef,  onions and cheese packed into a small loaf.  It looked and sounded great.  My husband enjoyed it, but just expected a little more quality in the bread and cheese to take it from a good sandwich to a wow sandwich, if you know what I mean.
Onto Desserts
Seeing as the kids had some ice cream it seemed rude not to join them for a dessert.  My husband flaked at this point and let the girls in the family sample the puddings.  He was most certainly full after the main course.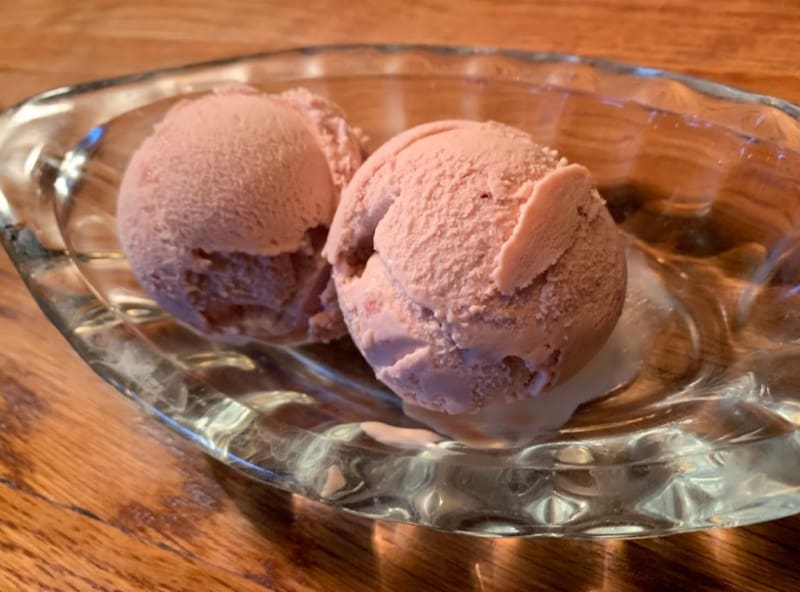 I had the Oreo and White Chocolate Fudge Pie and it was out of this world.  I would probably pop into Red Dog Saloon just for this dessert, it was that good. I know I've said this already, but everything comes big at Red Dog and desserts are no exception so leave yourself plenty of room to enjoy this bad boy.
It's better described as Oreo and White Chocolate cheesecake I think, but perhaps in Austin, Texas they call them fudge pies.  I would have to investigate this further. The topping is deliciously creamy and rich and I would probably say one of the best cheesecakes I've ever eaten.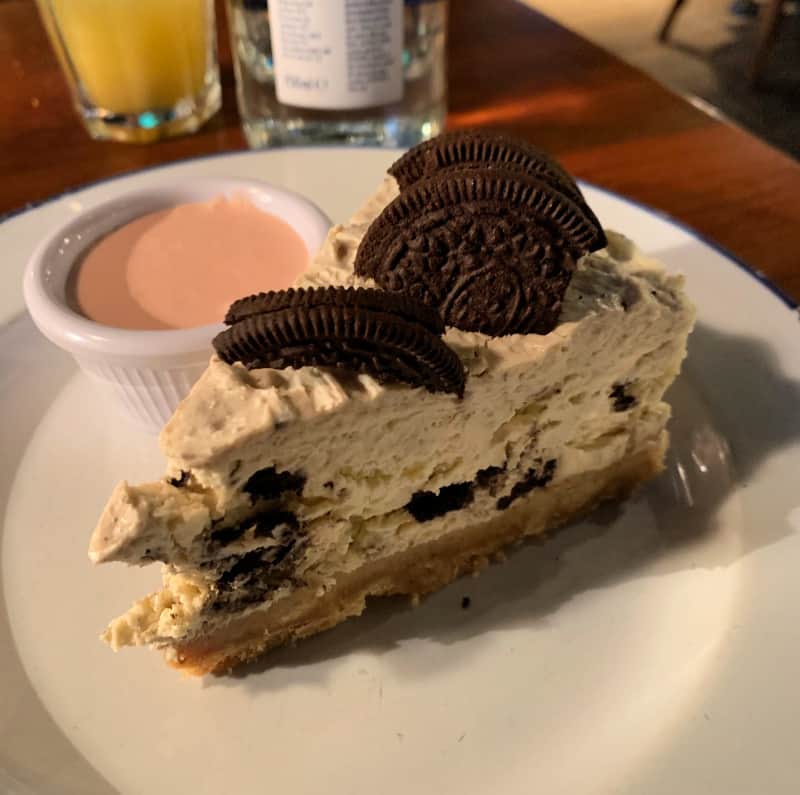 The base was a little on the hard side unfortunately and I think this was to do with how it was chilled.  To make the base just that little bit softer I would suggest holding back on the butter slightly and adding more biscuit crumb.  I think this would make the Oreo and White Chocolate Fudge Pie pretty damn near perfect if you ask me, but it is already pretty amazing as it stands.
Final Thoughts
We thoroughly enjoyed eating out as a family at the Red Dog Saloon in Nottingham.  We can give a huge thumbs up to the kids menu in terms of quality and price.  We also loved the main menu and were certainly very full by the time we left.
The smoking process the meat goes through onsite makes for a very tasty dining experience indeed and we also throughly enjoyed the setting.  As time went on the restaurant started to fill up and it seemed like a popular choice for families with older children or parents who were visiting their kids at university.  A visit to Red Dog Saloon would certainly fill up most students and parents would be able to go home knowing they had had at least one mighty meal that term!
We were guests of Red Dog Saloon Nottingham in exchange for this restaurant review, but all thoughts and opinions are our own.