I wanted to share with you a review of our hotel stay at El Pueblo Tamlelt in Agadir incase you were going to book your next holiday there.  It's a budget hotel in the Caribbean Village Agador complex where we stayed while on our recent holiday in Morocco. I would definitely describe this hotel as an affordable option for people wanting to go on holiday in Agadir.
We picked a budget hotel as we hoped that we would be out and about exploring Agadir independently and going on days out with the kids.  That plan didn't quite work out as we had hoped and we spent more time at the hotel than we had anticipated. That does mean though that we can give you a pretty comprehensive hotel review of El Pueblo Tamlelt Agadir and the hotel Caribbean Village Agador as a result.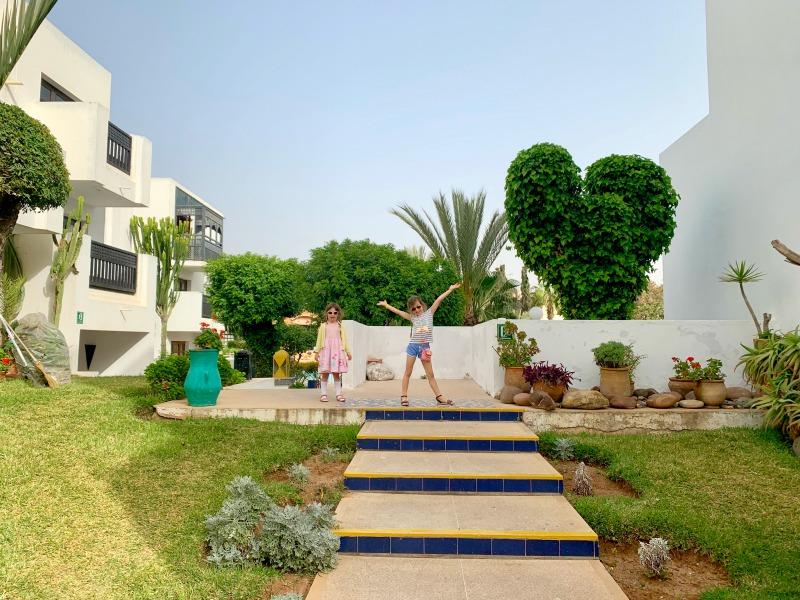 El Pueblo Tamlelt Hotel Review
Arriving at El Pueblo Tamlelt
It was a lot later than we expected when we arrived at El Pueblo Tamlelt Agador, partly as a result of the delays we experienced getting through Agadir Airport.  There was only 15 minutes left until the El Pueblo Tamlelt all inclusive restaurant closed as we arrived at the desk. The hotel reception staff told us to leave our bags and go and get something to eat, and come back and check in afterwards.
We really appreciated this gesture as we needed some supper before settling down for the night.  We went over to the main Caribbean Village restaurant and got some food and drink before heading back to the El Pueblo Tamlelt Hotel reception where we had left our luggage.
We checked in to the El Pueblo Tamlelt Hotel, Morocco and were asked to complete the same landing card again at the reception as we had done in the airport.  I was beginning to understand that Morocco really was not known for it's efficiency, but that we just had to go with it.  We had a tourist tax to pay on arrival which was about 46 euros for the four of us for the week.
Once we had checked in to El Pueblo Tamlelt, the porters helped us up to our room.  We were on the third floor at the end of the corridor and it's worth noting that there were no lifts in this part of the El Pueblo Tamlelt Agadir hotel.  Our hotel room overlooked the entrance, the shops below and a bar, but more on that later.
Our Family Hotel Room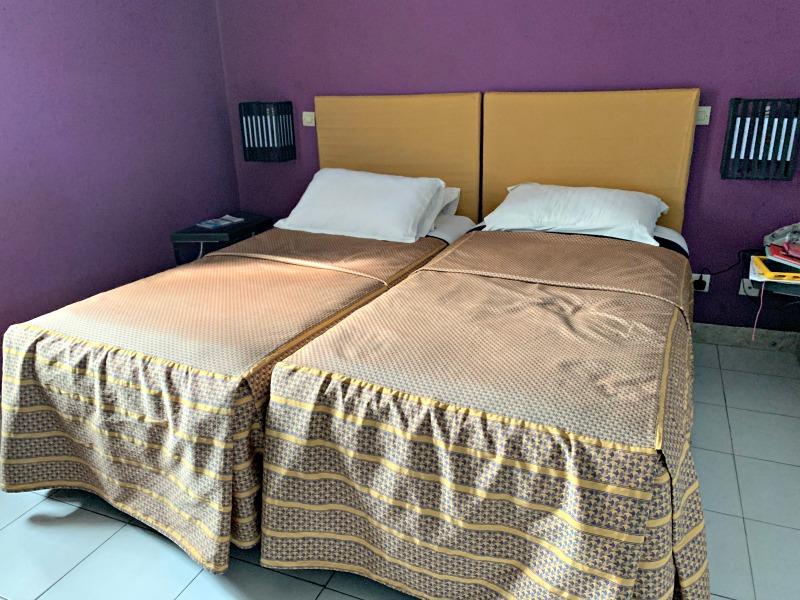 Our hotel room at El Pueblo Tamlelt at the Caribbean Village Agador was a reasonable size, but definitely basic.  The decor and upholstery were in a Moroccan style which I liked, but the wall prints were questionable.  They featured older women that didn't look their best, and I think they were best removed if I'm honest.
There was a double bed in the main bedroom and the mattresses were surprisingly comfortable.  We also had a chair, bedside shelves and a desk.
The girls had a bunk bed in the next room, which again was really comfortable.  There was a TV, but to be honest we never turned it on.  It was quite old fashioned and I would have been surprised if there was any TV on it we could watch.  The girls had their Amazon fire tablets with them, so that was their main source of entertainment during our week at El Pueblo Tamlelt Hotel, Agadir, Morocco.
We had access to a safe, and two wardrobes in the room.  There was also some drawers in the bathroom and an area to store shoes and suitcases. The bathroom was split in two with the sink and drawers living on one side of the room and the shower and toilet on the other.  The features were dated, but everything worked most of the time!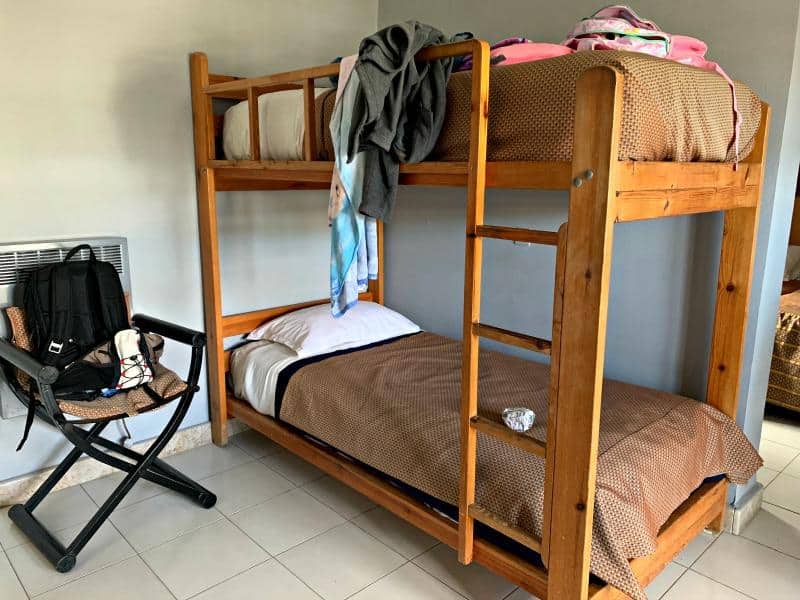 I say that because on the first morning of our stay it soon became apparent that there was no water in our room.  I went downstairs to the El Pueblo Tamlelt reception to investigate and there was a problem throughout the hotel block.  We were all in need of a shower to be honest, so this wasn't ideal.
The reception were prepared to give us access to another hotel room at the Caribbean Village Agador to use the facilities, but by the time we had had this discussion with them there wasn't that much time to wait for the water to be switched back on.  The water worked fine for the rest of the week, but it was a worrying start to our stay.
We also found that the El Pueblo Tamlelt Hotel, Morocco had a problem with ants.  Basically if we left any food in the bin or anywhere else in the room for that matter then a colony of ants would appear.  Obviously we took the necessary steps to prevent this from happening once we realised, and the cleaner was very efficient at sorting the problem out, but it was clear that they didn't have a way of eradicating the problem of ants in your hotel room all together.
The other problem we had in our hotel room was noise.  It wasn't every night, but on Thursday, Friday and Saturday night the noise from the bands playing in the bar below was really loud.  So loud that they might as well have been playing music on our hotel balcony.  This would start at around 10pm and finish between 1 and 2am in the morning.  Now, if you are staying at the El Pueblo Tamlelt hotel without children, or you plan to stay out late yourself, this wouldn't be a problem.  Unfortunately for us, our children go to bed quite early and it did cause some disturbance on the nights that it happened.
It's also worth mentioning that this holiday was really cheap.  We paid around £1300 for an all inclusive stay with flights and transfers to stay at this Agadir all inclusive hotel for 2 adults and 2 children.  From that point of view we didn't expect a lot from the hotel room or this part of the Agador Hotel in Agadir, Morocco.  We got a good amount of space and we were comfortable, but I would have been quite happy to live without the noise and the ants that liked the El Pueblo Tamlelt so much.
>> CLICK HERE FOR TODAYS PRICES AT EL PUEBLO TAMLELT HOTEL <<
Facilities at El Pueblo Tamlelt Hotel
There are actually very few facilities at El Pueblo Tamlet, as most of the hotel's pools and bars are located in the Caribbean Village Agador.  The El Pueblo Tamlet hotel is apart of the Caribbean Village complex and you can use all the facilities here which is a real plus.  It only takes a few minutes to walk through the El Pueblo Tamlelt Agador to reach the main pools and bars.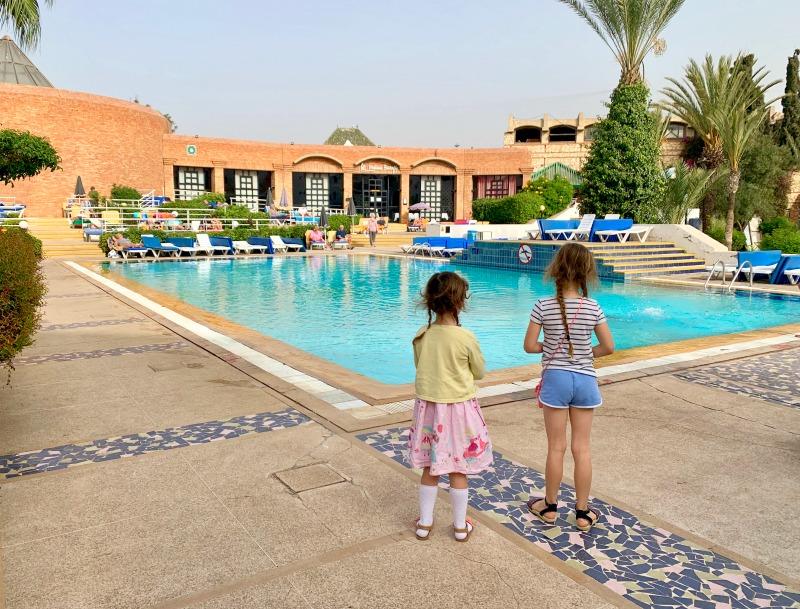 The El Pueblo Tamlet is set up like a riad, with the hotel rooms surrounding the main courtyard.  There is no bar here, but you can get free bottled water from the hotel reception every night.  You can access the WiFi for free in the courtyard also.  You will also find a luggage storage area here that you can use for free on the day you check out.
There is an ATM available as well, but it wasn't always working.  If you walk through the hotel to the Caribbean Village Agador reception they have one there also.  You will also find an Exchange Bureau at the hotel which was handy for breaking down large notes into change or buying Dirhams.
There is a lounge area in the El Pueblo Tamlelt that looked recently refurbished which I only discovered on the last day, which was a shame.  There is also a toilet in the courtyard but my honest advice is only use this if you really have to as it is not the cleanest facility in the world.
Main Restaurant at Caribbean Village Agador
On the whole I quite enjoyed the food at the buffet restaurant in the Caribbean Village, but I do think some people would struggle too.
At breakfast they would make fresh donuts or pancakes everyday which were a big hit with the kids.  There was also a fresh omelette station, and the skills of the chef to keep the queue moving were pretty phenomenal.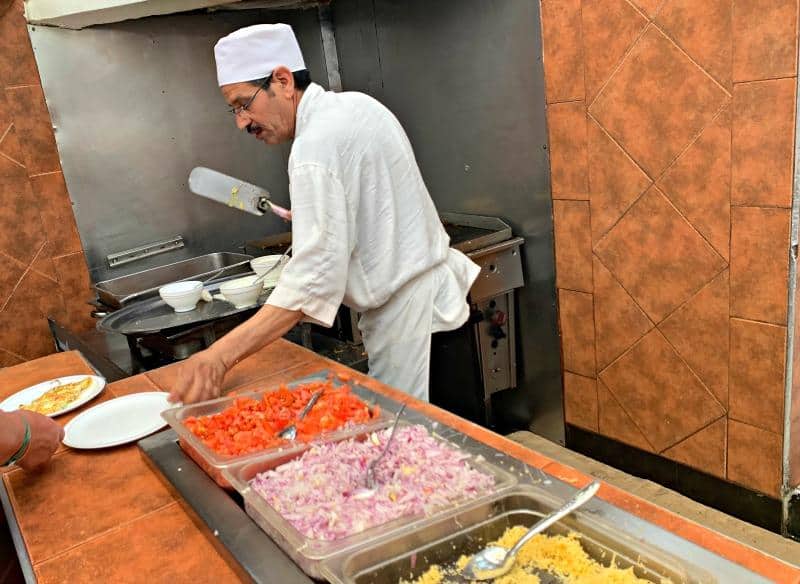 You would also find a pretty good selection of pastries, fruits and yogurts at breakfast, but if you were hoping for the traditional english cooked breakfast you would sadly be disappointed at the El Pueblo Tamlelt or Caribbean Village Agador.  There would always be Moroccan tea and coffee, but it wasn't the best quality coffee in the world.  Some guests had the foresight to bring their own coffee which I think should tell you a lot.  My husband didn't like it at all, but I didn't mind it with milk.  The kids juice offer was a bit odd as well, and the orange juice served daily was very bright and sent them a bit crazy.
Fortunately I had packed some small bottles of squash so we added that to water instead.  It saved them having this crazy orange moustache after every meal too.  The Caribbean Village Agador did have fizzy drinks, but our children just don't like them so we didn't have a lot of choice.  It would have been nice to see some traditional apple juice or orange juice available for the kids, but we managed OK.
Speciality Restaurants at Caribbean Village Agador
On the first day at the hotel, I went exploring the Caribbean Village Agador and discovered they had a number of speciality restaurants.  We weren't told this at our check in but we didn't attend our hotel meeting, which might have been when we learnt about this.
There was a Chinese, Italian, Steak, Moroccan and French restaurant open during our visit.  Each restaurant had a set menu and you were served at your table.  To book a table we had to visit the kiosk by the pool and book each day.  The restaurants all opened at 7, and there was only one sitting.  If you were very late you might lose your table.
We loved this feature at the hotel, and it made eating at the Caribbean Village Agador more of a special occasion.  The children didn't like all the food they were served, but it didn't matter as if we were still hungry we still had the option of going to the all inclusive restaurant before that closed.
How We Spent Our Time At The El Pueblo Tamlelt & Caribbean Village Agador
If you are looking for Agadir hotels on the beach then the El Pueblo Tamlelt is most certainly an option.  If you have already read about our family holiday in Agadir you might already know that we didn't spend as much time on the beach as we would have liked.  The El Pueblo Tamlelt isn't on the sea front, but it is a very short walk away.
My pro tip to you would be to leave the hotel by the kids club, turn left and walk to the kiosk and take the walkway straight to the beach.  There is a garden you can walk through but the tour guides wait there to get you to buy their day trips.  If you want to avoid this conversation, head to the kiosk and down the path.  The beach is just at the end.
There are several pools at the Caribbean Village Agador, but from what I could gather none of them were heated.  The kids did spend time splashing in them, but we weren't as brave as them and just observed from the sun loungers.
There were activities arranged by the animation team throughout the day including exercise classes, dancing and games.  There was even a Moroccan fashion show, but the girls were too shy to join in.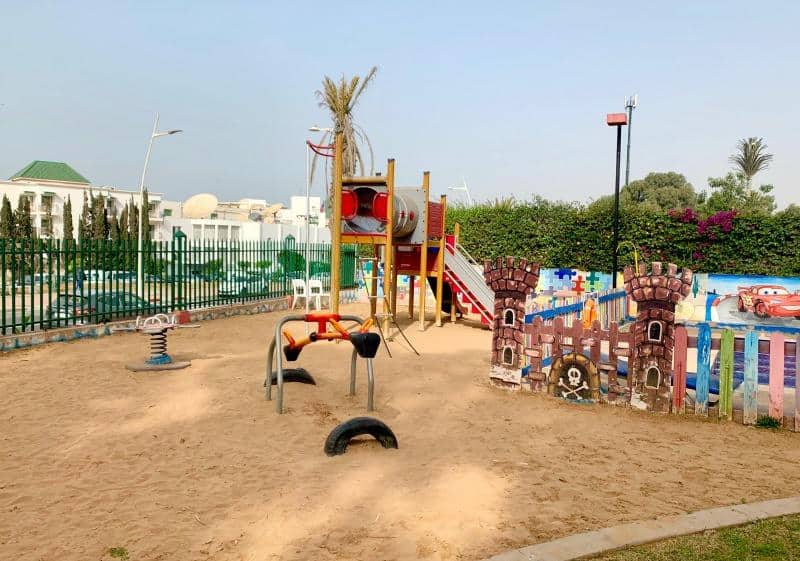 The kids club was very basic, and I would suggest to families who rely on a facility like this to perhaps look at other hotels in Agadir, certainly in the low season.  There were activities arranged like mini golf and dancing, but we didn't really use them.
They had a playground which we used quite a lot.  It was a great view point for the garden where the tour guides waited and we would observe how the tourists dealt with them selling their trips while the kids played.  It made for some great people watching most days.
There was a number of sports courts so you could play tennis, basketball or table tennis for example.  You could also visit the spa or have henna tattoos or braids.  There are a few stalls and shops around the El Pueblo Tamlelt but be prepared to haggle hard as the prices are high given they are inside the hotel.
Outside the all inclusive restaurant most evenings you would also find Chocolate the Camel and his owner selling rides.  We have debated whether camel rides are ok in Agadir and how the camels are treated in Morocco already over on Instagram.  We decided that Chocolate was the best cared for camel we had seen.  We felt happier letting the kids ride Chocolate than the camels we had seen on the beach for example.
>> READ THE LATEST REVIEWS ON TRIPADVISOR <<
Customer Service at El Pueblo Tamlet and Caribbean Village Agador
Something that can really make or break your experience at a hotel is the staff, and in all honestly we had a wonderful experience with the people who worked at El Pueblo Tamlelt Agadir.  Our cleaner was lovely and did a great job of making sure our hotel room was clean and well presented each day.
The hotel reception staff answered all our queries and helped us when we needed it during our stay.  All the waiters and waitresses were lovely and clearly worked super hard to provide everyone with a good service.  They were friendly and thoughtful and this made such a difference to our overall experience at El Pueblo Tamlelt.
Whether you are staying in the Caribbean Village Agador or the El Pueblo Tamlelt Hotel Morocco, I think the staff across the hotel are very friendly and welcoming.  They were always genuinely lovely to the kids too, which I appreciated a lot.
El Pueblo Tamlelt Hotel Review
For the price, the El Pueblo Tamlelt at Caribbean Village Agador was absolutely fine.  It was basic but you get what you pay for.  I would have preferred not to have the late night music or the ants, but it wasn't anything we couldn't live with.
We enjoyed the restaurants, and compared to our stay at Monica Isabel Beach Club Review (Albufeira, Portugal) the food was a lot better.  I'm also pleased to say that my children weren't sick here either!  We would have appreciated more choice with the soft drinks, but we had got a back up plan so again this didn't effect us too much.
We had hoped not to spend as much time in the hotel as we did, but because we found some aspects of Agadir challenging, it changed how we spent our time here.  We had enough to entertain us, but it would have been nice to have a few more activities and games for the kids.
The El Pueblo Tamlelt Agadir better suits couples without kids, or families with older children if I'm honest.  If you are looking for a cheap holiday by the pool the El Pueblo Tamlelt definitely ticks that box.   Our experience was fairly positive at the hotel, but we probably won't be rushing back to Agadir, Morocco for other reasons.  If you are going on holiday here, I've got a great post of tips and tricks for visiting Agadir which is well worth a read.
We paid for our holiday at El Pueblo Tamlelt, and were under no obligation what so ever to share this review of the Caribbean Village Agador.  If you have stayed at the El Pueblo Tamlelt Hotel Morocco I'd love to hear what you thought of your holiday in the comments below.