Ad – Written in Partnership with Keetoo app 
I do love visiting London with the family for the day, but when there are 4 of you to consider, the cost of tickets to attractions and eating out can soon mount up.  On our recent trip to London, we were asked to try out Keetoo, a new money saving London travel app, during our day out.  This post is all about our experience of using Keetoo and the money we saved on our London travel.
Using the Keetoo App to Visit London
Before our visit to London we purchased Keetoo credit through the London travel app.  On first impressions, it's pretty impressive that £35 will buy you adult entry to two London attractions and save you money at one of the restaurants listed on the app.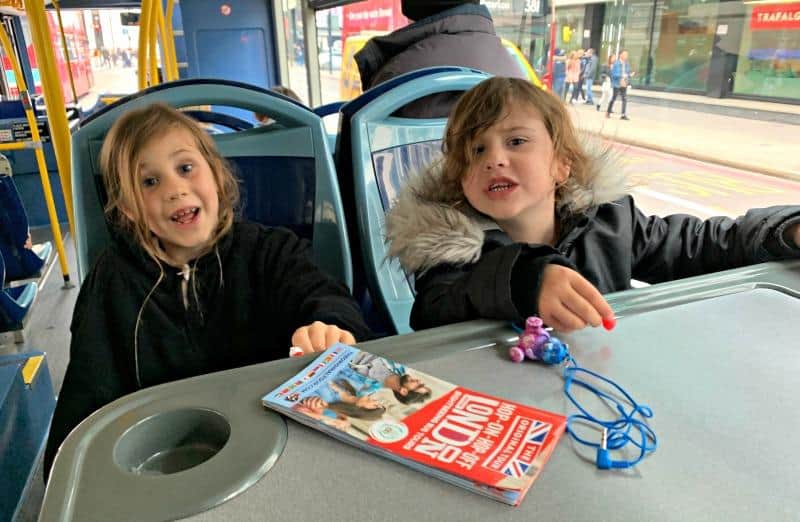 For children aged between 5 and 15, they can have a Day Tripper credit for £20 which again will provide them with entry to two London attractions.  You could also access the restaurant discount, but the offers currently available on Keotoo apply to purchasing main meals only.
Our London trip began with a train journey to the capital.  In my opinion this is the best way to travel to London with kids.  They can get up and go to the toilet when they want and if you can get a table, they have space for snacks and all the activities you've packed to keep them busy.  Driving around London can be incredibly stressful if your not used to it so I think the car is best left at home if I'm honest.
Planning a Day Out in London
I had planned out our day in London before we left home, from what activities we were going to do to which tubes we needed to catch to get around.  Knowing what needs to happen when just makes life so much easier when travelling with kids, but having flexibility is also essential for family travel too.
With the Keetoo app, you aren't committed to visiting a particular attraction until you are at the ticket desk, so if plans need to change or the weather isn't right, you can simply visit a different attraction listed on the travel app on the day.  If you don't visit 2 attractions, that doesn't matter either as your Keetoo credit is valid for 12 months.  Saving money on travel and days out and flexibility don't often go together, so this is a real plus for using the Keetoo app.
Visiting Kensington Palace
On this particular London trip we took the tube from King's Cross to Lancaster Gate before taking a lovely walk through Hyde Park to Kensington Palace.  The kids were free to play tag and explore the park which was lovely.  Walking through the busy streets of London with two young children can get stressful, but this felt lovely and relaxed.  Our day out with Keetoo, the London Travel app was getting off to a great start.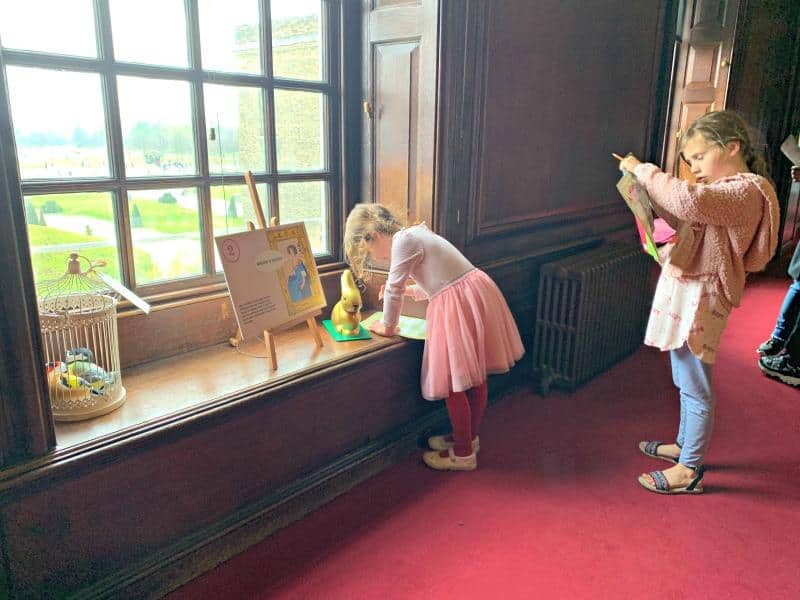 When we arrived at Kensington Palace they had one of their seasonal events on for the start of the school holidays.  I left the kids outside with Daddy to play bowls and look for Easter bunnies while I joined the ticket queue.  Knowing how restless the girls get when they are waiting for things, playing outside was definitely the best place for them.
When I arrived at the ticket desk all I needed to do was select the attraction I wanted to visit, which Keetoo credits I wanted to use, and activate my credits by holding down the green button.  This generated a code that allowed the office staff to generate the tickets for all of us to access Kensington Palace.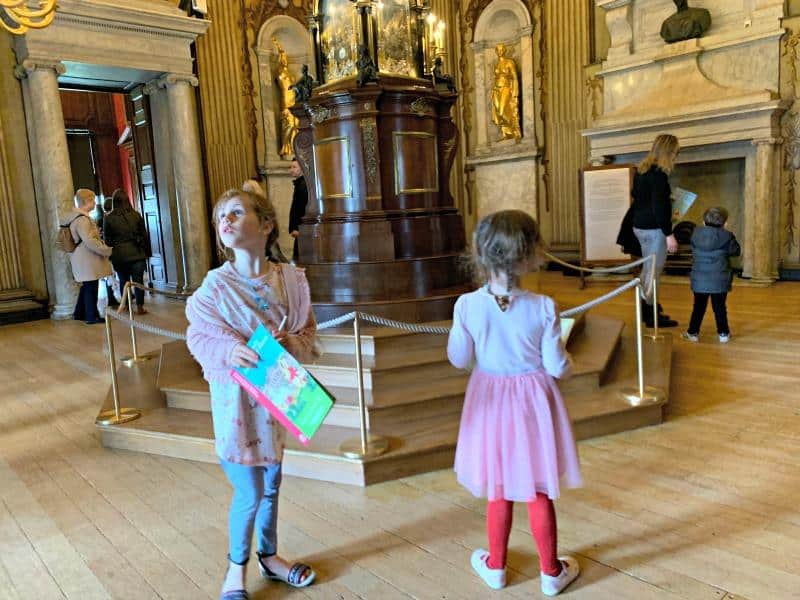 The other things I loved about the Keetoo app was all the helpful information it provided about visiting the attraction. This included opening times, nearest tube station as well as the ability to call the attraction, visit the website and access to Google Maps, Apple Maps or Citymapper directly from the travel app.  From this perspective, the Keetoo app was incredibly convenient.
We had a lovely morning exploring Kensington Palace and the gardens.  The girls particularly loved taking part in the treasure hunt.  Personally I really enjoyed the Diana: Designing for a Princess exhibit which showcased her evolving sense of style.  We all really enjoyed the State apartments and the elaborate art work displayed throughout the palace.  It really was a wonderful morning which ticked a lot of boxes for all of us.
Eating at the Rainforest Cafe
Our visit to Kensington Palace ended around lunch time and we headed back to the West End to visit the Rainforest Cafe, the themed American style diner in Piccadilly Circus.  Don't be put off if you can't book your preferred time slot online as they have plenty of tables just for walk ins.
Children's meals cost between £13.50 and £16.50 each and unfortunately the Keetoo app does not provide a saving on the kids menu.  There is plenty of choice on the children's menu though so I'm pretty confident you will find something your little one will eat, which is a big deal when travelling with kids.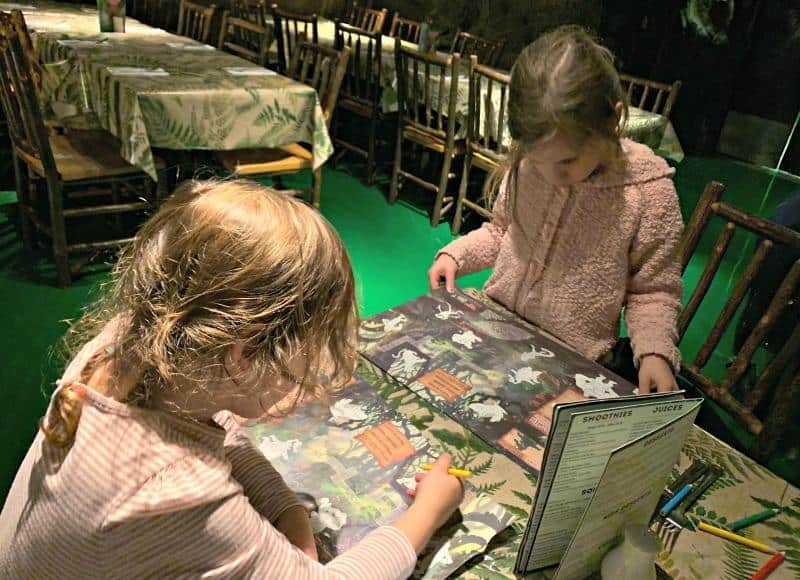 Main meals at the Rainforest Cafe cost between £15 and £20.  The Keetoo app allows you to obtain a free starter or dessert up to the value of £10 with every main meal ordered. Soft drinks start at around £4.50.  A 12.5% service charge is also added to your bill. A 2 course family meal at the Rainforest Cafe would cost around £100, and with Keetoo app you could potentially save £20 which is definitely worth it if you are keen to eat here.
The only real issue we had with using the Keetoo app happened at the Rainforest Cafe.  As the restaurant is mainly in the basement and we were sat on the very bottom floor, we couldn't access WiFi or mobile data.  As we left we had to walk up to the shop floor with the manager so we could access the internet and give him the code.  Our next challenge was to leave the shop without an armful of cuddly toys joining us for the trip back to Nottingham and I'm sure if you have kids you can just imagine how that went.
The Original Tour – London
The next attraction I had lined up on the London travel app was The Original Tour.  After an active morning running around Kensington Palace I knew the kids would appreciate sitting on an open top London bus tour that took them to the major sights.
We joined The Original Tour at Coventry Street, which is just around the corner from the Rainforest Cafe.  We were also lucky enough to join a bus tour with live commentary which was great.
We went to the The Original Tour ticket person and activated our Keetoo credits which generated a QR code she could scan.  She then issued our tickets which included a free boat trip on the Thames as well as free walking tours. If we had of had more time we would definitely have gone on the boat trip, but on this particular day we decided to stay with the bus tour for the entire loop.
We all really enjoyed the bus tour as it stopped by a number of major London attractions including Tower Bridge, the London Eye, the Tower of London and the Houses of Parliament.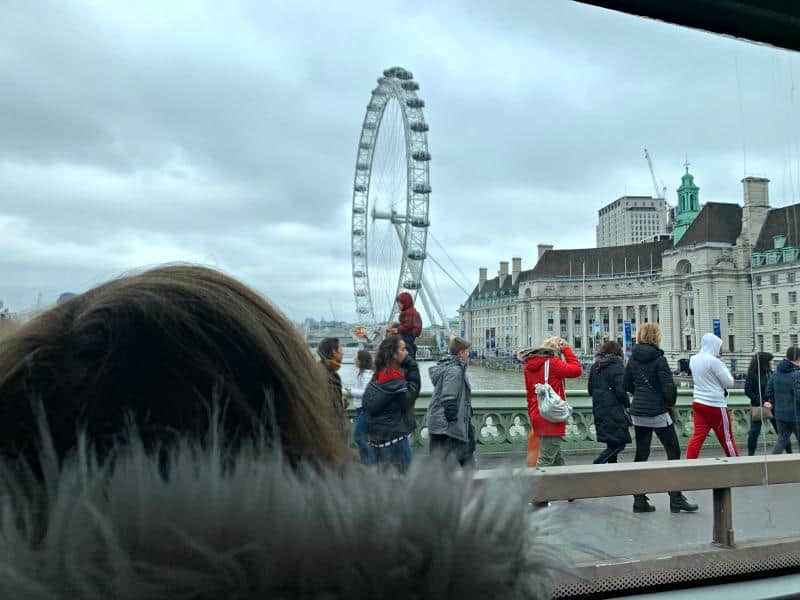 As well as the main sites I think we also saw all the demonstrations that were taking place in the city that day from the comfort of our double decker bus and a number of traditional British pubs which alway look fab in London. You might have seen one or two on Instagram recently.
We learnt a few interesting facts about London and some new jokes too, which the kids loved.  We could have hopped on and off the bus tour, but the kids aren't fond of lots of walking so enjoying the attractions from the bus worked best for us on this occasion.
We left the bus tour where we had joined it at Coventry Street then headed for the tube to begin the journey back home, feeling tired but happy with the day we'd had and using the London travel app.
There's definitely a potential for savings on a family trip to London with the Keetoo app.  To give you an idea of the costs relating to our day out here's the breakdown including the savings we made:
Adult (without Keetoo app)
Kensington Palace £17.50
2 course meal with drink £30 min
The Original Tour £32.50
Total £80
Adult (with Keetoo app) 
£35 Keetoo Credit + £20 for 2 course meal with drink
Total £55
Saving £25
Child (without Keetoo app)
Kensington Palace £8.70
2 Course Meal with Drink £13.50
The Original Tour £15.25
Total £37.45
Child (with Keetoo app)
£20 Keetoo credit + £13.50 for 2 course meal with drink
Total £33.50
Saving £3.95
I will admit I was surprised that the saving for a child using the Keetoo app was just under £4 on our day out.  The saving for an adult looks pretty good though.
I decided to do a comparison of the costs as a family of four as the above calculation doesn't take into account that the attractions we visited offer discounted family tickets.
For a Family of Four (without Keetoo app)
Kensington Palace £43.50
2 Course Meal with Drinks £100
The Original Tour £80
Total £223.50
For a Family of Four (with Keetoo app) 
Keetoo Credit £110 (for 2 attractions and restaurant discount)
2 Course Meal with Drinks (with Keetoo saving) £80
Total £190
Actual Saving with Keetoo app for a family of four £33.50
There was most certainly things we loved about using the Keetoo app during our trip to London.  It's really convenient to use and there's no need for printing out paper tickets before your London trip.  The flexibility is also great and the fact you can change your plans and you don't have to use your credits in the same day could also be of benefit.
Having calculated the savings we made on our trip to London using the travel app, I was disappointed that this wasn't higher for a family of four.  Given that we are spending more money, I would have expected the savings to be higher.  The Keetoo app doesn't take into consideration the family discounts already available at the attractions we visited.  I would love to see Keetoo introduce a family Keetoo credit option which offered parents a bigger saving on their London day out.
If you decided not to visit the Rainforest Cafe or any restaurant on the Keetoo app for example, the saving on attractions only for a family of four is just £13.50 in this case and I'm not sure that's enough to incentivise families to use it.
It's worth remembering that Keetoo is new a new travel app for visiting London, and they will undoubtedly be bringing new offers and attractions to the platform. At the moment the real savings are for adults and couples who want to visit London, but hopefully they will offer bigger discounts for families in time.
We were provided with a family day out in London to review the Keetoo app in exchange for a post about the travel app, but all thoughts and opinions are our own.