You might have already guessed if you follow me on social media that I've been spending some time in Colorado, USA.  As soon as the Colorado road trip was booked the first thing I started searching for was 'things to do in Colorado', and the first thing that struck me was that the list of places to visit and tourist attractions were literally endless.
As someone who has never been to Colorado, Denver or the Front Range before I decided the best people to ask about what to do in Colorado were my fellow travel bloggers.  They have shared the very best things to do in Colorado so lets dive right in and talk about the incredible outdoor activities, sightseeing and of course the amazing food and drink Colorado has to offer.
Things to do in Colorado
Take a Jeep Tour in Ouray, Colorado
Leigh who shares her adventures at Campfires and Concierges explains why a jeep tour of Ouray is one of the many fun things to do in Colorado.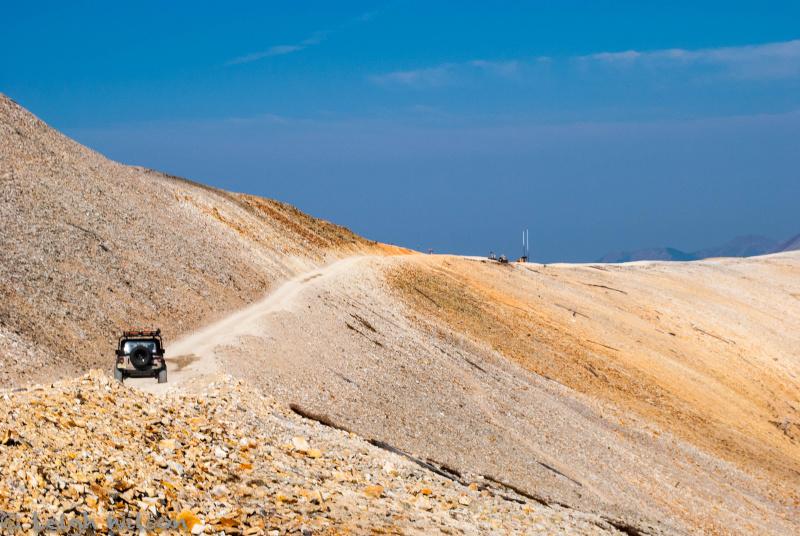 I love getting off the beaten path when I'm traveling, and spending the day with Colorado West Jeep Tours was the perfect activity to do just that in Ouray, Colorado. Our skilled driver took us up to Imogene Pass, at over 13,000 feet of elevation.
We were able to peer over into the next valley at Telluride and learn all about the history of mining in the San Juan Mountains. We stopped at a few spots to take photos and even walk around some old mining buildings and tunnels.
Skilled 4WD drivers can do this Colorado activity on their own, but I highly recommend leaving the driving to a professional, especially when the tour guides can give you so much background about the area.
Take a High Thrill Bike Ride Through Vail Pass
Ladona Stork at Walking the Parks writes with passion about all the experiences you can have in America's National Parks.  She shares why an adrenalin pumped bike ride is a great activity to add to your list of what to do in Colorado.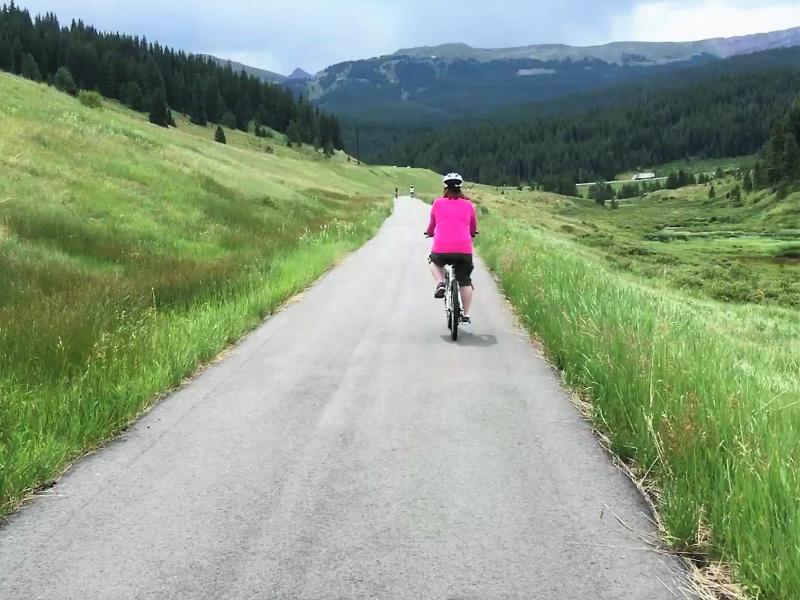 Can I entice you with a high speed, high thrill bike ride that requires very little sweat equity on your part? That's exactly what biking Vail Pass in Colorado is all about. You hook up with one of several outfitters that will take you and your rental bike to the top of the mountain. Then you coast all 14 miles down. This is a very family friendly ride, we met a family with an 80 year old grandma and kids of all ages.
We met up with our outfitter in Frisco. The beautiful, extremely well maintained path is part of the US Forest Service. It extends down Vail Pass, along Copper Mountain and into downtown Frisco. Along the way there are a variety of places to stop and enjoy the scenery. You might consider packing a picnic and enjoying a lunch along the way. There are several places for a bathroom stop near the trail too.
We took time to stop on the way down to explore Copper Mountain Village with cute shops and restaurants. Frisco, the last stop is very bike friendly. We wandered through the downtown area stopping to enjoy an ice cream. Then one of the bars enticed us for a short stop in their outdoor seating area with afternoon live music.  As Colorado activities go this bike ride through Vail Pass has outdoor fun written all over it.
Enjoy a Fun Packed Summer Adventure to Aspen – Snowmass
Tanya from Rad Family Travel blog has convinced me there's plenty of activities to keep everyone busy in Aspen -Snowmass.  It turns out it's a great place to visit if you are looking for things to do in Colorado in the summer.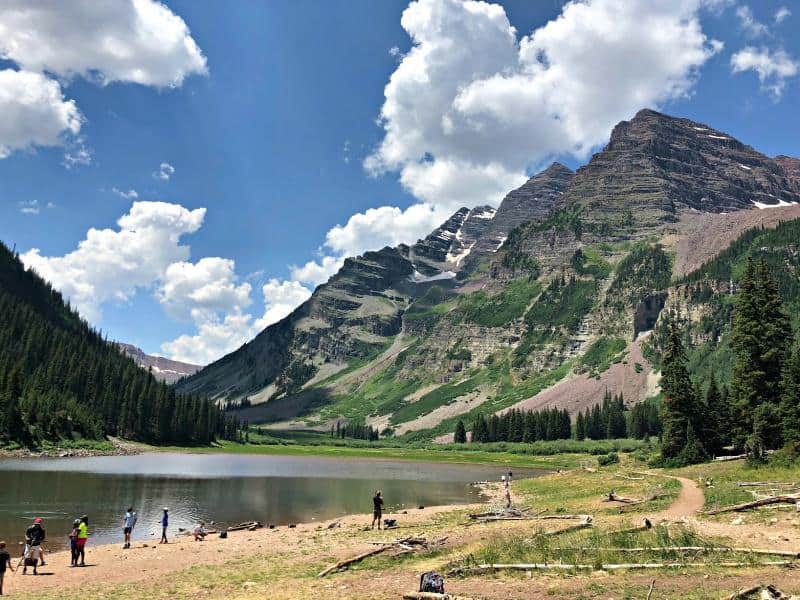 Aspen – Snowmass offers just as many outdoor adventures and adrenaline rush activities in the summer as it does in the winter, if not more. The highlight of driving into Aspen in the summer is coming from Leadville via Independence Pass, where hairpin turns take you up to 12,095 feet before descending again. This highest paved pass in America, Independence Pass crosses over the Continental Divide between Leadville and Aspen, Colorado.
In the summer, the best things to do in Aspen – Snowmass include biking the Rio Grande Trail, hiking to Crater Lake for a picnic at the base of the spectacular Maroon Bells, and riding the Silver Queen gondola up to the Aspen Summit.
Visit Snowmass Lost Forest and tackle a challenge course, an alpine coaster, zipline, and climbing wall with your kids. Nearby, you can go whitewater rafting on the Roaring Fork or Arkansas River. For a more laidback afternoon, drive Castle Creek Road to the Pine Creek Cookhouse for relaxing views and upscale dining. Shopping and eating in Aspen is a real treat as well.
If you would like to find out more, read things to do in Aspen – Snomass, Colorado in the summer. 
Visit Garden of the Gods, Colorado
Just look at the colour of the rocks at Garden of the Gods, Colorado.  I would love to see these with my own eyes after reading what Danielle at Wanderlust While Working has to say about one of the best places to visit in Colorado.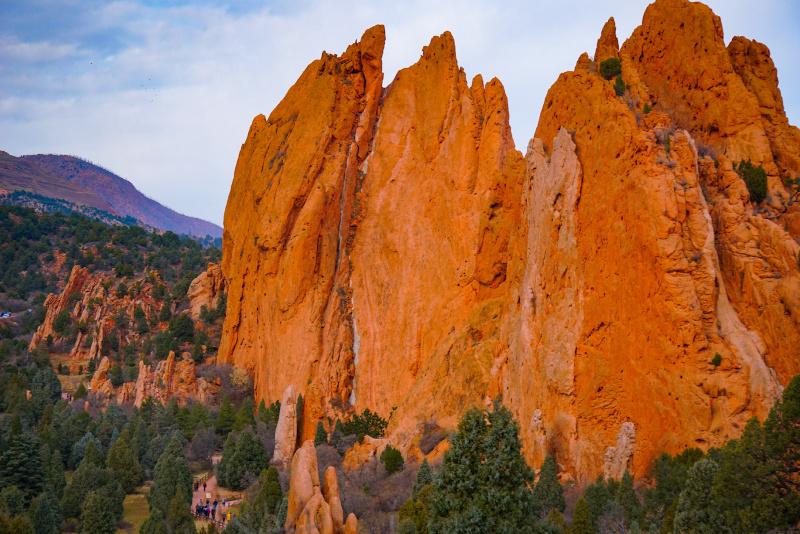 With a name like Garden of the Gods, it's hard not to put this famous tourist attraction on your Colorado bucket list. Nestled in the shadow of Pikes Peak in Colorado Springs, Garden of the Gods is a set of red rock formations seemingly dropped from the sky and turned into a park.
The park is full of named formations like "Kissing Camels", "Balanced Rock", and "Siamese Twins", and has tons of opportunities for hiking, biking, and if you're feeling more adventurous, rock climbing.
The best part is that the park is and always will be free to the public! I recommend arriving early to get good parking and taking the Palmer Trail around the exterior of the park for some beautiful views. Early morning also gives you a better chance to catch a glimpse of wildlife, including birds, deer, rabbits, and even bighorn sheep if you are lucky! For more information check out my Beginner's Guide to Garden of the Gods and add it to your list of places to visit in Colorado.
Skiing or Snowboarding in Vail, Colorado
For anyone who loves skiing or snowboarding, Sara from Our Kind of Crazy blog will inspire you to add Vail in the Rocky Mountains to your growing list of Colorado attractions.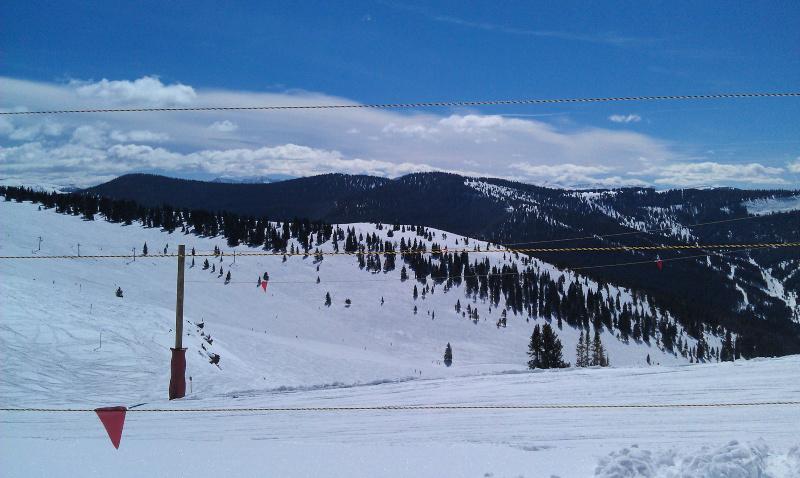 Colorado is famous for the great Rocky Mountains, and one of the best ways to enjoy the Rockies is to head to Vail for some skiing or snowboarding.
Vail, Colorado is one of the most famous ski mountains in the US, and for good reason. It is the third largest ski resort in the United States, and has over 5,000 ski-able acres to shred. Vail is a perfect place for both beginners and advanced skiers and snowboarders, since it has dozens of runs for each skill level.
Vail also has a very quaint town for a nice relaxing getaway. If you're in Vail during the summer months without snow, there is still lots of outdoor activities like hiking, golfing, and bike rides for example. It's a great place to enjoy the outdoors, no matter the season, when you visit Colorado.
Visit Dinosaur Ridge
When I asked Melissa from The Family Voyage for some ideas of places to go in Colorado, I knew that exploring Dinosaur Ridge had to make the list of fun family friendly activities.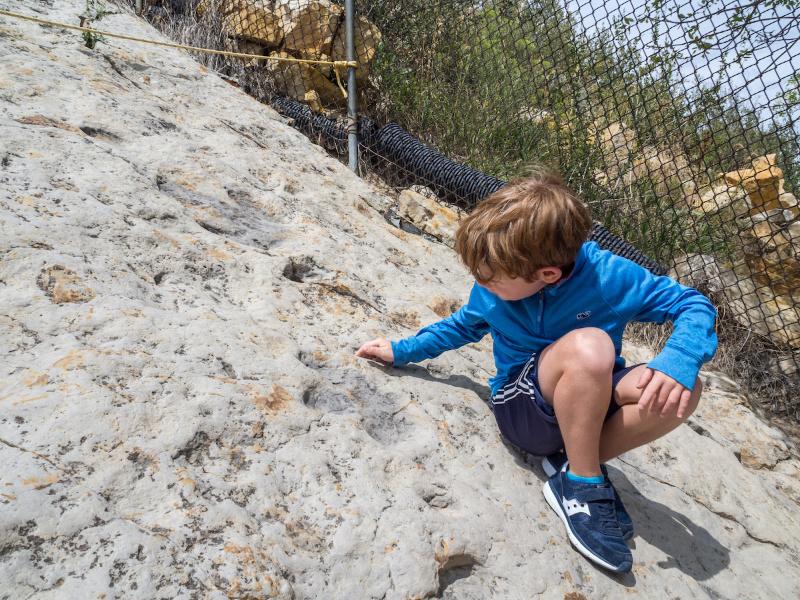 One of the best things to do in Colorado is explore the region's ancient history – all the way back to the dinosaurs! Just a 25 minute drive from downtown Denver in the town of Morrison, you'll find Dinosaur Ridge.
Dinosaur Ridge is part of the Dakota Hogback formation and one of the world's most famous fossil deposits. It's also extremely accessible. Most visitors to the site go on a paleontologist-guided tour of the site in a minibus. It's a little more expensive than walking the entire road on your own, but so worthwhile, making it one of the top things to do in Colorado. 
We absolutely loved our visit! We saw iguanodon tracks, brontosaurus "bulges", fossilized ripple marks and much more. Even better, our extremely knowledgeable guide explained how these signs were left behind and answered detailed questions for over an hour. Of all the things we did during our two weeks in Colorado, visiting Dinosaur Ridge was one of the most memorable!
Iron Mountain Hot Springs, Glenwood Springs, Colorado
Sitting in the Iron Mountain Hot Springs looking at the snow covered mountains Colorado is famous for is a must do activity for people visiting the area.  Here's what Shauna from Family Travel Fever wanted to share about one of her favourite Colorado sites: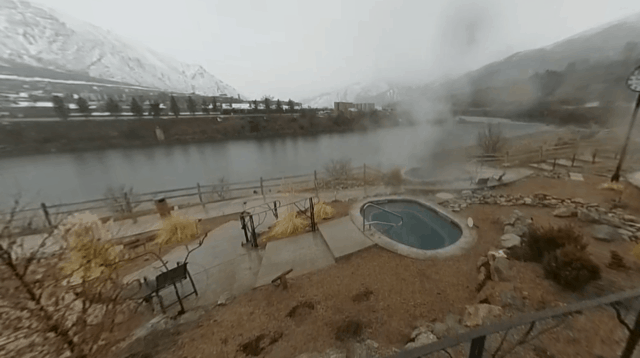 Iron Mountain Hot Springs is the newest addition to Colorado's hot springs.  Located in Glenwood Springs, you can soak in one of 16 pools right along the banks of the Colorado River.  I'm sure for anyone looking for stuff to do in Colorado, that has to sound pretty enticing, right? 
The scenery of the mountains and the river is nothing less than spectacular.  Soaking up the impressive landscape while relaxing in the hot pools will create lasting memories of your trip for sure. 
Besides the view, what really sets this hot springs destination apart from others in Colorado, is the variety of pools.  Each of the 16 pools is a different mineral concentration and temperature (99 to 108 degrees F).  The  "reflexology" pool, with loose rock bottom, is a favorite of most visitors. 
People enjoy the unique location, the service and the well kept facilities.   The relaxing and intimate environment makes this a great multigenerational bathing spot as well.  With all these boxes ticked, this activity is a must for your list of things to do in the Colorado mountains. 
Kids are welcome in the larger (and cooler) family pool that is big enough to swim in. In addition, the family pool and other areas were carefully designed  to be completely wheelchair accessible. 
Glenwood Springs also offers many family activities all year making it another one of the fun places to go in Colorado with kids.  If you want a more exciting day you can go to the Glenwood Caverns Adventure Park, ski at Sunlight, hike Hanging Lake or visit the Train Depot before soaking your tired muscles at Iron Mountain Hot Springs. 
Pagosa Springs, Colorado
The state of Colorado has lots places to visit with hot springs.  If you can't make it to Iron Mountain then Jess & Ron from Unearth the Voyage suggest visiting Pagosa Springs instead.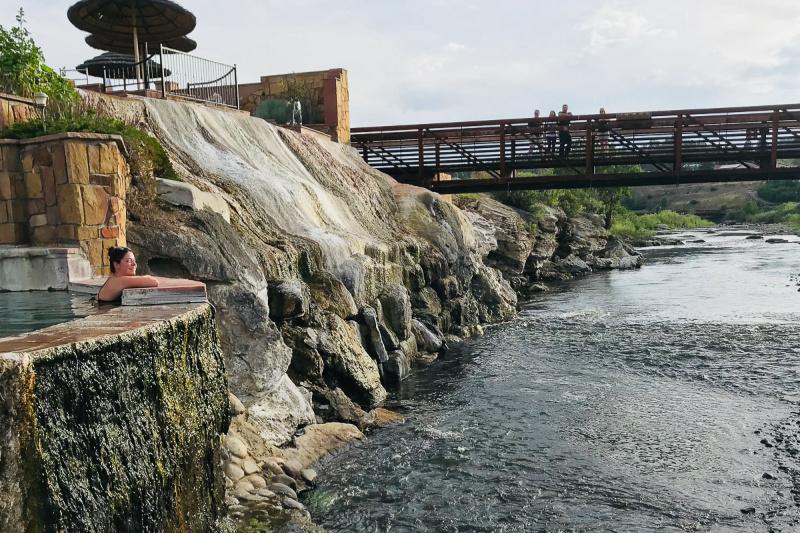 Besides hiking some of the best trails in Rocky Mountain National Park, one of the best things to see and do in Colorado is to discover all of the secret and not so secret hot springs this gorgeous state has to offer!
There are many places you can spend some time soaking in hot springs, but my favorite has to be Pagosa Springs. Pagosa Springs is a cute little town that is home to the deepest geothermal hot spring in the world!  That is definitely not to me missed! 
The "mother spring" supplies the entire town with mineral hot springs baths you can spend the day relaxing and soaking in. There are three different hot spring facilities in town, but the best and my favorite is The Springs Resort and Spa.
You can choose to either stay at the resort or just visit the hot springs for the day. The Springs has 23 pools that vary in temperature and all are rich in mineral water supplied straight from the mother spring. The pools are perched on and above the San Juan river, and some springs are even half river half hot spring which mixes the cold river water with the boiling hot springs water.  A day spent here is complete and utter bliss! 
Visit the Denver Breweries
As I've discovered myself very recently, Denver has an excellent craft beer scene, and Julie from Wandering Sunsets shares why visiting the breweries is a fun thing to do if you are visiting Colorado.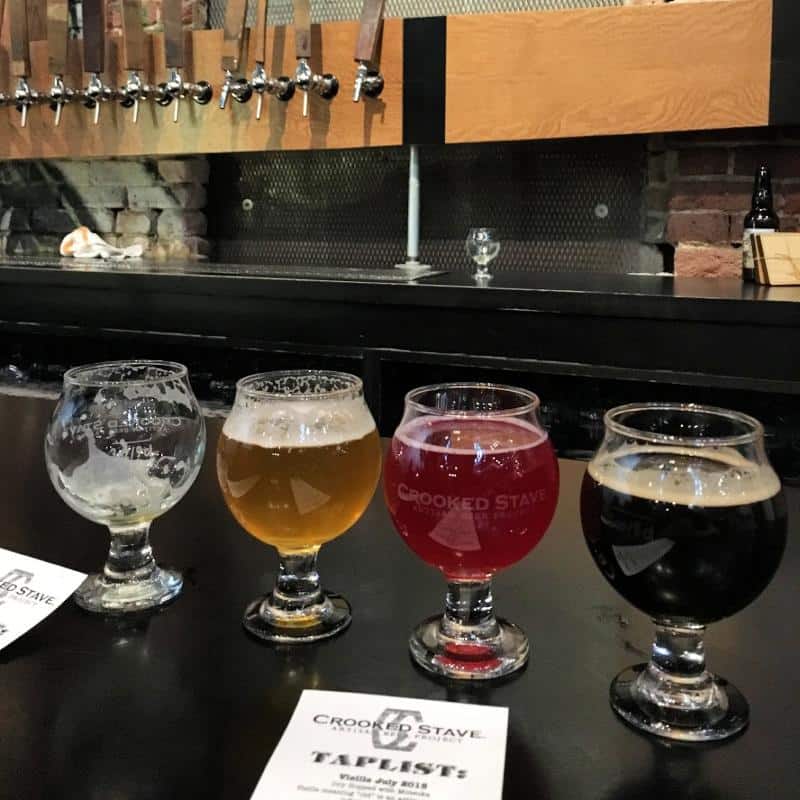 Brewery hopping in Denver is one of the most fun things to do in Colorado. With one of the most vibrant craft beer scenes in America, Denver is home to over 100 breweries and microbreweries.
Choosing which breweries to visit entirely depends on which type of beer you prefer: if you're feeling overwhelmed, join a brewery tour that will hit up a few of the most famous spots. Our favorite spots include Great Divide (offering a variety of seasonal and barrel-aged beers), Crooked Stave (famous for Belgian-style sour beers) and the Denver Beer Company (a fun outdoor patio with awesome food trucks). 
If you feel like grabbing a bite with your brew, don't miss The Grateful Gnome, featuring mouthwatering bagel sandwiches and a large selection of craft beers that everyone will enjoy.  
Practise Landscape Photography in Colorado
I have to confess that I spent a lot of time taking photographs in Colorado, but none are quite as incredible as this one by Asher from Asher & Lyric blog.  Seeing as there's so many places to see in Colorado, it's the perfect place to learn or practise your photography skills.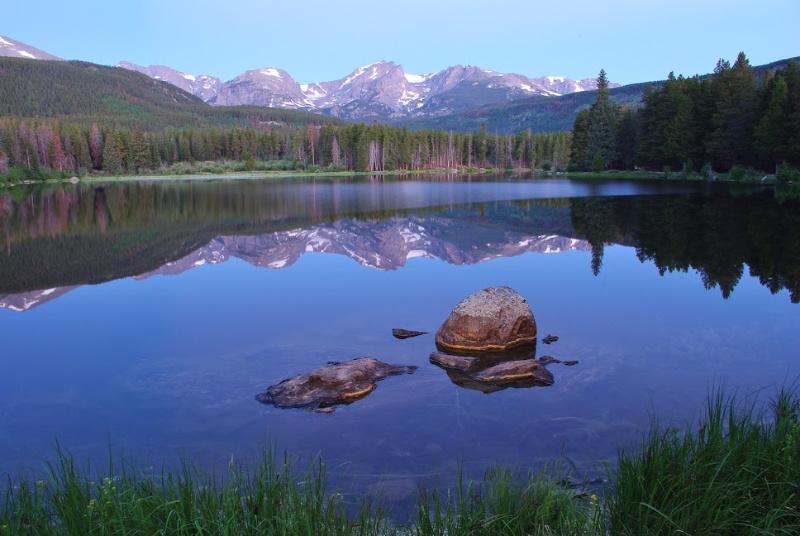 Colorado is a landscape photographers dream. It has deserts, mountains (of course), plains, canyons, forests, lakes, snow-capped peaks, mesas, forests and everything in between. When I explored this gorgeous state for 10 days with my dad specifically for landscape photography, we found eye candy at every single turn.
In addition to the varied landscapes, there are breathtaking sunrises and sunsets as well as countless fauna roaming around. We saw moose, elk, bear, pronghorn, and eagles, all of which complement any photo you may be lucky enough to capture.
Colorado is filled with National Parks and State Parks and you really can't go wrong with any of them. But if you're looking for suggestions then I'd recommend the Rocky Mountains National Park, Mesa Verde National Park, Great Sand Dunes National Park and Brainard Lake Recreation Area. Wherever you go, remember to bring a tripod and any gear to help you do long exposures to help you create a similar shot to this that I took at Sprague Lake where my pre-dawn exposure was 2 minutes. Enjoy!
Go To Miramont Castle
Did you know there was a castle in Colorado?  Martha from the Quirky Globetrotter shares why Miramont Castle is one of the things to visit in Colorado.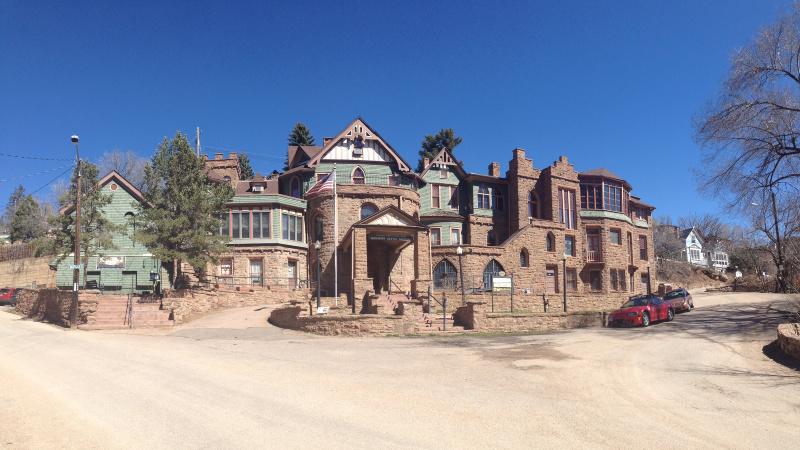 Most travelers are unaware that there is a quaint, castle nestled in the little town of Manitou Springs, Colorado. The Miramont Castle was built in 1895 by the French, Catholic Priest Jean Baptiste Francolon and is one of the less discovered Colorado tourist attractions.
The large, stone mansion is modelled after European architecture, but the exact style is unknown. Experts note that there are at least nine different architecture styles used in the construction and the decorative elements of Miramont Castle. Yet, in a mystical way, all the different architectures are harmonious with one another and make this a very unique place to visit.
Miramont Castle is also unique because it emphasizes the beauty and importance of nature. Throughout the entire castle's interior, there are numerous design elements that incorporate nature, including the castle's expansive picture windows that gaze upon the Rocky Mountains. Most of the interior is finished with a warm-toned wood that adds a cozy element to this large castle in Colorado.
If you plan to visit the Miramont Castle, try to time your visit around the castle's afternoon tea. Visitors get to spend a few hours in the castle's dining room enjoying a delicious sweet feast. It's nothing short of grand. The castle's afternoon tea is a highly coveted event during the holidays, so make sure to book well in advance if it's one of the things you have to do in Colorado.
Visit Golden, Colorado
Golden is a family friendly town just outside of Denver, which makes it one of the easiest places to see in Colorado for international visitors.  Diana from Traveling in Heels shares all the cool places you can visit here.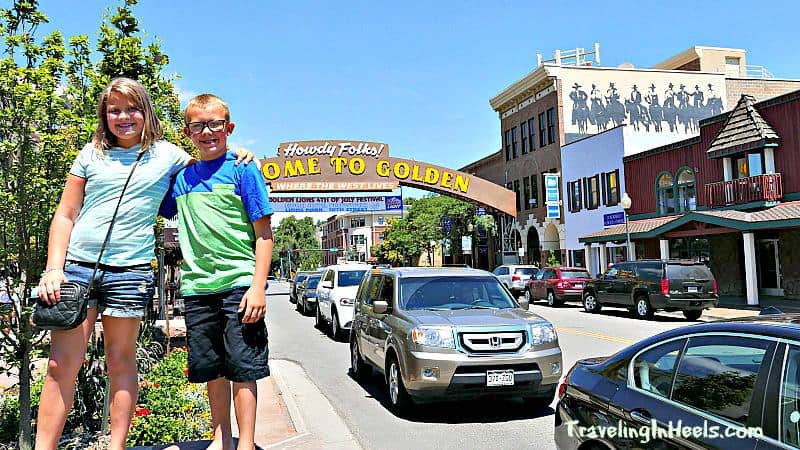 Howdy Folks is the sign that welcomes visitors to Golden, Colorado. Located in the foothills about 20 minutes west of downtown Denver, Golden welcomes families with a wide range of activities from hiking, biking, tubing, cultural attractions, museums, and Old West history.
Our family loves escaping to this urban getaway as it's just 10 minutes from our home. Favorite things to do include simply exploring its downtown. We like to create a scavenger hunt with its free self-guided walking tour of downtown Golden's public art collection, with 30+ statues and murals along streets such as Miners Alley. Its historic downtown includes 4-blocks of unique shops and restaurants.
Love trains? Be sure to visit the Colorado Railroad Museum, home to fifty models of old trains and the famed D&RG locomotive, the oldest working locomotive in Colorado. Explore the Museum's 15-acre railyard with its 100 narrow and standard gauge steam and diesel locomotives, passenger cars, cabooses, HO Model Railroad and G-scale garden railway. And yes, you can take a train ride!
And of course, when in Colorado, you can't miss hiking the renowned Red Rocks Park & Amphitheatre. Visit during the day for the best view of the red sandstone formations, over 250 million years old and 300 feet high. A 1.4-mile trail loops around the area for the best views.
Grand Lake, Colorado
If you are wondering where to go in Colorado for a holiday, Lauren from Explorer Momma has experienced many family vacations at Grand Lake, Colorado and has some great reasons for you to visit too.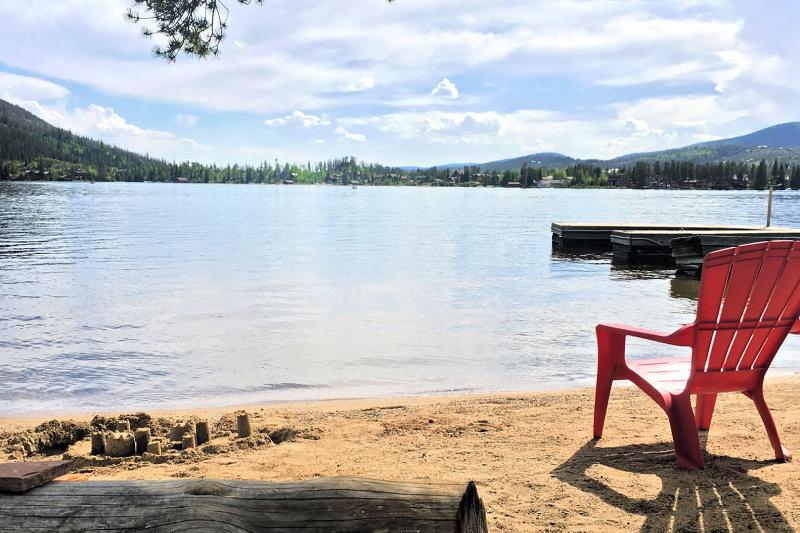 Grand Lake, Colorado is one of the best places to visit in Colorado in the summer. It's located just outside the western side of the Rocky Mountain National Park and is generally much less crowded than Estes Park and the opposite side. I've grown up going there every summer for fun family adventures and now take my own kids.
Why is Grand Lake so fabulous? There are activities here for all ages: fishing, hiking, beaches, kayaking, canoeing, wildlife viewing, and probably the best little café in Colorado, The Fat Cat Café. Grand Lake is specifically known for its moose, and they are often seen wandering through town and around the lake.  If you enjoy seeing wildlife, this is the place to be.
Earlier in the summer is the least crowded. Head over to the Grand Lake East Shore Trailhead and take a hike up to the Shadow Mountain Lookout for amazing views of Grand Lake, Shadow Mountain Lake, and the surrounding mountains.
There are a variety of other hikes around at many different levels. My husband and son love the fishing, my daughter loves the little mountain town, and I love to relax by the lake!  There is something for everyone in Grand Lake, Colorado.
There are activities every single day here and with plenty of charm and a historic feel, Grand Lake is perfect for a relaxing family vacation.
Mesa Verde National Park
One of the most interesting and historic things to see in Colorado are the ancient cave dwellings of the Ancestral Pueblo at Mesa Verde National Park.  Patricia from Ze Wandering Frogs tells us why this should be part of your Colorado sightseeing.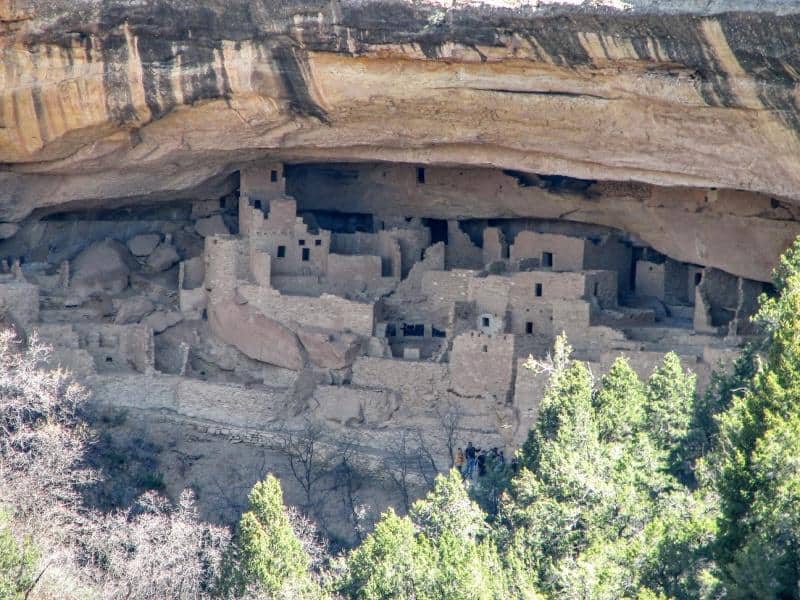 Mesa Verde National Park is located in the
American Southwest
, more precisely near the Four Corners area of Colorado. As a UNESCO World Heritage Site, the US national park is home to about 600 cliff dwellings of Ancestral Puebloan heritage which makes it one of Colorado's most significant points of interest.
Meaning "Green Table" in Spanish, some of the 5,000 sites dating back 7,500 BCE make Mesa Verde the most significant archeological structure in the US. The Ancestral Pueblo called Mesa Verde home from 600 to 1300 CE.
The drive to the entrance of Mesa Verde is quite long, so plan at least three hours to visit the park. Some of the sites are easily accessible like the Cliff Palace which is also the largest cliff dwelling. Others like Spruce Tree House are best observed from the top of the mesa (mountain) for great views of the sites. Make sure to drive the Mesa Top Loop Road, a 6-mile (10-km) loop to enjoy this location from all angles.
You can visit the Mesa Verde National Park by yourself, but we recommend taking one of the guided tours to learn more from the Ancestral Puebloan. Tickets must be purchased at the Mesa Verde visitor centre.
Though the park is open all year round, the roads and park do see snow in winter as the cliff dwellings sit at 7,000 foot (2,134 m) elevation. The best time to visit Mesa Verde NP is from Spring to Fall, especially with lodging in the park only being available from mid-April to mid-October. Most of the trails are unpaved and in rough conditions, so wear comfortable outdoor shoes before exploring the park.
Comanche National Grasslands
For more history, but this time of the fossil hunting kind, Theresa from The Local Tourist shares the best places to visit in Comanche National Grasslands.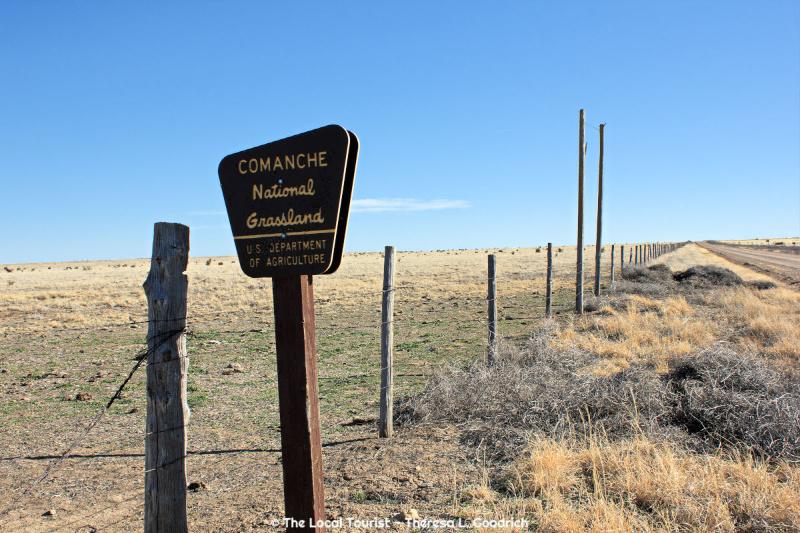 The Comanche National Grassland is not your typical tourist destination in Colorado. Located in the southeastern high desert of Colorado, it's a land of prairies and canyons and has private ranches scattered within its 463,373 acres.
There are two units. The Timpas Unit, near La Junta, has a picnic shelter and a trail which follows the Santa Fe trail to the Sierra Vista Overlook. There's also hiking at Picketwire Canyon along the Purgatoire River track site, where you can see more than 1,300 tracks of Brontosaurs and Allosaurs. This is one of the largest dinosaur trackways in the world, and the impressions date back 150 million years.
The Carrizo Unit is just north of the Oklahoma border and is known for its petroglyphs. A six-mile hike leads to Crack Cave in Picture Canyon. There's a section of rock art in the cave that is only visible for a few minutes at sunrise and sunset during the equinoxes. This unit is also good for fishing and birding, and primitive camping is allowed on all public lands.
Great Sand Dunes National Park, Colorado
Just take a look at this photograph by Michelle from The Wandering Queen!  If you need any more convincing that this is one of the best places to see in Colorado read what she has to say below.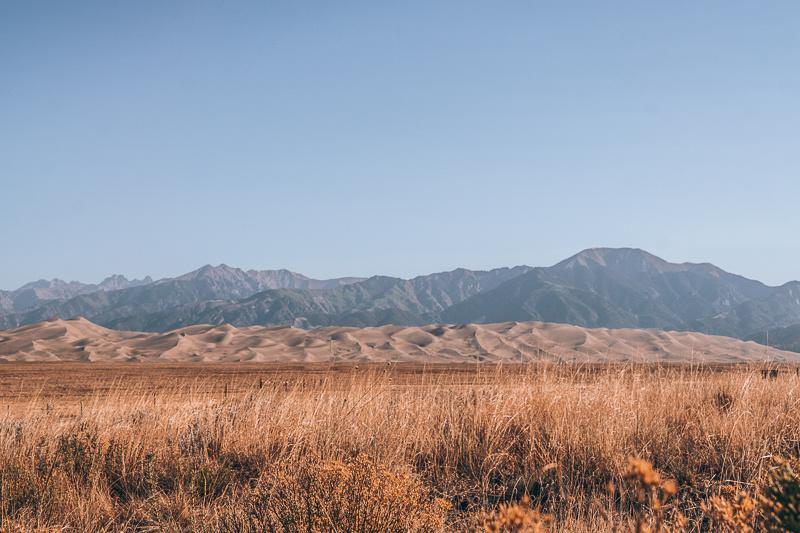 One of the best places in Colorado to visit is the Great Sand Dunes National Park. The sand dunes are located in southern Colorado about 3 1/2 hours away from Colorado Springs. The Great Sand Dunes National Park are the tallest in North America and you can immediately feel tiny when staring at the enormous, mountain-like dunes.
One of the best activities at the sand dunes is to go sandboarding and sand sledding. It is a little difficult and tiresome at first but once you find the best areas to catch some air, it can really be a fun time. Another great activity is to watch the sunset at the highest peak which is called the "Star Dune". Hiking to this peak takes about 5 hours round trip! So make sure you have enough water and energy.
The Great Sand Dunes National Park provides several unique experiences no other park provides. If you have the chance to visit a national park, this is one of the best places to see in Colorado.
Driving Mount Evans Scenic Byway
Umiko from Two World Treasures shares one of here favourite Colorado tourist spots, along with some really helpful tips for enjoying Mount Evans and reaching the summit.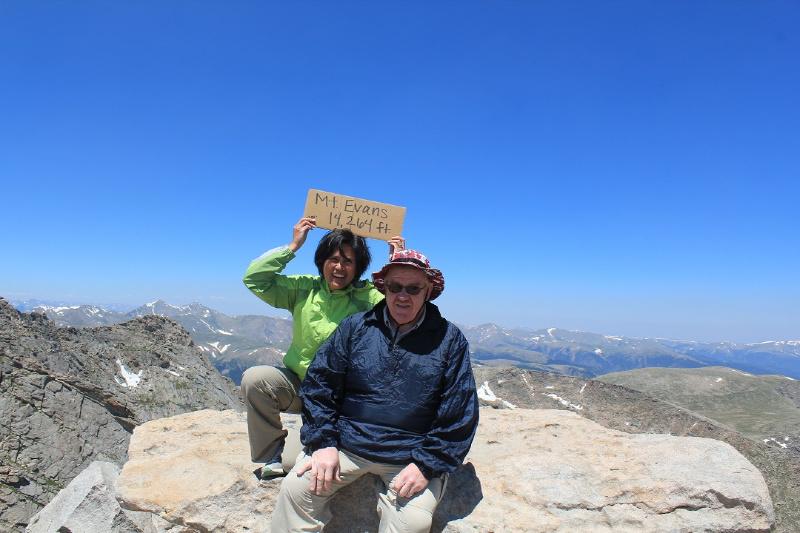 If you still need more ideas of where to visit in Colorado, then we highly recommend driving the Mount Evans Scenic Byway. In fact, it's one of the top recommended day trips from Denver.
You'll be blessed with fantastic views on your entire drive along the Mount Evans Scenic Byway. You can stop at the Walter Pesman Alpine Garden to see the 1,700-year-old unique Bristlecone pines, and the Summit Lake where you can spot bighorn sheep and Rocky Mountain goats if you enjoy watchable wildlife. 
When you arrive at the mountain's top, there's a short trail to the 14,264 foot summit. Just a quarter-mile hike, but the view from the summit is incredibly beautiful! Many would say it's one of the grandest panoramas in the state, so this has to be one of the best things to see in Colorado.  
Here's a few tips before you go: – visit before noon to avoid common afternoon thunderstorms. Make sure you wear a really good sunscreen to avoid burning.  Bring a light jacket in case of a sudden change in the weather. Take particular care when driving as the road is narrow.  It's best to expect breathing difficulty at higher elevation due to the thin air.
The first time we drove here was on our Colorado One Week Unplanned Trip, and the second one was just last summer. Both times we experienced the afternoon thunderstorms and were glad we were prepared.
Directions: From Denver head west on I-70 to Exit 240/CO-103 S at the town of Idaho Springs. Continue south on CO Hwy 103 to the junction of CO Hwy. 5, the entrance to Mount Evans.
Breckenridge Sleigh Rides
Mary Beth from MB Sees shares a very different kind of outdoor activity you may wish to try in Breckenridge, Colorado.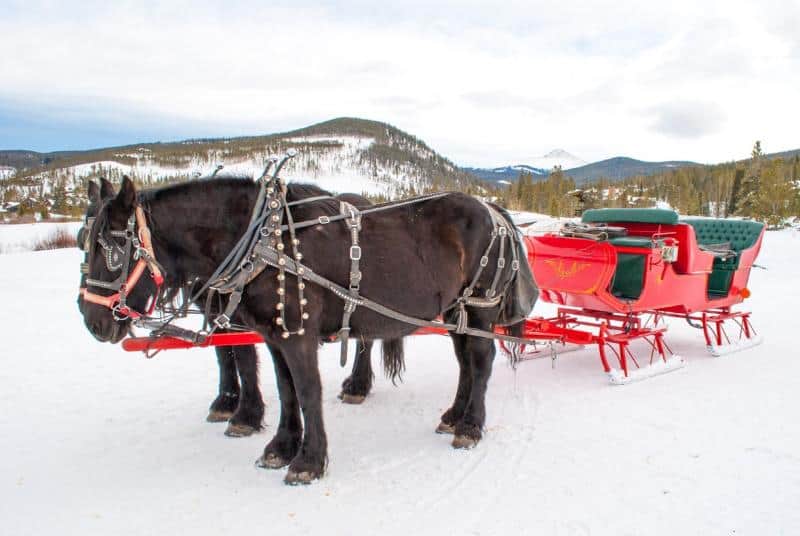 Colorado is well known for its numerous skiing options, but my husband and I did something a little different during our last visit to Breckenridge. A slow, relaxing horse-drawn sleigh ride! It was a welcome break from all the high-adrenaline activities of the weekend, as we were able to snuggle up under a blanket with some hot chocolate and just enjoy some quiet moments at a completely different pace.
We took in some great mountain views from the valley floor on the romantic half hour ride, as two huge horses guided our bright-red sleigh through the field. If you're looking for something a little different – or if you're in the mood to pop the question (this is when my husband did it!) – try a sleigh ride through the snow!
Denver eTuk Tour
I was absolutely delighted when I saw Sharon from Daily Dream 360 blog contribution to my list of fun stuff to do in Colorado as we went on an eTuk tour during our visit to Denver.  I would definitely describe it as a cool and unique activity, but I'll let Sharon tell you some more.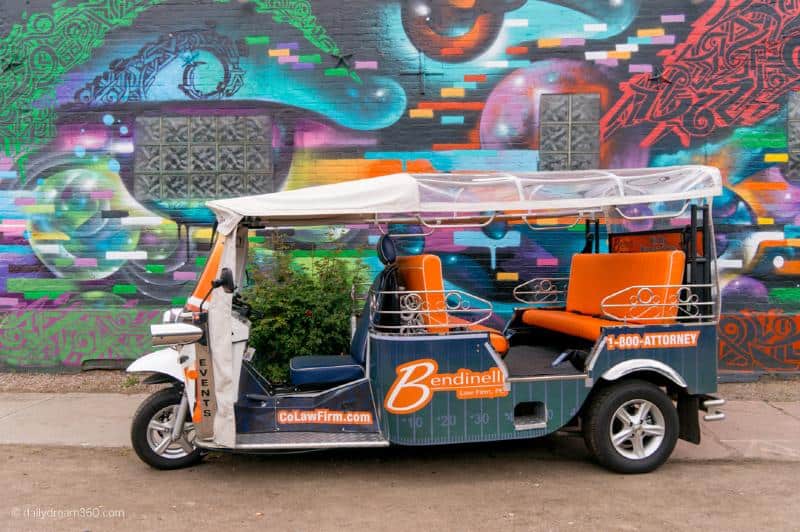 If you are looking for a fun way to explore Denver, Colorado consider taking an electronic tuk-tuk driven by a knowledgeable tour guide to scoot your way through the city's iconic neighbourhoods.
The team at
eTuk rides
has several tours in the city which include a craft brewery crawl, cocktail crawl and an urban city tour, all of which a lots of fun.
The three-wheeled electronic tuk-tuk has a plastic cover for rainy days, but on a sunny clear day is an open-air cart. Tours are two and a half hours long and can be customized when needed. We had a fantastic driver who very quickly got a sense of what we wanted to see and began adapting the tour to our interests.
For first-timers, to the city, this tour is a great way to get oriented in Denver and discover neighbourhoods like RiNo where your tuk-tuks can navigate through narrow alleyways of street art. RiNo is also known for its craft breweries and Central Market Terminal. Our tour ended at the market where we sampled great food and beers before being whisked back to our hotel by our eTuk driver.
Colorado is a stunning part of America, which is brimming with cool things to do, areas of outstanding natural beauty and a huge variety of outdoor winter and summer activities. You could visit during any month of the year and still find some amazing places to visit.
The winter months tend to fall between October and April, when you can expect heavier snowfall.  The coldest month is January with over night temperatures dropping to -10c.  In the summer, temperatures rise to around 30c, and days tend to be dry due to the lack of humidity.  Given Colorado has 300 days of sunshine, you could argue there is no bad time to go, but the shoulder season is certainly popular with visitors who want to avoid extreme temperatures and snowfall.
I hope this list of things to do in Colorado has given you plenty of ideas for your trip.  Let me know in the comments below which places you  plan to visit.  If you need any tips for visiting Colorado, I'd be happy to help you out with that too.
Pin for later