Newquay Zoo gifted us a family ticket in exchange for this review
Newquay Zoo in Cornwall was a new family friendly attraction to us during our recent holiday. While we were staying at Hendra Holiday Park we were invited to review Newquay Zoo and seeing as the girls love animals we couldn't say no . We all really enjoy visiting zoos and learning more about the residents so it seemed like the perfect day out in Cornwall for us.
Getting to Newquay Zoo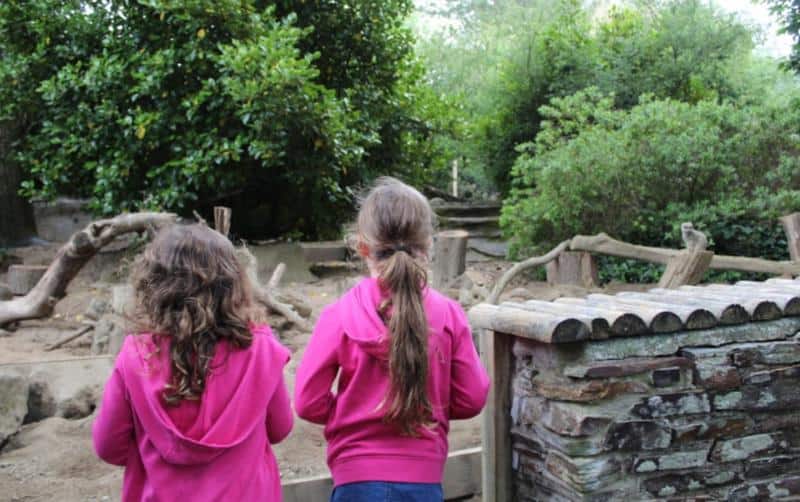 We drove to Newquay Zoo as it was a few miles from our holiday park. Using sat nav, we entered the Newquay zoo postcode and found that it was very easy to find. When we arrived at the zoo, we soon realised it didn't have it's own car park. There is a council car park at Newquay zoo, so their car park charges apply. It's also worth mentioning that there are a few attractions near Newquay Zoo, including a crazy golf, steam railway, leisure centre and a skate park. We didn't have any trouble finding a space but I suspect it will get very busy in the summer.
We also spotted a stop for the Newquay land train near the zoo and also the First Kernow bus routes 85 and 87 between Truro and Newquay stop near Newquay zoo if you need to use public transport.
Entry to Newquay Zoo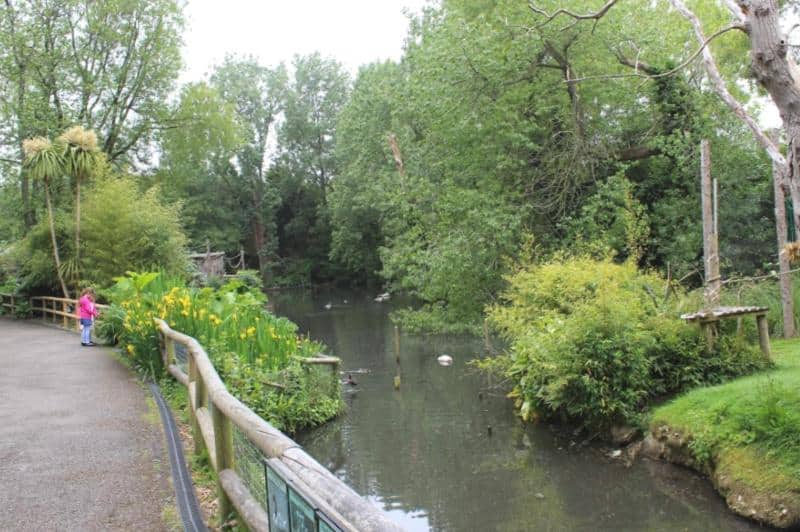 We visited the zoo in the afternoon and the queue was very short for buying tickets. We were given a map, a leaflet with all the feeding times on and a Newquay Zoo trail for the kids. Newquay Zoo are celebrating their 50th birthday and the trail is a great way of helping the kids learn more about the zoo and it's animals. Both the girls were immediately engaged with this activity, looking for answers to the questions and completing the wordsearch. Have a look at our Newquay Zoo IGTV video and see what I mean!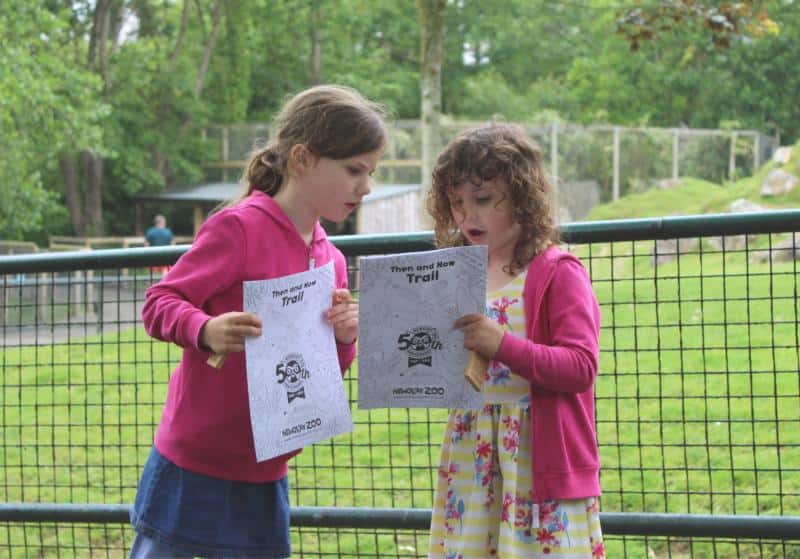 The first thing I noticed about the zoo was how open and green it felt. Newquay Zoo is set in 13 acres of tropical gardens and it provides a wonderful setting for the animals, birds and reptiles that live there. There's plenty of shade and it's clear that the zoo has made a real effort to create as natural an environment as possible for its residents. This really helped us to enjoy seeing the animals during our time at the zoo. All the animals we saw looked healthy and happy which is a huge factor when it comes to enjoying visiting a zoo.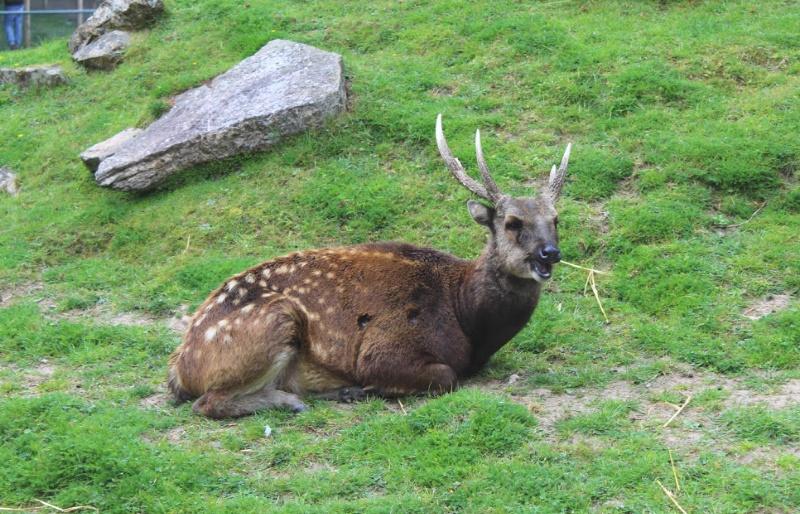 Seeing the Animals
The first species we saw were the lemurs, and their enclosure was incredibly open with lots of plantation and it was also surrounded by a moat. We loved watching the lemurs play on their ropes and swings and observing some of their natural behaviours.
When we pulled ourselves away from the lemurs we were feeling really excited about seeing the rest of Newquay Zoo's residents. The colourful Scarlet Macaws were so pretty and they shared their aviary with several interesting birds. At every enclosure there was lots of information about the inhabitants and I really enjoyed reading more about the animals and birds with the girls.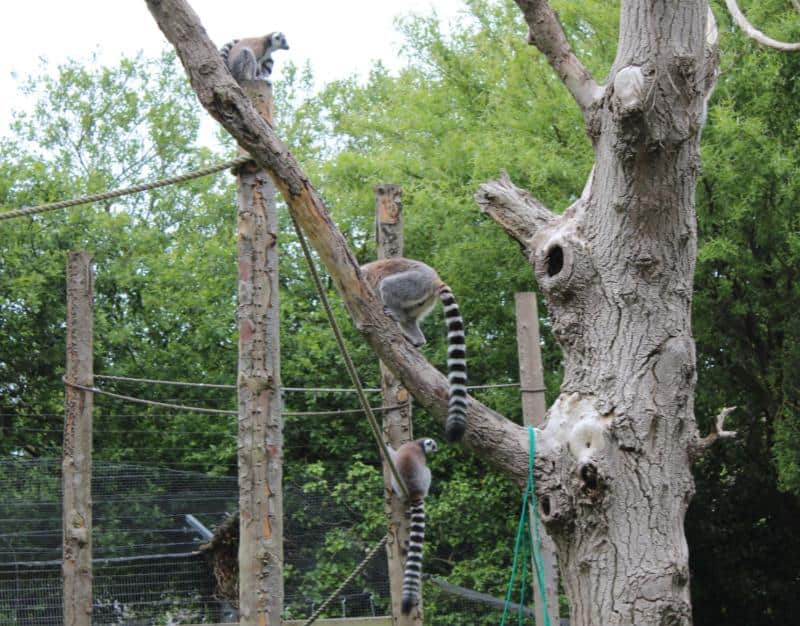 As well as the outdoor enclosures you would expect to see at a zoo, there were several opportunities to see it's residents inside or undercover as well. With the mixed weather we are known to experience in the UK, this would definitely be helpful if it was forecast for rain or showers during your day out. It also allows Newquay Zoo to showcase the variety of species in its collection. Toad Hall has a great collection of amphibians including fire salamanders and several species of frogs for example. The Animals at Night exhibit was another chance to see animals that you wouldn't normally get to see in a zoo.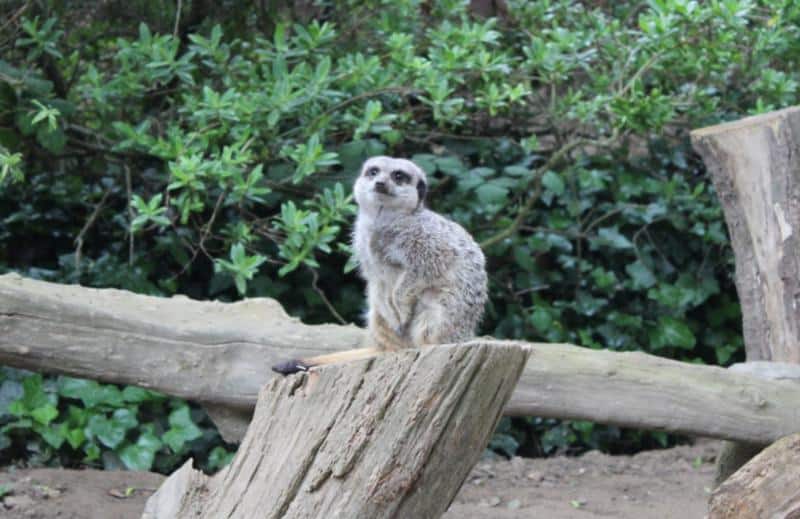 The highlight from our visit to Newquay Zoo was seeing the African lions. There is a male and 2 females in this enclosure and they happened to be particularly active playing ball when we got to see them. There is a viewing station here so you can see the lions through a window, which is great for watching them play together. The male was clearly the boss and it was so interesting to see this play out as they interacted with each other.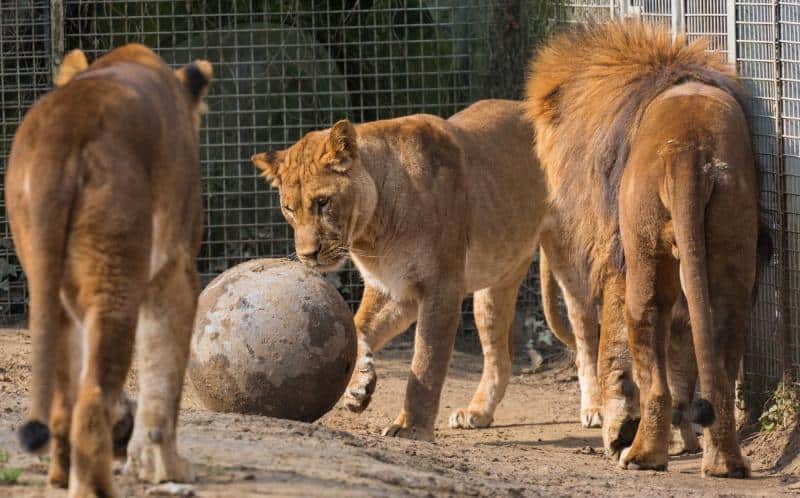 Being a fairly small zoo, I didn't have particularly high expectations of what we would be able to see and do here but as a family we were genuinely surprised by the size of the collection and the facilities Newquay zoo had.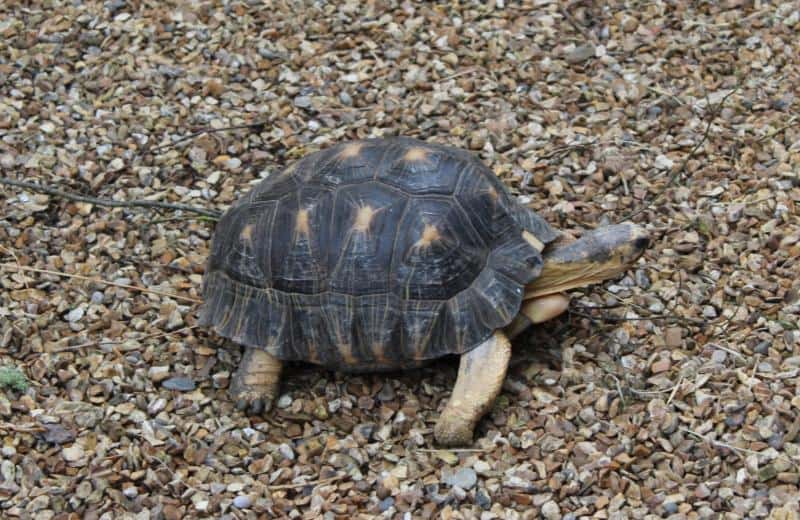 After we saw the giant tortoise, meerkats and walk through aviaries, to name but a few, the kids spotted the outdoor play areas. The girls always love to burn off a bit of energy, and as parent we love to let them. There's a traditional play area near the ice cream kiosk but our favourite was the Tarzan trail. This is an obstacle course before you reach the African Savannah and is a great place for kids to challenge themselves and just enjoy being outdoors. At the end there's a big slide which is the perfect reward after all that hard work.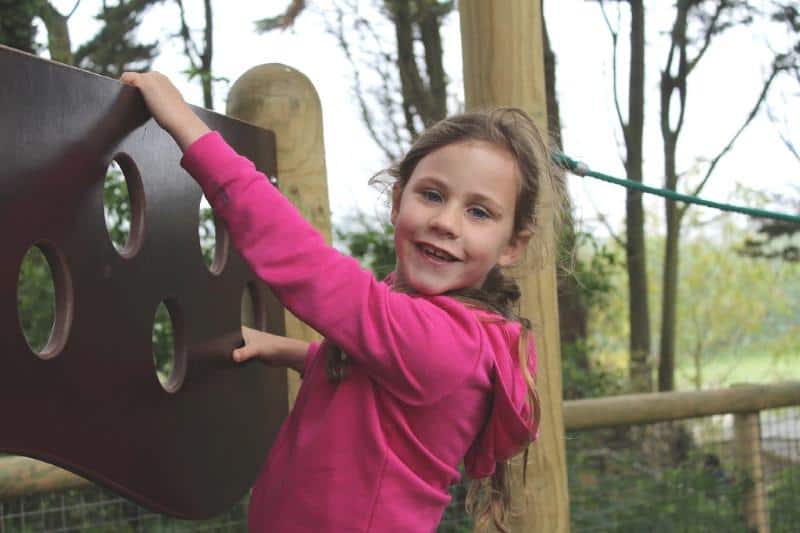 We also had a lot of fun getting lost in the Dragon Maze and enjoyed seeing the otters in the Oriental Garden.
Other Facilities at Newquay Zoo
I was really impressed with the number of baby changing facilities I spotted around the zoo, and also noticed covered picnic areas and plenty of outdoor seating for people to use. There's a cafe and several kiosks around the zoo, so if you want an ice cream or a coffee you will not have a problem finding one. The other great thing about using these facilities is that all the profits made here go towards supporting Newquay Zoo's conservation projects both here and abroad, so it's definitely money well spent.
Newquay Zoo is also incredibly accessible and they advise that 80% off the attraction is reachable in a wheelchair or with a pushchair for example. The Tarzan Trail for example isn't and you have to climb steps to reach it.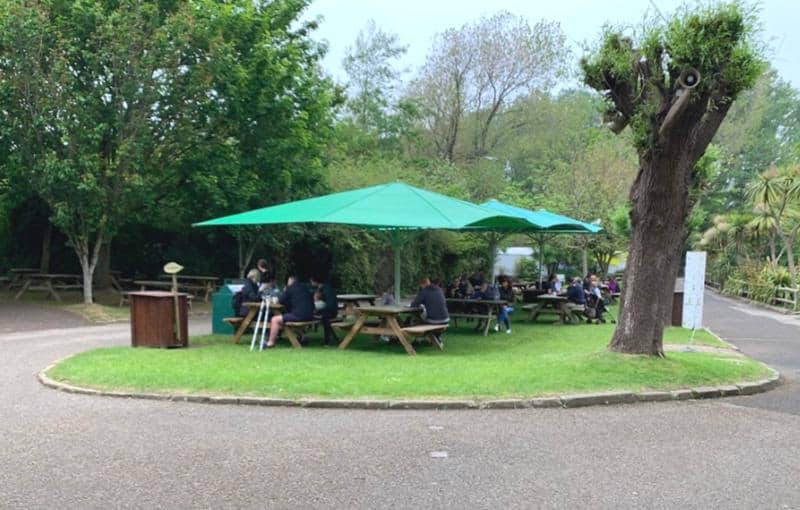 We were really surprised by our experience at Newquay Zoo. We thought we would enjoy our day out here, but it really surpassed our expectations and turned out to be a great family day out. The girls had been a little reluctant about visiting in favour of staying at our holiday park and playing with toys. It was Brook's birthday so there was some new things for them to play with.
We were all so pleased we had convinced them to visit Newquay Zoo and that they had a such a good time there both seeing the animals and enjoying the outdoor space.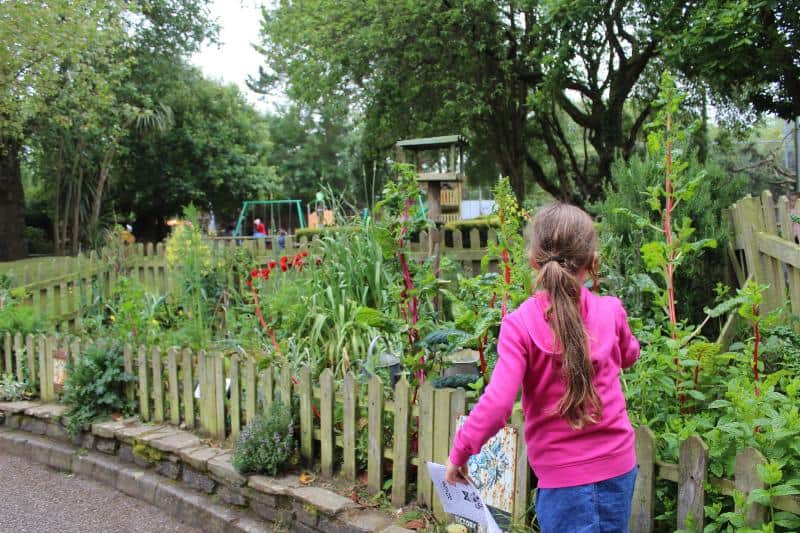 If you are on holiday in Cornwall and are looking for ideas of places to visit, we'd be happy to recommend a day out to Newquay Zoo. To make the most of your time here allow at least 3 or 4 hours and it's the perfect place to take a family picnic too.
Newquay Zoo Ticket Prices
At the time of writing this post the ticket prices are as follows
| | |
| --- | --- |
| Adult (16+) | £15.95 |
| Child (3-15 years) | £12.00 |
| Child under 3 years | Free |
| Senior citizen (65+) & student | £13.60 |
| Saver Ticket (2 adults, 2 children) | £49.95 |
The above ticket prices include a voluntary donation to Newquay Zoo
Newquay Zoo Address & Postcode
Newquay Zoo, Trenance Gardens, Newquay, Cornwall TR7 2LZ
Newquay Zoo Opening Times
The zoo opens everyday at 10am except for Christmas Day.
The closing times are as follows:
| | | |
| --- | --- | --- |
| 1st April 2019 – 27th October 2019 | 4:00pm. | 5:00pm. |
| 28th October 2019 – 31st March 2020 | 3:30pm. | 4:30pm. |
Spending time in Cornwall? You might also enjoy reading our other day out reviews:
Visiting The Eden Project in Cornwall with Kids – Review
Going to Pirates Quest in Newquay, Cornwall with Young Kids
Breakfast with the Seals at the Cornish Seal Sanctuary
Why You Should Visit The National Maritime Museum in Falmouth with Kids
Cornwall with Kids – Things to do + Holiday Tips
Things to do in Bude – NORTH CORNWALL
Why Pick Cornwall for the Perfect UK Staycation
We were invited to Newquay Zoo in exchange for this review, but all thoughts and opinions are our own. You can read more Newquay Zoo reviews on Trip Advisor.