Things to do in Genoa was written in partnership with Genova More Than This 
Genoa is an Italian city with a charm all of its own and its particularly welcoming to families with children who want to experience the local culture.  It's a city you can truly immerse yourself in, even when you have small children in tow. This list of things to do in Genoa would work well for all visitors, but it's also incredibly family friendly if you happen to be travelling with kids. 
I visited Genoa, Italy with my 5 year old daughter, Brook, so you can rest assured it has been tried and tested by the youngest member of our family.  When she found out that it was going to be just her and I going on this Genoa holiday, she was so unbelievably happy.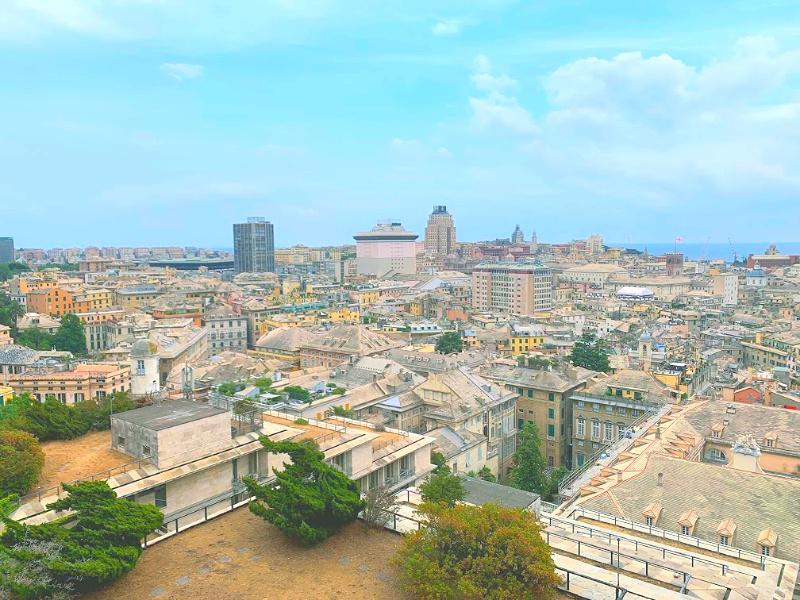 Her excitement was growing as we counted down the days to our adventure.  She simply could not wait to begin our Genoa holiday, and it made this travelling Mum so happy.  It was a complete delight to me to see Brook so excited about traveling to Italy with me. She has been known to get homesick in the past, and prefers to be with the entire family when we are going on holiday. It seemed like Italy was working its magical charm, even before the Genoa visit began. 
Where is Genoa & How To Get There
Genoa (known in Italy as Genova) is the capital of the Liguria region in Northern Italy. It's a coastal town with more pebble beaches than sand and numerous harbours for both trade, cruise ships, leisure boats and local industries.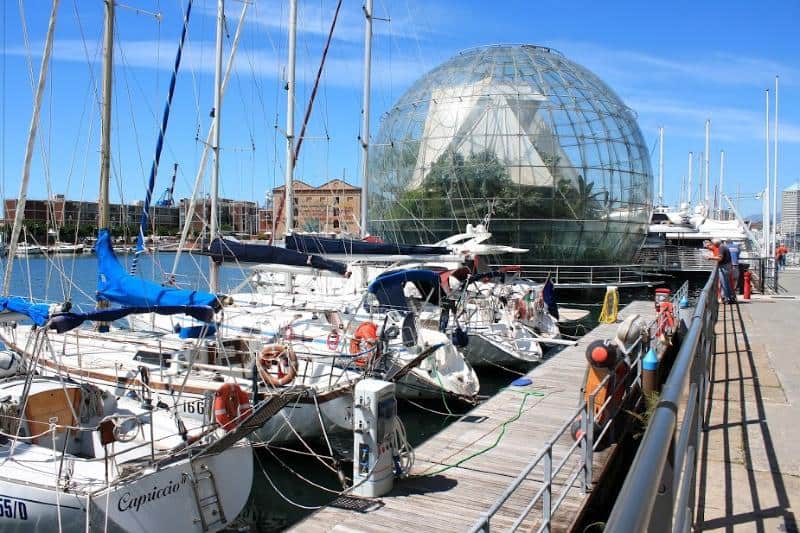 Brook and I flew from Birmingham Airport with Lufthansa airlines to Munich.  We took a connecting flight from there to Genoa. We left Birmingham at 7am and arrived in Genoa at around 1.30pm. There are direct flights from the UK to Genoa from London. 
The airport is very close to the centre of Genoa and the best option is to take a local taxi. We were staying at Casa Rame and it took 20/30 minutes to reach the guest house from the airport.  Local taxi fares are very reasonable too, and a trip from the airport to Genoa costs 7 Euros per person.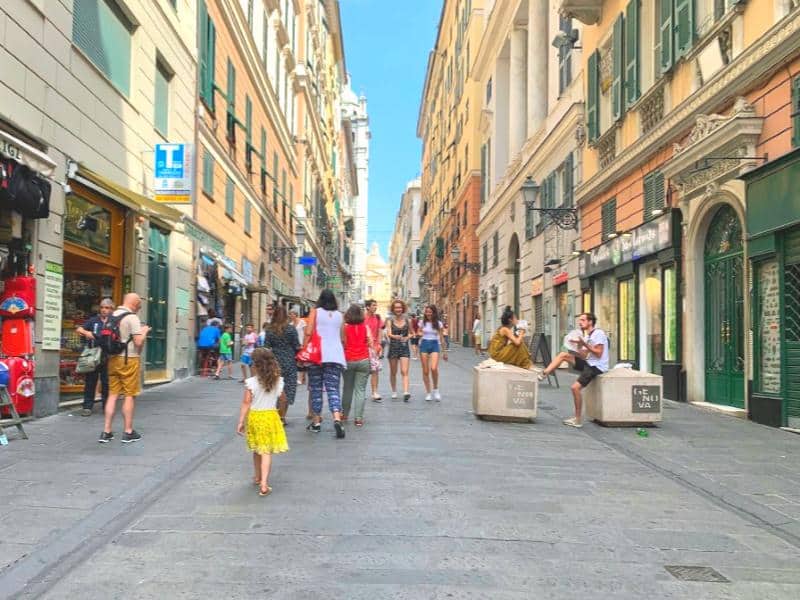 One of the first things I learned when I arrived in Genoa is that the name of the region in Genovese is Zena!  How cool is that? The pronunciation is slightly different to the way I say my name, but to find out there is a placed called Zena made me so happy.  All of my children's names are in fact places, and to find out my name is also a place was a very special feeling indeed. I'm not entirely sure how I had gone all these years without knowing this, but it felt like Genoa and I had always been destined to meet. 
Things to do in Genoa
Visit a Genoa Beach 
In Genoa you can have the best of both worlds when it comes to the beach.  Brook loves the beach and she loves to swim. Her only problem is that her mother can't swim, so I'm a little nervous about going in the sea.  I'm much happier in a pool, where I can stand and hold onto the side.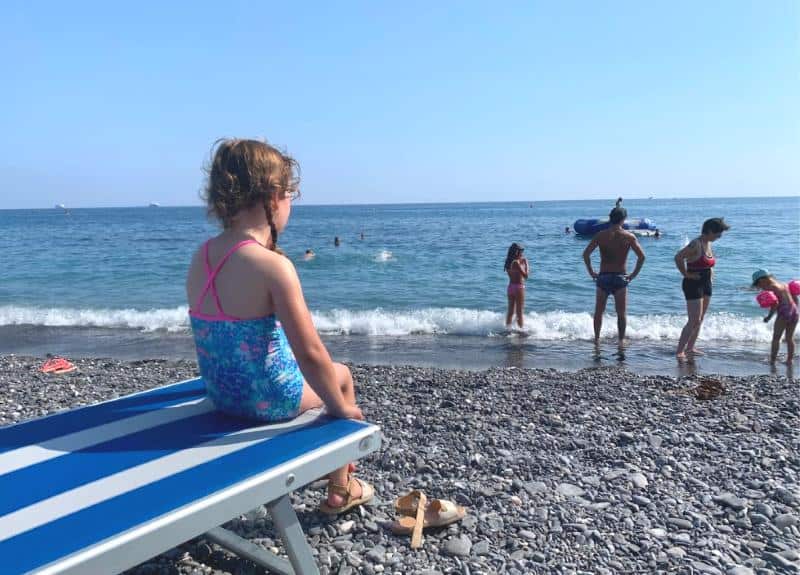 Brook also loves stones and rocks and will play with them for hours.  The Genoa beach we visited was a pebble beach so she was happy to collect piles of pretty stones and had grand plans of bringing them all home with her.  Right behind the beach there is a swimming pool, with changing huts, a cafe and plenty of sun loungers. Brook was quite happy to leave her stones and go and play with her new friends in the pool and fortunately we managed to leave the piles of stones on the beach.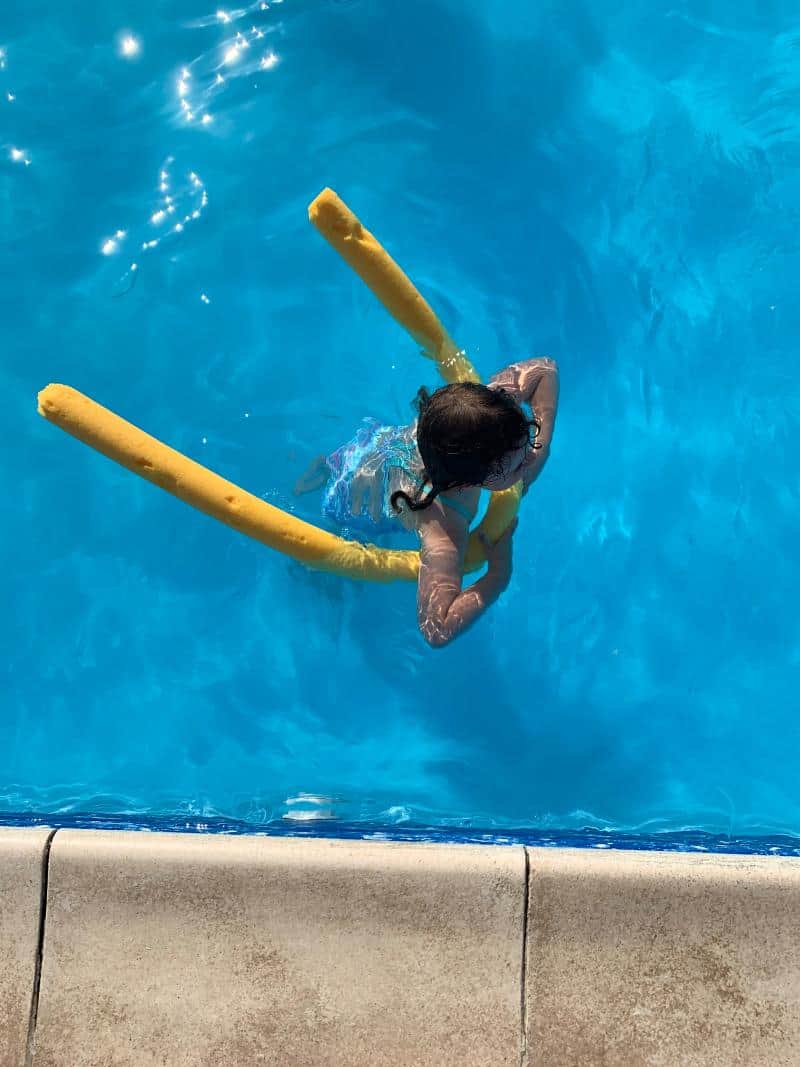 You can't beat a dip in the swimming pool when you need to cool off in the Mediterranean sunshine and it's got to be followed by gelato hasn't it?  There are many swimming pools along the beach in Genoa and there's also a public swimming pool at the Old Port that I'd recommend visiting if you want to stay close to the centre of Genoa. 
Ferris Wheel of Genoa 
A ferris wheel is a popular attraction with families, and Genoa has its very own one located in the Old Port.  It's a relatively new attraction to the city opening in November 2018. You will find the Ferris Wheel in Piazzale Calata Gadda.  The ride is not only fun for children but it's an ideal way for anyone to enjoy the view of Genoa's patchwork of beautiful buildings and incredible sunsets.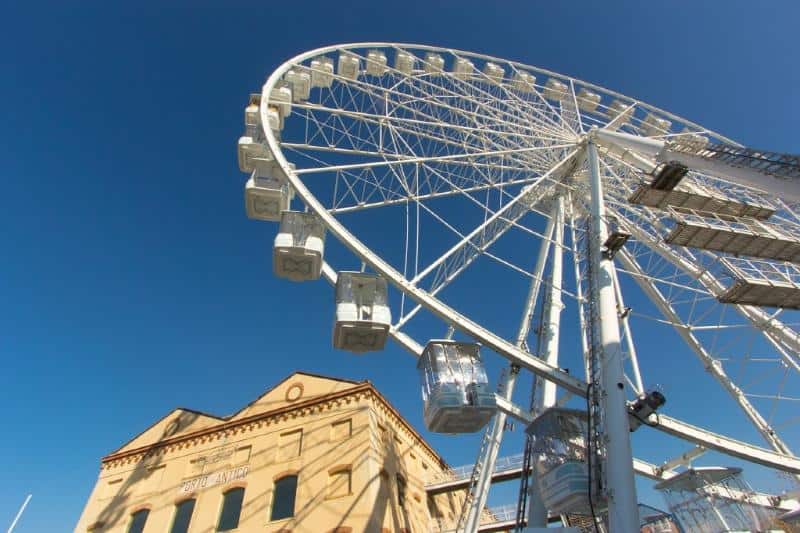 Genoa Aquarium 
The Genoa Aquarium, also known as the Acquario di Genova,  is one of the most popular things to do in Genoa with children.  Brook was mesmerised by all the sea life exhibits that live in the Aquarium of Genoa and it gave her the opportunity to see many fish that she had not seen before.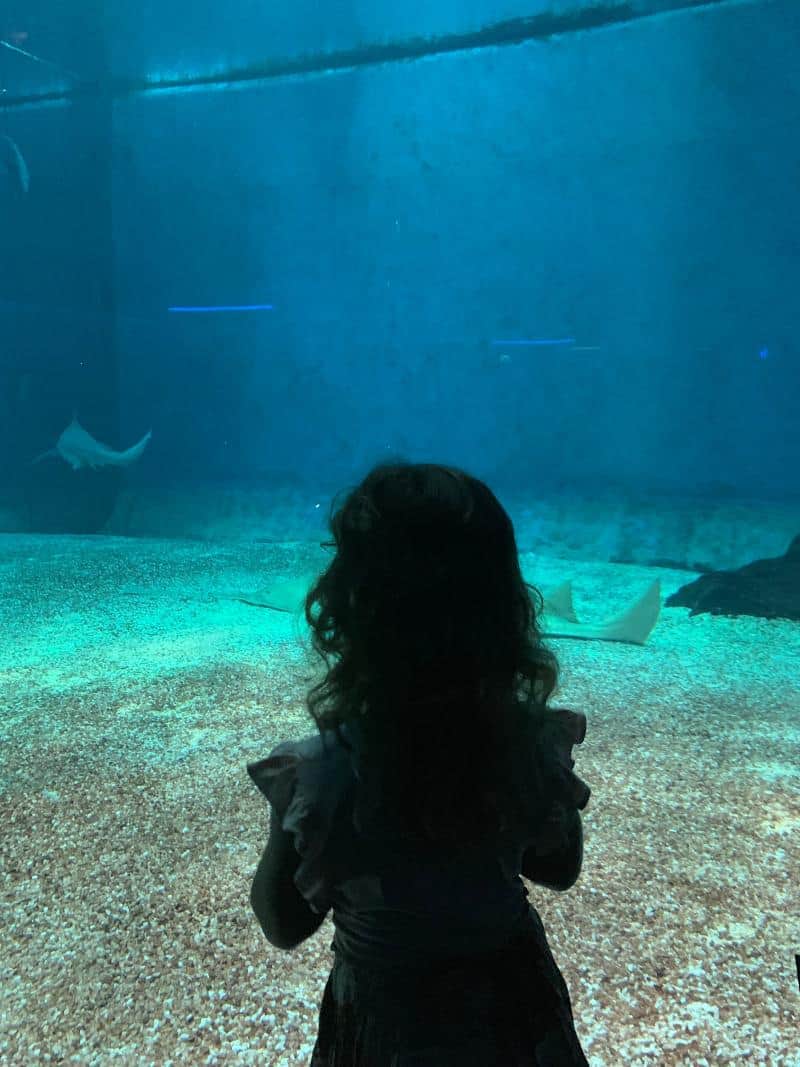 It was no surprise to me at all to learn that the aquarium had the largest collection of marine life in Europe. This means lots of species for kids to see as there are 400 in total at Genoa aquarium. One of the highlights of visiting the aquarium was seeing the dolphins feeding session and learning that they are actually fairly veracious mammals.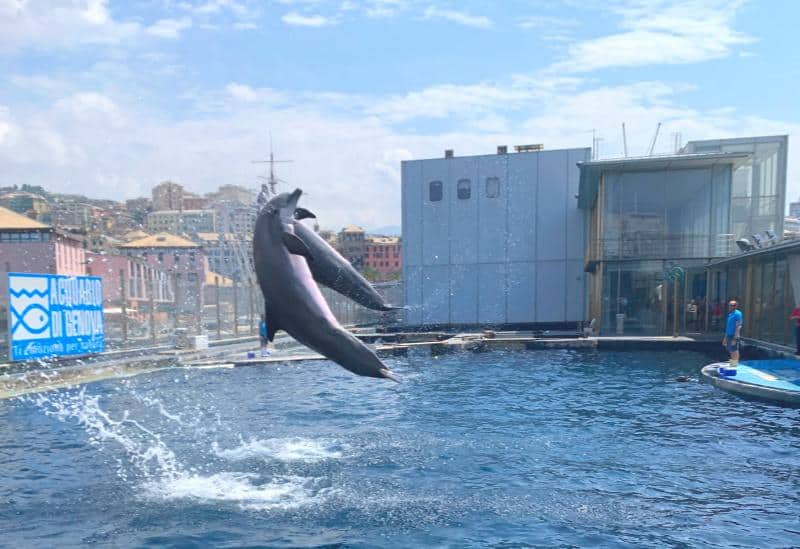 The children really enjoyed the Genoa Aquarium guided tour, and it's a great way to learn more about the species that live there. You even get to go behind the scenes and learn about jelly fish, plankton and star fish, which was a huge hit with the children.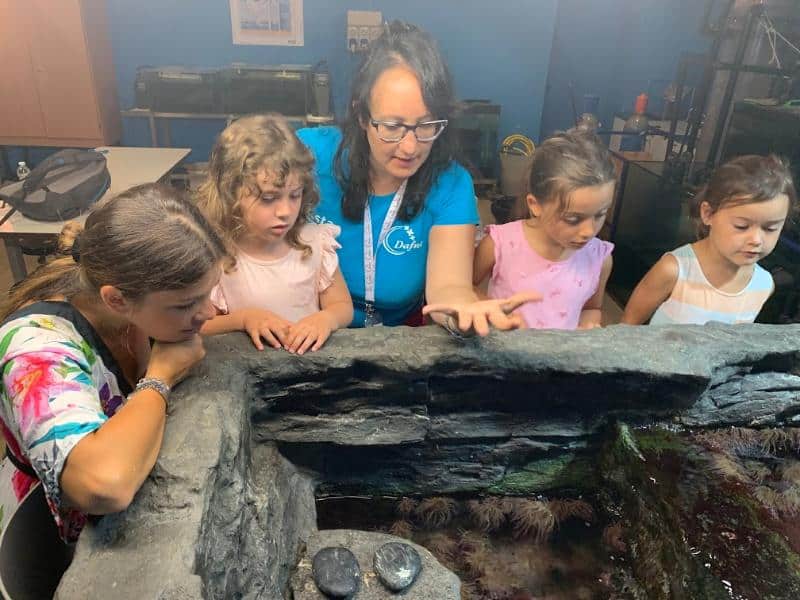 It's a great idea to time your visit to the Aquarium of Genoa with lunch time, as they have a fantastic restaurant at this visitor attraction.  If you can forgive yourself for eating fish after your visit to the aquarium, you really will have a wonderful dining experience. This plate of fresh tuna is one of the most delicious I've ever tasted, and definitely the prettiest.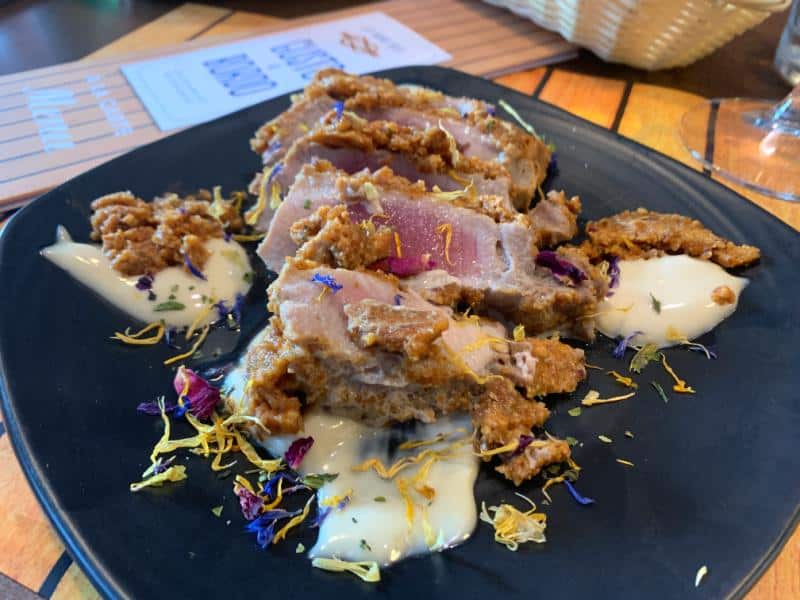 Ligurian Archaeological Museum and the Park of Villa Pallavicini
There are 25 city museums in Genoa and Brook and I would have loved to discover more of them.  As our visit to Genoa was a short break we had to pick only one, and I have to be honest, I think it was the best one.  It's actually two attractions in one and both are perfect for families. 
At the Ligurian Archaeological Museum we took a brief tour of the Liguirian archeology collection before enjoying a prehistoric workshop organised especially for the children.  Brook is a very creative little girl and loves making things, so this was perfect for her. It's not just for girls though, as we had a 10 year old boy in our group and he enjoyed it just as much as my 5 year old daughter.  They made clay pots, prehistoric charcoal pictures and shell necklaces.  The only challenge was how to get these prized creations back home to the UK.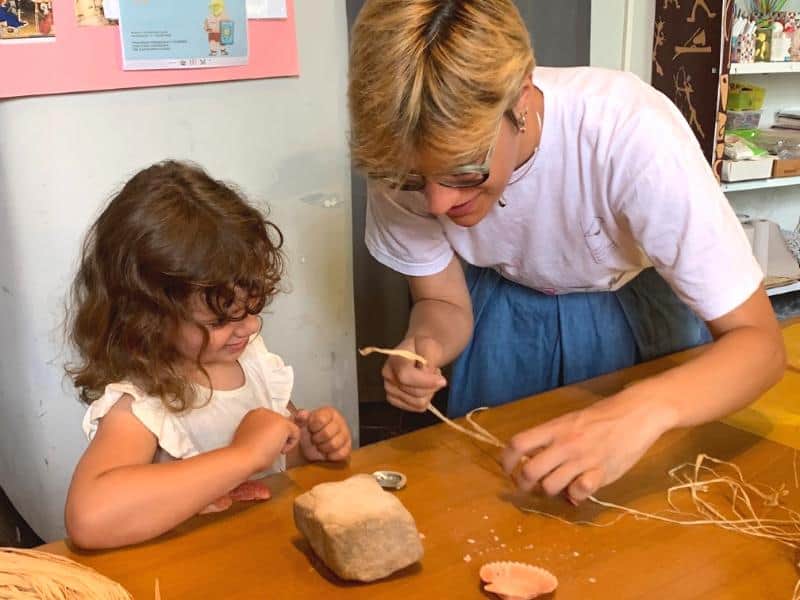 After our visit to the museum and the educational workshop we had a quick visit to the park of Villa Pallavicini.  As this is also apart of the Museum of Genova collection, you can access it with a Genoa Museum and Transport card. If you want to visit several of the museums, then this card, which covers transport, visiting the museums and other discounts, is well worth the investment. 
My kids love gardens, and back here in the UK we spend a lot of time visiting National Trust properties.  The park of Villa Pallavinci is a theatrical garden experience which takes you on a journey of a man's life.   The features are just beautiful and Brook's little eyes were everywhere as we wandered through the gardens. It's a wonderful sensory experience with plenty tree cover if you need a little break from the sun. 

City of Children 
You might be looking for things to to in Genoa with kids when it's raining, and we know the perfect place for you to visit.  Brook and I spent an afternoon at the City of Children and it was so much fun. There are different zones for different age groups, but the young ones are able to explore all the zones.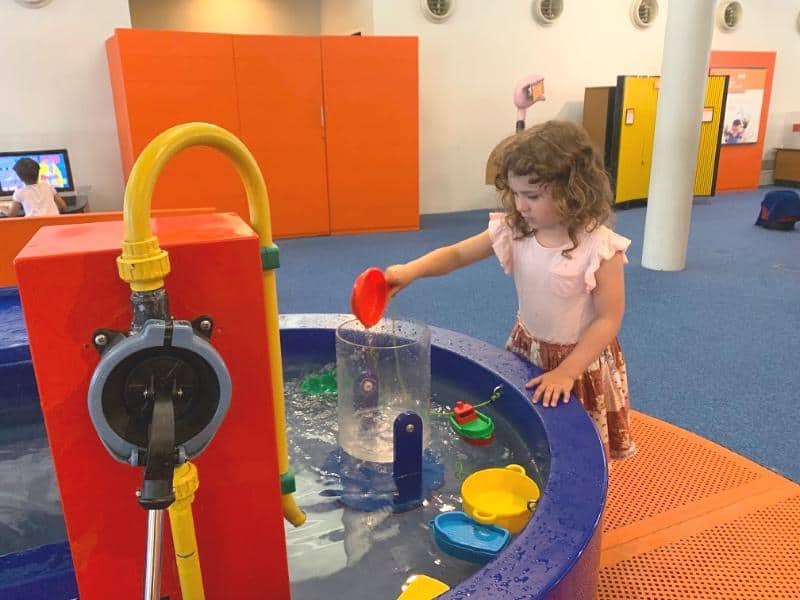 Brook enjoyed the imaginative aspect a lot, pretending to be a builder or a traffic controller for example.  The water station was a lot of fun, but she refused to wear and apron and ended up soaked. Fortunately, seeing as we were in Italy, she dried off pretty quickly.  When she found the ant colony she loved peeking into their little world through the port hole.  The bubble making machines were a great opportunity to get wet again also!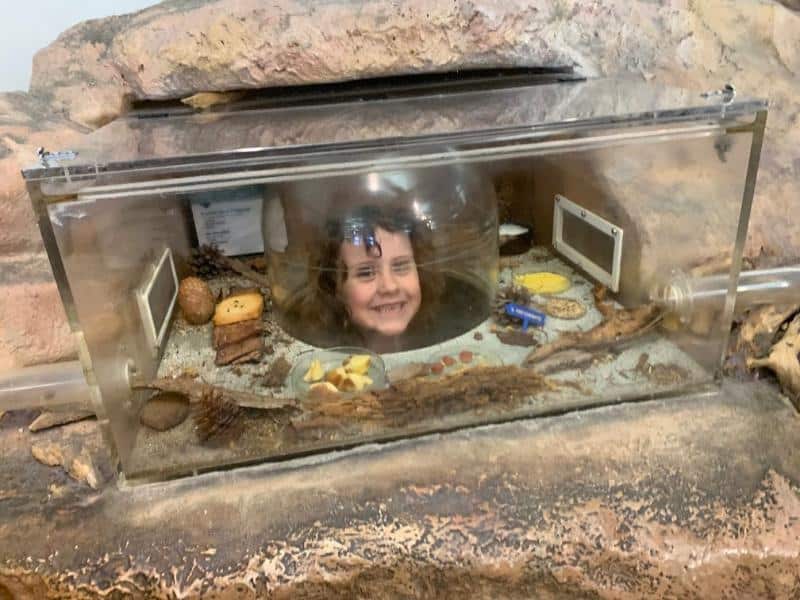 There are also many fun optical illusions, science exhibits and workshops available at the City of Children, so it's perfect for hands on interactive fun for kids.  We spent around 2 hours here, but you could easily spend longer and its still the same price! 
Take the Land Train 
When you are planning what to do in Genoa with kids, you may be very pleased to hear that there is a tourist train to take you around the city.  It's such a fun way to see Genoa, and I find they can be a great activity to do with children when they are getting tired.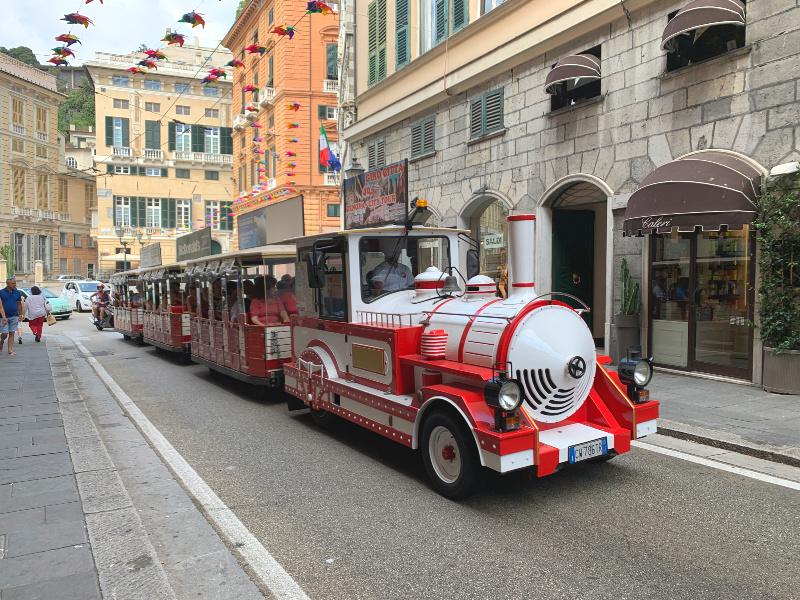 The 45 minute tour on Pippo the tourist train starts at the Piazza Caricamento just in front of the Aquarium and takes you around the port and through Genoa's historical centre.  It's a lovely way to enjoy the city's amazing architecture, get your bearings and share this beautiful city with your family. 
Enjoy the View from Belvedere Montaldo 
Brook and I headed to Belvedere Montaldo in search of gelato and the promise of beautiful panoramic view of Genoa, and we were definitely not disappointed.  We took a taxi to the viewing balcony, but there is a pedestrianised path if you don't mind hills too much.
You can also take the art deco lift from Piazza Portello to Belvedere Montaldo to enjoy the view. The beautiful buildings and colourful rooftops really do sum up what Genoa is all about and even the youngest member of the family will appreciate the LEGO style landscape.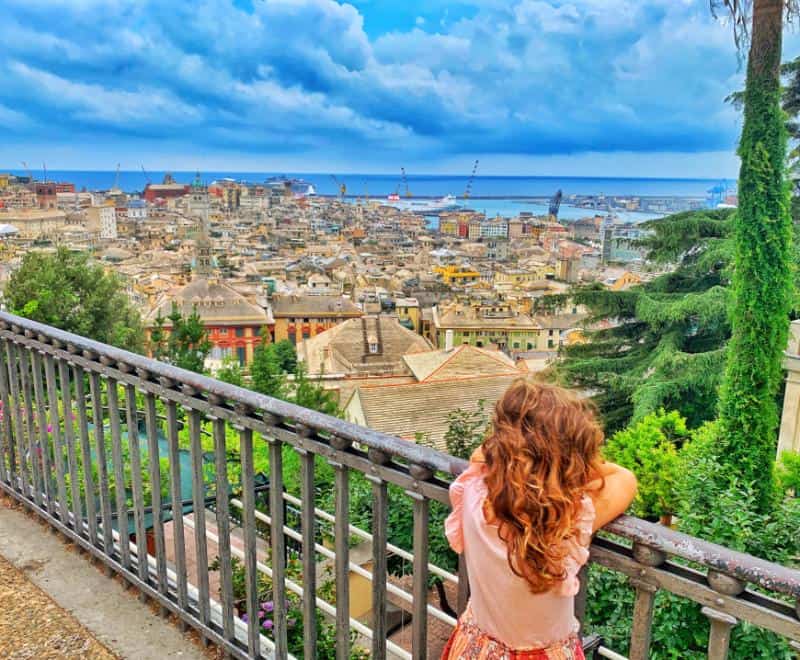 We took the path back to the centre, and the children loved charging down the hill.  Keeping up with them on the other hand was a different matter.
Take a Stroll Down Via Garibaldi
This has to be Genoa's most impressive street, and you can simply enjoy it's well renowned architecture from the outside, or you can go inside some of the famous houses.  With colourful decor and furnishings, and impressive sensory gardens they are the types of houses that appeal to appeal to all ages.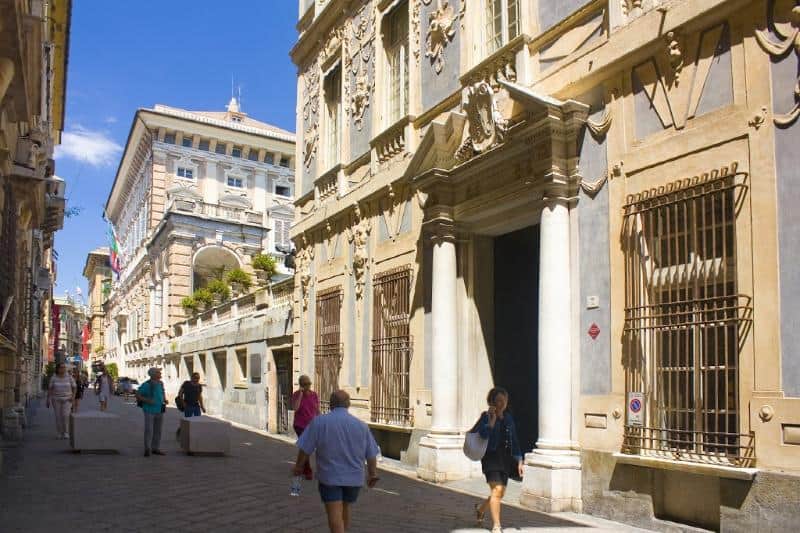 The houses along Via Garibaldi were built as homes to Genoa's nobility, so a more fitting description would be stately homes if they were in the UK.  As they have housed Genoa's most prestigious families since 1550, it is no surprise that this area is now a UNESCO registered site. 
Visit the Fountains at Piazza De Ferrari
In the middle of Piazza de Ferrari you will find a beautiful fountain, where children can play and cool off in the sunshine.  At night the fountains are lit with an array of pretty colours so that the water feature continues as an impressive landmark and play space for children long into the night.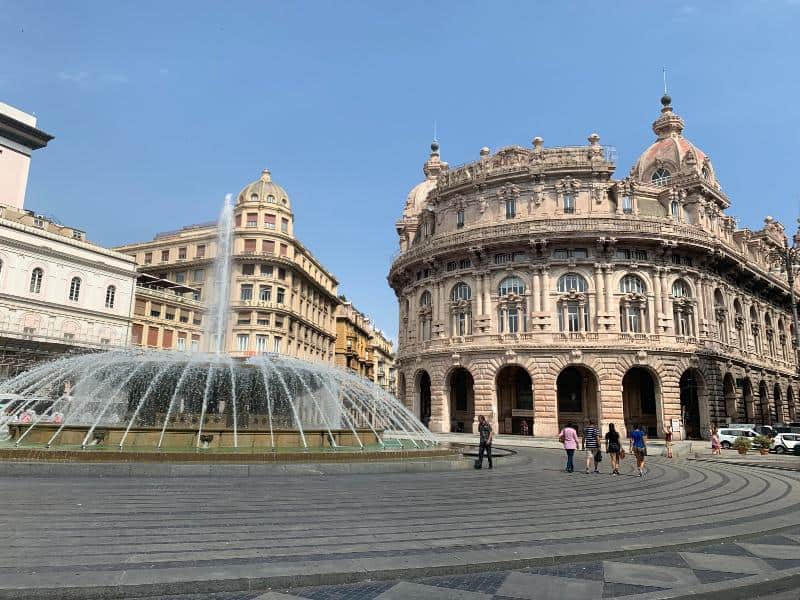 The fountain is surrounded by some of the most beautiful buildings in Genoa, so whilst the children are splashing in the water, there is still plenty of opportunity for parents to get their culture fix too.
Where to Stay in Genoa
If you are looking for a very authentic Italian guest house, then the best place to stay in Genoa is without a doubt Case Rame.  This guest house is in a lovely central location, so all the main places to visit in Genoa are within walking distance. 
The decor is simply beautiful and provides a calm escape at the end of a busy day of sightseeing.  Brook and I shared a large double room and it was a such a peaceful place to retreat to after a busy day exploring the city.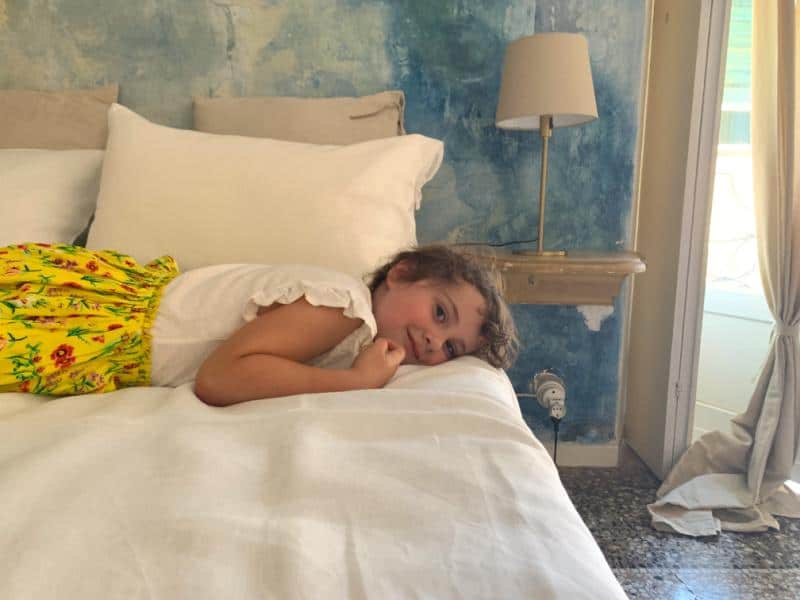 We fell in love with the features and the service from the hosts was so personal and thoughtful. We enjoyed a delicious Italian breakfast each morning on the terrace and a calm and restful nights sleep every evening.  What more could you possibly wish for from a lovely stay in Genoa. 
Enjoy the Italian Food 
Food is an incredibly important part of the Italian culture, and you are in for a real treat in Genoa in particular.  As with most places in Europe, Genoa has its own local specialties and it's worth seeking them out while you are there.  While the kids are tucking into pizza, you might want to try a traditional Genoese focaccia or fresh pesto. Both these dishes originated from Liguria, Italy and you will taste some of the best cuisine Italy has to offer in Genoa.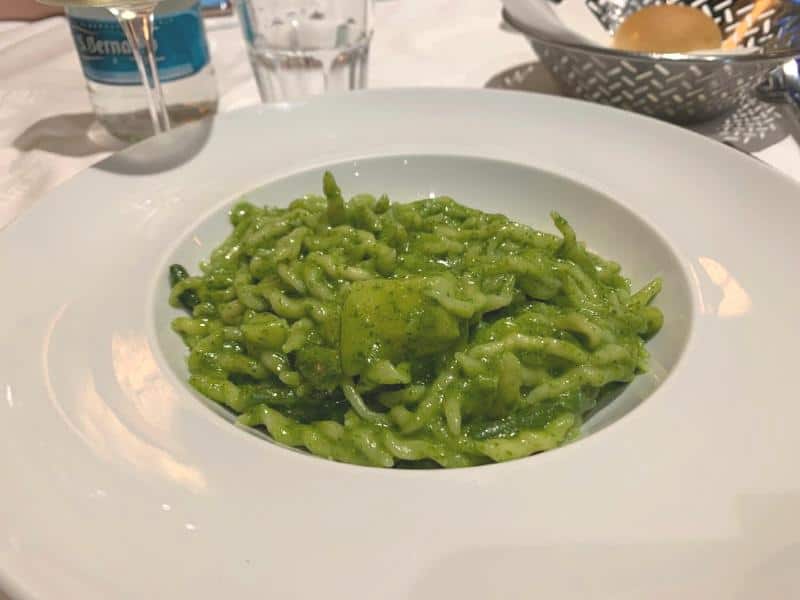 There's also a wide selection of savoury pies, made with Genoese cheese and vegetables which are utterly delicious and can be found in several variations. As you can probably imagine I didn't eat one bad dish while I was in Genoa, my only regret is that Brook didn't try more of the food.  For her, it was pizza or bust!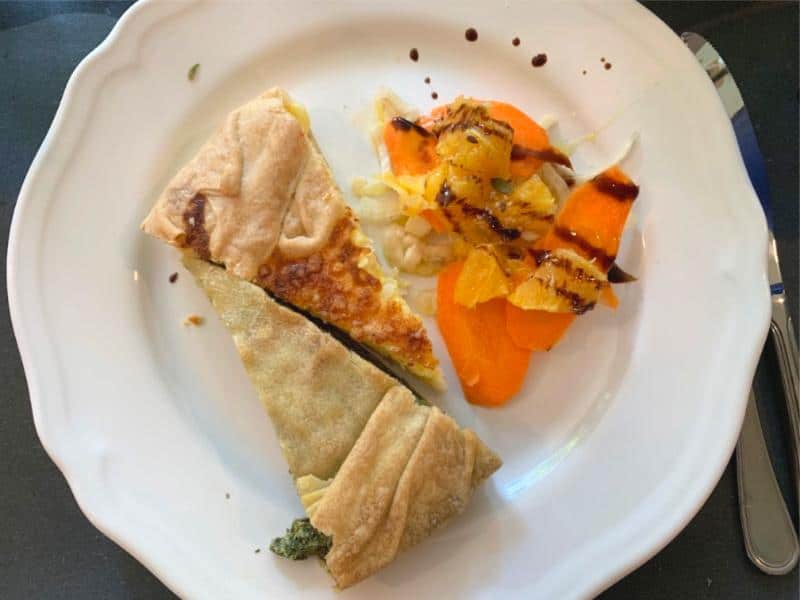 I find it really hard to believe that given the rich history, culture and beautiful location that more people aren't choosing to go on holiday to Genoa.  I hope I have convinced you that there are lots of things to see and do in Genoa for families who enjoy cultural travel. When you are next thinking of going on holiday to Italy and you are not sure where to go, I would strongly recommend putting Genoa at the top of your list.
I took part in a press trip with Genova More Than This in exchange for writing this post about 'things to do in Genoa'. All thoughts and opinions are my own #Genova4Family #GenovaMoreThanThis
Pin this to your travel itinerary to your board for later