We received a complimentary stay with Eurocamp at Duinrell Holiday Parc in exchange for this review.  
Our last holiday of the summer was a stay at Duinrell Holiday Park in South Holland with Eurocamp, the UK's leading European camping specialist.  We were all looking forward to our first trip to The Netherlands together for so many reasons.  The person who was the happiest about this trip was Daddy.  Firstly, we weren't flying, which was a huge relief for him.  Secondly, it was an excellent opportunity for Daddy, Brook & Indie to spend some precious quality family time together.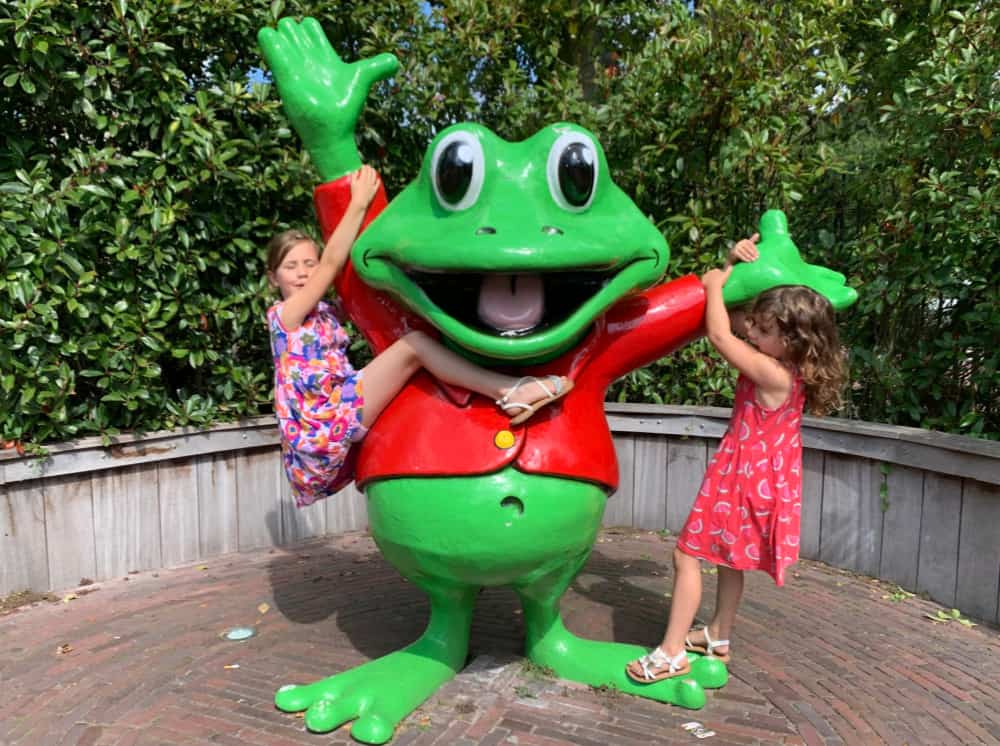 Getting to Eurocamp Duinrell
We looked very closely at all the options for getting to Duinrell Holland from our home in Nottingham.  We knew we didn't want to fly for this trip so it was either a case of taking the ferry to Rotterdam (which is a very popular choice) or going via Eurotunnel.
When we were booking our travel to the Eurocamp holiday park in Holland, the most purse friendly option was to take the car via Eurotunnel.  Daddy had travelled by Eurotunnel before but this was a first for the girls and I and I was keen to see what it was like.
The drive from Nottingham to Duinrell Park takes around 8 hours.  It's taken me longer than that to drive to Cornwall in the summer before now so the length of the drive didn't phase us in the slightest.  We did stop overnight in France on the way to Duinrell, just because of the time of day we were due to arrive in Europe.  We stayed at an aparthotel in Bourboug which was on the way.  It meant we could feed the girls and get a good nights rest and take a leisurely approach to our drive to Duinrell in Wassenaar the next day.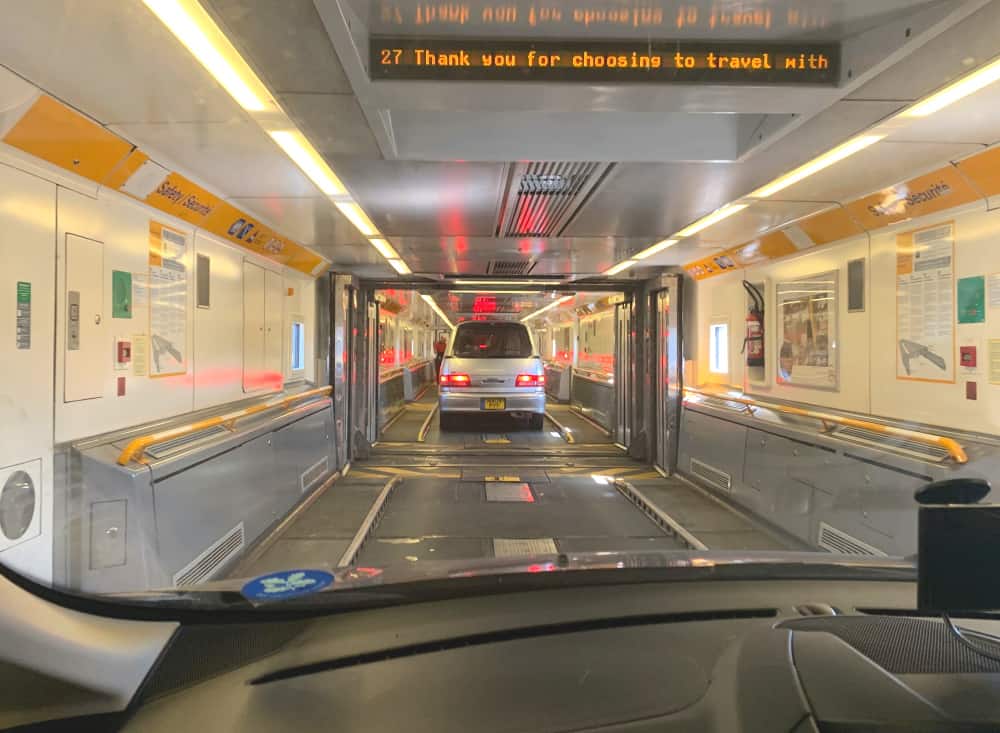 On the way back from Duinrell in Holland we did drive the whole route in one go, sharing the drive between myself and Daddy.  It was achievable doing it this way, but with kids you always have to stop a little more anyway so it did take us a little bit longer.
We thought Eurotunnel was an excellent option for getting to France and beyond, not just because of the price but also the convenience.  We bought a standard return ticket for our trip which cost £275.  We chose not to book Flexiplus, and in all honestly unless you really are not sure about when you are going to travel I'm not sure it's worth it.  On the way to France, we were allowed to join an earlier train than the one we had booked as we were ready to travel.  Given how busy it was that day, they were putting cars on the first available train anyway, which is pretty much what Flexiplus is anyway.
It was busy on the way back from Calais  to Folkstone, and we had a short wait in an overspill carpark but we were still able to join the first available train back to the UK.  Once we had driven onto the train and it was ready to depart it only took 30 minutes to make the crossing,  which really is excellent in my opinion.
Arriving at our Eurocamp Holiday Home
After the drive through France, Belgium and The Netherlands we arrived at Duinrell late afternoon.  This worked well as we were able to access our  Eurocamp Holiday Home as soon as we arrived.  It's always my job to visit the reception and collect the keys and other vital holiday information we need for our stay, so I headed to the Eurocamp office.
Indie and Brook were itching to get out of the car at this point so I was really pleased that the Eurocamp check in was not only friendly & welcoming, but also quick and easy.  We drove round to our 2 bedroom holiday home and unloaded the kids and the suitcases to get settled in.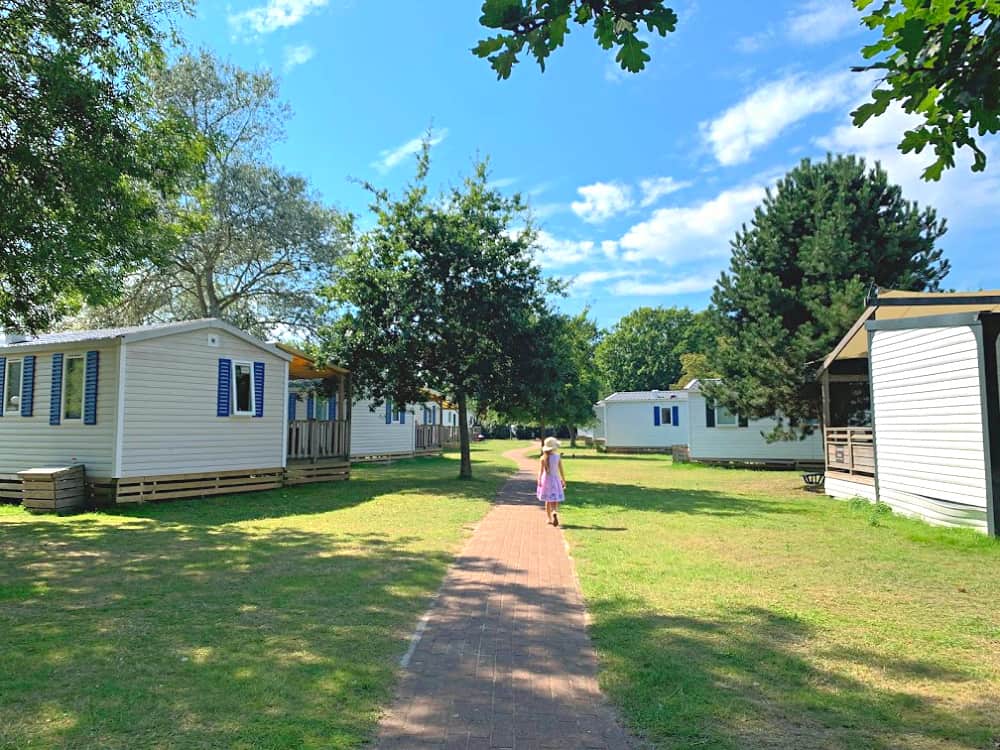 The weather was beautiful and we were in for a few days of sunshine for the beginning of the holiday.  This meant Brook and Indie could make the most of the open space we had around the holiday home while I got on with the job of unpacking.  I love that feeling of having just arrived on holiday and unpacking the suitcases to get settled for the week ahead.
The Eurocamp representative came to our holiday home to make sure we had settled in OK and if there was anything we needed.  Our only request at this point was for a parasol but everything else was in perfect order in our holiday home.  The welcome packs were really handy, and we had a quick toast to the start of our holiday with a glass of wine and carton of juice for the kids!
A Eurocamp holiday home is an excellent choice if you want flexible self catering accommodation.  We had lots of space around the holiday home so that it felt private.  The field we were staying in was surrounded by hedges, so it felt really safe to let the children play outside.  They soon made friends with children staying nearby, and were off playing with the other kids at every opportunity they got.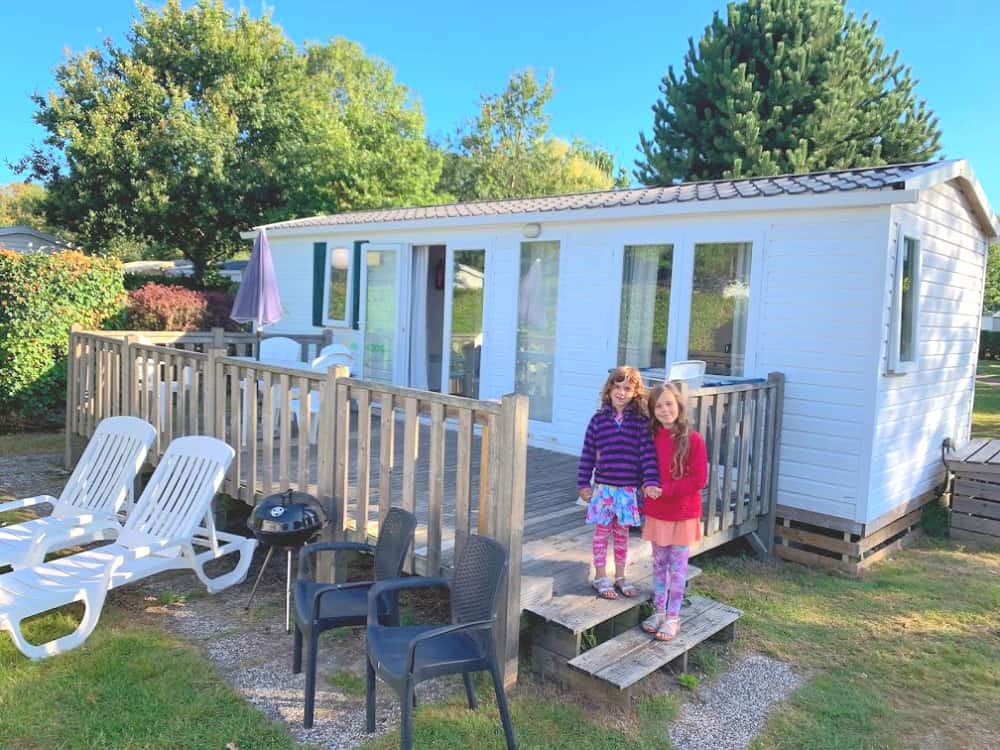 Inside the Eurocamp holiday was was well equipped with a small kitchen area and living space.  Brook and Indie had bunk beds which they loved.  It was perfect for young children, but if you have teenagers you might want to look at one of the larger accommodations on offer.
We also had a shower room, separate toilet and double bedroom as well as decking and outdoor seating and loungers.  We also had a small barbecue but we didn't use it on this trip.
Duinrell Plaza
With beds made and clothes neatly folded away we decided to go and investigate Duinrell Plaza.  We found a snack bar, a restaurant, a very well stocked supermarket to pick up supplies and the Duinrell pub and games area including mini bowling which the kids loved.
As nobody wants to cook on the first night of the holiday, we ate in the restaurant.  The food was excellent quality and it was a lovely treat to begin our holiday with.  We bought  few supplies from the supermarket and we stopped by the Duinrell pub for a quick drink and so the girls could show off their bowling skills.  We had thought we would play as a family, but it seemed that Brook and Indie wanted all the goes, so Daddy and I sat back and watched them have fun.
Over the week we watched live shows at Duinrell plaza including their take on Aladdin and a few other musicals. The spoken parts are in Dutch, but songs were sang in English.  Brook and Indie didn't mind in the slightest.  They loved the costumes and the dancing, and were not in the slightest bit phased by the language difference.
Kids club was also at Duinrell Plaza, which we visited one to make holiday souvenirs.  The staff were lovely and the kids really enjoyed it.  It was a really warm day, so it was nice to go to kids club and take part in a relatively calm activity with the girls and they loved the mirrors and frisbee's they made to bring home.  We also had a really fun evening at the kids bingo, but unfortunately no prizes though.
Duinrell Theme Park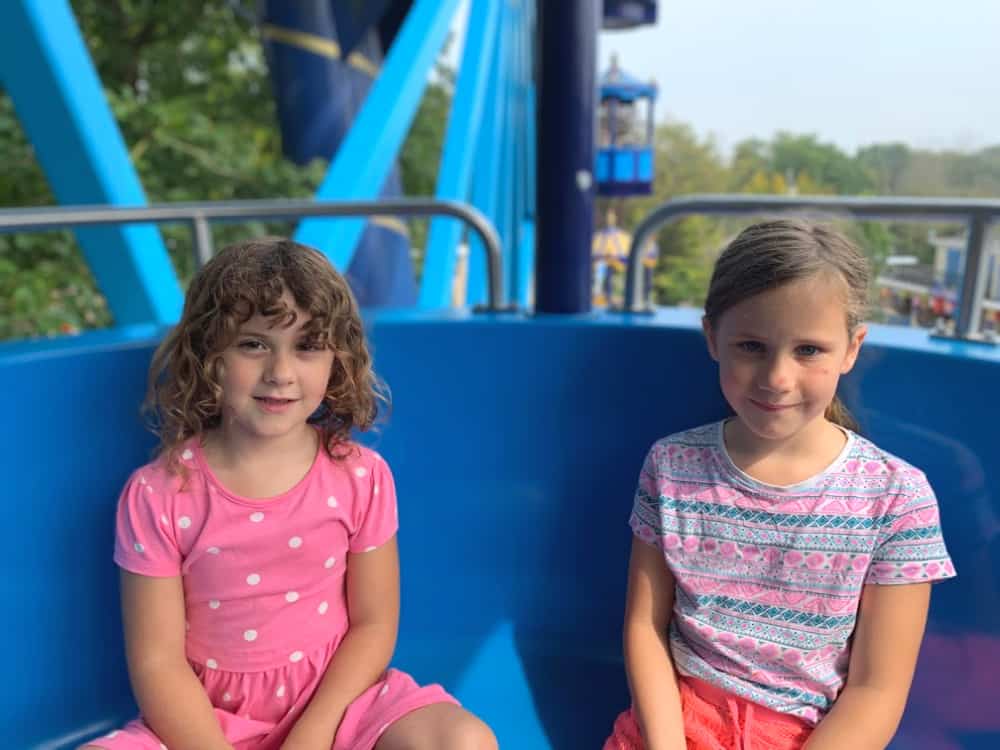 During our stay at Duinrell Holiday Park with Eurocamp we had daily access to to the Duinrell Theme Park.  This was a real highlight of our stay and a huge hit with Brook and Indie of course.  Duinrell is one of the most friendly and relaxed theme parks I've ever been too.  It's not too big, or too small and has the perfect mix of rides and attractions to keep kids of every age busy.
We couldn't help but noticed how the older children really loved being able to go to and from the theme park by themselves, often with the aid of a hired go kart or bike.  It felt like a really safe environment to be able to give older kids and teenagers a little bit of freedom to go on the rides and hang out with their new friends.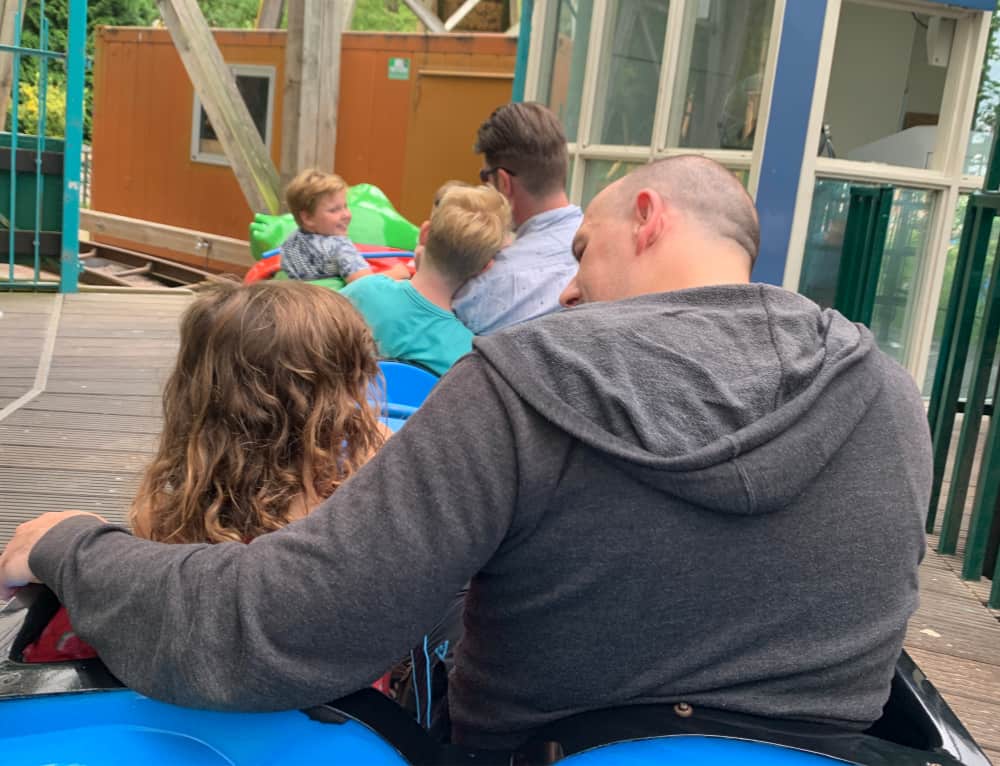 Brook and Indie aren't quite old enough for this level of freedom, but they still really enjoyed visiting the park even if their parents had to tag along.  They really made the most of having Daddy on hand, and he was getting all the requests to take them on the roller coasters and the Aqua Swing.  This time is so precious to him, as he just doesn't get to spend as much time with the girls as he would like, being able to be the 'go to' parent for a change really helps him feel connected to the girls which is something that is really important to him.
Duinrell is not only becoming a very popular holiday destination with UK families, but the theme park is also a popular attraction in its own right.  That being said, we never had to wait very long for a ride, and having the flexibility of being able to come and go as we pleased meant we could avoid peek times.  We also loved that it was really green and there were lots of trees, providing lots of shade on some very warm days in August.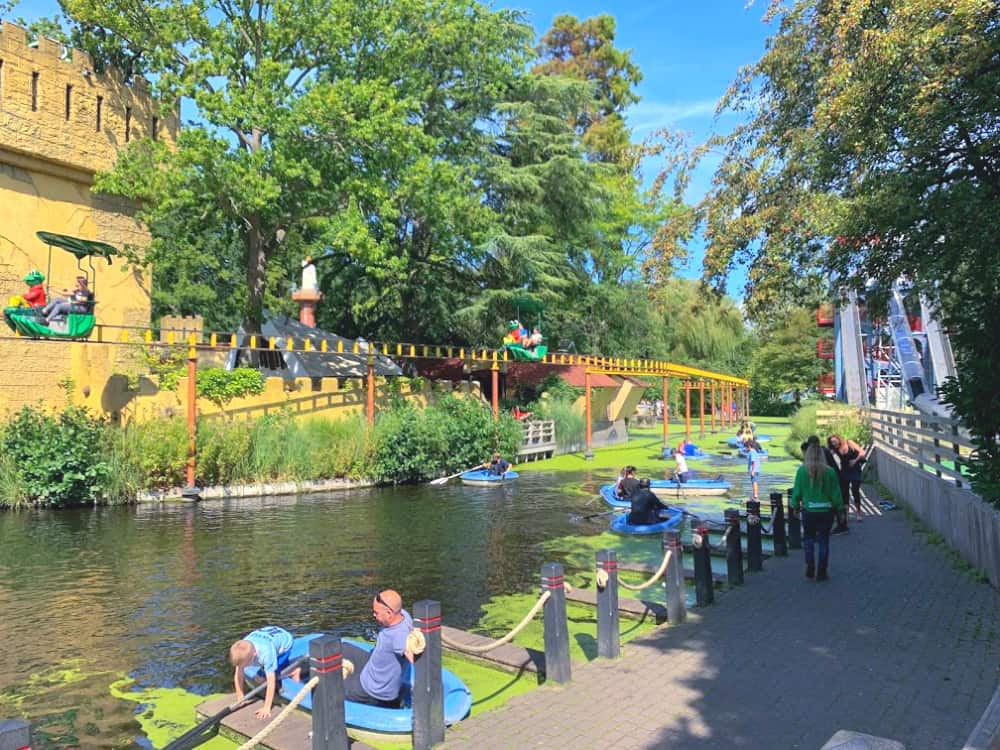 The favourite ride I think for everyone was Splash, the incredibly wet log flume! The awesome thing about this ride is you have the option of going in a covered boat and having all the fun without becoming totally drenched. This we definitely our preferred option and often had the shorter queues!
With Splash, the girls also loved that you could stand on the bridge, either in front or behind the shelter, and enjoy the splash of the log flume as the boats came down the hill.  This caused so many squeals from the kids who couldn't get enough of going on the ride or standing on the bridge.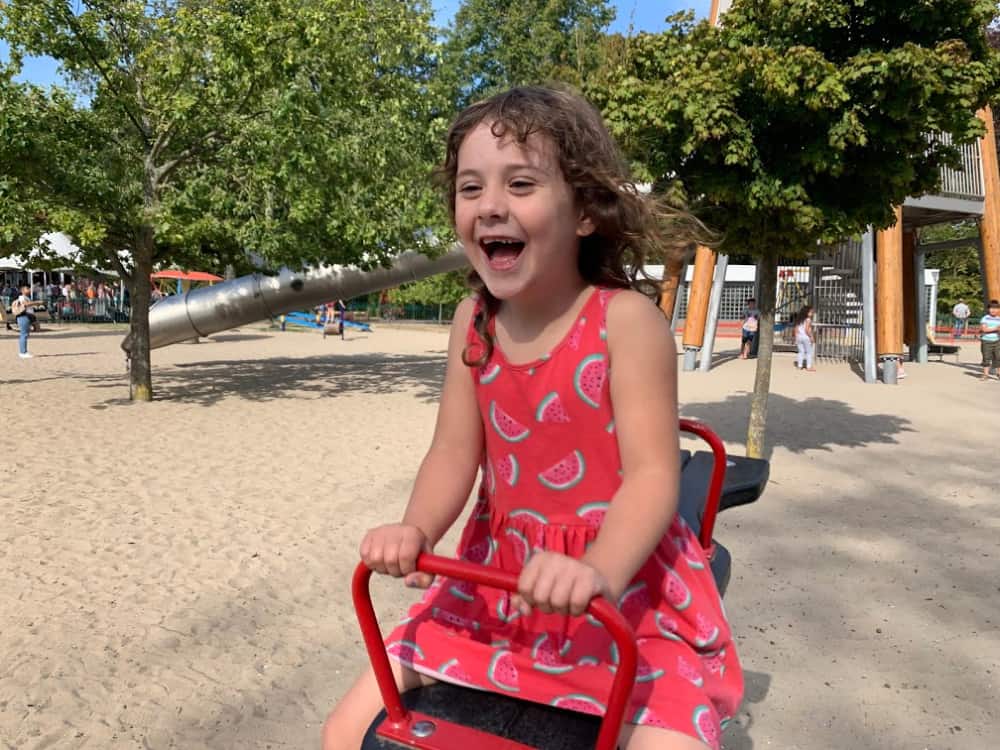 We shared so many fun moments in Duinrell as a family and found that it was a huge feature in our holiday.  Being able to access the park was included with our Eurocamp holiday and we visited everyday, regardless of what else was going on that day.  The Duinrell park entrance for a few minutes walk from our holiday home and we just loved everything about it.
It has lots of trees for example, so there's plenty of shade for when the weather is really hot.  It was just the right size and there was a good selection of rides and attractions for all ages.  There was also l huge playground that Brook and Indie were equally as happy on.
Duinrell Tikibad
This is the onsite water park and it is literally AWESOME.  The Tiki Pool is one of the most impressive swimming pools I've ever seen and it literally has something for everyone.  If you are staying with Eurocamp, you receive discounted entry to Tikibad during your stay.  We went to the swimming pool twice during our Eurocamp holiday and each visit cost a 22 Euros for two hours.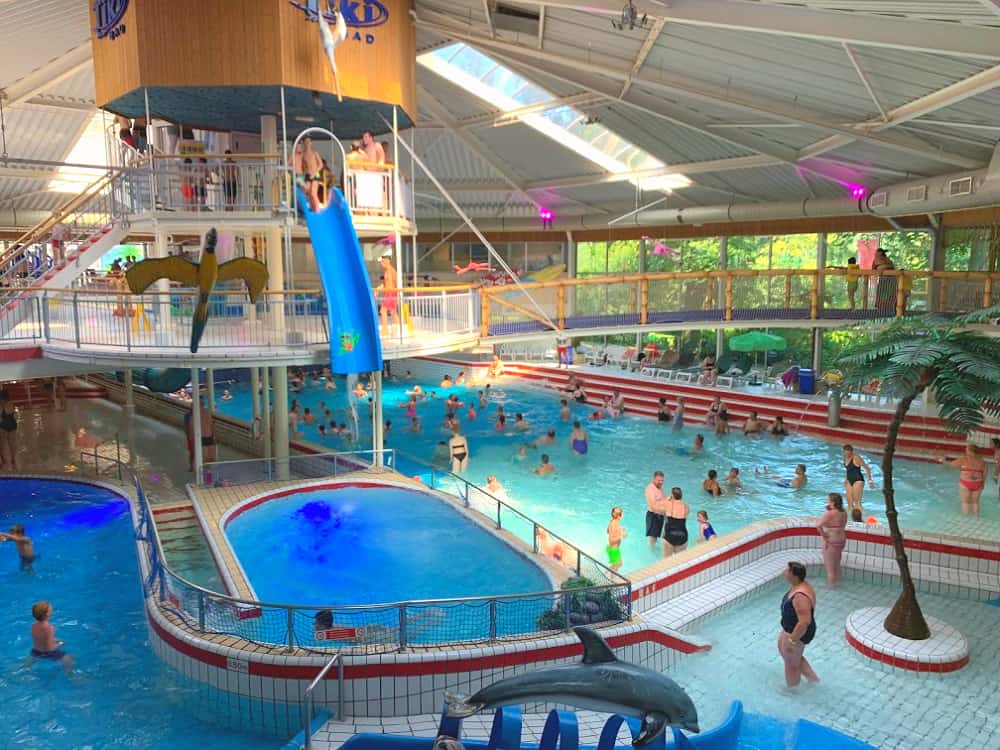 Now, as you might already know if you have been reading Zena's Suitcase family travel blog for a while, I can't swim and I'm not a huge fan of water, but I do go in the pool. Daddy really is the hero when it comes to the swimming pool, and Brook and Indie really enjoy this time with him.  They loved that he took them into the deep end so they could fully experience Tikibad's epic wave machine.  They are so much braver than me when it comes to these things!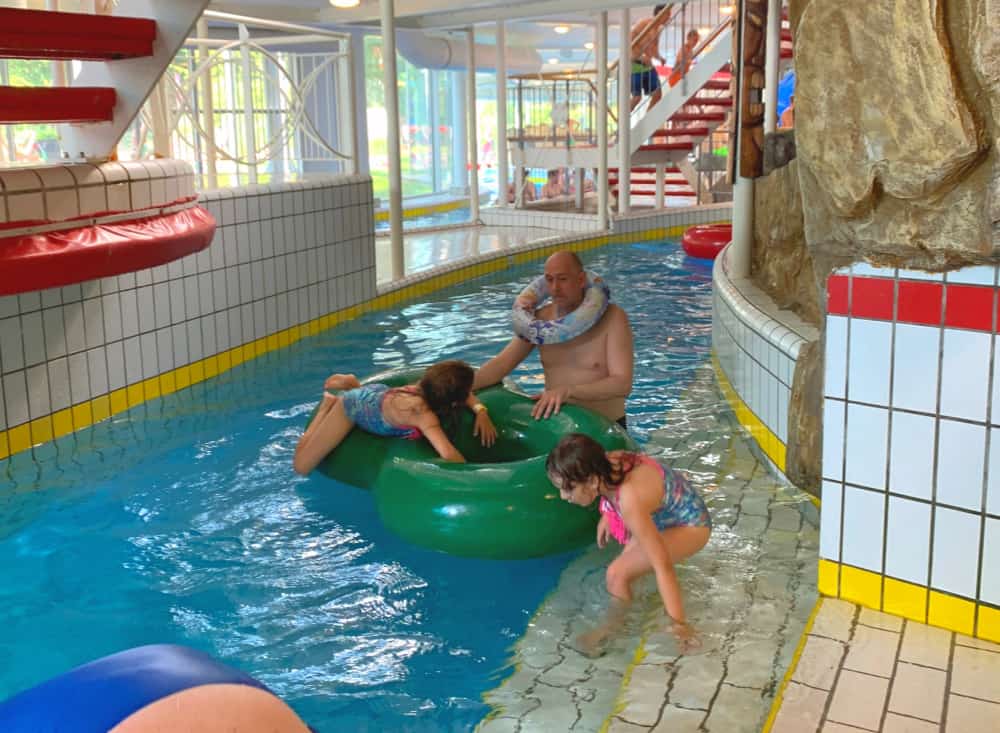 I lost count of how many times they all took on the lazy river but the beaming smiles that emerged from pool every time were so worth it.  We all spent a lot of time in the indoor kids water park which is perfect for younger kids (and non swimmers like me!).  The kids loved the gentle slides here, which they could confidently take on themselves while Daddy watched from the side.  Who am I kidding, Daddy was in the queue too and they didn't miss an opportunity to sit on his knee when they could.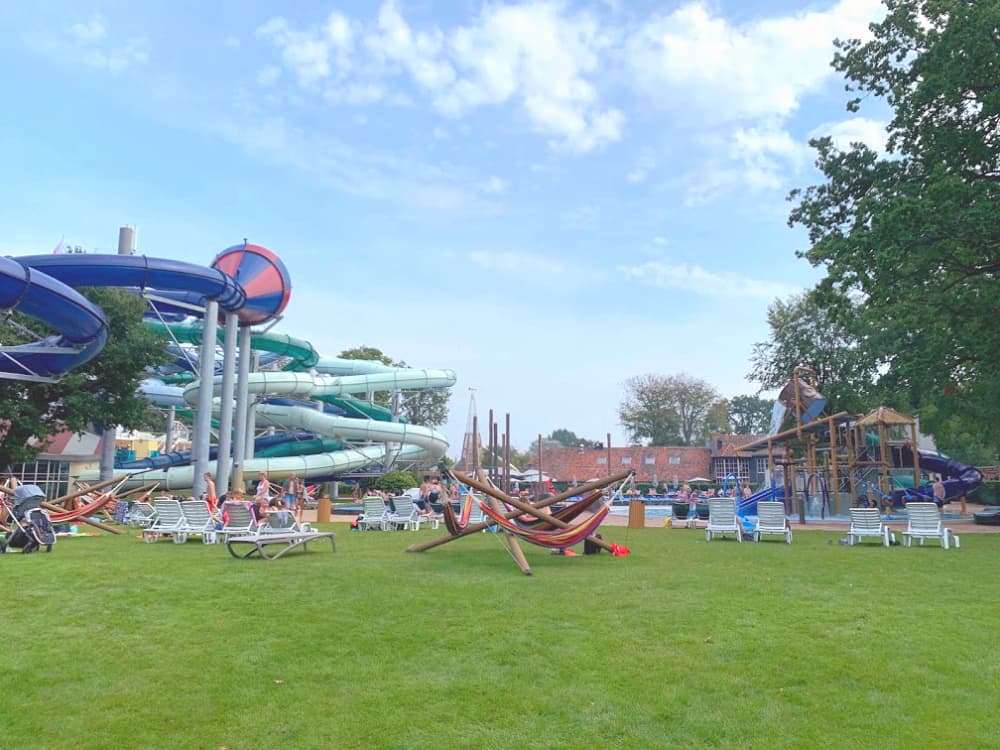 If you like your waterslides a little more exciting, Tikibad also has lots of adrenalin packed experiences for thrill seeking pool goers.  There's 21 epic slides offering 1.5 kilometres of fast paced water fun, with plenty of twists, turns and vertical drops to keep everyone entertained.  While we enjoyed the tamer slides, it was super entertaining to watch people hurtle into the water at high speed.
As well as an impressive indoor pool, Tikibad has a new outdoor pool and splash park which gives even more opportunity to cool down during your stay. We also discovered that the pool is lit up at night and stays open until 10pm.  This is great for older kids or families who want to add even more fun to their visit to the water park.
Day Trip to Amsterdam
Staying at Eurocamp Duinrell is the perfect location if you want to add a day trip to Amsterdam to your holiday.  Daddy agreed this would be a great addition to our trip and I knew just the place to visit.  Ever since Indie and I went to the NEMO Science Centre a few years ago, I knew I wanted us all to go when Brook was old enough to experience it.  Our visit to Duinrell was the perfect opportunity for us to visit NEMO as a family.
It was only a 40 minute drive to the outskirts of Amsterdam, and we parked in a Park and Ride which only cost a few Euros.  We caught the tram to Centraal Station, which was a fun ride in itself.  Amsterdam is such a beautiful city and we talked about the different sites and why there are hooks on the top of the buildings.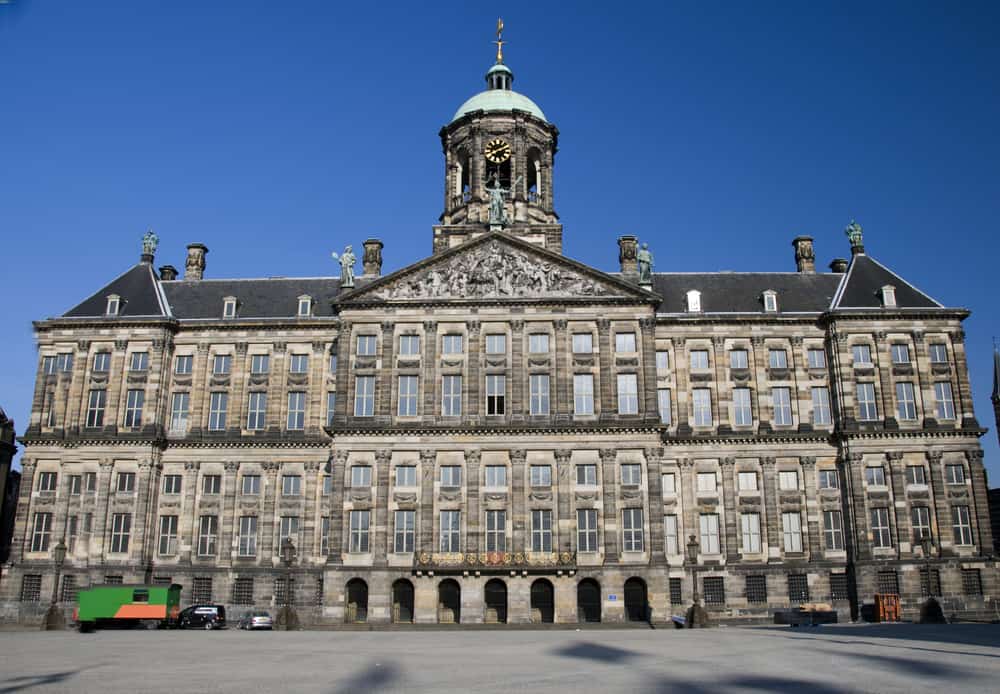 We walked straight to the NEMO centre, picking up a few supplies for a picnic on the way at the supermarket, and headed straight in.  Daddy is a bit of a geek, so this really was his kind of place.  He loved helping the girls with all the hands on experiments and watching the 'Chain Reaction' demonstration, which is pretty epic by all accounts.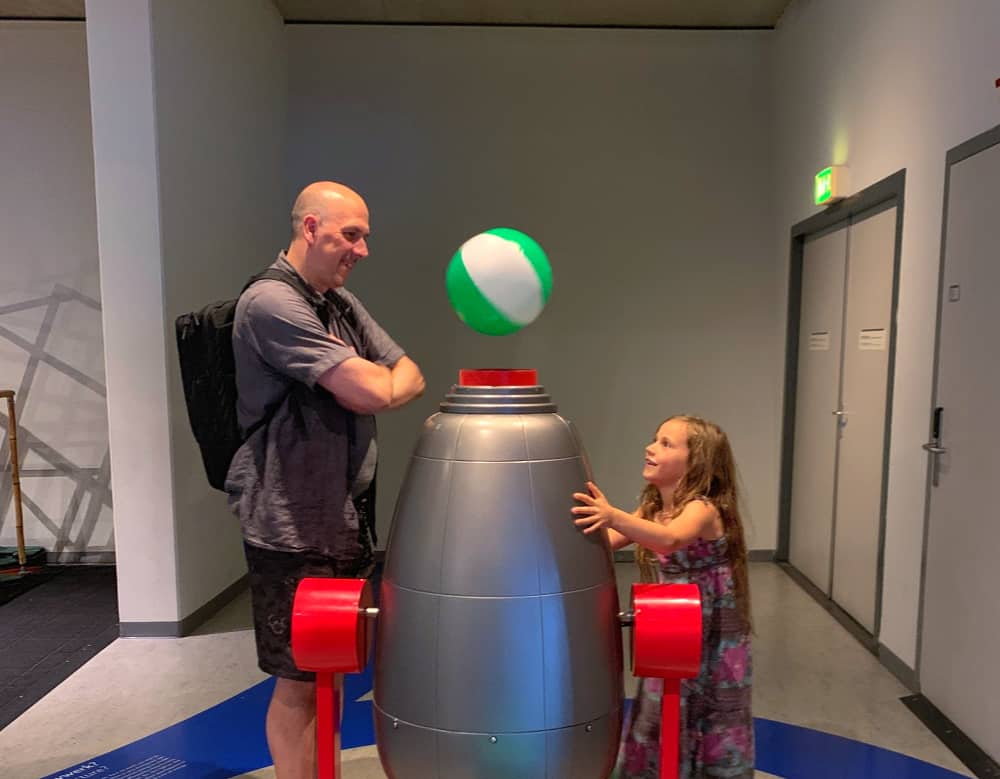 It was a pretty hot day when we visited Amsterdam, so we spent the entire day at NEMO.  Exploring the city would have been a bit too much for Daddy and the girls, so we made the most of our time at NEMO.  When it was time to eat, we found a Wagamama at Centraal Station with views over the harbour.  A pretty good choice, if I do say so myself!
After a fun day, and a lovely family meal together, we headed back to Eurocamp Duinrell for the evening show. It was the perfect end to a perfect day.
Wassenaar & Surrounding Area
Duinrell is in the beautiful town of Wassenaar, which is an affluent suburb of the Hague.  We took the short walk into Wassenaar to have a look around.  There was plenty of shops and cafe's as well as a supermarket which we visited a couple of times.
Wassenaar boosts a windmill, nature reserves perfect for walking or cycling and beautiful beaches also, so you really don't have to go far if you want to explore the local attractions outside of Duinrell.
I can see that staying with Eurocamp at Duinrell as the kids got older would keep providing new experiences as the family grew.  Duinrell is the kind of place families go back to because of the great facilities available for all ages and because there's plenty to discover nearby.
Things We Loved About Staying With Eurocamp at Duinrell
Our holiday home was a few minutes walk from the park
Daily access to Duinrell included in our holiday
Lovely campsite and facilities
Friendly Eurocamp staff
Well equipped holiday home
Great discounts for booking early and 2020 holidays
Excellent facilities for all ages
Just a 40 minute drive to Amsterdam
Some Useful Information For Eurocamp Duinrell Holiday Parc
Opening Dates:
29/03/2019 – 02/11/2019
01/04/2020 – 31/10/2020
Nearest Airport: Amsterdam Airport Schiphol
Nearest Port: Rotterdam
Nearest Beach: 4 kilometres
We received a complimentary stay at Eurocamp Duinrell Holiday Parc in exchange for this review but all thoughts and opinions are my own.
Pin our Eurocamp review for later