Sundance Trail Guest Ranch hosted my stay during a press trip to Colorado.
Being from the UK, staying on a dude ranch isn't something you get to do very often.  I had no idea what to expect from this part of our Colorado road trip, but it turned out to be a real highlight of the week. When I look back on the year our stay at Sundance Trail Guest Ranch left a real impression on me, so I decided it deserved a full review of its on.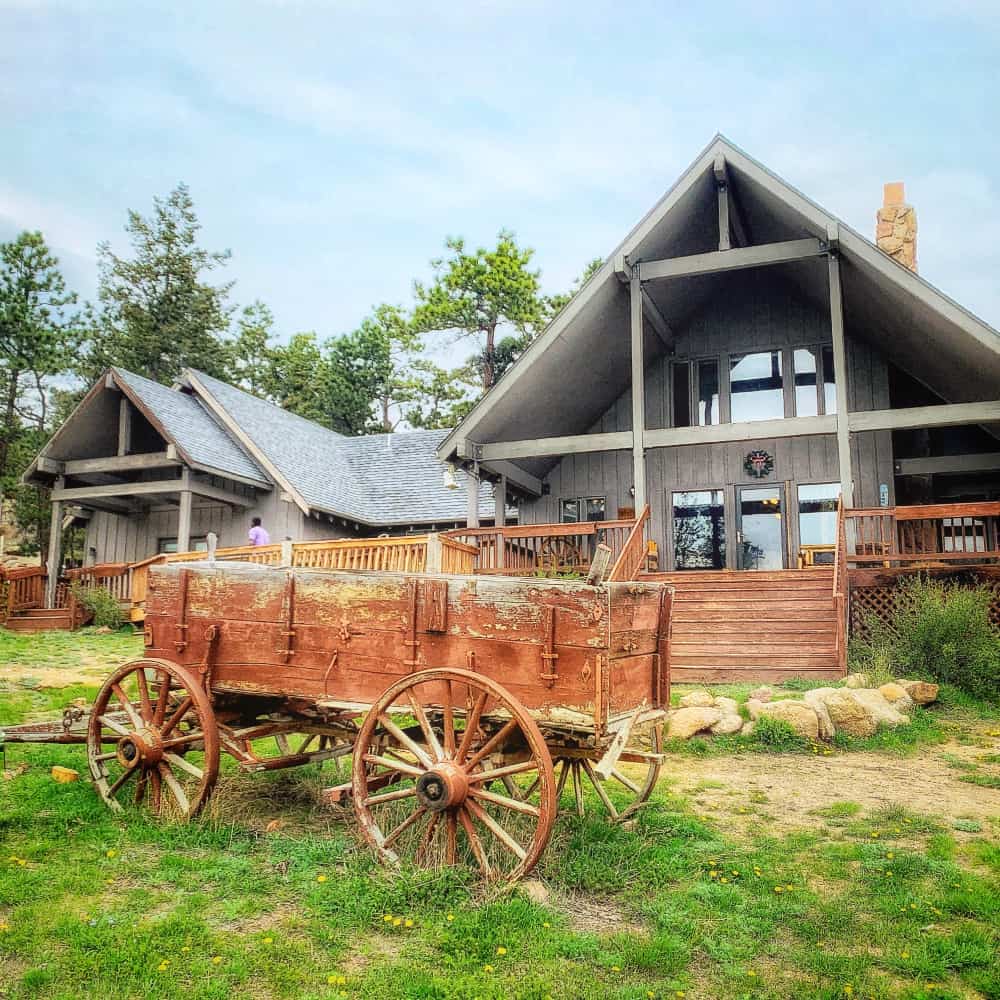 What is a Dude Ranch?
If you are not from the US, you might be wondering what a dude ranch is?  In terms of a  vacation it's an all inclusive holiday where you get lodging, meals and to experience a range of soft adventure activities in the wonderful outdoors.
As an experience, staying at a dude ranch is so much more than this. It's a place where you can fully immerse yourself in the western lifestyle in not only a fun but genuinely authentic way.  Wranglers will take you on daily horse rides if you wish and you can get involved with taking care of the horses too.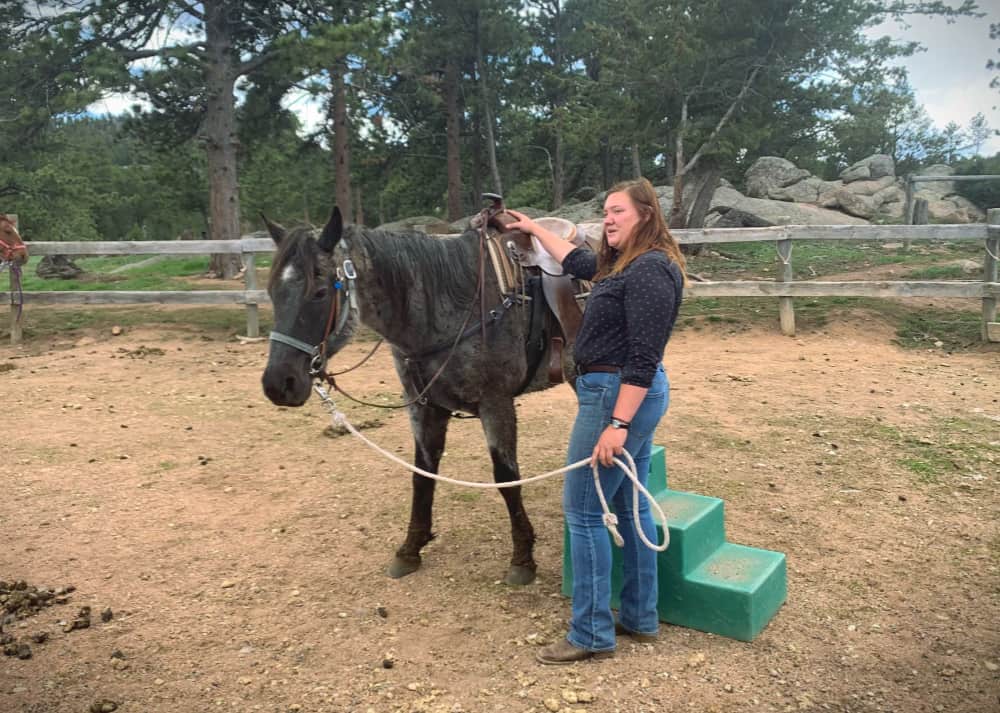 Cowboy hats and leather boots are the standard dress code and you can also expect awesome home cooked food at the end of a tiring day whether you've been riding, hiking or taking part in any of the other activities the dude ranch offers.
Why Did I Love Sundance Trail Guest Ranch
If you are looking for a dude ranch near Denver, then I'd definitely recommend checking out Sundance Trail Guest Ranch.  It's a really easy 2 hour drive from Denver which makes it very accessible if you are flying to Denver International Airport.
As we headed off road onto the track up to the dude ranch I was immediately transported to memories of watching Bonanza and similar TV shows when I was a kid.  I had thought cowboys where very much a thing of the past, but my visit to this dude ranch in Colorado was about to show me quite how wrong I was about that.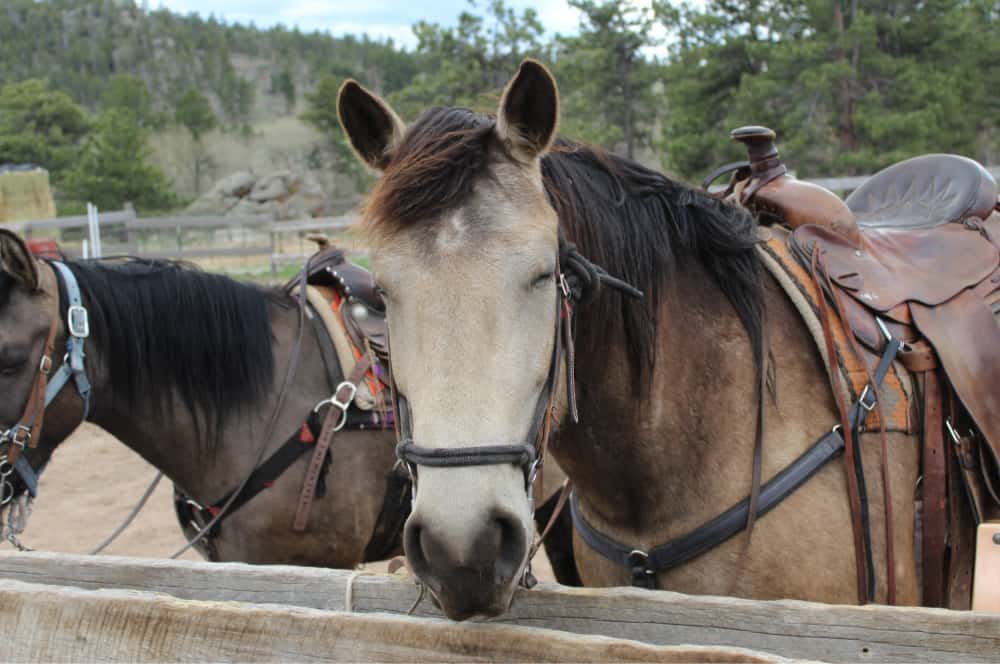 We jumped out of the mini bus and were given the warmest welcome by Dan and Ellen, who own this particular dude ranch.  We were shown to our accommodation and given chance to settle in before meeting up again for lunch.
Family Accommodation  – Apache
I was lucky enough to be staying in Apache which is a large family and disabled friendly accommodation within the dude ranch.  At the front of the accommodation there is a porch with outdoor seating with amazing views  – perfect for a morning coffee or catching up with your favourite book.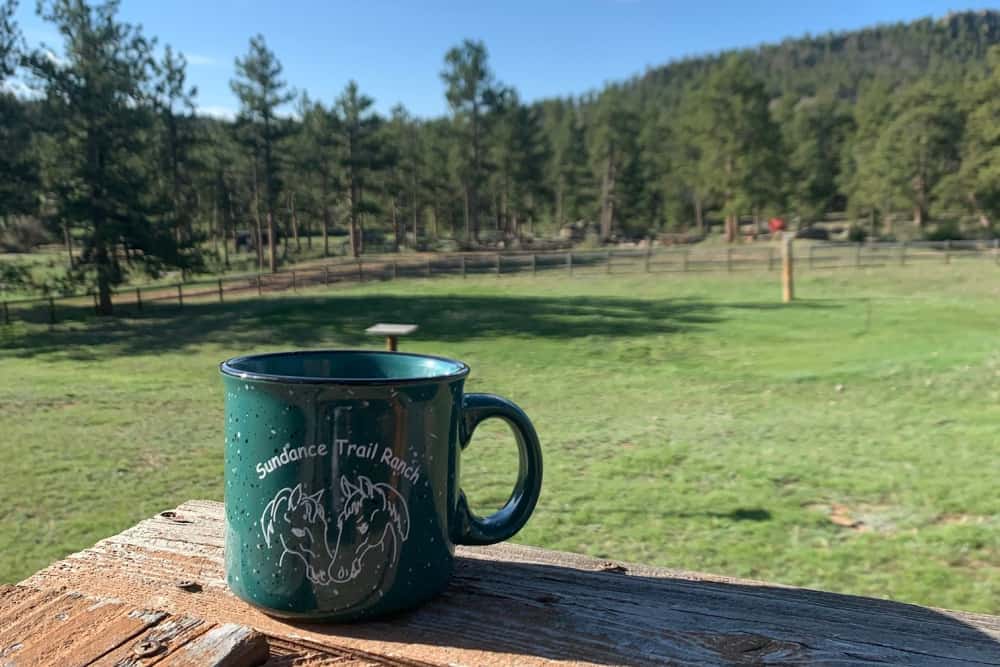 Inside was really spacious with lots of seating and a very comfortable king sized bed.  A small set of stairs led the way to a mezzanine floor with 2 single beds.  I could easily see Brook and Indie enjoying having this cosy space all to themselves chatting out their adventures on the ranch and their favourite horses.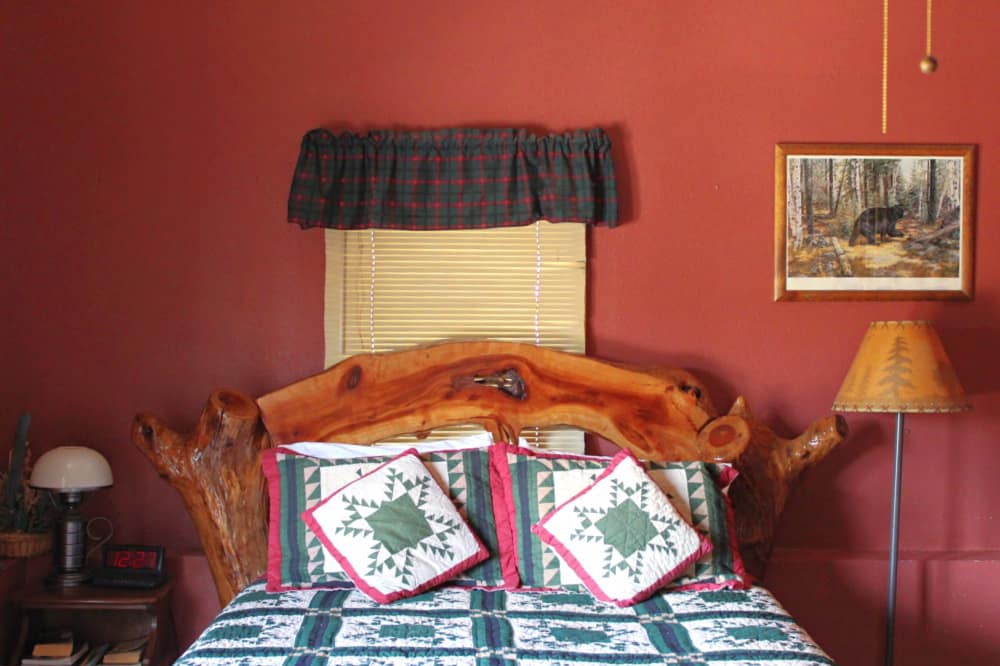 The bathroom was also very large and had a walk in shower. Towels and environmentally products were provided and all in all it was a really comfortable place to stay.  It was cosy and felt very authentic indeed.  I could easily have been in an episode of The Waltons or Little House on the Prairie for those of you who are old enough to remember those TV shows.
Eating Together at Sundance
Breakfast, lunch and dinner are provided at this dude ranch and everyone eats together in the main dining room.  It's a wonderful opportunity to meet the other guests and chat with the staff.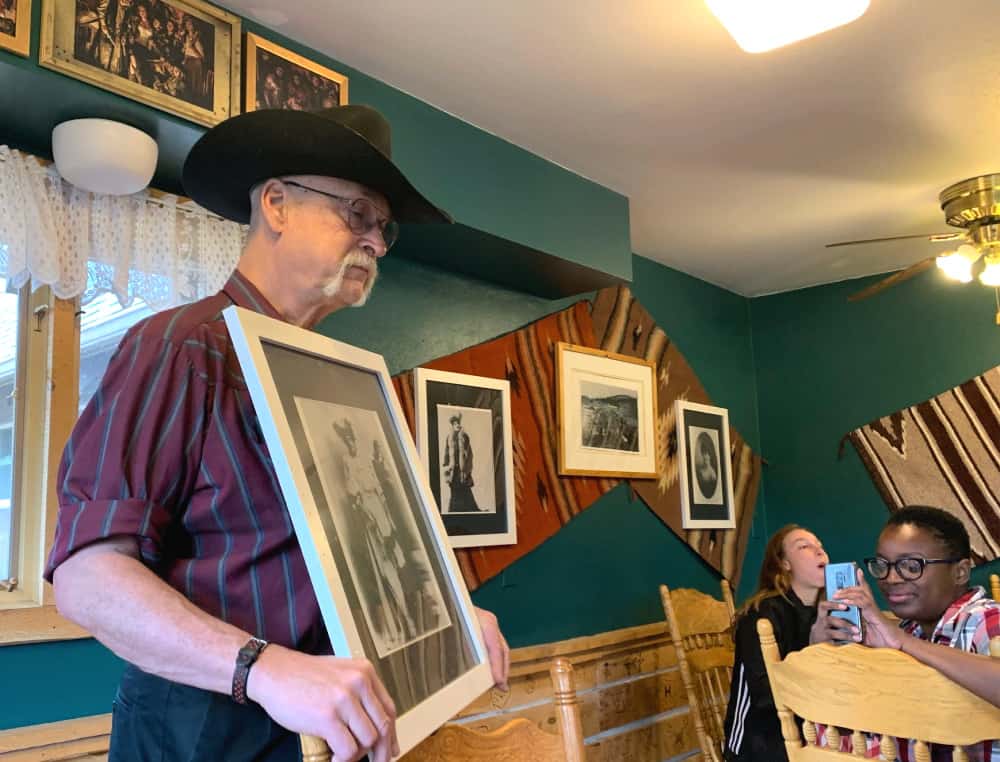 We enjoyed delicious home cooked meals throughout our stay which included biscuits and gravy (UK readers, this isn't what you think!), ribs, burgers, mac and cheese etc.  Meal times really were a very social experience and it was a great time to ask questions about the ranch and what people had been up to that day.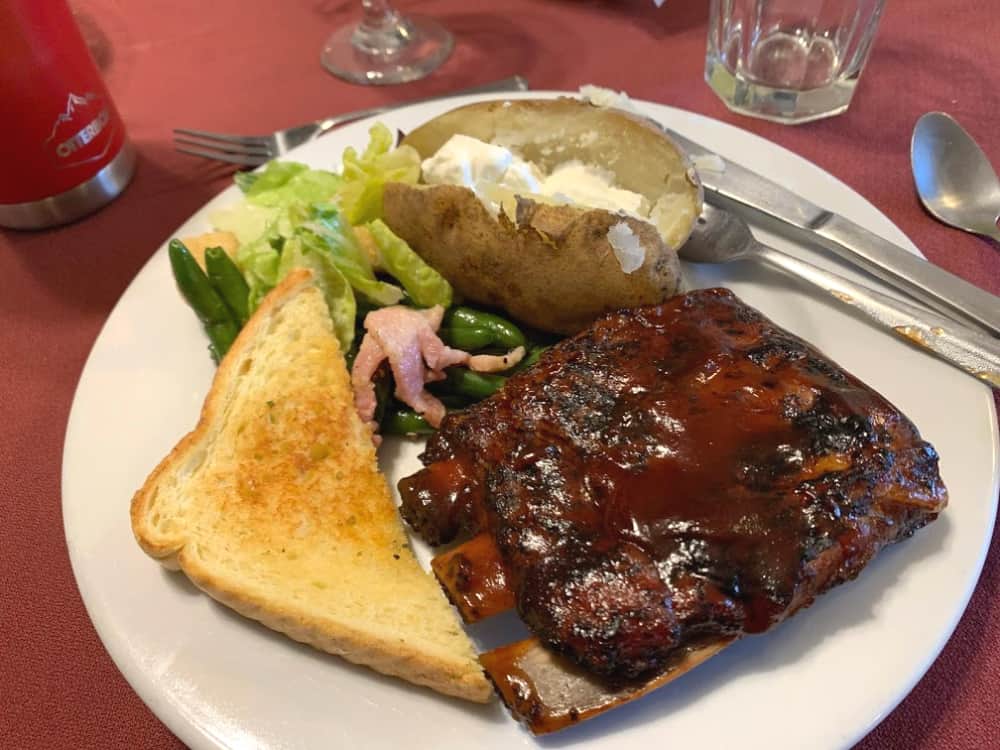 We also got to hear the tale of the Ghost of Lady Moon as told to us by Dan, the ranch owner. He's a very charismatic guy and the whole room pretty much hung on his every word.
Horse Riding at Sundance Trail Ranch
One of the main reasons to stay at a dude ranch is to go horse riding.  The thing with Colorado is that it has some epic scenery which lends itself very well to horse back riding.  I personally hadn't been on a horse for a number of years and anxiety was running a little high if I'm honest about getting on one again.  I need not have worried as I was literally in the safest hands with the wranglers at Sundance Trail Guest Ranch.
Before we even got near a horse we watched a safety briefing video featuring Dan and the horses from Sundance! Now, I know what you are thinking, this sounds pretty dull, right?  I wasn't expecting a lot to be honest, but actually I learnt more in that 45 minutes about horses and horse back riding than I learnt from the hours of riding lessons I took as a kid.  Not only did I learn some really important techniques for riding  safely but it also gave me a huge amount of faith in the staff and horses at Sundance.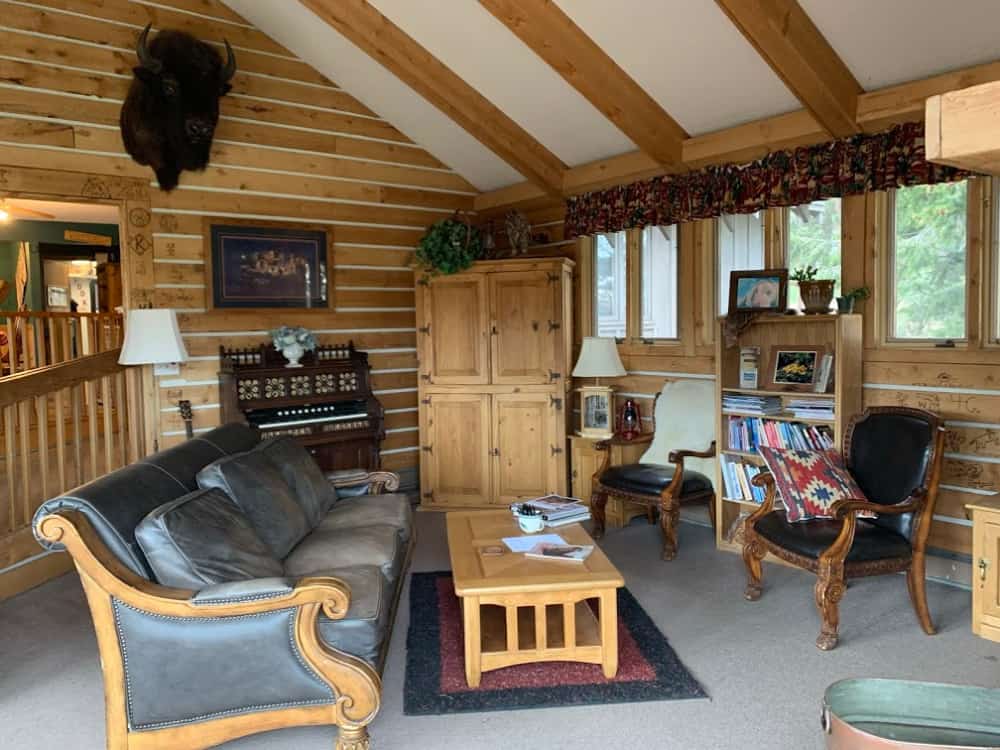 We went out on a short trail shortly after watching the video. We grabbed hats, and cowboy boots for those that wanted them, and went to meet our horses.  They were so calm and placid that I would not have had any concerns at all about Brook or Indie riding one of them if they had of been with me for this trip.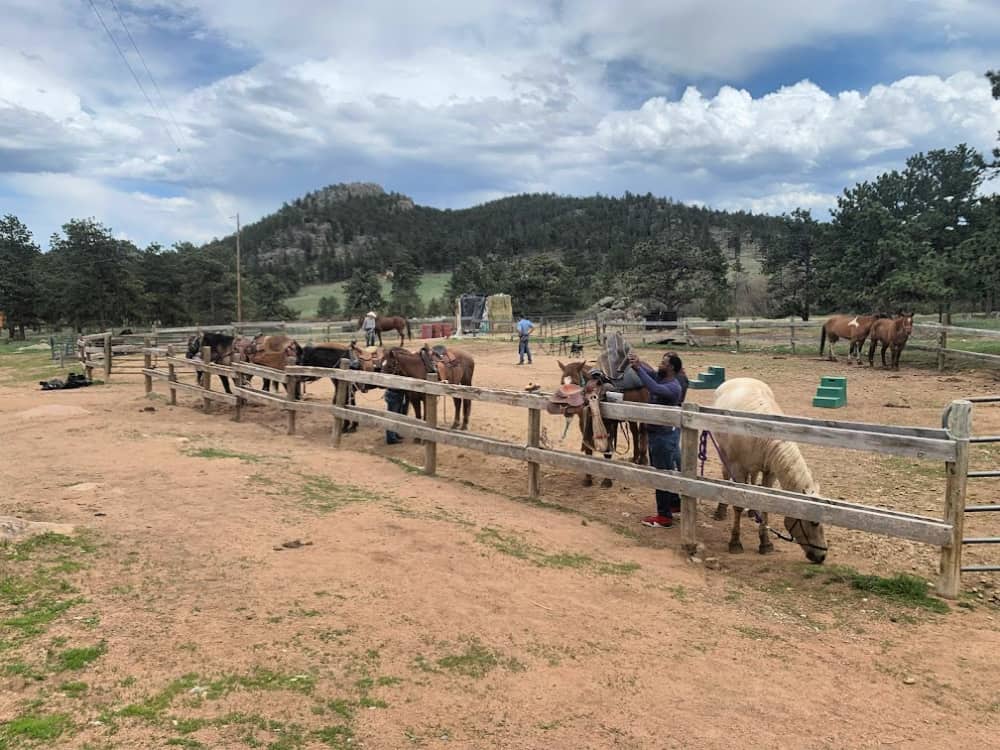 There are a variety of trails which takes in different vantage points around Sundance.  The dude ranch is surrounded by the Rocky Mountains and the horse riding trails are designed to not only build confidence but to also take in the beautiful natural surroundings.
We were only at Sundance for two days so there wasn't a great deal of time to advance my horse riding skills, but I can imagine that if you stayed here for a week you would be very confident riding a horse by the end of that time.
What to Pack for a Dude Ranch
This is probably a great time to talk about what to pack for a dude ranch vacation or holiday.  I'm sure the biggest question is 'do you need horse riding boots or cowboy boots' for your stay.
If you are staying at Sundance Trail Guest Ranch the answer is no – they have plenty of riding and cowboy boots you can borrow if you need them.  Personally I didn't use them and found that a good pair of walking boots was perfect.  They also provided riding hats.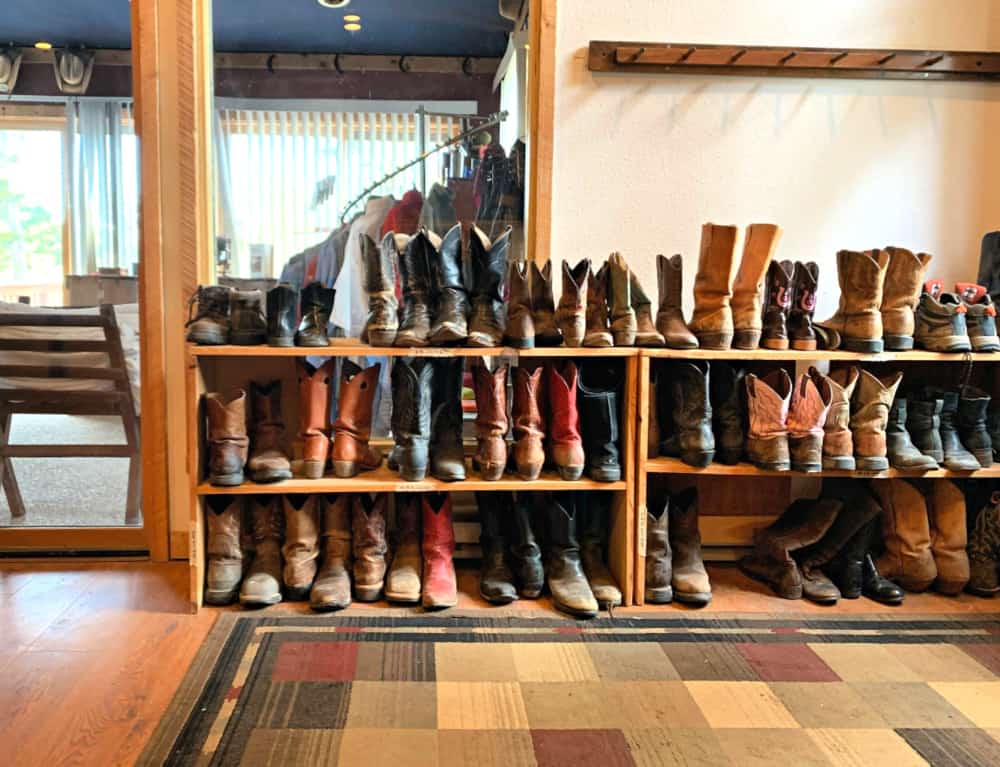 As with any other active holiday you need to be comfortable and prepared for the weather so an ideal packing list for a dude ranch would be something like this:
Comfortable outdoor jacket (waterproof would be ideal)
Trousers or jeans comfortable for riding in
T-shirts/tops (think layers if the weather is cold)
Hats and gloves
Fleece
Swimsuit for the hot tub
Refillable water bottle
Camera/phone and chargers
Sun cream
Long socks
Backpack
Good boots for walking and riding
Extra items you might want to bring along are binoculars, a head torch and insect repellant. Click here for more Colorado travel tips.
Facilities at Sundance Guest Ranch
As well as providing excellent family accommodation and beautiful scenic views, Sundance also has a recreation barn where you can hang out and play pool or table football. The main lodge parlour also makes for a cosy lounge to read books, watch films or even better play board games or cards.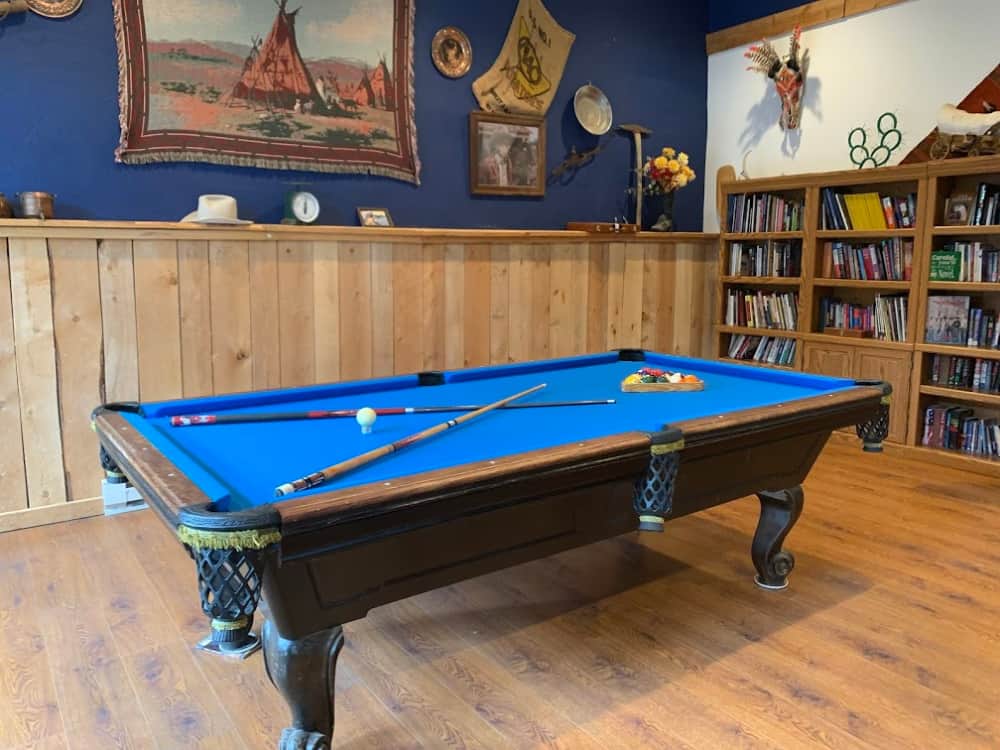 If you visit Sundance Trail Guest Ranch in the summer you also get the opportunity to go river rafting, rifle shooting, rock climbing, hiking or even play disc golf which looks lots of fun.
During our stay at the dude ranch we were treated to an evening of line dancing which was so much fun.  I think it was dancing with real cowboys that made it that little bit extra special!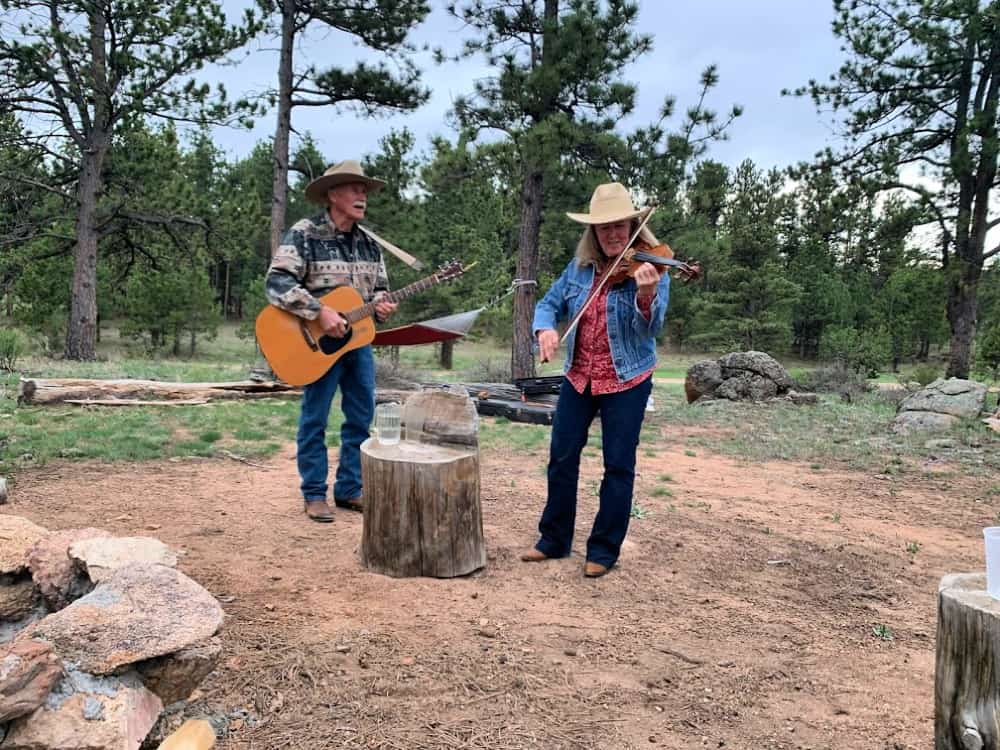 We also were treated to a nature walk where we learned about the local plants and in particular what health and well being benefits they had. I'm not sure this experience is always available at Sundance, but it was really interesting and I think they should add it to their holiday program permanently!
We also spent a night outside around the campfire listening to traditional live music with a fun element of audience participation.  We made s'mores – which was awesome! How can you sit round a campfire in somewhere like Colorado and not make s'mores.  I hadn't realised I needed this on my bucket list until that very moment but I was so pleased that I did AND that I managed to tick it off there and then!
Do You Have To Go Horse Riding?
Horse riding is certainly a big part of the experience at a dude ranch but if you don't want to do it, then that's OK too.  I did skip one of the longer rides just because I wasn't feeling confident enough to take it on.  Being a somewhat larger lady than most, means you get sat on the biggest horse, and as adorable and calm as she was, my riding ability just wasn't quite there given the time we had on the ranch.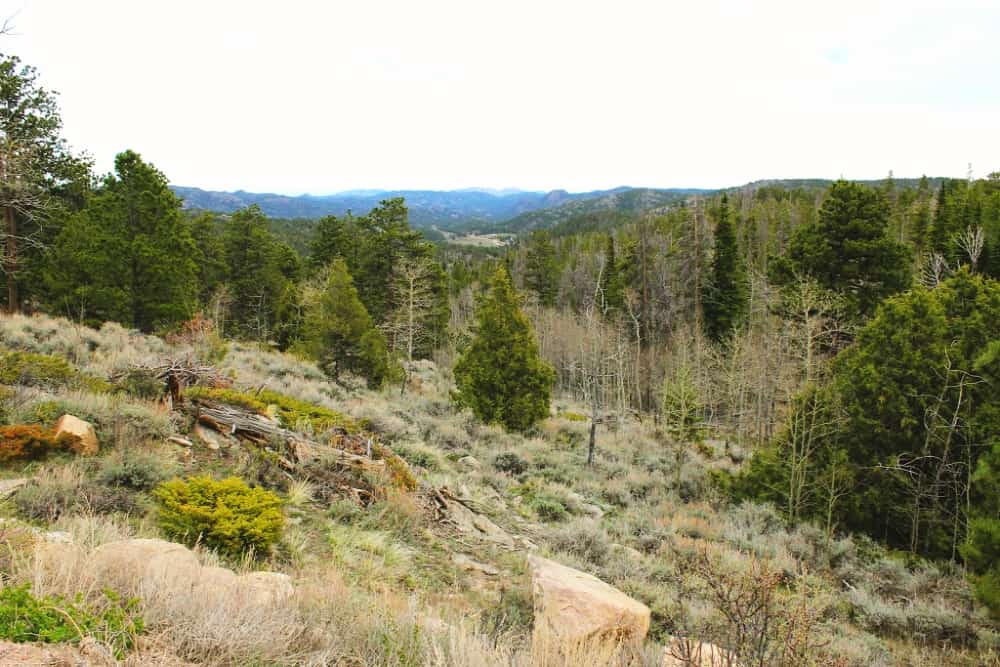 Sundance in particular is a wonderful place to enjoy the wildlife, and I loved the humming birds, chipmunks and steller's jay's that regularly visited the porch during our stay.  Walking and hiking are also great activities if you want to enjoy your stay at a slower pace.  It means that older family members can still visit a dude ranch even if they don't want to take part in all the activities.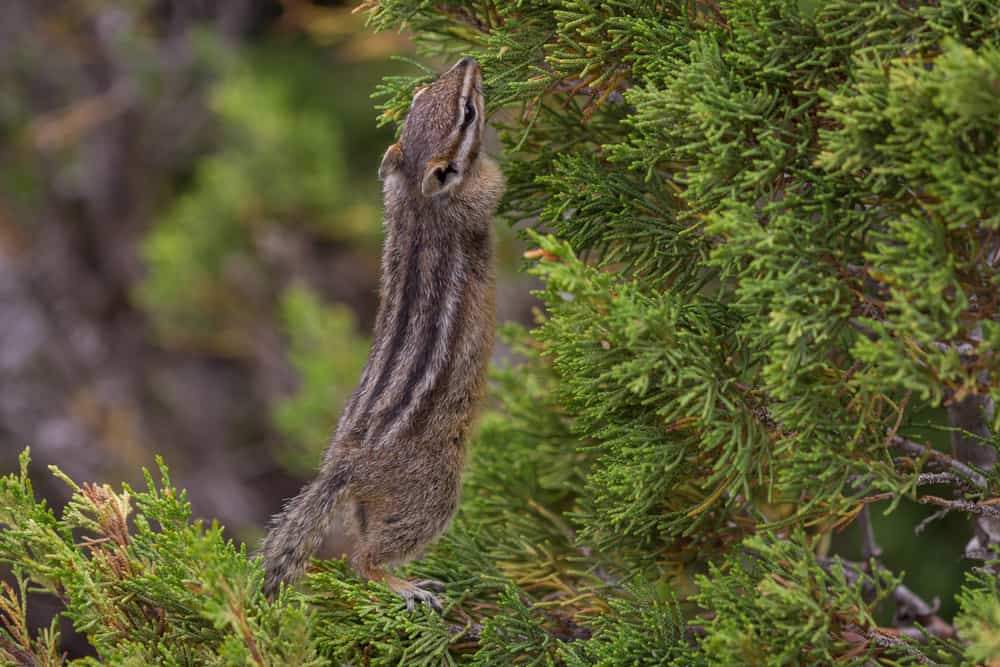 During our stay, Ellen was kind enough to take me out on a scenic drive around Red Feather Lakes.  It was lovely to spend time with her and find out more about the dude ranch lifestyle.  She said she often took people out around the areas if they didn't ride the horses.  I really got the feeling that both Ellen and Dan cared about everyone's experience at Sundance Trail Guest Ranch.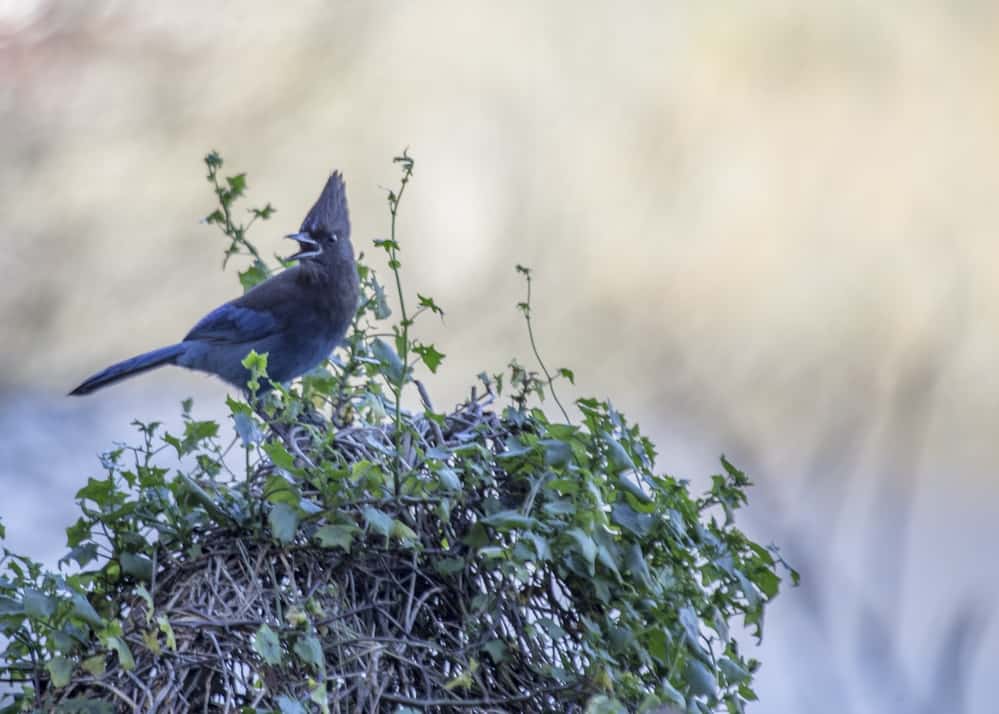 She explained to me that it took them 2 years to buy their dude ranch as they were keen to find a location within easy reach of Denver and that offered interesting horse back riding for it's visitors.  Sundance Trail Guest Ranch has become a very popular destination for this type of holiday because not only do you get an excellent experience but you also get a wide variety of activities to choose from so you can make the most of your time in the outdoors.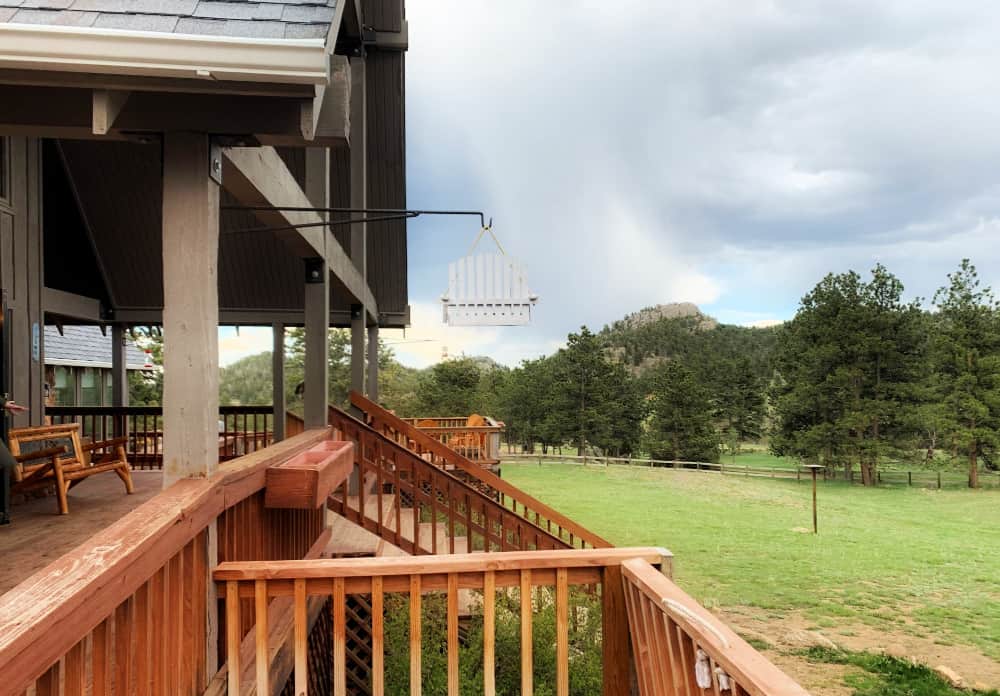 Final Thoughts on Staying at a Dude Ranch
If you are looking for things to do in Colorado I would have no hesitation at all in recommending that you spend sometime at a dude ranch, and I would also be more than happy to recommend Sundance Trail Guest Ranch as one of the best based on the experience we had during our stay.
It was incredibly authentic, the people were lovely, and the setting was just stunning. It also gets brownie points for being in a great location and having some amazing horses.  If you love the outdoors and horse riding in particular this is definitely an experience you want to add to your family bucket list.
Love the idea of staying at a dude ranch? Save this post for later