We were provided with a complimentary stay at Crealy Theme Park & Resort during Spook Fest in exchange for this review.  
Some holidays should just be easy.  We have lots of different types of adventures with the kids but sometimes we just want them to have fun. Sometimes we like to go away with out Daddy and to make things a little easier finding holidays with plenty to entertain the girls work really well.  We all know that family travel comes with a number of challenges and a holiday to somewhere like Crealy Theme Park can provide a welcome break from some of those issues.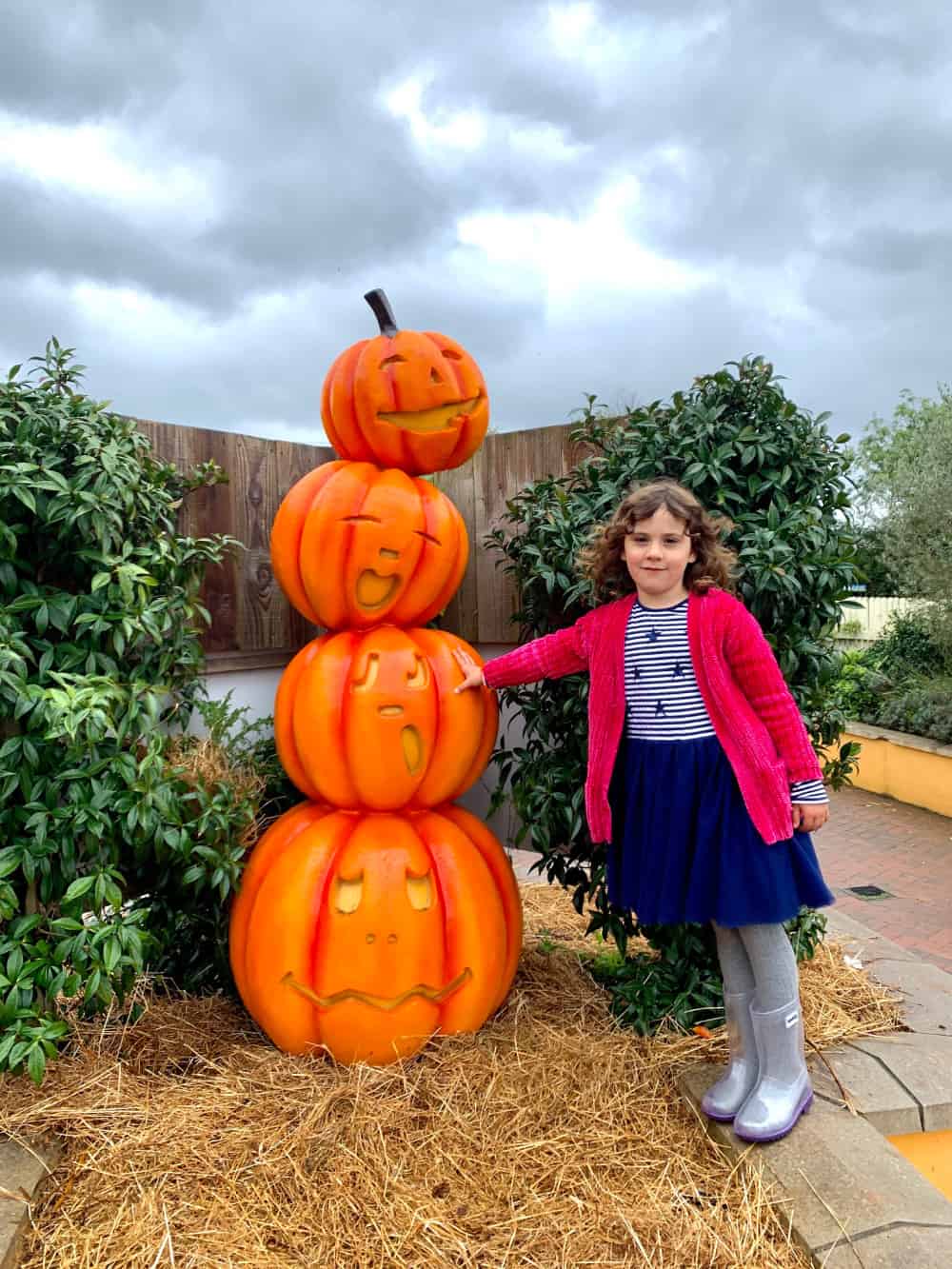 We decided October would be a great time to head back to Crealy Resort to see how they were going to be celebrating Halloween. It's a pretty easy road trip from Nottingham to Devon. With lots of snacks and entertainment in the back of the car for the kids we hit the road for a mid week break at Crealy Meadows for Spook Fest.
Getting to Crealy Meadows
When you arrive in Devon, Crealy Resort is really easy to find.  It's just off the M5 outside Exeter and is clearly signposted as soon as you get nearby.  We arrived a little early for check in, but that was OK, as the receptionist issued us with our wrist bands and we went straight into the park until our safari tent was ready.
Spook Fest at Crealy Theme Park & Resort
As we headed into Crealy we spotted lots of pumpkins and scarecrows decorating the rides.  We definitely were feeling the Halloween vibes!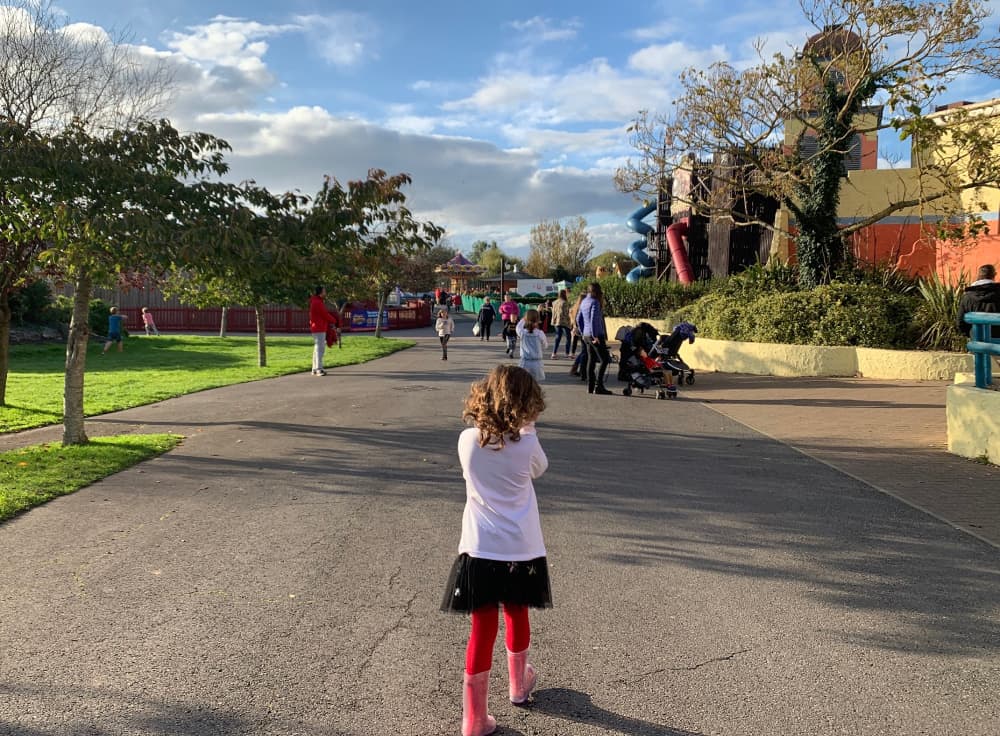 Our first stop was Atlantis, the indoor soft play, so I could grab a hot coffee and the girls could burn off some energy.  The indoor play areas and rides at Crealy Theme Park are as impressive as the outdoor ones and the girls were definitely making the most of what was on offer.   
As we all know the weather in Devon is no different to other parts of the UK. It can be a little unpredictable so the indoor soft play areas are perfect.  That being said, we had beautiful weather for most of our mid week stay at Crealy Meadows.  Occasionally I really had to remind myself this was October half term as the sunshine and blue skies were more like summer.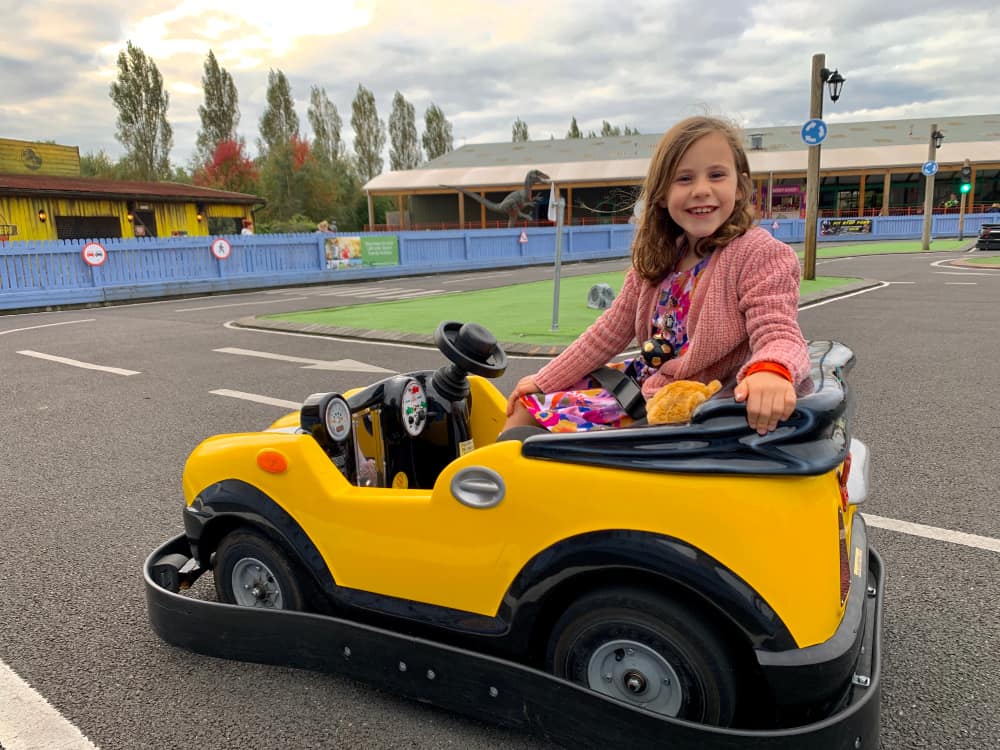 Once the kids had run out of energy in the indoor soft play, they were keen to go on Junior Driving School.  They must have gone on this ride 5 or 6 times.  It's such a big hit at Crealy Theme Park and seeing as the queues weren't too long they made the most of it.  The smiles on their faces said it all.  I was so pleased to see our Devon holiday getting off to such a good start.
We spent the rest of the week enjoying the different Halloween events at Crealy Spook Fest as well as the other fun rides and attractions.  Seeing as we were staying at Crealy Meadows we had the luxury of taking our time to enjoy Spook Fest.  That being said, if you visit the park for the day, you can validate your ticket and get up to 7 days entry! This is excellent especially if you want to come back for the Fireworks Extravaganza which I've heard is an excellent event.
The Spook Fest map is brimming with lots of helpful information which we found really helpful.  Some of the Halloween activities were scarier than others – and the handy scare rating will tell you which ones these are. Indie is a little sensitive so we decided not to visit the Scarecrow Maze, Jesters 3D Fun Maze and the Creaky Hotel.  These activities are for slightly older children  – from 8 years old and upwards.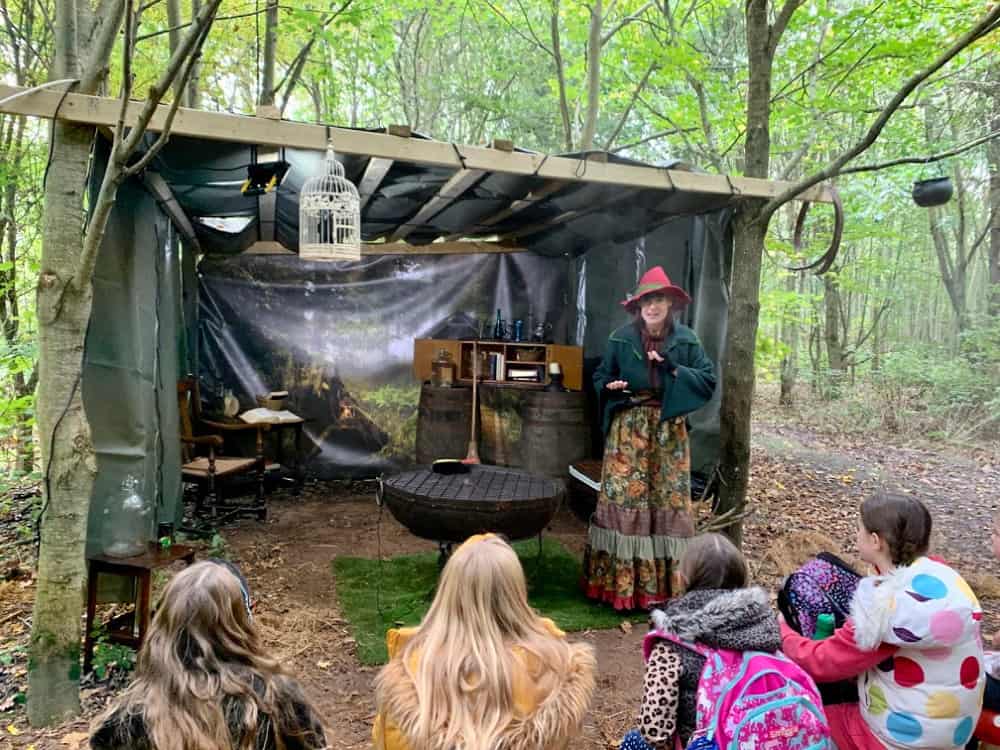 There was still plenty of Halloween fun to be had a Spook Fest and the Witches of the Wilderness in particular was a a huge it – we really enjoyed the magical story telling and of course getting a huge lolly from a very special witch made for some very big smiles indeed. 
We also loved the Halloween Glow Show.  We didn't really know what to expect from this but it was absolutely delightful and perfect for all ages.  The way the spookier elements of the show were dealt with to show the children it wasn't scary at all was genius and it really showed how much Crealy Theme Park care about giving all its guests a fun day out.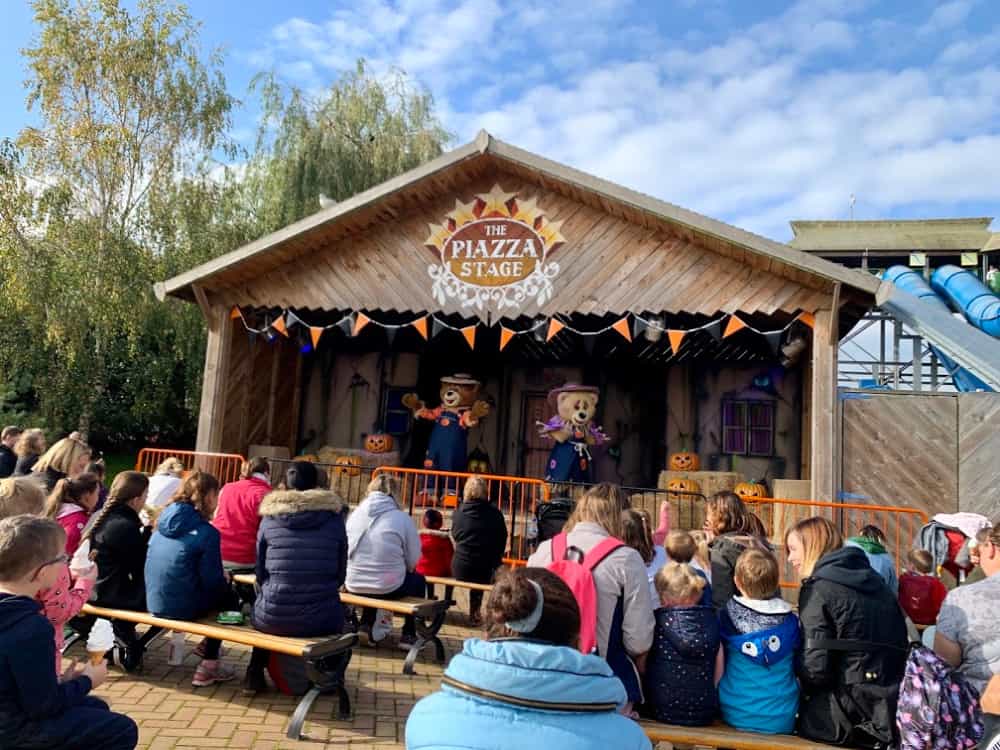 Buddy and Blossom's Scare Bear Show is also perfect for the younger age group.  Buddy and Blossom are Crealy's famous bear characters and they make lots of appearances around the park throughout the day.  We spotted Blossom and grabbed a quick photo opportunity with her during our visit. 
We caught the show at lunchtime and the sun was beaming down on the Piazza Stage creating a perfect outdoor theatre atmosphere.  The show was full of songs, dancing and a few tricks to keep Buddy on his toes.  The kids were on their feet and getting involved with the action so they were definitely having a good time.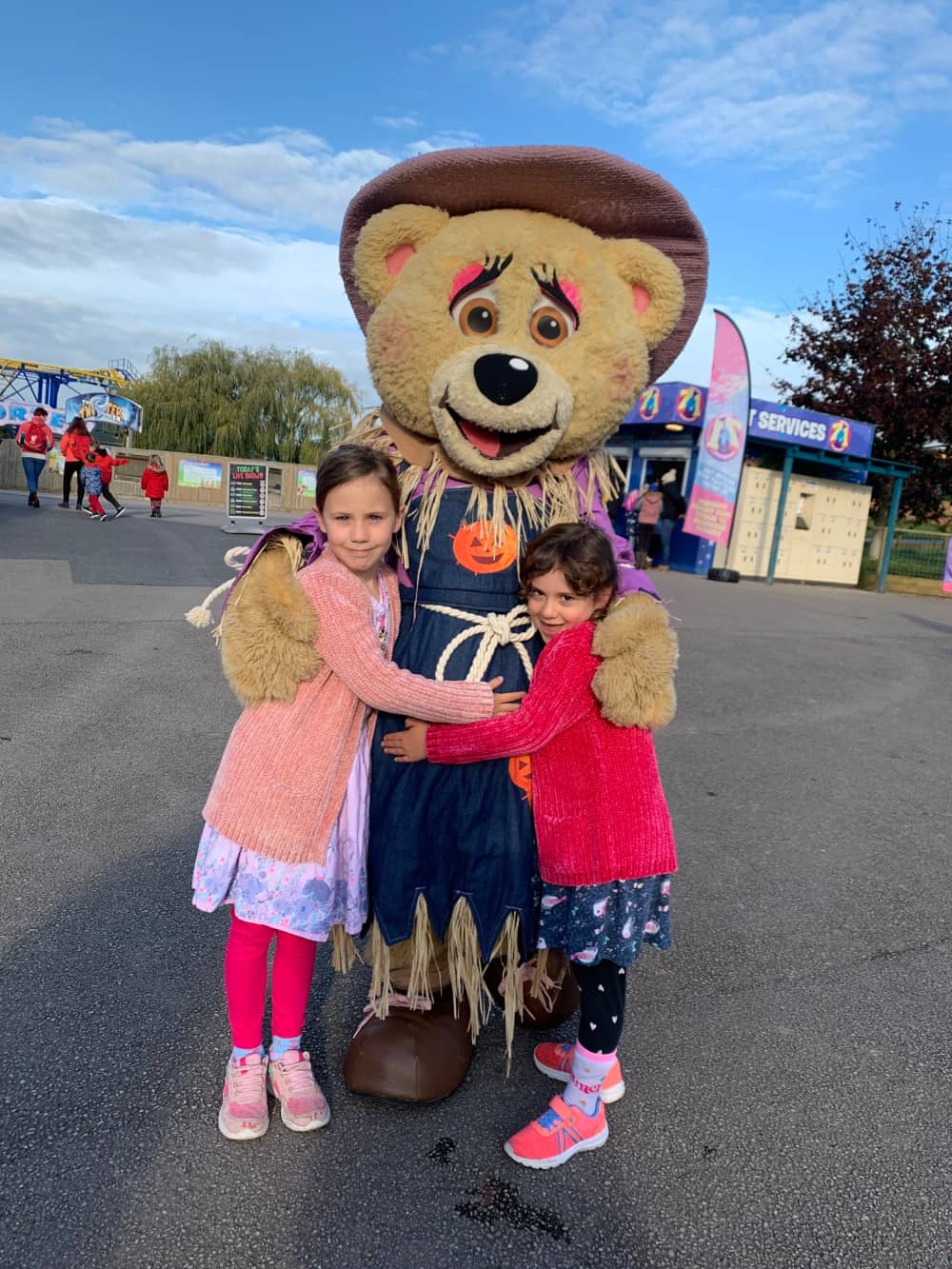 Crealy Theme Park also provides every child with a pumpkin during Spook Fest which is just amazing.  As we were staying at Crealy Meadows we carved our pumpkin here as well.  Personally I'm a huge fan of carving a pumpkin any where else but at home as I'm not a big fan of the mess.  Indie made her own creation which she is very proud of.  Brook picked the BIGGEST pumpkin she could find and then delegated the task of carving a cat into it to me.  I think I did an OK job to be fair!  I just hope they both make it home for Halloween in one piece.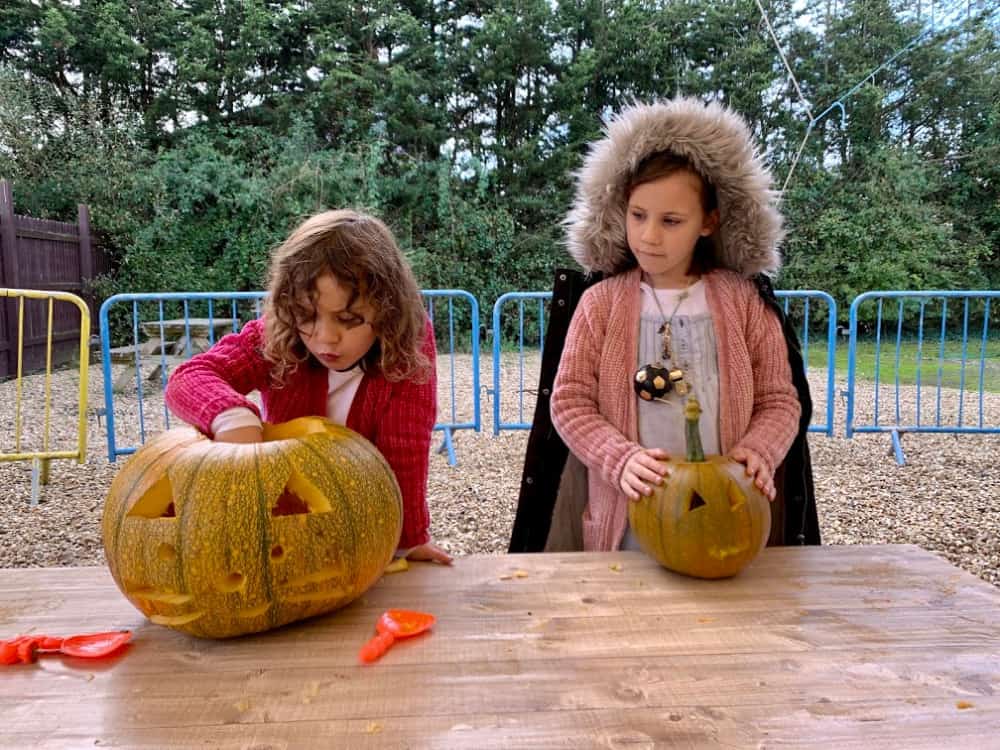 Luxury Safari Tent at Crealy Meadows
We really love the Luxury Safari Tents at Crealy Meadows.  They are perfect for a family mini break to South Devon for lots of reasons.  The first thing we noticed when we walked in was how toasty warm in it was.  There are two radiators inside the tent and they are perfect for keeping the tent cosy even in the colder months.  It also helps that the safari tent is fully carpeted.  We actually  found we had to turn the heating down and open the windows while we were bringing in our luggage in as it really was very warm inside.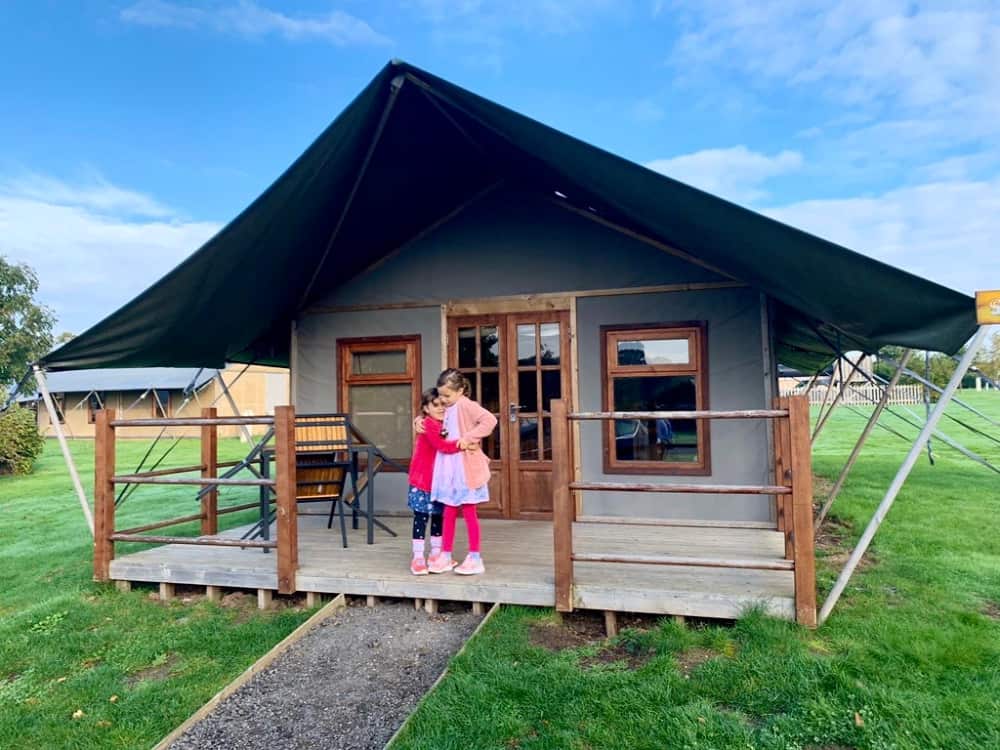 We had so much room in the safari tent for the three of us as it actually sleeps 6-8 people.  I had the double room to myself and the kids had a bedroom with bunk beds and a double cabin bed which was like a den.  There's a lovely big dining table for self catering and a well equipped kitchen if you want to to cook.  There's a fridge freezer, kettle, toaster, combi oven, pots, pans plates etc.  You also have a kitchen sink with hot and cold running  water.
Sleeping in the luxury safari tent was just brilliant.  The girls think it's such a great adventure which always makes for a great holiday.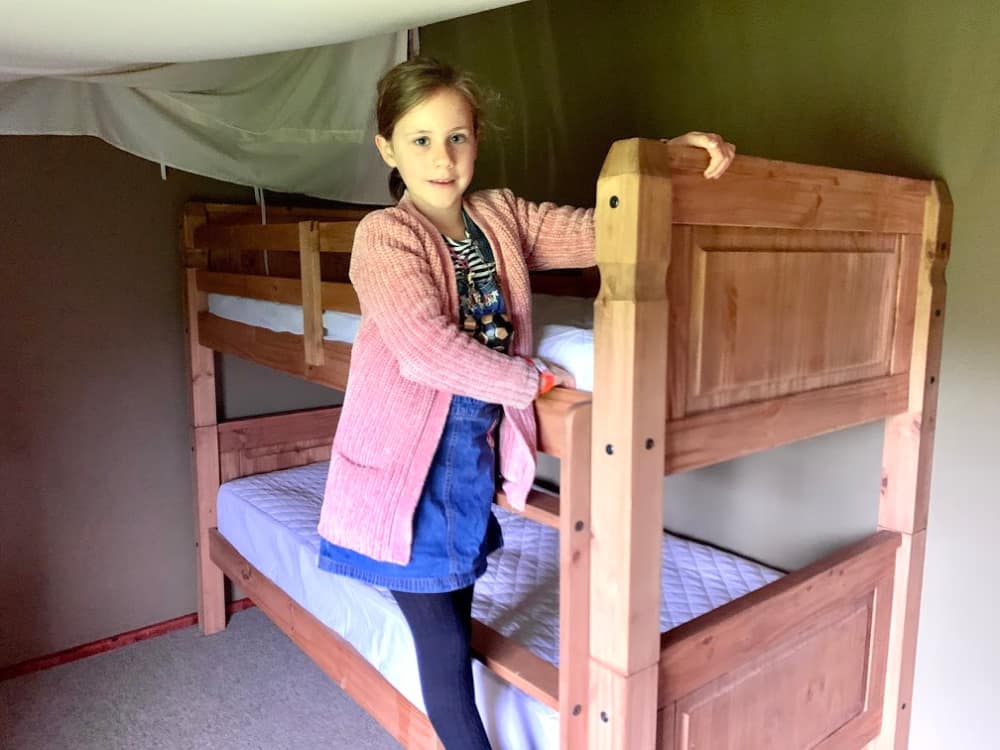 There's also lots of windows for light but they all have good black out blinds so we've actually managed some lay ins as it's also really dark and private when they are all closed.  One morning Indie didn't get up until 9.30am and that was because I woke her up! She would definitely have slept longer if I had of let her.
We were also staying very close to the toilet and shower block which was really handy!  There isn't any bathroom facilities in the luxury glamping tents but the facilities at Crealy are excellent.  The family bathroom is a godsend and there's a shower, bath, two toilets, sink  and a changing table.  I could easily put Brook and Indie in the bath while I showered which made life a bit easier for all of us.
The park entrance was just few minutes walk from our safari tent so could go straight into Crealy as soon as we'd had breakfast.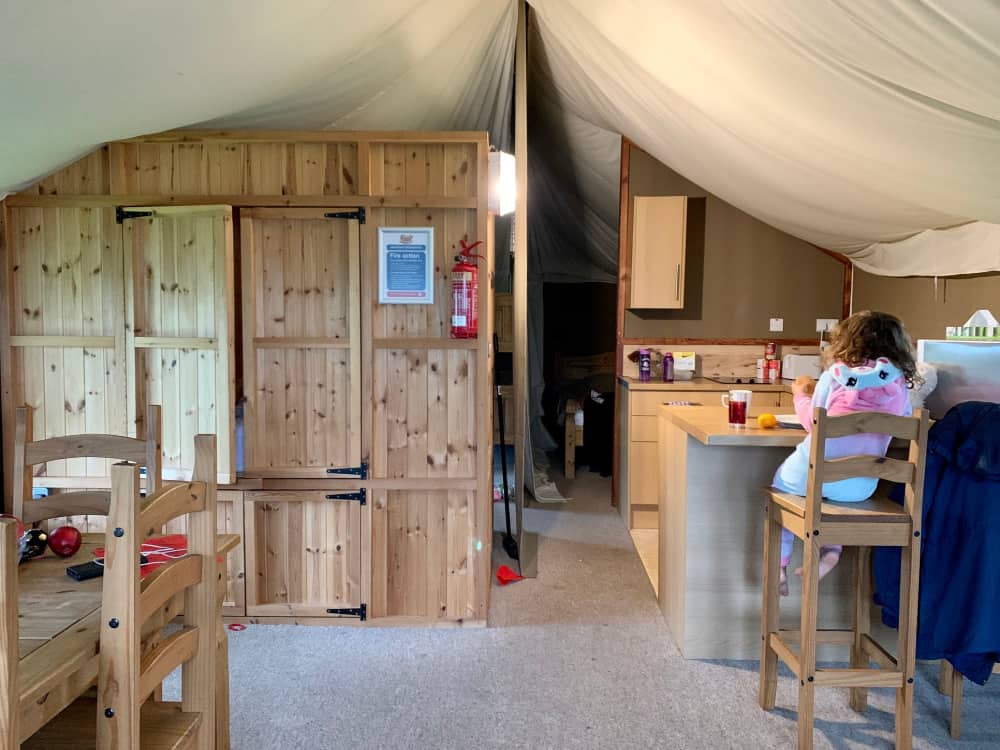 If you are staying in a safari tent at Crealy Meadows these are the things that you should bring with you:
bedding/pillows
towels
tea towels
washing up liquid
pan scourer
hand soap
bin liners
tea/coffee/milk
tissues
wipes
food
potty for young children
toiletries
If you want to have a break from cooking, there is plenty of places to eat in the park.  The Clubhouse at Crealy Meadows serves breakfasts and evening meals at a very reasonable price.
The staff at Crealy Meadows reception are so helpful.  We popped in with a couple of questions and they were quick to help us out.  In my opinion they went above and beyond what they needed to do to make our stay as comfortable as possible.
We visited The Clubhouse most evenings and the girls had so much fun playing games with the Entertainment Team.   There were paper airplane competitions and dance offs as well as kids bingo and Halloween Costume competitions.  The kids joined in all the fun and it's one of the rare occasions they have been allowed to stay up past their bedtimes while on holiday!
The Entertainment Team were just brilliant.  Not only at playing lots of fun games with the kids but coming round and spending time with them afterwards making sure they got to know everyone a little better during their stay.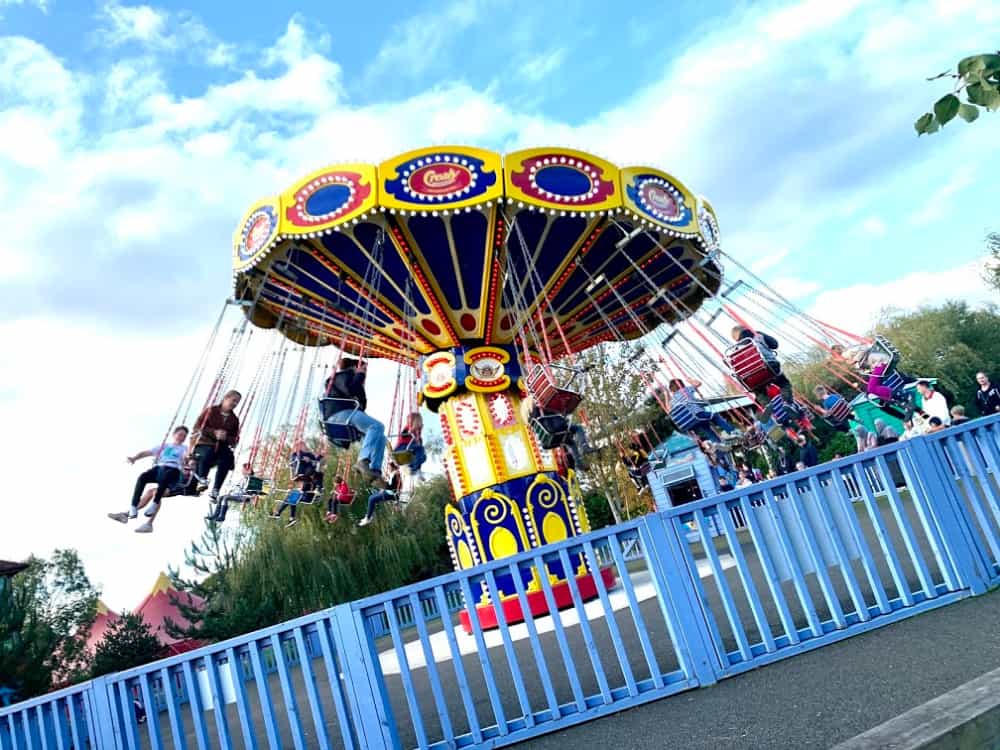 A great way to test how family friendly a holiday is to visit as a solo parent.  I had really wanted Brook and Indie just to have a fun holiday with lots of Halloween themed activities.  We already know they love Crealy and Devon is such a great location as well.  We didn't leave the park at all during our stay as we wanted to enjoy Spook Fest and the attractions at our own pace.  Brook and Indie are at an age where they want to go on rides and go in the soft play.  They wouldn't have forgiven me if they didn't get chance to carve a pumpkin either.
What Crealy have done very well is provide a range of Halloween themed activities and shows for children of all ages.  If you haven't already visited Spook Fest yet, I'd definitely recommend it.  Once you have been to Spook Fest at Crealy Theme Park and Resort once it's highly likely it will become a Halloween family tradition.
>Click here for details of our exclusive discount code for Crealy Glamping Breaks<