Our experience with the Novotel Seville started a few months before our stay to be honest.  I booked the Novotel Sevilla hotel directly through the Accor Hotels website.  I had booked a stay for the beginning of the summer holidays, or so I had thought!  I went to check my booking sometime later and I realised I had made a mistake.  I had managed to book our flights and the hotel on completely different weeks.  I felt like such a numpty.
I'm so glad I had realised my mistake when I did as the situation could have been a lot worse.  Changing the flights with Ryan Air was going to be very expensive.  The hotel booking was non refundable but I decided to give customer services a ring anyway.  The representative wasn't able to help me directly but she advised to ring Novotel Seville directly.  They agreed to amend my booking to the same week as my flights for a relatively small fee compared to how much it would have cost to change the flights! Phew! The trip was back on and our holiday budget wasn't blown on correcting my silly mistake.
Getting to Novotel Seville
We flew from East Midlands Airport directly to Seville.  This was a super easy trip for us as we live about 40 minutes from the airport.  When we arrived in Seville we opted for Uber to get us to the hotel.  We were tired from an early start, had 2 mischievous kids in tow as well as all our luggage so for us it was the simplest option.
It's about a 20 minute drive from Seville Airport to Novotel Seville and the Uber fare for this trip was about 16 Euros.  We felt that was really reasonable for a family and it was certainly a convenient option.  It would have been possible to catch a train and it would have been even cheaper.  We used Uber to get back to the airport as well, so the total cost of our airport transfer was just over 30 Euros.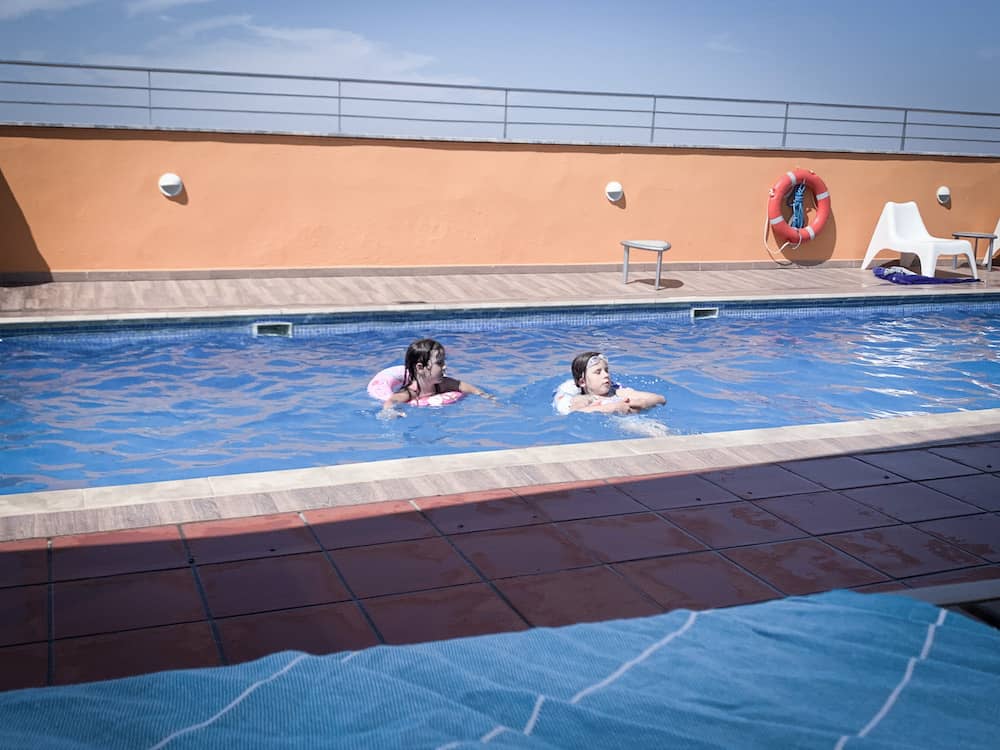 We were very early for hotel check in but we were able to store our luggage and we went to explore the hotel pool.  It's safe to say that Brook & Indie were pretty keen to get in.  We could certainly tell that we were in for a scorcher during our stay and I was really pleased I'd booked a hotel in Seville with a pool.
Family Room at Novotel Seville
The receptionist let us know as soon as our room was ready and we went to get settled in.  The room was clean and well presented with a double bed and a sofa bed ready made up.  The feature wall art was a lovely touch and really lifted the room. There was also a good sized bathroom with a bath as well as a shower.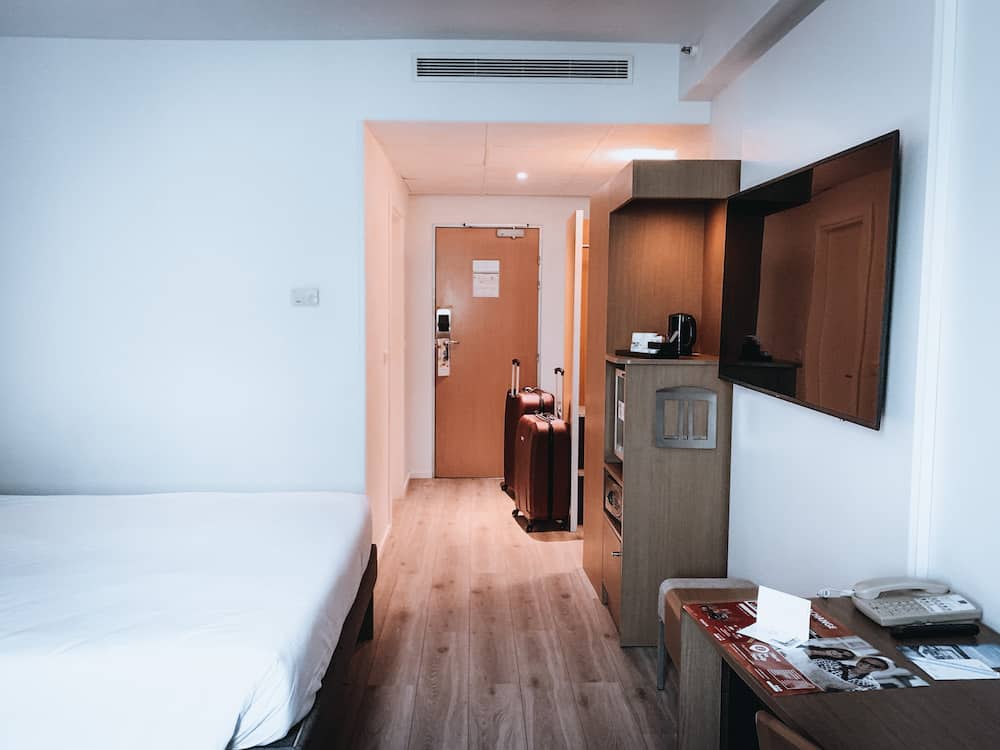 We were pleased to see tea and coffee facilities and a fridge that proved super hand for our stay.  We had a good sized desk, flat screen TV and lots of storage.  I'm also pleased to say that the air conditioning worked very well.  It reached 42 degrees at one point so we were glad of the temperature control during our stay.  The WiFi was also excellent and I was able to catch up with plenty of work while we were back at the hotel in the evenings.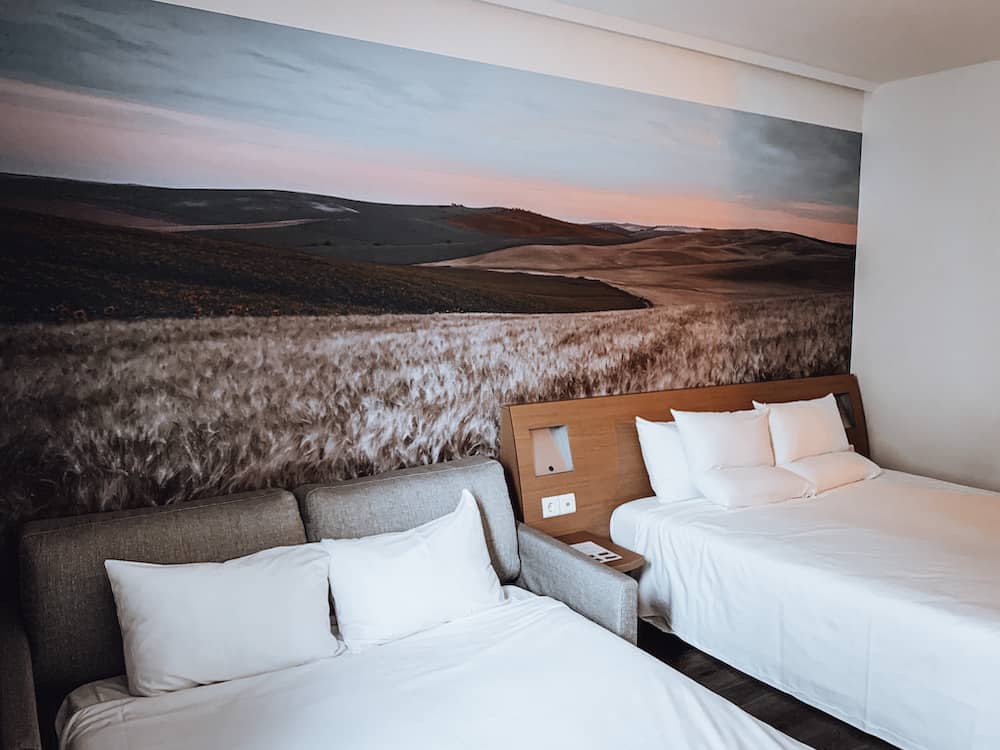 Hotel Location
Whilst the Novotel Sevilla isn't in the centre it's still in an excellent location.  The metro stop is a 2 minute walk from the hotel and we used it every day.  The Plaza de Sevilla was just a few stops away and from there you can easily access the Old Town, Seville Aquarium and the other city centre attractions. You can read all about our suggestions of things to do in Seville for what you can see and do in the city.
If you are a football fan you might be interested to know that the hotel is next door to Ramón Sánchez Pizjuán Stadium, which is home to Seville FC.  You can get a pretty great view of the stadium from the roof top swimming pool.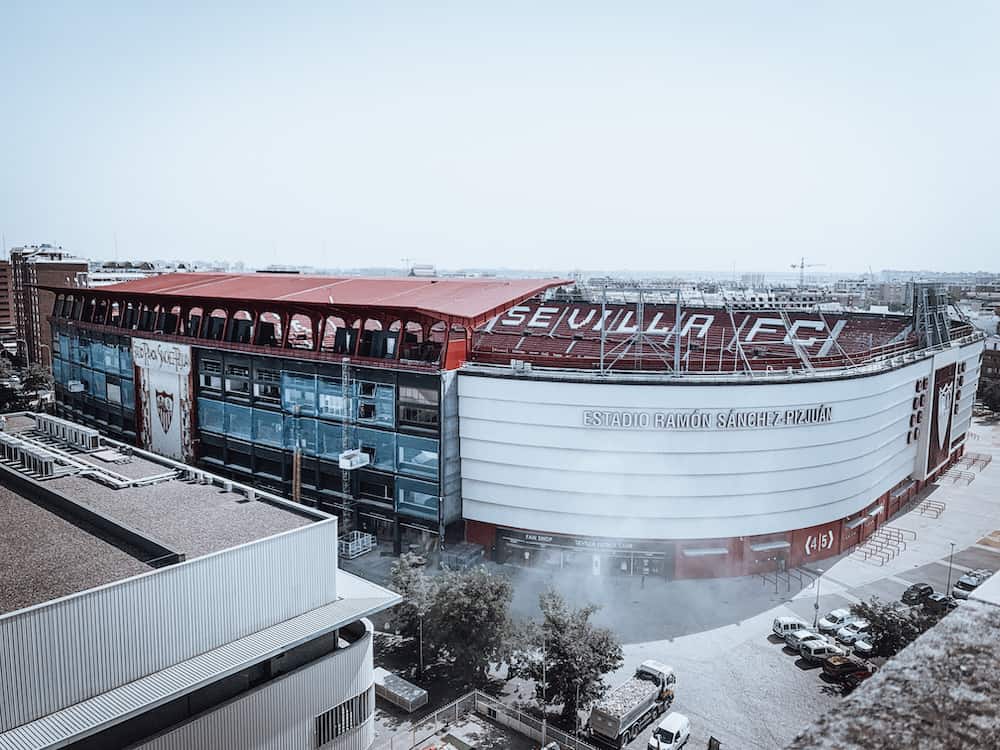 There are plenty of shops, bars, restaurants and even a shopping centre nearby which has a children's play area in which is very handy.  If you are looking for a local restaurant we'd highly recommend Taberna Blanco Martin on Av. San Francisco Javier.  We ate there most days.  The tapas was delicious and very reasonably priced. What was even better was they would make things off the menu for Brook and Indie which was a huge help for feeding our fussy eaters.
Hotel Breakfast
We stayed at Novotel Seville on a bed and breakfast basis and this worked really well.  It's a good idea to get to breakfast early as the queue can get quite long.  We are always up early with the kids so were were first to breakfast most days.  We also found this worked well for getting out early and exploring Seville before it got too hot.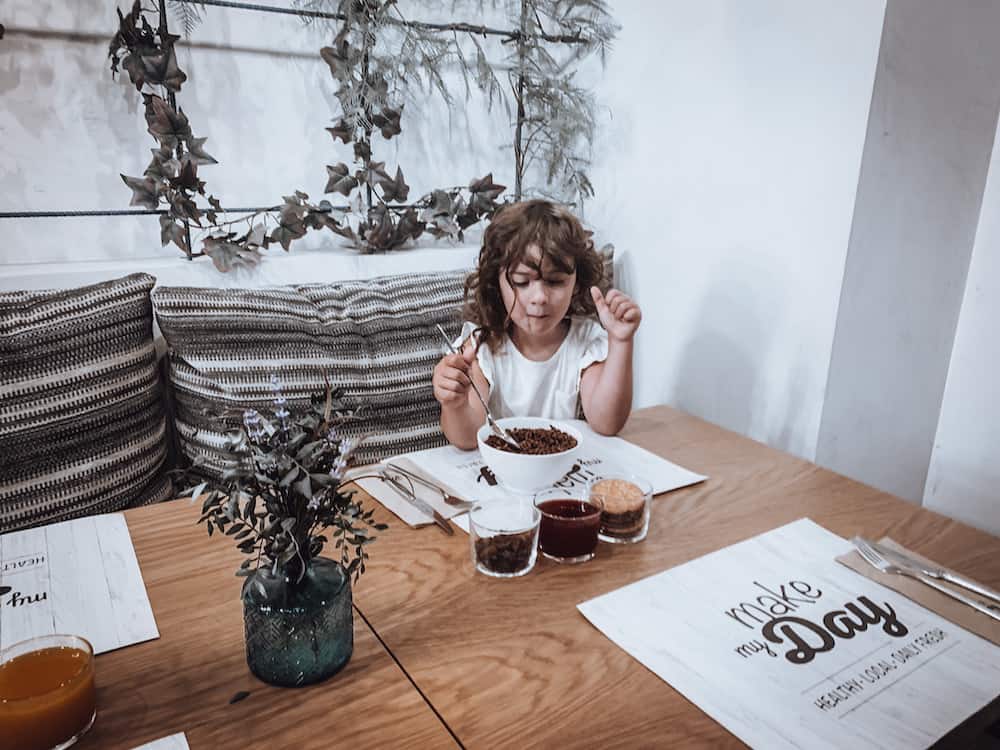 Brook and Indie enjoyed the selection of cereals, juice, fruit and cakes.  Daddy and I enjoyed tucking into the cooked breakfast which included Spanish omelette, chicken cooked with rosemary, chorizo sausage and tomatoes.  There was also a very tasty selection of cold Spanish meats and cheese.  Churros were also a daily feature on the menu.
We really enjoyed our family breakfasts at Novotel Seville.  It was a lovely start to the day and allowed us to enjoy some quality time together.  On the final day the staff gave Brook and Indie a pencil case filled with pens that they could colour in and decorate.  It was a lovely gift from the hotel and kept them busy on the flight home.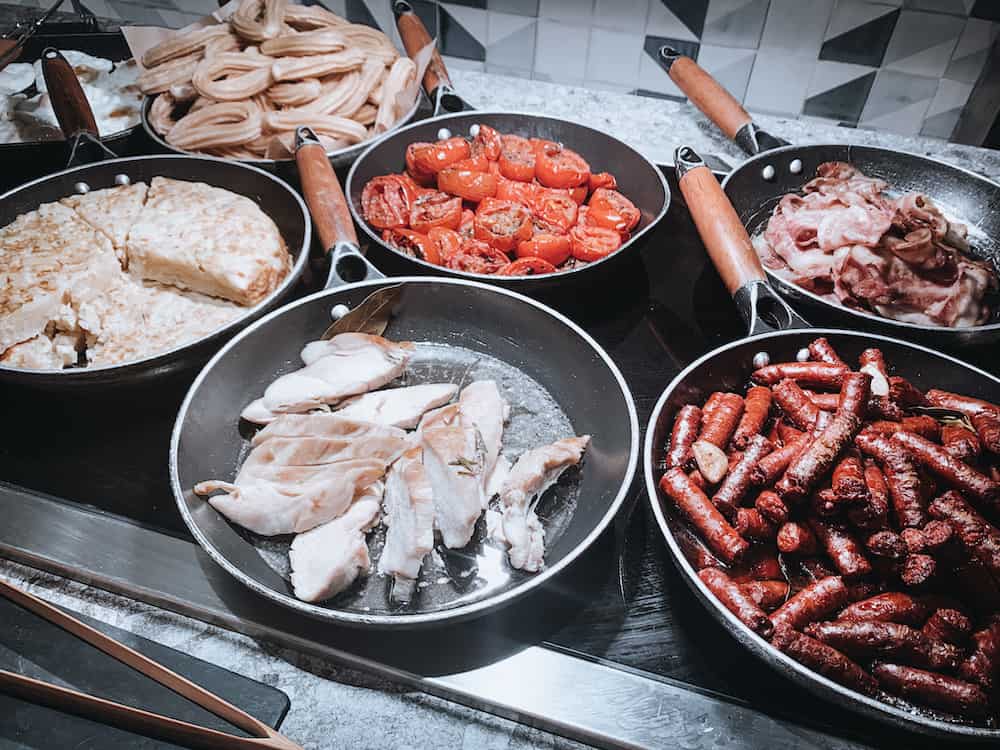 Hotel Pool
We spent most afternoons in the roof top pool cooling off.  Brook and Indie loved it and swimming is always such a lovely way to spend quality time together.  Pool towels were provided and there was a member of staff on hand to provide these and ice creams if needed.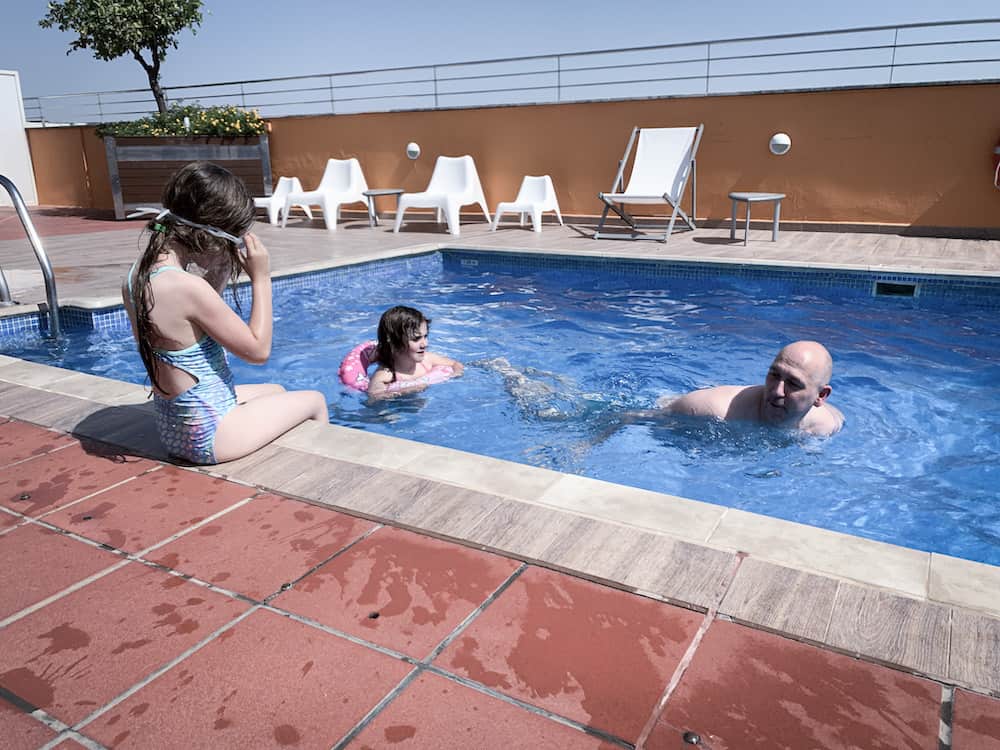 The hotel receptionist told us that the pool was going to be refurbished so it may look a little different now.  When we stayed there were covered areas if you wanted to stay in the shade and plenty of pool side seating and loungers.  It was never too crowded either.
Other Facilities
There is a gym at the hotel as well with weights and cardio equipment.  Daddy did use this during our stay and Brook and Indie were fascinated by him lifting weights.
The lounge area is modern with lots of cool features.  There is also an area for the kids to play computer games and with the toy provided.  While there aren't lots of things for them to do it's still enough to make families feel welcome and for the kids to play while you relax with a drink or if the get restless after dinner.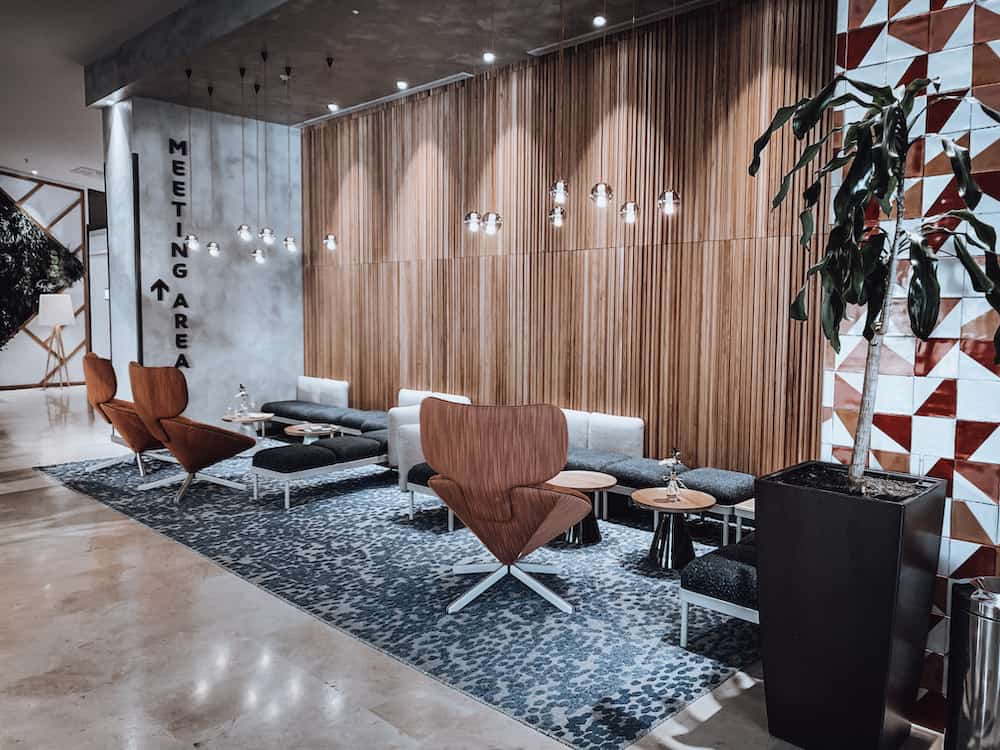 The hotel does have a bar and they also serve food.  Whilst we didn't eat here a lot, we did have a few snacks and Brook and Indie ate dinner a couple of times.  The child portions are very generous and we found Brook and Indie (aged 7 and 5) could share a meal between them and be full.

Final Thoughts on Our Stay at Novotel Seville
Novotel Seville is a great hotel for families who want explore Seville.  We found that the staff were always very friendly and helpful during our stay.  They helped us with local information as well as things we needed at the hotel.
We had a really comfortable stay here during our time in Seville and thought that it was very budget friendly considering the facilities and location. If you are looking for a family friendly hotel in Seville for a reasonable price then I think that Novotel Sevilla is a great option.
Like this hotel review? Pin it for later