Today I want to bring you another series in the Adventurous Kids printable downloads – children's word searches.  We use word search games for kids all the time – but travel loving adults will enjoy these too! Brook and Indie love a word search game and I'm sure they aren't the only kids out there who enjoy doing them.  We like a kids word search because they help with spelling and word recognition making them educational as well as fun to do.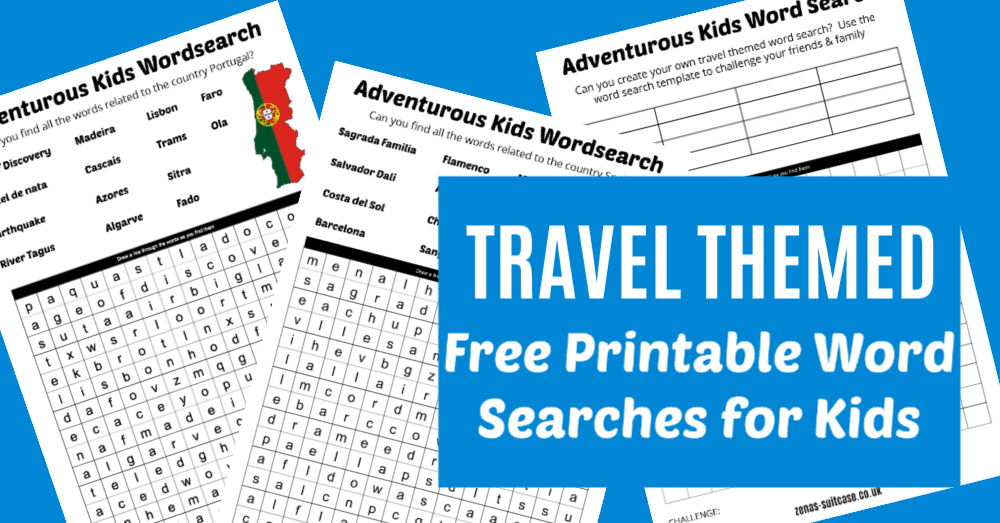 In an effort to keep my own travel loving kids entertained I've created some online word searches, all travel related of course. If you are looking for a word search printable this collection is completely free for you to download and I've also included a blank word search template so you or your children can have a go at making your own.  This is a fun activity that I promise your kids will enjoy and it's educational too.
If you aren't already using word searches for kids I'd highly recommend getting started.  You only need a word search printable pdf to get started and a pen.  They are a very low mess activity but they help kids learning in so many ways.
I've already mentioned spelling and reading, but did you know wordsearches for kids are also great for problem solving and improving processing speed?  Word search puzzles for kids can also help improve working memory which can in turn help learning and development.
Word Search – Cities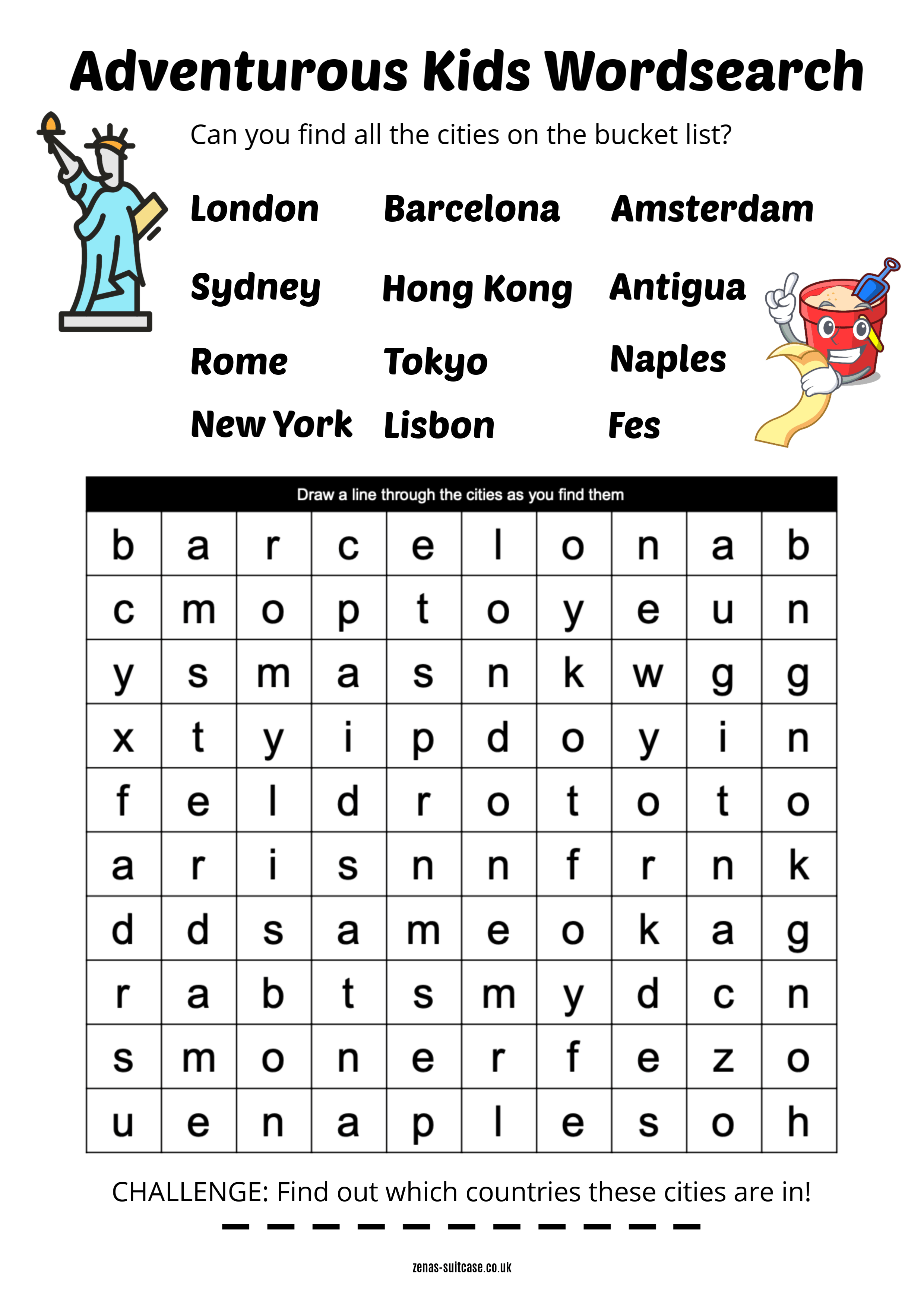 The first kids word search is all about finding the cities hidden in the puzzle.  Simply print off the PDF and get cracking on this free word search.  Once you've finished the word search complete the challenge at the end for bonus points.
Get your free word search PDF here
St Patrick's Day Word Search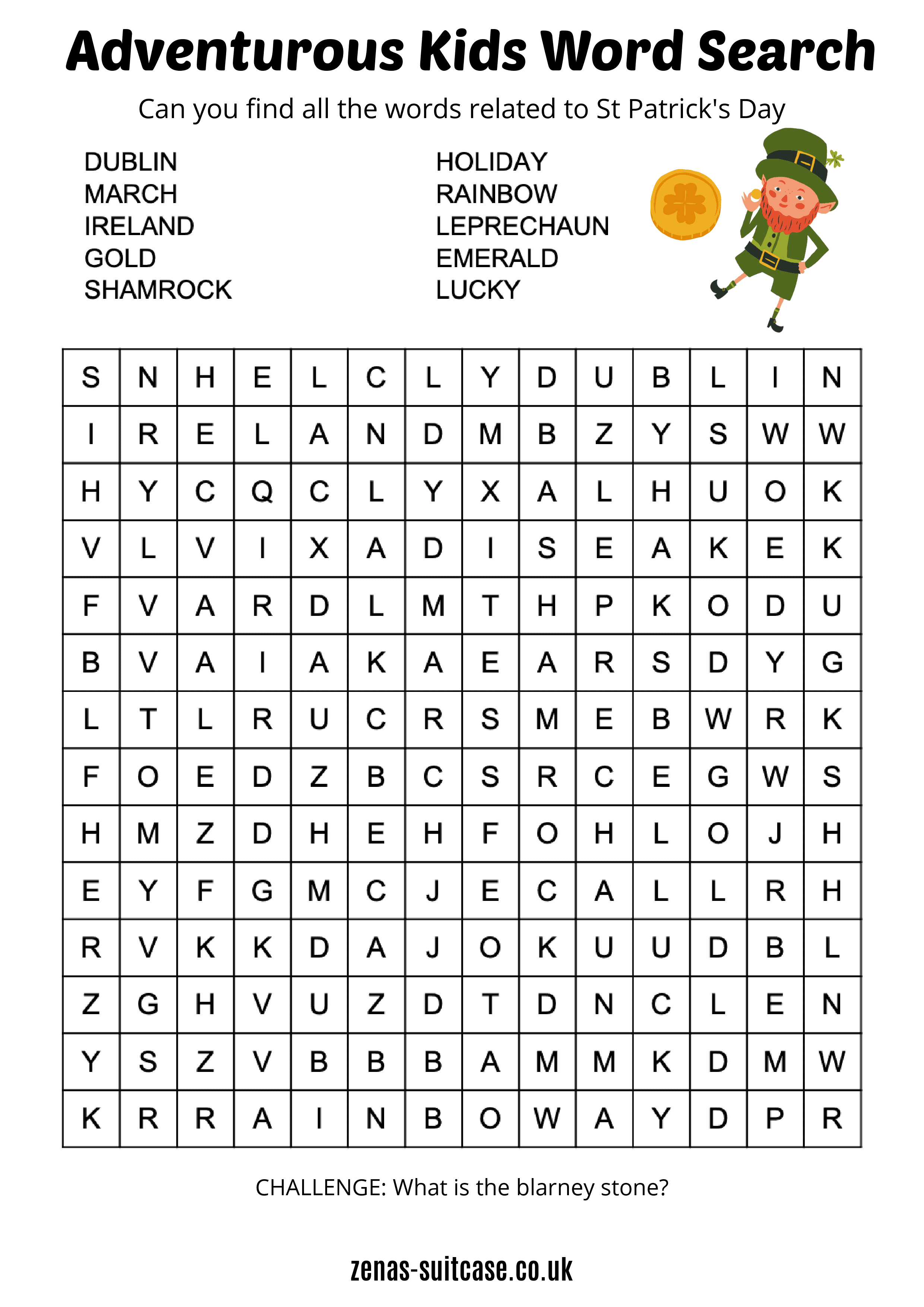 St Patrick's Day is a world famous celebration of Irish culture.  St Patrick was the Patron Saint of Ireland and 17th March marks the day of his death.  There are many traditions surrounding this day and we hope you'll enjoy remembering them in this free St Patrick's Day word search we've created for you.  Do you know the answer to the challenge question?
Word Search – Portugal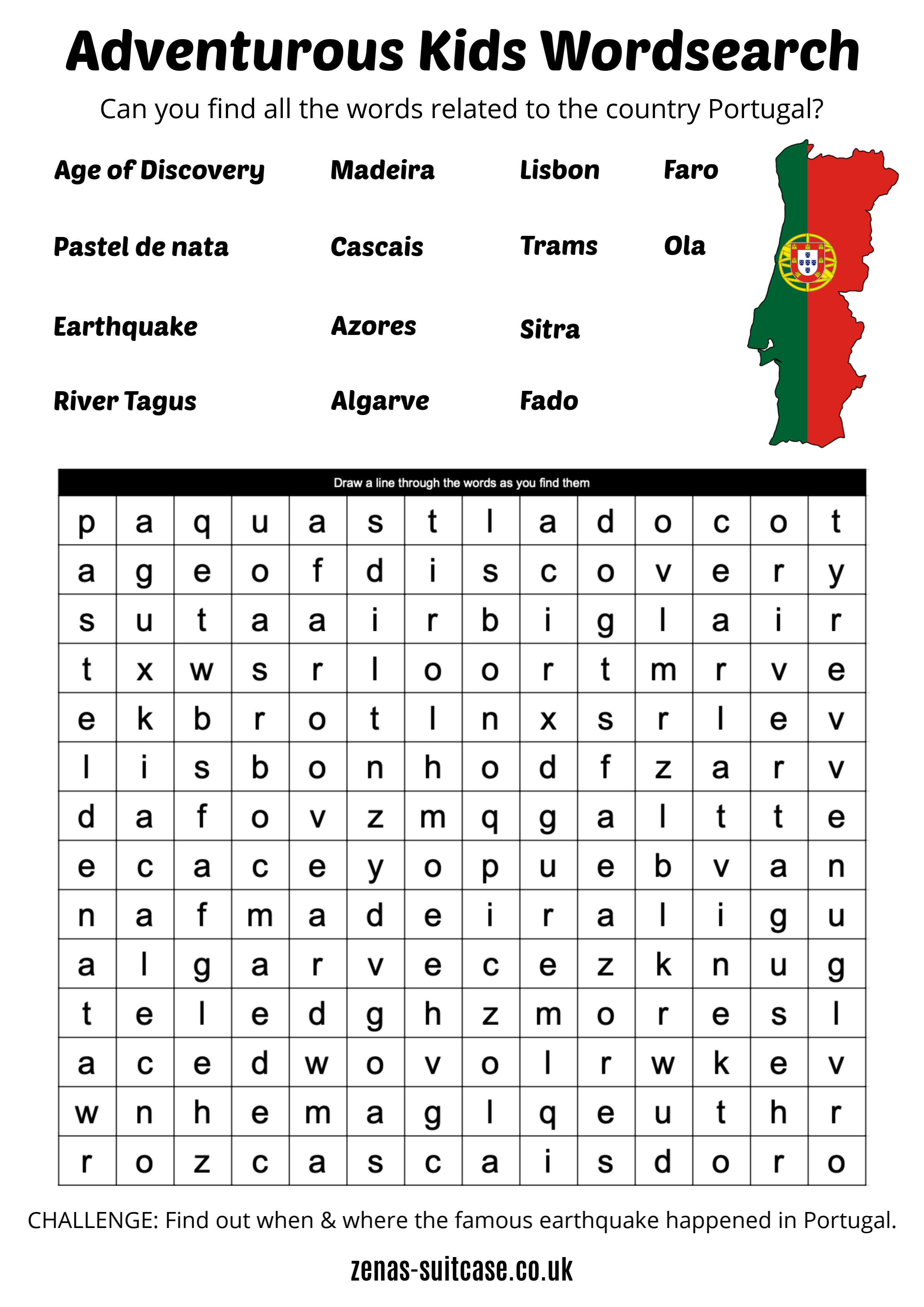 Our last holiday before coronavirus stopped all travel was to Lisbon in Portugal.  We are so incredibly grateful for that holiday and have fallen in love with the country.  Making a word search printable about Portugal was a no-brainer!  Can you complete the free word search and answer the question at the end?
Print your free online word search here
Word Search – Spain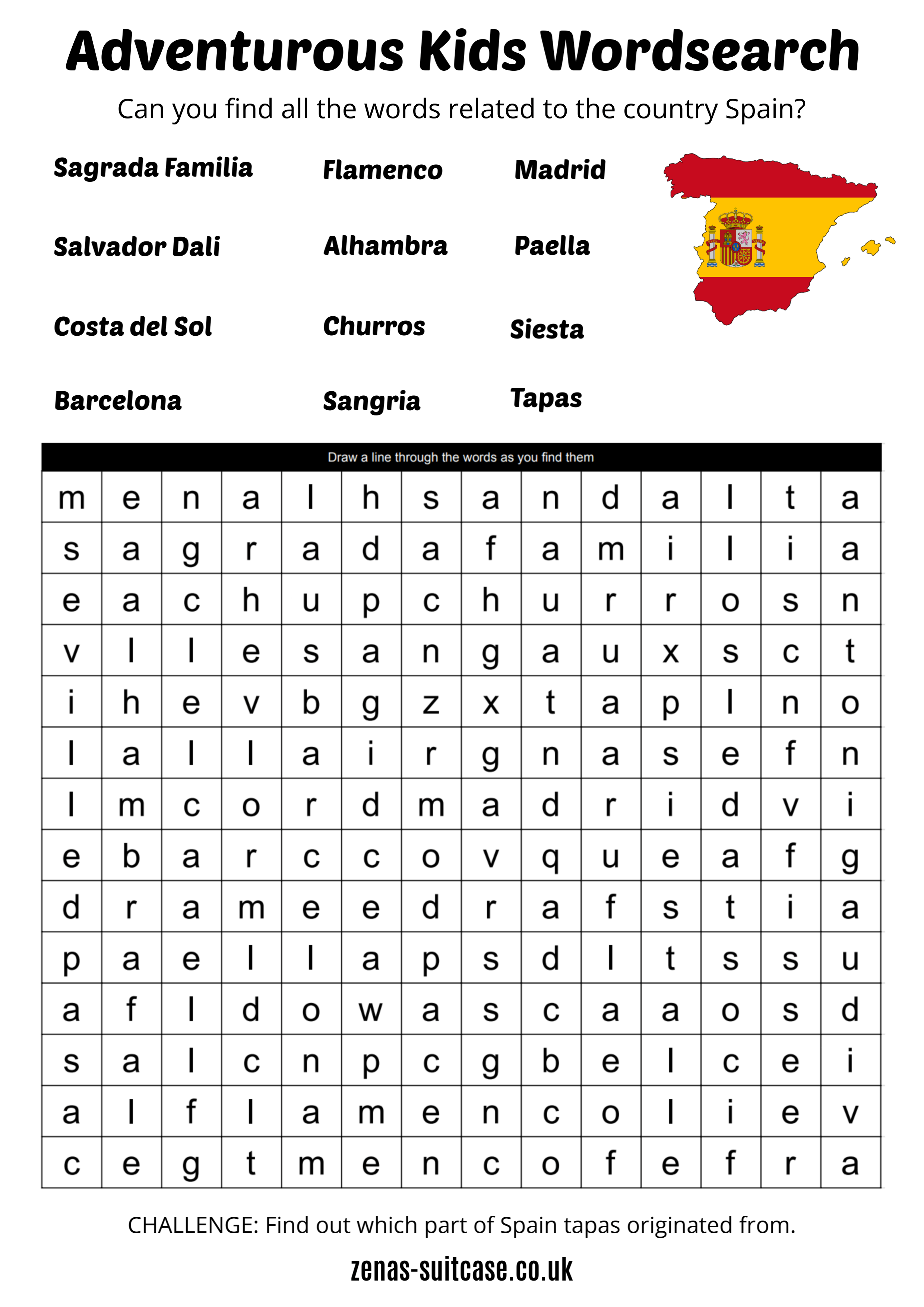 Another favourite country of mine is Spain.  I adore the culture and I'm a particular fan of the food. If you are a Spain fan, this free online word search will be right up your street. Can you find all the hidden words related to Spain in this puzzle and answer the bonus question at the end.
Get your free word search PDF here
Word Search – The Netherlands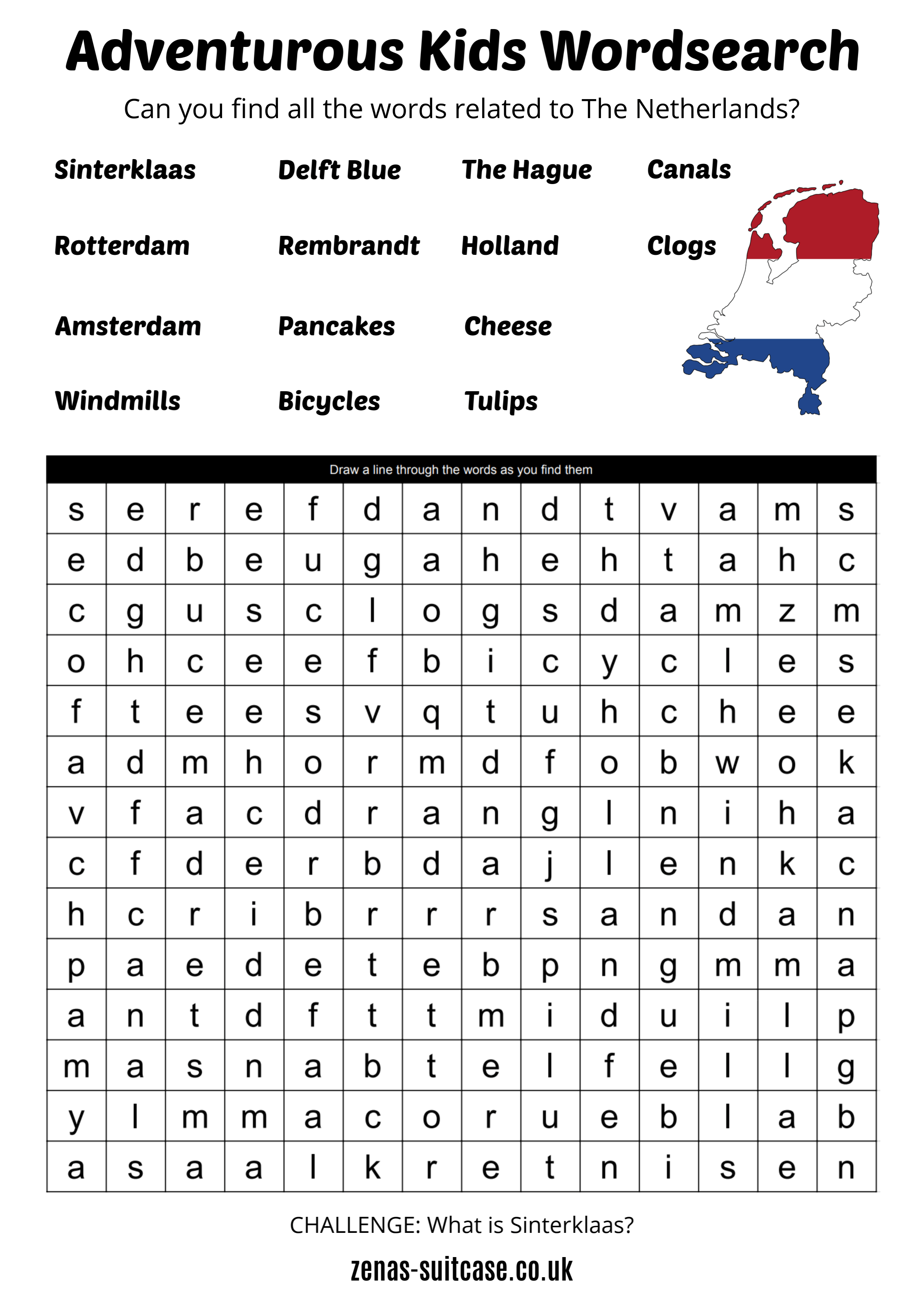 We went on an epic road trip to The Netherlands last summer and we had a wonderful holiday at the Duinrell Holiday Park.  The culture in The Netherlands is incredibly relaxed and the country is so beautiful.  Famous for clogs, cheese, windmills and tulips can you find all the words related to The Netherlands in this free word search?
Download your word search PDF here.
Word Search – United Kingdom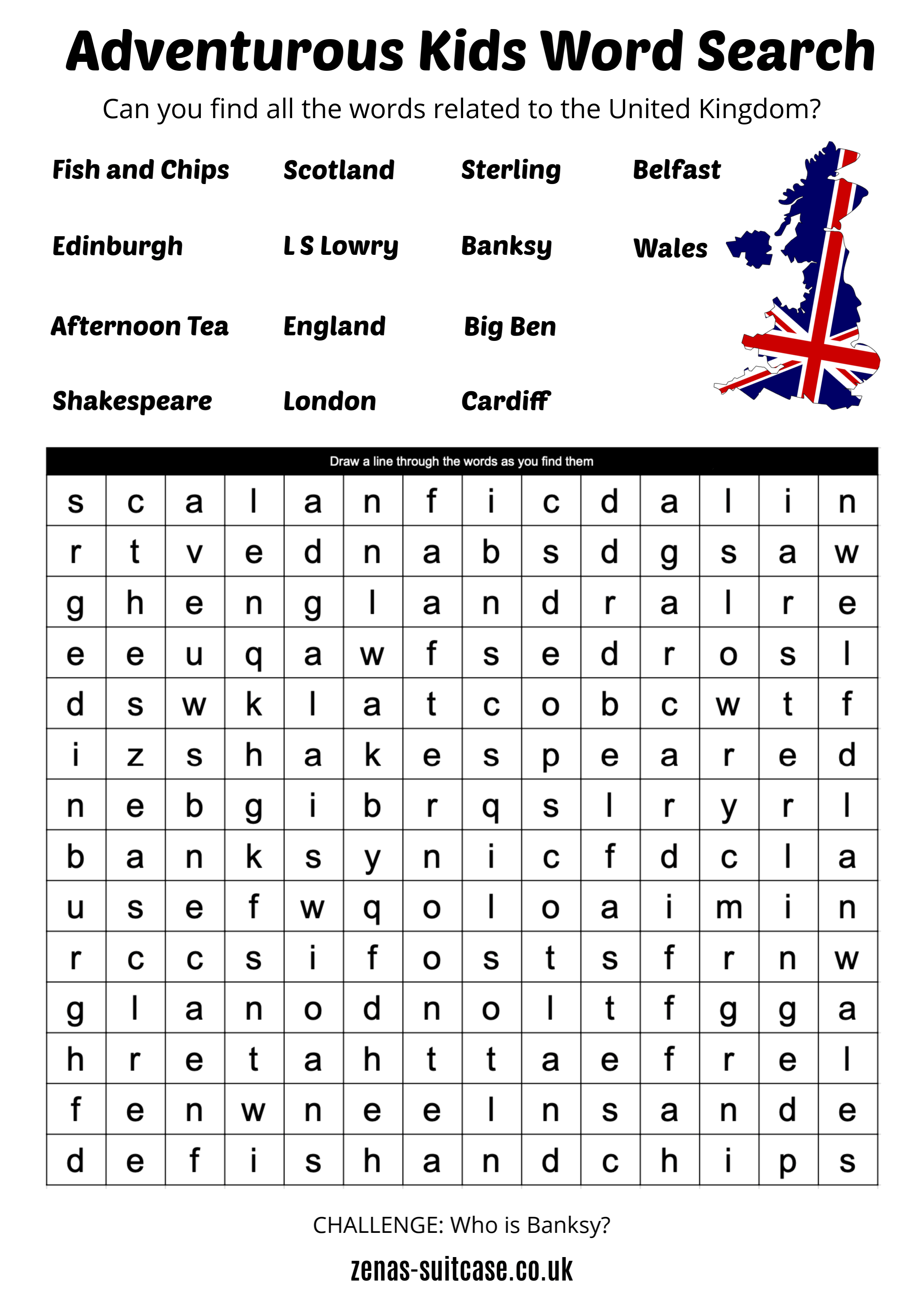 With so many historical places and people we could not have a list of travel word searches without adding a puzzle for the United Kingdom.  Can you find our famous food or capital cities hidden in the free UK word search below?
Download the United Kingdom word search printable here.
Blank Word Search Template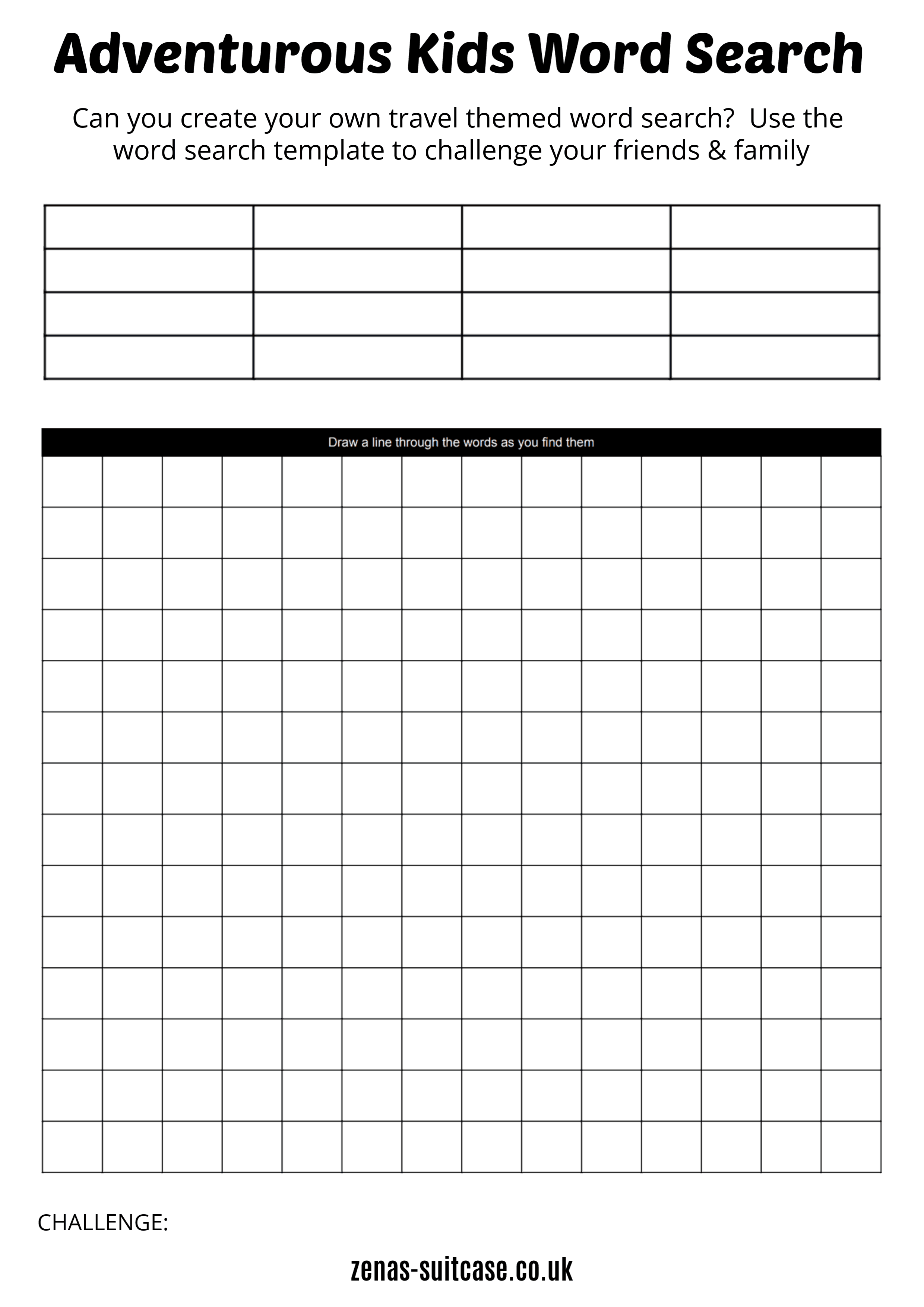 Making your own word searches is a really fun activity.  We've already made some word searches during home school and I can see them featuring in our activities again as the weeks go by.  We hope you find this printable wordsearch for kids helpful too.
Download a free blank word search template here
>> CHECK OUT THE LATEST WORD SEARCHES FOR KIDS ON AMAZON <<
We used a blank wordsearch template and the following steps for making our own puzzles:
1 Decide on a theme.
2 Create a list of words related to your theme.
3 Starting with the longest words first, add them to the blank grid.  Make sure each word overlaps with another as you add it to your grid. You can add the words in any direction.
4 Fill the gaps that are left with random letters.
5 Set a bonus challenge at the end.
6 Challenge a friend or family member to complete your finished word search puzzles.
What do you think of our printable word searches for kids? We would love to hear how you get on or see your photos on social media. Please tag @zenassuitcase on Instagram so we can see your pictures!
If you have any ideas for a word search printable you would like to see here, let me know and we will do out best to create one to keep your kids entertained.
If you enjoyed this post, here's some more free printable downloads you might be interested in:
Mindfulness & Meditation Activities for Travel Loving Kids
Activity Sheets For Kids & Travel Themed
Free Travel Loving Kids Activity eBook
Pin these free word searches for later