Hasn't it been a difficult year for families who love to travel and experience new cultures and destinations with their kids?  We've really been feeling it here. We're looking forward to the day when we can plan our family holidays without fear of cancellation or illness, how about you?  I bet lots of you reading this can relate.
One of the first places we will be heading back to is Italy.  It's one of our favourite European destinations to visit with kids because it has so much to offer.  It's brimming with beautiful landscapes, historical cities and incredible food. Italian has to be one of the most family friendly cuisines in the world, doesn't it?  Kids just love pizza and gelato don't they!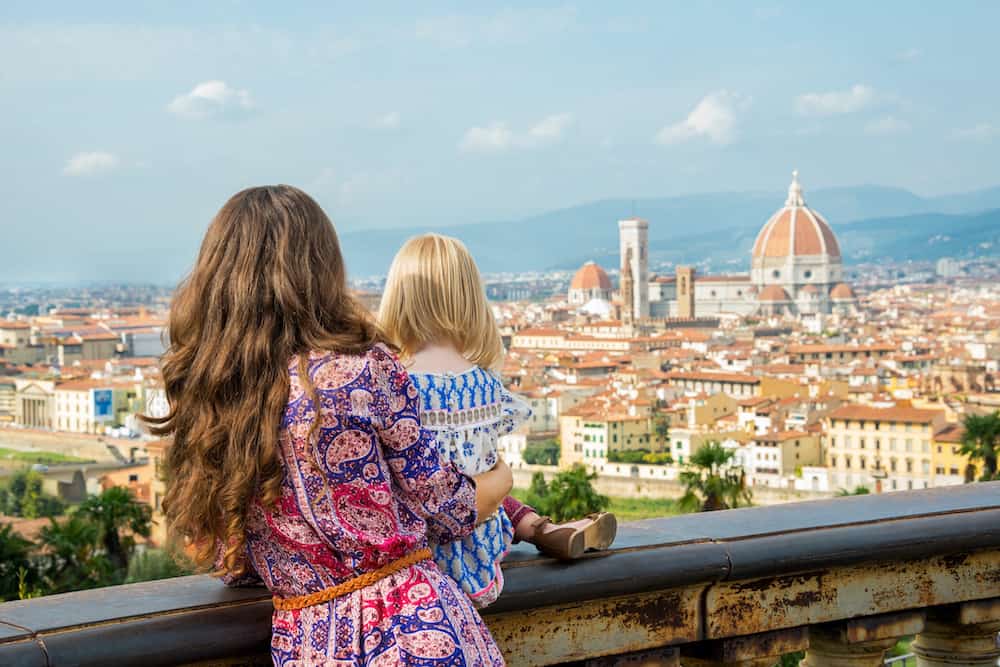 Seeing as we have been lucky enough to visit Italy with kids a few times, we thought it would be a great time to share some of the best places to visit and our favourite things to do with kids while we're there.  As we plan to explore more of Italy as soon as we can, we've also found some fun things to do with kids when we head back too.
Planning your Italy Family Holiday
Life has been pretty tough for families recently, so planning a family holiday might not be at the top of your list between home schooling your little ones and working from home.  At times like these having an extra pair of hands to help out is what's needed.  We're huge fans of Original Travel for this exact reason.  In fact, they helped us plan some family activities when we visited Lisbon with kids.  The service was brilliant, and they know exactly what they are doing when it comes to creating memorable family holidays.
If you are feeling distracted due to having too many balls in the air, but are in desperate need of a family break, Original Travel are on hand to help out.  Or you could visit their recently launched a sister website, The Voyageurs Collection, offering the same wonderful service, but with exciting new itineraries and destinations.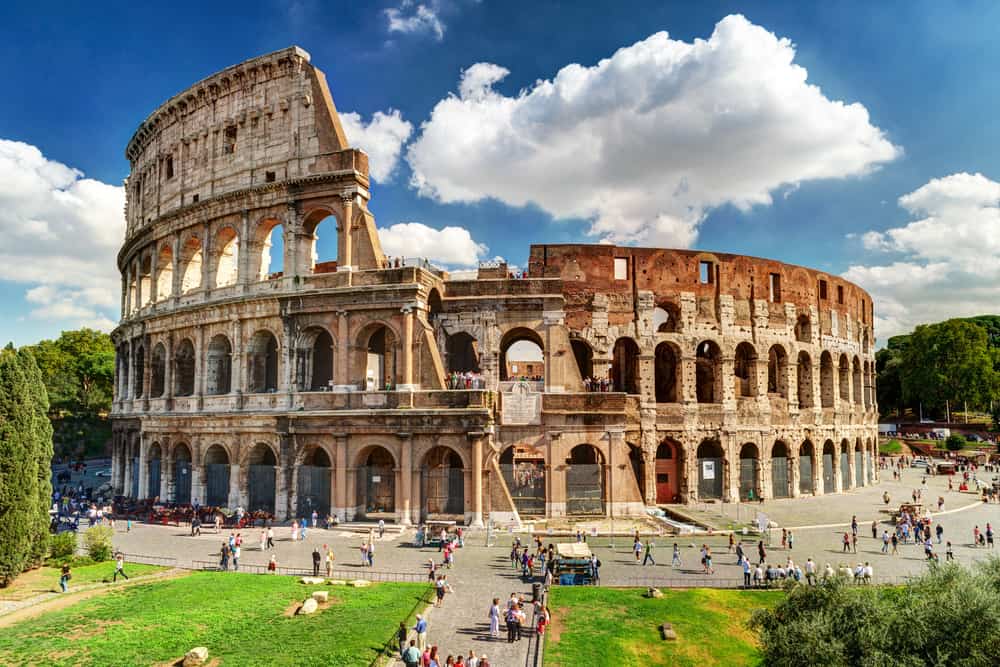 Not only can they help you plan your Italy itinerary including places to stay and things to do, but they can also put you in touch with a local concierge service.  They can help you with finding family friendly restaurants or making last minute changes to your travel plans (we all know how important it is to be flexible with kids!).  The Voyageurs Collection also offers the reassurance of their Coronavirus Guarantee should your travel plans have to change as a result of Covid.
Naples
Naples is a wonderful city to visit with kids.  It's the third largest city in Italy and its historic centre was designated a UNESCO World Heritage Site in 1995.  Being one of the oldest inhabited urban locations in the world it has lots of stories to tell from many different civilisations.  With the right tour guide, your children will be fascinated by its colourful past.
Things to do in Naples with Kids
Take a Pizza Making Class
Trust me when I say there is no better place to eat and make pizza than Naples!  It's a must do family activity, and the people at The Voyageurs Collection can help you find the perfect class.  The world's first Pizzeria, Antica Pizzeria Port'Alba, opened in Naples in 1830 and it's still open to this day for die hard pizza fans to visit.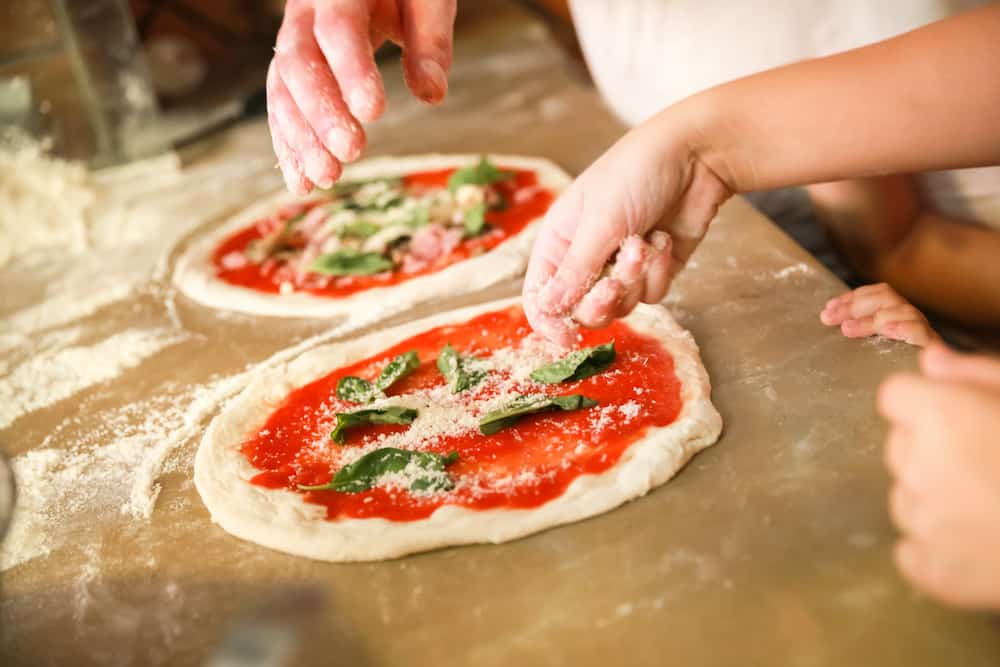 Learn how to make an authentic Italian pizza and learn new skills that you will be able to bring home to your own kitchen.  Once your creation is ready, you and the kids will be able to tuck in and enjoy your handmade pizzas for the perfect end to the experience.
Guided Tour of Pompeii
Pompeii is one of the most famous historic sites in Italy and simply must be visited if you go to Naples.  A private guided tour is the best way to bring the story of the people that lived here 2000 years ago to life.  The ruins are fascinating, but it's the narrative and the opportunity to learn from an historical expert that takes visiting Pompeii to the next level.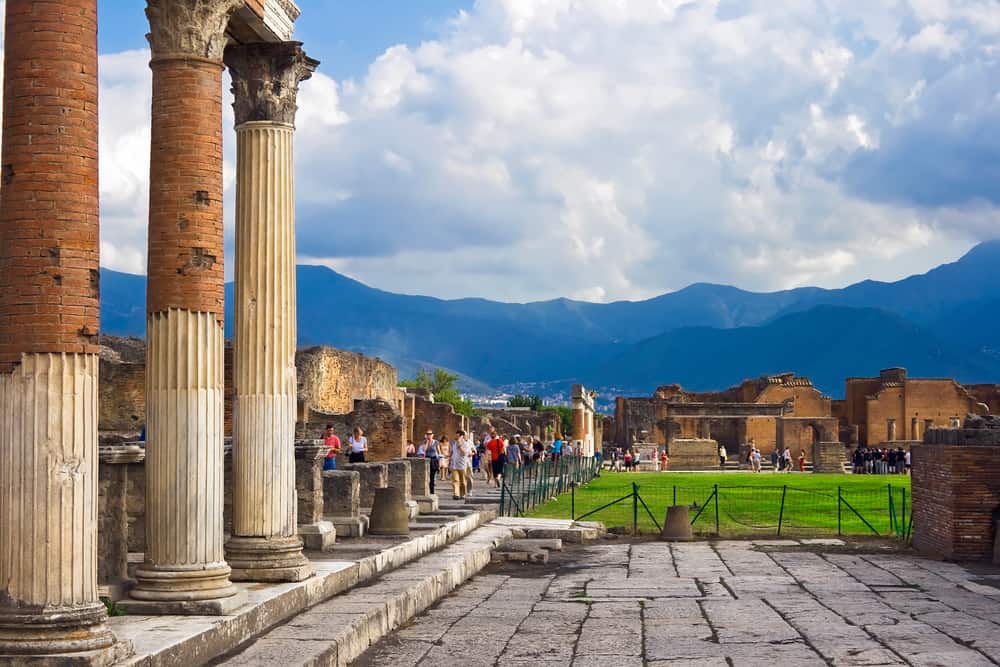 Your family friendly tour guide will share the story of the people that lived in Pompeii and tragic explosion of Mt Vesuvius in 79BC in an age appropriate way.  The Voyageurs Collection also give the kids an activity and games booklet to help make their experience even more fun.
Galleria Borbonica
For a different take on the city of Naples, I'd highly recommend a visit to the Galleria Borbonica.  This historic experience will give you and your children an insight into life in the city during World War 2 and beyond.  Used as bomb shelters during the war, when families lost their homes they ended up living here for many years after the fighting had finished.  You'll get an insight into how these families survived during this difficult time.
Rome
Rome is a city I've yet to visit with kids, but it's very high on our family bucket list.  We would love to visit the Colosseum and a personal must for me would be the Sistine Chapel.  Being the capital of Italy since 1870 (previously it was Florence) and inhabited for over 3 millennia, it plays a significant part in Europe's history.
There are lots of things to do in Rome with kids, including seeing how many of the 900 churches you can visit while you are there, visit the Museum of Pasta Food and drop a coin in the Trevi fountain for good luck.  Did you know that around 700,000 Euros are put into the Trevi Fountain every year and they all get donated to charity? Quite an astonishing amount isn't it?
Things to do in Rome with Kids
Become a Gladiator for a Day
One of the experiences we'd love to do in Rome is learn how to become a Gladiator.  Roman history features in every child's learning at some point, and what a fantastic way to bring this story to to life.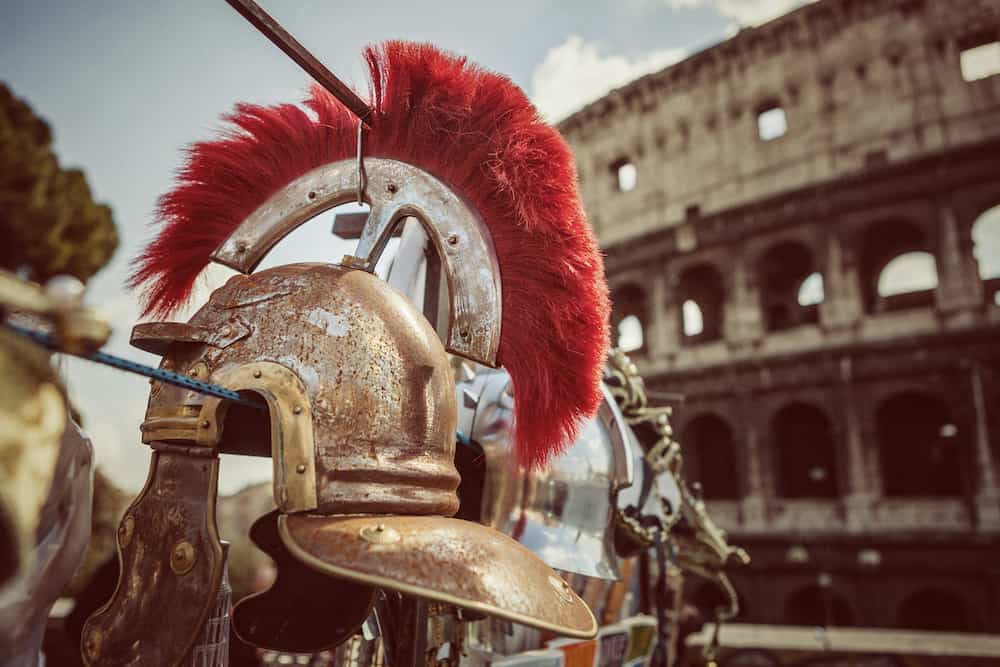 The Voyageurs Collection can arrange for you and your kids to attend a private, fun-packed Gladiator training course where you will learn all about these famous Roman soldiers. I can just imagine the kids faces when they are given the helmets and swords the Gladiators would have used in the arena while showing off their battle moves.  That will be a memory to treasure, right?
Tour of the Colosseum and the Roman Forum
Timed entry and tickets in advance is going to be an essential part of family travel at the moment and for the foreseeable future. Having The Voyageurs Collection arrange a private guided tour of these most famous historic landmarks is a real must for your visit to Rome with kids.
The Colosseum is a fascinating arena built by the Emperors of Rome in 80AD.  Here people would come to watch Gladiator shows and wild animal hunts for their entertainment.  Entry was free but seats were allocated on a class basis.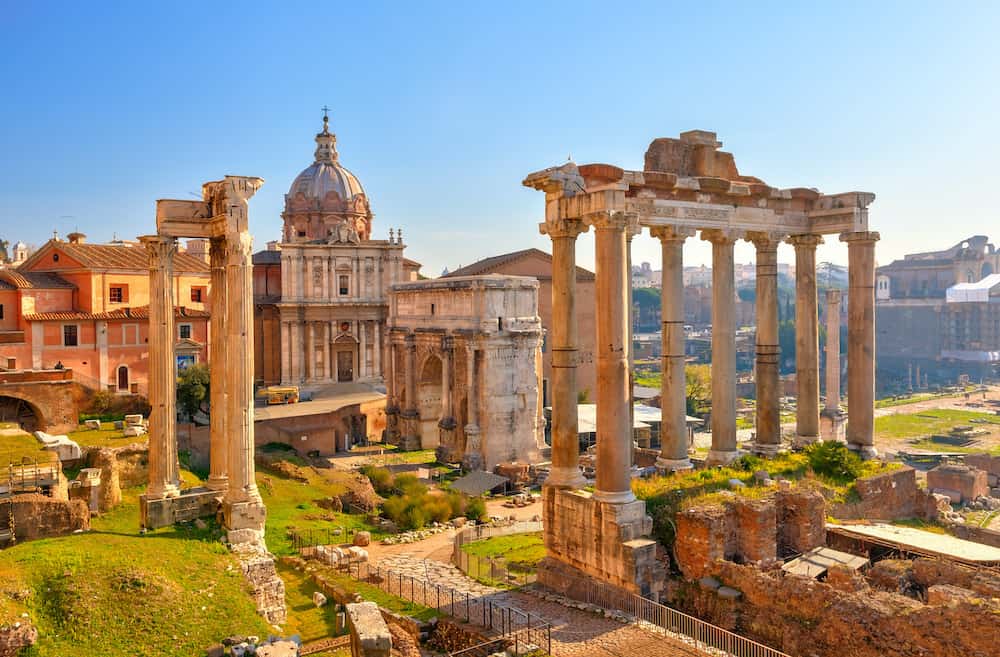 The Roman Forum, which sits in the same archeological area as the Colosseum, was the social and political centre of Rome at the time.  Exploring this ancient site with a private guide will give you and your kids a true insight into Roman life.
Genoa
I was lucky enough to visit Genoa with Brook last year so I can vouch for what a wonderful city this is to go with kids first hand.  Often consider as one of Northern Italy's hidden gems, this vibrant port city has a lot to offer families travelling with children.  Not only is is the birth place of Christopher Columbus but it's also where pesto was created.  For those that enjoy this with their pasta, you are in for a real tasty treat when you visit the local restaurants.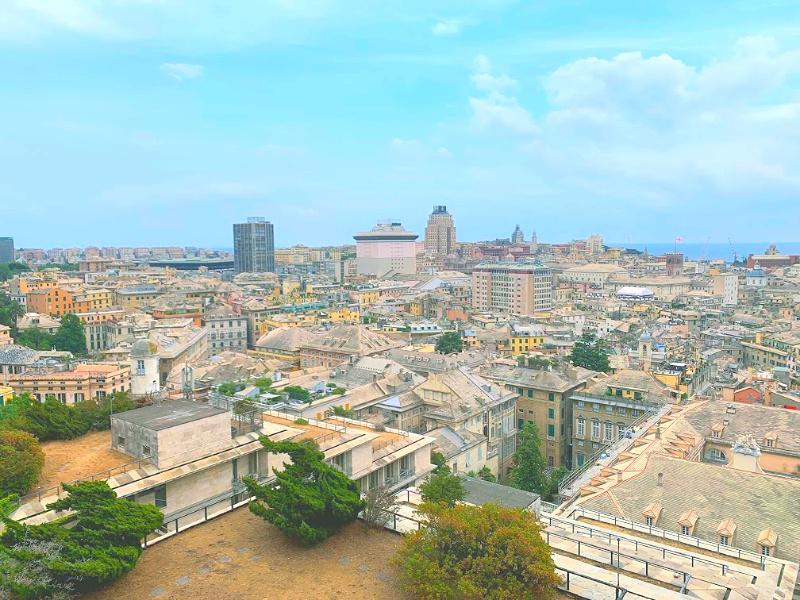 Genoa Aquarium
Being one of the largest aquarium's in Europe, visiting the Aquarium of Genoa is one of the most popular things to do with kids in the city.  Being home to around 600 species of marine and wildlife it's a fascinating place for children to learn about our oceans and the creatures that live in them.
Ligurian Archaeological Museum and the Park of Villa Pallavicini
There are 25 museums in the city of Genoa, but if you are limited on time then this is the best one in our opinion as you can enjoy two attractions for the price of one.  The Archaeological Museum is home to the regions finest collection of historical local artefacts.  Workshops are available for children to help bring the prehistoric era to life and create a hands on learning experience.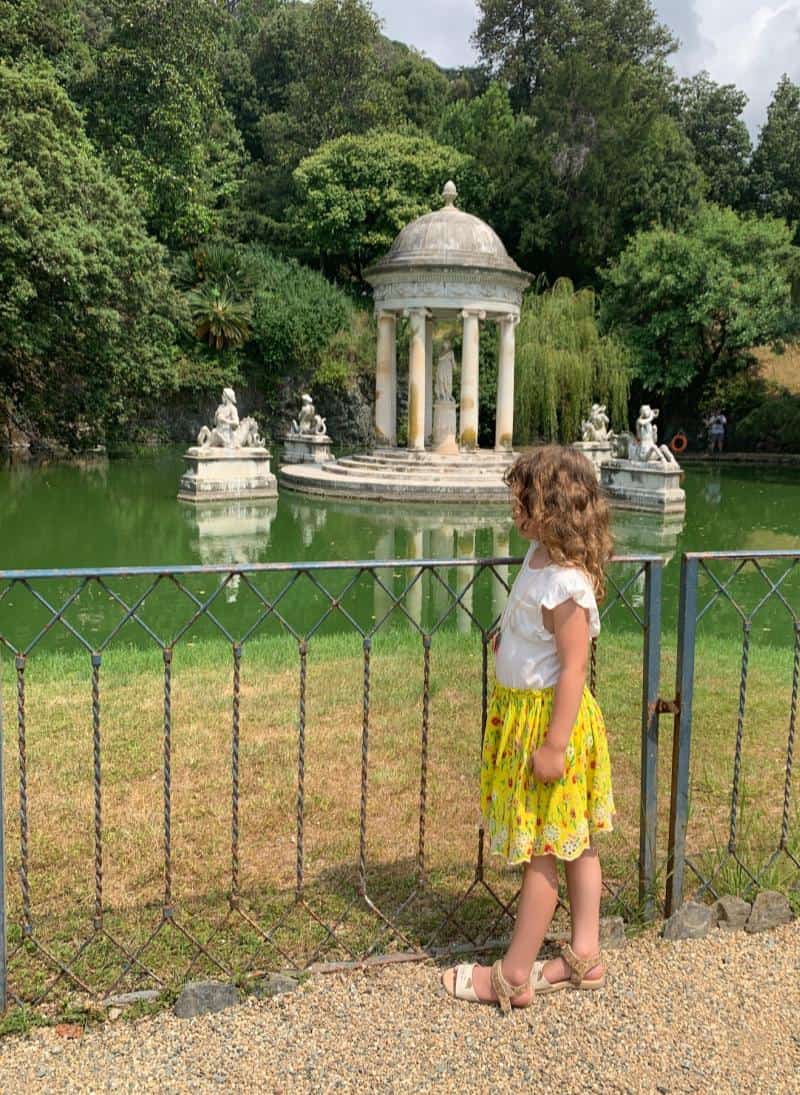 After your visit to the museum, children will enjoy exploring the Park of Villa Pallavicini.  These theatrical gardens are full of interesting monuments and an impressive floral collection including Italy's oldest collections of camellias which the grown ups will be able to appreciate.
Venice
I know Venice usually has a reputation as a romantic city but that doesn't mean it's only for couples!  It's the perfect city to visit with kids too.  As a family, discovering a city that can only be explored by foot or boat via its labyrinth of canals and bridges is a wonderful cultural experience for all ages.
As well as being able to visit Venice and the famous historic sites like St. Mark's Basilica and Doge's Palace, you also have easy access to Burano and Murano, which will bring and new experiences again to your family trip.
Things to do in Venice with Kids
Family-Friendly Walking and Gondola Tour of the City
If The Voyageurs Collection have organised your Venice family holiday, then a walking and gondola tour of the city with a local experienced guide is a must for exploring and learning about Venice.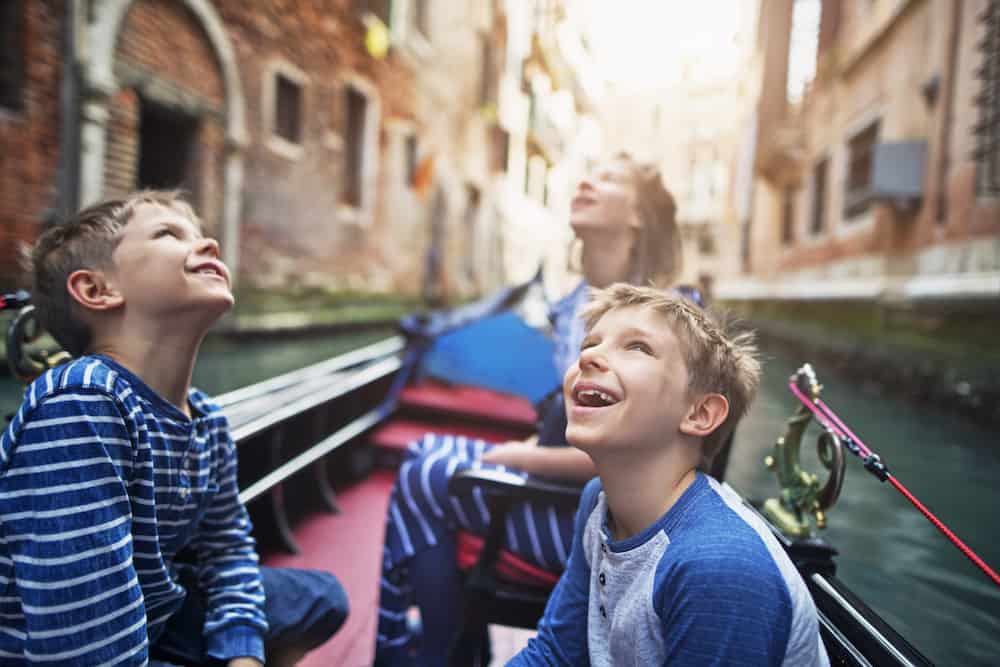 See the city as it should be as you as you glide under the famous bridges towards St Mark's Square.  Here you begin your guided walking tour of the famous landmarks with a tour guide guaranteed to engage the children as much, if not more than the adults!
Murano Glass Making Workshop
Murano is an island famous the world over for its stained glass creations.  Knowing how much children enjoy hands on experiences, why not learn this art for yourselves?  After a lesson from one of Murano's glass making experts, you and the kids can create your very own creative glass tiles.  What a memorable souvenir of your Italy trip to take home with you?
The Dolomites
If you and your family enjoy adventure holidays then do not worry, Italy also has you covered.  You want to head to the famous Dolomites in North West Italy for incredible landscapes and fun packed activities all year round.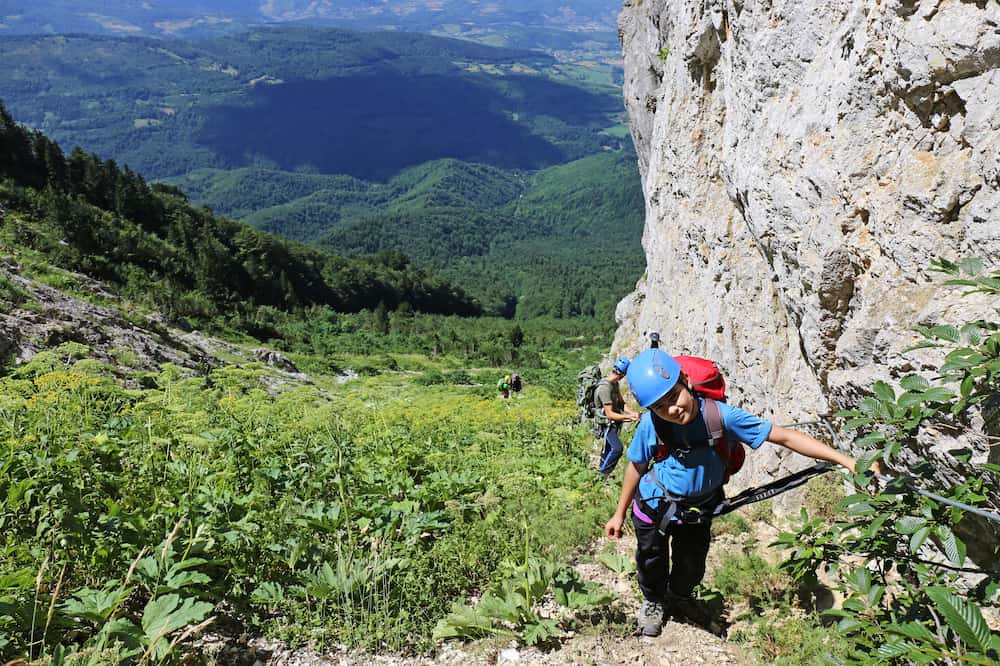 Perfect for hiking and cycling in summer, the Dolomites provide a dramatic other worldy landscape amongst its 18 dramatic peaks for many outdoor activities. If winter sports is more your thing, then the Dolomites is considered one of the most attractive ski areas in the world.  Add to this the family friendly Italian culture and you have the perfect combination for your winter holiday.
Florence
Florence simply had to be added to this list of best places to visit in Italy with kids because not only is it one of the most beautiful cities in Italy, and possibly the world, but it's also brimming with artistic treasures and historical sites.  If you're looking for your first experience of Italian heritage and culture as a family, Florence is a great place to start.
Things to do in Florence with Kids
Take a Family Cooking Class
With delicious food being such a huge part of Italian culture, experiencing a private cooking class as a family is a great way to learn new skills and enjoy a wonderful Italian meal together.  The Voyageurs Collection can arrange for your very own private chef to teach you how to create Italian classics such as gnocchi with fresh pesto, veal – cooked the Italian way of course, and an authentic Tiramisu for dessert. Sounds delicious doesn't it?
Family Friendly Walking Tour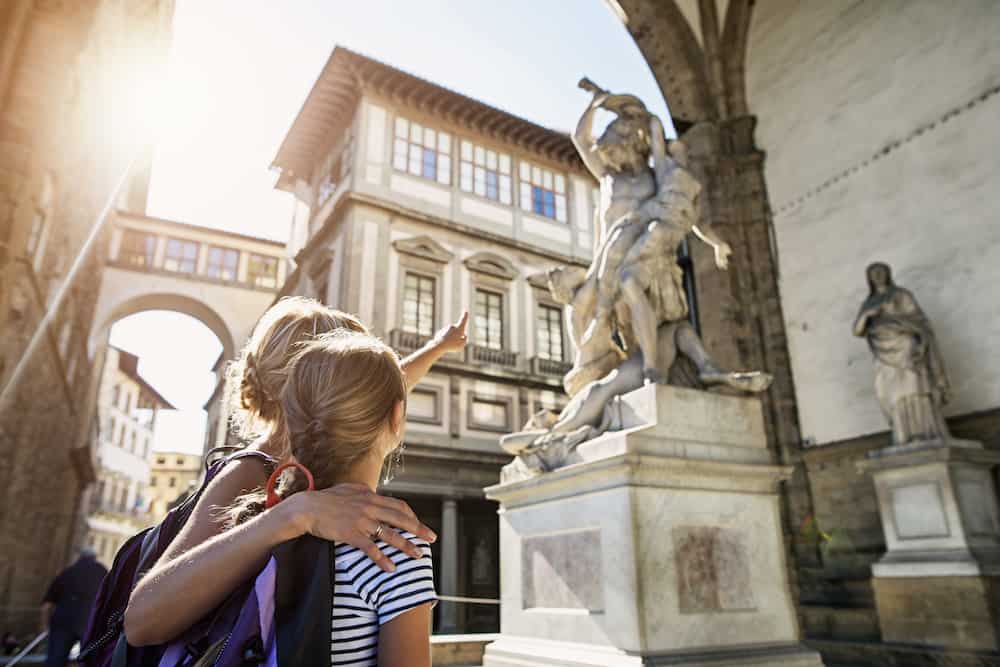 Walking tours are a fabulous way to explore a new city and learn its hidden secrets.  Kids don't always feel the same way, but if you have booked your trip to Florence through the Voyageurs Collection your guide will be perfectly selected to keep your kids entertained throughout.  He'll arm your little ones with their very own game booklet to complete as you walk through the city to keep them engaged.
We hope that we've provided you with plenty of ideas for your next trip to Italy with kids.  If you have any more must do activities for families visiting Italy, leave them in the comments below.
Not travelling just yet? Pin these Italy travel ideas for later