Contains affiliate links
The best travel backpacks for women can make so much difference to a trip, whether you're travelling long haul and want to pack it all into a carry-on, or are looking for a sturdy daypack. Backpacks for women who are travelling may be fairly compact products for day excursions, or could have a capacity of 25 or 40 litres, holding all the kit you need for a weekend or longer.
>> Click here to see the overall best women's travel backpack <<
This guide lists only the best backpacks for women who travel. Our selected backpacks for women travelling include options that can carry a laptop, have a USB port or hidden pocket, or offer anti-theft protection. We also detail a funky floral design and a set that can include some really useful packing cubes. Read on to discover the best women's travel backpack to fit your needs and budget.
| | | | | | |
| --- | --- | --- | --- | --- | --- |
| Name | Type | Dimensions | Weight | Key features | Price |
| Pacsafe Camsafe Z16 | Camera & laptop | 16 x 25.9 x 39.1 cm | 1.38kg | Lots of security | Click here |
| Beschoi laptop | Laptop | 40.5 x 30 x 14 cm | 840g | Detachable pocket | Click here |
| Hynes Eagle | 40L carry-on | 30 x 25 x 34 cm | 998g | Large capacity | Click here |
| Dakine Wndr | 25L laptop | 53.3 x 38.1 x 3.8 cm | 520g | Attractive design | Click here |
| Lekesky laptop | Laptop | 42 x 28 x 20 cm | 805g | Hidden exterior pocket | Click here |
How to Choose the Best Backpack for Women for Travel
There are several considerations to bear in mind when choosing between the backpack bags for women. These include features like the size, weight, capacity and comfort – as well as security and type or number of compartments.
Size, Weight and Capacity
What sort of size backpack do you require? We list all options here, from a stylish city daypack to a 40 litre carry-on. Think about what you'll be taking for your day trip, short break or longer holiday, and how much space that will take up. The weight of the bag itself may also matter if you'll be carrying it often – or packing a lot of kit.
Compartments
Having the right kind – and size – of pockets inside your chosen backpack means you can carry just what you want to. Whether that's a 13 or 15.6 inch laptop, a tablet, notebooks, folders or camera equipment.
Security
Security can be key – especially when visiting the world's major cities, where unfortunately theft can be a fact of life. While our top pick is the most security conscious backpack of the lot, some of the others also have features that will help keep your stuff safe.
Comfort
If you're doing a lot of walking, hiking or sightseeing, then that means hours of carrying your backpack. Look out for padding, ventilation and lots of secure straps that will help reduce the strain.
The 5 Best Travel Backpacks for Women
These Pacsafe backpacks for women who travel are perfect for those who carry some expensive kit around with them – whether that's a DSLR camera plus lenses or a valuable laptop. The Camsafe Z16 is packed with security features to keep all your kit super safe – even when travelling in busy cities. An adjustable tripod strap and 13-inch laptop sleeve are designed to hold your tech in place.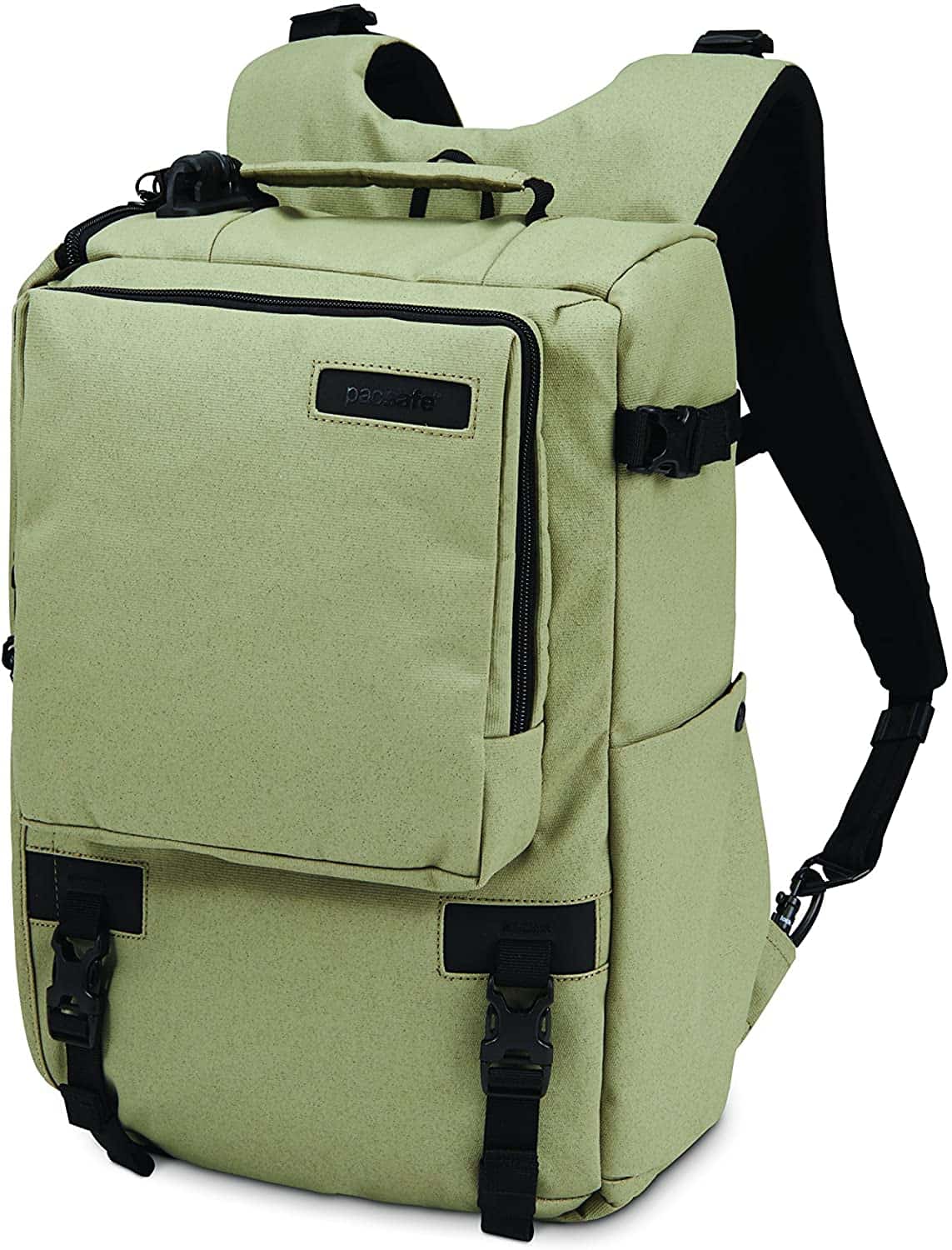 There's a concealed, lightweight, slash-proof wire mesh made from stainless steel. This is embedded into the bag's actual fabric, to help guard against slash theft. Cut-and-run theft is also prevented by the Carrysafe Slashguard Strap, while zips are attached to discreet hooks. For added security there's a lockable security hook, plus built-in RFID blocking stops hackers scanning your ID or payment cards.
Pros:
Superb security features

Designed for laptops and cameras

Space for all your stuff

Cons:
>> Click here to see these travel backpacks for women <<
A key feature of this women's backpack travel is the detachable front compartment that you can use separately. It also has a laptop pocket to hold a 15.6 inch computer, as well as an external USB charging port. This means you can even charge your phone while exploring the city or countryside.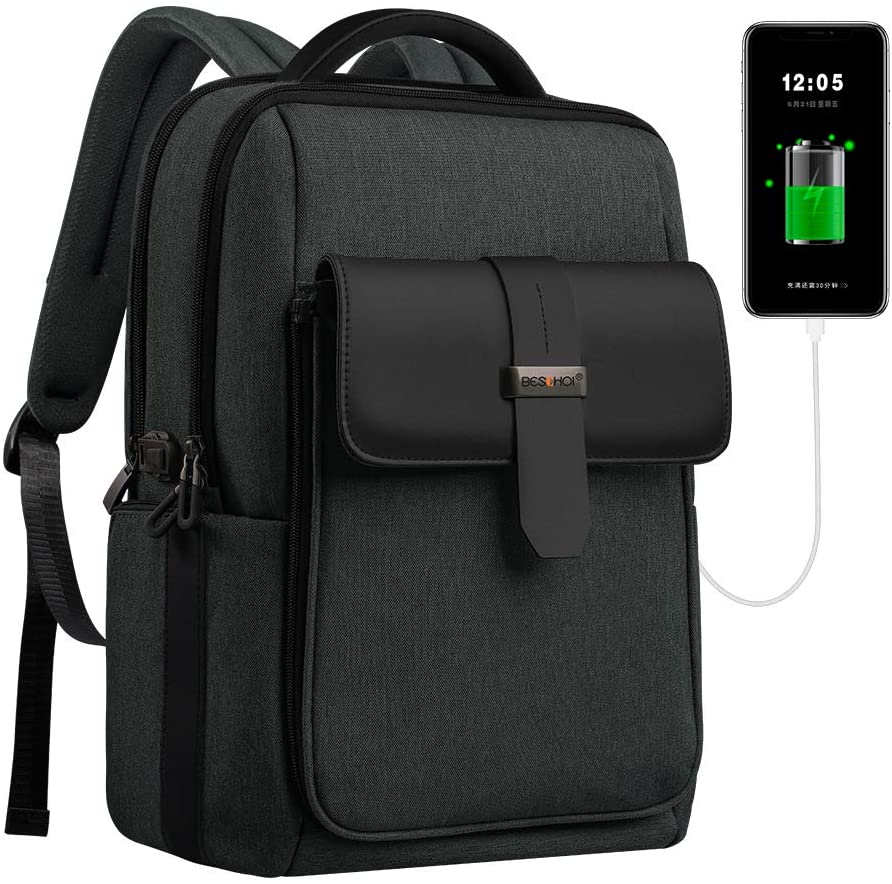 This item also has an anti-theft lock and is made from tough, waterproof fabric. The airflow back allows for good ventilation and padding to the shoulders, back – and even the grab handle – maximise comfort. The interior pockets also help you keep things organised.
Pros:
Detachable pocket can be used separately

15.6 inch laptop compartment and exterior USB charger

Anti-theft lock

Cons:
>> Click here to see these ladies' backpacks for travelling <<
If the best travel backpack for a woman is a large one, then this one should fit the bill very nicely. It has a generous 40 litre capacity, and if you want to, you can order the set that comes complete with 3 packing cubes.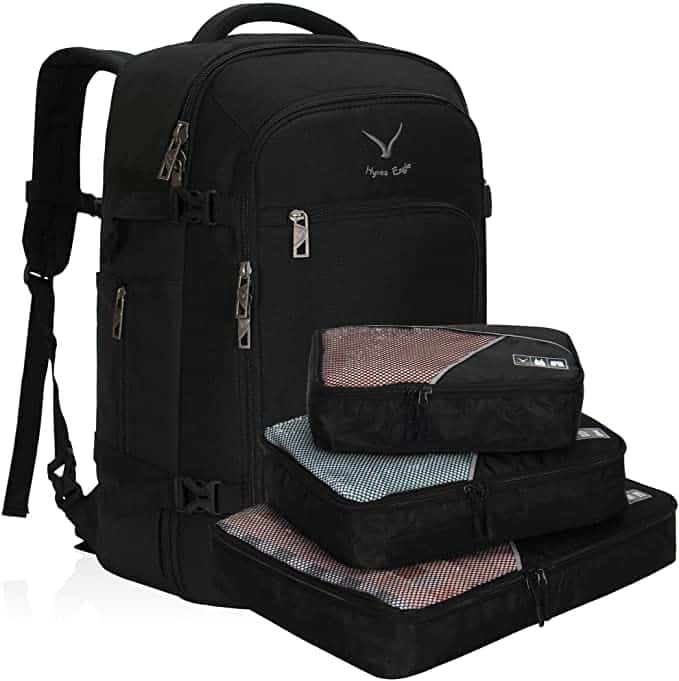 There is a front zipped pocket plus various interior compartments, as well as a larger pocket that can accommodate a 15.6 inch laptop. Comfort, meanwhile, is assured by the height-adjustable exterior compression straps, plus adjustable sternum and waist straps. Purchasers can also choose between grey, black and teal.
Pros:
40 litre carry-on with optional packing cubes

15.6 inch laptop pocket

Ergonomically designed for comfort

Cons:
Packing cubes cost a little extra

>> Click here to see these women's backpacks for travel <<
If your idea of decent backpacks for women for travelling involves an appealing design – as well as a smaller yet spacious capacity – then take a look at the Dakine Windr. This 25 litre women's backpack comes from a leading surf and skateboarding brand, so they know a thing or two about outdoor life.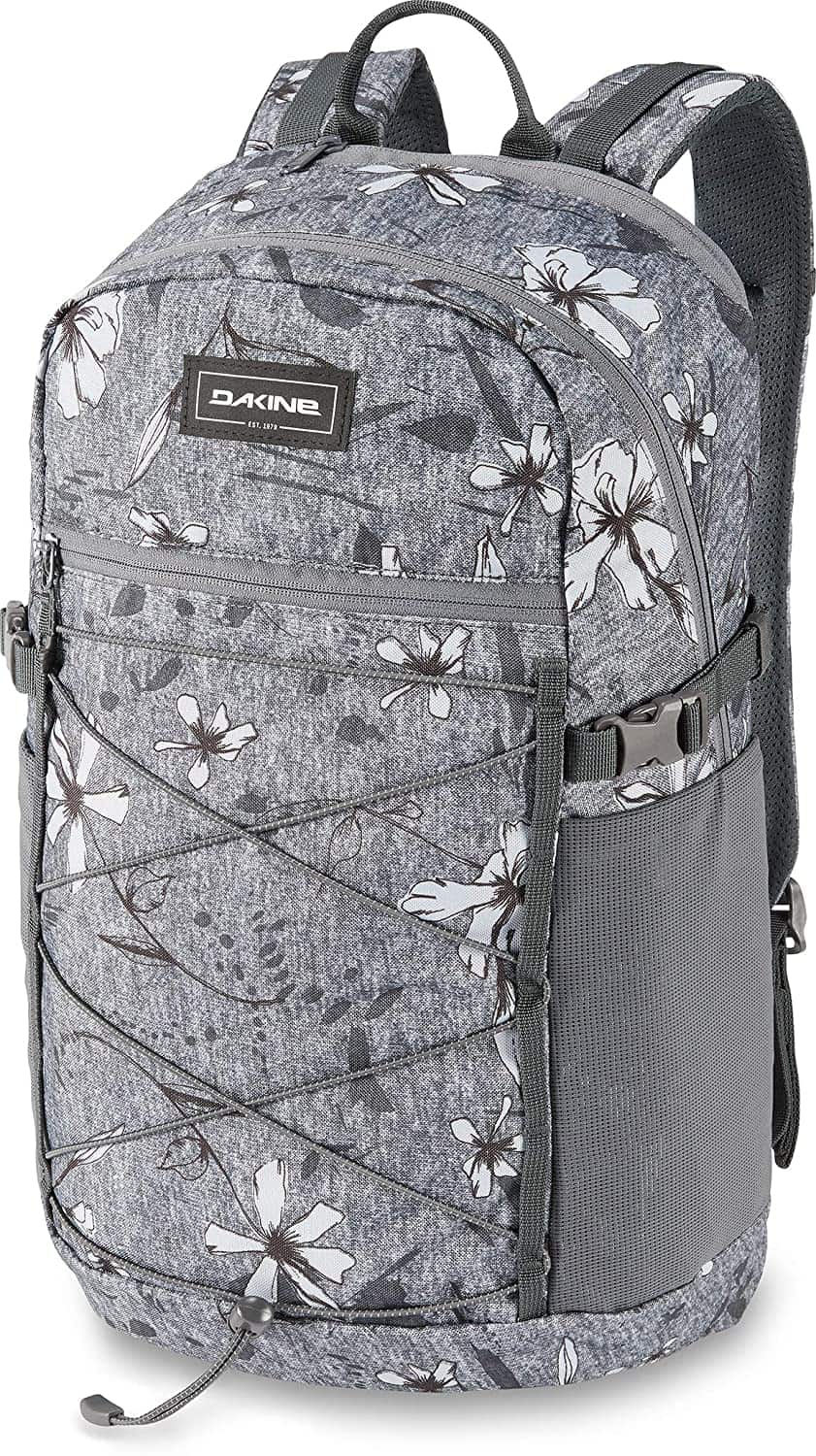 There are two floral designs to choose from, or pick one of two plain colours. Dakine have taken cafre to design this backpack for multiple purposes – from school or university to hiking, camping and travel. It can fit a laptop or large notebook, and as it's made with strong recycled polyester it's kind to the environment too. There is also plenty of padding to protect the shoulders and back – plus a chest strap.
Pros:
25 litre multi-purpose backpack

4 patterns or colours

Fits a laptop, file or notebook
Cons:
Fewer interior pockets than others
>> Click here to see this Dakine backpack for women <<
Last but by no means least is this Lekesky women's laptop backpack. This one has more of a fashion slant than the others, which is ideal if you're planning to visit a stylish city. Despite its good looks, this is a robust backpack made from tear-resistant, waterproof fabric.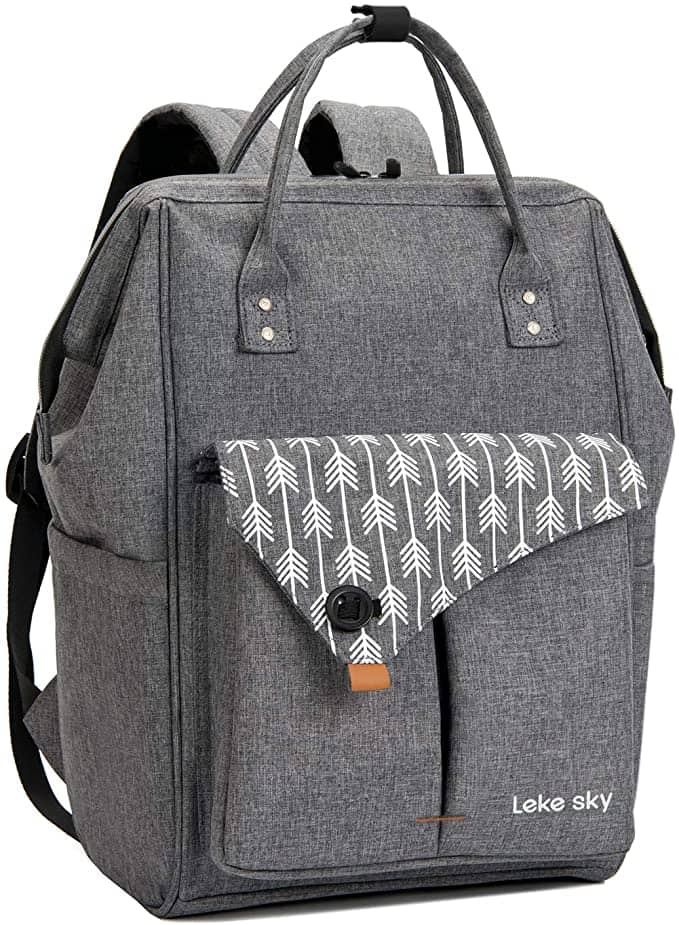 For security there is a hidden pocket that sits behind the wearer's back – the perfect place for keeping your cash, passport and phone safe. Inside, there's space for a 15.6 inch laptop as well as other daily essentials. If you plan to hit the urban rather than the rural trails, this could be the backpack for you.
Pros:
Stylish looks

Hidden exterior pocket

Fits folders or a laptop
Cons:
>> Click here to see this laptop backpack for women <<
Which is the Best Women's Travel Backpack for you?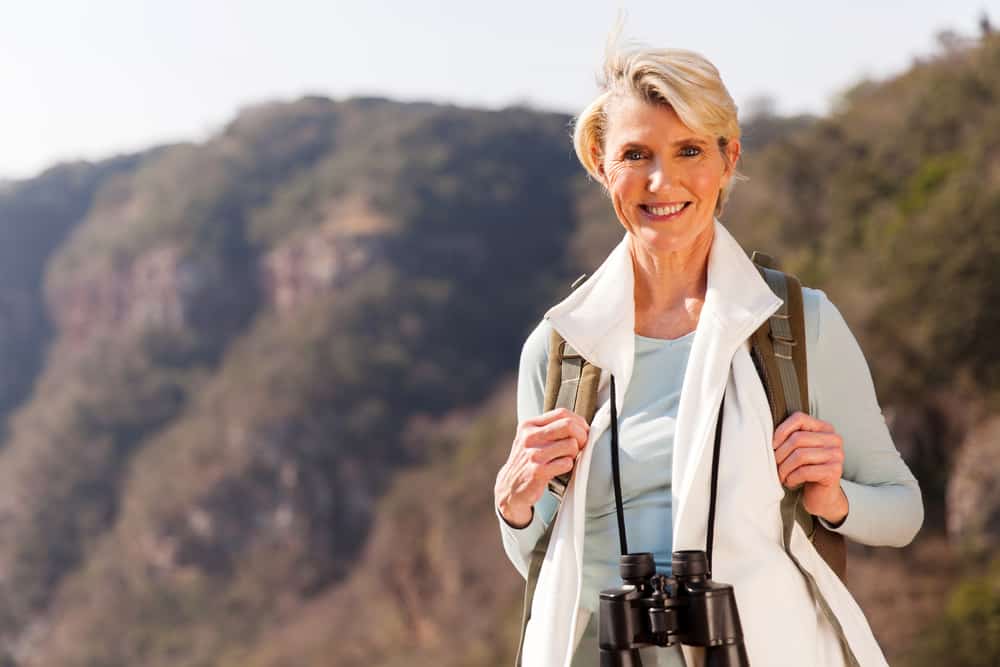 Hopefully this guide will help you find the ideal carry-on or daypack for your next trip. Whether you're exploring the outdoors or the city, having the right travel backpack for women can enhance the enjoyment as well as the comfort of your journey.
You might also like:
Best Travel Neck Pillow – Support & Comfort
Top 10 Best Apps For Travellers
Pin for later