Battleships!
One of our favourite printable games to play on a long car journey.
I like it as it gets them talking and thinking. It channels that bored energy that can often end up with kids falling out in the back of the car. As parents, we all know how dangerous and distracting that can be when your are driving.
That's why you need this printable battleship game at the ready!
This battleships printable is perfect for road trips.
If you want to save on paper, just print out the number of worksheets you need, and laminate them so you can use them again and again.
If you want to make your printable battleships game even more durable for long car journeys, buy some magnetic counters and a small baking tray and voila! You have a battleship board game template you can use again and again with pieces that won't get lost in the car.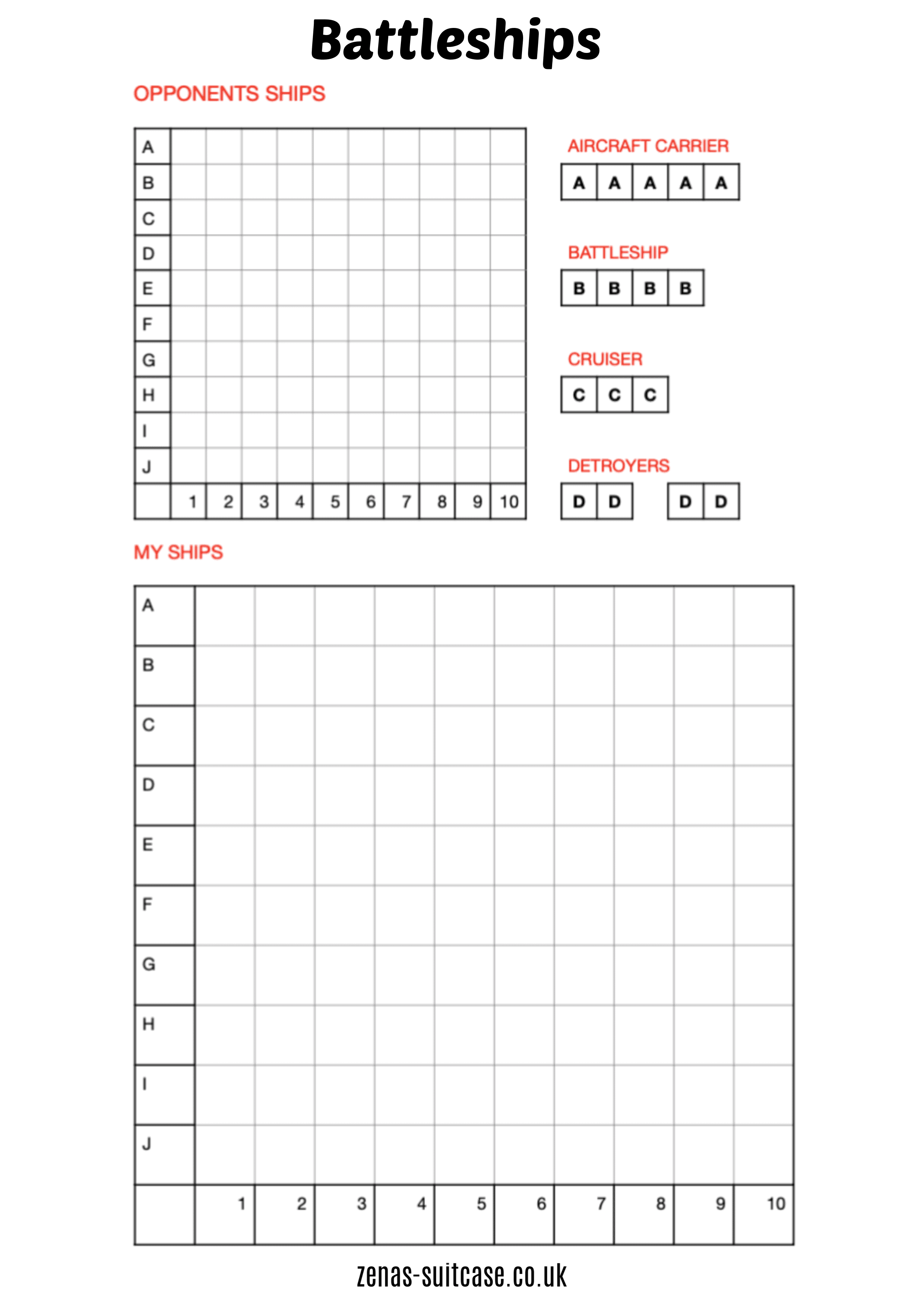 >> Download the printable battleships grid here <<
You will also be able to use the baking tray and magnetic counters with with our other road trip games, which is guaranteed to keep your kids busy for hours! We find that when we are travelling having lots of different car games to play is the best way to keep the kids entertained.
Games like printable battleships are not only great for in the car, but they work well when you are eating out at restaurants, when you are flying or taking the train somewhere with the family.
>> Check Prices for Travel Battleship Games on Amazon <<
How to Play Battleships
Battleships is a really easy 2 player car journey game to teach and play too.
Once you have your battleship grid pdf printed out, give one to each player.
They need to mark out where their ships are on their grid, keeping it a secret from the other player.
Each player takes it in turns to 'strike' by calling out a pair of grip co-ordinates. The winner is the person who manages to sink all their opponents Battleships.
>> Get more Road Trip Games Here <<
Don't forget to Pin now to print later….