For a long time, Italy's showstoppers like Rome, Florence and the Amalfi Coast have attracted tourists from all over the world, while Sicilians quietly grew sweet Pachino tomatoes, almonds and lemons, dined on fresh-caught seafood and produced delicious wine.
But the word-of-mouth of Sicily's riches is quickly spreading to travellers and history buffs alike. This sun-splashed island off the southern coast of boot-shaped Italy is a treasure trove of delights, with its vivid blend of the old and new and its peerless combination of cultural treasures and natural wonders.
For those with a particular interest in the ancient world, the ruins of the city of Selinous (modern Selinunte), on the south-west coast of Sicily offer some of the world's best-preserved examples of ancient Greek architecture.
As striking as the more famous Valley of the Temples in Agrigento but way less busy and far more time-effective to explore, Selinunte is re-emerging as archaeologists and visitors rediscover its mysteries.
This is definitely the best time to visit. The historic sites are considerably less tourist-packed in the autumn and winter months, and the nearby beaches are nearly empty.
Here's everything you need to see.
Selinunte Archaeological Park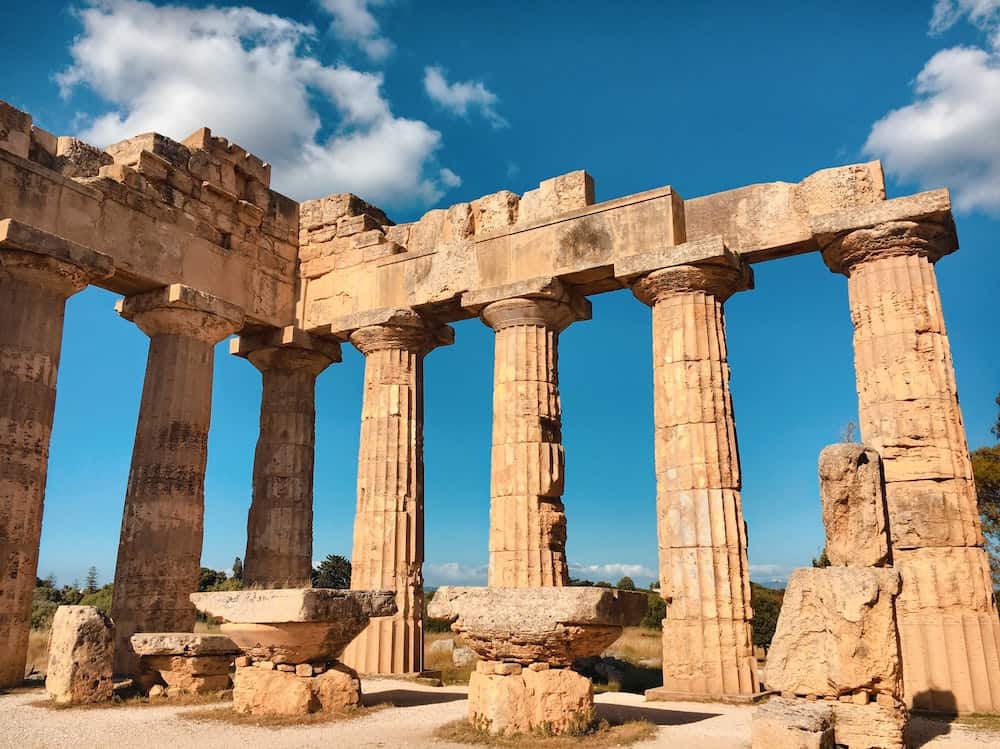 Founded as a Greek colony in 651 or 628 B.C. by colonists sent out from Megara Hyblaea on the eastern side of Sicily, Selinous achieved great prosperity in the sixth century B.C., and became one of the premier and most powerful metropolis in Magna Graecia.
The ancient city took its name from the wild celery – sélinon in Greek – which grew and still grows luxuriantly around its temples.
Selinunte enjoyed a period of splendour and wealth until a fateful day in 409 B.C., when the Carthaginian army attacked. Almost overnight, the Sicilian city was reduced to rubble, and has laid abandoned for nearly two and half millennia, until its rediscovery in the sixteenth century.
This is now the largest archaeological park in Europe, covering a total of 270 hectares.The eastern temples on a hill overlooking the deep blue waters of the Mediterranean Sea are the most scenic of all Selinunte's ruins. The imposing Temple of Hera, erected in the fifth century B.C., has six 35-foot-high columns on each façade and fifteen along the sides.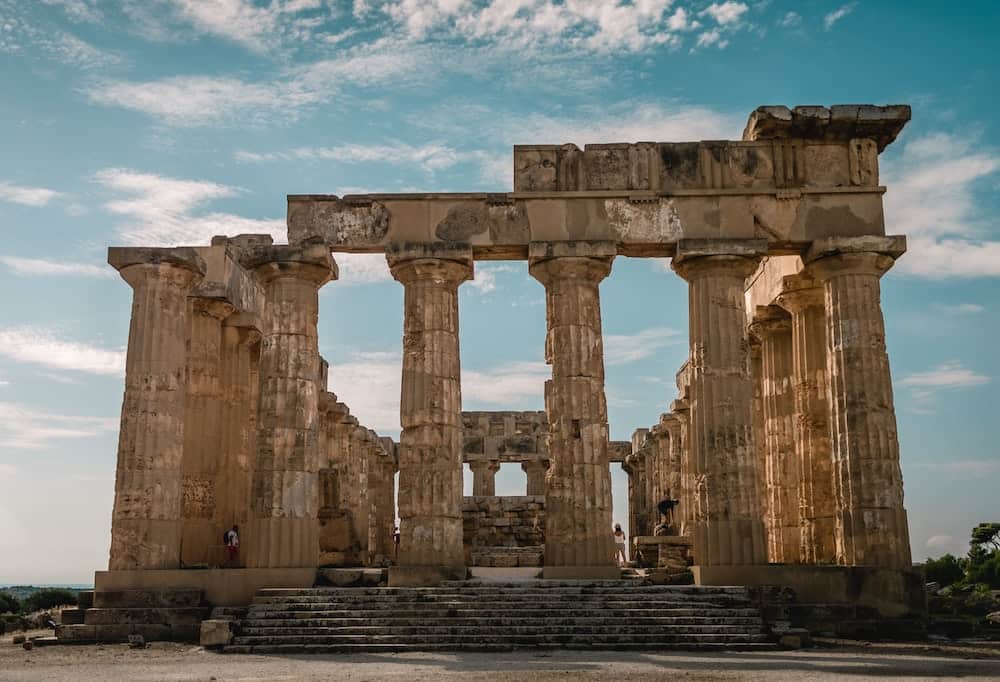 Begun in 525 B.C. and never completed, Temple G, dedicated to an unknown deity (perhaps Apollo, God of the sun and light), is the largest temple on the site and one of the biggest in the ancient Mediterranean. Today only a single large column is still standing. Possibly dedicated to Athena or Dionysus, Temple F is one of the oldest temples at Selinous.
Huddled in the south eastern part of the park are the remains of no less than five other temples:
Temple A, possibly dedicated to Artemis and containing a mosaic depicting the Punic goddess of fertility;
Temple B, dating back to the third century B.C. and mixing both Ionic and Doric architectural elements;
Temple C, the oldest temple on the acropolis, built in the middle of the sixth century B.C. probably in honour of Heracles;
Temple D, built around 540 B.C. in honour of either Venus or Neptune;
Temple O, erected between 480 and 470 B.C.
Depending on how much time you have, there are different routes you can take through the archaeological park, ranging from an hour to as long as three hours. If you're not up to extensive walking, you can hop on an electric train that runs around the site on a couple of different-length itineraries.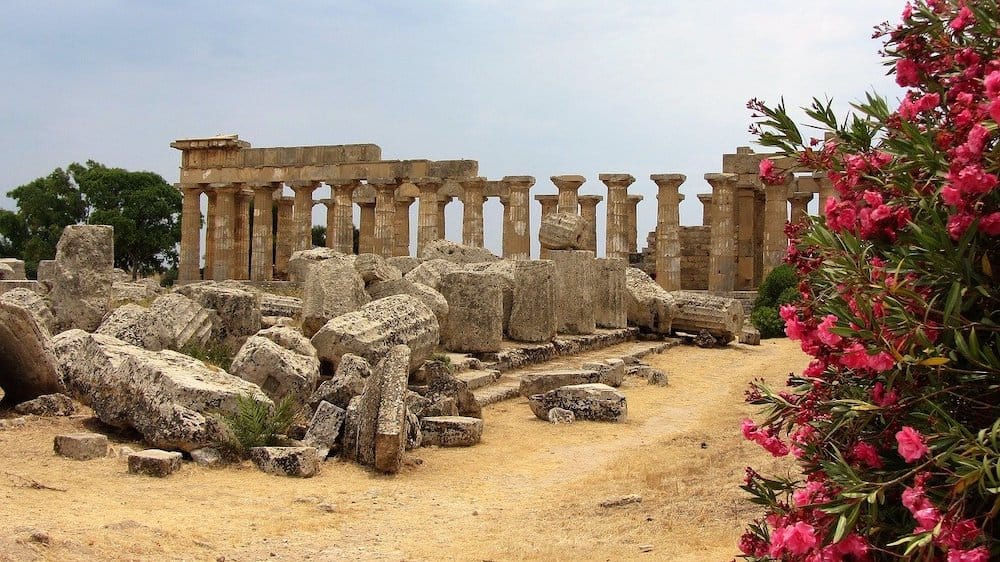 Tickets are extremely cheap at € 6 (£ 5) for adults. There are two entrances to the archaeological site, one from Triscina to the west and one from the pretty seaside town of Marinella di Selinunte to the east. The modern town of Selinunte lies nearby.
Cave di Cusa
If you are feeling adventurous, seek out the Cave di Cusa, one of the most fascinating spots in the whole of Sicily. Around 10 miles north-west of Selinunte, this was the quarry that supplied the warm, honey-hued local stone for the sacred temples in the ancient Greek city of Selinous.
All has remained exactly as it was on that catastrophic day in 409 B.C., when the ancient town of Selinous was besieged and destroyed by Carthaginian forces from what is now modern Tunisia.
Marinella di Selinunte
As mentioned previously, outside the eastern entrance to the archaeological park is the delightfulcoastal townof Marinella di Selinunte, a picturesque Sicilian fishing village with a long stretch of soft golden sand sloping gently into warm, iridescent aquamarine water. Here you will find excellent trattorias serving the freshest of fish and traditional delights washed down with local wine.
Blissful sandy beaches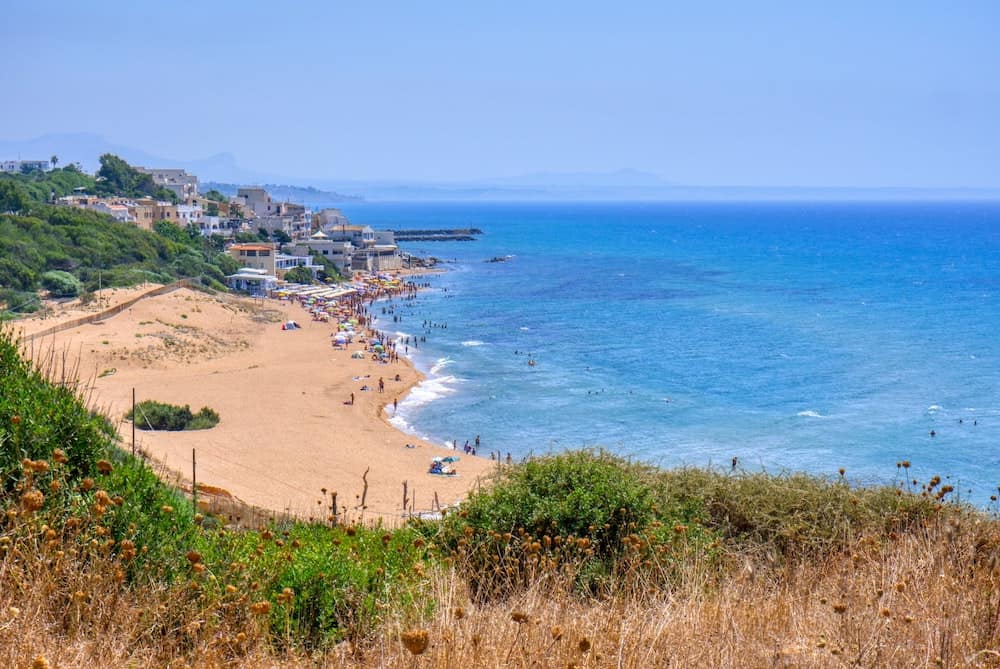 Of course, a Mediterranean holiday wouldn't be complete without a dip in the crystal-clear sea, and once again south-west Sicily has you more than covered.
The archaeological site of Selinunte is flanked by miles of long pristine beaches, with very fine, golden sand lapped by cobalt-blue waters that stay warm even in autumn. Sicily's bewitching south-western coast is fringed with an overwhelming array of spectacular beaches, most of which are uncrowded and peaceful even in the high summer months.
Belice Nature Reserve
Between the pinkish-gold Ancient Greek ruins at Selinunte and the lovely coastal hamlet of Porto Palo lies the Belice River Nature Reserve, one of the last stretches of untouched coastline on the south-west of Sicily.
Instituted in 1984, this protected area includes a two-mile stretch of still relatively undiscovered beach, sand dunes and vibrant coastal flora, including tamarisk, lentisk and sea daffodils. A nature-lover's paradise, the Belice Nature Reserve is a spectacular place to visit at any time of the year.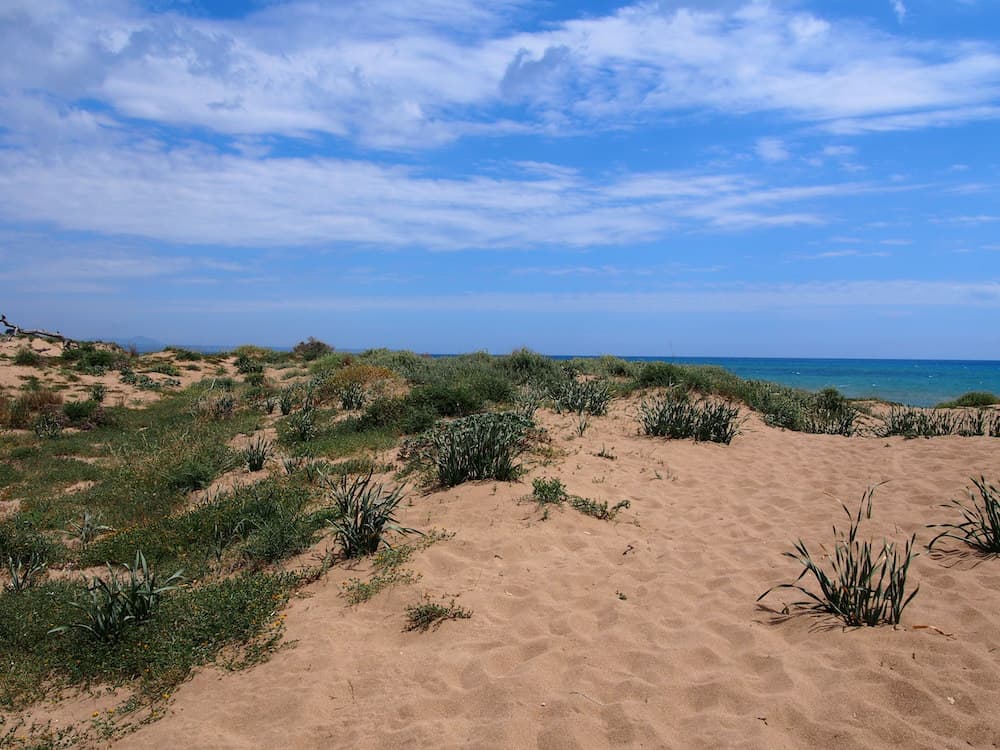 Visiting Sicily's secret south-west soon? Staying in a self-catering holiday rental is the safest way to vacation after Coronavirus. You can practice effective social distancing from strangers, and limit your contacts in a way that simply wouldn't be possible in a busy hotel, holiday resort, B&B or camping site. Renting a vacation home offers a much greater sense of privacy, no shared facilities and no direct contact with other guests or staff.
You can choose from a wide array of stunning rental properties in Selinunte Sicily, from ultra-luxe hideaways to family villas with private pool, most of which are available exclusively through Select Sicily, one of the island's leading holiday rental agencies.
For more information and reservations, please visit the company's website Selectsicilyvillas.com.