So, you're an expectant Mum and this is your first, second or in my case third baby and there are a million and one things to get ready for the new arrival in between all the other things that don't stop happening just because there's a baby on the way.  You scour the internet and realise there's not one, but two bags to pack to take a long to hospital.  Getting everything you want means a major shopping expedition, when walking has become a laboured waddle or several hours surfing the web to get your bags ready.
Mum's to Be, I may just have stumbled upon a handy solution for you.  I have been fortunate enough to be asked to review the Devon Road Babies Essential Labour Bag.  Now, I'm not actually going to use the contents for another 8 or 9 weeks, but I'd like to think I have a bit of experience when it comes to this labour business and the bits and bobs us expectant Mum's are likely to need.
Devon Road Babies is a family run venture born out of Rhiannon's frustration of trying to source a range of organic & ethical products she was happy to use when expecting her second child.   She has used her knowledge of what all new Mums, first time or not,  might need during labour alongside a strong ethical code to fill this stork emblazoned tote.  I've dug around the internet and I haven't found a labour bag that can match this one in terms of contents and values.  Devon Road Babies seems to me to be a very unique concept.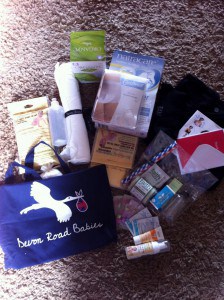 Here's a pic of my unpacked bag after it arrived, there are a few extras in here, and I'll let you know what those are a little later on.  In my experience the Essential Labour Bag  contains everything Mum needs to hand for the throes of labour.  I'm impressed with the quality of the 100% organic cotton black T-shirt and bamboo socks that you get.  The T-shirt is made by Earth Positive and as well as being organic,  it's climate neutral.  Devon Road Babies try to work with brands with similar ethics to themselves.  The socks are comfy, warm and sport the logo Bam Bam in Grey which made me chuckle, for those of you that remember the Flinstones.  It would have been nice though to see a splash of colour here, maybe even the stork logo would be a nice touch to match the tote.
The Natracare maternity pads (pack of 10), Organyc breast pads (pack of 24) and Carriwell washable panties (pack of 5) are all organic products.  The pack sizes provided are great and will last most postpartum Mum's for a short hospital stay, not just their time in labour suite.  The breast pads in particular seem natural and soft, just what's needed if you're feeling a little tender as breast feeding is getting established in the early days.
I really enjoyed going through what you get to help you freshen up as we all know, or are soon going to find out, what sweaty work contractions can be. There's organic aloe vera soap, hair grips, wipes, eco towels, drinking straws, lip balm and a water spray bottle to help you cool down.  I was amazed that all this was in this little stork bag!  I gave the lip balm a try and it's lovely, will really help with those dry lips caused by all that deep breathing and panting ahead.  All these items  would feature in any self respecting labour bag list.  All I'll need to do is chuck im my maternity notes and phone charger and we're away!
I've played around with the website, and it seems pretty easy to use.  Each product is clearly marked whether it's organic, ethical, sustainable and/or British Made so you know exactly what you're getting.  There's different shipping options and payments can be made through Paypal, but you don't need an account.  I'm a bit of a fan of PayPal for conveniences sake, but I can appreciate it's not everyone's cup of tea. I like that you can make a purchase without registering, ideal for people buying a one off gift.
As well as the Devon Road Labour Essentials bag, I also received the Organic Essential Lavender Oil, Clary Sage Essential Oil as recommended by Rhiannon as a pain relief alternative for the onset of labour and a Lavette Perineal Cleansing Bottle which I have to confess I have never heard of until now.  It's meant to make you a little more comfortable in the event of stitches or cuts.  Definitely worth finding out a little more Mums to Be, speaks the voice of some eye watering experiences.
I was delighted to be personally asked by  Rhiannon from Devon Road Babies to try the labour essentials bag without charge  and I have no regrets about agreeing to provide this review.  If you're wanting to treat yourself, your wife or girlfriend or need some ideas for a baby shower,  Devon Road Babies is a very good place to start.
To Keep up to date with Devon Road Babies, you can also head to Twitter or Facebook for regular updates.