Chocolate spelt cake could be just what you are looking for if your looking for a wheat free spelt flour cake recipes.  This is definitely one of my favourite parts of writing my blog.  My virtual trip to Granny's Kitchen.  It doesn't quite beat the real thing but it's a close second.  This chocolate spelt cake recipe is a real favourite, so I thought I'd share it with you, with Granny's permission of course.
Granny always comes up with some fab little treats.  I sent her a mini loaf tin for Christmas in the very hope she would come up with something magical.  And she did!  Chocolate meets spelt in a wheat free kinda way!  These chocolate spelt cakes or muffins if you prefer are delicious!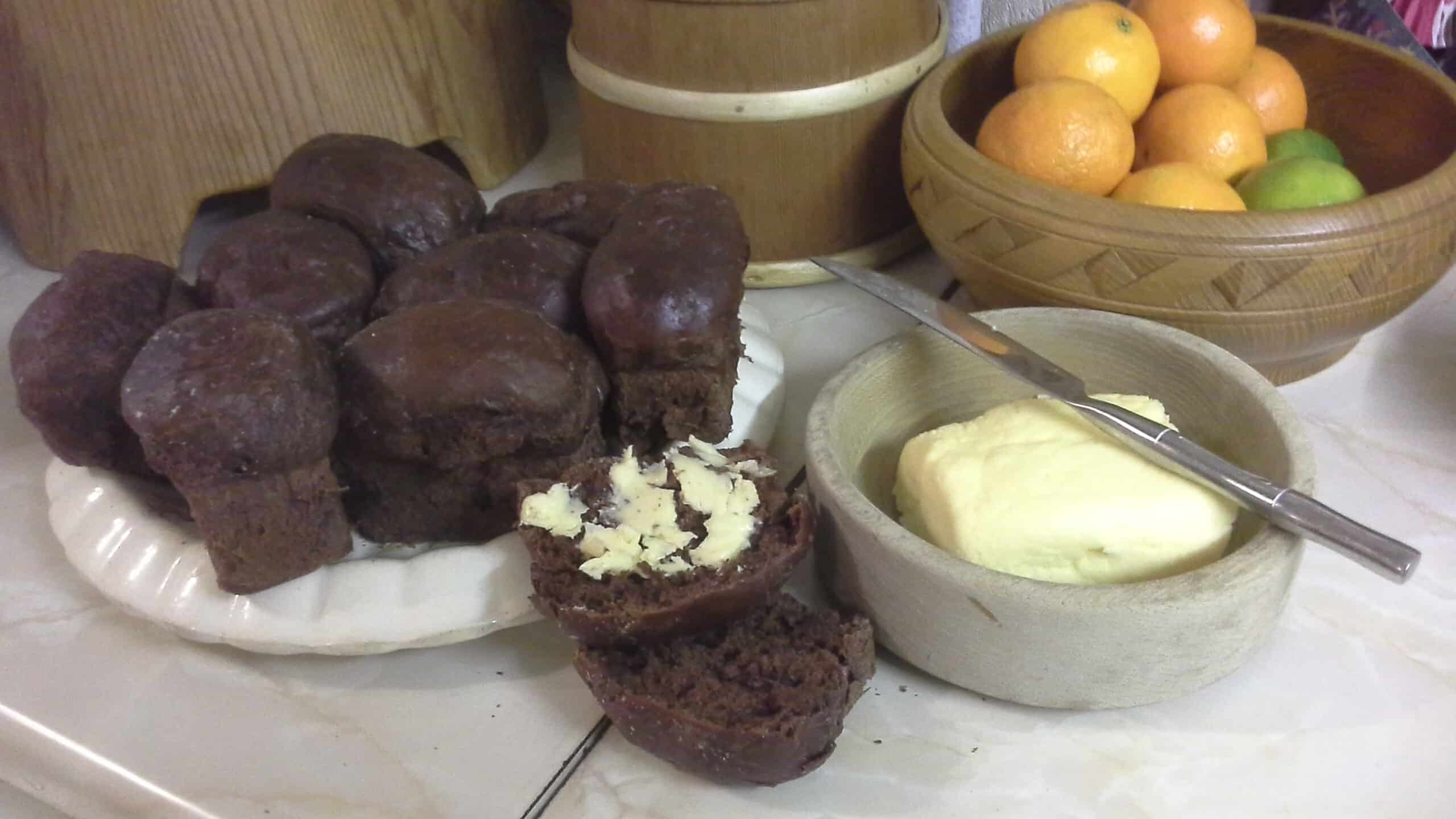 Chocolate Spelt Cakes
Ingredients 
300 ml warm water
7 grams  instant yeast
1 tspn dark brown sugar
2 tbspns strong coffee (any sort)
450 grams plain flour (I use Spelt, but wheat is fine)
50 grams cocoa powder
1/2 tspn chocolate extract
30 grams melted butter
50 grams dark brown sugar
1 level tspn salt
100 grams 70% chocolate (either choc chips, or a block, bashed into small pieces)
Preheat oven to 200 degrees or  180 degrees fan assisted

Method
Dissolve the yeast and the 1 tspn of sugar in  warm water in your mixing bowl and beat well.
Then add just  enough of the flour to make a smooth batter.
Continue by adding the rest of the ingredients in the order given above, then mix well to form a dough.
Granny would then keep the dough in the mixing bowl and use the dough-hook on her electric mixer to knead the mixture until smooth and springy.
Alternatively, you could  turn it onto a lightly-floured surface and knead by hand for about 10 mins until the dough is smooth and elastic.
Return the dough to the bowl, cover with clingfilm -a shower cap comes in useful if you do a lot baking – and leave in a warm place to double in size.
Turn onto a lightly oiled surface and gently 'massage' the air bubbles out of the dough.
Either place your dough in a greased and lined loaf tin, or, as Granny does, cut the dough into 12 equal pieces (they work out at approximately 85gms each) and place in prepared mini loaf tins/muffin tins,  or basically any shape that takes your fancy.
Leave to rise again, about half an hour should do, then bake.
The length of time needed will depend on the shape and size of your loaves, but you can check if they are ready by seeing if the loaf comes away from the sides of the tin.
Don't mistake melted chocolate for uncooked dough. Use the timings for any  basic bread recipe as a guide.
Turn out onto a cooling rack when cooked. If glazing,  do this whilst hot, by dissolving 1tspn icing sugar in 1tspn melted butter together, then brush onto the top of the loaf/loaves.
What Granny Says About Chocolate Spelt Cakes
When you really need a chocolate fix, but you're trying to stay away from naughty cakes, here's a fantastic compromise – yes, it's choc, yes it's carbs,  BUT less sugar, less fat, more taste, and much more versatile.
You can eat it as it is, you can slice it and butter it if you're feeling naughty or for a real treat you can serve the chocolate spelt cakes with custard.  It's great for freezing too.   I've ALWAYS got some in my freezer.