We received these Osmo kits in exchange for this review
We were absolutely delighted when Osmo reached out to us to see if Brook and Indie would like to review their Genius Starter Kit and Creative Starter Kit.  I've seen a lot of posts about Osmo online recently and the learning tool looked like something they would both enjoy, especially while we are all at home.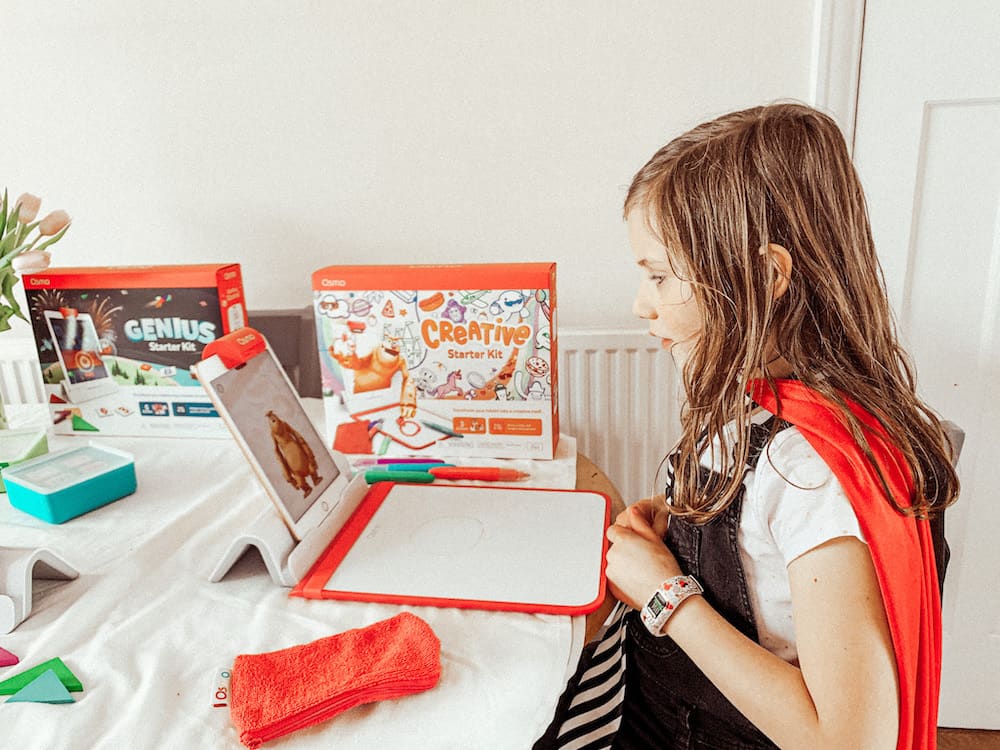 I don't know about you, but one of the biggest challenges I've had with helping the girls  during the school closures is encouraging independent learning.  Teaching a 5 year old and 8 year old requires a lot of input, and I'm still working out how to be a little hands off with their learning activities. Striking a balance between helping them with their school work and letting them figure things out for themselves definitely feels like a work in progress at the moment.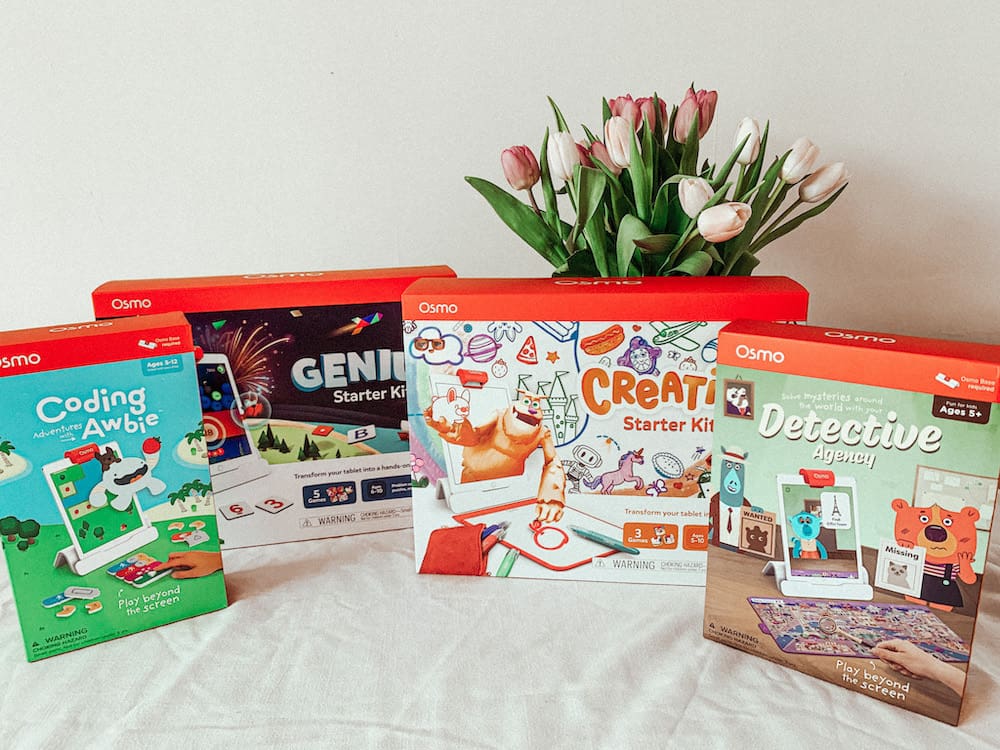 As well as the Genius and Creative Starter Kits, Osmo very kindly sent Brook and Indie their Coding Awbie and Detective Agency Kits.  We have spent this weekend getting to know our Osmo Games and so far we are very pleased with how Brook and Indie are getting on with.
>> Click here for the Osmo spring sale on Amazon<<
What is Osmo?
If you haven't heard of Osmo before you are probably wondering what it is.  If you have a tablet, either a iPad or an Amazon Fire, it's an award winning device that lets you turn your device into a creative learning tool.
By using the Osmo Base along side the Osmo App and Osmo Games, your iPad or Fire tablet becomes an interactive learning tool to help your child develop skills in maths, puzzle solving, coding, role play games, spelling and drawing. Once they know how to set up their favourite Osmo Game, which is super easy by the way, they can play and learn independently for as long as they wish.
Setting up our Osmo Starter Kit
Brook and Indie were really keen to get started with their Osmo Kit so I got things set up as soon as the Osmo delivery arrived.  I'm the first person to get frustrated if technology is difficult to set up, and I can honestly say that Osmo was really easy to get started with.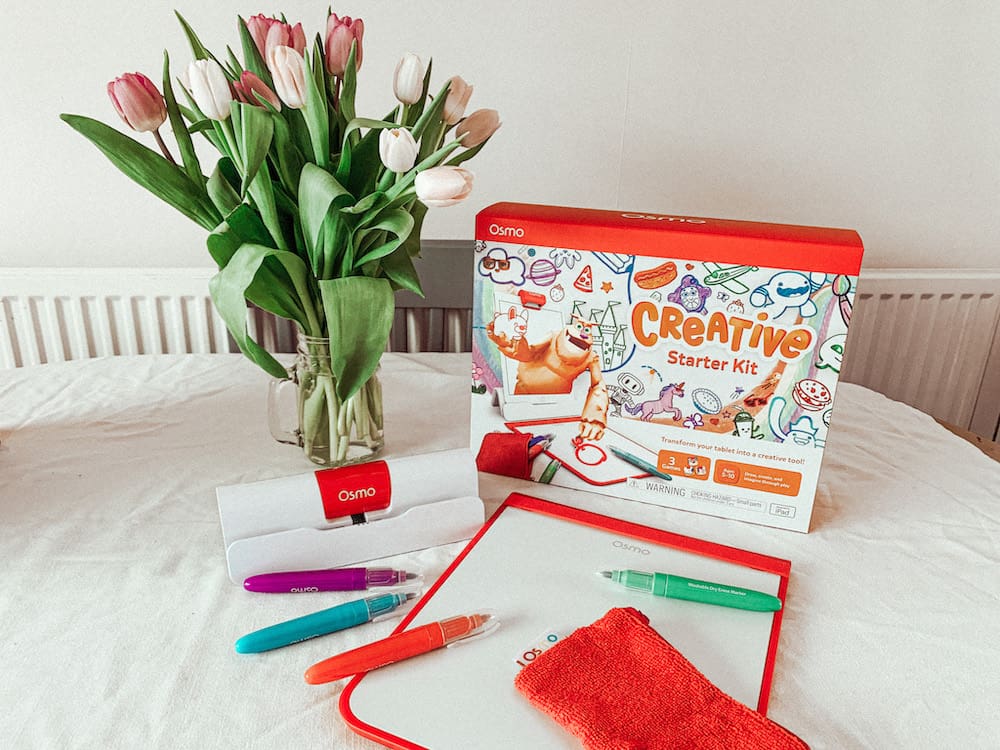 I just popped the iPad and Fire on the Osmo Bases and popped the Osmo mirror over the camera on the tablet.  Nothing needs to be charged, except your own tablet of course, and there are no leads or cables to worry about either.  This is great as it means you can use your Osmo iPad or Fire base on any steady surface or table.
I simply needed to create an account with my email address and download the Osmo Apps onto our tablets and then we were ready to play Osmo. Brook and Indie needed very little input from me to start playing the Osmo games. They selected the Osmo App they wanted, put the iPad or Fire in the stand, and began playing the Osmo games straight away.
Osmo Creative Starter Kit
When Osmo heard that Brook and Indie love to draw and use their imaginations, they knew the Osmo Creative Starter Kit would be perfect for them.  This Osmo kit comes with the Osmo Base, 3 Game Apps, an Osmo Creative Board, 4 Dry Erase Markers and a Microfibre Eraser Pouch.
We love the clever way the Osmo Base can scan what Brook and Indie draw on the Creative Board and brings their creations to life on the screen.  Their favourite game to play so far is Osmo Monster. Mo, the super friendly Monster, talks to Brook and Indie and helps them create pictures that come to life on the screen.
It's brilliant how their drawings are transferred to the screen and come to life.  This level of interaction really helps to keep them engaged and have fun for long periods of time.
Osmo Genius Starter Kit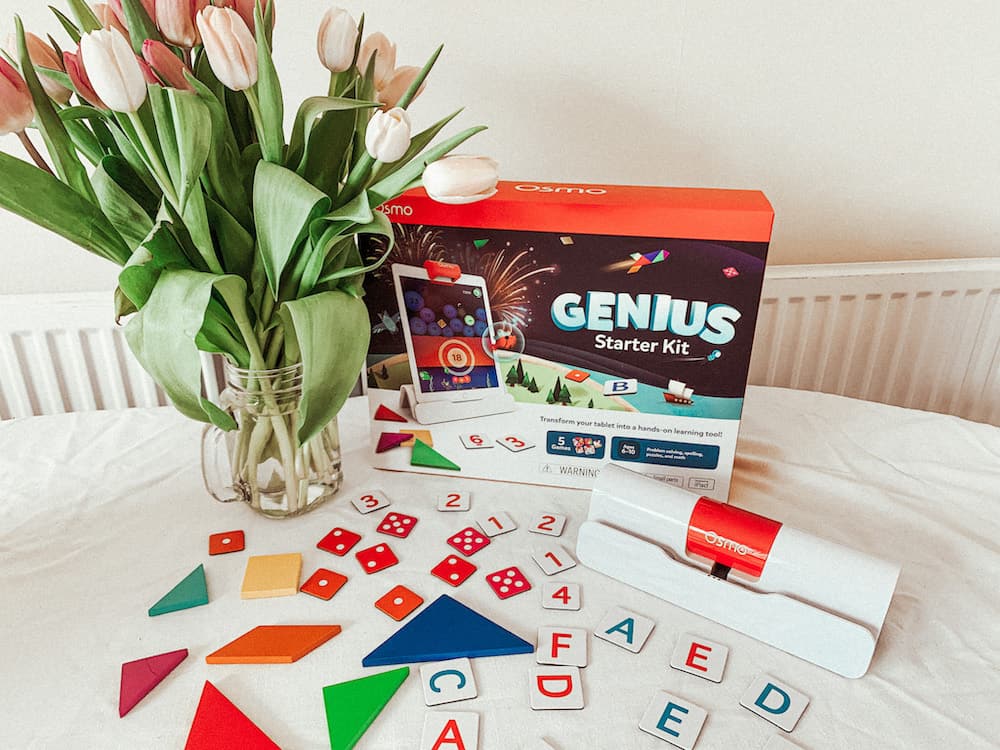 Home learning has always been super important to us as a family, but it's definitely gone up a few gears in the last couple of weeks. The Osmo Genius Starter Kit is perfect for supporting home school activities while we have the kids at home.
We loved all the accessories in the Osmo Genius Starter Kit.  There's plenty of Osmo accessories in this kit for getting started with this learning tool including the Osmo Base, 5 game apps, 7 Tangram pieces, 40 number tiles and 52 word tiles.
All these accessories and games are making our learning super fun and more importantly they are encouraging independent learning which is a huge help to me at the moment. The Osmo Genius Starter Kit is also helping build their skills in so many different areas including art, math, words, puzzle solving and even engineering.
The puzzles and games appear on the screen and not only keep Brook and Indie engaged with the cool graphics and game play, but also increase in difficulty as they progress making sure they don't get bored.
Coding Awbie
The great thing about the Osmo learning system is you can develop new interests by adding different kits to the Osmo Base.  Brook and Indie are learning so many different concepts at school and I'm keen to at least keep those interests going while we are learning at home.
There are some topics I am going to struggle with, and I'm the first to admit that coding is one of them.  Coding Awbie has it all taken care of though, and Brook and Indie have really enjoyed playing this game with the super cute Osmo character, Awbie.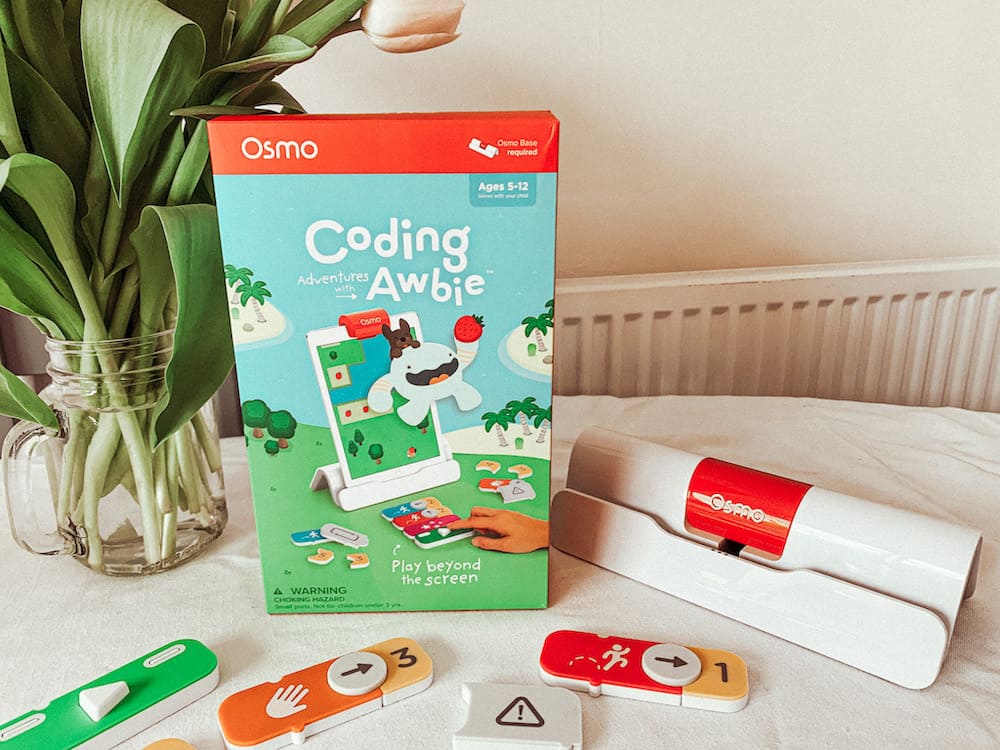 Coding Awbie was super easy to set up and Brook and Indie could play straight away which was awseome, building their skills in a fun and structured way to help Awbie on his exciting and magical adventures. The coding blocks are super easy to use and also come in one of Osmo's stackable storage boxes which makes tiding up and putting away easy and fun too.
Detective Agency
One of the biggest challenges for me at the moment is keeping Brook and Indie's interest in exploring the world alive when our travel plans have been so dramatically changed by the coronavirus pandemic.
One thing we are really loving about Osmo is that it really is fuelling our sense of adventure.  I'm so pleased that we were able to try out the Osmo Detective Agency for this review also.  Brook and Indie have really enjoyed this puzzle solving game.  I've been playing it as well, and it's so much fun.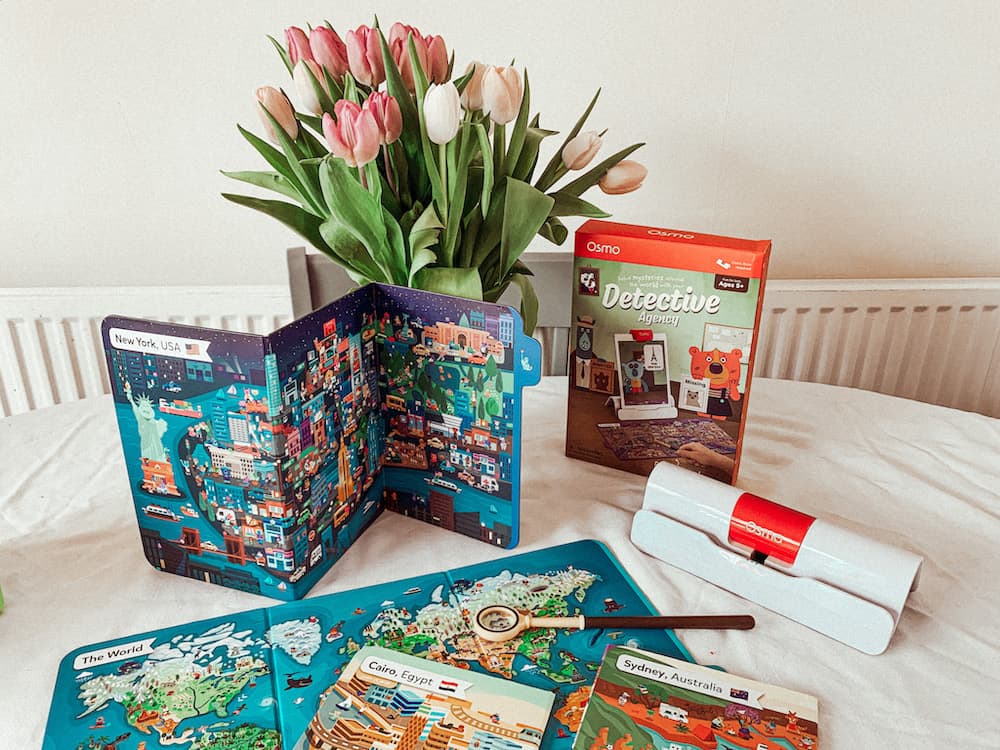 We get to solve mysteries around the world and visit different cities and landmarks all without leaving the living room!  We hunt for clues on the different maps which includes places like New York, Paris, Osmo Town and The World, while visiting the locations and learning fun facts about different places and collecting cool souvenirs.  It really is virtual travel for kids so it gets a 10 out of 10 from all of us here at Zena's Suitcase.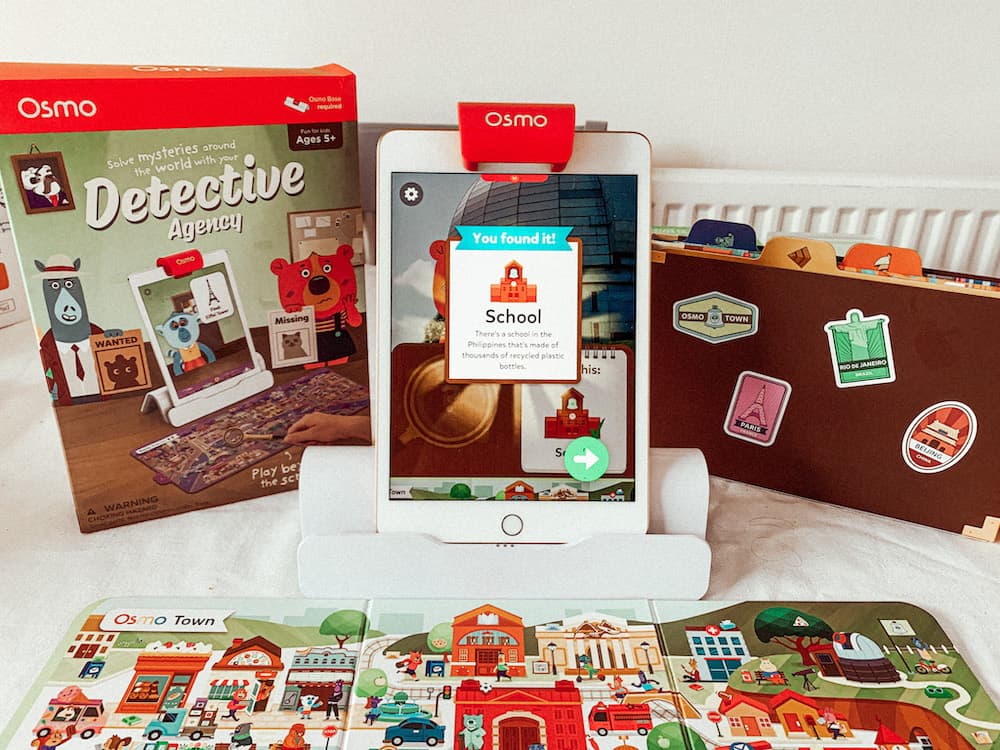 Osmo Discount and Giveaway
We are so excited about Play Osmo that we are absolutely delighted to bring you news of 2 great offers to help you out with learning at home.
I'm sure you are wondering where to buy Osmo so if you head over to Amazon you can get 20% off the bestselling kits in the in the Osmo spring sale! Get your hands on great learning tools at the best prices now and make lockdown with kids fun and interactive.
>> Click here for the latest prices on Amazon <<
You need to be quick to get this deal as the spring sale ends on April 16th! It's a great opportunity to get started with Osmo or add to your Osmo kit and help your kids enjoy healthy screen time while learning at home at the same time.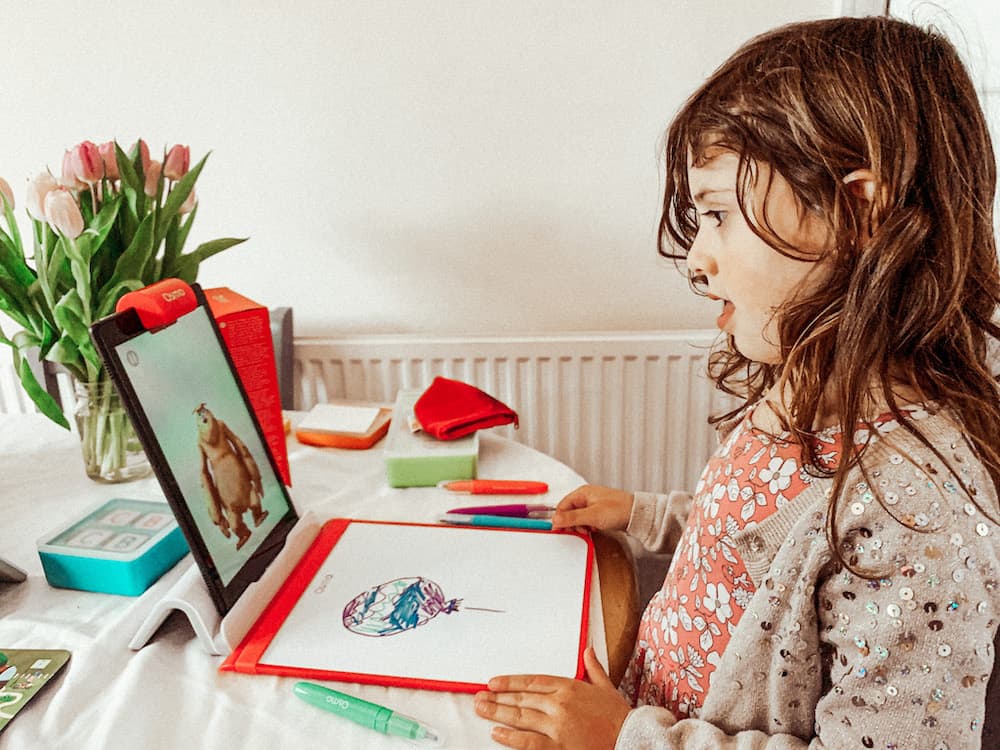 I also know how much Zena's Suitcase readers love a giveaway, and there is also a chance to win one of 3 Osmo Coding Kits worth $270 which includes Osmo Coding Awbie, Coding Jam, an Osmo Genius Starter Kit for iPad (or Fire tablet), and some fun Osmo merchandise!  All you need to do is click here and follow the instructions to enter the competition.  The giveaway ends on 16th April!
>> Enter the Osmo Coding Giveaway here <<
Make sure you pop back and let me know how you get on with Osmo and good luck if you enter the giveaway!  We can honestly say Osmo is a lovely prize and learning tool for curious little learners.
Further reading:
Getting Started with Home Learning during Coronavirus
Home School Timetable Ideas for Primary School Kids
We received the Osmo kits featured in this post in exchange for this review but all thoughts and opinions are our own.