If you are going on holiday or vacation with a toddler sometime soon, one of the best tips I can give you is to have plenty of travel toddler toys packed for the trip and a good travel tray if you're going on a road trip. Young children can get fidgety and bored, especially on long travel days. Having the best toddler toys for travel in your bag will help keep them calm and content. It will also make travelling less stressful for you too.
>> Click here for the overall best toys for toddler travel <<
Whether you are travelling by car or going on an airplane, this travel toys toddler guide is going to help you have a fun trip with your child. We know kids can soon become bored, whether they are on a plane or train, and sometimes it's not easy to just get out of your seat and distract them by going for a little walk. That's why we've picked out our top picks for best toddler travel toys, so you have plenty to entertain them, before they even get chance to get bored.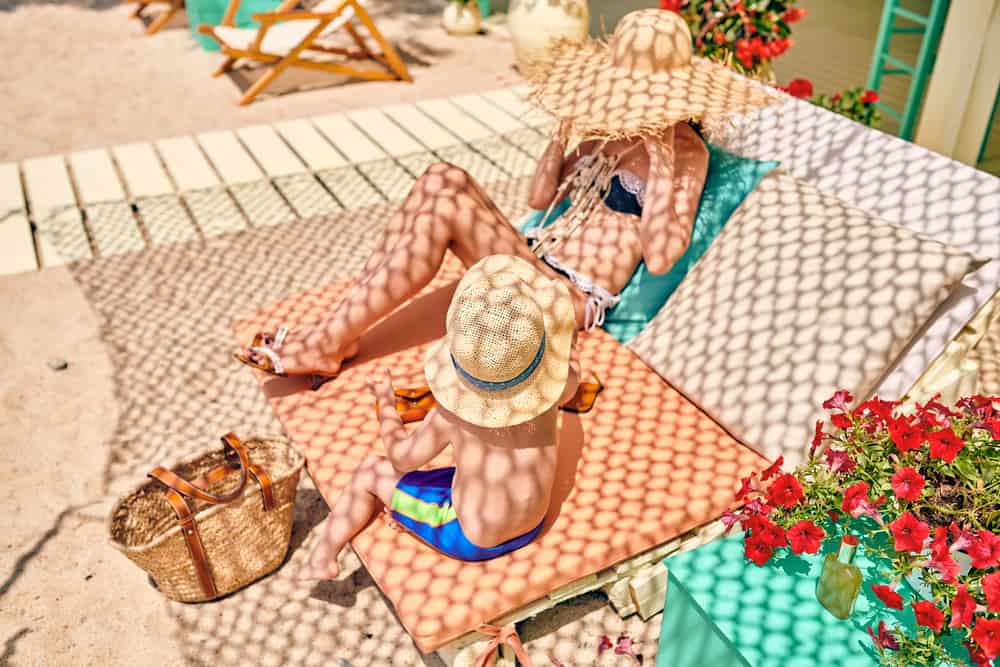 Name
Colours
Key Features
Price
Esjay Busy Board for Toddlers
4
options
soft, portable, multiple activities, educational, from 18mths
Click Here
AiTuiTui Magnetic Drawing Board
3 options
mess free, easy to use, portable, from 3yrs
Click Here
Bubble Fidget Toy
multi- coloured
sensory, portable, easy to clean, from 1 year
Click Here
Magnetic Wooden Block Set
7 options
portable, own case, easy to clean, from 1 year,
Click Here
My Quiet Book
3 options
portable, washable, educational, multiple activities, from 3yrs
Click Here
Wooden Lacing Toys
multi-
coloured
portable, easy to clean, develops co-ordination, 2 toys included, from 3 yrs
Click Here
Melissa & Doug K's Kids Take-Along Shape Sorter Baby Toy
mulit-
coloured
portable, multiple activities, from 9mths, develops coordination & recognition
Click Here
Town Maze Magnetic Puzzle Game
multi-
coloured
portable, stem toy, from 2 years
Click Here
How to Choose the Best Travel Toys for Toddlers
There are several features to consider when you are choosing the best toys for traveling with toddlers whether you going on a plane, driving or going by ferry or boat. When buying amazon toys for toddler, consider factors like how portable they are, are they easy to clean, are they travel size and will they keep your toddler entertained.
It's also helpful to consider where you are going to use your toddler toys. As well as travel days, will you be using your travel toys in restaurants or other places where your toddler could become easily bored without distractions.
Purpose
Are you looking for toddler toys for the car or more for toys for toddlers on airplanes? Depending on how you are travelling with your toddler can really effect the travel toys you want to pick. Is it going to be easy to pick up the travel toys if your toddler drops them on the floor. This can often be a challenge if they are in the back of the car and the toys can't be easily reached.
If you are travelling on a plane or train where you are likely to be surrounded by other people, toddler toys for the plane that make a lot of noise.
Age Appropriate
It's recommended that whether it's car toys for toddlers or toys for toddlers on planes that you pick toys suitable for your their age. Picking travel toys that are going to be safe for your toddler to use is an important issue. The best toddler toys for travel are also the ones that are appropriate for your child's developmental stage. Toddlers can easily become bored and frustrated with a travel toy they can't play with properly.
Portable
It goes without saying that the best toys to travel with for a toddler need to be portable. I'd recommend taking into account the bag or backpack you are going to be using for your travel toys, and considering if they are going to fit. Small, soft toddler toys for airplane may mean you can fit more in your bag. You might have more space for toddler toys for car, which will give you the option of taking more with you for the trip.
Multiple Activities
If you are really short on space when looking for toys for toddlers on airplanes, multiple activity features are going to make a huge difference. They provide so many travel toys in one, they are going to keep your toddler entertained for long periods of time whilst saving on precious space.
The Best Toddler Toys for Travel
One of the top rated toddler toys for travel, the Esjay Busy Board for Toddlers is popular with parents because it's packed with multiple educational activities bound to keep your child busy for hours.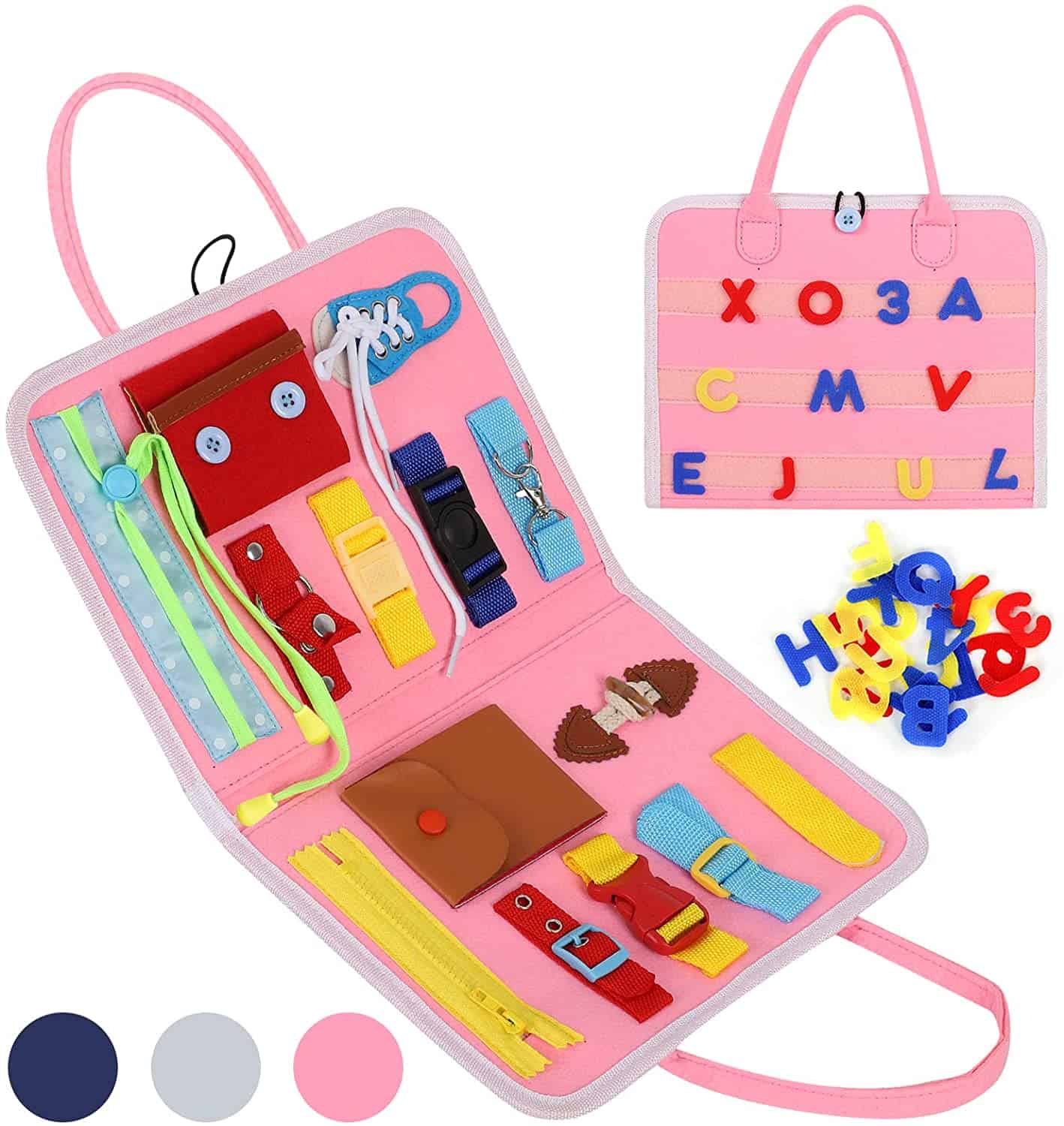 It's soft and portable design makes it easy to store in any travel bag or backpack. Not only will your toddler have lots of fun with this travel toy but they will begin to develop the skills they need for getting dressed, tying shoelaces and using buckles. The busy board for toddlers is suitable for kids aged from 18 months old and comes in 4 great colours.
Pros:
Soft and portable
Suitable from 18 months old
Multiple activities
Cons:
Small parts that could get lost
>> Click here for the best travel toddler toy <<
This magnetic drawing board is a great toddler travel toy for an aeroplane. With 4 zones of colour, a pen and 3 screen stampers it's perfect for creative toddlers. The slider wipes the screen clear so there's plenty of drawing fun to be had. It's a compact size so easily stored in your travel bag or hand luggage.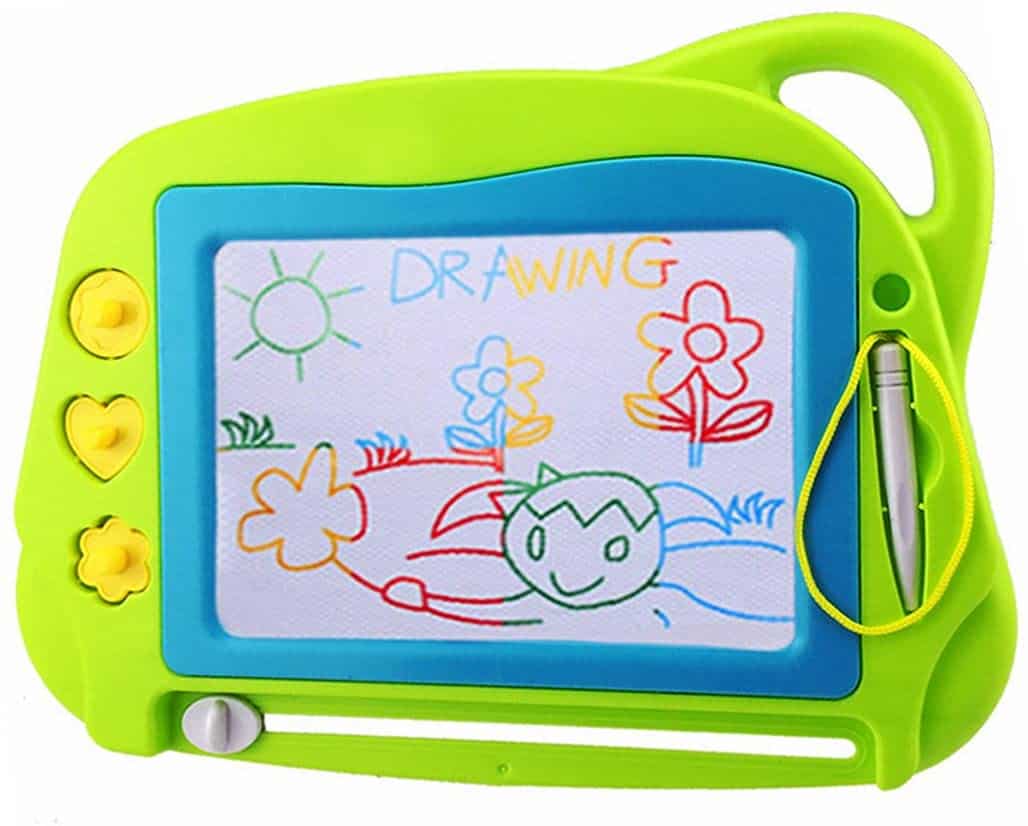 This magnetic drawing board comes in 3 different colour options, is easy to clean and has a convenient carry handle, making it a reliable travel toy for boys and girls aged from 3 years old.
Pros:
Budget travel toy
Durable
Easy to clean
Compact
Cons:
Small parts that could get lost
>> Click here to see the AiTuiTui Magnetic Drawing Board <<
Join the recent trend for fidget toys with this bright and colourful toddler friendly version that is perfect travel. This small and compact toddler travel toy is perfect for children from just 1 years old and is light, portable and easy to clean.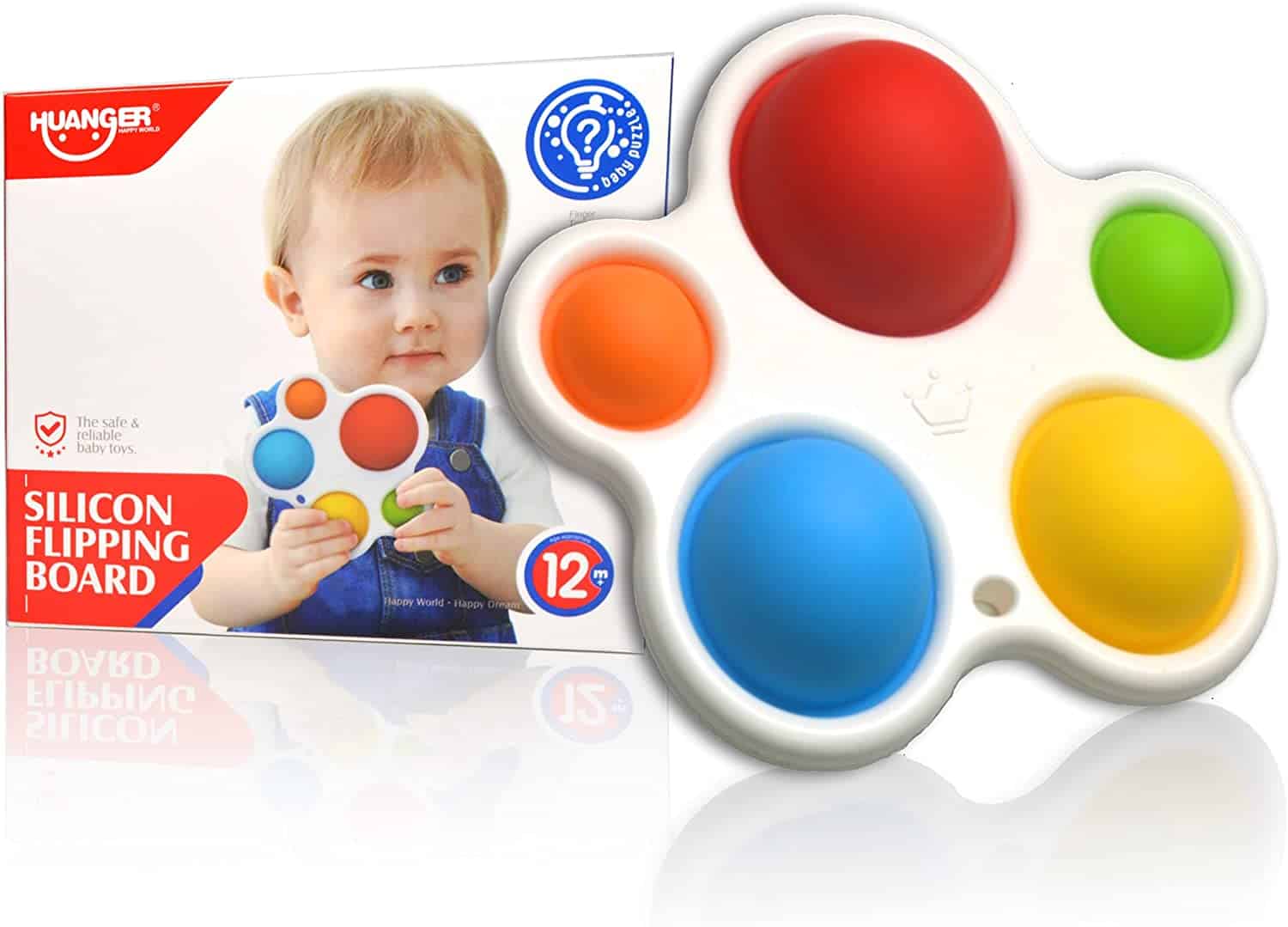 If the bubble fidget toy gets dropped, its robust and will be easy to retrieve on either an aeroplane or in a car. They are great distraction toys, giving your toddlers something easy to play with should they become upset of anxious while your travelling.
Pros:
Small and compact
Easy to clean
Suitable from 1 year
Cons:
Limited appeal
>> Click here for the Bubble Fidget Toy <<
Tegu Magnetic Wooden Block Set
This wooden building block set make the perfect travel toy for a number of reasons. Being magnetic you can use them to entertain your toddler anywhere. They come with a handy case making them an extremely compact travel toy especially if you are short on luggage space.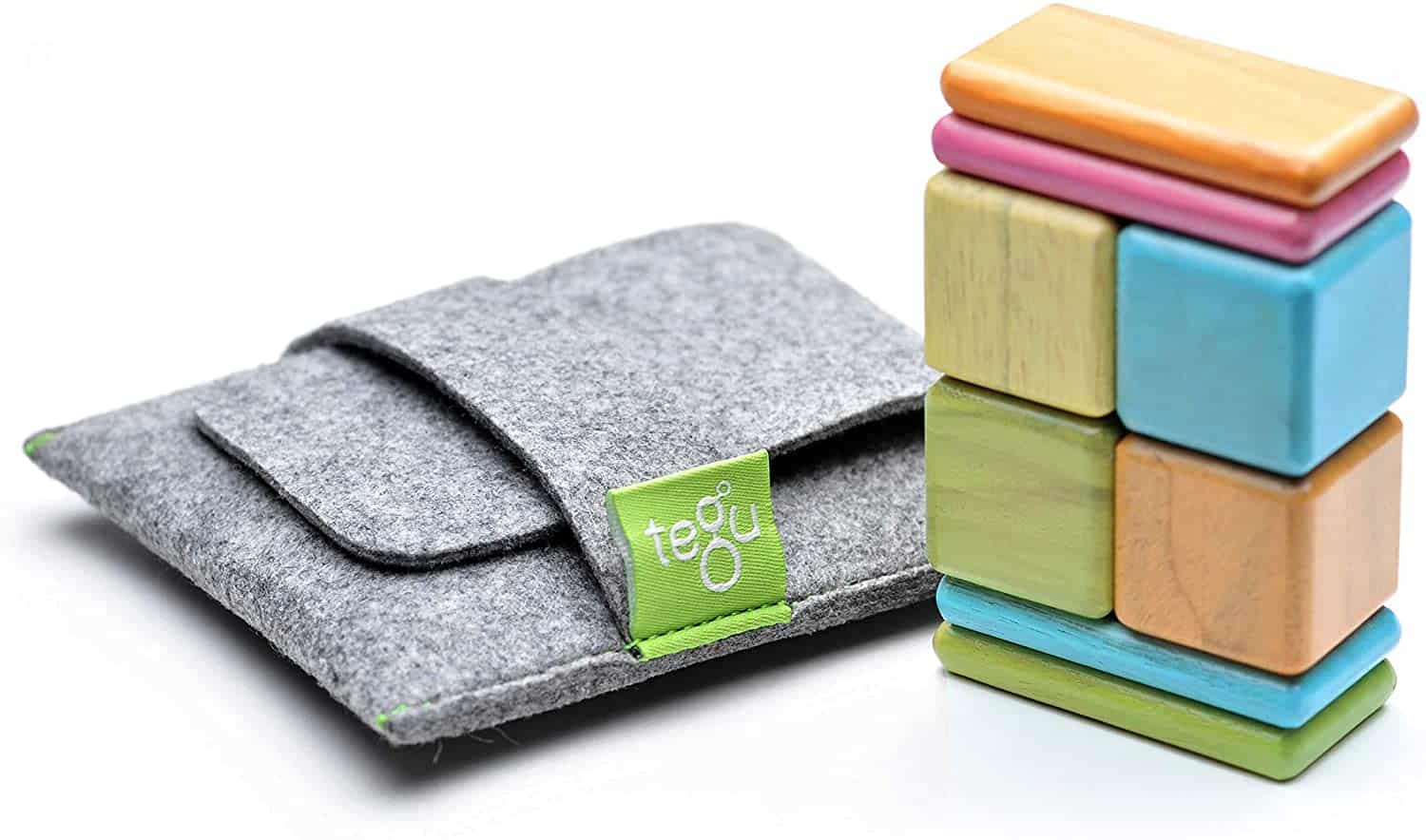 Out of all our toddler travel toys, they have the most colour options, with 7 great themes to chose from. They are easy to clean, spark imagination and can be teamed up with other toddler toys you might have on your trip.
Pros:
Magnetic
Own case
Easy to clean
Cons:
More expensive than some travel toys for toddlers
>> Click here to see the Tegu Magnetic Wooden Block Set <<
The deMoca Quiet book grabbed our attention because not only is it soft and comes with its own wash bag so it can be added to the laundry easily, but it contains 9 fun learning activities on separate fabric pages.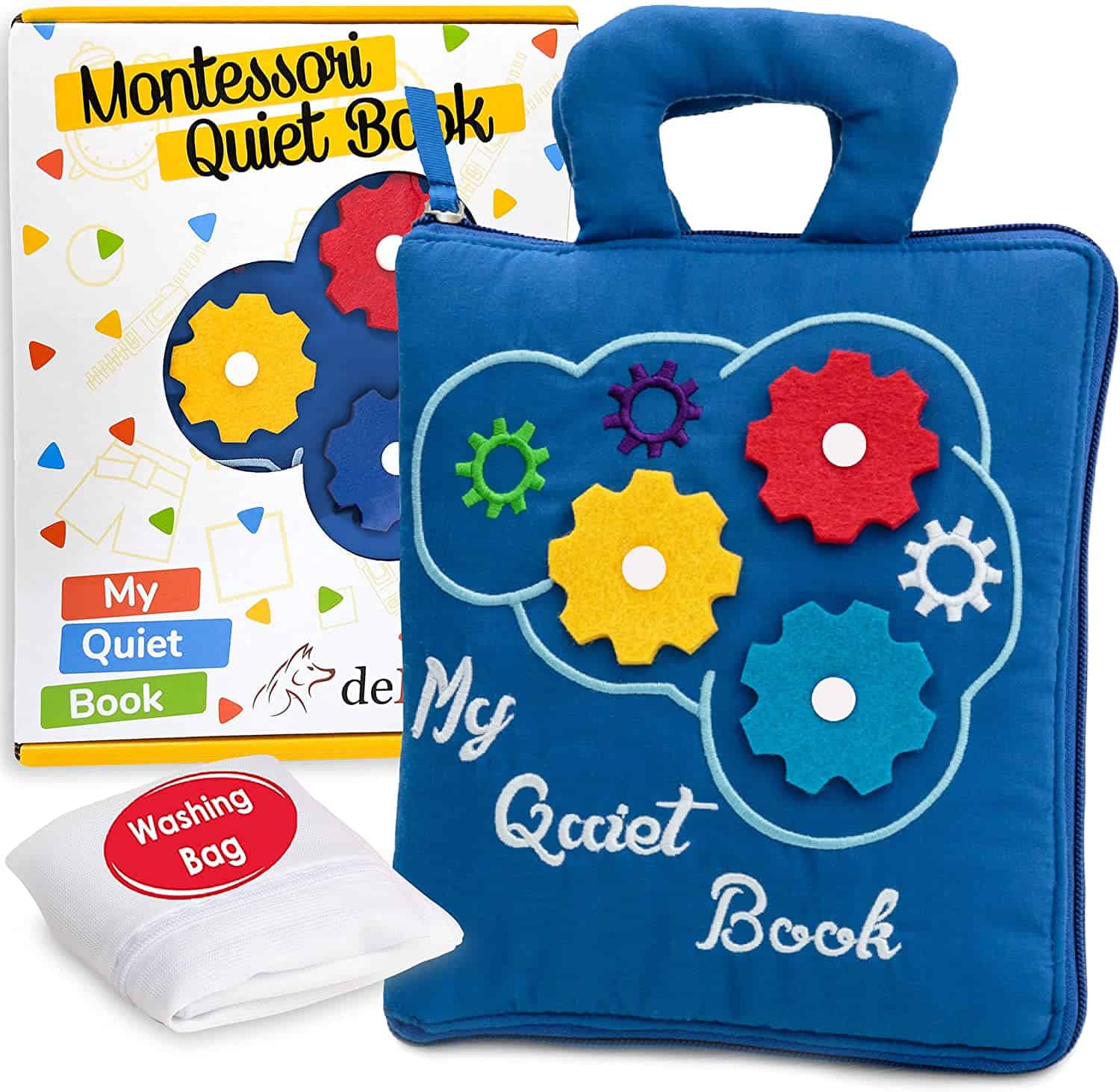 As well as developing your toddlers motor skills, its a great educational travel toy for recognising and matching shapes and colours. It easy zips up and will fit in a day travel bag and can be used in many different settings including cars, planes or restaurants.
Pros:
Multiple activities
Washable
Educational
Cons:
More expensive than some toddler travel toys
>> Click here to see the My Quiet Book <<
GEMEM Wooden Threading Toys
These small wooden threading toys come as a handy pack of two, including a strawberry and dog lacing game. One or even both of these travel toys will not take up much space in your bag. They are educational, and perfect for developing concentration and motor skills.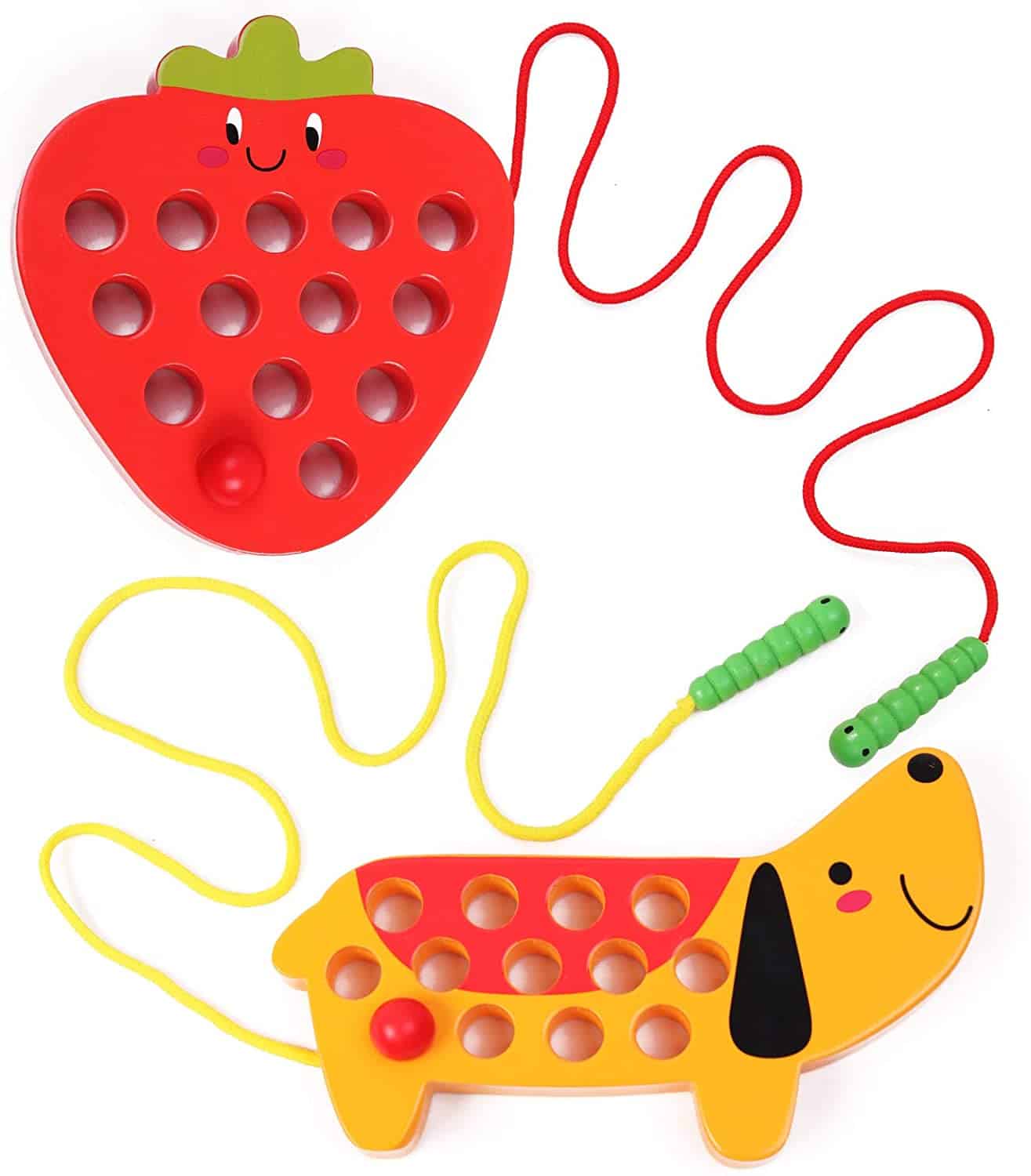 It's easy to play with and easy to wipe clean when travelling. The threading part of the toy is also attached so there's no lose parts to get lost when you are out and about.
Pros:
Compact
Easy to clean
No small parts
Cons:
May have limited appeal
This take-along shape sorter is not only a great toddler travel toy, but it's also great for keeping children entertained while on holiday or vacation. The carry case provides great storage for all the colourful shapes, but it also has the holes to sort the shapes into.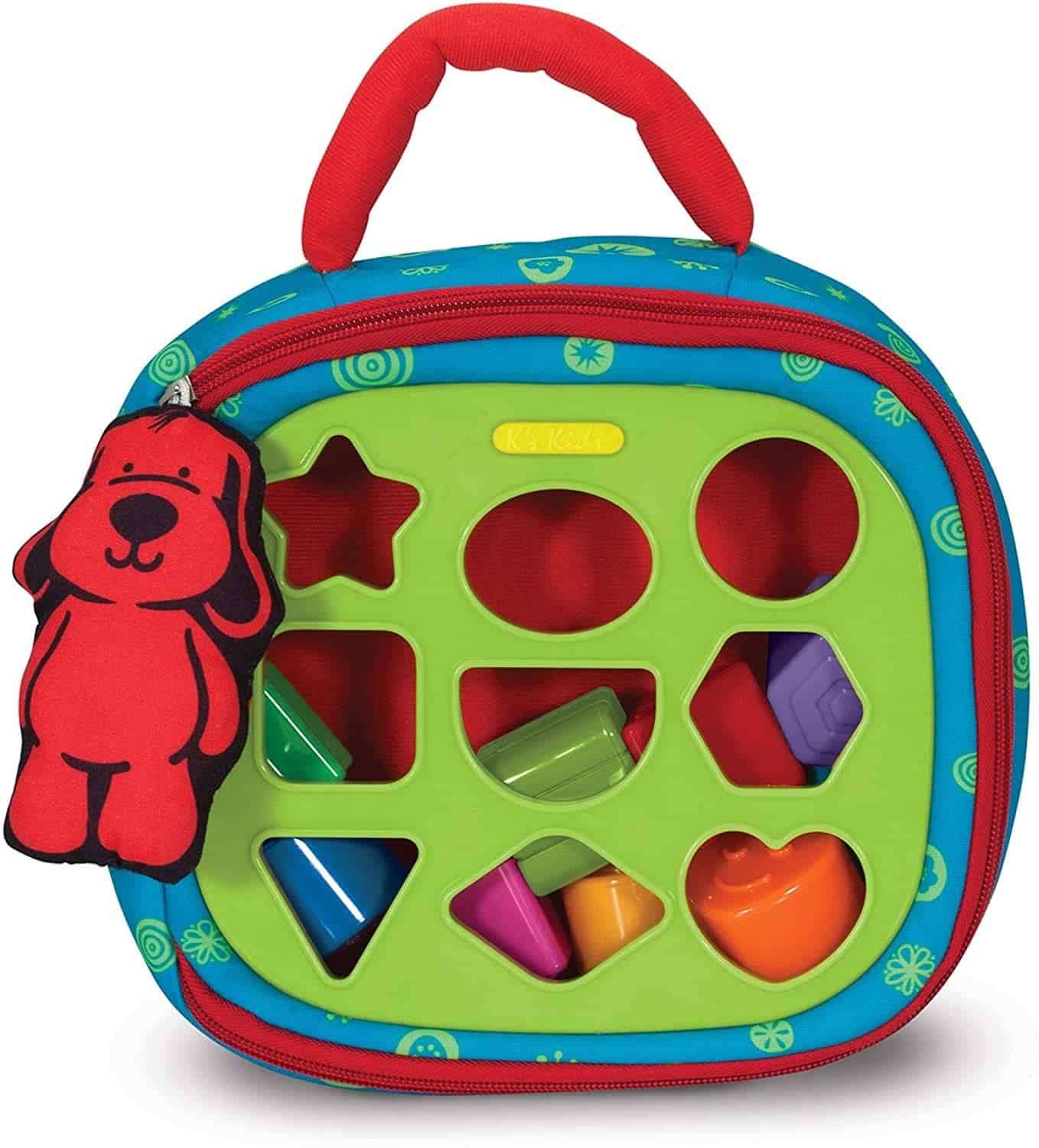 The back of the toy also has a sensory lift the flap game providing even more fun with this travel toy for your toddler.
Pros:
Multiple activities
Colourful
Well known toy brand
Cons:
Bulky toy
Shapes could get lost
>> Click here for Kids Take-Along Shape Sorter <<
This small compact town maze puzzle game is a perfect airplane toy for a toddler. It fits into even the smallest bag, and with no separate parts there's nothing to get lost. Your child will love moving the magnetic balls around the puzzle, but watch out for road blocks along the way.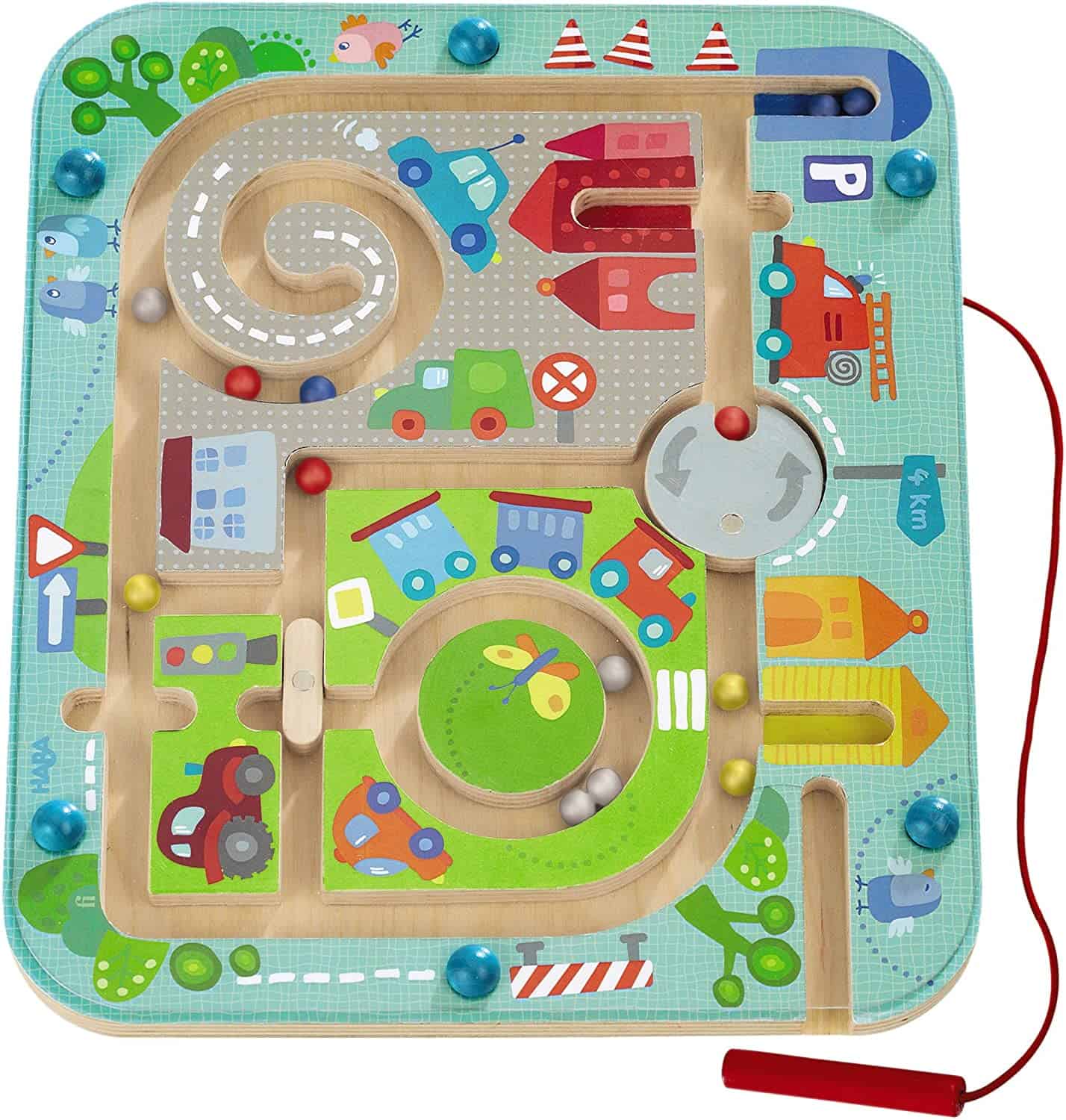 Perfect from 2 years old and up it helps with problem solving and motor skills. The flat surfaces make it easy to clean on the go too.
Pros:
Small
Portable
Puzzle solving
Cons:
Only one activity
>> Click here to see the town Maze Magnetic Puzzle Game <<
Which are the Best Toys For Traveling with a Toddler?
We hope this guide has ben helpful for choosing which travel toys are going to best for your toddler on your next trip. Whether you pick the top rated busy board for your travel toy or the flexible wooden magnetic block set, we hope you have found some fun ways to keep your child or children busy when you are next travelling.
>> Click here to see the best travel trays and organisers <<
Don't forget to pin the best toddler travel toys to your favourite travel board!