I was pretty focused on not introducing food to little Pudding until 6 months old.  To be fair that is only 2 weeks away now, and if she had been born on her due date it would only be three days away.
Little Pudding isn't that little really, even though it is well documented throughout this blog that I have no idea exactly how much she weighs!  She is strong and sits up very well when supported.  She has no trouble coordinating getting things to her mouth and she has been watching us eat and drink with a lot of interest.
The tipping point has been waking in the night every two hours.  I think teething was a factor at first, but her front two teeth have come through now, and she is still waking a lot.  Now, this wouldn't be a problem if it wasn't for the fact that a) I have the toddler Princess to consider b) apparently there's something called housework that needs to happen occasionally and c) zombie isn't my best look!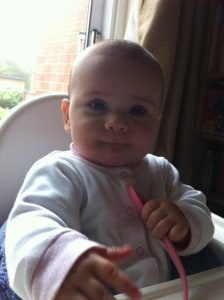 With all this in mind we have introduced a few tastes of food at breakfast.  I wouldn't call it breakfast just yet, it's more like playing with the spoon with some fruit puree or baby porridge.  At this point it's really about getting used to having something a bit different to milk and finding out what to do with it.  There's a lot of face pulling and a fair amount of mess, but the journey into food has begun and there's no going back.  I'm a little bit sad, but I am looking forward to getting a bit more sleep!
I know people have mixed feelings about getting to 6 months, and I'd love to know how you felt about first introducing food to you baby.  It's an exciting time, but where as before the food was on tap and nothing needed planning, now the dilemma of how to get a varied diet into her is about to raise it's ugly head.  We'll let you know how we get on!