When the opportunity arose for me to take the leap from the 9-5 to become a freelance blogger, it was a no brainer really.  With a demanding young family requiring so much of my energy having the flexibility of being able to work for myself was invaluable.
Even though it was a great opportunity, it hasn't been without it's fear and unknowns.  I worked in an office environment for all of my career, and had reached a management position.  Leaving this behind could have been a sheer act of stupidity, some might have thought.
In some respects I am still at the very beginning of my journey, but it has been a long time in the planning.  You cannot go from a full time job to a freelance career  and expect to make the same kind of money overnight.  Climbing the hill again can be daunting, but there are some things that I have learned can help you get up there.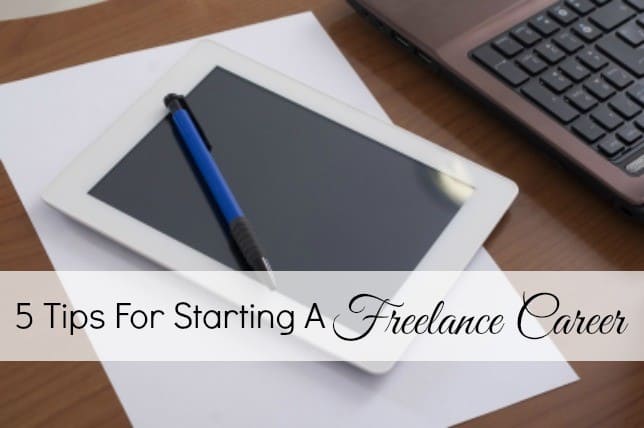 1. Research The Freelance Career You Are Interested In
If working for yourself is something that appeals to you, the first step of your plan needs to be research what you are getting into.  What are people offering already?  Can you offer something better?  What are you able to bring to the party to make a success of this new venture?
This isn't an exercise in putting you off becoming freelance, it's about being realistic about the work you need to put in.  Find out who is doing something similar, and how they are getting work.  Will you need a website?  Will social media help you?  Are there networking groups you can join?  Make notes and jot down ideas as you go along, as these will become invaluable when you start to get things of the ground.
2. Share Your Dream With Friends And Family
Getting support is going to be invaluable if you want to make it as a freelancer.  Thinking your going to be able to swing through the door one day and say 'look at me, I've been working for myself and it's going great' isn't realistic.
There maybe times when you doubt yourself and wonder what the hell you are doing and having the support of your friends and family is going to be invaluable.  They will be the ones that keep you going when things don't go quite to plan.
3. Find Other Creative People To Spur You On
We need to surround ourselves with likeminded people to spur us on.  This may mean getting some new people into your life who share the same passions and dreams as you.  It could also mean letting go of some people who just don't get it.
Having the right people around you can make such a difference to your success, so reach out to people via social media and other networks and make connections.  There maybe events and conferences you can go to in your field which will be a great chance to meet people.  Be friendly and professional and you'll soon get to know people that will give you advice and help on your freelance career.
4. You Need A Plan
If you want to make it in the freelance industry, you need to make yourself a plan.  Where are you now, where do you want to get to and what are the steps that are going to get you there.
A clear plan will give you direction and something to measure your success against.  Plans can always be modified and adapted if things aren't going as you expected and being flexible is a key part of making a success of a freelance career.
Breaking down the journey into manageable chunks will make the journey to becoming freelance so much more manageable.
5. Develop Your Brand
Being successful in any freelance industry has a lot to do with knowing your brand and then taking out into the marketplace and pitching clients.
Know exactly what your brand is and why clients should come and hire you.  Be clear what work you will do, and don't deviate from that.  Developing a brand has a lot to do with being consistent.  You want to be known as the person to come to for a specific type of work.
This will make it easy for you to be recommended by clients and get return business.  If you stretch yourself, you will lose some of the quality of your work and your brand.  It is OK to say no sometimes, and clearly defining what it is you do will give you some clear boundaries.
These tips will help you get your freelance career started.  Joining networks like Hiive will also provide you with an invaluable resource of like minded people and knowledge for you to tap into.
This is a collaborative post.
Image courtesy of Freedigitalphotos.net