Yesterday I felt broken by my children, and I feel terrible for it.  As a parent there is nothing worse than the feeling that you are letting them down and that there is more you could do to make the day run smoothly.  I am finding this year really difficult and it breaks my heart that my 4 year old has said to me 'it will get easier when I go to school'.  This should be a time when we make the most of being together as a family, but instead I feel like I'm constantly playing referee to two very feisty young ladies.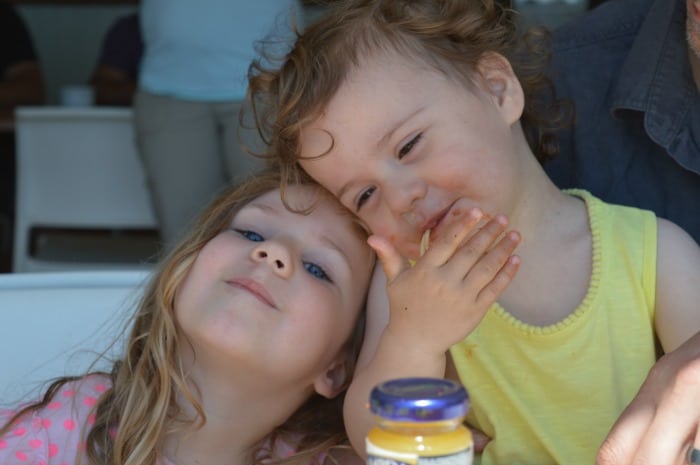 Monday's are a busy day for us, and we have to leave the house early to get to swimming and gymnastic lessons.  The four year old swims while I try and keep the 2 year old from jumping in the pool.  This went relatively smoothly, but it was when we had to shower that Little Pudding thought she would make things more interesting.  I've got a 4 year old in the shower who I'm trying to coax to watch her hair whilst the 2 year old thinks it would be funny to lap the cubicles.  There are all kinds of health and safety issues going on, and getting her to wait for her sister is proving a challenge.  Thank goodness for the kind parents who helped my daughter in the shower while I caught up with the mischievous 2 year old.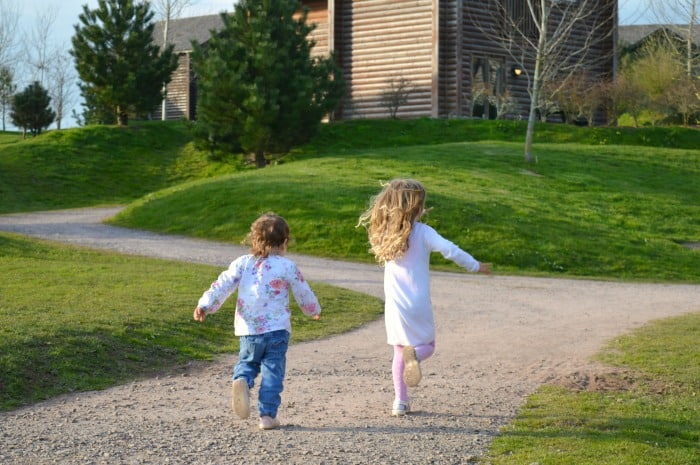 Time is pressing on for the next class to begin, but I get a moments reprieve as we are all contained in the changing cubicle.  At least no one can run off in here.  Perhaps we should stay in here until gymnastics.  Hang on, the two year old is seeing if she can fit under the door, oh my word, she can be persistent.
A quick snack stop for both the kids and then it's time for Little Pudding to burn off some steam in her gymnastics class.  It seemed like such a good idea to sign her up for this.  She had watched her sister go into gymnastics and she so wanted to join her.  I was hopeful that Princess would amuse herself at the side of the class while her sister took part in her lesson.  Sounds like a prefect plan doesn't it?  Well, whilst these two little monkey's fight constantly, the other thing they do all the time is copy each other.  So while one is sitting playing with toys, the other wants to be there too.
Instead of joining her Mummy to learn how to forward roll, Little Pudding wants to sit and play with her sister.  No amount of coaxing will get her to join me.  The only way I can get her to take part is if her sister does it.  This is far from ideal as then I have two kids to deal with in the class, and one shouldn't even be there.
I hope that when the 4 year old goes to school, Little Pudding will be happier to a take part on her own. This is what my daughter heard, and I fear she has taken this statement literally.  I don't want her to think it means I'm glad she is going to school.  I am on a level, as I know it will be good for her, but not in a 'packing her off' kind of way.  Kids don't really understand these subtleties though do they?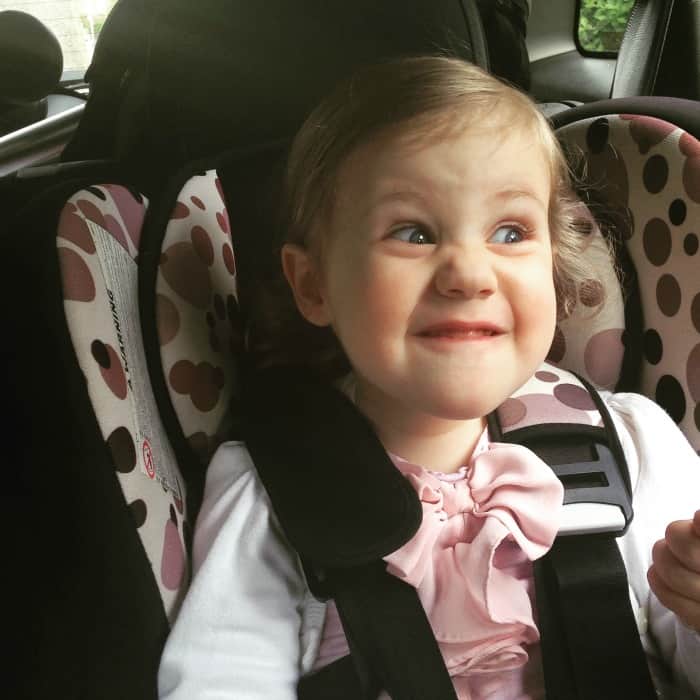 Princess then goes into her gymnastics class, but today she was feeling a bit tired.  She had already been swimming, done her sisters class and rightly so was feeling like she had done enough.  Perhaps I should have just taken them home at that point, instead I used some kind of bribery to get her to stay, which meant another 45 minutes with a 2 year old waiting by the pool.  Did I mention the pool is a health and safety nightmare waiting to happen?
For some reason, getting them back to the car proved even more challenging than normal.  They were distracted by a bush full of ladybirds.  It was cute watching them enjoy this moment with nature together, but I also knew that if I didn't get them home then there would be a complete meltdown.  The bush proved far more interesting than Mummy's game of 'where's the car?', and they both continued to ignore my directions.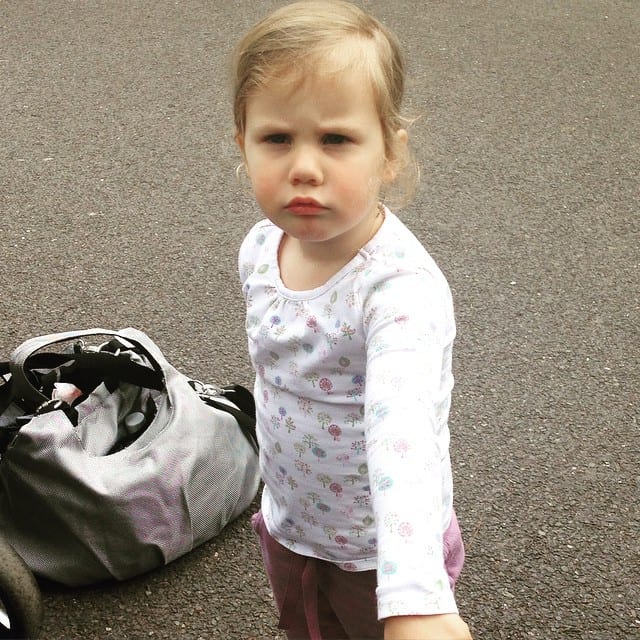 There are the most inconveniently placed hills that provide a great play place for children, with gaps in the hedges that lead straight to the car park.  Did my 4 year old listen when I asked her not to go there?  Not in the slightest.  Did the 2 year old follow her? Of course she did.
I'm already laden down with changing bag, swimming bag and lunch box and now I've got a screaming toddler tucked under my arm who has also just pooped.  I just need to get these kids home, no matter how much they scream even though my stress levels are rising dangerously by the minute. I keep myself in relative check and get them strapped in the car, but my voice is getting firmer and firmer by the second.  I'm just focusing on not losing it at this point, as everyone will become a bawling mess, with the worst offender being me crippled by a big fat dose of Mummy guilt.
It's only a few minutes home, and the toddler pretty much wails all the way.  She's red faced, snotty and very little will calm her down.  There's a fight over dolly in the back of the car, and I can here my husbands words of wisdom rattling through my ears, 'you shouldn't let them bring their toys'. The problem is, things that you think are sure to help these girls get along better, always end in tears.  It's not because it was a bad plan, it's because they are both strong willed, independent young ladies with a touch of the territorial about them.  Nothing like their Mother at all! Throw into the mix the insecurities of a 4 year old and a toddler tantrum and you have something that equates to world war 3 on pretty much a daily basis.
We enter the house.  I need to deal with the poop.  The toddler is not having any of it.  More snot and tears ensue and I give it up as a bad job for the minute.  Perhaps if I distract her with some lunch.  I'm literally in the kitchen for a minute before I hear 'Mummy, she threw (inserts any toy that can be used as a missile here) at me'.  I re-enter the living room with talk of the naughty step and a reminder that we don't throw things.
They now have food and they are too engrossed in eating to start screaming at each other so I hide in the kitchen with a packet of Doritos savouring the peace and quiet, but that nappy isn't going to wait much longer.  Fortunately the toddler is a lot more willing now, and it's like dealing with a different child.  With everyone fed and watered, it's time to retreat to the sofa for a dose of CBeebies.  It's raining outside, so I feel justified.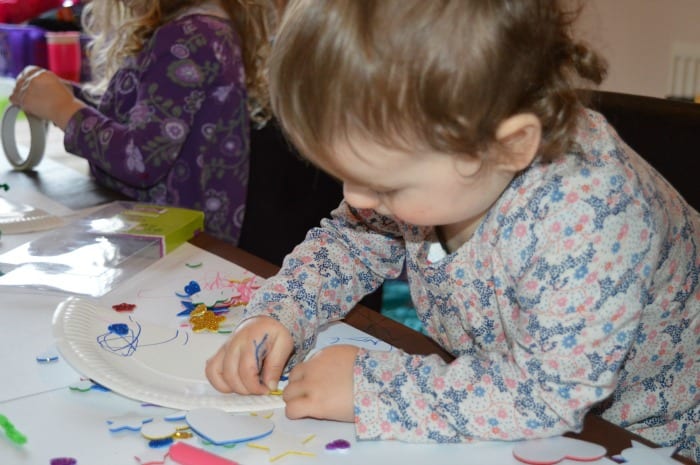 A 2 and 4 year old try and squeeze their not so little bodies onto my lap, with a little pushing and shoving until they feel they have claimed their rightful space we get ready for an episode of Go Jetters or similar.  I've literally got no energy left, but I should be entertaining them, not vegging in front of the TV.  We are surrounded with toys and crafts, 'what's wrong with me', I hear the voice inside my head shout.  I get out some stickers and paper plates and they do some decorating.  Phew, that's gonna be my Mummy win for today.
I can use this moment to sneak away for a quick wee.  A moments peace in the sanctuary of the toilet.  Is this what my self care has become?  My pee is rudely interrupted by screams.  'She's pulling my hair Mummy!' When all else fails the 2 year old's retaliation is to get hold of Princess's hair and give it a good yank.  She calls this her toddler win, I call it a world of hurt on all kinds of levels.
By the end of the day I felt pretty fragile.  The toddler didn't nap, and by 4 pm everyone is running around in just a nappy and pants.  The thought of getting them dressed and going to the park is just too much so we watch more CBeebies and wait for poor Daddy to come home from a hard day at work.  Bedtime arrived and the 2 year old was asleep as soon as her head hit the pillow.  The 4 year old wanted to chat.  I do love our chats, about what school will be like and how excited she is about going camping this weekend, but if there was an off button I would probably press it about now.
How of you cope with days like these?
Pin For Later