Holiday Inn Express very kindly invited us to stay at their London Stansted Hotel when we returned from our short city break to Venice.  Our flight from Venice Treviso Airport wasn't due to arrive at London Stansted Airport until 11.40pm in the evening, so the thought of driving back to Nottingham at that time seemed an incredibly unsafe thing to do.  I'm no spring chicken and I value my sleep, especially after spending the day exploring Venice, making a mad dash to the airport bus stop, and being slightly delayed at the airport with no where to sit.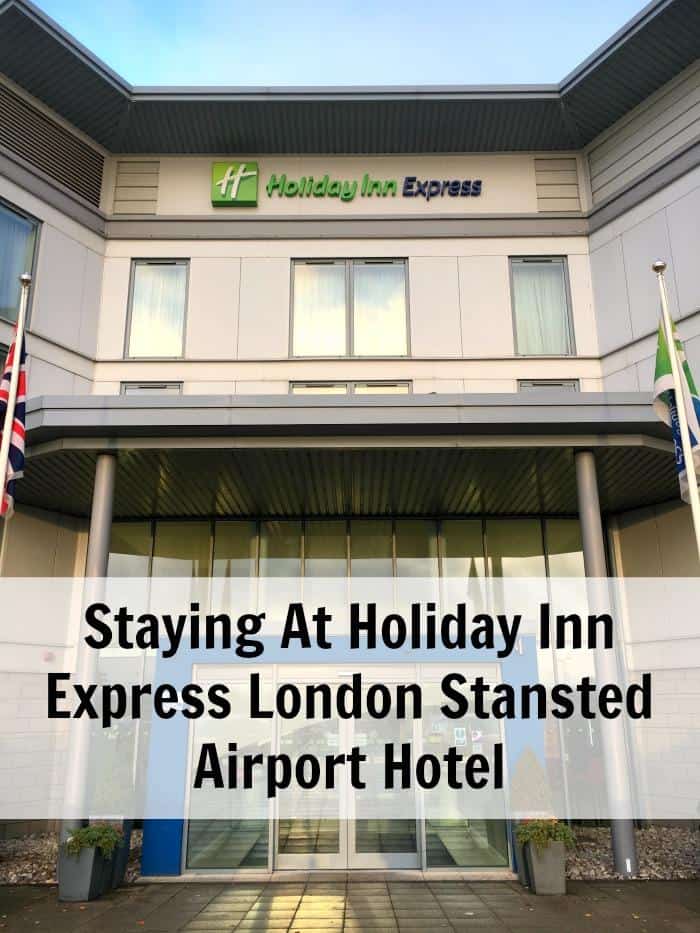 You never know what might happen with your travel plans so it's always worth thinking about the worse case scenario.  Sometimes an 'it'll be OK' attitude doesn't work when it comes to travelling, and making sure you are well rested at every leg of your journey is an important consideration.  This is definitely worth thinking about if you are considering booking an airport hotel.
Treviso airport isn't a very big airport at all, but for some reason we were very keen to get to our departure gate.  In retrospect we should have hung out in the airport until we knew our flight to London Stansed was boarding.  I think we would have been far more comfortable, and probably sitting down, until our flight was ready to leave. The waiting area at the gate is really small and there are very few places to sit.  It's pretty warm too, so if you've been on your feet all day it's not an ideal place to be hanging around.   Tiredness and frustration were starting to kick in to be honest.
Getting to our allocated seats on the plane was a huge relief, and the flight back to the UK only takes 2 hours so we were on the home stretch.  The only issue I have with night flights is that I cannot sleep on them very well.  Unfortunately for me, and those sitting around me, I snore like a wild beast.  I'm so conscious of disturbing everyone, that it is impossible for me to sleep and get a proper rest.  I was very much looking forward to getting to the Holiday Inn Express at London Stansted Airport and getting a good night's sleep before my drive back to Nottingham in the morning.
Holiday Inn Express London Stansted Airport Hotel Review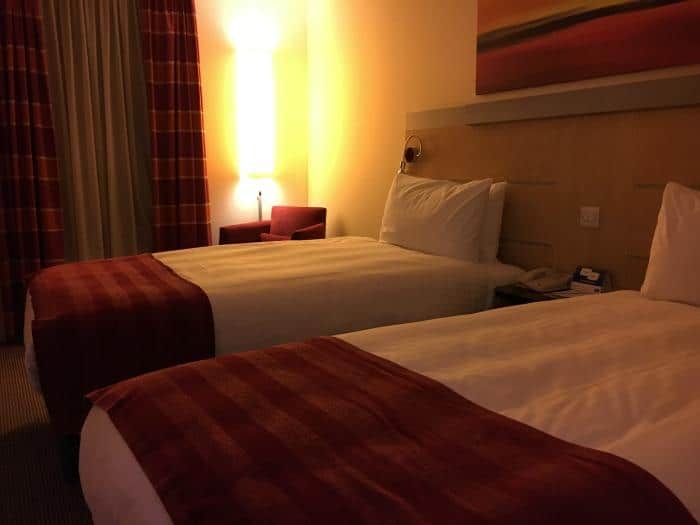 After the short bus trip from the airport terminal to the Holiday Inn Express (which costs £3) we got checked into the hotel quickly by a very friendly and welcoming concierge.  The hotel reception was bright and clean and gave a very good first impression.  The hotel lounge had lots of comfortable seating, and a pool table also.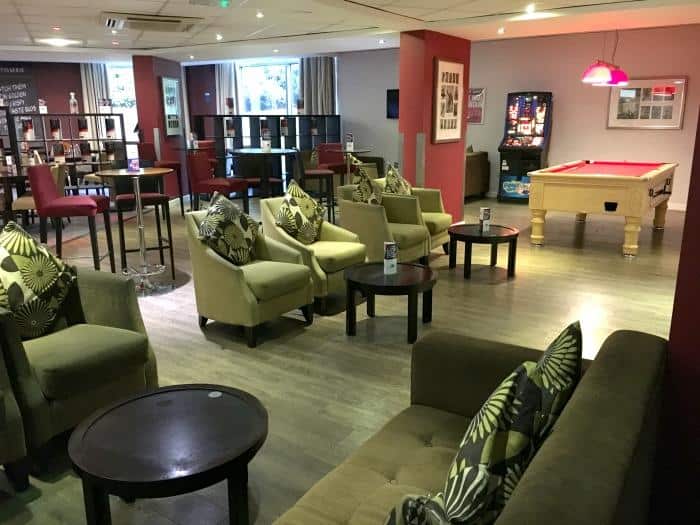 We headed to our twin room, which was subtly  lit, perfect for a nighttime arrival.  The room was clean and basic, with everything we needed for a quiet nights sleep.  The shower room was perfectly sized for a twin, with a  separate shower, toilet and sink area.  There was also free wifi access for 24 hours.  As a blogger, I do like to be connected!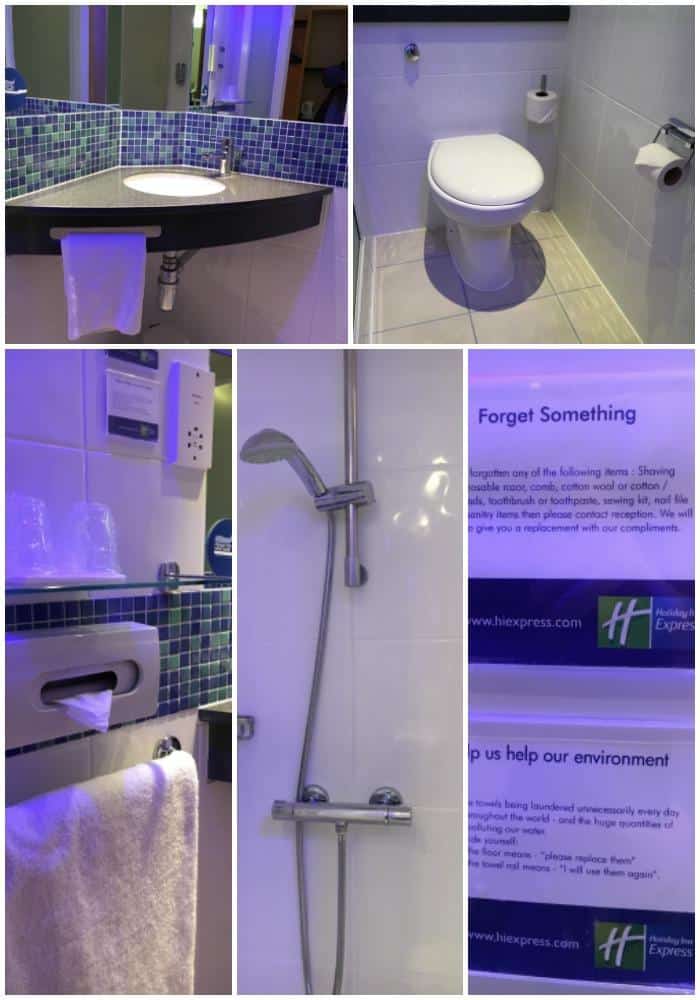 What really impressed me about our stay at Holiday Inn Express was the attention they paid to customer service and how they let their customers know what was available.  There were helpful signs and messages in the room letting you know that you could get certain toiletry items from reception if you had forgotten anything.
There was an option of having a firm or soft pillow on your bed.  It's so helpful when a hotel lets you know like this that they are available to help you.  I've talked myself out of asking for help so many times, especially when I've realised I've forgotten something, as I've thought they probably wouldn't be able to help me anyway.  Knowing they can help, made me feel really valued as a visitor to their hotel.
We had to get up relatively early to leave the hotel as my travel companion had to get to work and I needed to collect my car from the mid stay airport.  There is an option to park your car at Holiday Inn Express London Stansted, but for our trip this wasn't convenient this time, but it is definitely a service I'd consider using.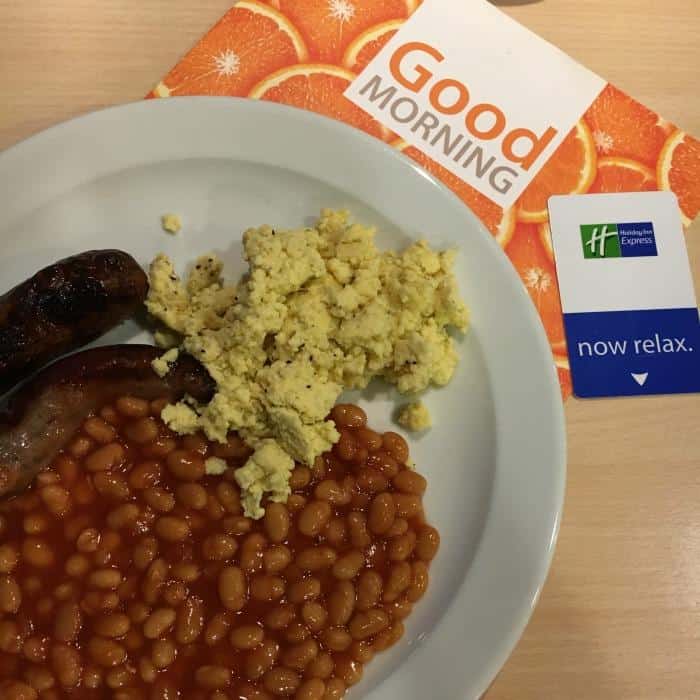 Holiday Inn Express include a cooked breakfast in their hotel stay, which was very well received indeed.  The only thing missing was the bacon.  I'd like to see bacon on the hot breakfast menu, which starts at 6am, as it's a must for a cooked breakfast isn't it?  There was plenty of cereal, juices, tea, coffee and pastries to choose from so we certainly weren't wanting for anything, except bacon.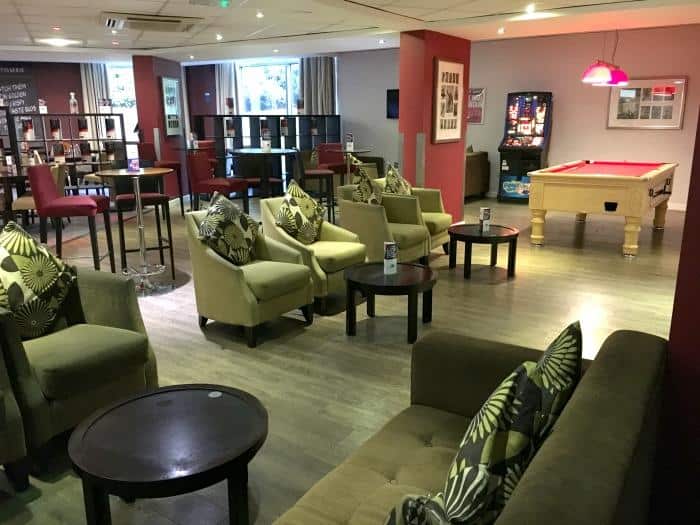 After our stay at Holiday Inn Express London Stansted Airport and complimentary breakfast, we felt fully refreshed to start the day.  It was a perfect way to end our holiday, as I don't get the chance to see my friend very often so it gave us the opportunity to make the most of these few days we did have together.  I would definitely stay at a Holiday Inn Express again, especially when travelling either to or from an airport.  This option allows so much flexibility when it comes to making travel plans whether your travelling with family or friends.
We received a complimentary stay at Holiday Inn Express London Stansted Airport in return for this post, but all thoughts and opinions are our own.