A Special Family Weekend in London
We are huge fans of taking the kids on London city breaks, and it's made so much easier by the fact that taking the train from Nottingham is really convenient for us.  The kids love a train journey anyway, and it always makes travelling a little bit easier for us as a family.  As long as we have plenty of snacks, drinks and activities to keep the children busy you can always be guaranteed a fairly smooth trip journey to the capital by train.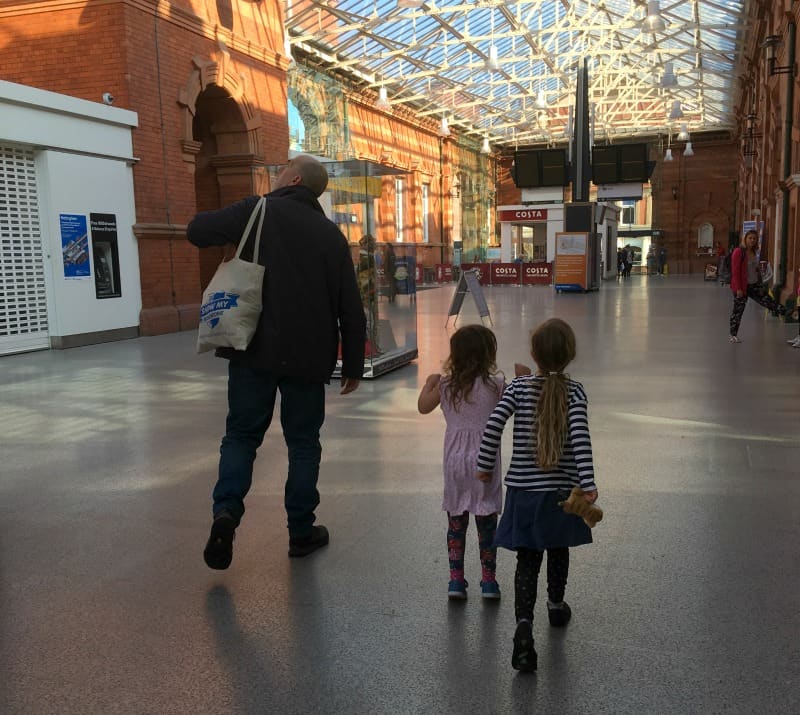 Getting on the train to London always feels like the start of the holiday for us, as both the girls are as excited about the trip as they are about reaching London itself.  Travel with kids that starts off on the right foot always has the best chance of success I think.
Where to Stay in London With Kids
If you are new to visiting England's capital, then it could feel like a minefield trying to find the best area to stay in London with kids.  As with most capital city's, some areas are more family friendly than others and for this short break we were heading to one of the best locations for a family break.  Kensington is probably one of the most famous of the London borough's, known for it's affluence and also its great museums, cafes, restaurants and of course Kensington Palace and Hyde Park.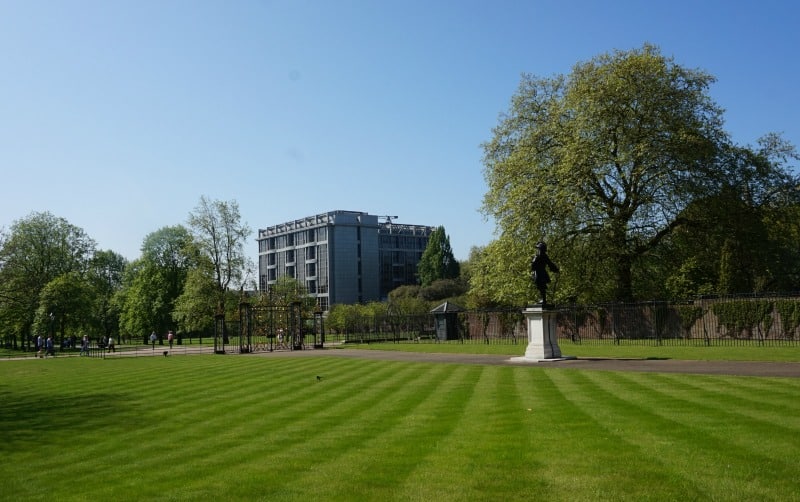 As well as a wealth of places for tourists to visit right on your doorstep, Kensington is also home to the Royal Garden Hotel, which was due to be our base for this family weekend break in London.  I've read so many great reviews about this hotel, I was really keen to see if it lived up to it's reputation as one of the best places to stay in London for families.  With a 6 and a 4 year old in tow, we were certainly going to be putting the hotel to the test, so lets see how we got on.
A Family Friendly Welcome
We took the short walk from High Street Kensington tube station to the Royal Garden Hotel with the girls, knowing we would be a little bit early for our check in.  We had a busy day planned so we wanted to leave our bags in the luggage room and get started on our London itinerary.
We received a very warm welcome on arrival and the girls were presented with two rucksacks to help them make the most of their stay.  To say they were impressed with them was an understatement, and they immediately found a spot where they could take a peek inside to see what goodies the Royal Garden Hotel had given them for their stay.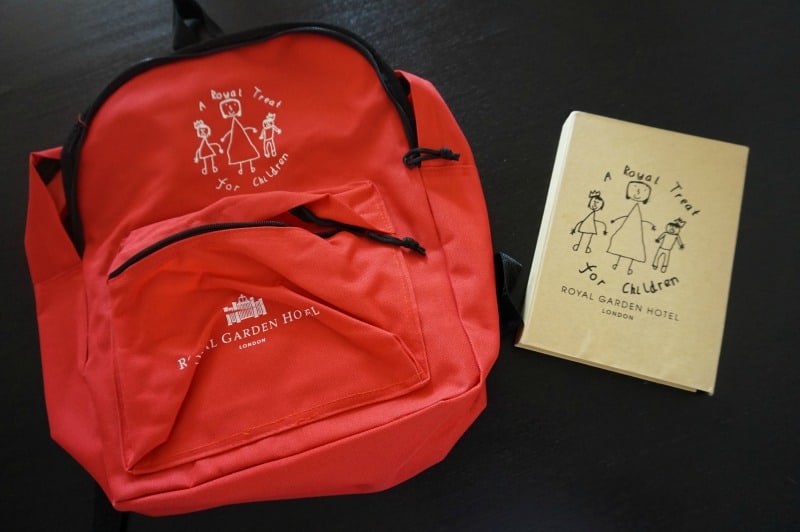 Inside their bag was a princess activity pack with games and stickers, a colouring pack with a notepad and pencils, a water bottle and a torch.  It was such a great gift from the hotel for their young guests and they popped on their backpacks feeling more than ready for what the rest of the day had in store.
We left the rest of our luggage with the concierge and headed out to begin our London adventure on what was proving to be a very sunny weekend in the capital.
Things to do near the Royal Garden Hotel Kensington
The hotel is situated next door to Kensington Gardens and Hyde Park, so it made perfect sense to stroll through the gardens on the way to the museums.  The Royal Garden Hotel is about a 20 minute walk away from some of London's most famous museums and the one we were due to visit was the Science Museum.  In the same area you will also find the Natural History Museum and the V&A, so there is plenty to keep a family busy for an entire weekend, right on your doorstep.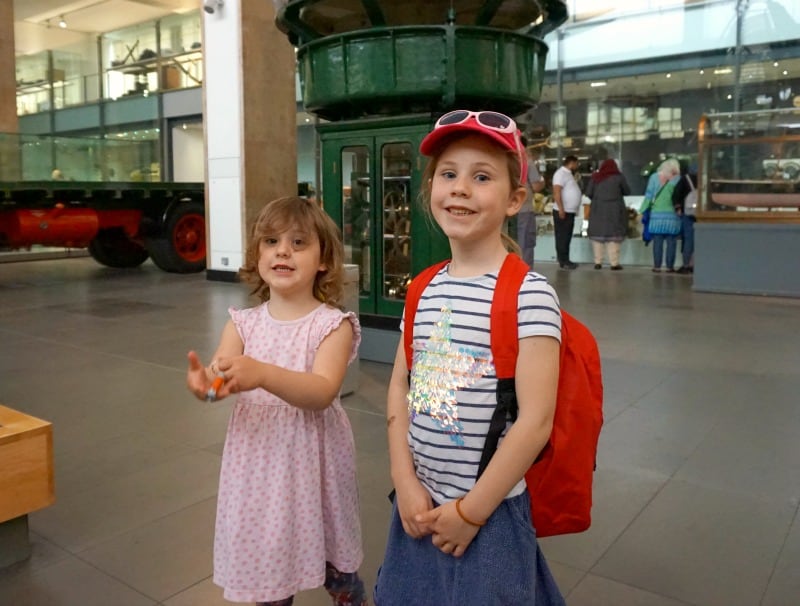 We spent the afternoon exploring the Science Museum, and it was a big hit with all of us.  The girls loved The Garden, which is a hands on exhibit for younger ones to learn more about the scientific world around them, and Daddy was particularly impressed with the Space exhibit and the computers through the ages he discovered at the museum. For more travel inspiration for things to do check out this London with kids itinerary.
After our busy afternoon at the museum, Indie and I had to make our way to Wembley Park as we were going to watch the Women's FA Cap Final between Chelsea and Arsenal that evening.  We left Daddy and Brook to head back to the Royal Garden Hotel to enjoy some quality time together without us, and go and find out a bit more about the Food and Flicks package that had been arranged for them to enjoy that evening.
Royal Garden Hotel Family Packages
With lots of London hotels offering special offers, finding great deals for families can feel a bit like looking for a needle in a haystack.  Don't worry though, as the Royal Garden Hotel has some fantastic family friendly offers and if you are planning a stay here then the Food and Flicks package is perfect for younger children.
When Daddy and Brook got back to the hotel, they were ready for some snacks and movies, and that is exactly what Food and Flicks is all about.  They contacted room service and arranged for their family friendly snacks to be delivered to our Executive Suite whilst lining up which movies they wanted to watch from the unlimited package that came with this hotel deal.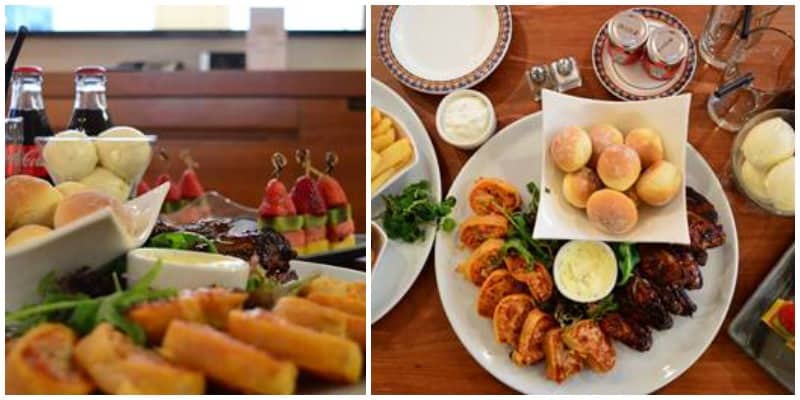 A table of pizza wheels, chicken wings, coke floats and chocolate fruit kebabs was delivered to the room while they enjoyed watching some of their favourite children's movies.  Moana might well have featured in that list once or twice as this is Brook's favourite film at the moment! This was probably one of the best nights Daddy had spent in a hotel with a 4 year old since we began writing the Zena's Suitcase blog, all snuggled up on the sofa watching fun movies and enjoying a fantastic buffet of movie snacks.
Indie and I made our way back from the football game, looking forward to seeing what Daddy and Brook got up to when disaster struck.  Well a minor one, but when you are 6 years old and you are tired from a fun filled busy day, and your Mum leaves your Royal Garden Hotel rucksack packed with goodies on the tube your little world kind of falls apart.  When we arrived at the reception, Indie's tear stained eyes probably said it all, and when I told the receptionist what had happened she quickly provided us with a new rucksack and saved the day, as well as my bacon.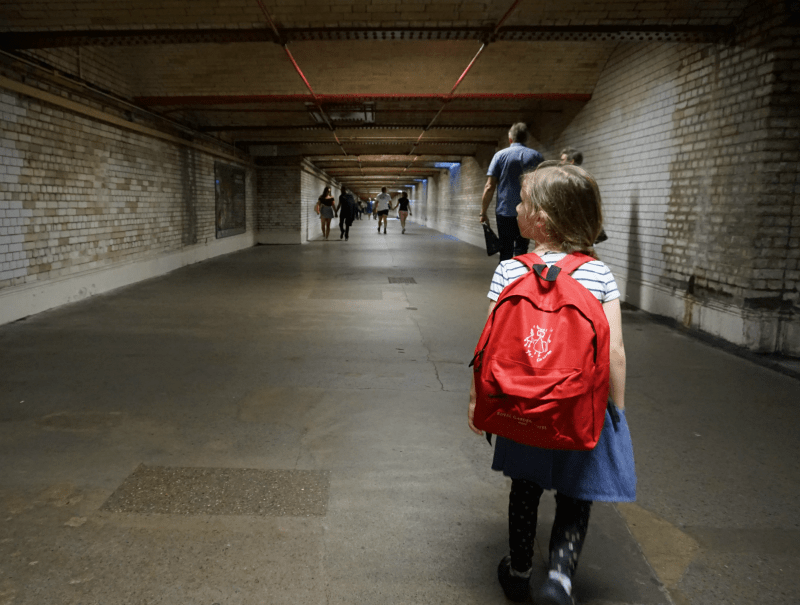 My happy little 6 year old and I then went up to our room to find Daddy and Brook and to catch the tail end of the movie and snacks before bed. Everything was feeling right with the world, once again.
The Best Family Hotel Rooms in London
When we arrived in our Executive Suite, it was very clear that Daddy and Brook had made themselves right at home while we were out.  The size of the suite was impressive and the views over Kensington Gardens were just delightful, so I can see why they were making the most of the room's facilities.
Indie quickly took up residence next to Brook on the sofa bed in order to get the best view of the movie showing on the flat screen tv, while I went to explore the main bedroom and of course the bathroom.  Everything about the Royal Garden Hotel Suite was impressive including the size of the beds, the sofas and the desk space available if someone needed to catch up with some work.
Bottled water was provided at turn down and there was a full compliment of tea and coffees including a Nespresso machine and a mini bar.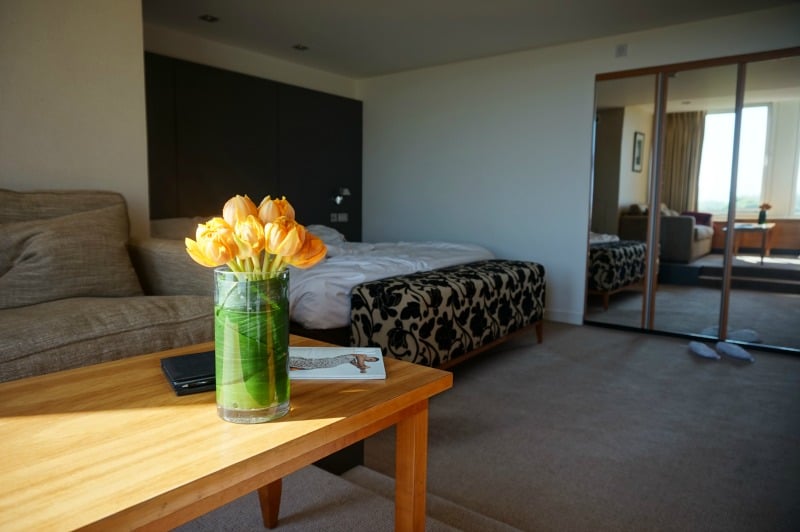 The bathroom was the perfect place for either a little pampering or to make sure younger children could enjoy their usual bedtime routine.  There was underfloor heating as well as robes, slippers and large fluffy white towels.  I'm a huge fan of my creature comforts, so lots of boxes were being ticked for me already.
The bathroom also enjoyed a full size bath as well as separate shower, so it really didn't matter what our preference was when it came to cleansing, as everyone in the family was catered for.
Once we had all caught up from our busy and exciting day in London, we enjoyed a very comfortable and relaxing night's sleep at the Royal Garden Hotel.  We knew we were going to feel very sad about leaving the hotel in the morning already.
Breakfast at the Royal Garden Hotel
I love hotel breakfasts as they work so well for families, and the one the the Royal Garden Hotel is excellent quality all round.  When we arrived at the restaurant to be seated, the girls were presented with another colouring and activity pack to keep them busy, needless to say everyone was impressed with this and it made for a great treat first thing in the morning.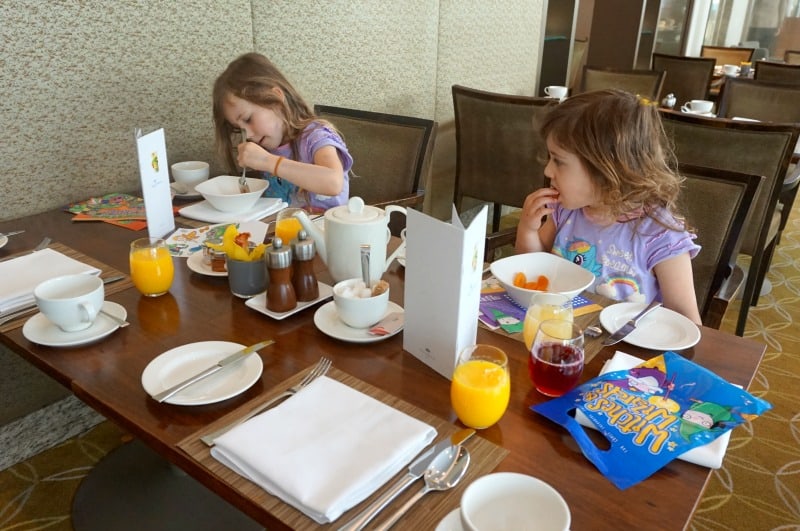 The girls enjoyed their favourite cereals and pastries while Daddy and I took a look at the hot buffet.  There was an omelette station as well as a fine array of breakfast items, and the chef was happy to prepare what ever we required to order and bring it over to our table.  He also made Brook a chocolate and strawberry pancake that was particularly well received by a very appreciative 4 year old.
The Royal Garden Hotel breakfast was probably one of the best I've ever encountered and made for a very relaxing and enjoyable start to our final day in London, when we were due to be going over to White City to explore Kidzania.
Final Thoughts on the Royal Garden Hotel
We thoroughly enjoyed our experience at the Royal Garden Hotel in Kensington, London and think it ranks very high as one of the best places to stay in london for families who are looking for luxury 5 star hotels.  The service was excellent from everyone we came into contact with, and staying at the hotel made our visit to London feel very special indeed.
The Royal Garden Hotel is in a fantastic location for families looking to spend time in London also.  With Kensington Gardens being next door, and the museums being accessible by foot it means you always have access to lots of things to see and do for your weekend away.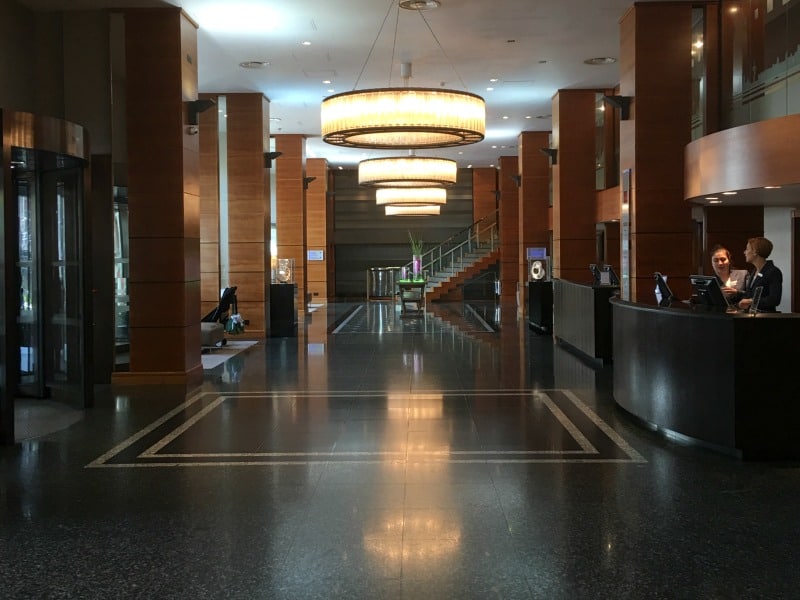 The public transport routes near to the hotel also mean that if you are wanting to explore more of London, you will also find it very easy to get there from the nearby tube station.
If you are looking into where to stay in London, I can strongly recommend a visit to the Royal Garden Hotel, and if you have children that enjoy watching films, then they will appreciate it no end if you add the Food and Flicks package to your stay.
Want to save several quid with your stay? Check out the best prices at your online travel agency with a VPN now.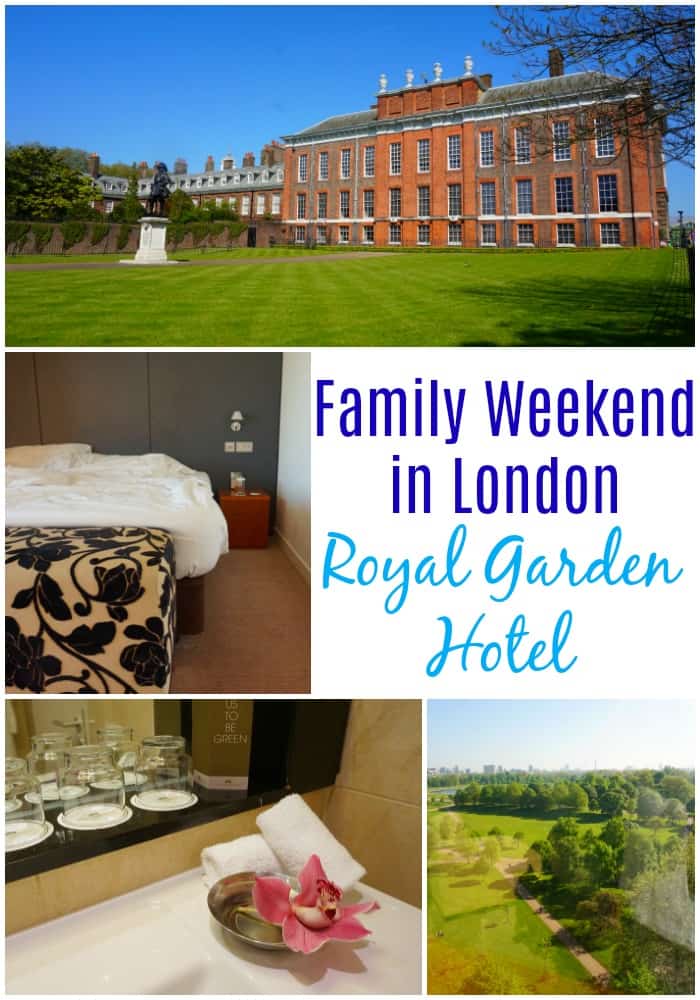 We were offered a complimentary family weekend stay at the Royal Garden Hotel in Kensington in exchange for this review but all thoughts and opinions are our own. You can read our other hotel reviews here.