Going Back to School is something I'm very much thinking of at the moment, as come September Brook will be starting Reception for the first time.  The wheels are very much in motion to get her ready for that exciting first day, with meetings planned with the school, taster sessions arranged and of course buying her very first school uniform.
Being my last child to go through school, we've been through a few school uniforms over the years and I've learnt a few things about what to expect from both the kids that wear it and the uniform itself.  My first big lesson was to realise that there was no point in being precious about our school kit as things are going to happen.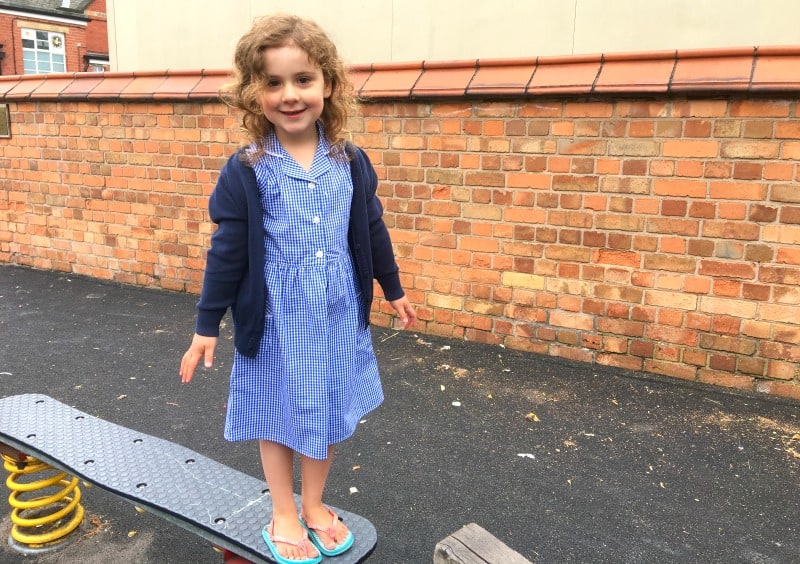 Kids are so in the moment, that keeping tabs on their school uniform is often the furthest thing from their minds.  Indie is no exception what so ever and she's lost many cardigans in her first two years of school.  She's also acquired a few new ones along the way.  I very much doubt that Brook will be any different, and as excited as she is to wear her school dress, I know she will inevitable lose a few items of uniform along the way.
Talking of Brook, I bet you are wondering why she is wearing school uniform even though she doesn't start until September.  She has actually been wearing school uniform on and off since she was three years old, despite not actually being required to do so.  As soon as she saw Indie wearing a blue gingham dress she wanted to wear one too.
It can be a bit confusing when we get to the playground, as either a teacher tries to usher her into class or she tries to sneak in with her sister.  Being very close in age, Brook's desire to copy Indie with what she wears is very strong, and some mornings it's just not worth arguing with her.  Not that she is stubborn or anything!
On those mornings when we are actually a little bit early for school, the girls get the chance to play on the apparatus together and this is where I think school uniform is really put to the test.  Indie has always based her school uniform preferences on what she enjoys doing in the playground, and pays very little attention to how it fairs for the rest of the school day.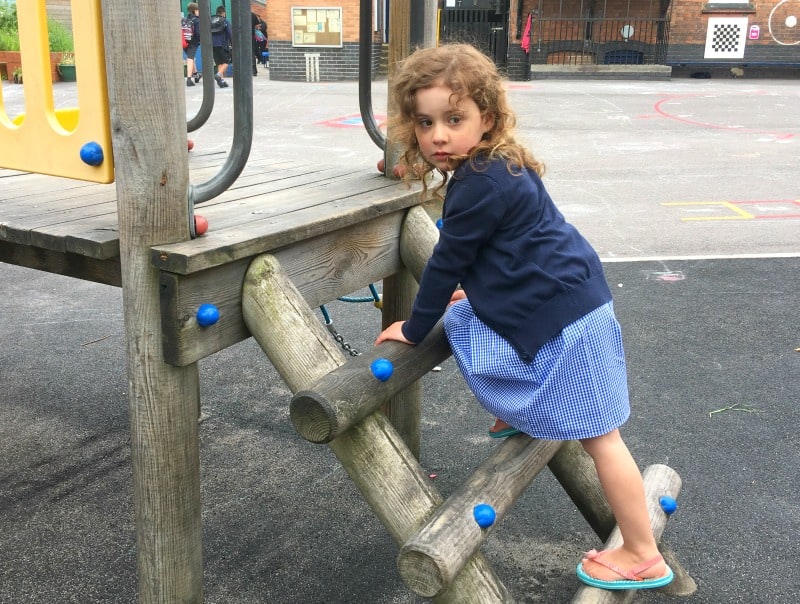 I have bought uniform for her not realising that if it doesn't stand up to her favourite activities in the playground, that she simply won't wear it.  It's all about the bars you see.  As soon as Indie learnt to summersault over the bars, her school uniform preferences changed dramatically.  Any dress or skirt she wears needs to be able to be wrapped around the bar, as this makes for fast multiple summersaults and when you are 6 years old this is a really big deal!
If the uniform she is wearing doesn't provide enough fabric or give for this activity she just won't wear it.  Skirts and dresses need to be long, and the more flare the better.  If either of these things are missing, then it might get worn once but after that it will work it's way to the back of the wardrobe never to see the light of day again.
Once Brook has mastered the bars in the school playground and she is performing multiple summersaults I can see our school uniform issues being the same all over again.  I say issues, but I don't think they really are as the thing I have learnt from this is that school should be fun, and I want my kids to enjoy being there.  If being able to swing on the bars helps them enjoy their school day a little bit more then I'm happy.
I suspect when they are reliving their school memories with their friends in later years they will be making comments like 'do you remember when we used to swing on the bars every break time', not 'do you remember my favourite blue gingham dress'.  What do you think?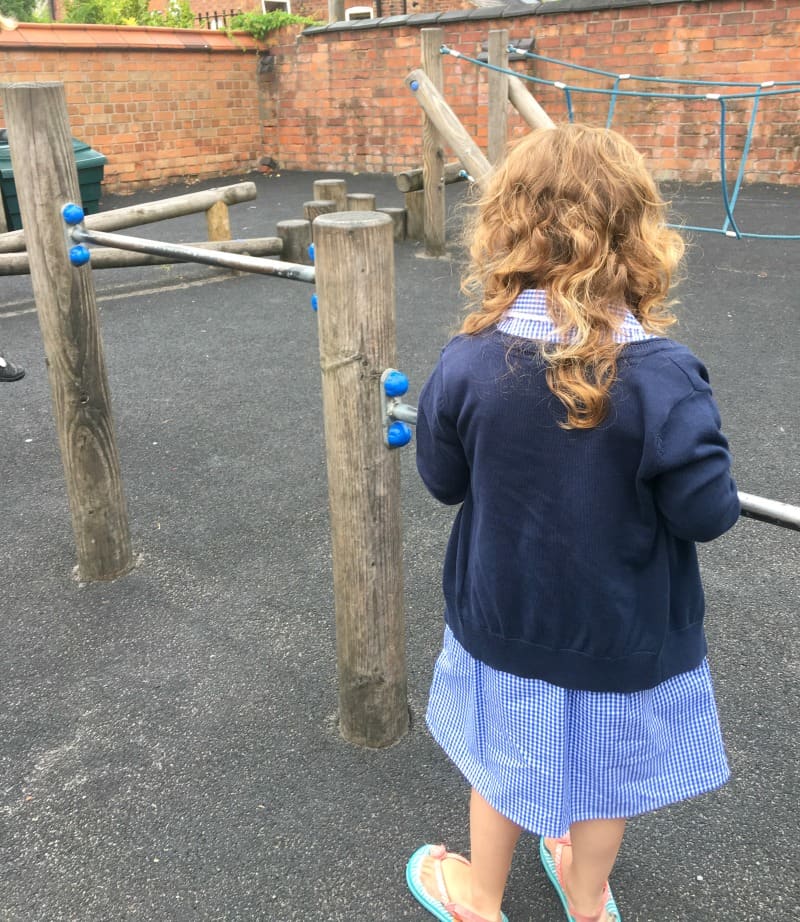 Marks & Spencer also believe that Life isn't Uniform  and they have been talking to some of my favourite parent bloggers about their school uniform stories.  Make sure you take a look as I suspect you will be nodding along with a few of these! You can find out more on Life isn't Uniform right now!
We would also love to hear your school uniform stories either in the comments below or over on your favourite social media channels!  Let us know your best school tales, whether it's from when you were a kid or what happened to your little ones school jumper last week.  Pop a comment below or use the hashtag #LifeIsntUniform to get involved!  we can't wait to hear from you.
Know someone who would enjoy this post?  Please do share it with your friends and followers, as it would literally make my day.  
This post was written in collaboration with Marks & Spencer