We took our young children to Royal Son Bou Family Club in Menorca for a holiday recently and can honestly say we were very impressed with this all inclusive holiday resort for lots of reasons.  If you follow my Instagram account you might have caught a glimpse of what we got up to.
I've got a few blog posts to share with you about our family holiday in Menorca, and I'll be talking about where we ate, where we visited and what we loved about the island.  First of all I'm going to kick off with a post devoted to a Royal Son Bou Hotel review, as staying here left such a big impression on us as a family.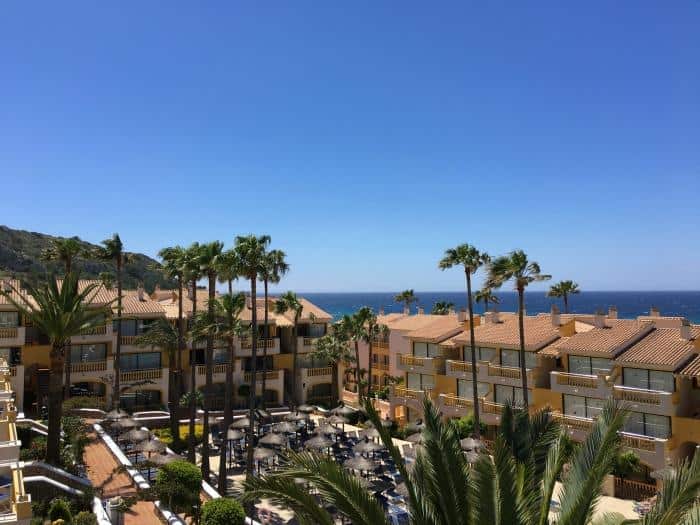 Royal Son Bou Family Club Review
Royal Son Bou Family Club is a family friendly holiday resort situated on Son Bou beach in Menorca. It's an easy  20 minute drive from Menorca airport so makes for a really short transfer or stress free drive if you are hiring a car.  We had a hire car for the whole of our stay at Royal Son Bou, and found driving in Menorca really easy so we would definitely recommend that option, even for families.
The hotel had just opened for the holiday season when we arrived and most of the guests were families with young children, toddlers and preschoolers.  This worked well for us because of the age of our girls.  As the season progresses older children can be found at Royal Son Bou Family Club, which caters equally as well for older children and teenagers as it does for younger kids.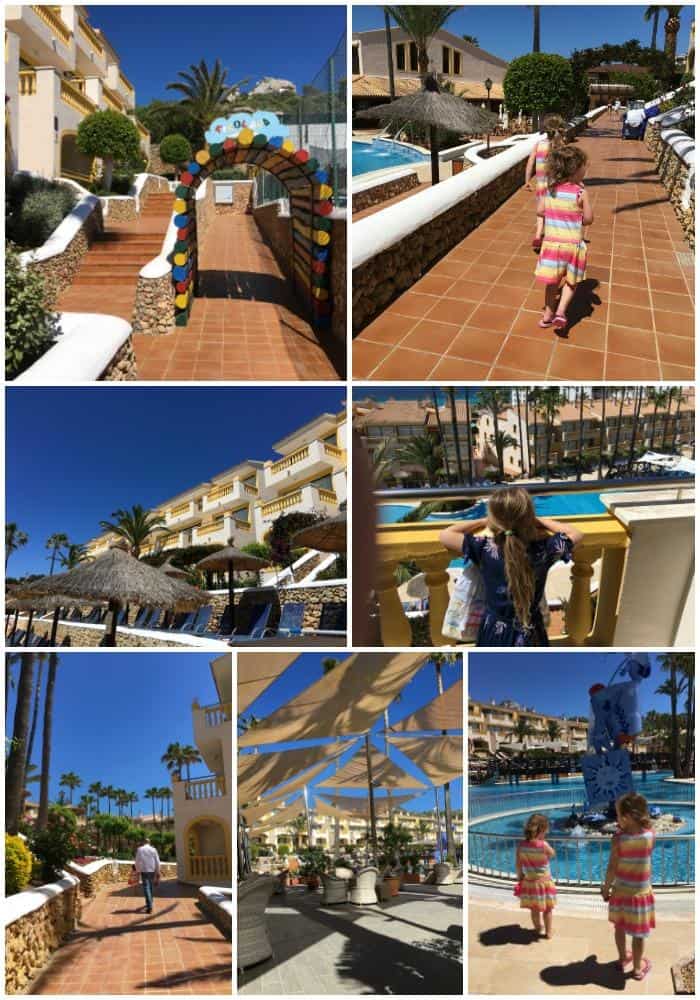 We stayed at Royal Son Bou Family Club on a half board basis which worked really well for us and is an option worth considering as it gives you the flexibility families need during a holiday.  We were able to switch dinner for lunch if it fitted with our schedule, but found that we didn't need to do that but we loved having that option available if we needed it.
We arrived at Royal Son Bou Family Club at lunchtime and decided to go to the restaurant first as the kids were pretty hungry.  The restaurant manager very kindly charged us for the adult meals only when we explained we had just arrived and were staying on a half board basis at the hotel.  As customer service goes, this was a great start for our holiday in Menorca.
Royal Son Bou Provides Great Service and Friendly Staff
The experience in the hotel restaurant very much set the tone for our Royal Son Bou Family Club holiday.  The staff at the hotel are focused on providing you with the best experience possible and are constantly trying to anticipate what will make life easier for you and your family while you are on holiday with them.
The level of customer service at Royal Son Bou hotel was excellent from the housekeeping, reception, guest services, the restaurants to the animation team.  We spoke to several families during our holiday and they were all giving the same feedback about Royal Son Bou and were enjoying their holiday as much as we were.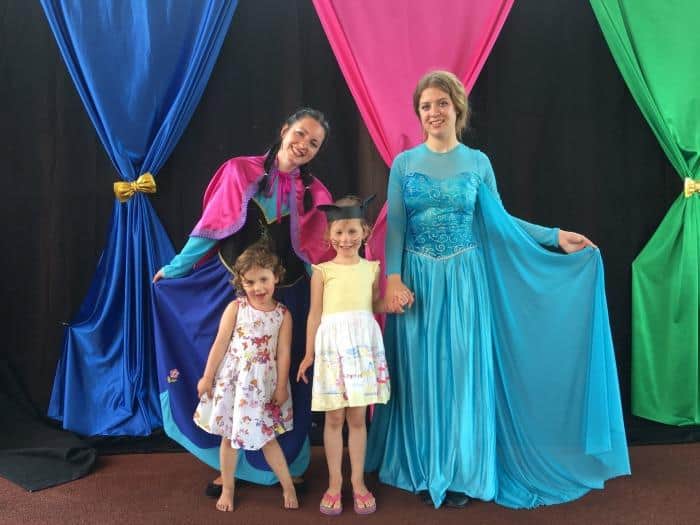 Royal Son Bou Hotel Suites
Royal Son Bou Family Club is a lovely sized resort and I can't imagine it would feel overwhelming even when fully booked.  The hotel apartments are in blocks just 3 stories high surrounding the pool and are accessed by ramps and stairs.
Our hotel apartment was on the 3rd floor over looking the main pool and we had a lovely view from our balcony looking out to the Mediterranean sea.  We had a 1 bed apartment which was really comfortable with a good-sized bathroom and living space.
It included a small kitchenette with fridge, hob, microwave, toaster and kettle.  To be honest we barely used it apart from keeping drinks cold and storing snacks but it was nice to have the option for self catering if we wanted it.  There was a sofa bed and dining table and chairs in the living area.  The bedroom had plenty of space for storing clothes and the beds were really comfortable too.
What's The Food Like at Royal Son Bou Hotel
We ate at the Los Olivos restaurant most of the week, and outside of the restaurant there was a small creche for children aged up to 4 years old to play in while you were eating.  Our youngest daughter asked to go and play in there a few times during our holiday and we were quite happy to let her go.
I think she liked the dolls and pushchairs, as well as the staff, and she liked to pop in for half an hour after her dinner to play without being bothered by her sister.  We just gave the staff our table number and when she decided that she had had enough they bought her back to us.  It was a lovely childcare service to be honest and a win win for everyone.
The food at Royal Son Bou Family Club was excellent.  Breakfast was really nice and you could get freshly cooked omelettes and pancakes to order.  I was partial to an omelette most days and the kids liked tucking into the fresh pancakes.  There was cereal, fruit and cooked options too, so plenty of choice for everyone.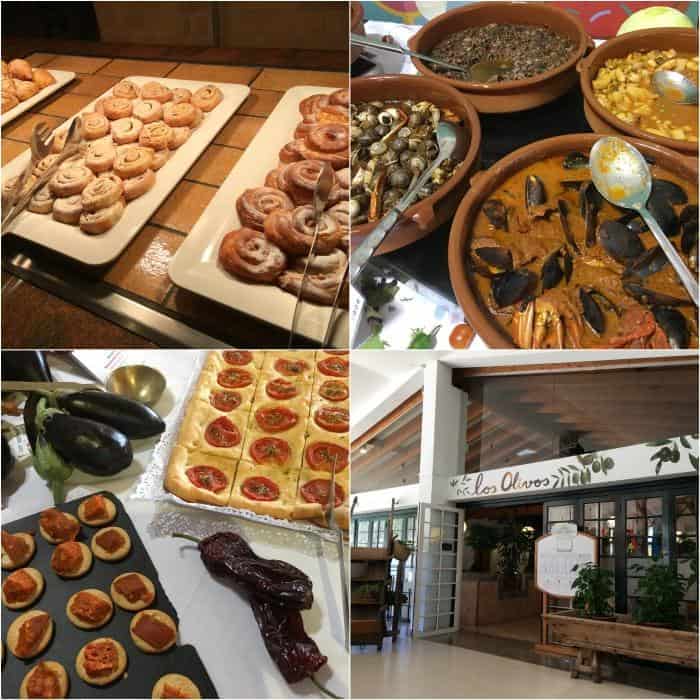 The evening meal was also lovely with plenty of selection and freshly cooked options from the griddle.  The best food came out on the speciality nights and my personal favourite of all was the Menorcan night.  Fresh salad was available at every meal and all round the choice was good for every course, every night.
There was also a kids food station with child friendly options for them to choose if the main buffet didn't appeal to them.  The selection of desserts was quite incredible, with ice cream, cakes and puddings to choose from every single night.  It was very difficult to just pick one, I can tell you.  There was usually a selection of cheeses to finish also.  Over all the food at the Royal Son Bou hotel restaurant gets a thumbs up from us and would be a great reason to pick this resort for your next family holiday.
Great Family Friendly Facilities at Royal Son Bou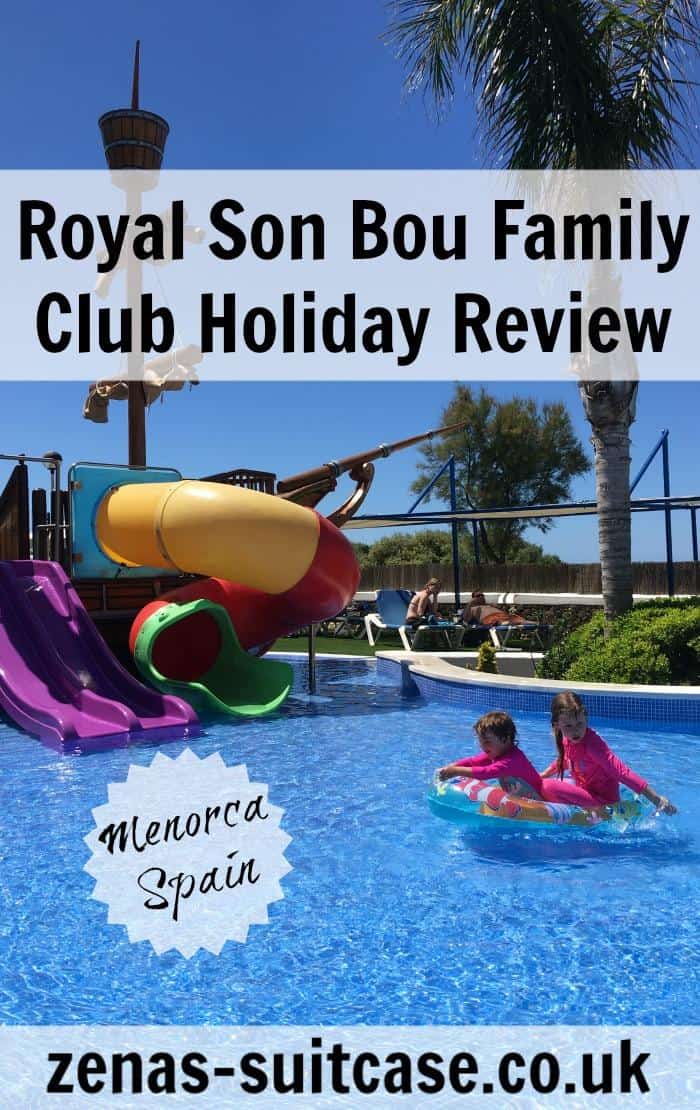 There were a few family friendly features that really stood out about Royal Son Bou Family Club. They really helped to make our holiday in Menorca a wonderful experience.  The children's pool was a big hit and is separate from the main pool which we really appreciated.  There was no flitting from one pool to the next and I can imagine that later in the season it's helpful as the older kids don't take over the space either.
The children's pool is no deeper than 45 cm so as long as your child is confident standing and playing in water they can play independently if you want to relax on the loungers around the edge.  There is a pirate ship with slides at one end which the kids loved and a shoreline entrance at the opposite end for very young children and babies to enjoy splashing in.  We invested in an inflatable boat for the girls from a nearby shop and they had a lot of fun together splashing around in it.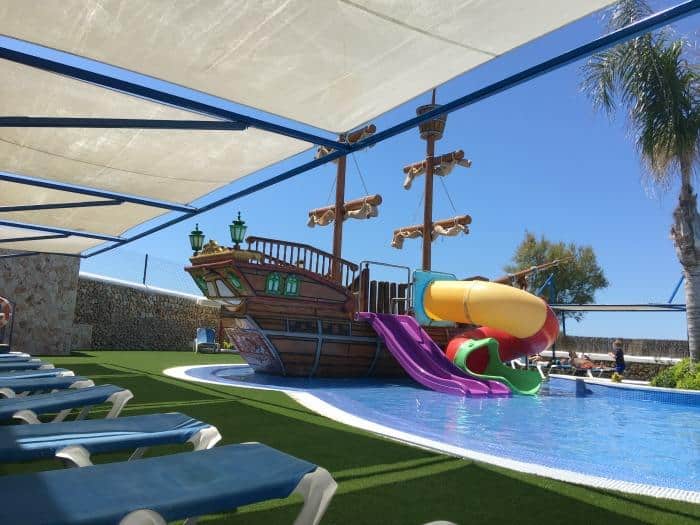 The pool is surrounded by sun loungers and we were able to get a space whenever we visited this pool.  We could relax in the sun while the girls played because of the child friendly arrangements.  I really appreciated this as a non swimmer and another family I spoke to described the pool as 'unique' and they were determined to use it each day of their holiday to make the most of this facility.
Kids Club at Royal Son Bou Hotel
Kikoland is another feature of Royal Son Bou Family Club which we really loved.  This is where the kids club and play areas are and I cannot speak highly enough of this facility.  We took the kids for a look around and to pick up their gift when we arrived.  They enjoyed the bouncy castle and climbing frames from the outset.
The staff would come and say hello even if we weren't leaving the children in the kids club.  We used the childcare a couple of times while we were at Royal Son Bou Family Club and the girls were quite comfortable staying there.  It gave me and my husband the chance to do something together like watch the paella demonstration or explore some local sightseeing.  There's a full timetable of activities in the morning and afternoon.  They offer mini excursions too which parents attend with the kids.  We did the pony riding, at no extra cost, and this was a big hit with the girls.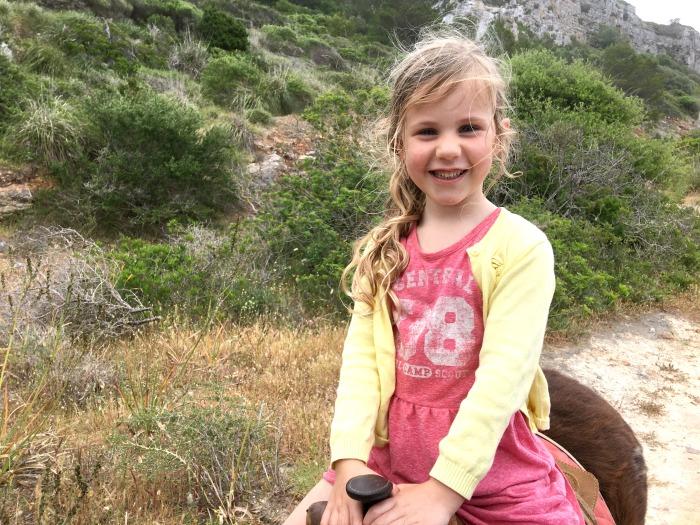 During the week there was also a Disney themed show which the girls loved.  There is an evening program of activities but sometimes younger children miss out as they have already gone to bed.  This show was at 4pm so no one missed out and it was very well done.  There were lots of games and activities throughout the week and also Kiko and his friends popped along to play with the kids and sing songs.  We came home with a toy Kiko and the girls just adore him.  I suspect he will be a feature at school in the show and tell very soon.
Son Bou Beach
I don't think any reviews of Royal Son Bou Family Club would miss an opportunity to talk about Son Bou beach.  You can access the beach via a connecting tunnel  during the day and it's literally a few minutes walk from the hotel.  You can also visit the Basilica Paleocristiana de Son Bou and get your first experience of one of the many historical sites that are spread across the island.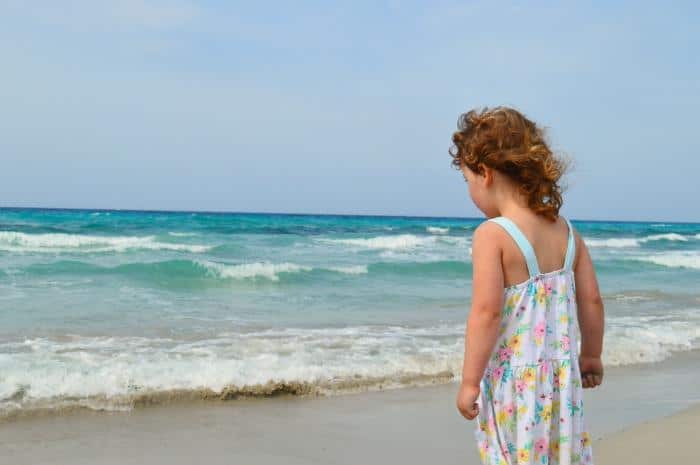 Son Bou beach is 2 miles of unspoilt coast line with protected dunes and natural habitat to explore as well.  The sand is white and the water is clear and there isn't a party boat in sight.  Menorca is a family holiday destination and the beaches are a real testament to this.  There are a few bars where you can enjoy a drink and the sunset in the evening, but they are quiet and subdued so as not to spoil the family friendly feel.  We visited Son Bou beach most days and loved it for it's cleanliness, natural beauty and gentle waves.
We had a wonderful week staying at Royal Son Bou Family Club and we can see why it's scores so highly on TripAdvisor as it ticked so many boxes for us.
Reasons to Book a Holiday to Royal Son Bou Family Club
Good sized apartments with balconies
Large main pool
Separate kids pool with pirate ship
2 restaurants  – one with childcare in the evening
Excellent quality food
20 minutes from the airport
Outstanding kids club and activities program
Day & Evening entertainment
Great customer service
2 minutes walk from the beach
Excellent base for exploring the rest of the island
Family friendly resort
Shops and restaurants nearby
Great holiday for kids of all ages
Things to do near Royal Son Bou Family Club
Torre d'en Galmes – 2.3 miles
Lloc de Minorca Zoo – 4.3 miles
Monte Toro – 6.2 miles
Mahon Port – 9.9 miles
Menorca Donkey Rescue – 5.2 miles
You might also like Top Tips For Visiting Royal Son Bou Family Club  
Have you seen our video review from our stay at Royal Son Bou Family Club Menorca yet?
We were guests of Royal Son Bou Family Club Menorca on a half board basis for the purposes of this hotel review, but all thoughts and opinions are our own and we would have no problem recommending a stay here to anyone looking for a family holiday in Menorca.