Later this year, we are heading to the island of Menorca for the first time for a family holiday.  When I found out that this relatively small island had 70 Menorca beaches in total I decided I needed to narrow it down a little.  We are staying on the island for a week, and we need to know where the best family friendly beaches are in Menorca to make the most of our stay.
A lot of the islands beaches are small coves only accessible by foot, which sounds great for a couple wanting to explore but not so ideal for a 2 and 4 year old who just want to splash in the sea and build sandcastles.  If you are going on holiday with kids, you will find this list of best beaches in Menorca for families pretty helpful too.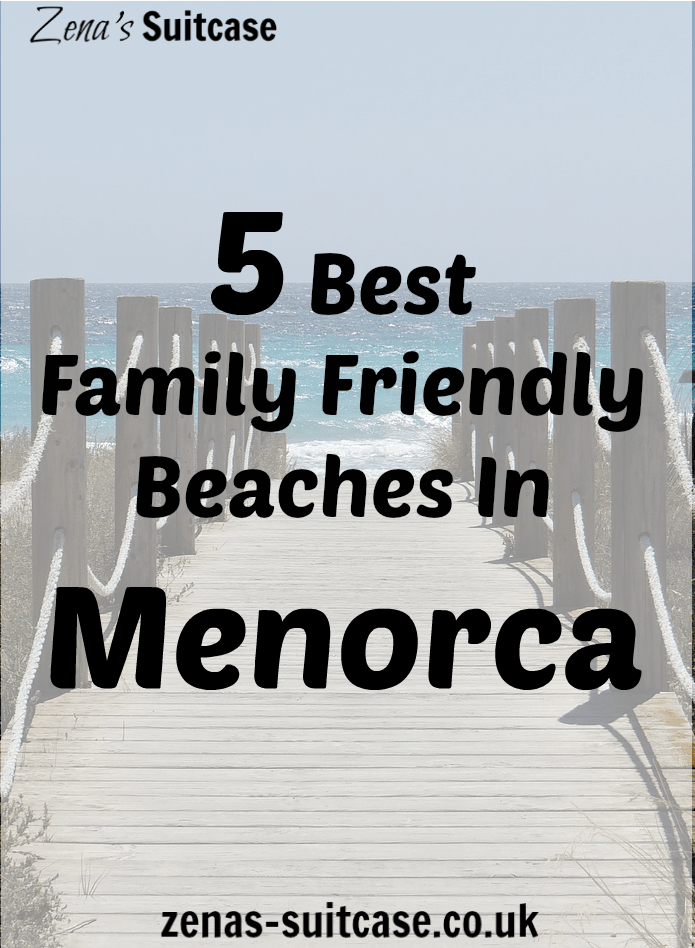 Seeing as I love to plan a holiday, almost as much as I like going on one, I have done my best beach in Menorca homework so that you don't have to.  If you are planning a family holiday to Menorca here's the top 5 beaches you want to think about visiting with the kids so that you all enjoy your holiday.
Best Beaches in Menorca for Families
Son Bou Beach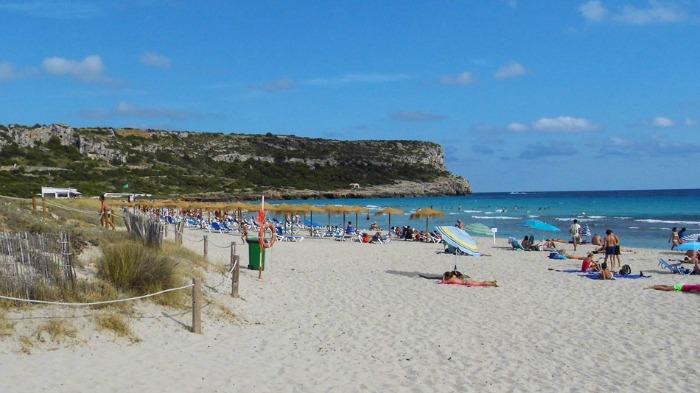 We are lucky enough to be staying within a short distance of Son Bou beach at the Royal Son Bou Family Club, and it sounds like we will have access to one of the islands best child friendly beaches.  You will find Son Bou beach on the South coast of Menorca. It's the longest beach on the island with 3 kilometres of white sands and shallow blue waters at your fingertips.  This makes is perfect for families and children.
It's incredibly popular with locals and visitors to the island because of it's clean appearance and calm waters. There is a play farm for the younger children to use, and the older kids will enjoy the inflatable slides leading into the sea.  There is also good facilities at the beach, including beach bars and restaurants nearby in Son Bou for you to get a variety of meals and refreshments.
Cala Galdana Beach
Cala Galdana is a cove beach on the south of the island, overlooked by cliffs and pine forests.  It's incredibly picturesque and also shady given it's natural surroundings.  This beach is popular with families due to the fine white sand and shallow waters, making it safe for young children to take a dip in.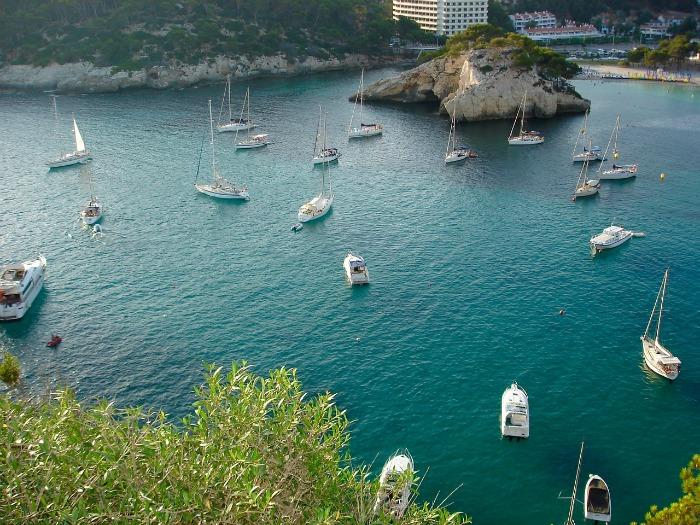 You will find bars, restaurants and shops at the beach along with water sports activities and kayaks for hire.
La Vall
La Vall, also known as Cala Algaiarens is located on the North West coast of Menorca.  If you are looking for a quiet beach away from the hustle and bustle of the resorts, then this is where you want to be.
There are no bars or restaurants here, but it makes for a great picnic spot with the family for a day out.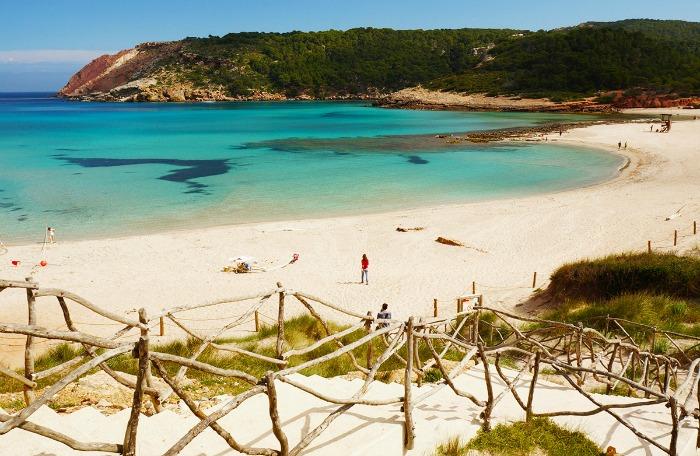 Punta Prima
This beach can be found on the most South West point of the island.  There is free parking nearby, and good amenities including a few supermarkets.  This beach also enjoys shallow blue waters making it the perfect place to hire a kayak or pedal boat.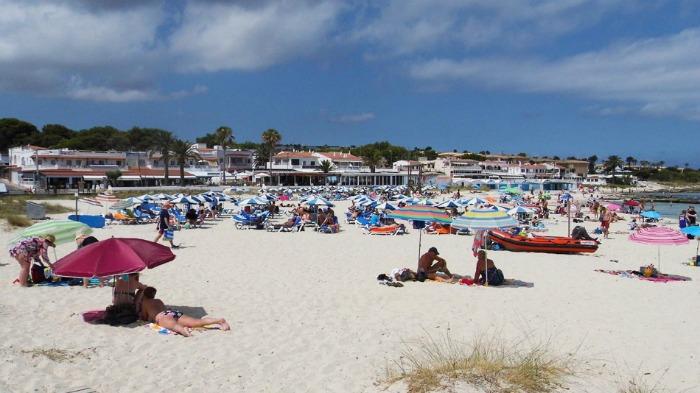 Santo Tomas
Santo Tomas is a very popular beach with holiday makers in Menorca  and is incredibly family friendly.  It's wide and long, providing lots of room for all it's visitors.  You can park close by, and the beach is accessible even to pushchairs by the many paths provided to the sands.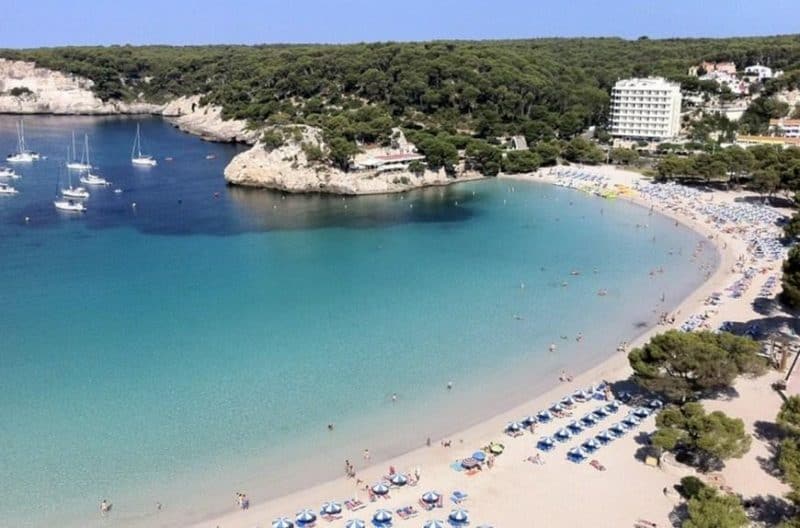 You will find plenty of bars, restaurants and shops selling a variety of foods and drinks, or take your own seeing as the beach is so easy to get to.
Have you visited any of these Menorca beaches with kids?  Where would you recommend taking the kids to experience the best beaches in Menorca for families?