I promised you a few posts about what we got up to in Menorca after our stay at Royal Son Bou Family Club so here's our family travel guide. This is all about things to do in Menorca with kids to help plan your holiday to this beautiful Balearic island.
I spent quite a while with the travel guides trying to decide good things to do with kids in Menorca, and I soon came to realise that I really didn't need to.  Menorca is a beautiful island that has been well preserved due to it's UNESCO status.  I'm pretty confident that where ever you went while visiting Menorca, you would not be disappointed.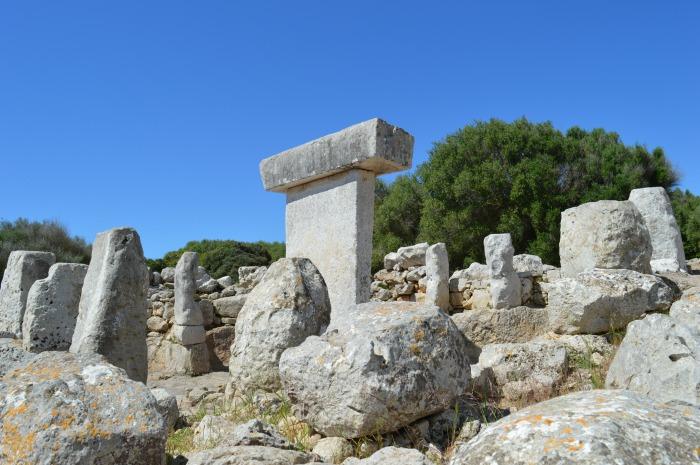 Menorca offers a lot of activities for families, including boat trips and water parks.  There's also a zoo (Loc de Menorca) you can visit on the main road between Alaior and Maó if you wish.
We were conscious of keeping our day trips fairly short so that we could come back to Royal Son Bou and enjoy the beach or the pool when the kids needed to cool down.  Because the island is quite small, it's really easy to manage your day trips and therefore exposure to the Mediterranean sun.  We know all to well that if children spend to long in the heat they can become very grumpy indeed.
Things to do in Menorca with Kids
Poblat De Torralba
This talayotic site between Son Bou and Cala en Porter was our first experience of the awesome archeological treasures Menorca has to offer.  In essence, it's a village that has been excavated and is literally ready to explore.  It surprised us just how much the kids loved visiting Poblat de Torralba.  They loved walking around and being right in the middle of this old village.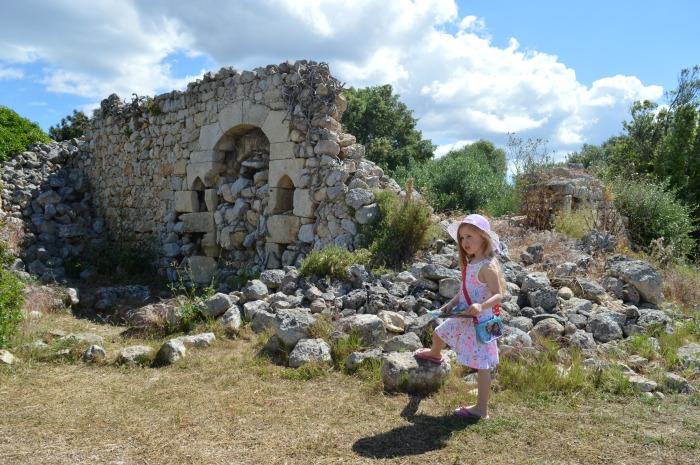 There was about 8 different areas to visit at Poblat de Torralba, including the well, burial chamber and stone circle.  To the girls it had adventure written all over it and for us it was such a great experience.  We probably spent about an hour at the site looking around and talking to the children about how people would have lived here along time ago.  It cost about 10 Euros for all of us to get in, but I think it was worth every penny.
Fornells, Menorca
I chose Fornells for one of our days out as it was described as a bay on the north side of the island with lots of activities.  It took around 45 minutes to drive from Son Bou to Fornells and we followed the road along the bay when we arrived looking for somewhere to park.  We came to a pedestrianised looking area so I got Daddy to jump out and see if it was OK to drive further on.  We could, and went past some cafes and an old defence tower.  We parked on the street and headed back to explore on foot.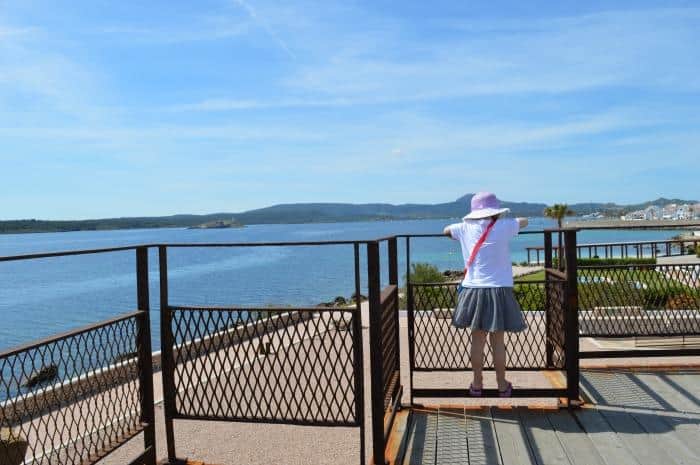 The children really got into exploring the defence tower and we were able to pick up a few facts from the tour group that had arrived at the same time.  The views across the bay were stunning and we even got some stone throwing in which the girls loved.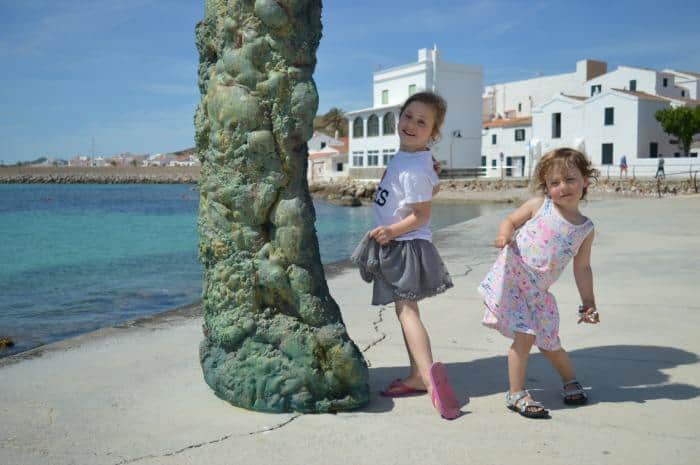 A bit further along there was a kids play area which we had to try and a marina filled with boats.  I would have liked to have stopped a while longer as it looked like there were plenty of options for lunch, but the girls do like their routine and the sun was getting pretty intense so we headed back to Son Bou.
El Toro
El Toro is the tallest mountain in Menorca and well worth a visit during a day out.  Unfortunately we picked a cloudy day to go to the mountain but we still enjoyed a great view.  The children thought they could see the whole world.  They could actually see a fairly good 360 view of Menorca and a statue of Christ overlooking the island.  On a clear day you can see the neighbouring balearic island of Mallorca.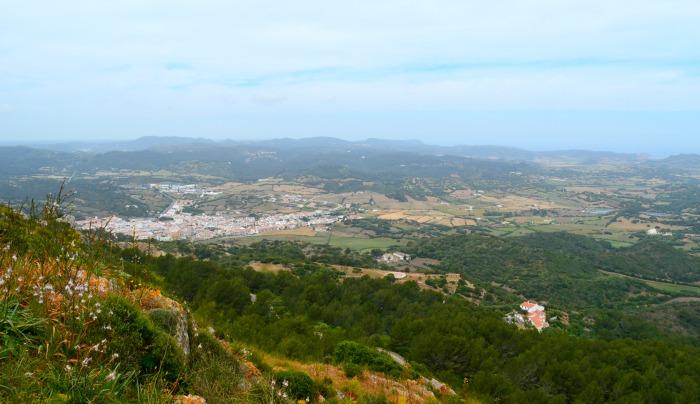 Torre D'en Galmes
We nearly visited Torre D'en Galmes earlier on in the holiday, but we drove towards the area and it didn't look like there was a lot there and headed on to Poblat De Torralba instead.  Later in the holiday, the girls were both feeling really comfortable at the Royal Son Bou Kids Club so we decided to try again. Torre D'en Galmes is about a 10 minute drive from Son Bou and I'm so glad we decided to go back.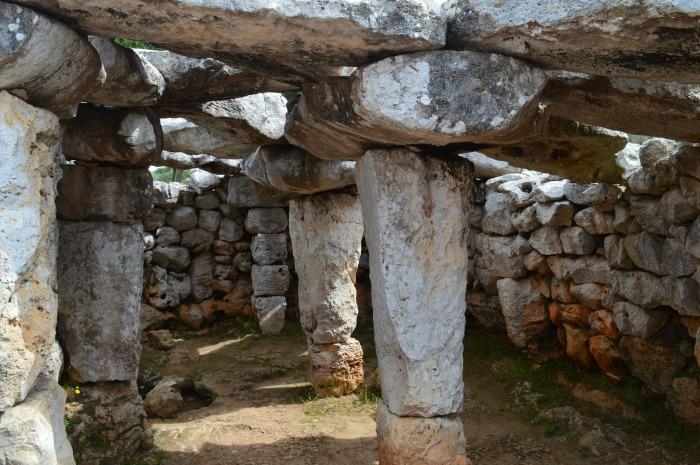 You go to the visitors centre first and watch a short video about the site.  We managed to see about half of it before there were some technical difficulties but we got the gist of it.
This talayotic site is one of the best in Menorca, as it turns out, and it was nice to go and explore without the children.  It was a slightly larger site than Poblat De Torralba and we thought that we would probably have had to carry the girls around a lot of it.  Not because of accessibility, just because of their age and they might have found the walking and the heat a bit much.  I do think they would have enjoyed it, but it's a site that would work better for slightly older children.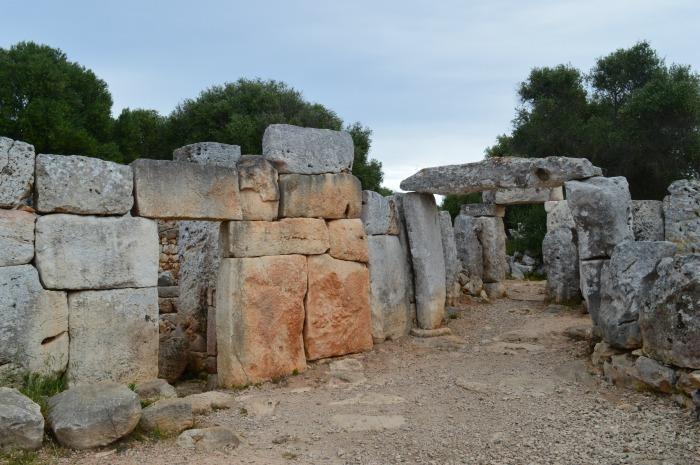 We spent just over an hour exploring and taking photos before heading back to Son Bou to pick up the girls in time for lunch.  Everyone enjoyed having a bit of time out from each other, and with batteries recharged we were ready to hit the pool again that afternoon.
I would have loved to have spent more time exploring the island of Menorca, and at the top of my list for our next visit would be to go to the old capital of Ciutadella.  Have you visited the island?  Do you have any recommendations of things to do in Menorca with kids?
Liked this post? It would make my day if you would pin it to your travel Pinterest board or share on your favourite social media platform.  Thanks so much 🙂