Have you heard about Carddies yet?  If you have been following our Instagram account or read our bumper post about  tips for travelling with 2+ kids you might have guessed that we are huge fans of these little boxed colouring sets already.
In the interests of full disclosure we were sent 2 sets of Carddies around Christmas time, and we found them brilliant for keeping the kids busy when we are out and about both at home or when we are travelling.  Since we were gifted these first sets, we have gone on to purchase more ourselves. We bought new sets for going to Portugal and Morocco for example.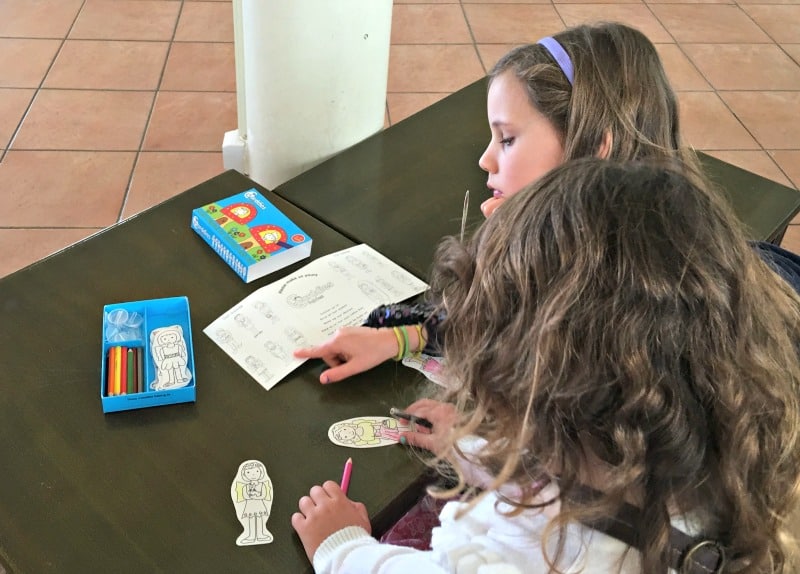 The Carddies team have kindly sent us a couple of new sets and they are being kept hidden away from excited children until we head to Malta at Easter.  I have really enjoyed putting a new set in the girls travel bag for each trip and they have literally saved the day so many times.
What are Carddies Colouring Boxed Sets?
So what are Carddies?
Well they are a wonderful creative colouring toy that is small enough to take practically everywhere with you and your kids.  There are 16 box sets with different themes including everything from family, fairies to pirates and farm life.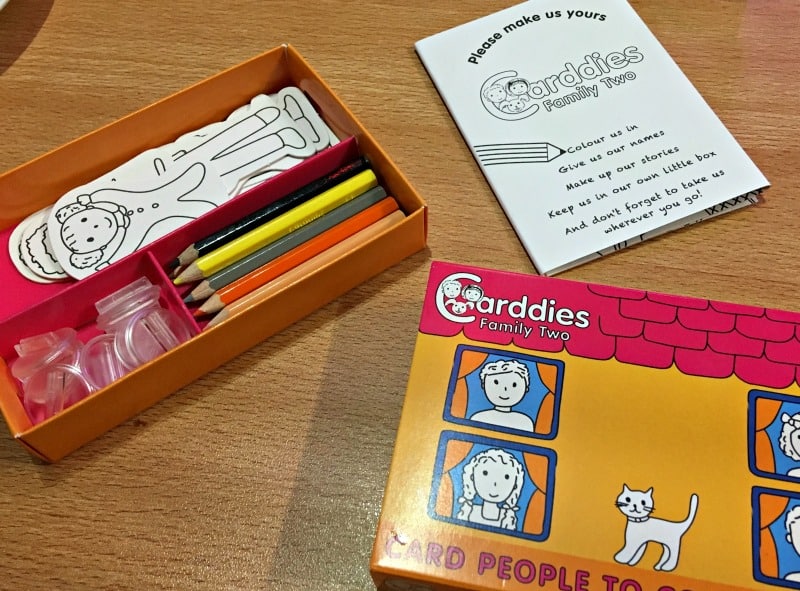 Each hand drawn box contains 12 different double sided cardboard characters, a set of pencils, 12 stands and a scene.  The cardboard used is great quality both for colouring and for playing with.  Each character and the scene included in the set is hand drawn, which gives them bags of character to be honest.  Everything is kept together in the handy cardboard box which will fit easily into a rucksack or handbag.
So why are Carddies so great?
Well our children just love them and they will colour and play with them for ages.  I use them when we are travelling and especially when we are visiting cafes or restaurants, or at any point when they might get a little bored and mischievous.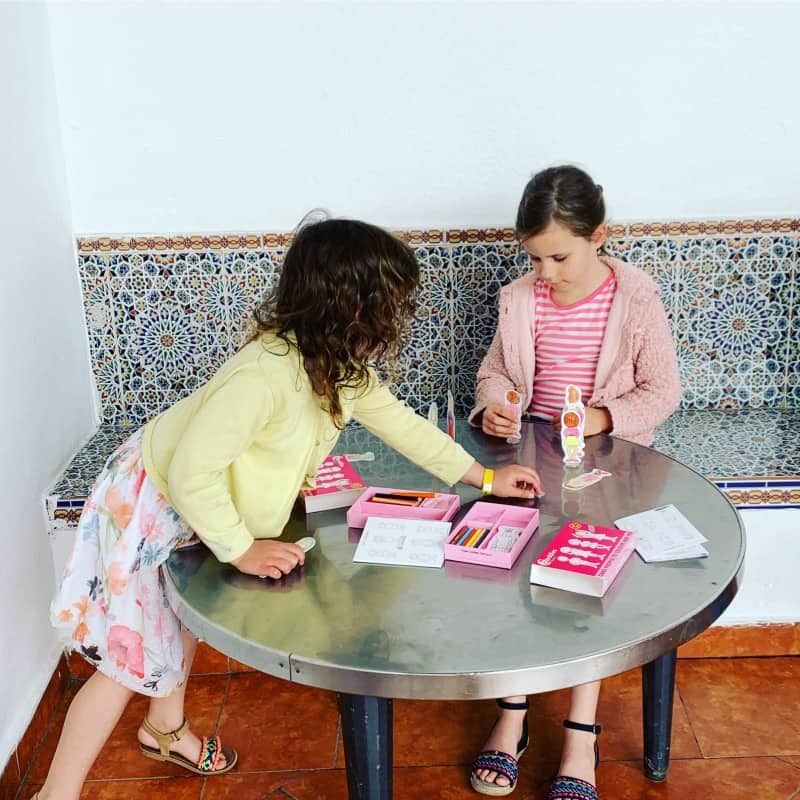 When we are eating out, the girls always finish before we do, it's pretty much a given.  If they don't have anything to occupy them they can soon start to annoy each other, and everyone starts to become stressed.  We don't like to give them tablets in restaurants, that's just our thing.  They do have screen time, but we have avoided using tablets especially when we are eating out.
As soon as we feel the kids get a little out of control, I reach for the Carddies that I carry in my bag all the time, and the mood changes instantly.  The change from being mischievous little monkey's into creative engaged kids who immediately start colouring or role playing with their colouring set is pretty incredible to watch.
We love that Carddies keep them busy without killing the interaction or creativity between them and they have created all kinds of games together with their sets.  They can enjoy playing together, without falling out, while we finish our meal or do whatever boring adult task we have to get out of the way, and then the Carddies get all neatly packed away until the next time.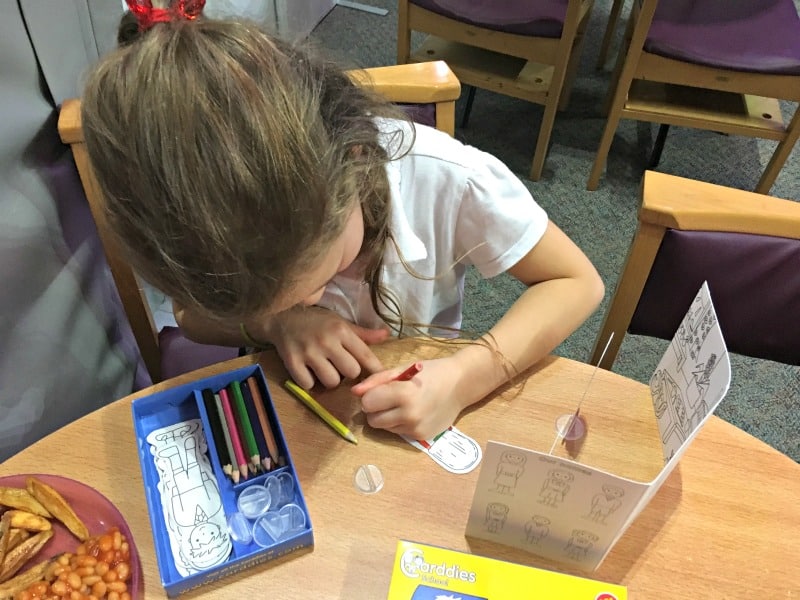 You might also love to hear that Carddies are made by two sisters, so this is a small family run business which I really hope you will love to support.  The sets are designed and made in the UK too, which I also love.  I reached out to the business owners, Raquel and Esther as I was keen to work with them again.  I wanted to help them spread the message about Carddies because we love them so much.
They have saved us from so many stressful situations and sibling fights since we've been using them as one of our go to travel toys.  In case you aren't aware, my daughters are aged 4 and 6, Indie is nearly 7 and Brook will be 5 in the summer.  The Carddies sets are recommended from age 3+, but if your child loves colouring they will love Carddies.
Carddies Giveaway
Raquel and Esther very kindly agreed to offer Zena's Suitcase readers the chance to win 1 of 5 Carddies colouring sets.  I'm so excited about this as I know the 5 winners are going to love Carddies and share the same joy that we have using them.  Each winner will get the chance to pick their favourite set for their prize, which is also very exciting.
All you need to do to win one of these lovely Carddies sets is to enter via the rafflecopter below.  If you could give your support to Carddies social media pages they would really appreciate it and it will increase your chances of winning.  Competition ends 15th April 2019.
If you can't wait to see if you win a set of Carddies in the giveaway, then I have another treat for you.  If you visit the Carddies store on Amazon and enter the voucher code LOVECARD at the check out after you've picked your favourite set you will receive a discount of 5% on one box, 10% on two or 15% on three boxes!  It's certainly worth getting stocked up don't you think!
The giveaway prizes have been provided by Carddies in exchange for this post, but all thoughts and opinions are our own.