If you are planning a holiday or vacation with kids, having some travel toys in your hand luggage, suitcase or travel bag is going to help things go a lot more smoothly.  Kids have a pretty short attention span for travelling so having the best travel toys to hand during your trip can really help keep boredom at bay.  Nobody wants a stressful journey, so whether it's travel toys for toddlers or best travel toys for babies you are looking for, this list of toys, games and ideas will help you prepare you for a long road trip or going on an aeroplane, long haul or otherwise.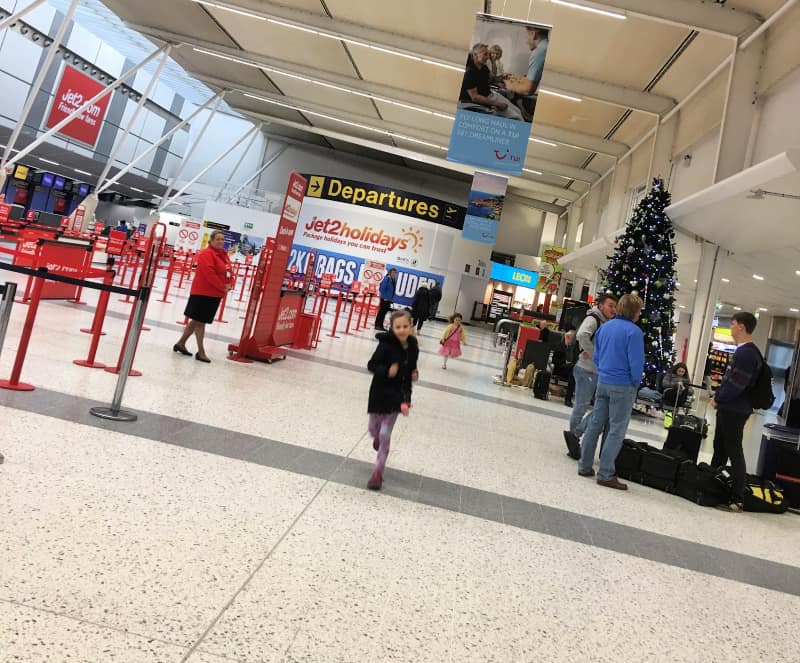 Travel Toys
Baby Travel Toys
Travelling with a baby is relatively easy, but you do still want to avoid them getting bored. These travel baby toys will help to keep your little one happy while you are making your way to your destination either by car, boat or plane.  The great thing about baby toys for car travel or finding the best baby toys for airplane travel is not only will you find them keeping your little one happy during the trip, but they will come in super handy while you are on holiday too. 
At the top of your list of baby travel toys should be a set of toy links.  These are great for car seats, strollers or pushchairs and even some cots.  Not only are they great travel toys for babies in their own right, but they are also great for connecting your car travel toys to your baby's car seat or pushchair so they don't fall out while you are travelling.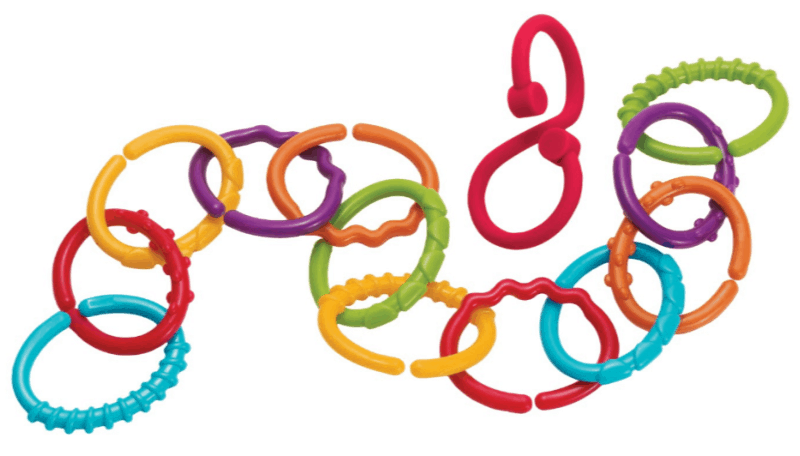 One of the most versatile baby travel toys for the car is a soft spiral travel activity toy.  These sensory baby toys have a mirror and feature different characters and textures.  You can wrap them around the car seat handle, the bar on your pushchair or pram and also the cot.  It tops my list as one of the best baby toys for airplane travel as it doesn't take up a lot of space and you can use if for so many different things.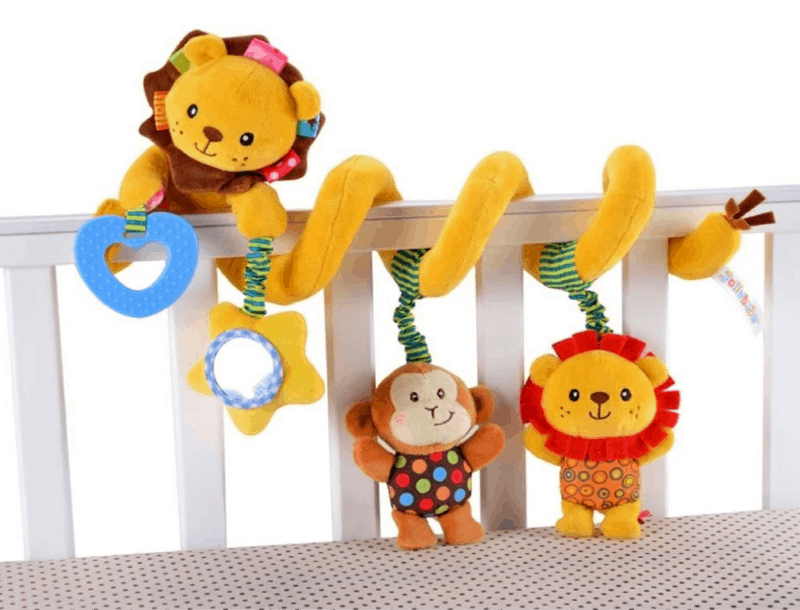 Some other good travel toys to pack for your trip are a set of stacking cups.  They don't take up a lot of room and babies absolutely love them.  But as one of the best travel toys for 1 year old too you know they are going to last for a few holidays.  As well as being a toy you can use to keep your baby entertained while travelling, they can also be used as a bath toy while you are away.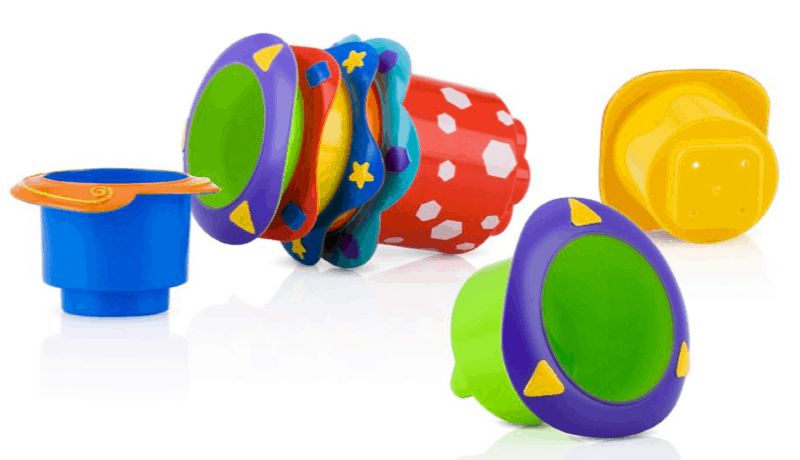 Books are also very popular with babies and are the perfect travel toys for 1 year old to be packing in your travel bag.  I'd always recommend looking for children's travel toys that are versatile so baby bath books  work really well.  They are great for little learners while playing in the bath but are also easy to wipe clean if you are taking them travelling.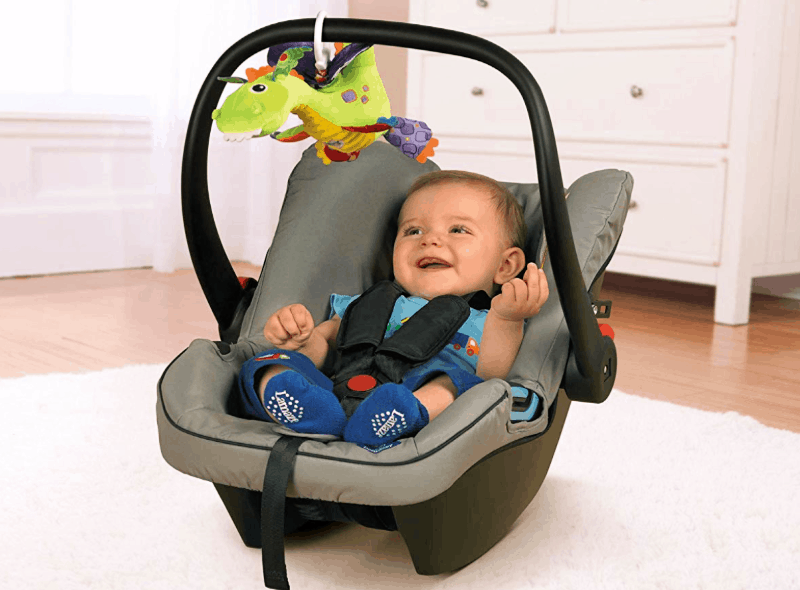 My final suggestions for car seat travel toys is to invest in a kick activity centre to go with your rear facing car seat and a clip on toy like this cute dragon from Lamaze.  Kick activity centres are great for long car journeys with babies as they provide lots of stimulation to keep your little one entertained including music, soft toys and a baby safe mirror.  The Lamaze toys are perfect for baby sensory stimulation too, which can really help to keep baby distracted while they are travelling. 
Best Travel Toys for Toddlers
It can be a little bit harder travelling with a toddler than a baby.  While a baby can be happy to sit on your lap on an airplane or completely entranced by their kick activity centre while on a road trip, it can all change when they are able to walk.  We have already covered some lovely travel toys for one year old in the list above but this is when your travel toy bag really needs to go up a notch.  
Fortunately there's some great travel toys for toddlers out there. While they won't prevent every single meltdown from happening, these travel toy ideas for toddlers will really help with keeping them entertained on your trip.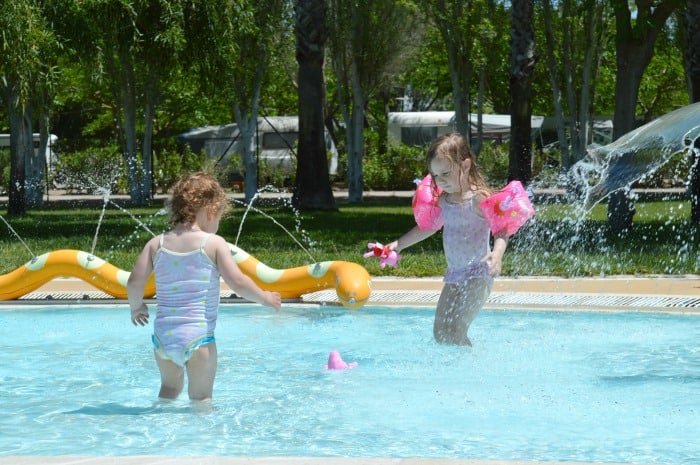 One of my favourite toddler travel activities is the magnetic drawing board.  They are one of the best travel toys for 18 month old and up as they can be used over and over again.  The aquadoodle travel drawing bags  are also good travel toys for toddlers and come with some lovely accessories for more play opportunities.  We  love the Galt Water Magic books for great toddler travel entertainment too. 
One of the other best travel activities for toddlers in my opinion are puzzles.  There's some lovely travel puzzles for toddlers including the Mellissa & Doug mini puzzle set with travel case or a 6 in 1 travel puzzle set can make lovely travel games for toddlers too. The Montessori travel cheese and mouse lacing game will really help with coordination and is perfect for travel activities for toddlers in the car.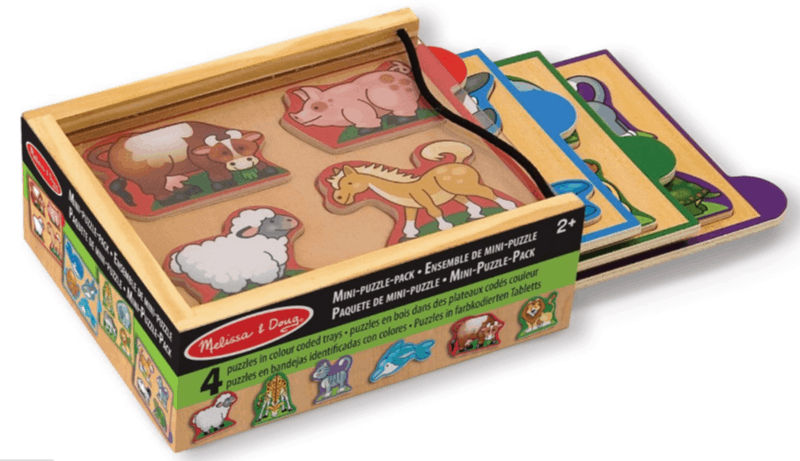 When space is at a premium you are probably going to be on the hunt for small toddler toys for travel and in my opinion you can't go far wrong than look at the Lego Duplo Range.  They have some great sets of car and transport based toys and are ideal travel toys for 12 month old and up.  Whilst you could argue that some of the ranges make great travel toys for boys, I'd certainly be happy to recommend these as travel toys for girls knowing how much my children have enjoyed playing with Lego sets over the years. 
I know some of you will be reading this article because you are particularly interested travel activities for toddlers in the car, and this is definitely a time when you don't want your little one to get bored.  Road trips are perfect for magnetic travel games for toddlers and there's some really versatile options out there.  As well as magnetic puzzles, the best ones have white boards and chalk boards to so your toddler really can get creative even while travelling in the car.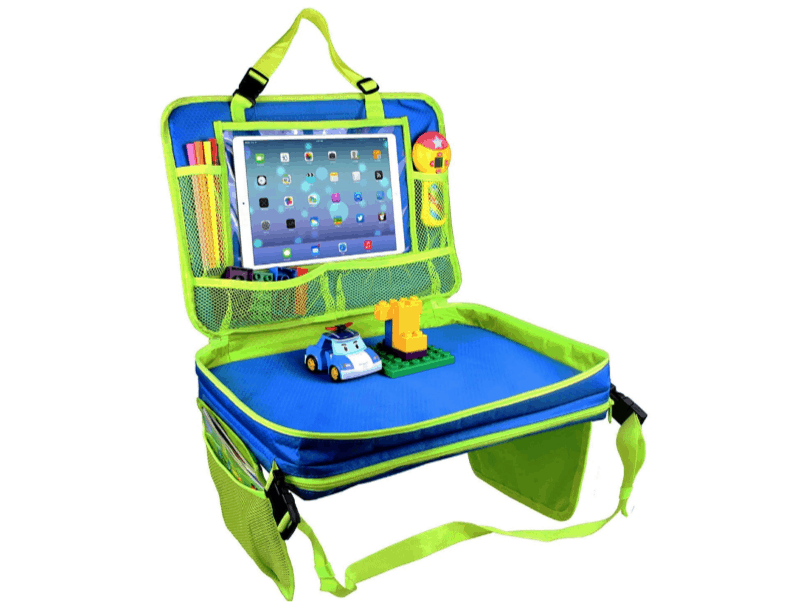 If you are planning on doing lots of road trips with your toddler, my pro travel tip would be to invest in a travel tray especially for long journeys.  This will definitely help to prevent things falling in the footwell and create a space to keep your toddler travel games and toys.
Best Travel Toys for 3 Year Olds
Whilst we are talking about the best toys to travel with, we have to talk about travel activities for 3 year olds.  As your little travel companion is getting older, you can add more and more travel games and activities to the list of things to pack to keep them entertained.  Your top travel toys for toddlers will probably still come in handy but it's also time to fuel their little imaginations further. 
If you haven't already introduced them to stickers, these are one of the best travel toys for preschoolers and are proven to keep them busy on lots of trips.  Think sticker books, pictures or kids magazines with stickers and have at least one of these in your travel bag for your trip. 
Our favourite go to travel activity for 3 year olds and beyond is to pack some colouring books and pens.  My children have always enjoyed colouring and will always spend some time colouring pictures either while travelling or on holiday . We also love scratch pads, and the girls have both found these a really novel way of drawing from around 3 years old, so it's a great alternative for creative kids who enjoy travelling. 
Best Travel Toys For 4 Year Olds and Above
One of our favourite children travel toys at the moment are Carddies and they go everywhere with us.  If you follow us on Instagram or read our Carddies review this will come as no surprise to you.  Carddies are a colouring box with cardboard characters, stands, pencils and a themed scene.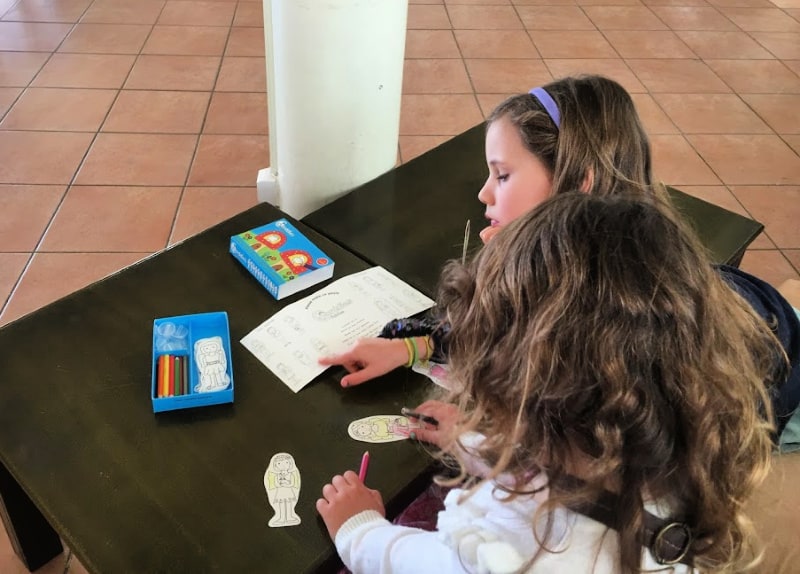 There are 16 sets to choose from including family, pirates, school, ballet and fairies.  They are great for kids who love colouring but they are also one of our top travel toys because because the sets are perfect for playing games with too. We also love that everything packs away into a neat little box and can be easily stored in a handbag or rucksack. 
This is also an age where you might be starting to consider other types of kids travel entertainment, and we do allow our 4 year old and 6 year old to use the Amazon Fire for Kids Tablet while we are travelling.  When we are travelling by car, using tablets prevents squabbling in the backseat which I feel could be a potentially dangerous situation.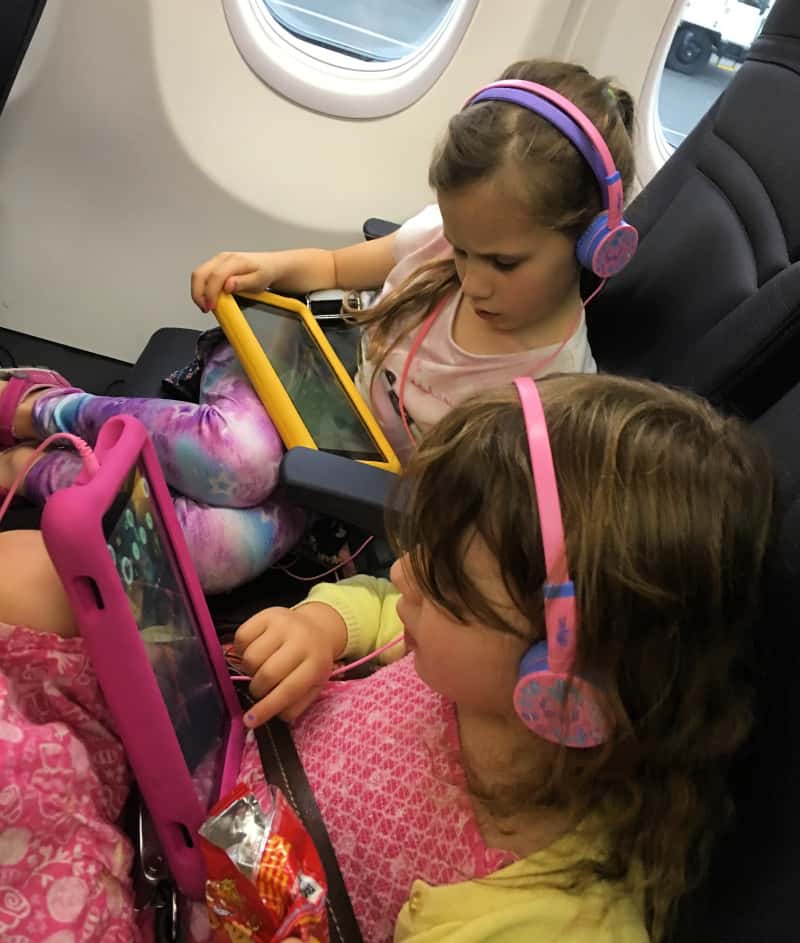 We also let them use tablets while travelling by plane.  We pack their headphones and download some games and tv shows to watch during the flight. We find that they will play with all their toys and use the screens while we are travelling.  Once we have arrived, we restrict screen time more, and they get to use them once a day while we are in our accommodation. 
Our favourite travel games for 4 to 7 years old is Dobble.  It's a fun game that everyone can play.  It's one of those great travel toys that works well for air travel but it can be easily kept in a handbag and played pretty much anywhere. There's a few variations on how to play so you never get bored of it.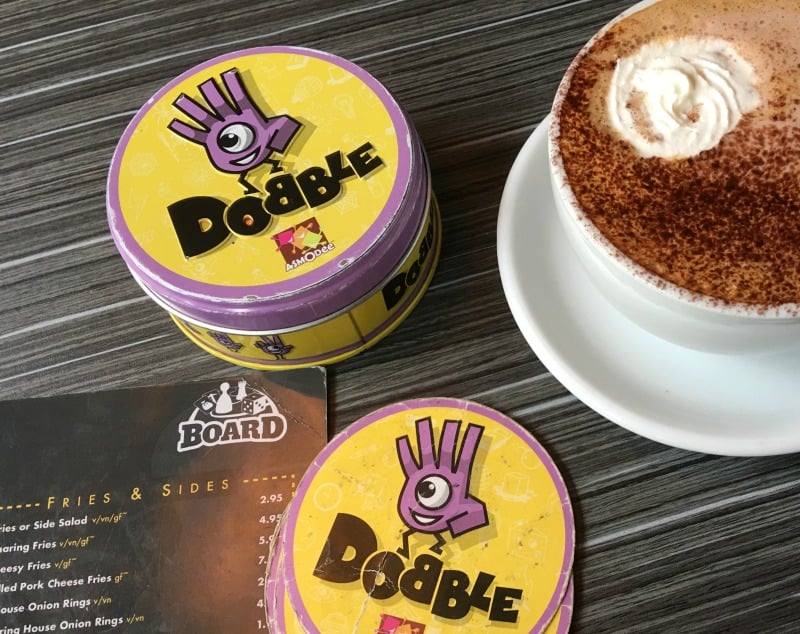 Another of our best airplane travel games to play is Connect 4.  It's super simple to play, and the travel version really doesn't take up too much room in your hand luggage.  You just have to be careful that those counters don't end up on the floor! 
In our opinion we've covered some of the best travel toys for kids, but you might feel that we've left your favourite travel toys off the list.  If that's the case please do shout up and let me know in the comments below as I'm sure it would help the other readers who are planning to travel with kids! 
If you want to make sure your friends and followers have a stress free trip with their kids, share this list of best travel toys with them on your favourite platform now! I have a feeling they will be happy you did.